Alright team leaders – let's assume you're here to understand what employee pulse surveys are, or how to implement them into your workflow. Or, maybe you're seeking ways to:
Whatever your need case may be, we're here to give you the rundown on employee pulse surveys, with the goal to satisfy the list above. We'll dive into what pulse surveys are and how to use them for improving overall organizational culture.
Click & Skip: head straight to the content you want to see. This ultimate guide includes:
---
What is a Pulse Survey?
Qualtrics.com, classifies a pulse survey as one which meets the following criteria:
Uniformed – you should be measuring the same construct over time. The intention for the survey can (and should) change from department to department in order to meet individual needs.
Frequent – employee pulse surveys are like a heartbeat, they run to ensure the overall health of the company is in order. These surveys happen more frequently than your traditional annual employee feedback survey.
Brief – they should be short and sweet. The goal is full engagement, so keeping the list of questions at 5-15 is ideal. Of course, if this is a weekly survey, air on the lighter end – 5 questions.
Consistent – scheduling these frequent surveys will become a habit for your employees to complete. They should know when to expect the surveys. Weekly, bi-weekly, monthly, quarterly? Think about this. Do you want the survey data on Mondays, or Fridays? When are you more likely to get full engagement?
---
The Importance
So why focus on employee engagement? What is employee engagement? Employee engagement is the level of motivation your employees have to continue doing the work…it's the value they place on their experience that lets them view work as more than "just a job". Therefore, we can say that an employee is satisfied when their job expectation meets or exceeds reality.
Gallup describes 3 levels of employee engagement:
1. Engaged
2. Not Engaged
3. Actively Disengaged.
Engaged employees are proudly committed to your company, they're your loyalists. The 'not engaged' may be the most relatable. They're the ones living for the weekend – eager to clock out at the end of day, placing little value on everyday tasks. Finally, the 'actively disengaged', watch for them – they're looking to jump at the first opportunity that slides into their LinkedIn DM's.
---
Which Questions to Ask?
The types of questions you ask will depend on the objective you set for your survey and how often you're sending it out to employees. For example, since Team Compass uses a weekly distribution, we have a combination of: 3 check-in questions, four 5-star rating questions, and an option to share thoughts and additional materials. Check out this blog: questions to ask your employees to see how our CEO recommends formatting and timing your questions for the best response.
The questions you choose can relate to: work culture, energy levels, organizational culture, or even just fun "get to know you" questions. Again, it completely depends on your needs. Sometimes it's helpful to think about your experience as a team leader, what do you feel is lacking? Try to form that need into a question to see if your teammates feel the same.
For examples to inspire you in your survey writing, you can read this post with 100 open-ended survey questions.
Here are some example questions to get you started.
Example Questions
Tell us about an interesting material you came across recently. What did you like about it?
What is something you like to do that others generally don't?
What is something you dislike that others rave about?
Where did you go on your first vacation (without your parents)? What made it so memorable?
If you had to live with one season forever, which would you choose and why?
What is your favorite household chore? What do you enjoy about it?
When you were young, what did you want to be when you grew up? Are you surprised by where you are now?
Who is one fictional character you'd like to be for a day. Why?
What is your favorite social media platform to use?
Do you have a morning routine that helps you start your day?
Daily email spam – name 3 sources you don't automatically delete in the morning.
You can send this Q & A to your team or company by email, or whatever communication platform you use. Introduce the 'Spotlight Series' as something for employees to look forward to.
Take this spotlight survey a step further and release it outside of your company (with permission of course). Use these features as a part of your marketing for the week. Whether you're a B2B or B2C company doesn't matter much – it's always nice to put a face with the people behind the scenes of a company! We all could use more light, positive reads to inspire us during the week. And who knows, a future employee may be looking at your LinkedIn and think, "that would be a fun company to work for".
---
Team Engagement Ideas
A sure way to keep your employees engaged and satisfied is by scheduling regular team building activities. A major part of creating a positive work environment is giving your employees a space to connect outside of work. After time, we all start getting bogged down with the day to day tasks. Light a fire under your employees – surprise them with a fun activity.
Check out our blog posts for remote team building activities:
20 + Fresh Virtual Team Building Activities
10 Best Virtual Escape Rooms for Remote Teams
Additionally, here are some ideas for co-located teams:
Improv games : We all know Second City, right? How about Steve Carrell? Alright, there's more to improv than performing, and making jokes. It's a great way to sharpen up your listening skills. There are plenty of improv games that can be played with teams that help to get out of your head, get into a creative space, and have fun. Here's a great blog post highlighting improv games that act as team building exercises.
Scavenger hunts : Gather all teams in your company, have each team create a list for another team. Make a theme for your hunt, think of items that can be found.. but don't make it easy. Think of conceptual and literal items while making that list. Challenge your team communication and collaboration skills here.
Food and Drink Tours : Need I say more? There's nothing like bonding over food and drinks with the team.
---
Best Tools With Employee Surveys
Team Compass' software supports employees through: simple weekly planning using the PPP approach, easy to request 1:1 meetings with team leaders, chances to give and receive feedback (daily & weekly), and overall company transparency.

For leaders, you'll receive a compiled Weekly Status Report with only the most important informative updates. This gives you a clear view of the past week and helps you determine actionable steps forward. Not to mention, makes meetings way more effective -about time, right?!
---
Trakstar has an easy to use scheduling, and analysis system. Choose a date to send your survey and wait for the results to start rolling through. With pulse surveys and opinion polls, you'll be able to easily track reports over long periods of time. They also have an opportunity for 1:1s.
---
Quantum workplace offers a workspace for leaders to send simple surveys with a big impact. They even offer templates with the best questions for each survey type, so all you have to do is add your recipients and wait for the response. And we especially love the dashboard customization for easy to interpret results.
---
We love Culture Monkey's colorful graphs, dashboard and easy to understand results. You can customize your surveys to send as often as you'd like. They also have an option for your employees to complete a survey anonymously, which is great for specific cases and larger companies.
---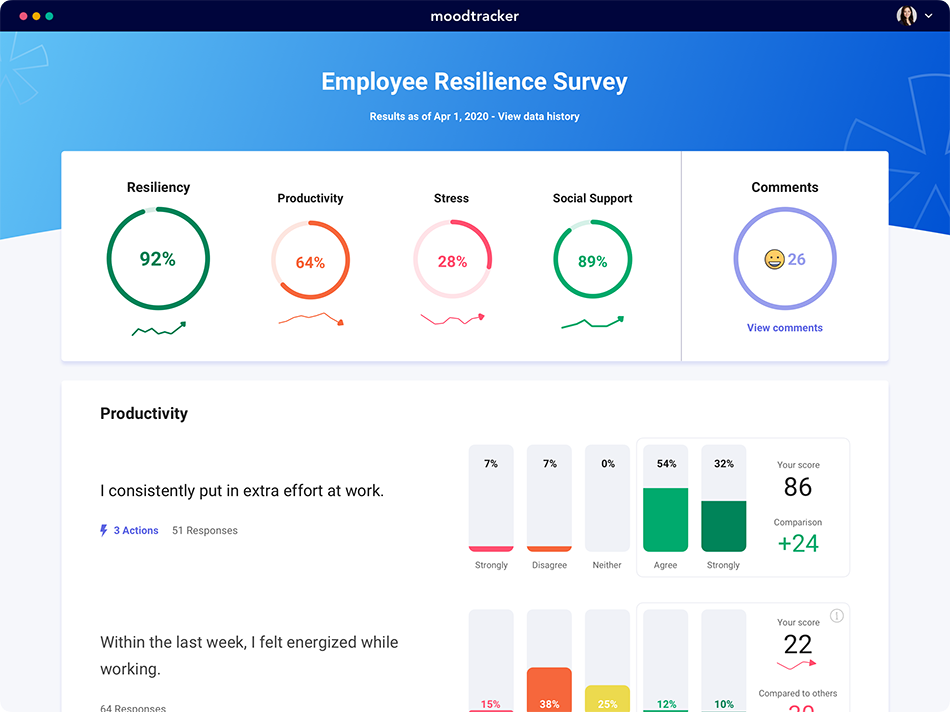 Last but certainly not least, Moodtracker is free and simple…it's a great service for small companies looking to get some quick, meaningful feedback from employees. Their results page offers you a chance to see how you benchmark against your competitors in different categories.
---
Annnnd, that's a wrap! Thanks for sticking with us 'til the end – you're super engaged! 👏🏻
At Weekdone, we understand that employee engagement is an outcome that grows from an organization's internal processes. You can't simply feed your team with employee pulse surveys, receive the feedback, and avoid actionable steps to improve. You need to work hard, continuously. Your employees are the heart of the company – keep that pulse active and upbeat. 💗
Just a friendly reminder – teams of 3 or less use Team Compass for free (everything included!) Teams of 4 + receive a 14-day free trial, and after that, Team Compass is just $29 a month for unlimited users.