It has been close to 10 years since Weekdone started providing teams like yours with world leading OKR software.
We've been working hard to create something for team leaders everywhere. Weekdone Team Compass offers simplified OKRs for goal-setting as a team, and features that help take your team management skills to the next level! Team Compass is free for small teams (3 or less) and offers a free 2-week trial for teams 4+. After that it's just $29/month!
Team Compass is your team management software that employees will love and use! Bring productivity, engagement, and organization to your team today.
---
As a manager, you are not expected to be a mind reader and understand what your employees are thinking. That being said, even given the opportunity not everyone is ready to open up to their boss with their thoughts and feelings about work. Which is why it is important to not only think about what questions you ask your employees, but also when.
Different situations require certain questions and responses. Like with most things, timing is key. For example, asking how everyone's weekend was might be fine to ask in front of everyone. But, if you have a personal question about performance, you might want to discuss this privately during a 1:1.
Be it regular 1:1 questions or a survey form to ask your team members once per week, Weekdone Team Compass is the software to automate it all.
Let's look at the various types of situations and how the questions you ask your employees differ. Use the links below to jump down to the situation that best applies to you.
Questions to Ask Your Employees Weekly
As a leader, there are two things that you need to know regularly from your employees:
This is where Weekdone comes into play. Automatically, each week, employees are encouraged to answer the following questions:
What Are They Doing and Why?
What are their accomplishments and challenges? It's great for knowing the details of your team's work, what they have accomplished and what may be holding them back.
At Weekdone we track this using PPPs – Plans, Progress and Problems. It regularly tells you what your team is working on, what they have finished doing (progress) and any problems or challenges they came across during the week.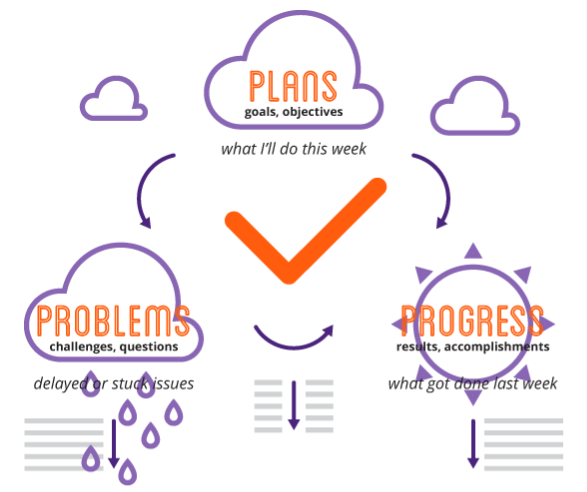 The "why" comes into play when teams are using the goal setting methodology of OKR (Objectives and Key Results).
To put it in the simplest terms:
Your Objective is the goal you are trying to achieve.
Key Results are the measurements you use to show you have achieved your goal.
Most, if not all, of your weekly PPPs should connect to your OKRs. If tasks aren't connected, and you aren't sure why someone is doing something, then it may not be high priority and should be addressed.
What Are Their Thoughts?
What are the insights, emotions, and lessons learned? It's good for understanding what people think and feel as it can open your team members up and get them engaged.
At Weekdone, we have various options on how to handle these questions. You can either have a scale that employees fill out each week, as shown here:


Or you can provide a section in the weekly report where people can add more detailed notes (such as "Interesting Material", "Future Thoughts", or "Team Improvement Ideas", for example). Shown here in dark mode.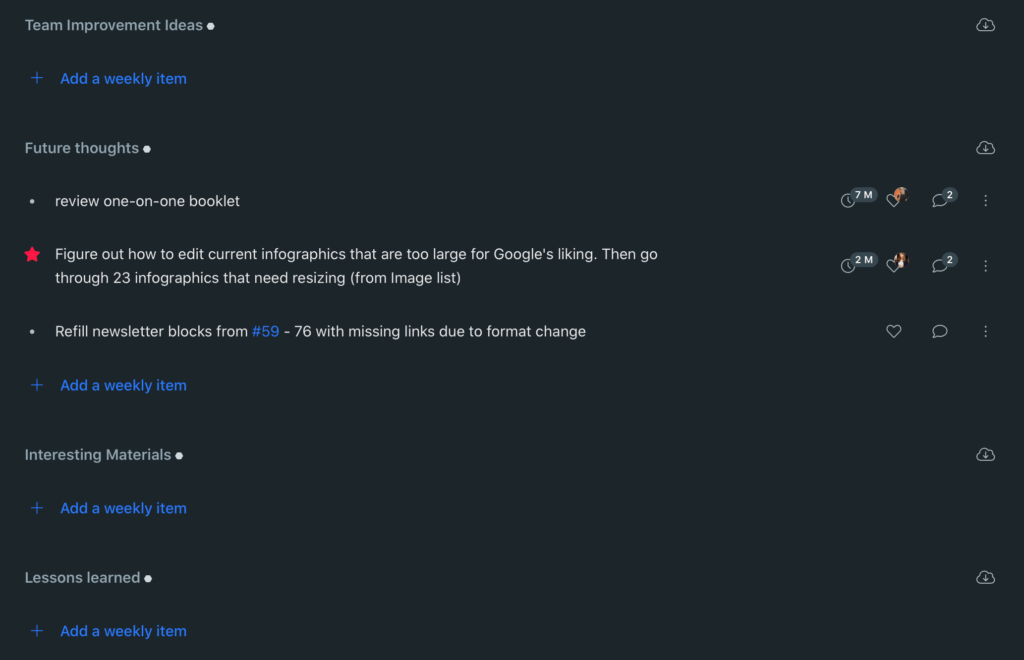 In conjunction, these customized categories and scaled questions act as pulse surveys, with results emailed to team leaders at the end of each week.
One-on-One Questions to Ask
When: Weekly or Bi-Weekly
One-on-ones are an important meeting to have with each team member. This gives you the opportunity to really dive into areas that you don't have the time or opportunity in other meetings. If you notice that lately their response to the engagement survey questions has been recorded as having low energy levels or low team spirit, use your one-on-one to find out more.
During a 1:1, you want to avoid open-ended questions such as "How are things going?", as you are more likely to get a simple answer (like "fine"). Also, you don't want to waste your 1:1 time with questions regarding tasks or projects – that is what a progress report is for.
Generally, you should be having 1:1 meetings weekly or bi weekly. Because these are regular, only ask a few questions during each meeting and really dive deep.
How are you feeling about the company direction?
What do you think about [insert project name here]?
What are some learnings or takeaways you have from this week?
I'm working on x. Do you have any feedback for me?
What feedback do you have for me?
How can I better support you in your work?
What are your goals this quarter/year?
How can I further support you in [insert goal here]?
How do you find working with [insert team member here]?
What project did you enjoy working on and why?
What project did you least enjoy this last [insert time period] and why?
Is there anything we didn't cover today you would like to discuss next time?
Questions to Ask When You Are a New Manager
When: Once, when first starting
As a new manager, you want to take the time to get to know your employees and your team as a whole. These are the best questions to ask when you are a new manager, to have people open up about their work and what their aspirations are.
Where do you see yourself in 3/5/10 years?
What do you love the most about your job currently?
What do you dislike the most about your job?
How do you think the team is doing as a whole? What could be done differently?
How can I support you in your job?
What motivates you to get the job done?
What is your biggest challenge at work right now?
How do you prefer to receive feedback about your work?
What do you think is the biggest challenge in our team?
What currently works and doesn't work with our team?
What else do you think is important for me to know about you?
What else do you think is important for me to know about our team?
Questions to Ask about their Job
When: Periodically
Sometimes it is important to get more insight about how someone is feeling about their job and the team in general, even if you aren't new. These questions can be asked in a formal setting, such as a one-on-one, or in an informal setting, such as over lunch.
What was your biggest win last week and what did you learn from it?
How did you feel at work this week and why?
Did something at work make you happy or sad this week?
What is one thing that was really great or bad in our team this week?
Which of your co-workers would you praise this week and why?
If there's one thing you would change at work, what would it be?
If there's one thing you would change in the office, what would it be?
What is one thing we should improve as a team?
As a team, what could we do differently next week?
What is one improvement for our company we should implement?
What's the one thing holding you or the team back?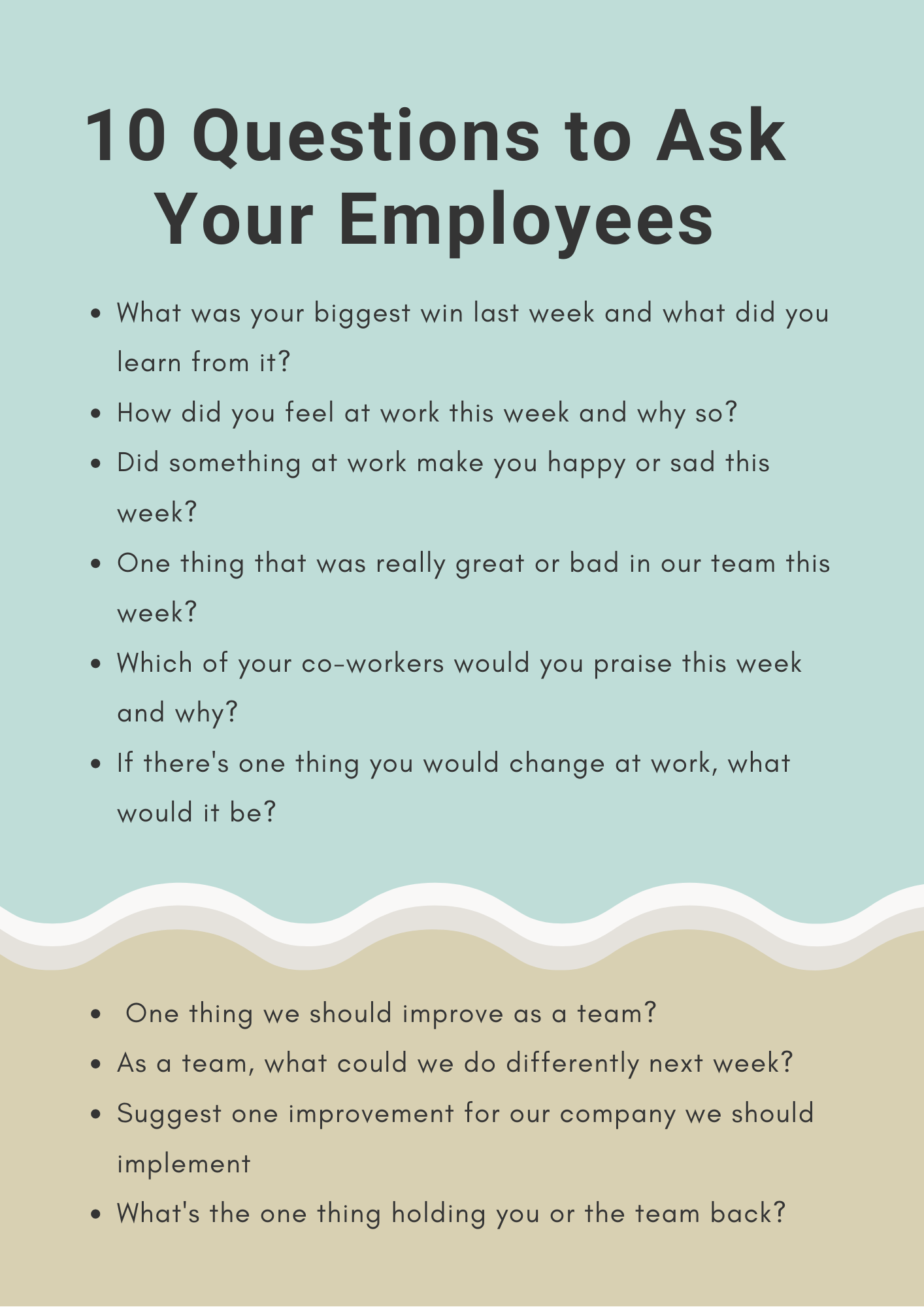 Questions to Ask Employees about Job Satisfaction
When: Once a Month
Employee engagement is important. Low employee engagement can lead to reduced productivity and increase turnover. Which is why it is important to ask questions regarding job satisfaction. Unhappy employees are much less likely to stick around. So find out if there is a problem before it is too late.
These questions can also be asked in a formal setting, such as a one-on-one, or in an informal setting, such as over lunch.
Do you enjoy our company culture?
What is something we could improve as a company?
Do you feel connected to your teammates?
Do you believe that teams are aligned?
Do you feel that you contribute to the company's goals?
Do you feel valued?
Do you feel there is opportunity to grow?
Do you have all the tools you need to do your job effectively?
How often are you stressed out at work?
Do you enjoy your day to day tasks?
Are we using you to your full potential?
If there was one thing you could change about the company, what would it be?
If there was one thing you could change about your job, what would it be?
Feedback Questions to Ask Employees
When: Quarterly
Gathering feedback from your employees will only give you the opportunity to be a better leader. Consider aiming for getting feedback quarterly. However, these questions could also work as a part of a one-on-one if you feel you need feedback sooner or don't do specific quarterly feedback sessions. Or, think of a clever way to add them to your customized templates in Weekdone so they are added to your weekly reports. Here are some questions you can ask your employees to get some feedback.

I'm working on x. Do you have any feedback for me?
What feedback do you have for me to be a better manager?
What could I do better to help you work more productively?
What is one thing I could improve when managing the team?
How do you prefer to receive feedback about your work?
Questions to Ask Employees During a Review
When: Quarterly
A review is a good time to take a step back and see how the employee has progressed and where the employee wants to go in terms of their goals and career. It is generally recommended to hold reviews quarterly. Here are some good questions to ask employees during a review.
What did you learn this last [insert time period]?
What was one challenge you had during [insert time period]? How did you overcome it?
What are your [insert time period] goals?
What can I do to support you in reaching your goals?
What is one thing you want to accomplish this year?
What are 2-3 things you want to learn or improve this year?
What do you like most about your current role?
What do you like most about the company culture?
Questions to Ask About Their Manager
When: Periodically or Quarterly
If you have the opportunity to be leading managers, sometimes it is a good idea to ask employees what they think about their manager. What they tell you will most likely be different than what they tell their manager directly. This is a good opportunity to gather feedback a manager might not otherwise have access to.
If you do quarterly reviews, it would be good to include the team's feedback as part of the managers review.
What is one thing your manager could do to improve?
What do you like about your manager?
What works with the way [insert name] manages the team?
What do you think your manager could do better?
What doesn't work about the way [insert name] manages the team?
Do you know of any conflicts between your manager and other employees?
How does your manager help you succeed?
What does your manager do to help you improve?
What are you able to learn from your manager?
Is there anything else I should know about your manager?
Tips for Forming Good Questions
Including time definitions like this or last week helps the people focus on things that are concrete and practical. Try to paint a box around the area in which you want your answers to be. Just asking "How are you doing?" makes it really hard for anyone to answer in writing.
Also, try to vary asking your employees questions so they focus either on the future – what needs to be done, what are the ideas – or the past – lessons learned and what could be done better next time.
What we've found out from Weekdone customers is the ideal number of questions to ask your employees during the week is a maximum of 3-4 questions. It's your choice if you make them all obligatory or have your people answer just a few of them.
You could send out any questions to ask your employees via e-mail, use a form or special employee reporting solution like Weekdone, which automates all of it. You can try out Weekdone to automate it all here.