We're excited to introduce some new additions to Weekdone that will help you achieve your goals during the day and at night. Here's what we've been working on this past month.
Dark Mode 🌙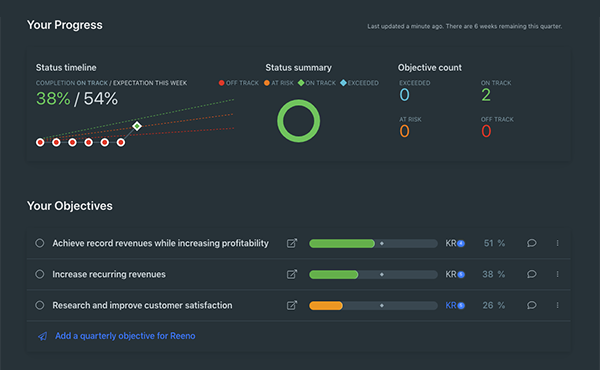 Good news for all the night owls: we now support the dark mode. It's a simple toggle in your settings that lets you turn white backgrounds to black, so it would be easier for your eyes to read in the night time. Less blue light is good for your general health and therefore hopefully makes you more productive in your work and life. Learn more
Org chart
Visualizing your company structure in Weekdone has not always been the easiest… To fix this we added an org chart view, which shows all your people, teams, and departments in a tree shape. You can easily see the big picture by zooming out and clicking open any level. You can even add new teams directly to the org chart. Learn more
Example OKRs

Setting OKRs can be a struggle, but sometimes all you need is a little inspiration. To help you out during the creation process we've added a new Examples module. When creating a new OKR, you can view different OKR examples for your job field or role and add them to Weekdone. Learn more
Key Result Weights


When it comes to OKRS sometimes not all Key Results are equally important. KR weighting lets you increase or decrease the importance of a single KR for completing an Objective. While we've had this feature for some time, we've recently improved this feature so you can see the exact impact of each KR on an Objective. Learn more
Single Sign-On (SSO) update
Your data security is of the utmost importance to us, so we've been working on enhancing the security of Single Sign-On (SSO), which signs users into Weekdone via SAML 2.0 and Google SSO. We added the possibility to disable E-mail & Password logins. This eliminates user-managed passwords and the risk of phishing. To disable password logins we have created additional options under SSO settings.