There is a lot of talk about employee engagement. Everyone knows by now that having an engaged workforce has many benefits. However, Gallup.com shows that the rate of engagement in US is keeping steady around 30%. This means that about 70% of companies are not enjoying the fruits of engagement and that needs to change.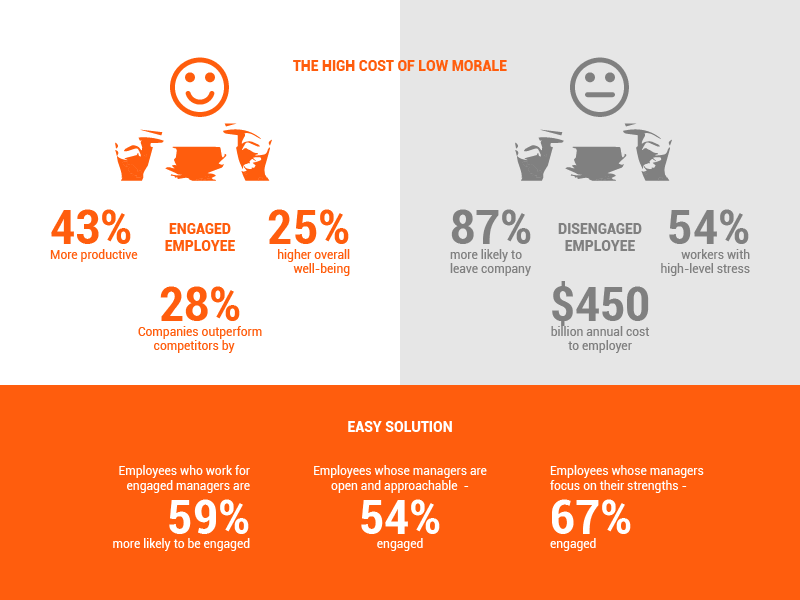 A study, carried out in 106 countries shows that today, employee engagement and corporate-culture are the most important challenges for a company. About 50% of the participants said that the issues are very important, doubling the number from last year. It's a good sign to see, as this means that more leaders around the globe are taking engagement as an issue.
Engagement is more than work satisfaction or happiness. An engaged worker has an attachment to his job and that lets him do it a lot better. If we speak about the rough competition in the global market, then this attachment to the job is what's giving those 30% of companies a strong edge.
An infographic by Weekdone tells us that there are 3 key factors that drive engagement:
Relationship with direct manager;
Belief in senior leadership;
Pride in working for the company.
We can see that engagement is something that only leaders can bring to the company. It's the job of management to make sure everyone working under them feels engaged. For that a manager needs good communication skills and must be engaged in his work himself.
Another report tells us that managers in general are not more engaged then their team members. 35% of managers feel engaged and this is probably the main reason engagement remains an issue. Although managers are often required to do a lot of individual work and their superiors trust them, they still need attention from senior leadership. Engagement must be tackled on all levels of a company.  If the leadership engages managers working under them, there is a lot better chance that managers can do their jobs better.
What to do?
The first thing to do is to get an overview on what's going on. Talk to everyone directly working for you, find out what they think and want. What troubles them? If you know their problems, you can help them. Make sure you have extra time every week for talking and listening.
Of course, it's not possible to have water-cooler chats with everyone if you have a bigger team. In here you need some technological solution to keep track of everyone. Technology enable us to receive information faster and in greater quantities. We can completely ignore geographical barriers thanks to weekly video conferences or company's private networks. The data we share with each other and our teams is also not limited by medium: instead of a written report we can use pictures or videos that can be played on mobiles or tablets. Yes, a picture of a cat, sent to your team, is a form of engagement. It creates a shared environment which increases the togetherness of everyone.
Weekdone offers a status reporting system but your company might also need a good intranet or other 2-way communication channel.