When you are starting out with Objectives and Key Results and weekly planning, it's easy to set goals for the quarter and then completely forget about them. This is obviously a problem, as not keeping goals in mind can halt company progress and undo all that hard work that went into planning the Objectives in the first place!
The best solution for this problem is to incorporate Weekly Planning into your OKR cycle.
What is Weekly Planning?
Weekly planning is a status reporting method for tracking the weekly activities of your company. The aim for every status report is to answer three key questions:
"What plans did you achieve this week?"
"What challenges have you encountered with your plans?
and
"What do you plan to do next week?"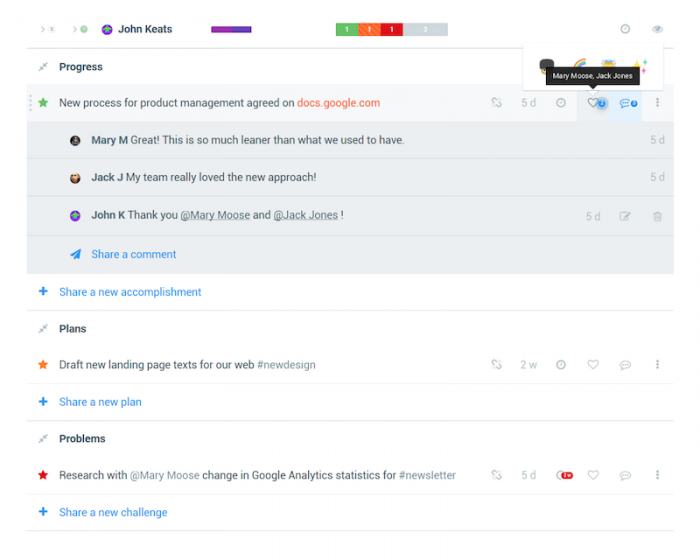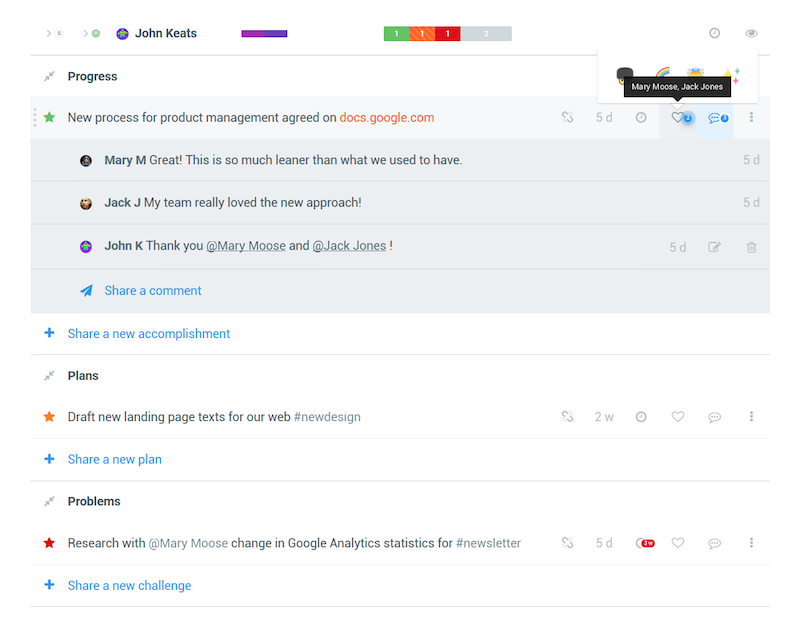 It is often used as a replacement for weekly stand-up meetings. It serves instead to provide quick updates with simple online check-ins.
When combined with OKRs, weekly reporting makes your life simple. By helping you understand what daily Objectives contribute to your company's long term Objectives.
Implementing Weekly Planning
Weekly Planning is fast and easy to implement. It should take only about 10 minutes at the start and end of the week, marking 20 minutes total.
Start the week by keeping your Objectives in mind and then write out 3-7 relevant plans and initiatives you can work on to help reach them.
As you finish the week and complete your plans, go back to your OKRs and update them. You can also possible to review what everyone else accomplished. And see how the company is moving forward.
Moving Forward
Using OKRs and Weekly Planning together lets your team focus while keeping Objectives in mind.
The success of those Objectives increases when Weekly Reporting is actively used. Since people will review and update their OKRs more frequently. And you can get an instant status overview of all the weekly activities planned for your team and quickly identify if any problems occur.
Weekdone is one tool that has been designed with both aspects in mind. Making OKRs more accessible to everybody and anybody, from managers to employees. Either way, using an OKR system that incorporates Weekly Planning into its flow is a great way to see long term success with OKR.