For the duration of the pandemic work from home and virtual team communication had been the dominant trend. Now as the world returns to some normalcy, we are seeing a new trend in that of hybrid communication. Many teams and offices have maintained their work from home policies, but still many people seek out some interaction in the office.

While this has truly led to a sense of independence for workers, it has also led to some additional challenges in communication. But what new communication challenges have arisen and how are different teams tackling them?

In exploring the world of hybrid team communication, we reached out to Jonathan Murrell, Chief Marketing Officer at The Escape Game. The Escape Game provides escape room activities across 23 locations in the US, as well as virtual escape rooms – where teams can guide one of their hosts through an actual escape room in real time!
In many ways the team at The Escape Game is both a fly on the wall, looking into how other teams communicate, as well as having their own team communication challenges and lessons learned to share.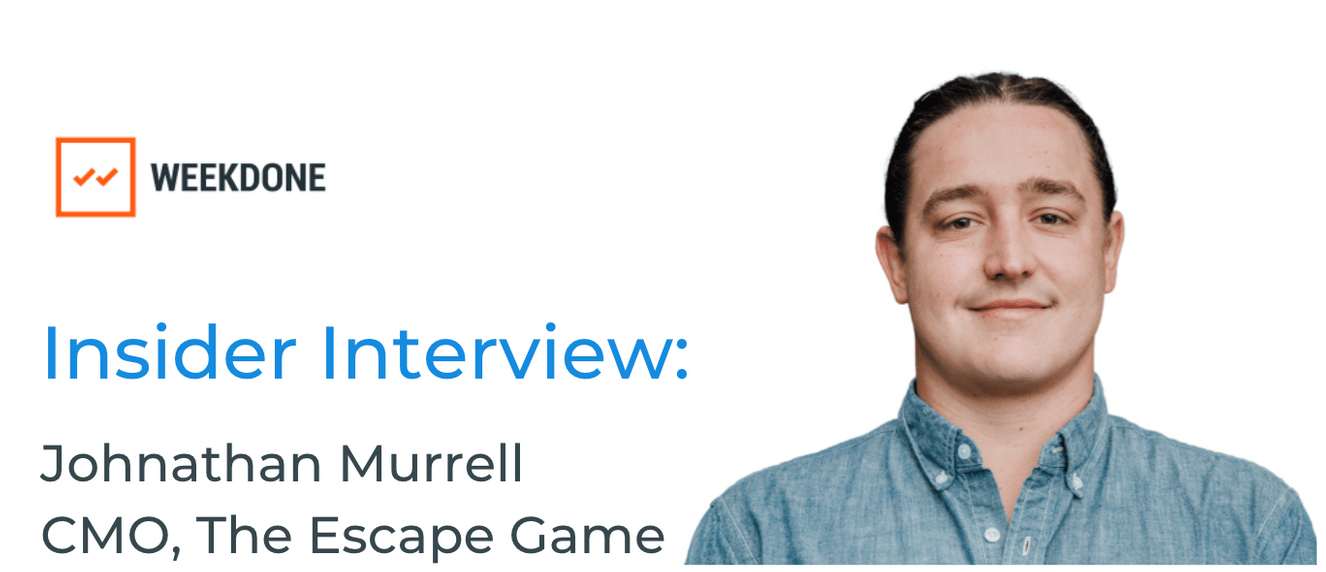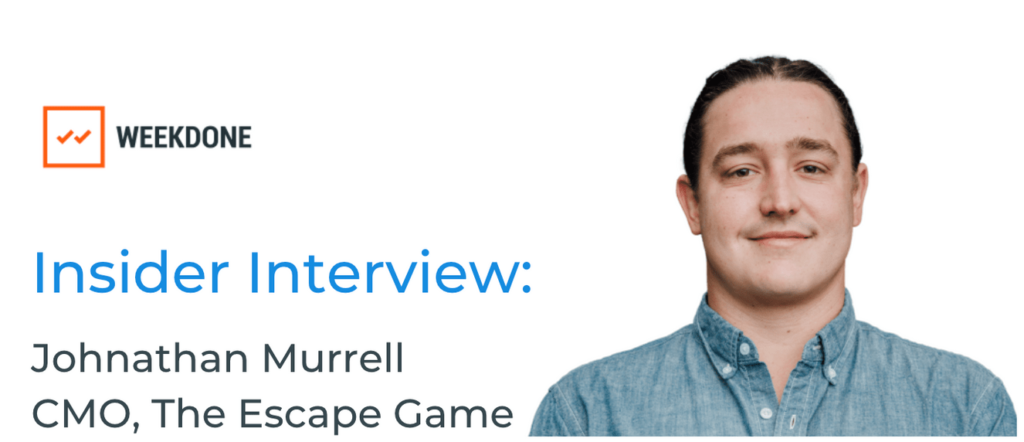 Hi Jonathan! Thanks for taking the time to chat with us. To kick things off can you tell us a little bit about The Escape Game?
The Escape Game is a national leading experiential entertainment brand. The company has 23 escape room retail locations across the US and also offers a wide range of virtual & hybrid team building experiences via TeamBuildingHub.com.
The company is rapidly expanding both its physical retail presence as well as its virtual experience offerings with 8 stores opening in 2022 and an exciting slate of new virtual offerings.
You have quite a few locations. How do you guys handle your own team communication between the different locations?
We separate our stores into three regions with each region having a team of three headquarters team members who oversee it. This equates to one support person at HQ for every three stores. This high ratio allows for very close 1 to 1 support of each GM as well as their local leadership team.
At a typical TEG store there is a general manager, assistant manager, as well as 3-5 team leaders, all of which are in regular communication with their support team at HQ. These daily rhythms of communication take multiple forms – weekly zoom calls, daily slack communication, as well as quarterly in person visits & check ins. We believe strongly in investing in our local team and especially in developing leaders. 22 of 23 current GM's started as Game Guides.

What would you say is your biggest challenge in coordinating the marketing efforts between the different locations?
Every location and every market is totally unique. The biggest challenge we face is running a growing number of stores in increasingly diverse environments and from a distance. With the scale it becomes harder and harder to feel local and to understand how our guests interact with our brand and marketing message at a local level.
We rely heavily on the general manager and local team to inform local context around marketing decisions. When we had only one or two stores we got the opportunity to be very personal with each one but as we've grown we probably understand each specific one a little less.
The flipside of this is that we now have national opportunities that were never available to us when we were a smaller brand. At the end of the day we have to fight to stay small even as we continue to grow.
Coming out of the pandemic has your team changed the way they communicate?

I recently heard a quote about communicating in a post pandemic world – when you are communicating and leading a team out of a crisis it requires even more communication than it does to lead during a crisis.
It's common practice and common knowledge that during a crisis a leader needs to communicate with high frequency, but many people now feel like the crisis is over and it's time to put their head down and get back to work, communicating less.
The truth is the crisis might be over, but the impact on people & peoples' work is still very real. As leaders we have to continue that pattern of crisis level communication and even increase communication as we lead our teams.
This is especially true of teams that were in person pre-covid and are remote or hybrid now. The communication that used to happen in person has to be replaced. Those relationships & spontaneity have to be captured somehow and it requires a leader to be very diligent about communication in order to ensure that team members don't feel the distance created by remote and hybrid work.
We have actually done some of your virtual escape rooms, which were so fun. Have you guys applied any lessons learned to your own communication from what you've seen in other teams?
I think the most important thing that we have learned about working remotely is to triple-check that all team members are doing well and engaged. We took for granted how much easier it was to build camaraderie and onboard new team members in the office.
During work from home we were forced to onboard new team members virtually and it took far more intentional effort. It might happen naturally in person, but definitely won't happen naturally virtually. It has to be a priority and focus.
It's funny because our team has regularly participated in other companies' virtual escape rooms & other team building activities because our team needs it just like everyone else!
So, in your virtual escape rooms you have teams guiding a person through? Can you explain how that works exactly?
We offer two types of online virtual experiences. One type is called "Remote Adventures." These involve an "avatar or guide" who is physically located in one of our stores acting as players' hands and feet, helping them navigate the physical space and solve problems. The players also have a custom digital dashboard and a host on the Zoom call that is there to help the team through the experience. We have other experiences that are purely digital and do not have the in person avatar, only an online host who facilitates the digital adventure.

And what are the differences you see in how teams communicate between virtual and in-person escape rooms?
It is definitely easy for team members to "disappear" or hide in the background during a "virtual escape room" vs an IRL game. In TEG's brick and mortar stores we refer to the person who helps you through the experience as a "guide." In our virtual only games we refer to them as a "host." This small but critical distinction speaks to the important difference between the two mediums.
In the physical games our guides are trained to stand back, watch, and only help when needed or called upon. Teams in person naturally collaborate, naturally ask each other questions, and practise rapid communication as they solve problems in the same physical space.
The exact same team when placed in a virtual room is far less likely to engage all team members and we are far more likely to see someone distance themselves and disengage. That is why we call our virtual experience operators "hosts" – they are active throughout the experience and push and pull to ensure everyone is collaborating.
To wrap it up, what would be your biggest tip in helping other leaders improve their team communication?
My favorite communication quote is "Clear is kind". This has really helped us at TEG as we all try to learn how to be better communicators. It reminds us daily to make sure that we leave every interaction with a very clear understanding of what happened and what needs to happen post meeting. We relentlessly make sure that we are not crossing signals or misinterpreting each other.
Nothing is more frustrating than thinking everyone understood what you were saying only to realize that no one did. "Clear is kind" is a daily reminder to us that we have a responsibility to ensure that good communication happened.
Think of how you can make your communication more intentional
It was great speaking with Jonathan and getting his insights on hybrid work environments and effective team communication. Hopefully, you have some better ideas on how to communicate with your team if you are ever in one of their escape rooms!
Be sure to check out Weekdone Team Compass, the best communication tool to ensure effective communication in your hybrid team!