Last year, we introduced Initiatives in Weekdone. Initiatives have proved highly popular among our users, so we've created a new comfy home for them. You can now see all your Initiatives in one place, under the Initiatives View. Furthermore, you can add independent Initiatives that are not connected to your OKRs.


Independent Initiatives
Previously, you could add and view Initiatives in Weekdone only under OKRs, ensuring your main focus was always on Objectives and Key Results.
However, as Initiatives matured, we found there often seem to be a few that don't directly belong under an Objective or a Key Result. Our customers reported the need for independent Initiatives. So we came through.
You can now add Initiatives that are not connected to Objectives or Key Results. This gives you more flexibility within Weekdone, and you're able to list all your projects and multi-week undertakings that don't directly contribute to set OKRs. Using standalone Initiatives makes it easier to:
Add special projects
Add business-as-usual multi-week tasks
Keep your OKRs clean and focused
Stay true to OKR best practices
Keep track of personal non-OKR related projects
Initiatives View
To celebrate Initiatives properly, we also gave them their own View. This means you're able to see all Initiatives conveniently in one place.
Before this update, Initiatives lived under respective Objectives and Key Results only. It was a bit tricky to keep track of them if you wanted to see a full list. We've now added a separate, new Initiatives View. This means you can now:
See all Initiatives for a chosen level (Company, Department, Team, or Personal) in one view – the new Initiatives View
Add Initiatives that don't belong under OKRs directly in the Initiatives View
Keep track of all your Initiatives for a chosen level easily without having to look under OKRs
The Initiatives View includes Initiatives that you've added previously under OKRs, and any new ones you'll add – whether they are under OKRs or self-standing. You can use it as a report to see all your Initiatives for a level listed in one place.
Where to access the Initiatives view:
Via Initiatives menubar icon
Via Initiatives view tab under Overview, Hierarchy, and Tree sections
What hasn't changed:
Initiatives that belong under Objectives or Key Results can still be added only under the Objective or Key Result, not directly in the Initiatives View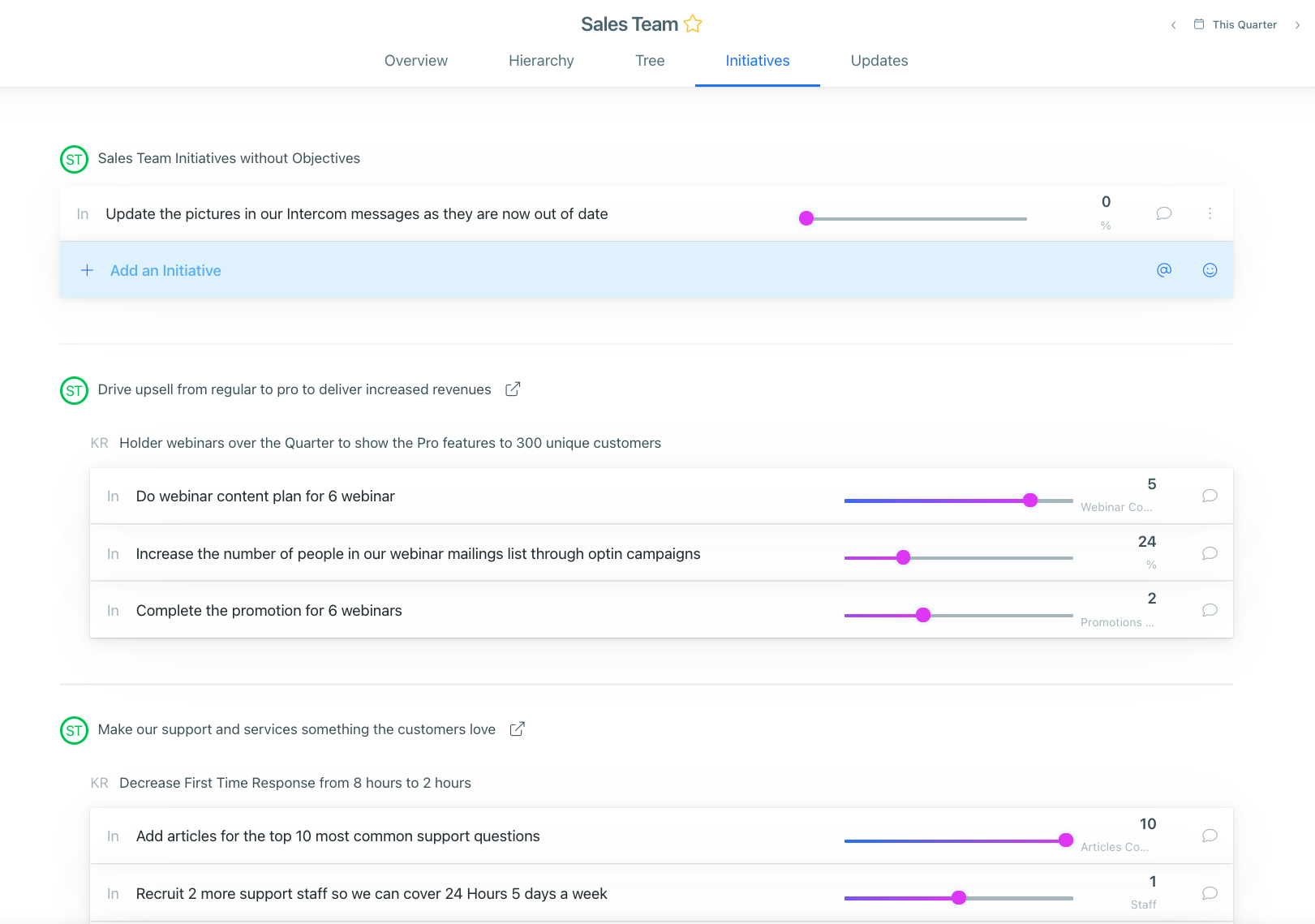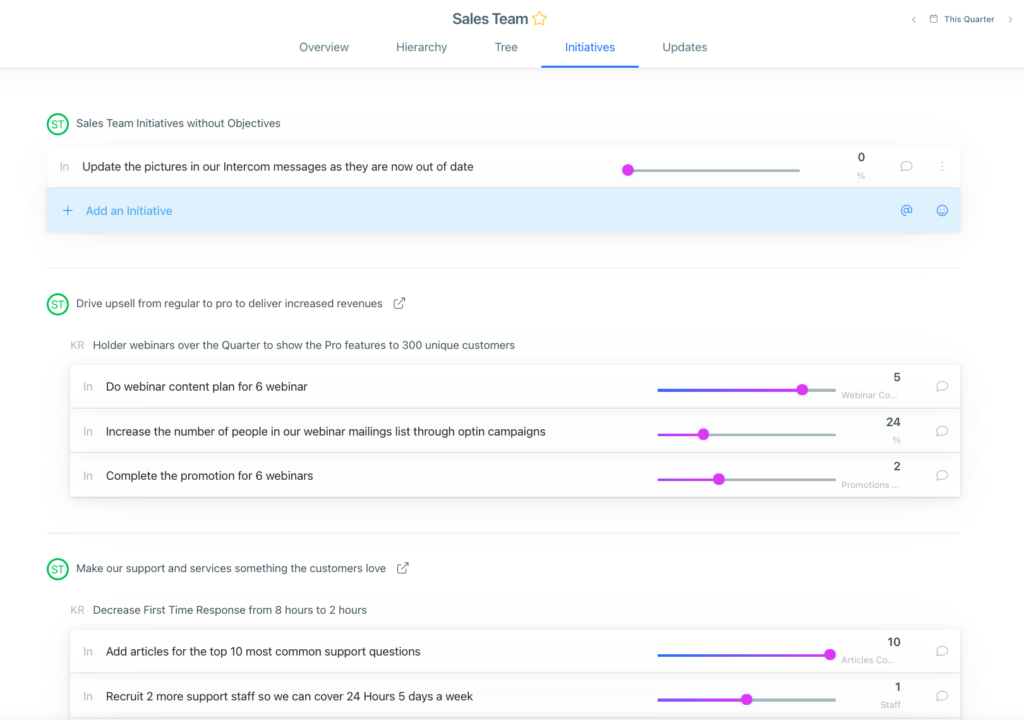 What are Initiatives?
An Initiative is any block of work or output that takes a few weeks or a whole quarter to get done – projects, research reports, or anything else you need to accomplish. An Initiative drives your Objective forward to achieve a positive outcome for your Key Results.

By using Initiatives, your Key Results will be much cleaner and focused on outcomes, not outputs.

Read more about Initiatives in this article.
Try it out
Time to log in to Weekdone and see the updates for yourself! If you need help with Initiatives, our professional Customer Success team is always happy to give guidance on best practices, and show how to use OKRs and Initiatives together. Reach out and we'll get you going.
The Initiatives updates were inspired by our users. The feedback we receive from customers is invaluable. It helps us become even better, and make using OKRs simpler and more efficient for you – our user. Thank you!
Read more about the Initiatives updates in our Help section.