The users of Weekdone team management and internal communication software have enjoyed the benefits of weekly PPP – the Plans, Progress and Problems reporting process for quite some time.
PPP, used successfully at eBay and Skype among others, is great to set and communicate weekly goals in your team. Many of you still came to us asking for something more long-term. What about quarterly or bi-annual goals? How to communicate longer than weekly company, team and personal objectives? How to have the buy-in of everyone in the team?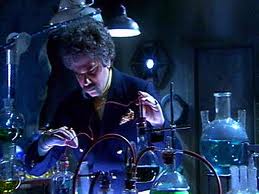 So we put on our capes, crawled to the dark secret cellar labs of Weekdone and started the mind machines. Some quantum computing cycles later we had the solution.
We settled on OKR's – Objectives and Key Results as a new feature in Weekdone. It's an extension of the one-line objectives we had. Just like PPP it's a best practice process loved by many. This time it's something used successfully by Google, LinkedIn, Intel, Zynga and multiple others. We want Weekdone to be the best solution to manage your OKRs.
OKR allows you to set company, team and personal goals and attach measurable results to them that need to be achieved and measured. By doing that you build stronger more successful teams that are focused on their goals and work as one. As an introduction, here is an infographic we did to describe OKR. We also launched Weekdone Academy resources page with OKR description, examples and templates.
Implementing OKR's in your Weekdone
Here is how it works. First sign up for Weekdone free OKR software trial and make sure your admin user has enabled company, team or personal objectives under OKR settings.
This is the OKR objectives tab bar you'll see in front of your form:

You can see three types of objectives and the progress grade for each. Reach 100% and your work is done. Just kidding, that never happens. The sweet spot for an achieved OKR is usually 70-80%.
Click any of the objectives tabs and a list of objectives opens. Here's an example of some company objectives. That's the O in OKR's. Objective is the broader headline for a goal. If none are defined, you'll see the +Add a new objective action, so add one.
On the right you'll see the progress percentage of each objective.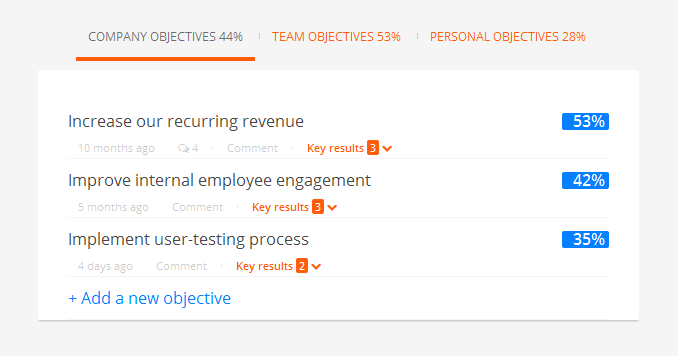 Now choose an objective and click the orange "Key results" under it. That opens the KR or key results of OKR. If there are now results defined, you see the +Add a new key result action. Again, add one there.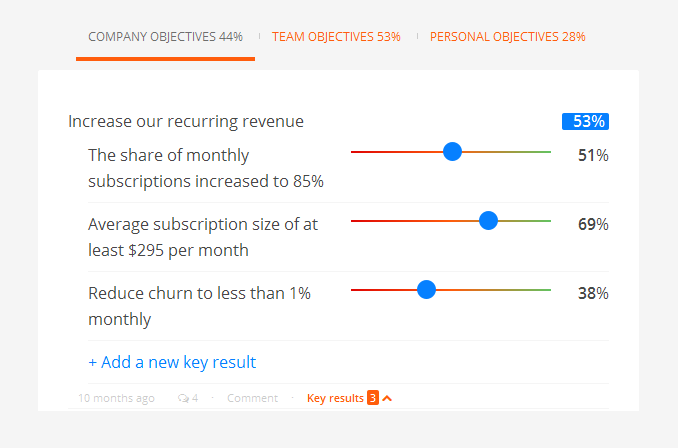 Each result has a slider you can move to say how far you are with achieving that objective.
In the example above the objective has 3 measurable key results that need to be achieved. As you can see, they are at various stages, haven been graded at 51%, 69% and 38%. (Sounds like school, doesn't it?) Averaging them gives 53%, which is the total progress for the OKR.
That's how OKR's work. You have one or more objectives and each objective has one or more results (usually 3 results per objective).
Now go and try adding some OKR's in your Weekdone. If you're new, sign up for the free trial – it will do miracles to your teamwork. The service is always free for up to 3 persons.
Implementing OKR's in your company is the best thing you can do right now today. You'll have a focused team moving forward towards important goals and measurable results. All visible in front of everyone.
You can learn more from the infographic we did to describe OKR and the Weekdone Academy resources page with OKR description, examples and templates.
More OKR materials: