Setting Objectives and Key Results (OKRs) for a marketing team is never easy.
Marketers work under a lot of pressure. Competition is fierce, expectations are high, and it may take a lot longer than a quarter to see any impact on conversion numbers, ad ROI, and marketing strategy efficiency.
However, this doesn't mean that OKRs aren't useful for marketing teams. The OKR process is extremely valuable for marketers because it can help you structure your marketing goals and make sure functional teams (like Digital, Content, PR, etc) take ownership of delivering impactful results.
In fact, many companies use Weekdone OKR software to align their marketing efforts and focus on quarterly outcomes to deliver real measurable change.
For example, different marketing teams would drive the progress on the overarching Marketing department's Objective to increase traffic to the company blog. A Social Media team guided by a Social Media Manager could have an Objective to increase community engagement on brand-promoting posts as measured by:
the number of comments under each post promoting the blog
engagement % on the posts with blog URLs
the number of clicks on the CTA links.
In this article, you'll find a rundown of more marketing OKR examples and best practices on setting marketing OKRs so nothing stops your team from contributing to business growth.
👉 Improve your marketing performance by setting clear outcomes and helping the team move in the same direction:
Marketing OKR Examples
OKRs are a goal-setting system that helps your teams set, track, and reach their most audacious goals. This method makes it clear how our daily efforts connect to the bigger picture. Marketing teams are no exception.

The main benefit of OKRs for marketing teams is that, when everyone understands how their work provides value, it increases overall engagement, motivation, and determination. OKRs help individuals prioritize better and complete their own plans in order of importance and potential impact.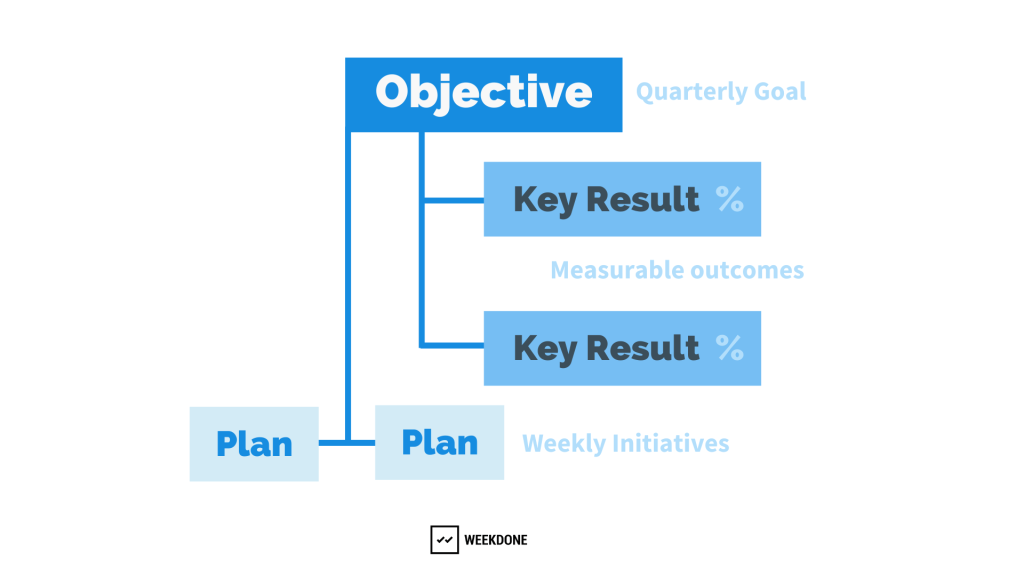 Let's take a look at some of the marketing OKR examples:
Strategic Marketing OKR examples
Objective:
Improve our presence on relevant review websites, forums and groups to nurture leads with high buying intent
Key Results:
Increase the number of positive brand mentions on web from 3000 to 6000 (30-days average)
Increase the number of published reviews from 10 to 50 on Capterra
Achieve 60+ demo requests from discussion forums & groups
Make sure 80+% of demo requests are further qualified as good leads
PR/Brand Marketing OKR examples
Objective:
Establish a strong brand presence in the new city to put our name next to the biggest local competitors
Key Results:
Get 5 earned placements in local media
Collaborate with industry influencers that drive pre-orders worth $100,000
Achieve 5000 mentions on social media of our brand name next to the biggest local competitors
Product Marketing OKR examples
Objective:
Simplify and clarify our messaging and overall presentation to make our product more appealing to startups
Key Results:
25 on-site user-testing sessions to understand early-stage product misunderstandings
Test 10 of our recent infographics and slide decks for customer understanding
Get 1000 answers to an online user survey sent to all last quarter's signups
Inbound Marketing OKR examples
Objective:
Run messaging and timing experiments in top channels to generate more Marketing Qualified Leads (MQLs)
Key Results:
Increase email marketing MQLs from 100 to 150
Increase AdWords MQLs from 70 to 100
Increase organic search MQLs from 45 to 60
Outbound Marketing OKR Examples
Objective:
Revamp our approach to promoting virtual events to improve outbound marketing performance
Key Results:
50+ qualified leads from webinars
200+ prospects from conferences, exhibitions and networking events
100+ qualified leads from outreach campaign
Partner Marketing OKR examples
Objective:
Improve community management to encourage positive word-of-mouth
Key Results:
Increase the # of referrals from clients 2% to 15%
Grow the newsletter contact base from 1000 to 4000 people
Increase the number of signups from the testimonials page from 200 to 500
Email Marketing OKR Examples
Objective:
Successfully implement the weekly newsletter
Key Results:
Finalize 12 topic areas for the announcement banners
Achieve 50,000 subscribers
Increase the CTR to above industry average of 3.5%
Content Marketing OKR examples
Objective:
Improve our content distribution via forums and communities
Key Results:
Research 20 relevant communities for each platform: Quora, Reddit, LinkedIn, Facebook
Prepare 40 post templates to distribute our blog articles in the comments section
Increase our blog traffic from 5,000 to 8,000 new visitors per months coming from forums and communities
SEO OKR examples
Objective:
Improve the SEO of our cornerstone content
Key Results:
10 cornerstone content articles has 5 or more backlinks
Publish 10 guest blog posts linking to cornerstone content on relevant sites with DA 40+
15 cornerstone content articles has at least 10 internal links
100% of our cornerstone content loads in 3 seconds or less
PPC Marketing OKR examples
Objective:
Improve our Google Ads campaigns on the UK market
Key Results:
Run 10 Google Ads campaigns for 10 different target groups in the UK
Increase paid new visitors in the UK from 1000 to 2500 per month
Increase CTR of ads from 1% to 2%
Social Media Marketing (SMM) OKR examples
Objective:
Increase community engagement on our social media pages
Key Results:
Increase average number of comments under each post from 2 to 10
Convert 60% of new leads coming from influencers
Increase average Instagram Stories views from 5,000 to 10,000 on average
👉 The OKR Examples page has 25+ good marketing OKR examples you can borrow.
Best practices for setting Marketing OKRs
When you set Marketing OKRs, you should bear two rules in mind:
start by defining the big picture impact (what are you trying to achieve long-term),
focus on measurable outcomes that the team can evaluate every week (quarterly OKRs).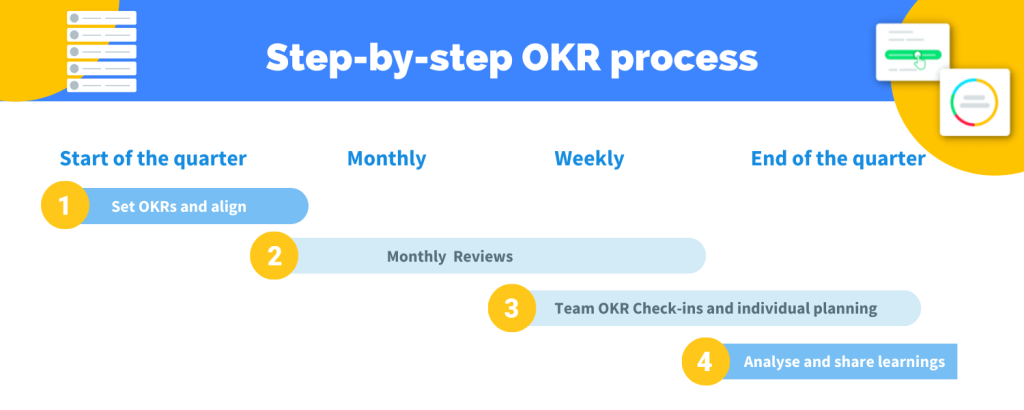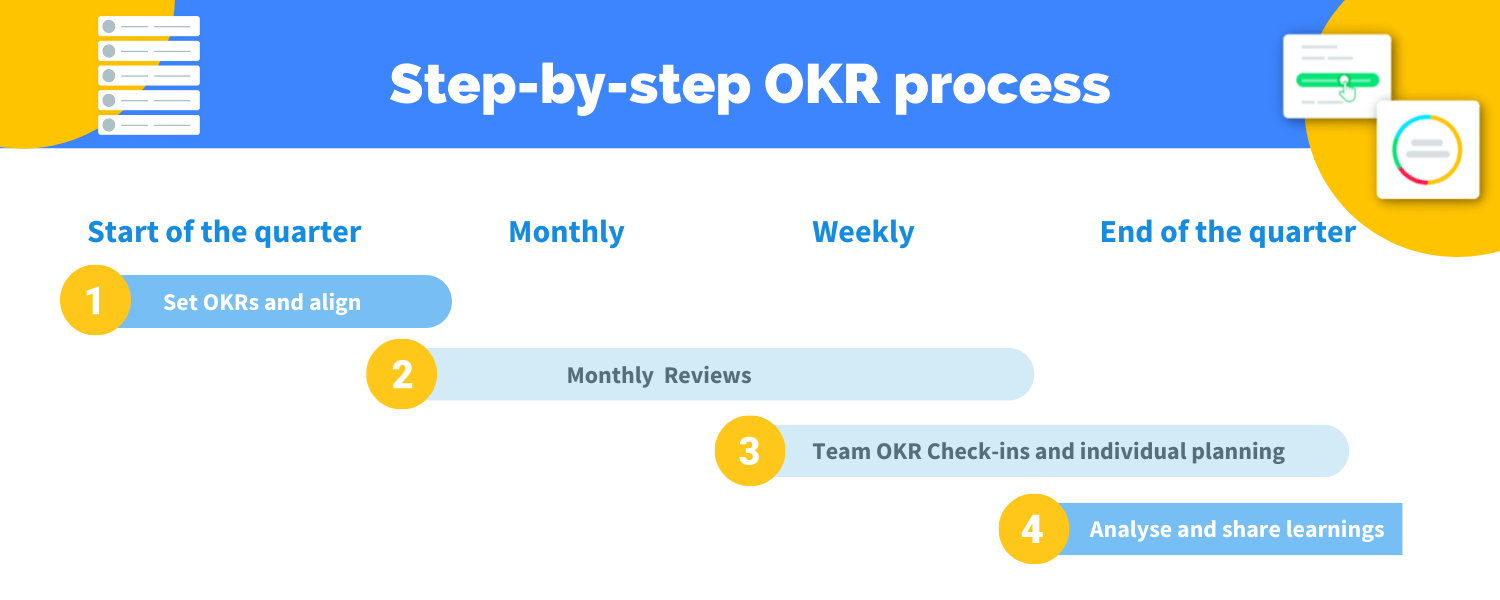 This sounds challenging, but if you take a step back and follow the logical process (from bigger visions to smaller actionable steps), these rules start making a lot of sense.
When creating your marketing OKRs, you need to remember that your Key Results serve as measurable proof of impact from the activities you decide to prioritize during the quarter.
Your quarterly OKRs could connect directly to a lofty long-term goal.
Key Results should be analyzed and updated weekly, and you will prioritize your weekly Plans based on what you learn from your weekly KR updates. In a way, Key Results work as filters for your decision-making process: you decide between activities A and B by evaluating which one would have a bigger impact on the KRs.
OKRs help you move forward, without overwhelming you.
So how can quarterly OKRs help a marketing team keep their sanity and stay focused?
There are a few preparation steps the team needs to take to answer that question:
Write down your learnings from the previous quarter, and try to make predictions for the future: what will work and what won't (based on what worked before). Having a wrong hypothesis is better than having none at all.
Look at your data, and understand which metrics are performing well and which ones might need attention. If you are not tracking your data, you need to fix that first. Take a course on Google Analytics, and learn how to read reports.
Did you spot a lagging Key Performance Indicator? Any metrics that could use some improvement? In 99% cases the answer will always be "yes".
So, now, do you have any ideas on how to fix that?
A proper discussion might take a week or two but you should put all of your ideas in writing, ask each other clarifying questions, and try to agree on a hypothesis that your entire team believes to be the most promising one.
Now let's say, we've had a run at those questions, and here are the answers:
Our UTM tags weren't working so our data on lead sources wasn't accurate. We have fixed it now and created a process for keeping URLs in good shape.
When we were fixing the issues with reports in Google Analytics, we also noticed that our blog has a low visitor-to-signup conversion rate. Currently, it's 4% less than the lowest industry average.
We think that our potential clients are not likely to make decisions while reading our blog. So we need to understand their decision-making process better and provide answers to their questions. If our leads feel like we can anticipate their requests, they will be more likely to trust our expertise.
This quarter, we'd like to focus on understanding our clients' decision-making process, communicating our expertise through relevant software review websites (like Capterra), and building up our credibility online.
When you are drafting an Objective, start by defining a problem you want to solve, and then try to phrase your highest impact idea.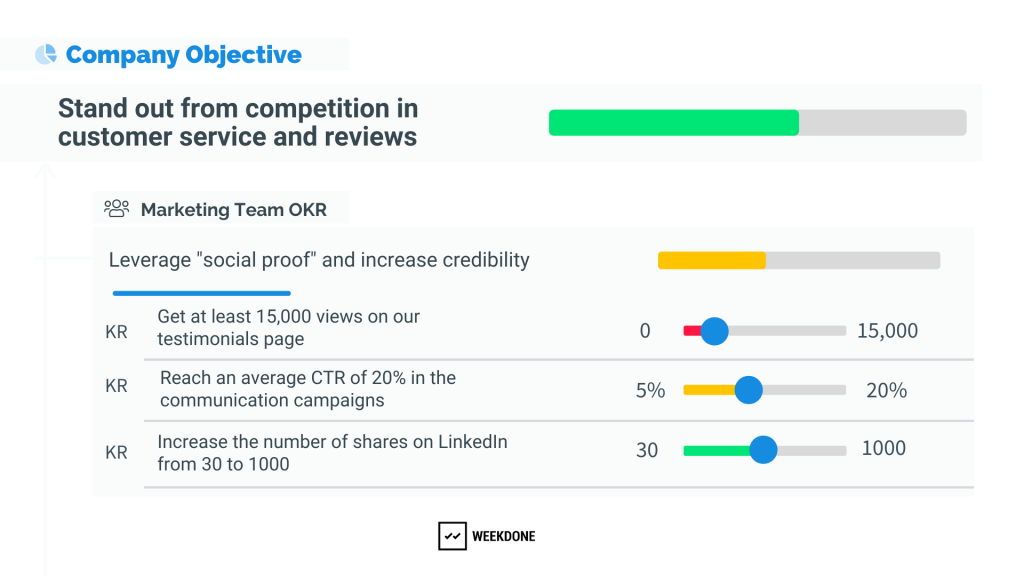 Below is an OKR example to address the conclusions that came out of the discussion above.
So…
How do I create a marketing OKR?
Let's take a Strategic Marketing OKR example from the list above:
Objective:
Improve our presence on relevant review websites, forums and groups to nurture leads with high buying intent.
We will explore the websites and forums where decision-makers are asking questions and discussing pros and cons of different tools/services. Our hypothesis is that by growing good reviews and active commenting, we can make our voice heard and showcase our expertise to potential new clients. Plus, we will understand our clients' decision-making process much better.
KR1: Increase the number of positive brand mentions on the web from 3000 to 6000 (30-days average)
If we manage to start engaging discussions anywhere on the web, people should pick them up, and the volume of brand mentions would increase. This is how we will know if the angle we chose and the pitch we present are the right ones to spark interest.
KR2: Increase the number of published reviews from 10 to 50 on Capterra
Third party reviews have more credibility than our own website messaging. We will try reaching out to our existing clients and asking them to publish reviews. We need to figure out how to motivate them better.
KR3: Achieve 60+ demo requests from discussion forums & groups
This is the main outcome we should drive and our primary focus because generating discussions are useless without guiding potential clients to the next steps of the funnel.
KR4: Make sure 80+% of demo requests are further qualified as good leads
People requesting meetings with our salespeople don't mean that they will show up or turn out to be good potential customers. We need to make sure that the leads we provide are good quality so that the Sales team has a chance to close those deals.
Related performance metrics (KPIs to monitor):
Website traffic from different sources
Visitor-to-signup conversion rate
Initiatives:
Create a list of potential websites, groups, and forums where we can start discussions
Decide on 5-7 different pitch stories to connect with different audiences
Create a new GA report to track conversion on the core pages
Reach out to 100 good customers to ask for reviews
…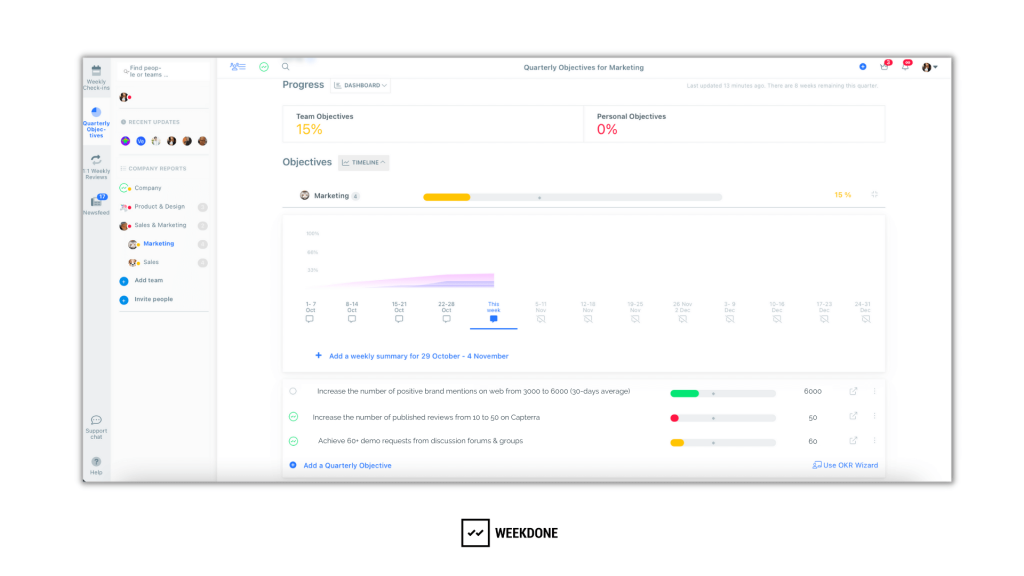 How Weekdone Helps with Marketing OKRs
One of the easiest ways to implement marketing OKRs is to use Weekdone.
With Weekdone, you can easily set OKRs on Company, Department, and Team levels. You can also link individual weekly activities to the OKRs. The hierarchical structure in Weekdone makes sure that everyone in the company understands how goals are aligned and structured.
The most important thing about OKRs is that they help to keep everyone focused on what matters most. This ensures a confidence boost that aids each individual in creating meaning through their work.
If you're thinking about how to run better marketing campaigns, increase your reach, or take your content marketing to the next level, get started with Objectives and Key Results. If you think you are ready, then sign up for Weekdone to get started.
Or take a look at these resources:
OKR "Aha" moments – case study