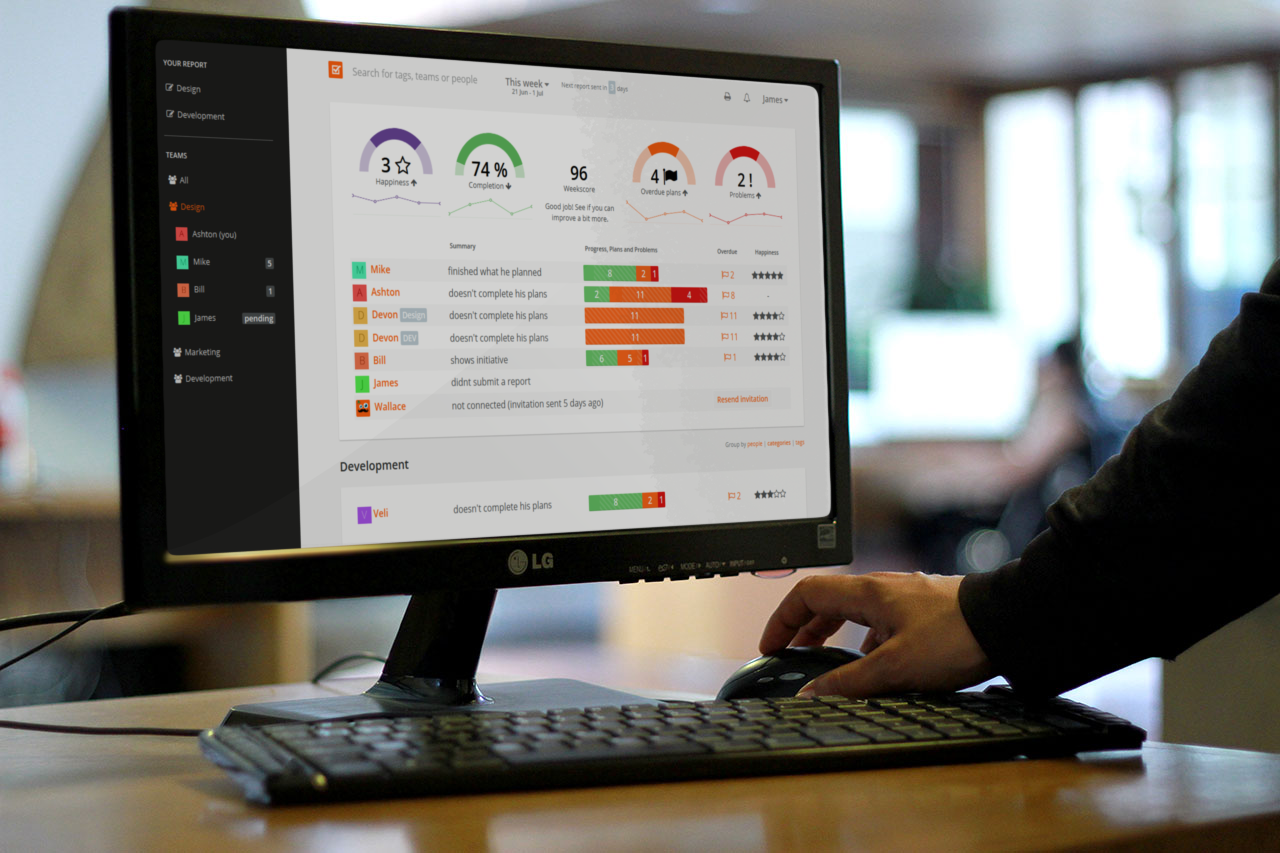 Weekly reporting is used by various teams, but our experience has shown that it is especially popular among remote teams. This might be due to the fact that remote teams have become more common in workplace or that they are more concerned about team communications. What ever the cause, remote teams are dependent on online tools.
It was not too long ago when Yahoo CEO Marissa Mayer announced that  the long-run policy of remote working is about to end in Yahoo. Although this caused a lot of backlash, it is certainly true that managing remote teams is not a piece of cake. According to Gallup research, remote workers actually log more hours at their primary job than do their on-site counterparts. Therefore, devoting more time for working. In order to receive benefits such as getting the best talent around the world and saving from office rent, managers need to get the communications going.
On average, worker spends 29% of their weekly time in mailbox, sending or checking the mail. This number is calculated for the average worker, who sits in his office. Now, if the remote worker should use e-mails as a primary means for communications, it might increase the percentage to a whopping 60%. When leading a remote team you cannot waste that much time on such a poor communication tool. That is probably why companies like WordPress do not use nearly as much email as typical companies, they need to use more social technologies.
Keeping that in mind, we have kept things really simple inside our Weekdone team. We, as well, are a remote team with people scattered around three locations. In order to achieve our goals and stay connected, we use:
Google Docs – to upload any document that is necessary for everyday use. We like to save trees and keep everything digital. You can not find any papers laying around the offices, we do not even own a printer. As we have stepped into a digital age, we have managed to decrease our paper usage. But the key lies in categorization. Using technology does not give you an advantage, if you have not implemented a clear system that is shared by everybody on the team.
Dropbox – this tool is used mostly by the development team, who gets a thrill out of sharing enormous docs.
Skype – to get immediate feedback and brainstorm ideas. Different functional teams have their own groups where they are able to share crazy ideas. If people get annoyed with typing, a call is just a click away. It helps the team to stay connected in more in-depth way.
Weekdone – well, there is no surprise there. Weekly reporting helps us stay focused and informed. It is not unusual to open the computer in the morning and find 543 unread lines in Skype. Weekdone saves time and tells the whole story within a glance on team's objective, plans, progress and problems. Writing down what everybody needs to get done and monitoring what anyone else in the team is currently working on, helps us achieve our goals.
Team Meeting Toolbox – to make our remote team meetings easy and productive.
Although there are thousands of tools that solve similar problems, our team has find the right mix. This balance might change as the team becomes bigger but it satisfies our current needs. As we struggle daily to make our weekly reporting tool as simple and insightful as possible, we try to do the same inside our team communications.
Which additional tools could be crucial for remote teams?