Using OKRs can be a challenge to take on at first. Getting your team to use the system often comes with a long, sometimes frustrating, onboarding period. That is why, at Weekdone, we have made a lot of improvements to our Objectives and Key Results (OKR) features this year. Our goal: making Weekdone easy to use and reduce the confusion people have when starting to use a new goal setting methodology.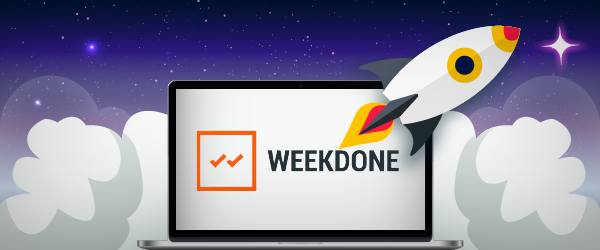 Using Weekly Review with Objectives and Key Results.
One of the core features of Weekdone is Weekly Review. It helps managers and employees see what their co-workers are working on each week.
In Weekdone, Weekly Review consists of a personal page where users should fill out their activities that contribute to the team and company OKRs at least once per week. This makes sure that everyone knows, what you are planning to achieve this week, what were your last week's accomplishments, and if you have run into any problems.
Some companies choose to use the Weekly Review or OKRs separately, but they truly work best together. Instead of thinking about Weekly Review as a separate feature from OKRs, the two complement each other quite well. Weekly Review allows your team to focus on the most impactful tasks, while keeping their long term goals (OKRs) in mind.
We have seen a major shift in engagement and an increase in Objectives completion when Weekly Planning is used actively as employees tend to review and update their OKRs more frequently.
Slack integration update in Weekdone.


In order to help teams manage different software together, Weekdone offers plenty of integrations with tools like Jira and Asana.
Now we've taken this even further and now offer Slack integration for your OKRs and weekly activities to make working together more streamlined, collaborative, and purposeful.
Read more about how to set it up.
Objectives and Key Results. Hierarchy view.
Our new hierarchy view will help you and your team visualize your company's OKRs and their alignment across the entire organization. It is a powerful tool that shows you how each team and team member plays a part in taking your company closer to the end goals.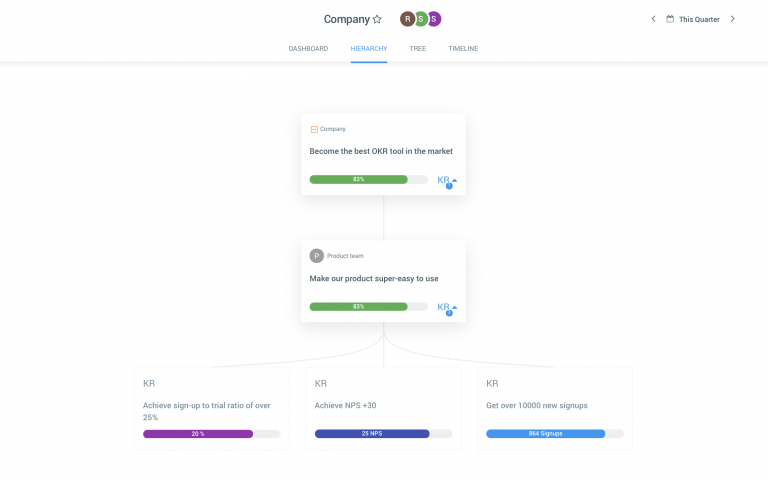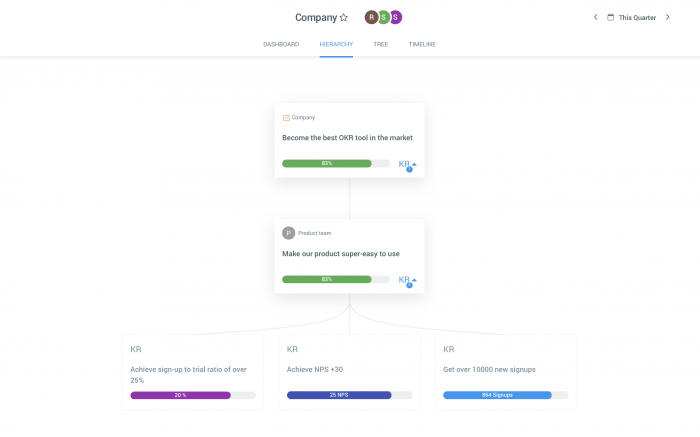 It can be used to see the goal structure, current priorities, or any problem areas that need attention. To take full advantage of this feature your company should use OKR linking. If you don't use it yet, then read this post about how OKR linking could benefit your company.
Weekdone learning center.
We launched a new learning center to offers practical information about implementing Weekdone and Objectives and Key Results. To both employees and managers. It goes over everything from the basic principles of OKR methodology, Weekly Review, and how to incorporate Weekdone into your company culture.
The learning center has two distinct parts. One aimed at managers and one for employees.
From doing countless training sessions for team of all sizes, we have learned that the needs of those who lead teams and specialists doing their job, are very different. And their expectations from a software are different as well. That is why we have made sure, this learning center answers questions for both.
Check out Weekdone learning center now!
Get started with OKRs in Weekdone.
Getting started with Weekdone consists of three parts. First, you study the materials, then you put that theory into practice, and after that, you adjust and perfect your team's usage of OKRs.
Over the years, we have also written many ebooks to help you understand OKRs and Weekdone better.
Like many others, we wish to be better tomorrow than we are today. Weekdone will not be finished anytime soon and each year brings new upgrades to the product. So, if you haven't yet, sign up for Weekdone now and get the most of your year.