Let's imagine you know about OKRs but aren't completely sure where to begin. So you start solo; working hard to understand the purpose of the goal-setting methodology, eventually introducing elements of it to your employees – one team manager at a time. This steady process eventually leads to a whole company buy in – transforming your organization with increased transparency, accountability, cross-team communication, and output-focused planning.
This isn't our story, it's Brian Abernethy's – CEO of Service Direct. And we're here to learn more about how OKRs have become an integral part of the daily workflow at Service Direct. Here's our interview with Brian: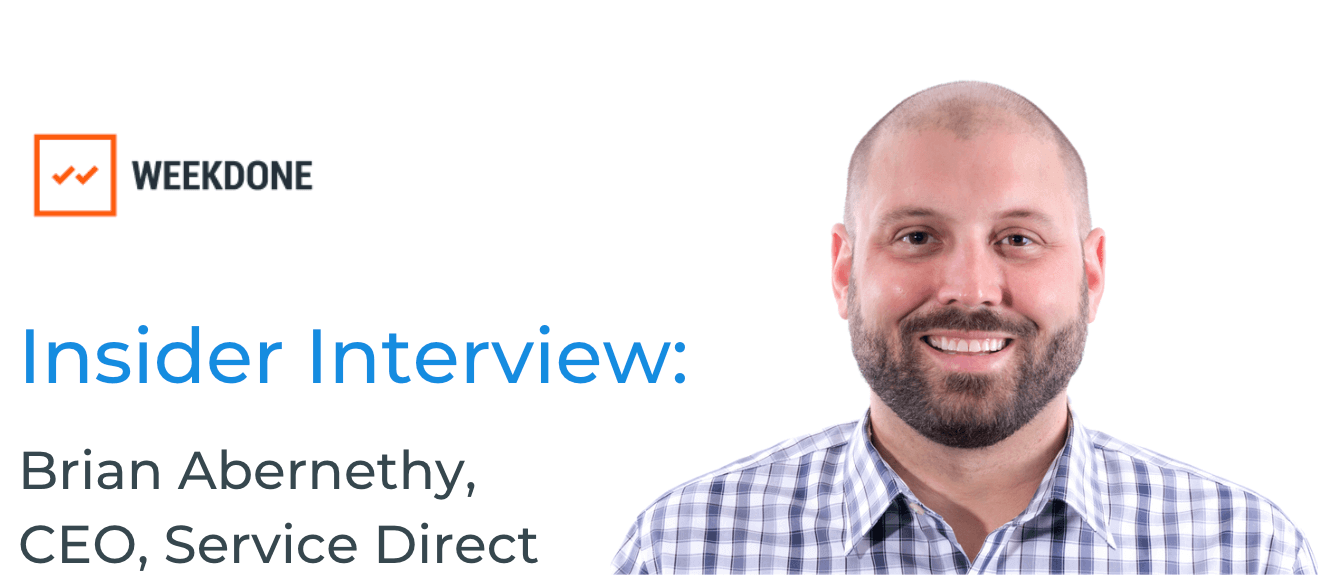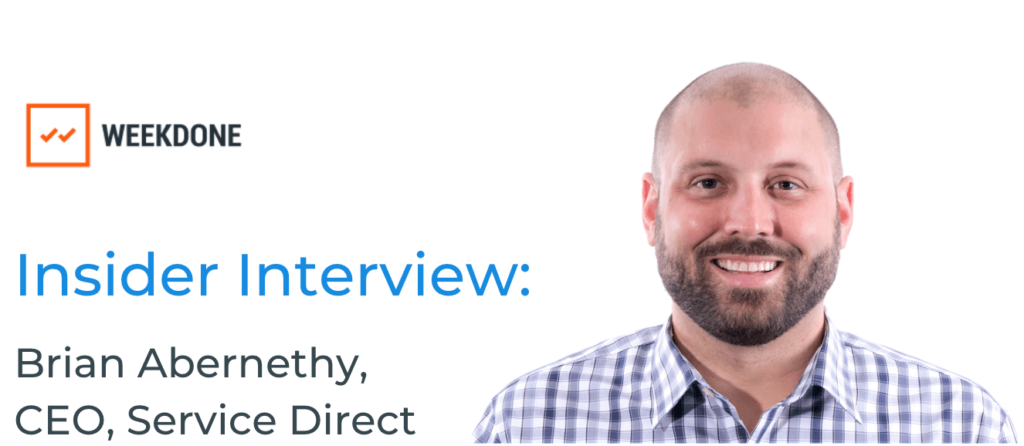 Hi Brian, thanks for your time! After reading about your OKR journey at Service Direct I thought it was a great opportunity to discuss your experience with OKRs further. Could you share a bit about your company?
Service Direct is a technology company that helps local service businesses grow. Trusted by thousands of service businesses across North America since 2006, Service Direct offers local lead generation and lead management solutions that provide a transparent, cost-effective, and low-risk way to get new customers online. Based in Austin, Texas, Service Direct is a Google Premier Partner and has been recognized on the Inc. 5000 list of the fastest-growing private companies in the country for five consecutive years.
Wow – awesome accomplishments, congratulations! How big was your company when you first started using OKRs? And how big is it today?
We started using OKRs in 2017 when we were a team of around 15 people and we are now a team of 30.
Were you working with any other goal-setting framework before introducing OKRs?
We honestly didn't have a framework before we started using OKRs. We are bootstrapped, and started out with just a few people. We were working on projects together and all knew exactly what we were trying to accomplish. We would make one or two straight forward goals for the year (such as a yearly revenue target) but with everyone wearing so many hats our primary focus was on our clients and our day-to-day responsibilities.
So, what was the push point that drove you to go all in with OKRs?
As our team grew and we weren't all sitting in the same room together all week, we realized we needed a way to help prioritize our work and share info across teams.
An important realization! Was everyone on board? How did you manage to get that buy-in from teams across the company?
It wasn't easy! Some of our teams bought in quickly, while others (usually the busiest teams) were slower to adopt. While we certainly weren't perfect at using the OKR framework at the outset, we were persistent and slowly but surely, over the course of more than a year, everyone bought in.
That's great – and proves that it's about the journey rather than "perfection" or performance. Do you feel that OKRs have improved the accountability and transparency of your company as a whole?
Absolutely. We have an OKR Reflections meeting each Thursday where we collectively discuss all OKRs and progress made. While this meeting is primarily a chance to celebrate wins and an opportunity to see if others are stuck or might need help, it also naturally fosters transparency and accountability.
So you've seen that OKRs really inspire organizational change! From your experience, why do you believe this methodology is so effective for a company?
OKRs help individuals and teams understand the "why" behind their day to day work. This leads to better cross team performance and we have found that employees give more insightful feedback when they have a better strategic understanding of what we are collectively trying to accomplish.
What would you say to an employee or team leader new to the methodology who may be feeling intimidated by such a structured goal-setting method?
Speaking from experience, the structure at first can feel confining. Most leaders are doing a lot of things at once and highly structured goal setting methodology can sometimes seem like a luxury instead of a necessity. It takes practice, but eventually that same structure makes planning easier and more effective.
Also, it's important that your team, especially your direct reports, understand that OKRs are stretch goals, and that success is defined by achieving 70% of goals. This can be difficult to grasp, as employees sometimes worry if their goals don't reach 100% completion. It's important to communicate (with words and actions) that OKRs are stretch goals, not a tool for discipline.
Great point! We also really believe in driving it home as well! Now, within your executive team, what is your process for planning and setting these high level goals, or company Objectives to inspire and cascade OKRs to other teams?
About 4 weeks before the start of a new quarter we start planning OKRs from the top down, starting with an executive meeting to discuss the previous quarter and any new initiatives. We have a process where our managers vote on what they each feel are our highest priorities. We collectively discuss and prioritize from there, holding meetings with every stakeholder to brainstorm, discuss, and finalize OKRs for the next quarter.
How does the methodology play a role in your day to day operations or personal workflow?
At this point the OKR methodology is fully ingrained in our day to day. I discuss OKRs with our managers in each of our weekly meetings and we have a weekly team OKR reflections meeting. When something new comes up—a problem or an idea—we have a process to document and discuss the new item in the context of our OKRs. It really helps create a streamlined, cohesive goal planning process that allows for maximum visibility across the company.
If you could go back to day one and implement an OKR software at Service Direct, what features do you feel would have helped you?
We've tried a few different ways to track our OKRs including various project management tools and spreadsheets. These are great at keeping information organized, but they don't necessarily make it easy to digest how everything fits together. As a result, our OKRs didn't always connect with each other (and we would make too many).
It took us a long time and a lot of trial and error to discover that a simple, visual representation of our OKRs is key. Any tool that makes it easier for individuals to visually grasp an understanding of how the Key Results directly cascade down from the Objectives is extremely beneficial. Also, we've learned how important it is to be able to see how well people and teams are tracking toward their OKRs. If everyone can easily see when someone is falling behind then there's a greater opportunity to rally around that initiative.
Transparency and simplicity are key! And now I have to ask since you've become so well versed in the methodology – is there anything a goal setting spreadsheet can't offer that a software could, in your opinion?
One challenge is that people oftentimes have a different definition of progress/completion. For example, a KR of a new feature release. The release went well and everyone put in their best effort and all deadlines were met. However, no users are actually using the feature. How do we view and talk about whether this KR was successful? In this instance, a software tool could have given us multiple ways to track progress/success, separating a "effort" metric from a "results" metric.
An OKR platform that increases visibility and understanding of results could be invaluable to a company trying to start using the goal planning methodology.
Thank you so much for all of your ideas and thoughts, Brian! We look forward to a follow up chat somewhere down the line!
Share OKR progress freely across all teams with Weekdone
Our chat with Brian reminded us that what we're doing can improve team alignment in all types of companies – from true beginners to OKR veterans!
If you're unsure about what Weekdone is, or how we can help you – book a demo with us, or check out our OKR software features. Maybe you want to jump right in and register, you can invite your team for a 2-week free trial to see how our software can help take your company to the next level!
We loved chatting with Brian about their company OKR journey at Service Direct. Do you use OKRs in your company or team? Are you a Weekdone user and want to share your experience with us? Please do! Get in touch with us at hello@weekdone.com