Today, we're happy to launch 1:1 discussions between employees and leaders inside Team Compass. One-on-ones are a great way to discuss work matters privately between team managers and their employees. You can use them to provide feedback, praise, or act as a Q&A,. While nothing can replace regular, weekly, face to face one-on-ones, an online dialogue is an effective and quick supplement.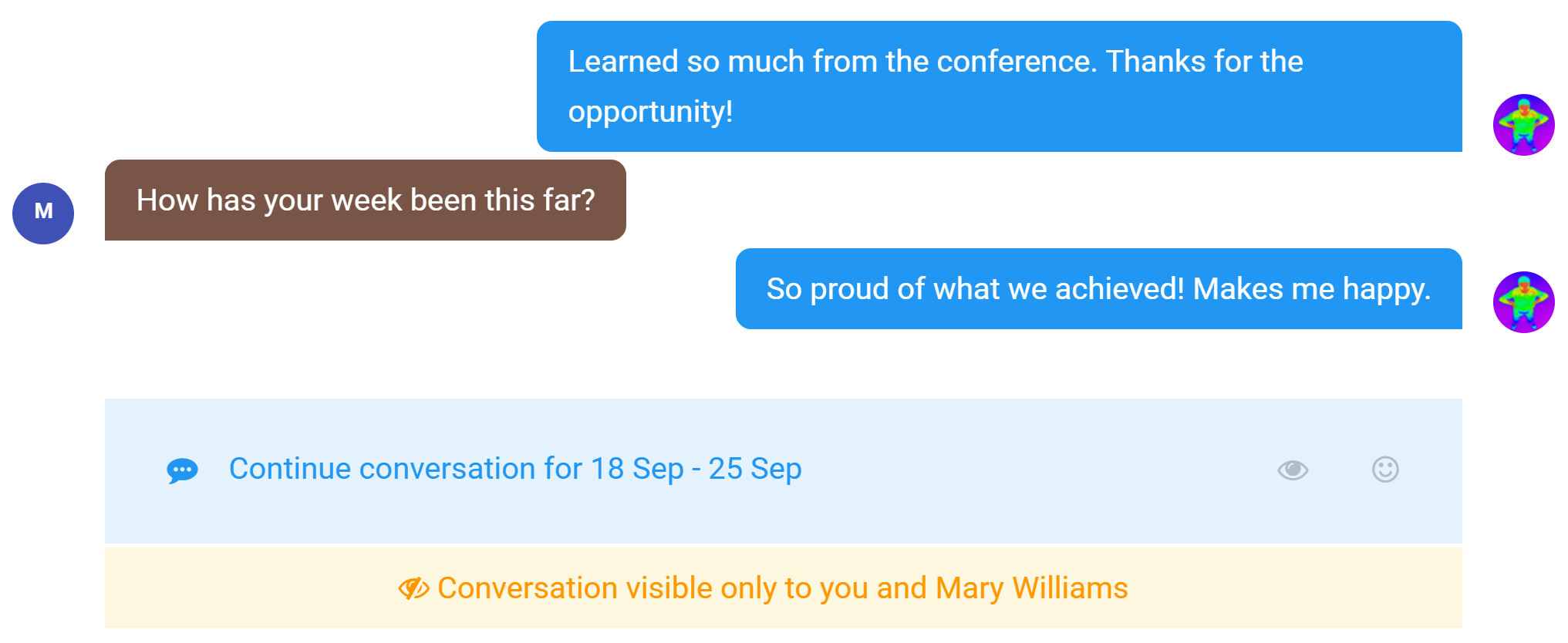 Think of it as an enhancement of our already existing "weekly review" feature. Here's what's new and improved:
The 1:1 discussions now have their own tab in the left sidebar for quick access.
Private notes – a long asked for feature – can now be added.
Since 1:1s are mostly a back and forth discussion, they're now designed as a chat interface.
1:1s are also available at the bottom of the personal OKRs section.
If you use just quarterly objectives and not the weekly planning or check-ins, you will still be able to use 1:1s even if the weekly side is turned off.
The need for 1:1s
According to modern HR trends, one-on-one feedback is a cornerstone of the continuous performance management process. Current market research also shows that employees want more feedback and regular communication from their leaders. It can be about praise, feedback for improvements, guidance, questions and answers, or just a friendly pat on the back. Ideally, you should conduct 30-60 minute one-on-ones each week. Weekdone's 1:1s feature can now be used to enhance offline meetings as you go about your week.
How do 1:1s work in Weekdone?
1:1s are like a chat discussion. They open from the left "1:1 Discussion" tab. Use the second sidebar to choose any specific person – or yourself. To add text, just click the blue "Add a weekly review" or "Continue discussion" input, from there type your response and press enter.
You can also access 1:1s from the blue chat bubbles section that you find in three places:
At the end of each personal weekly planning page.
At the end of each personal quarterly OKRs page.
In company, department, and team reports under each person's 5-point ratings.

Permissions – who can see the 1:1s?
Only you and your team manager can see them, nobody else. If you are an employee, you'll see the one-on-one section for only yourself, and only your team manager can discuss them with you.
If you're a leader managing a team and want to use 1:1s with employees, you need to be added to respective team under People and Teams Settings, and the "Team manager" checkbox has to be turned on. If you don't need to add weekly or quarterly objectives there yourself, you can turn the Role to Observer.
Using private notes
Many have asked for the option to jot down private notes. You can now do that by clicking the private eye icon in the 1:1s input field, before adding any text. When you submit it, it becomes a special note in the 1:1s flow. But unlike other parts of the discussion, only you can see it. Use them to write down reminders, evaluations of the week or quarter, or anything else. A private note is designed as a white area with dotted lines:

Get going
The best way to get going is to try them out. Go and add your first 1:1 entry, either evaluating your current week status, asking a question, or just giving friendly feedback.
Reach out to our customer success team via chat or e-mail if you need help getting started or configuring the team settings. We also appreciate any feedback or suggestions for the new feature.
Enjoy your 1:1 discussions!