"Always Be Closing" - nothing resonates more than the classic phrases from Glengarry Glen Ross to motivate your sales team. But times have changed in the competitive world of sales. You don't have to sell your soul to close deals, you need a strategic approach to sell smarter.
If there's one team in an organization that needs to be goal-driven it's the sales team. That's why modern sales leaders are implementing Sales OKRs (Objectives and Key Results) to set meaningful goals that can drive not just sales, but growth.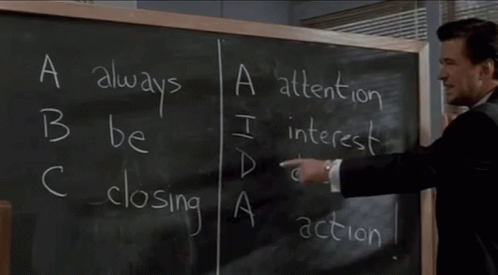 The OKR framework is a time-tested goal-setting method to help your sales team focus on improvement areas to facilitate growth and prioritize outcomes that can have an impact within 90 days.
👀 Watch this video to find out everything you need to know to launch OKRs successfully.
Why Use OKRs in a Sales Team?
Sales OKRs are used to set motivating ambitious goals along with measurable results. The OKR framework lets you organize and prioritize your regular sales targets and deliverables in a new way.
Using OKRs enables sales teams to identify the most important improvement areas and focus on specific quarterly outcomes. A focused effort on determining how to impact those outcomes can drive growth to achieve your KPI targets.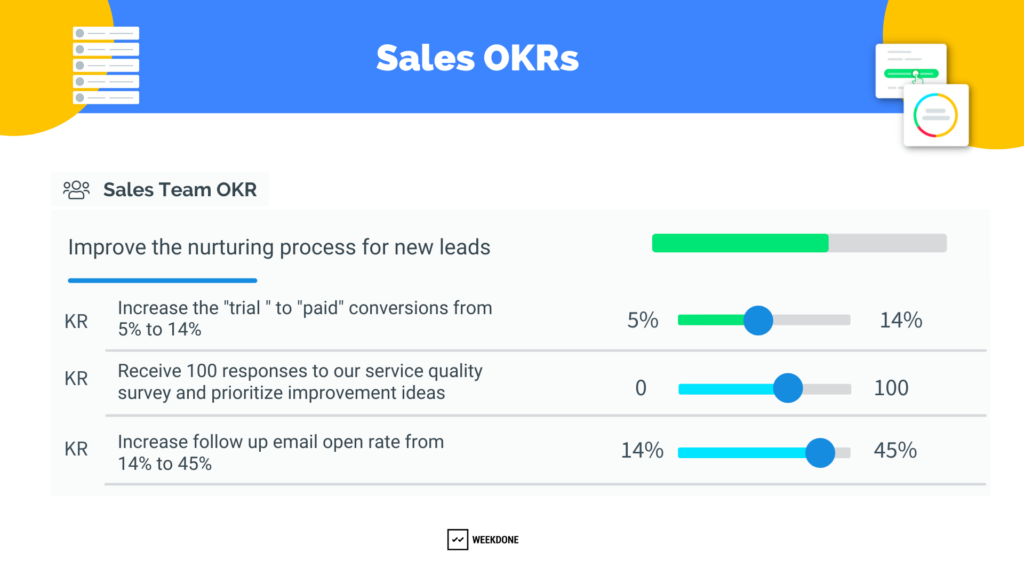 Whether your goal is to boost monthly revenue or CLV (customer lifetime value), sales OKRs provide a strategic approach to drive ambitious sales targets, without losing sight of day-to-day execution priorities.
Sales leaders can benefit from using OKRs because it steers focus to those efforts that have maximum impact. Identifying improvement areas in the sales process can enable sales leaders to guide their teams in the right direction.
💡Keep in mind that sales performance metrics such as KPIs and OKRs are not the same when measuring success.
The Difference Between OKRs and KPIs
KPIs monitor the company's health and performance and do not focus on what needs to be done to improve your business and drive impactful change. While OKRs help to focus on what needs to change to drive success and align the company toward a common goal.
KPIs (business metrics or performance targets) are numbers that show if you are maintaining a healthy business. KPIs have targets (expected performance level) to let you know the criteria that define the term "healthy".
👇If the distinction is still unclear, decode the OKR vs KPI puzzle to see the difference.
Sales KPIs Examples
In most companies, KPIs reflect revenue targets and month-on-month growth of various business metrics. Take a look at some examples of these sales KPIs:
Revenue
Customer Acquisition Cost
Number of new and recurring purchases
Sales figures by region
The number of daily meetings conducted with potential customers.
KPIs can be annual, quarterly, monthly, daily, or even hourly, depending on the metrics you want to monitor. They focus solely on monitoring performance and merely tell you whether you are achieving your targets or not.
While analyzing performance against KPI targets allows you to understand how to keep your business going, these metrics do not tell you how you can improve them.
A business does not grow by simply stating "we need to have a higher revenue target". Moreover, when you are falling behind on KPIs you need to know what needs to be done to get everything back on track.
This is where Sales OKRs come in. They help drive improvements in the areas that require extra attention or are falling behind.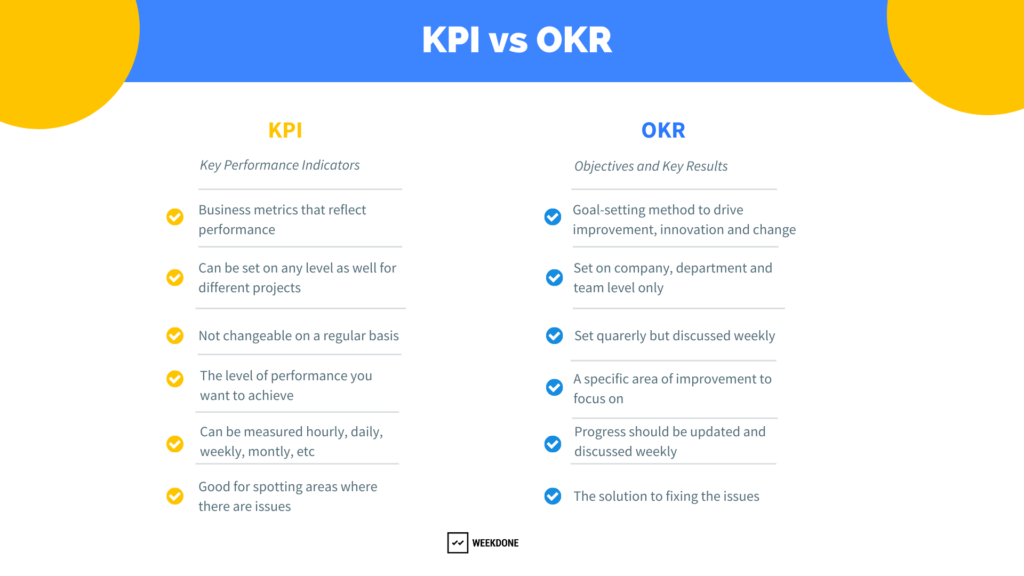 How to Write Sales OKRs
Sales teams focus on targets and KPIs such as the Number of Sales Qualified Leads, Lead-to-Win Rate, or Average Cost Per Lead. That's why when sales teams start working with OKRs, they just add their regular targets into the OKR format and expect change and improvements to happen on their own.
💡 Keep in mind that Sales OKRs should not duplicate KPI targets. Instead, your performance indicators can be inputs and provide suggestions about improvement areas when creating OKRs.
Ideally, you must discuss KPIs and OKRs in the same conversation. Here 2 scenarios where you can benefit from using OKRs :
When you are falling behind on sales KPIs and need an OKR to bring performance targets back on track
When you want to increase growth and need an OKR to pursue initiatives you have not tried before
In both scenarios, you would notice that there is a disparity between current and expected performance. Instead of looking only at numbers and the size of this gap, think about initiatives that would bridge this gap. Ask questions such as:
Are there areas that are bottlenecks and what can be done to improve them?
What has been working in the past and can you double down to continue making an impact?
Are there new and innovative ideas to achieve better results?
The most common KPI target a sales team has is to increase revenue. Here are some questions that can help you create an OKR when considering this KPI as input: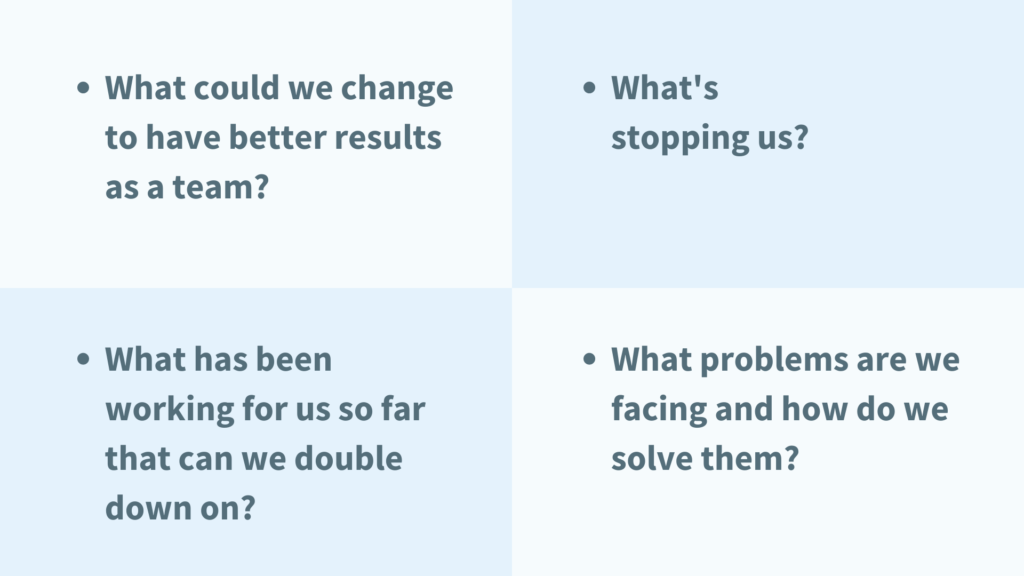 When creating sales OKRs think of the main elements:
The Objective - Create a qualitative statement or aspirational goal that defines a new opportunity or a problem that needs to be solved
The Key Results — Identify measurable outcomes to achieve a definite positive impact on the business
With OKRs you can set quarterly inspirational Objectives and measure progress with quantifiable Key Results. Making progress on your Initiatives gets you closer to achieving Key Results and the Objective. The OKR process also includes Weekly Check-ins that help to understand how day-to-day tasks contribute to achieving your goals.
Sales OKR Examples for Winning Teams
Sales teams are more data-driven than any other team in a company. This makes them better prepared to create Objectives and Key Results, but also creates confusion about the value of the OKR methodology. The common question is, "Why do we need a different goal structure when we already have set our performance targets?"
👇 Watch this video to understand what a good OKR example for a sales team would look like.
Sales OKR Examples Based on Different Focus Areas
The best practice to approach goal setting is to create OKRs based on different focus areas in the sales process.
Revenue Generation

👁️ Observation: Why was this objective created?
Through data insights, it was observed that potential customers visit the website and try the product but leave early in the sales process. However, prospects who move on to later stages in the funnel, tend to buy.
🔎 What needs to be improved?
This means that there needs to be an improvement in the early stages of the sales process. What could help is to strengthen the relationship and build trust with potential customers in the early stages of the buying journey.
✅ Addressing the problem with KR 1
This key result aims to increase the number of second meetings booked. Building a better relationship includes communicating more in a meaningful way. Currently, the sales team does not insist on a second meeting with potential customers. This needs to change to build a better connection and provide all the information the prospects need to make a purchase decision.
📝An Initiative to take this key result forward could be to develop a communication plan and communicate this with customers during the first meeting.
✅ Addressing the problem with KR 2
This key result aims to improve email response rates. While many email templates are used to communicate with potential customers, the response rate is low. This needs to change by creating better email campaigns that are personalized and engaging for the potential customer.
📝 A/B testing different email campaigns (subject lines, content, design, template) could be a good initiative to achieve better response rates.
✅ Addressing the problem with KR 3
To understand why customers leave, the best approach is to ask them and that's what this key result aims to measure. Understanding customers about their reasons for leaving, the issues they faced, and how it could be better, can help in making improvements.
📝 Conducting a survey and asking customers who churn about their reasons can help gain insights into what did not work for them and solutions to improve it.
Sales Approach

👁️ Observation: Why was this objective created?
While the sales team has great potential the sales pitch and how it is presented is not impactful. The quality of the sales approach needs to level up.
🔎 What needs to be improved?
The sales pitch is not strong and is resulting in lower win rates. The presentation of the sales pitch and the skills of the sales teams needs to be improved
✅ Addressing the problem with KR 1
This key result aims to measure improvement in the skills of the sales team. By observing how others present their sales pitch and discussing them afterward, the sales team can improve and create a stronger sales approach.
📝 An initiative to drive this key result could be to ensure key sales team members gain insights from other product demos.
✅ Addressing the problem with KR 2
This key result aims to measure the ability of the sales team to learn the best practices adopted in the industry. Assessing the knowledge of the sales team members can ensure that everyone on the team is adept to deliver impactful results.
📝 Conducting training and ensuring that key members of the sales team understand the best practices in the industry could be an initiative to make progress on this key result.
✅ Addressing the problem with KR 3
This measurable key result aims to impact performance by improving the SQL to win-rate. The best way to use new skills and implement best practices is to apply them in the real world.
📝 An initiative to achieve this key result could be to connect with sales-qualified leads and increase the number of demos booked using the new sales approach.
Strategic Partnerships

👁️ Observation: Why was this objective created?
The capacity to sell as much as can be produced is low. What worked well in the past is co-branding and more focus is needed to build channel partner relationships.
🔎 What needs to be improved?
The focus needs to be on recruiting and managing channel partners more effectively. In this way, a wider market reach can be obtained in lesser time and with fewer resources.
✅ Addressing the problem with KR 1
To achieve growth goals, this key result aims to widen market reach by recruiting more channel partners in specific geographies.
📝An initiative could be to identify well-performing channel partners and create a messaging campaign to recruit potential partners.
✅ Addressing the problem with KR 2
This key result assesses how well channel partners understand the brand after the onboarding and training process is complete. This will ensure that they are knowledgeable and equipped to promote your brand successfully.
📝An initiative that can drive this key result could be to conduct a test to assess their knowledge of the brand and ensure that they obtain high scores.
✅ Addressing the problem with KR 3
By setting targets of achieving sales targets within a specified period, this key result aims to measure how successfully channel partners can promote the brand.
📝 Conducting weekly review and improvement meetings and assigning a sales team member for every reseller could be an initiative for this key result.
🔎 Looking for more sales OKR examples? Whether your goal is to improve revenue generation, prospecting, sales qualification, sales cycle, sales enablement, or reseller channel management, 👇consider these examples to get started on your goal-setting process.
Create a Smarter Sales Approach Using OKRs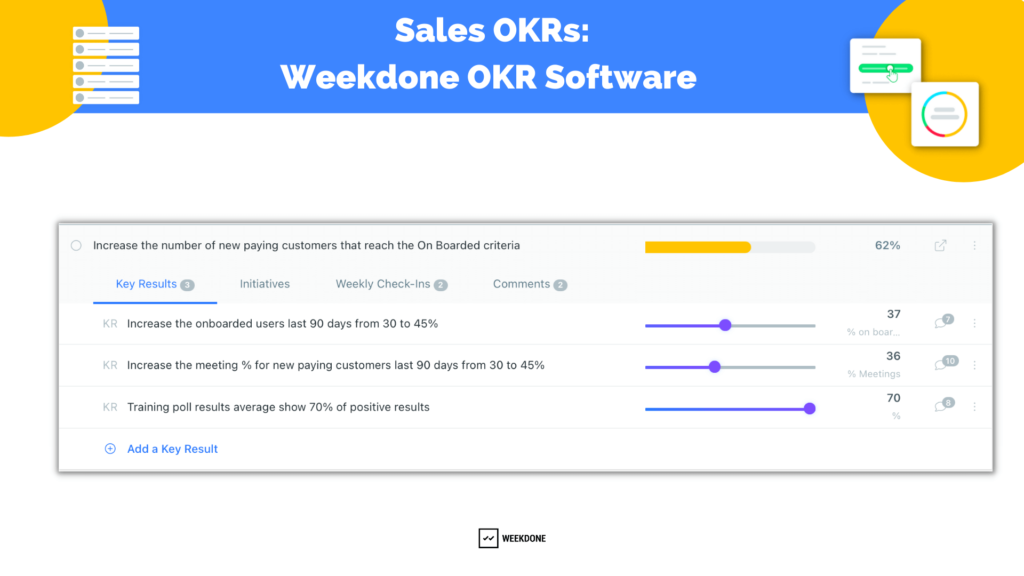 When you implement a new goal-setting methodology in your sales team, ensure that this method works for both you and your employees. Sales OKRs are useful for facilitating innovative thinking and generating out-of-the-box ideas to meet and exceed your sales targets.
When implementing a new goal-setting methodology in your sales team ensure that the method works for you and your employees. Sales OKRs are useful for nurturing innovative thinking and implementing ideas that meet and exceed sales targets.
💡Keep in mind that implementing OKRs requires commitment and it is not always easy to stay on track. That's why most companies use an OKR software to set, track, and measure their goals.
Weekdone OKR product features help companies properly implement, set, track and report OKRs. What can you do?
Focus on driving success by setting and tracking structured goals
Align and update goals across the company and visualize overall progress
Prioritize most important tasks, monitor weekly targets, and drive performance to achieve goals
Improve team collaboration and understand the health and progress of every team
Save time using automated reports and see the progress of your OKRs in an interactive dashboard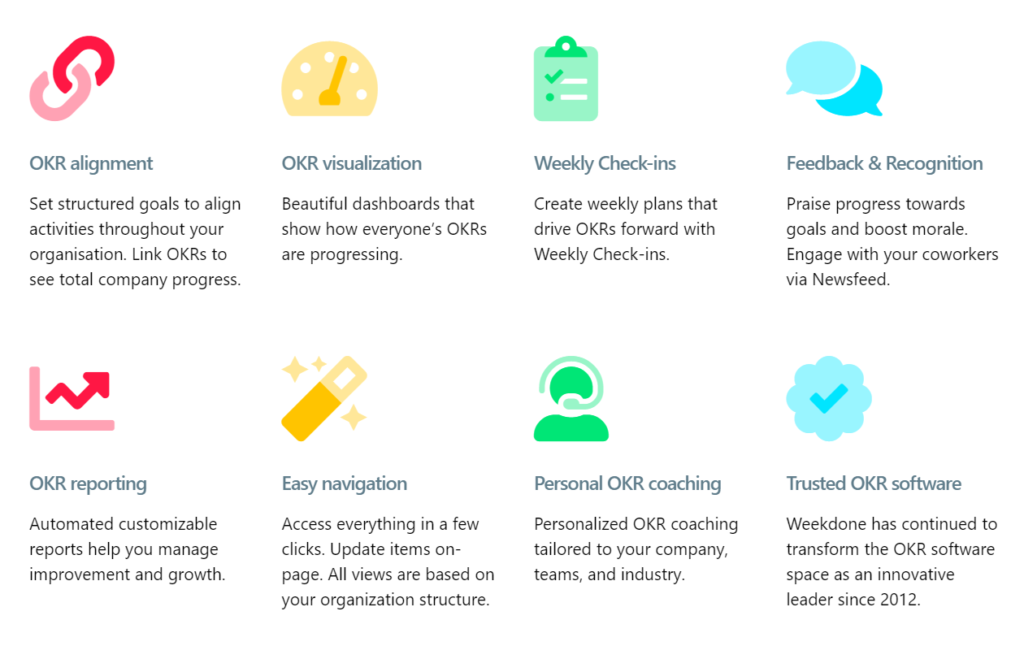 👉 If you want to see how simple it can be to set OKRs, give it a go in our user-friendly software.