The product management process is intricate and if not managed tactically can get disruptive. It involves many focus areas - from product strategy, maintaining usability, ensuring continuous development, bug fixing, and maintenance, to on-time delivery. Creating product OKRs is one of the best ways to prioritize and streamline the product management process.
As a product manager, you may often face the challenge of dealing with many requests from customers and team members. You may also have your strategies about what should be changed to improve the product. Implementing all these initiatives and staying on track with delivery can get overwhelming.
That's why adopting a goal-setting framework and using product OKRs (Objective and Key Results) can help prioritize and align your efforts with the company's goal. Moreover, product OKRs also help measure the product development progress by tracking the results of changes and improvements made by your team.
👇The best way to learn how you can set product management OKRs is to implement them in a real-world application.
4 Essential Components of Product OKRs
The OKR (Objectives and Key Results) framework is a quarterly goal-setting concept that is used by product teams to focus on the most important improvement areas and deliver valuable measurable outcomes for the business.
Product OKRs are based on two essential elements:
The Objective is a qualitative goal that tells you what you want to improve,
The Key Results (KRs) are business outcomes that define how you'll know if you have progressed toward the Objective.
An Objective is like a mission statement, only for a shorter period – for a quarter. A great Objective is ambitious (not impossible) and encourages the team to accomplish Key Results within 90 days.
Key Results under an Objective quantify success (as defined by you) for this quarter. Teams typically create Key Results by asking simple questions such as "How would we know if we met our Objective?" or "What would we quantify success (as defined by us)?".
A team should ideally have 3 to 4 Key Results per Objective and should be based on anything that can be measured.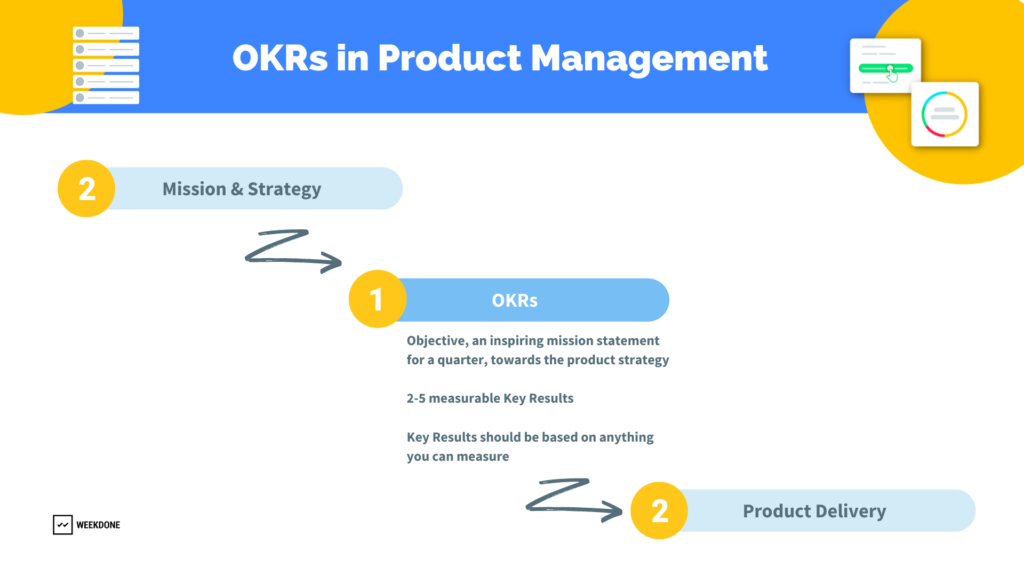 Other Critical Elements When Setting OKRs in Product Management
Two other critical elements in the OKR process are Initiatives and Weekly Check-ins — how you can drive OKRs and how to track the progress:
Initiatives include all the projects and plans that will help you achieve your product team Objectives,
Weekly Check-ins drive your OKRs forward by focusing your attention on what you need to do during one week.
While Key Results are the outcomes that the team wants to achieve, Initiatives are activities (outputs) that the team will execute to drive progress on the Key Results.
⬇️ Take a look at how Key Results and Initiatives would appear in an OKR Software like Weekdone: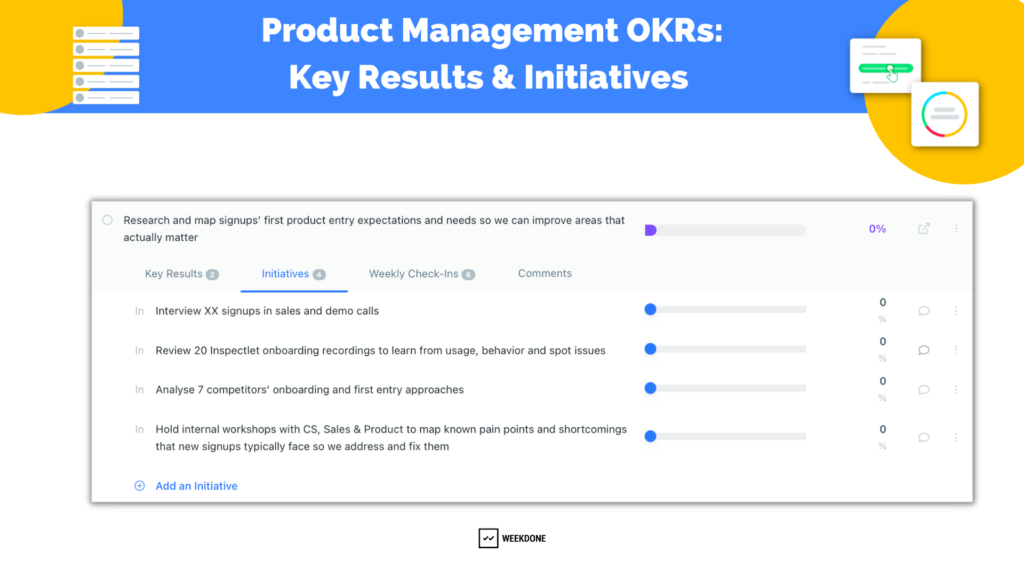 💡 Separating KRs (outcomes) and Initiatives (outputs/deliverables) helps product teams stay focused on the changes they want to drive. It also helps continuous improvement through actionable experiments (initiatives) to address the problems that need solving.
10 Product Management OKR Examples
Product management teams have to deal with several initiatives. To prioritize the most important initiatives, Product OKRs can be set based on different focus areas.
User and Prospective Customer Research
Activation
Retention
Internal Processes
⬇️ Listen to our OKR expert and learn from the examples provided to create product OKRs correctly.
1. User and Prospective Customer Research
🎯Identifying the needs, wants, and preferences of current users and potential customers
OKRs for Product Managers: User and Prospective Customer Research
Example 1
Objective: Research expectations of early-stage customers to improve important areas

KR 1: Record early-stage product usage and summarize learnings
KR 2: Conduct 50 interviews of early-stage customers in the quarter
KR 3: Analyze learnings and finalize 3 improvement areas
Example 2
Objective: Identify the best product-market fit based on the Ideal Customer Profile (ICP)

KR 1: Launch UX mockups for 15 existing customers and improve usability score above 7/10
KR 2: Conduct 20 interviews with buyers that have issues and match the ICP
KR 3: Obtain a score of 10/10 on internal feedback from the sales team
2. Activation
🎯Making customers see value in your product.
Product Management OKRs: Release Management
Example 3
Objective: Improve the release process of new features

KR 1: Improve the feature adoption rate in the first month from 40% to 75%
KR 2: Reduce resolution time for bug fixes under 8 hours
KR 3: Complete 80% of tasks committed for every sprint
3. Retention
🎯 Making the product useful for customers in the long term
Product Team OKRs: Customer Satisfaction and Engagement
Example 4
Objective: Quicken the time that different types of customers take to complete tasks (for those who are using the product for the first time)

KR 1: Increase the percentage of users who log in at least 3 times from 7% to 20% within 10 days from sign-up
KR 2: Increase the percentage of leaders using dashboards from 5% to 25% within 7 days from sign up
KR 3: Increase the percentage of HR admins using the employee pulse survey feature from 15% to 35 % within 7 days from sign up
Example 5
Objective: Introduce more opportunities for customers to personalize their user experience

KR 1: Publish popular customizations requested and obtain at least 500 users to adopt customization features
KR 2: Promote customization of reports and dashboards to increase the percentage of users who can customize from 15% to 50%
KR 3: Reduce the 40-day drop-off rates of users from 50% to 30%
Internal Processes
🎯 Focusing on the product development process, speed, and quality of delivery
Product Management OKRs: Design, Development, and Operations
Example 6
Objective: Create a streamlined pipeline to increase the launch of new features

KR 1: Increase active development of new features from 4 to 8 per quarter
KR 2: Increase the total number of new features in different stages of production (consideration, planning, deployment) from 3 to 7 per quarter
KR 3: Increase the release of new features from 5 to 10 per quarter
Example 7
Objective: Increase the speed of delivery of new features

KR 1: Reduce the time from feature definition to delivery under 4 weeks
KR 2: Increase the sprint velocity of releases from 15 to 35 points
KR 3: Reduce the number of bugs per feature from 5 to 2
Example 8
Objective: Improve consistency of the CI/CD (Continuous Integration / Continuous Delivery) process

KR 1: Reduce the number of reports for critical bugs below 3 per release
KR 2: Increase the number of releases from 4 to 10 per quarter
KR 3: Use automation to reduce the duration of deployment and delivery from 4 hours to 30 minutes
Example 9
Objective: Improve the skill and knowledge of the product team through learning and training sessions

KR 1: Ensure 100% team members conduct at least 5 knowledge sharing and exchange sessions
KR 2: Conduct at least 1 product management training workshop and ensure 100% participation
KR 3: Create and share a common knowledge repository with best practices from 15 team members
Example 10
Objective: Build a high-performing product team

KR 1: Implement a new agile discovery and delivery process by the end of the quarter
KR 2: Increase the score of employee satisfaction from 7 to 10
KR 3: Ensure 100% of team members participate in at least 2 product training and knowledge transfer sessions
👉 If you need to refer to more product management OKRs check out our OKR database with 100+ OKR examples for every team and industry.

OKRs for Product Managers: Best Practices
Before talking about the best practices on how to set product OKRs, let's take a step back to understand how product management OKRs fit into the bigger picture. Focusing on the "why and what" can be a good guiding point when creating a long-term product vision and product strategy.
Why are you planning specific projects?
Does it solve the problem you are trying to address?
What is the outcome you want to drive by executing these initiatives?
From this long-term vision, the quarterly strategy or OKRs can be derived. The gaps in the product strategy would typically form your OKR priorities:
Which features are not used or liked by customers and why?
Are there features that need improvement to fit the needs of customers better?
Are there more value-added features that can be added to elevate the product story?
The Objective defines the improvement that the product needs and the Key Results define how this change is going to be recorded (based on customer behavior) and measured.
Let's look at example 4 that focuses on Customer Satisfaction and Engagement from the product management OKR examples mentioned above.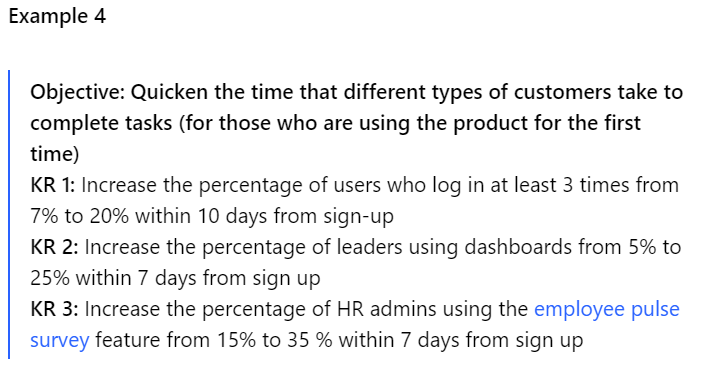 How and Why was this Objective created?
👁️ Observation:
You noticed when analyzing customer behavior that early-stage users found it difficult to navigate their way in the product. They were unable to find the right features and were not using them in a way that works best.
🔎 Problem to be addressed:
This confused the users resulting in drop-offs and lower adoption. Something had to be done to make the product more user-friendly and help users know how they can find and use different features.
✅ Addressing the problem with KR 1
This key result aims to increase the number of users who log in at least 3 times within the first 10 days of signing up. Initiatives that can drive this outcome could include introducing a new onboarding program, a welcome email message, or revamping the Learning Center.
✅ Addressing the problem with KR 2
The intention of creating this key result is to improve adoption by leaders who use dashboards within 7 days from of signing up. The initiatives could include adding more features for users to personalize dashboards, or promoting (webinars, blog articles) how users can customize dashboards and reports.
✅ Addressing the problem with KR 3
This key result was created to focus on increasing the number of HR admins who use the employee satisfaction feature within 7 days of signing up. An initiative for this key result could include testing different Pulse Survey formats and designs to identify which version the users find most easy to use.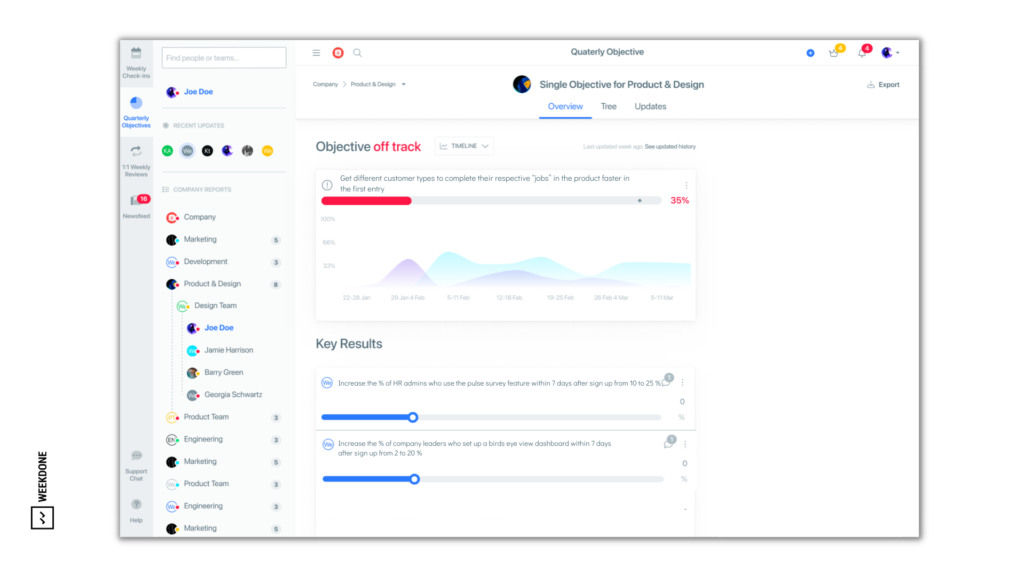 Why Product Managers Need OKRs
To answer this question, let's consider how Product Managers can benefit from using product management OKRs:
OKRs provide a clear focus to prioritize, and not carry forward tasks from the backlog
Simplicity and having a limited number of Objectives and Key Results allow the product team to focus on what matters. It's recommended to have 1 to 3 Objectives for each team and not more than 3 to 5 Key Results for every Objective.
While product teams often work in sprints, OKRs do not interrupt this process; instead, it provides a streamlined approach to pursue in the quarter. Keep in mind that OKRs typically do not include all business-as-usual tasks because they should ideally reflect the most important improvement areas for the product team and not individual tasks.
OKRs add agility to the product management and development process
Unlike traditional long-term product strategy, OKRs follow a quarterly goal-setting cycle and a weekly check-in process. This allows product teams to learn from retrospective reviews and make changes on the go. It gives product teams more agility and the possibility to evaluate risks and reduce inefficient use of resources.
As OKRs are set quarterly it allows everyone to focus on meaningful change and analyze the results to make better decisions for the next quarter. Regular and shorter cycles reduce the time for planning and provide team members with clarity about the long-term vision and autonomy to deliver immediate action plans.
OKRs provide autonomy for teams to identify the right solution
The biggest challenge of most product teams is that instead of defining Key Results as measurable outcomes they create a list of action-based outputs.
The output is a project you plan to implement to achieve your goals, whereas outcomes are the measurable results that you wish to see after delivering outputs.
Focusing on outcomes allows team members to decide which projects (Initiatives) they need to focus on this quarter to drive the Key Results. Choosing low-value Initiatives will lead to failure with the Key Results that they set themselves. As OKRs are set by the whole team together, not by the team manager alone, everyone has personal accountability and clarity about their team Objectives - making it more motivating to achieve them.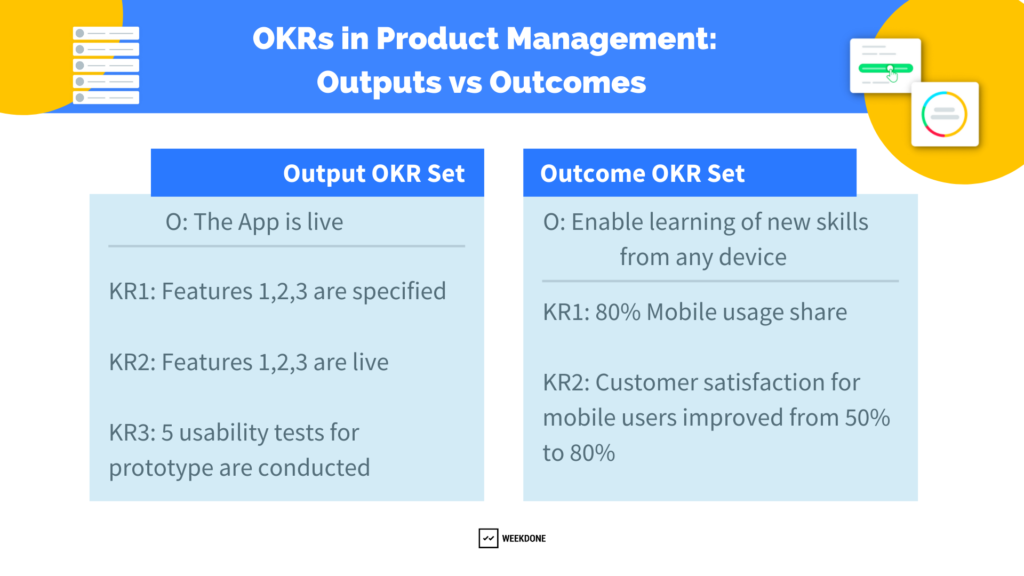 Align Product Team OKRs with Company Goals
Setting OKRs for product teams helps to align team objectives with the company goal. In this way, every team member is clear about how their work contributes to the higher-level goals. When implemented correctly, the OKR framework can align everyone in the company and drive them toward achieving a common goal.
Moreover, regularly discussing OKRs and reviewing accomplishments and challenges in the quarter can encourage team members to deliver work that has more value and impact on business outcomes.
👇 If you want to learn how to align OKRs, check out these examples:
How to Get Started with Product OKRs
Before launching the OKR methodology, understand how it fits your product strategy and delivery. Keep in mind that OKRs would not replace all other product management tools you currently use. Instead, OKRs bridge the gap between strategy and execution and help you create a goal-setting mindset that can drive growth.
The OKR methodology may be a simple concept to understand, but implementing this goal-setting framework needs dedication and commitment. Most companies use an OKR tool to succeed with OKR implementation.
With Weekdone, you can easily align your goals company-wide, drive performance weekly, improve team collaboration, analyze results easily with live dashboards, adopt the best practices through OKR coaching, and seamlessly integrate with other tools you already use.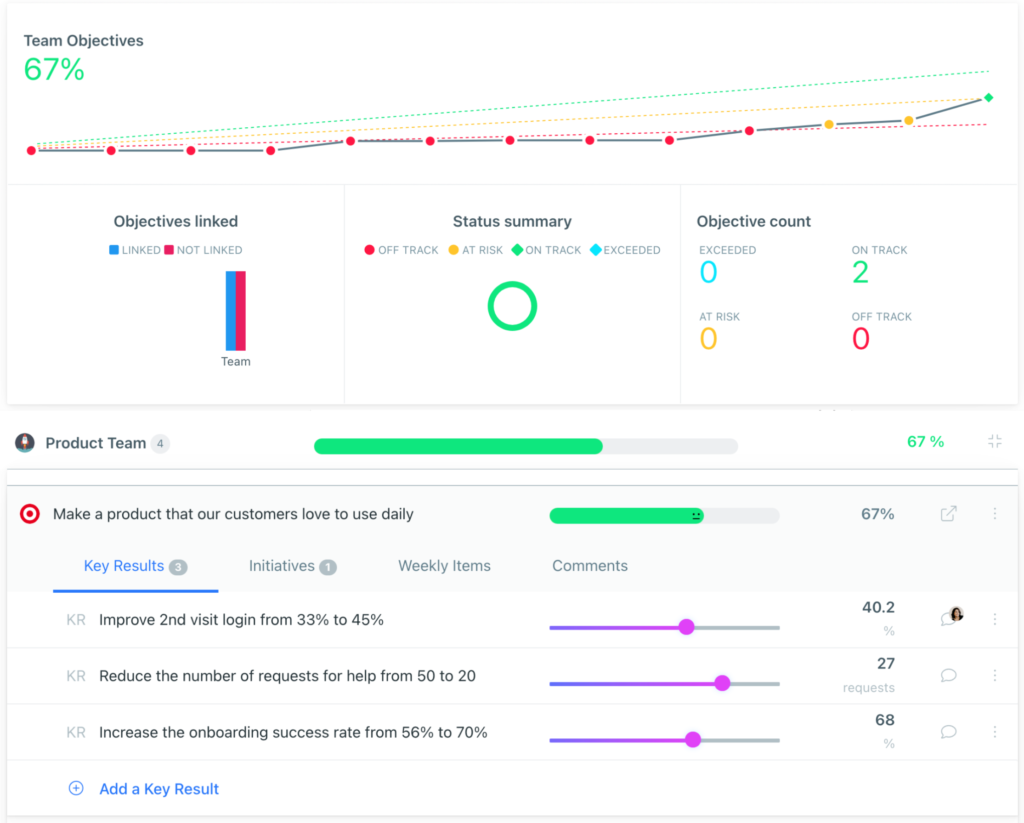 🖥️ Take a walk through and understand how you can use Weekdone to successfully implement the OKR framework for your product teams and beyond: