Adoption of team productivity tools is nothing new, in 2020, the software market was valued at 41.90 Billion USD, and it's predicted to rise to 122.70 Billion USD by 2028. The team productivity app market is big business.
You may have been using a productivity tool for years, however, in such a fast-moving sector, you might be overlooking a better productivity tool to help supercharge your business's productivity even more.
In this article, we delve into 30 of the top team productivity tools and give you the low down on why you should be using them and their key benefits. Read on to find out about the best tools for your business in this guide.
Using Innovative Technologies to Boost Productivity
When it comes to implementing processes that will improve productivity, there is no silver bullet. There's no single magic formula that will solve all productivity issues within your organization. However, there are many techniques or methods you can employ to boost employee productivity.
Two ways to boost productivity are:
Implementing a team goal tracking software
Introducing employee engagement surveys or software
There's no one-size-fits-all solution to choosing the right tool or solution for you. The best ones for your business will depend on your industry, the size of your team, and your key problems. Additionally, the application or software you choose should be intuitive enough for your team to want to use.
The best apps, templates and tools are ones that:
Don't interrupt workflow
Make tasks more streamlined
Improve productivity levels
Keep reading to find out some of the best team productivity tools we think you should consider.
Top 30 Team Productivity Tools
We've listed 30 of the best team productivity tools, software, and applications and included essential information about their key features, how they can help with productivity, as well as pricing details.
Team Goal Setting & Management
Setting short-term, quarterly goals with OKRs has been a proven way of improving productivity for teams. Using a productivity app can be especially useful for businesses that lack structure or where employees don't find a connection between their role and the big-picture company mission.
1. Weekdone
Weekdone is one of the top-rated OKR software applications out there. It helps to make teams more goal-oriented and driven by outcomes.
Benefits
Weekdone helps to track teams' progress based on Objectives and Key Results (OKR).
SMART goals can be set through the interface and tracked to see what progress has been made toward the outcomes. It's useful to know that Weekdone isn't a tool specifically aimed at project management or personal productivity, it's designed to work alongside other apps and to facilitate engagement among teams around common quarterly goals and plans to drive those forward.
Key Features & Pricing
Built around OKR best practices
An intuitive dashboard that allows teams to see how they are progressing on OKRs at a glance
14-day free trial, after which prices start from $1620 annually for a 15 user package
2. ClickUp
Another popular choice for goal setting and management is Clickup. One of the top features of this app is that it allows you to break down large Goals into smaller Targets.
Benefits
The use of ClickUp Goals allows users to set then edit and track both personal or business-wide goals. The app then allows you to add goal details including a due date, who is responsible and smaller tasks associated with it which are referred to as Targets.
Key Features & Pricing
An easy-to-use interface that works in real-time
ClickUp offers multiple views that adapt to Agile, Scrum, and Kanban workflows
For personal use, there is a free-forever option, however, for medium-sized businesses prices start at $12 per month
3. Strides
Strides is an intuitive and flexible goal-setting app created for iOS users. It lets you track habits and create SMART goals. It can be used as both a personal or a team-wide goal tracker.
Benefits
The intuitive interface allows users to set goals using a premade template. Progress towards goals is shown visually through a mix of charts, calendars as well as a handy success rate score. It encourages users to set habits based on goals.
Key Features & Pricing
One of the easiest goal-setting and tracking apps out there
Synchronizes across all devices so progress can be tracked at any time
Currently only available on the Mac App store
Lifetime free version with limitations on users, or an auto-renewing yearly $29.99/year subscription
Team Project Management
Understanding and implementing project management is essential for all company sizes and across all sectors. When project task management is done right, it helps every area of the business to run more smoothly and efficiently.
4. Scoro
Scoro is an all-encompassing business management software to streamline workflows and give clarity to what's important. It allows teams to focus their efforts on the most important task at hand.
Benefits
One of the main benefits of Scoro is that users can easily track time and manage teams. It also features a create and send invoice function. The team dashboard shows every team member needs to know about the status of a project at a glance in real-time helping staff to stay on track and within budget.
Key Features & Pricing
End-to-end project management software
Integration ability to over 1000 other apps
14-day free trial, then prices start from $26 per month for a 5-user package
5. Cyfe by Traject
If you work in marketing, then you're most likely using many tools, platforms, and services to help manage your marketing initiatives. Cyfe is one of the top project management tools for anyone dealing with various teams and clients across multiple platforms.
Benefits
Rather than trying to manage multiple apps independently, Cyfe allows you to manage your marketing, sales, analytics, and support all in one place. It works in real-time, giving your employees a clear picture of what's happening at any moment.
Key Features & Pricing
Allow users to monitor and visualize projects on an intuitive, real-time dashboard
Connects to a multitude of other apps, including all the main social media platforms
14-day free trial, then prices start from $49 per month for 10 dashboard/ 5-user package
6. Betterteam
Hiring contractors for a project can be time-consuming and tedious. The process of posting jobs across several sites, sifting through candidates that aren't suitable, and then conducting interviews isn't the most efficient way to utilize your company's resources.
Benefits
Betterteam helps to simplify parts of this process by streamlining the posting of open positions. Rather than wasting hours posting a job to different sites, Betterteam allows you to post your jobs to 100+ popular job sites, in a matter of minutes.
Key Features & Pricing
Streamlines the hiring process
Cost-effective job posting platform aimed at small and medium businesses
4-day free trial, then prices start from $234 annually for 1 monthly job post
7. GoCo
GoCo is relevant for HR management and covers everything from payroll to employee information. It's an easy-to-use tool that can be integrated with an abundance of apps.
Benefits
GoCo helps by ensuring you're always on the right side of the law, by tracking data on staff absence, benefits, requesting time off, as well as being able to seamlessly sync with payroll systems, streamlining the process and eliminating the need for multiple emails being sent back and forth.
Key Features & Pricing
One of the top-reviewed apps for streamlining HR
No free trial, but they do offer a live demo to try out the software
Pricing is based on a custom plan, with a 20% discount on annual subscriptions
8. Traackr
Traackr is the perfect tool if you use influencers for your marketing campaigns and ensures that everyone has access to relevant data. It also has a comparison feature to see who are the top performing influencers on a campaign.
Benefits
Traackr is data-driven, so if you're a project manager who uses influencers as part of your business, then this app makes it possible for everyone on the team to see the efforts of a particular campaign allowing you to compare what an influencer offers benchmarks and results.
Key Features & Pricing
One of the most comprehensive influencer marketing tracking platforms
Easily track ROI across different platforms
Sign up for a free demo, then prices start from $499 per month
9. Asana
A company favorite, Asana allows for a customizable management system. It's a great tool for a multitude of sectors with its multi-purpose project and task management capabilities.
Benefits
Set up various workspaces to manage and monitor projects and assign deliverables. This process can be streamlined through the use of templates which helps to simplify task settings. It's also a great app to keep communication all in one place thanks for the
chat function and file sharing functionality.
Key Features & Pricing
An industry favorite thanks to its intuitive interface
Project management is made easier thanks to the option of chat and file share
Free forever basic plan to try it out, a business plan starts from $24.99 per month
Team Communication
Cross-functional collaboration across different teams or departments is essential for a business to excel. If you work with multiple teams, it can be a challenge to keep productivity high, if they aren't in a room together.
Especially when most teams are working remotely, find out how you can use OKRs to improve team communication and alignment, check out this video:
Here are some of the top productivity tools for improving communication:
10. Slack
Slack is one of the best workplace communication tools on the list. One of the key features is the ease with which you can organize your team's communication into a project, department, team, or channel.
Benefits
If you're looking to reduce the number of emails sent between team members, then Slack is the perfect solution. It's great for team collaboration with its integration capabilities with other productivity applications and file-sharing tools Dropbox and Google Drive.
Key Features & Pricing
Easy interface and convenient way to keep track of conversion between teams
Integrates with an abundance of useful organization and productivity tools
The basic package is free, however, to access the full range of tools, a business plan starts from $11.75 per month
11. Trello
Trello is a great solution for improving team cooperation and communication. It can be set up in a range of formats, some similar to a Kanban board, or by teams.
Benefits
Team members can create digital pinboards, which not only help to track project progress, but also keep all the communication in the same place. Options include to-do lists, status updates, and file sharing.
Key Features & Pricing
Intuitive and easy-to-follow interface with pop-up notifications
Lots of integration with other project management and organization software
The basic package is free, with a premium plan starting at $10 per month
12. Team Compass
Team Compass is a great team management tool, that provides insightful weekly team reports to enhance your team communication.
Benefits
Team Compass helps you set the company direction, keep track of activities, and make everyone an active participant in their work. It also provides tools for managers to keep everyone motivated and hold 1:1s.
Key Features & Pricing
Weekly planning and automated status reporting
1:1s feature and Conversation, Feedback, and Recognition
Free for up to 3 users, then after that $29 for unlimited users.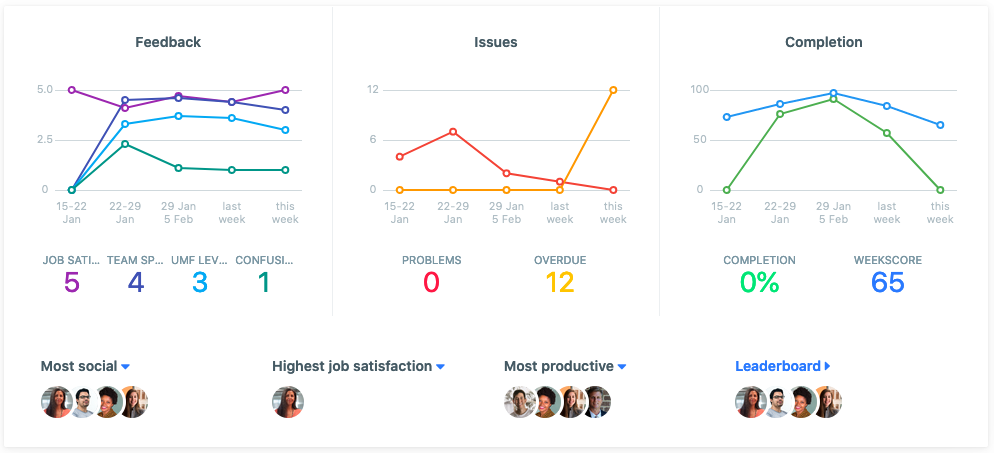 13. Connecteam
Positioning itself as the one-stop shop for all business operations, Connecteam offers many tools to keep your business connected. It features everything you need to simplify work communication.
Benefits
This is the perfect app if you have a remote team as Connecteam serves as an intranet to help workers connect. This helps to boost collaboration and improve productivity. Each employee can look up other team members, find who is on their team, and push messages to the whole staff.
Key Features & Pricing
Encourages staff interaction, which is great for remote teams
Reduces the need for emails for collaboration
A limited plan is free for life, and prices for the advanced features start from $49 per month
14. Hubgets
Hubgets goal is to alleviate the need for email and aims to improve the efficiency work communications. By making useful and relevant information easily accessible it helps increase productivity.
Benefits
Teams can focus on singular projects as well as communicate in real time via a range of mediums. This saves time lost in searching through email threads. It promises to converge conversations to make teams more efficient.
Key Features & Pricing
Uses chat, voice, and video messages to be sent
Turns communication into a searchable database to keep information organized
The free plan allows up to 20 users, a Team Membership plan starts at $5.90 per month per user
15. Nextiva
Aimed at boosting productivity, Nextiva makes it easier for teams to communicate. It boosts productivity by keeping the communication trail all in one place.
Benefits
Teams can send messages via phone, text, and video and store all of this communication in one place. Nextiva is ideal for remote teams that work across multiple communication channels to collaborate.
Key Features & Pricing
Helps user to manage all conversations across multiple mediums
Allows communication with clients through the app
7-day free trial available, plans start from $18.95 per month
16. Kayako
Kayako is a support ticketing app that aims to improve communication between you and your clients. Providing excellent customer service is one of the most effective ways to build customer loyalty.
Benefits
Kayako can be used to provide a human live chat experience to customers if your staff is unavailable. It can also unify all of your channels you may have, including email, social media, and live chat into one team dashboard to provide support to customers quickly and efficiently.
Key Features & Pricing
Provides quick customer service and helps build loyalty
Can provide 24/7 support to your clients via the live chat feature
14-day free trial available, plans start at $300 per month for up to 5 agents
Time Management
One aspect that can hinder productivity is poor time management. Several tools can help employees to work smarter, not harder. They aim to allow them to get more done in less time.
17. Pushbullet
Pushbullet stops the need of switching back and forth between devices. This is one of the top apps for multi-device workers, saving time wasted by switching between devices.
Benefits
It works by connecting your devices and making them feel like one. Pushbullet allows ending messages, phone notifications, links, and files.
Key Features & Pricing
Saves time by connecting all your different devices through a single app
The forever free version gives limited access, Pushbullet Pro subscription starts at $3.33 a month
18. Clockify
Clockify is a time-tracking software to help boost productivity by tracking the time spent on certain tasks. If you work on an hourly basis or too tight time constraints, then this is a great app for you.
Benefits
Time tracking can be automated through the use of timer mode. There is also an option for manually setting and controlling the time track. This is a great app to check how much time is being wasted on unimportant tasks.
Key Features & Pricing
Intuitive and visual interface
Integration with a range of other project management apps
Free forever app
19. RescueTime
RescueTime is a time-saving app that tracks how much time you spend using certain apps. It helps a user to figure out if they are spending too much time on time-wasting apps, such as social media.
Benefits
If you're constantly chasing time, it could be that you're losing it through unnecessary scrolling through applications like Facebook or TikTok. RescueTime tracks which apps are consuming the most time, so you can make a conscious effort to limit your time on them.
Key Features & Pricing
Compatible with Android, Apple iPhone, Windows, macOS, and iOS
Works on accountability, to allow the user to see where time is spent
30-day free trial, prices start at $9 per month
20. Zapier
If you have many repetitive tasks in your business, then Zapier is a great app for time-saving. It works by connecting all your existing apps and services and allowing you to automate certain tasks.
Benefits
Zapier allows users to set a trigger which then completes routine tasks automatically. You can connect thousands of different apps which then allows you to create customized and automated workflows.
Key Features & Pricing
Empowers users to automate work across 5,000+ applications
The free forever plan allows up to 100 tasks a month to be automate
Prices for the Team Plans start at $299 per month
Team Focus Improvements
With improved focus, comes increased productivity. In a busy work environment, there can be many distractions, pulling our attention. These are some of the best apps to help regain your levels of focus allowing you to concentrate on what's important.
21. Freedom
Switching between different websites and social media notifications is distracting. Freedom allows you to block certain websites, digital distractions, and notifications helping to keep you focused on the task.
Benefits
Freedom allows you to actively block distractions on single and multiple devices helping you save time on unnecessary activities. This can be set for certain hours of the day, or done manually.
Key Features & Pricing
Blocks distracting websites and notifications
Can be tailored to your specific requirements
7-day free trial, Pro Plan priced at $8.99 per month
22. Noisli
If you work in a noisy environment, whether at home or office, you'll find that background noises can be a distraction. Noisli aims to block out distracting noises allowing you to focus.
Benefits
Noisli allows you to create your perfect sound environment by mixing the 28 high-quality background sounds which have been designed to drown out background noise. You can adjust the volume. Twin this with a pair of noise-canceling headphones for the most tranquil experience.
Key Features & Pricing
Neutralized distracting background noises
Reduced distractions allow you to focus
Forever free plan with limitations, Business Teams plan starts from $20 a month
23. Sleep Cycle
To maintain high productivity levels, it's important to be focused by getting proper rest. Poor sleep is often linked to health problems and stress. The Sleep Cycle alarm clock app tracks your sleep patterns to find out if you're getting enough of rest.
Benefits
Mental fog, irritability, pounding headaches, or the general feeling of exhaustion can all be linked to poor sleep. Using an app to track your sleep cycle, will analyze your sleep pattern and automatically wake you at the best time based on your statistics helping you feel refreshed.
Key Features & Pricing
Improves sleep, which increases focus
Sign up with Apple Store or Google Play
7-day free trial, annual plan from $39.99
Team Meetings & Presentations
During the pandemic, we became all too familiar with applications such as Zoom and Google Meet, as we all had to quickly adjust to remote working. However, there are many other options available to supercharge your meetings.
24. GoTo Meeting
‍For a more dynamic video conferencing experience, take a look at GoTo Meeting. Transform your standard, basic online meeting into a full-on conference call with multiple perks.
Benefits
With tools like screen sharing, highlighting tools for interaction, and marking important information on the screen, GoToMeeting enhances the standard video call. Use it across a range of devices, with built-in features that keep your meetings professional looking.
Key Features & Pricing
A multitude of in-app tools to enhance your meeting
Useable on a variety of devices
Free demo available, prices for the Professional Plan start at $12 per month or up to 150 participants
25. Workflowy
Workflowy allows for paperless note-taking. Say goodbye to sticky notes, notepads, and pieces of paper, and keep all the essential jottings in one shareable app.
Benefits
Meetings usually come complete with plenty of notes. Notes can get lost, plus often need to be typed up, or reformatted to share with others. Workflowy allows users to create notes digitally which can be categorized, organized and shared.
Key Features & Pricing
Great for collaboration and sharing of ideas
Keep notes from meetings organized
Free forever option with limitations, Workflowy Pro priced at $4.99 per month
26. Canva
No design skills, no worries. Canva is a well-established, intuitive all-encompassing graphic design package. Use one of their templates to help create engaging presentations in a matter of clicks.
Benefits
If you need to present to a team and want to step away from the dated-looking PowerPoint slides, then use one of the templates on Canva. Their templates are sleek looking, with a drag-and-drop interface meaning even with zero graphic design ability, you can create professional presentations.
Key Features & Pricing
The intuitive interface on a drag-and-drop software
Presentations can be downloaded for offline use or shared on social media
Forever free option, subscription from $9.99 a month
Team Organization
Working in a fast-paced environment calls for excellent organization. You can improve your productivity levels by saving time searching for notes or emails. Here are the best organization apps.
27. Todoist
A popular to-do list app with an intuitive interface, Todolist makes managing tasks easy to help boost productivity.
Benefits
It allows each team member to organize, plan, and collaborate across different tasks and projects. It organizes them by task title, due date, and subtasks across a range of platforms.
Key Features & Pricing
Real-time notifications
Easy task tracking with a productivity graph
30-day free trial, pricing starts from $6 per user per month
28. Filestage
Filestage allows teams to collaborate in this way in all-in-one proofing software. Communication can be sorted, edits requested, plans submitted, and comments all in one space.
Benefits
On large projects, it can be easy to miss editing and approval comments in long email threads, especially if multiple team leaders are offering feedback. Filestage streamlined the workflow, keeping conversations organized.
Key Features & Pricing
Can handle videos, images, documents, and audio files
Sign up for a free assisted trial, Professional account starts at $39.99 per month
29. Evernote
Evernote streamlines note-taking and helps organizing notes in easy-to-find and shareable categories.
Benefits
Not only does Evernote allow for efficient note-keeping, but it can also use audio notes and images. These can be accessed, edited, and shared across teams across multiple devices.
Key Features & Pricing
Improves organization of notes and stores them digitally
Syncs them across all major devices
Free-forever plan with limited access, Professional Plan cost $8.99 per month
30. Calendly
A well-established app for the organization of meetings. Calendly is a must-have tool for any small business that has to manage multiple meetings throughout their day-to-day lives.
Benefits
It removes the need for manually scheduling meetings, allows a client to reserve a meeting at a convenient time slot, schedules it to your calendars, and then blocks out that time.
Key Features & Pricing
Can create buffer times between meetings
Hands-off organization of meetings
Forever free basic plan, Team Plan costs from $16 per month
31. 1Password
Passwords need to be different for every account, the problem is keeping track of them. 1Password helps to keep your passwords secure and saves the need for writing down different login credentials.
Benefits
Saves the need for writing down multiple passwords to different accounts. All logins are saved under one master account. You only need to remember one password.
Key Features & Pricing
Keeps multiple passwords secure under just one master account
14-day free trial, Team Starter Pack starts from $14.95 a month
Which Team Productivity Tool Suits Your Needs?
We've just given you the low down on 30 of the best team productivity tools and software right now. Which tool best fits your organization's needs?
If you're looking to set structured goals which align activities throughout your organization, Weekdone OKR software and team productivity features helps to set, boost and manage your business goals intuitively.
Find out how Weekdone can help you track your weekly plans and progress to meet your objectives, take a walkthrough: