Sales leaders and their teams are the engines of business growth. They are responsible for a wide range of sales targets: from increasing the company's monthly revenue to reducing customers' churn rate.
Sales targets might sometimes seem unattainable or too ambitious for a given time frame. This leads to frustration and slows down the progress towards hitting company goals.
If you ever feel that your sales goals are beyond reality, don't get discouraged, you are not alone. In fact, 40% of companies fail to meet their annual sales goals.
So how can you as a leader help your sales team reach the goals with the resources given and time limited? 
Objectives and Key Results (OKRs) is a time-tested goal-setting method that will help your sales team focus on what needs to change and prioritize the outcomes they can impact within 90 days to facilitate growth.
Let's discuss what sales OKRs are and how you can use them to drive success with your sales team.
What are OKRs in sales?
Sales OKRs stand for Objectives and Key Results that sales teams use to set motivating ambitious goals with measurable results. They are not a new framework to organize your regular targets and deliverables in a new way.
With OKRs, sales teams single out areas for improvement, focus on the specific quarterly outcomes, and figure out how they can impact those outcomes. This focused effort, ultimately, will lead to the desired growth of your KPI targets.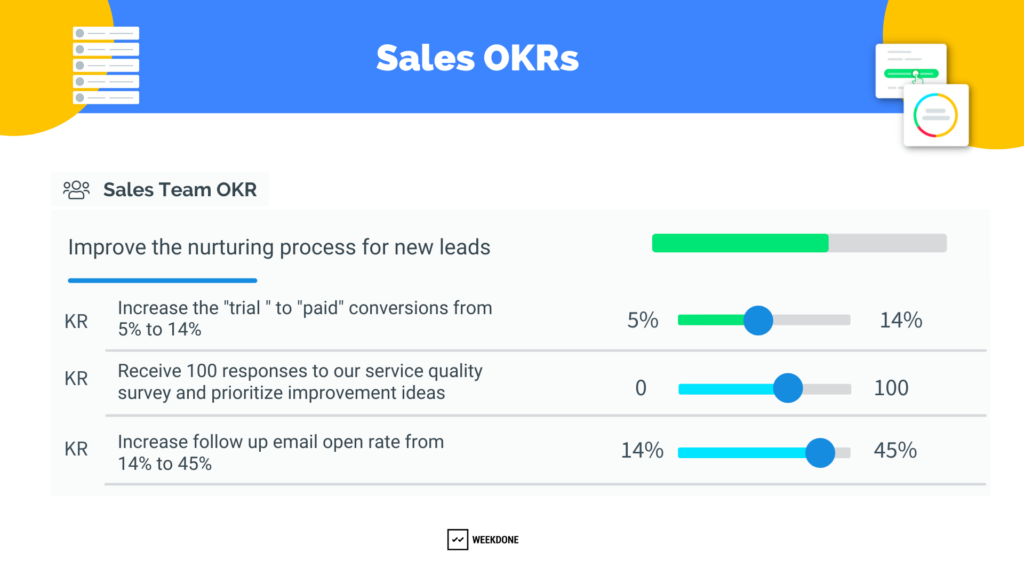 Sales OKRs will help you come up with a specific approach to drive your ambitious sales targets and never lose sight of your priorities in day-to-day execution. You will be able to understand what helps you drive that monthly revenue or boost CLV (customer lifetime value) clearer.
With sales OKRs, sales leaders can understand what efforts to prioritize to close more deals, what areas of the sales process to improve and how to see if your sales team is moving in the right direction.
Let's take a moment now to draw a line between sales OKRs and sales KPIs.
How is OKR different from KPI?
Simply put, KPIs help you monitor if your ship is working well and how many kilometers are left to the destination port. While OKRs will help you focus on what needs to happen to actually steer the ship towards the destination.
Do you see what we mean? KPIs won't improve your business, nor will they drive impactful changes.
KPIs (aka business metrics or performance targets) are numbers that show you if you are maintaining a healthy business. KPIs have targets (expected performance level) so you would know what are the criteria for "healthy".
In most companies, KPIs reflect revenue targets and month-on-month growth of various business metrics. You can track all of your regular business activities with sales KPIs, i.e.:
revenue, 
customer acquisition cost, 
number of new and recurring purchases, 
sales by region,
a number of daily meetings you have with potential clients, etc.
These targets can be annual, quarterly, monthly, daily, or even hourly, depending on what you wish to keep an eye on.
They direct your attention toward what they are monitoring, and they simply tell you if you are achieving your targets or not. Analyzing your performance against KPI targets allows you to understand how to keep your business going.
However, having these metrics doesn't really tell you directly how to improve them. You cannot grow a business by simply saying "we need to hit a higher revenue target". And if you're falling behind on your KPIs, what exactly do you need to improve to put everything back on track?
This is where OKRs come in.
While KPIs are good for monitoring how the company is performing, OKRs are good for driving improvements in the areas that are falling behind or could use some extra attention.
With that said, let's move on to actual sales OKRs and how to avoid mixing up sales KPIs with your OKRs.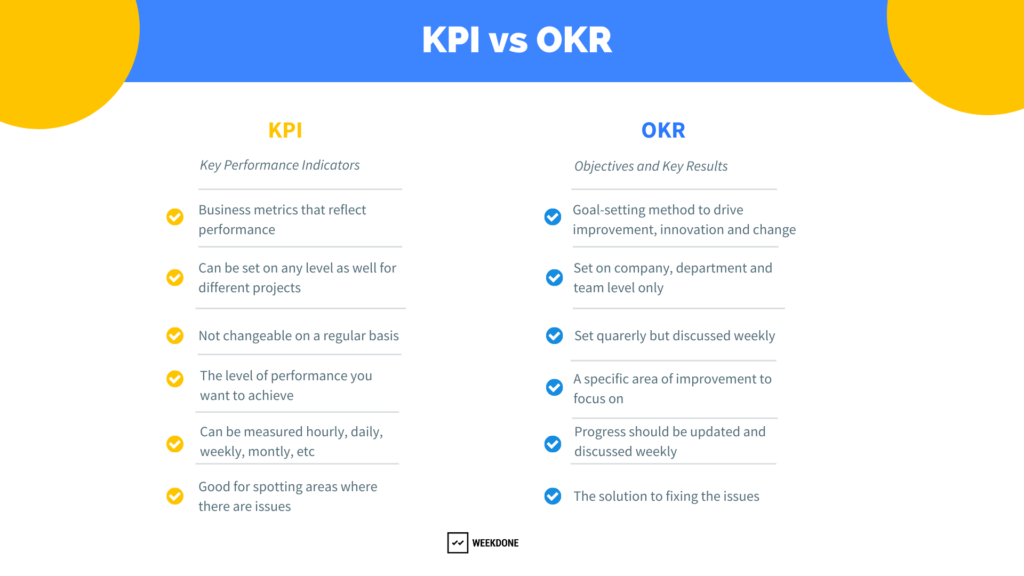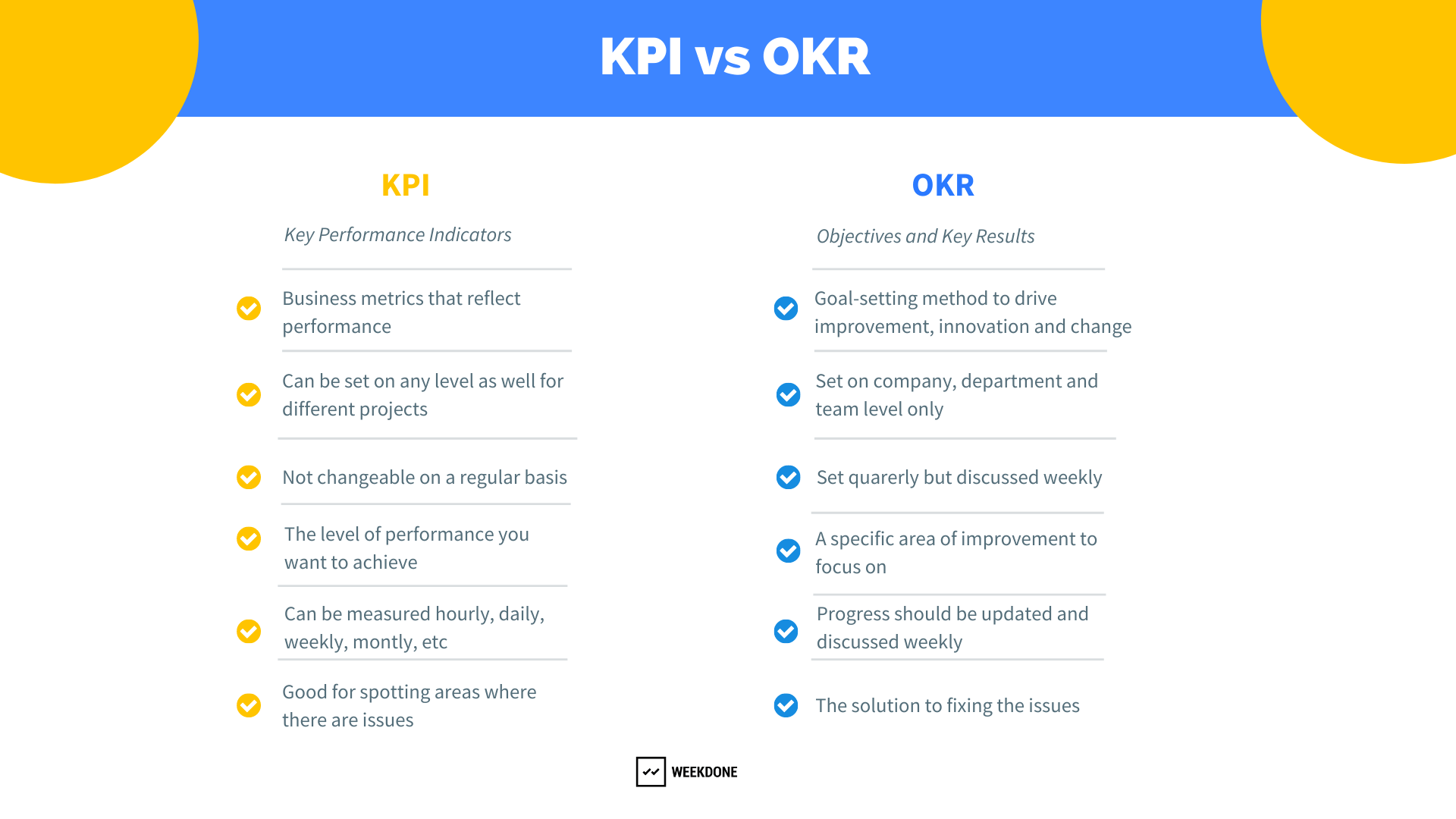 How do you set up an OKR for sales?
Sales teams are all about targets and Key Performance Indicators: Number of Sales Qualified Leads, Lead-to-Win Rate or Average Cost Per Lead. That's why when sales teams start working with OKRs, they just put their regular targets into the OKR format and expect things to change and improvements to happen on their own.
Here is an important first takeaway:
Sales OKRs should not duplicate your KPI targets but your performance indicators can suggest what an improvement area for the OKR should be.
You will discuss KPIs and OKRs in the same conversation when you are looking into one of these 2 scenarios:
You are falling behind on sales KPIs and you need an OKR to fix what's broken and bring performance targets back on track
You want to double/triple or 10x your growth, and you need an OKR to pursue something you haven't tried before
In both scenarios, you are facing a gap between the current performance and the expected performance. Now, instead of constantly talking about the size of this gap, think how you would build the bridge over it:
Are there any areas that seem to be broken or slow, and what can you improve about them?
What has been working in the past, and can you double down on that effect?
Or can the team come up with something totally new and achieve better results through innovation?
The most common KPI target a sales team needs to hit is an increase in revenue or new sales. So what would an OKR look like in that case?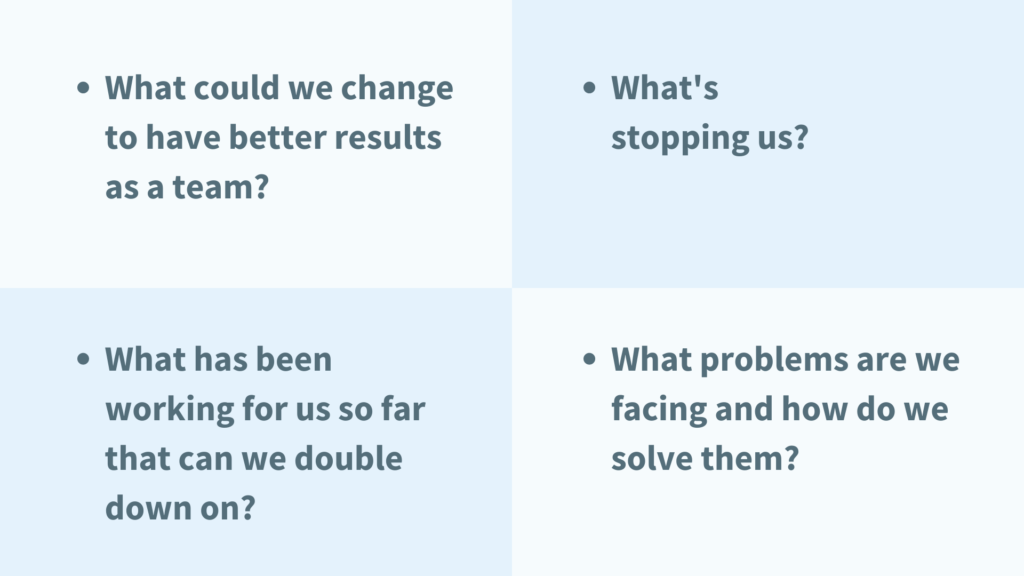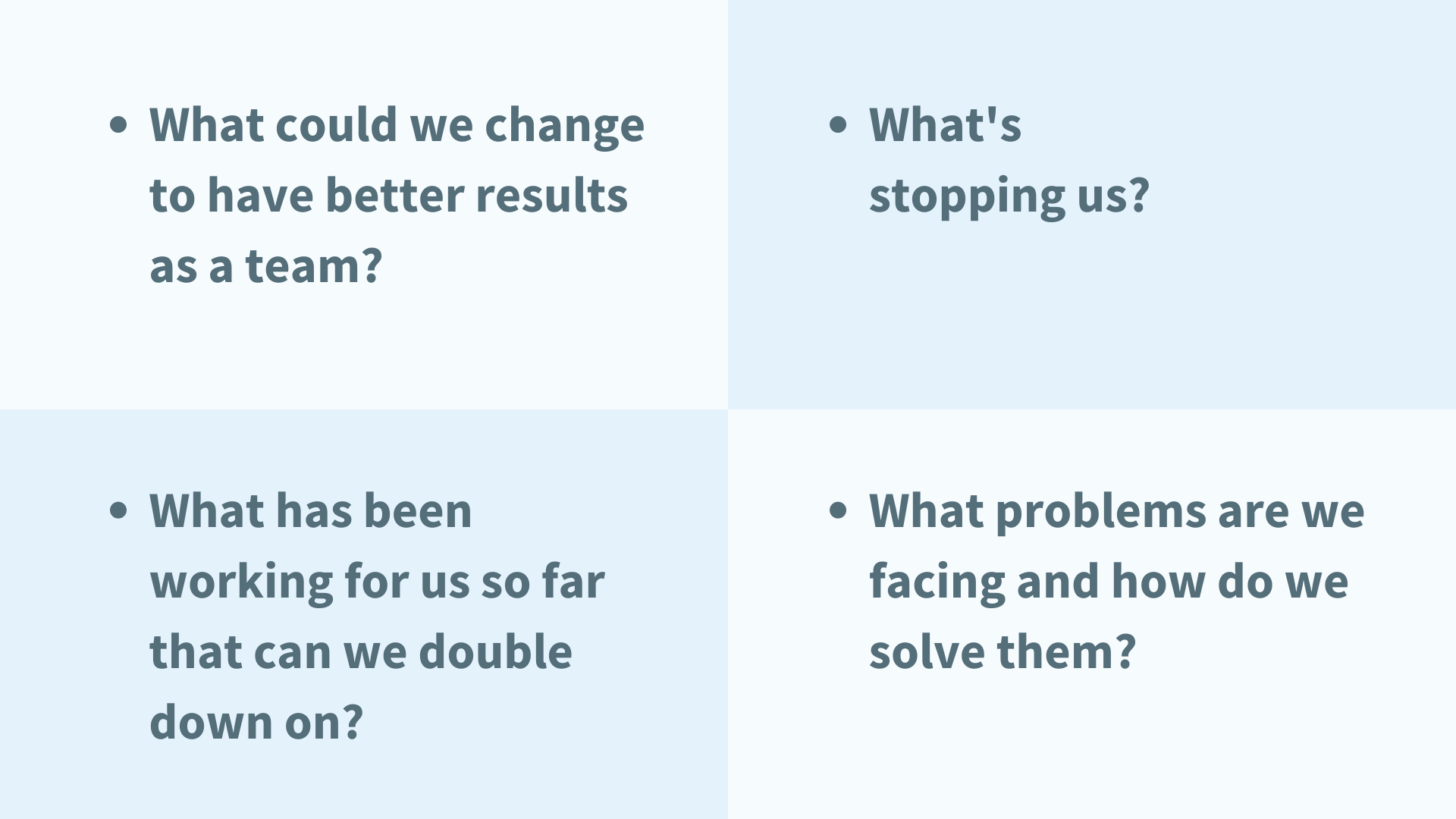 Think of your sales OKRs and their main elements:
The Objective — a qualitative statement that communicates either a problem that needs to be solved or a new opportunity that a team will go after;
The Key Results — measurable outcomes, achieving which would have a definite positive impact on the business.
With OKRs you'll set quarterly inspirational Objectives and measure movement towards them with numeric Key Results. When you drive progress on your Key Results, you get closer to achieving your Objective. The OKR process also includes Weekly check-ins to understand how your day-to-day tasks help you get closer to achieving your goals.
What is a good sales OKR?
Sales teams are considerably more data-driven than any other team in a company.
Which makes them better prepared to draft their Objectives and Key Results but also unexpectedly confused about the value of the OKR methodology. Why do we need a different goal structure if we already have our targets to hit?
To eliminate the confusion, watch the video below 👇 and take a look at a good OKR example for a Sales Team:
Let's now look at a few sales OKR examples to see how to set OKRs for different areas of the sales process.
Objective: Improve the way we nurture relationships with potential customers at an early stage 
Potential customers seem to make it to our doorstep but they tend to drop off somewhere early in the sales process. Those who move on to later stages in the funnel, tend to buy. It means we are doing something wrong in the early stages. We know that our relationship with potential customers is crucial for their buying decision but we need to be better at building trust.  
KR1: Increase the number of second meetings booked from 10% to 40% on average
Better relationship means more communication. Currently, we do not push enough for a second meeting and we need to work on that. This way we can get to know the customer better and vice versa. 
KR2: Improve the email response rate from 5% to 10%
We have many email templates that we use to communicate with potential customers. The response rate is really low. We need to work on having better email communication that engages customers. 
KR3: At least 50% of lost deals reply to the "why not us" survey
We don't really know what we are doing wrong at an early stage. Collecting feedback from lost deals will help us find new improvement areas and possible solutions. 
Besides setting the OKR, the sales team should also think about the main things they can do to achieve the results above. Those ideas, projects, or plans are called Initiatives.
Example Initiatives:
Develop a communication plan and introduce the structure to customers during the first meeting
A/B test different messaging to see what works for our customers
Set up "why not us" survey
Objective: Increase the quality of our sales approach
We have a team with great potential but our sales pitch and how it's presented by salespeople is not at its best. We need to make sure we bring up our game by learning from others and complementing our skills. 
KR1: Have all (10) salespeople listen in to at least 3 product demos of other team members
We all do things a bit differently and we all have things to learn from others. Listening to others' demos and discussing them afterward helps us put our heads together and develop a stronger and more concise sales pitch. 
KR2: All (10) salespeople complete best practices sales process training with an 80% test score
Besides learning from each other, we should learn from the best in the field. 80% success rate on test completion would indicate that a person truly understands ins and outs of the business. If someone performs lower, they should review study materials and try again to really master the new knowledge. 
KR3: SQL to Win rate improves from 35% to 45%
We are learning to impact our performance. The best way to see if we are putting the new knowledge into practice is by focusing on closing more sales-qualified leads. 
Initiatives: 
Set up a weekly report where we can see everybody's booked demos
Everybody writes a summary of the learnings from listening to the demos
10 sales people participate in the best practices sales training
Objective: Grow sales through our channel partners 
We don't have the capacity to sell as much as we can produce. We have tried co-branding and it works well so we have decided to focus on channel partners. This way we can cover more markets in less time and with fewer resources. 
KR1: Recruit 30 new channel partners in Eastern, Central, and Western geographies
We are starting with those 3 areas for this quarter. We have calculated that we need around 25 well-performing channel partners to achieve our growth goals. We are aiming to recruit 30 as a stretch goal. 
KR2: Onboard channel partners with 25 scoring > 80% on the final test
To bring us results, channel partners need to have a good knowledge of our brand. Every partner needs to score at least 80% on the test after the training and onboarding process. If they score lower, they have little or no understanding of our brand which can hurt our image.  
KR3: Each partner closes deals in total value of at least 50,000$
Every channel partner should be able to sell at least 50,000$ in their first 1-2 months. We are taking into consideration that the first month or two goes into recruiting and training which leaves them 1-2 months to sell. Anything below that target would mean we are doing something wrong. 
Initiatives:
Brainstorm ideas around how to find and recruit channel-partners
Set up training and onboarding program
Assign responsive sales person to every reseller and have weekly review and improvement meetings
5 Sales OKRs Examples
Objective: Achieve profitability by reducing expenses
Key Results:
Reduce the paid subscriptions from $5000 to $2500 a month
Reduce outsourcing cold call services from $7000 to $2000
Increase team own cold calling activity from 100 calls to 1000 calls per month
Objective: Improve the way we nurture relationships with potential customers at an early stage 
Key Results:
Increase the number of second meetings booked from 10% to 40% on average
Improve the email response rate from 5% to 10%
Receive at least 50% of lost deals replying to the "why not us" survey
Objective: Accelerate our sales cycle for small-sized business clients
Key Results:
Reduce the time taken from the free sign up to demo from 13 to 7 days
Reduce the demo to accepting the proposal time from 10 to 7 business days
Reduce signing time of the final proposal from 3 days to 1 day with digital signature
Objective: Strengthen our sales pitch by increasing high-quality sales referrals
Key Results:
Create 10 referral email templates
Increase Average Referral Count from 5 to 20 per month
At least 70% referrals are positive and can be used in sales
Objective: Make our CRM an ideal place for the sales pipeline analysis
Key Results:
Create 7 clear stages of sales cycle in our CRM
Get 5 different sales reports for 5 different countries within our CRM
Reduce time for preparing weekly sales reports from 60 minutes to 10 minutes via automated dashboards
The OKR framework is the key to sales success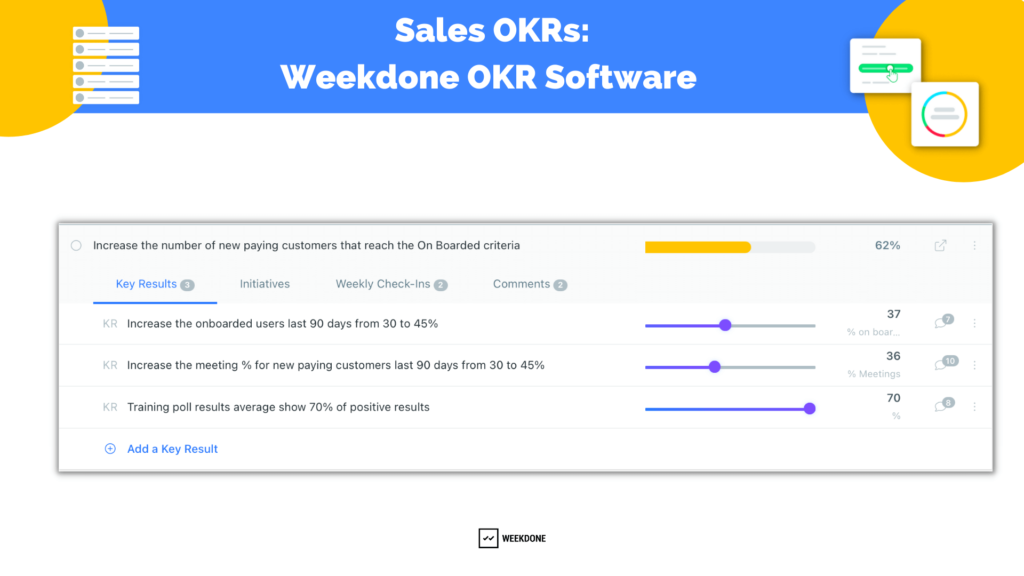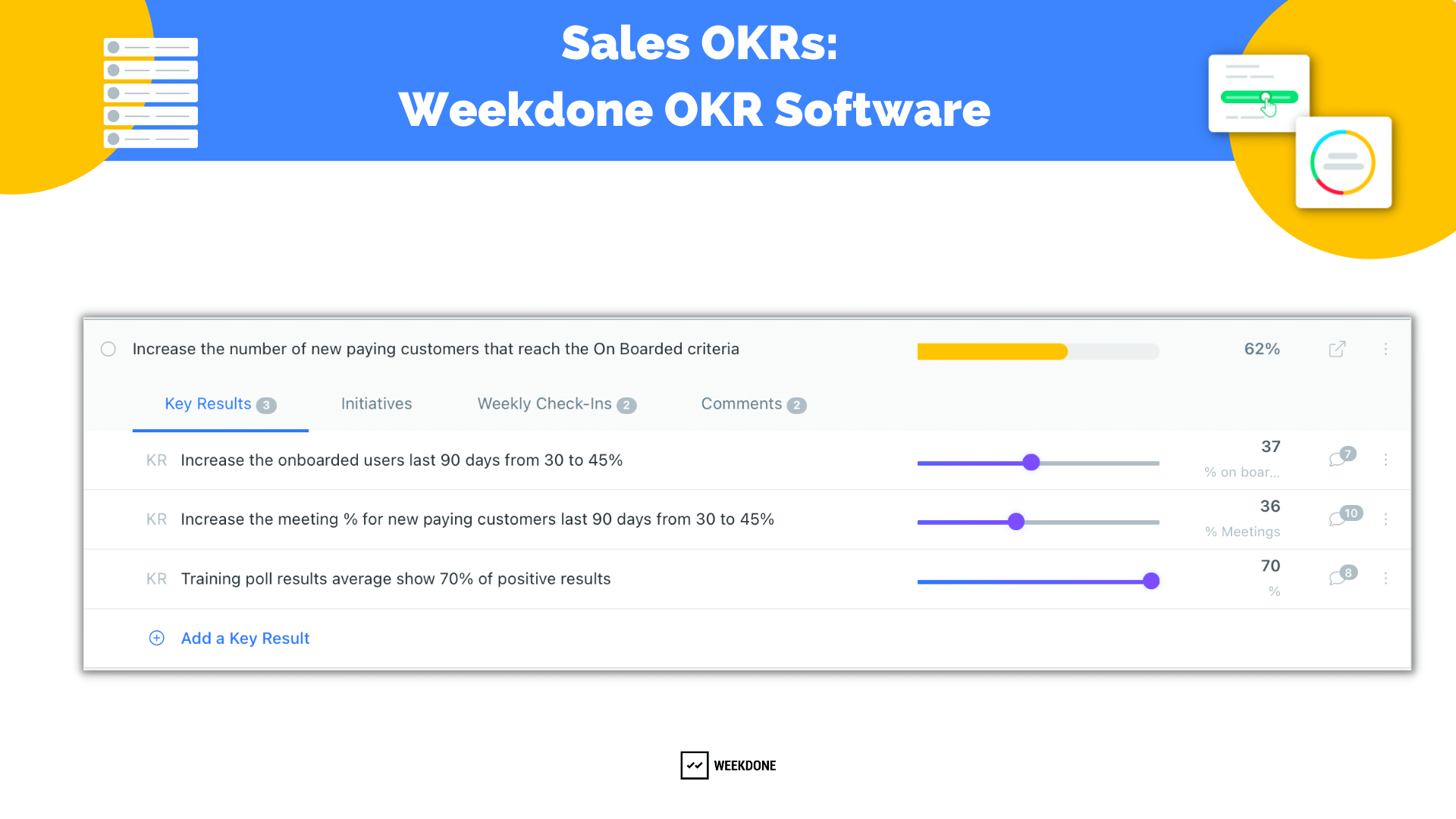 When you start using a new goal-setting methodology in your sales team, you need to make sure that this method works for both you and your employees. Sales OKRs are useful for facilitating innovative thinking and generating out-of-the-box ideas to meet and exceed your sales targets.
If you want to give it a try, you can set your OKRs in Weekdone now.