Recent research shows that, for 77 percent of high-performing projects, teams in the U.S. use some kind of project management software to stay on track and increase their productivity.
If you're not using this software with your team, you could be missing out. Which tool should you use, though? What do you need to look for when shopping for one?
As more research reveals the benefits of project management tools, it can be hard to ascertain which one is the best fit for you and your team members. For those who are interested in using project management software but are confused about which option to invest in, keep reading.
Outlined below are some tips on what to look for in this type of software. You'll also find details on the best project management tools you ought to consider using in 2022.
What Is Project Management Software?
Project management software is a type of software that employees can use to handle various organizational tasks that come with having a job as a project manager. This includes things like project planning, change management, scheduling, and resource allocation.
Project managers, team leaders, and supervisors can use this type of software to control budgets, control the quality of work being produced, and handle administrative tasks. Many teams also use project management tools to help them stay in touch with each other, as well as their project managers and project stakeholders.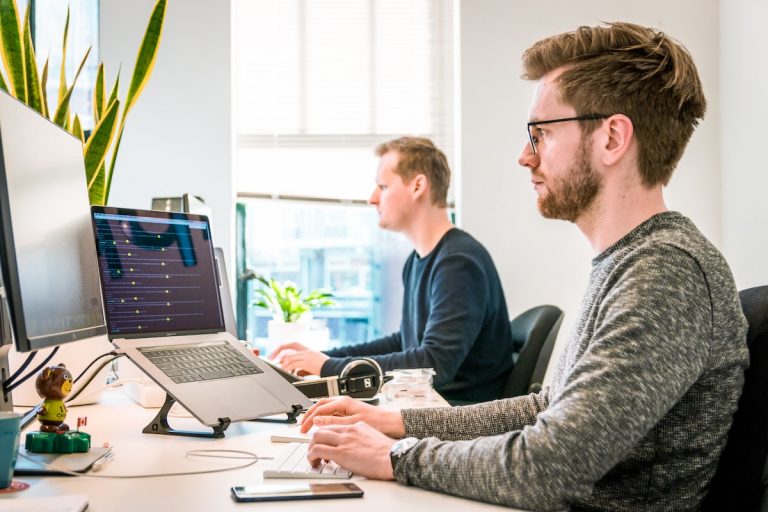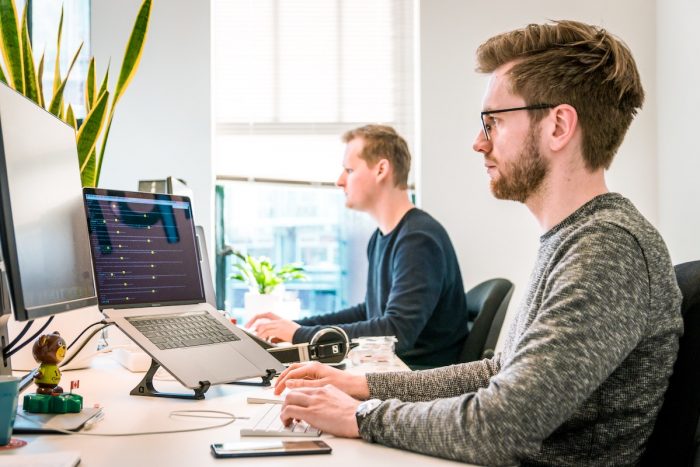 What to Look for in Project Management Software
There are plenty of project management tools that profess to be the best on the market. When you start digging, though, you'll find that certain options are preferred more than others.
Here are some key features that the best project management tools all have in common:
Clear Task Lists
It should be easy to update and assign tasks to various team members. Lots of project management tools offer drag and drop features. This allows users to easily move tasks around and reassign them as needed.
Schedules
It's important for project management software to offer clear, easy-to-use, and easy-to-read scheduling features, too. Whether it's a calendar, a Gantt chart, or a milestone marker, there should be a simple, straightforward scheduling tool that helps everyone see where their tasks fit and get a clear idea of when they need to have tasks completed.
File Sharing
The best project management tools make file sharing easy, too. Users should be able to share and organize documents with ease. That way, everyone stays on the same page and can access the most recent data related to their projects.
Communication
Without good communication functions, project management software is just a glorified online calendar. Project management tools should also include communication features. They should allow users to easily get in touch with each other and/or project managers to get clarification, provide or receive feedback, and address problems.
Best Project Management Tools of 2022
Now that you know more about what to look for in project management software, let's go over some of this year's top options. These tools meet all the requirements outlined above. They're great fits for any team looking to maximize productivity and improve their organization.
Asana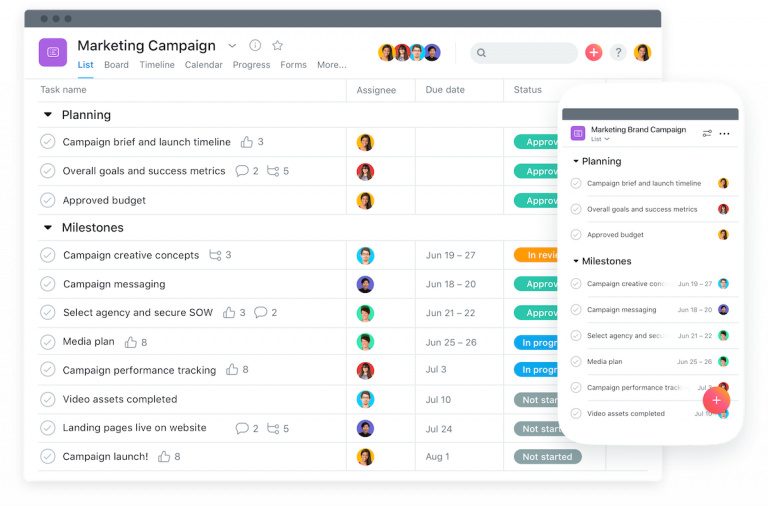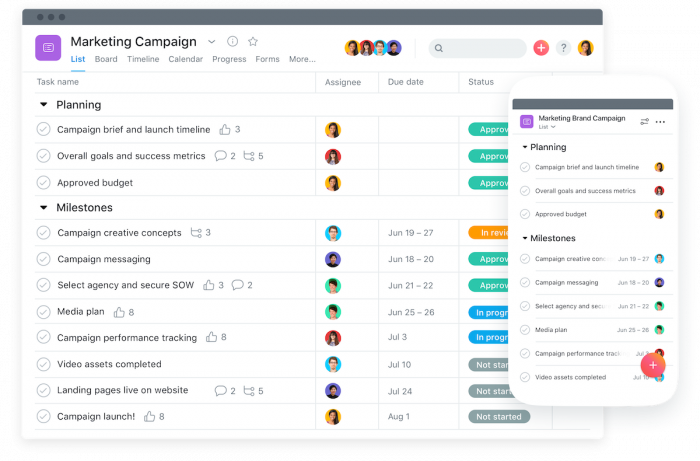 Asana regularly ranks at or near the top of lists of top project management tools, and for good reason. This software provides you and your team with pre-made templates. You can use them to quickly and easily add new workflows, create tasks lists, and create projects that can be broken down into tasks and subtasks.
Asana also simplifies communication. It provides the ability for team members and project managers to comment on tasks to provide feedback or seek clarification. It can connect with users' email addresses, too. That way, they can get regular updates on project progress and ensure they don't miss any comments or messages from others on their team.
As if there weren't enough reasons to like Asana, keep in mind that it also integrates with our goal setting and employee engagement platform, Team Compass. By using Team Compass in conjunction with Asana, you can import your tasks to your weekly plans and connect directly to your quarterly goals.
Basecamp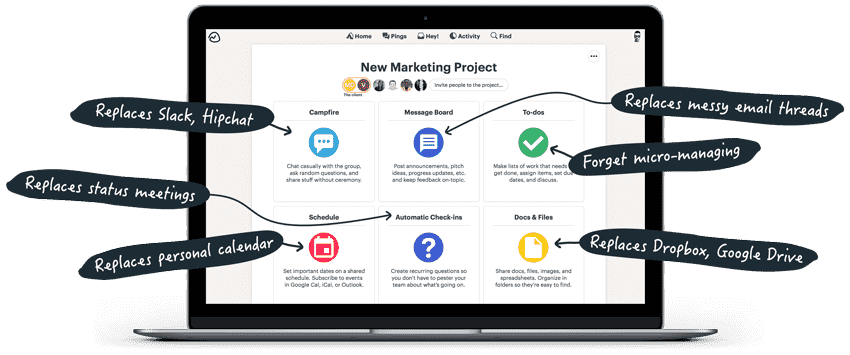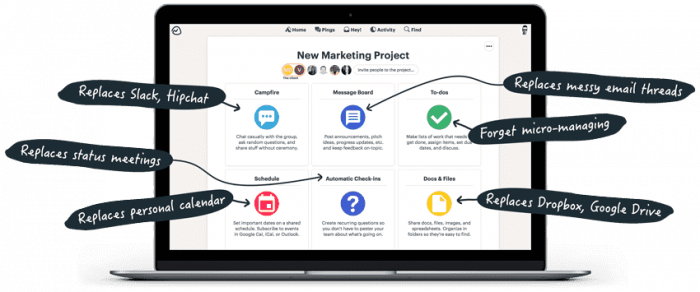 Basecamp is another popular project management tool for teams looking to stay organized and get more done. It's a great step up for those who have been relying on emails and in-person or virtual meetings.
Basecamp is very beginner-friendly. It provides users with a centralized location for all communications, both company-wide and for specific teams.
Instead of sending long and tedious chain emails to provide updates on projects, users can simply post messages to a central message board. When doing this, they can rest easy knowing that everyone will receive the information without important details getting lost in the shuffle.
Basecamp also provides a clear to-do list for project managers who need to assign and track progress on specific tasks. It makes file sharing easy, too, and has a calendar for setting deadlines and scheduling meetings.
Like Asana, Basecamp also integrates with Team Compass. When people import their weekly plans and connect them to the team's quarterly goals, team leaders and supervisors can get a better sense of what the team is doing to move the goals forward.
JIRA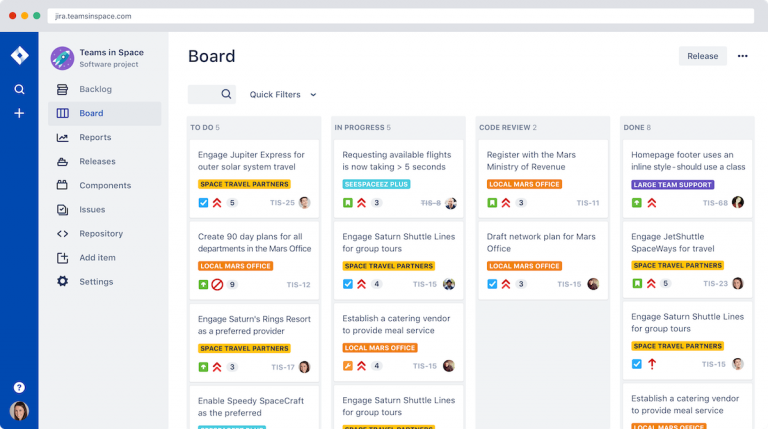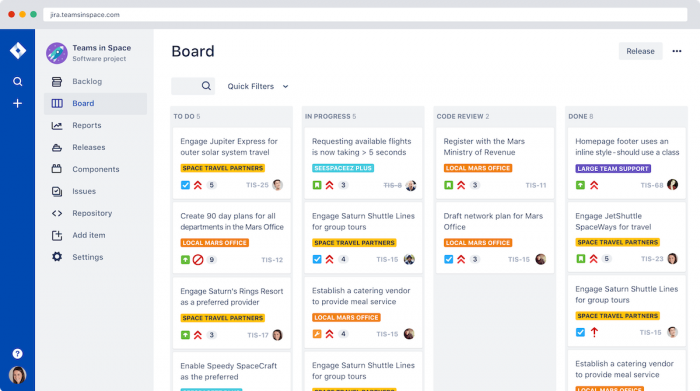 JIRA caters primarily to agile software development teams. Folks who work in this field can use JIRA to create scrum boards and Kanban boards that are customizable and easy to read and reference. JIRA also allows for real-time agile reporting. This helps team members to stay on track and keep up with what their colleagues are doing.
Because it was designed by web development company UT, JIRA offers features for tracking bugs, viewing outstanding issues, and monitoring time spent on each task. It connects with lots of other software programs, including Team Compass.
The integration of Team Compass and JIRA makes meetings and weekly reviews much easier and ensures everyone is on the same page when it comes to achieving the quarterly goals.
ProjectManager.com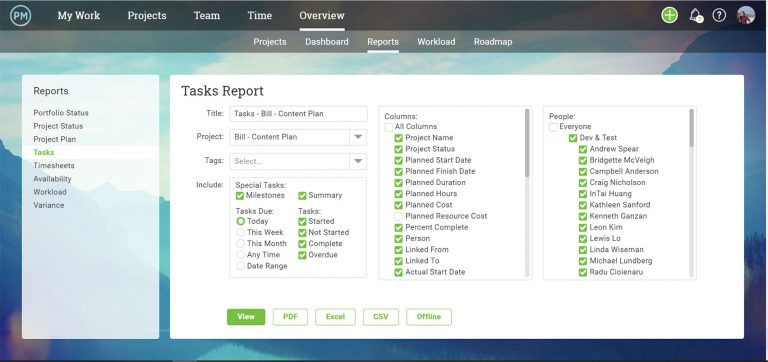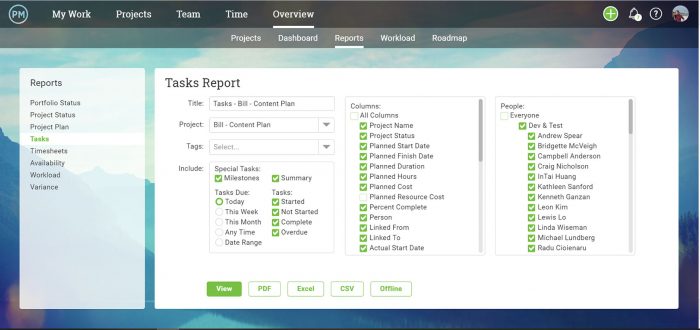 Projectmanager.com helps you to analyze data, filter it for insights and easily share your findings with project reporting tools, we just suggest o use a data management system along with it ( learn the details over here).
Their cloud-based software is always up to date, so your reports are always accurate. Create status reports, variance reports and more with just a few clicks.
ProjectManager.com does the hard calculations for you, so you can spend your time on what matters most. For example, it .com calculates the number of days you're ahead or behind schedule, so you don't have to work it out for yourself.
Trello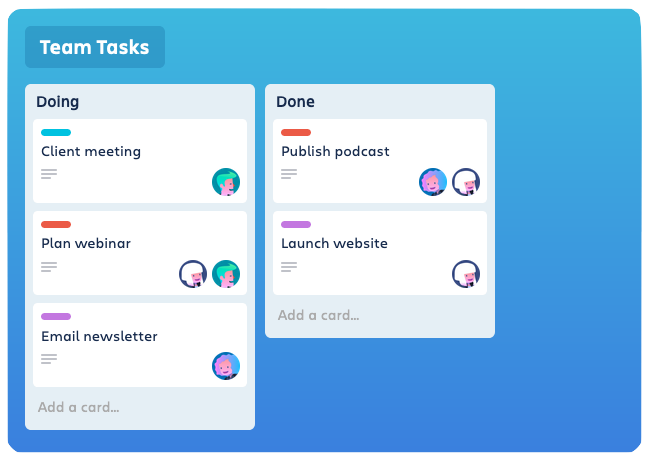 Trello is another beginner-friendly project management tool. It's designed specifically for folks who aren't familiar with Gantt charts and other features commonly used in the project management world.
This is an intuitive, visual app. It's great for those who want to manage their team in a more effective way but who don't have much project management experience.
Trello uses a card-based design, and each card features a list of tasks. It's easy for users to move the cards around to adjust their priorities.
In addition to using the cards to create task lists, team members can also upload files, create subtasks, and update the cards via email. This lets users make updates while on the go and keep their colleagues informed even when they're out of the office.
KanbanZone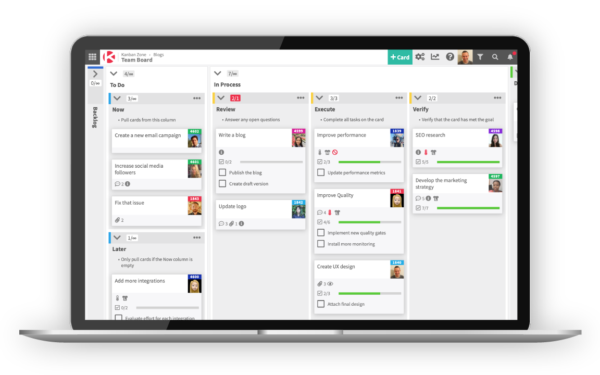 If you are looking for a project management tool that is simple and efficient, then look no further than KanbanZone.
Kanban was made famous by Toyota, and is a project management system that balances available resources and production.
KanbanZone offers a 100% kanban tool with multiple kanban templates to choose from. You can also create your own kanban board to fit your team. For those that need a little more help, KanbanZone provides coaching for paid users who want to master the kanban process.
Casual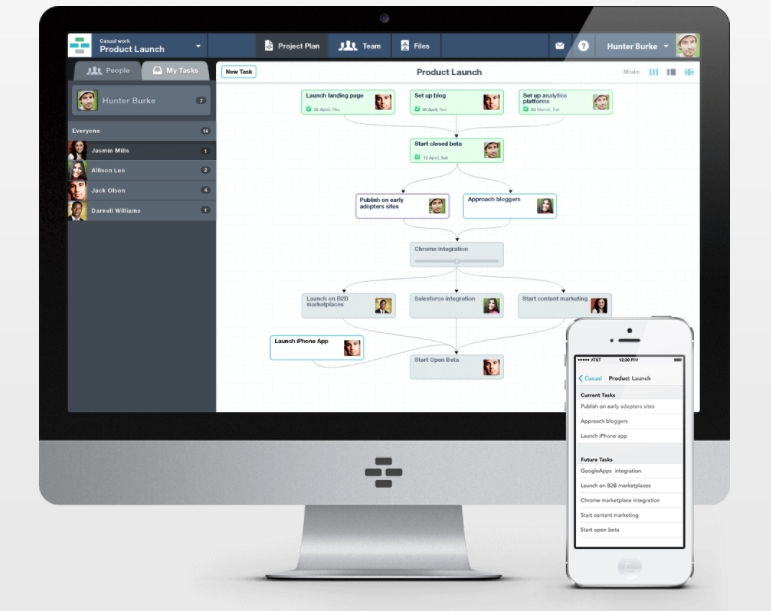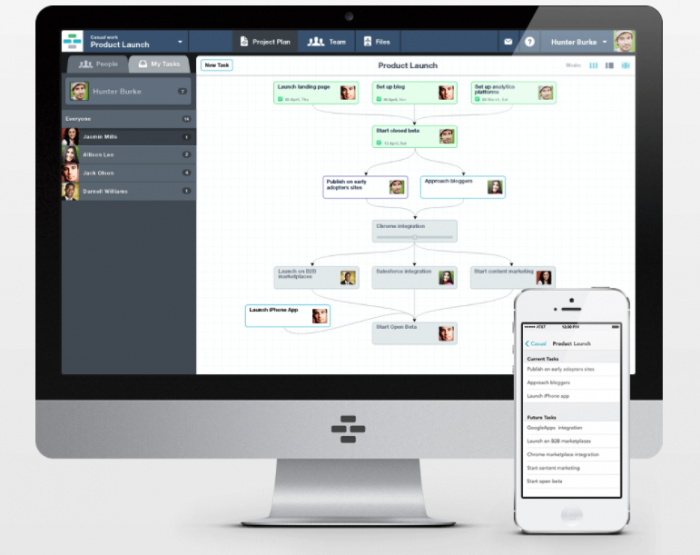 For those who are very visually minded, Casual is another good project management option. It's an online project tool that turns projects into easy-to-navigate workflows. Like Trello and Basecamp, it's good for those who are new to project management and don't have a lot of experience using this kind of software.
Casual boasts an intuitive interface that allows users to jump in and start organizing and assigning projects with ease. It lets team leaders and team members create new tasks, categorize tasks, and add new branches to projects, all with just a couple of clicks. It also makes it easy to track tasks and monitor employee progress.
Casual integrates with lots of popular tools, such as Google Calendar, Dropbox, and Google Drive. It makes document sharing and scheduling easy. However, it doesn't have as many integration options as some of the other software options mentioned on this list.
Indy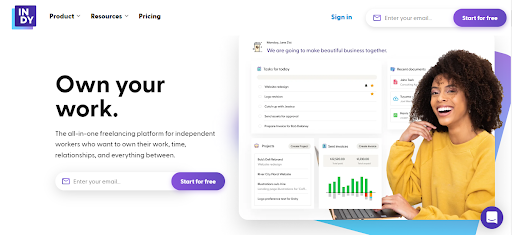 What if you work by yourself as a freelancer or an independent contractor? Your project management needs might be different. That's where Indy can help.
Freelancers benefit from simple tools that make work simple. Indy gives you project management tools such as automated forms, proposal and contract editors, invoicing and payment controls, tasks, time tracking, and more. Every tool is designed for ease of use so you won't spend hours trying to figure out how to make your tools work for you.
Indy is also affordable, with a full subscription for just $5.99 per month. During the free trial period, you'll have plenty of time to see how Indy can help you make freelancing simple.
Todoist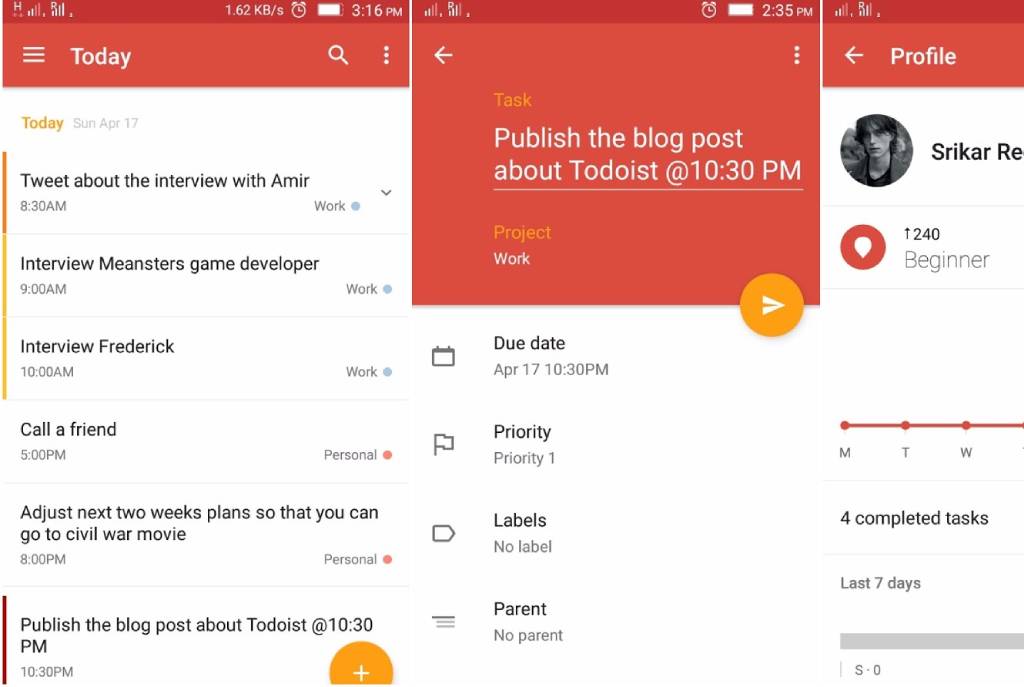 Part of being a good project manager is being a good communicator. Team leaders and supervisors should choose a software option that allows for effective communication and collaboration. Their preferred tool should also ensure projects and tasks get completed on time without anything falling through the cracks.
Todoist is a good project management software that checks all these boxes. It's simple and beginner-friendly. It still lets for team members and leaders to stay in touch with each other, though, and monitor progress.
It's also easier to adopt than some other tools. This is because Todoist is available via apps and extensions on several different platforms, too. Team members can stay connected while still using their favorite browsers and devices.
Wrike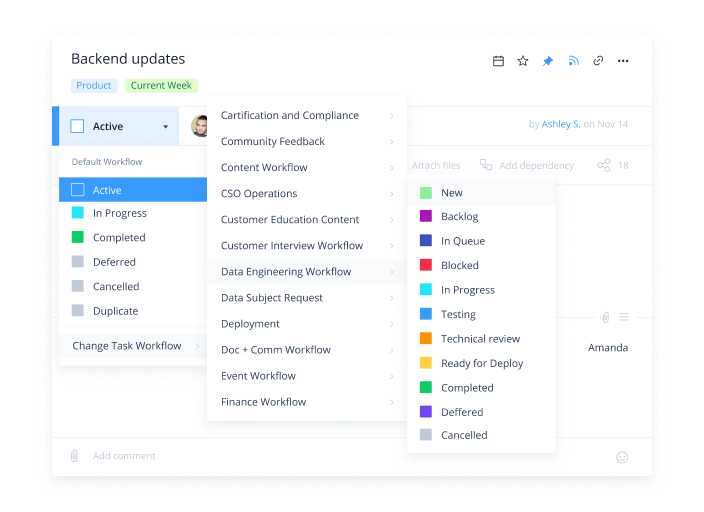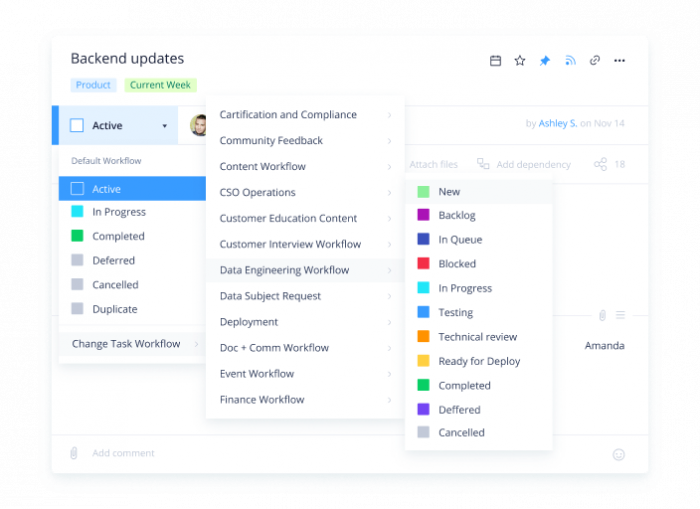 Wrike is a good middle-ground project management software. It's simple enough for those without a lot of experience to use, but it doesn't feel overly simplified or limited. This is a complaint some people have about very beginner-friendly options like Trello.
Wrike comes with many project management features that are considered standard these days. This includes Gantt charts, a visual dashboard, and built-in reporting features. It's less complicated than some other tools, though, and doesn't take a long time to implement in your office.
Many people who use Wrike also appreciate it's time tracking feature. It's great for monitoring productivity and ensuring team members are using their time in the most effective ways.
Zoho Projects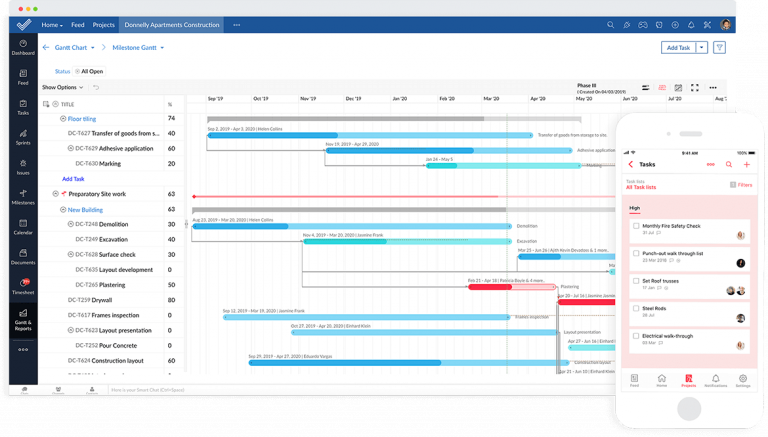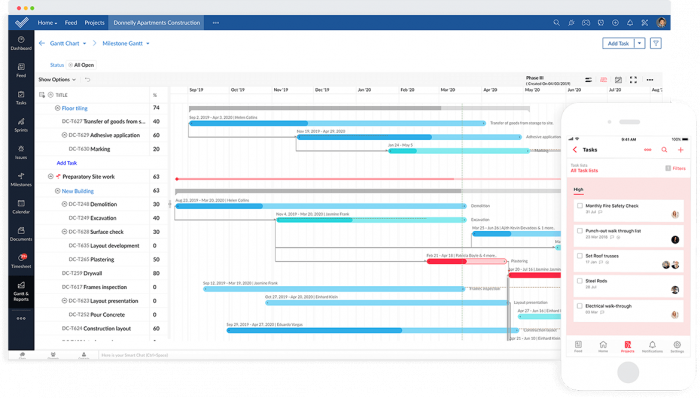 Zoho Projects is one of many products sold by the software company, Zoho. It offers a variety of standard project management features, including issue management, workflow management, Gantt charts, and access to customized reports. It also provides the option to view tasks in Kanban style or a more traditional list form.
Zoho Projects also offers basic time tracking features to monitor productivity and encourage efficiency. It has a built-in chat app, too, for easy communication without having to jump over to another platform.
Teamwork Projects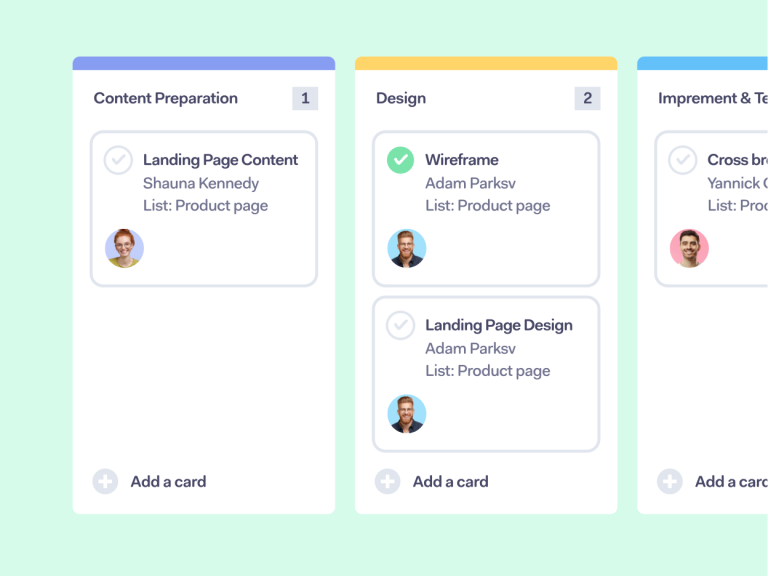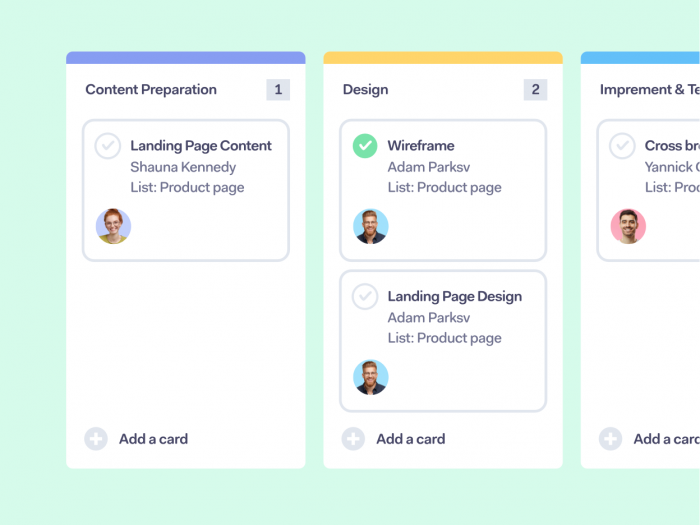 For many people who are new to the idea of project management, it's common to feel daunted by the complexity of some tools. Before you give up on using project management software, be sure to check out Teamwork Projects.
Teamwork Projects is another simple and straightforward option that lets users view tasks as either lists or Kanban boards. It has an easy-to-navigate menu so you can quickly get where you want to be, too.
Teamwork Projects automates various actions, too. This helps managers and team leaders to save time. It frees them up to focus on other things while also feeling confident that nothing important is being neglected.
ProofHub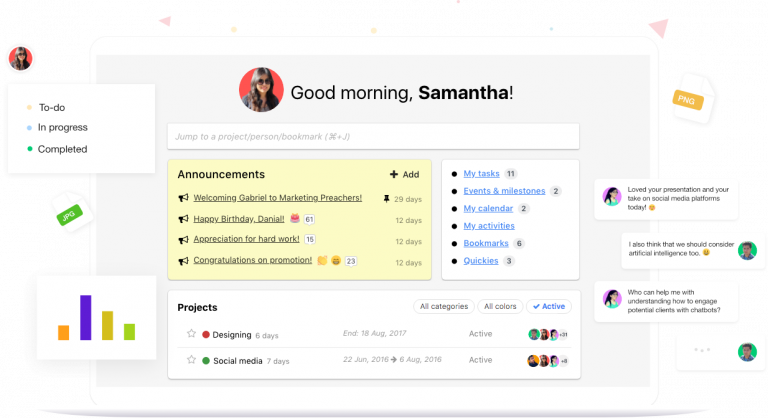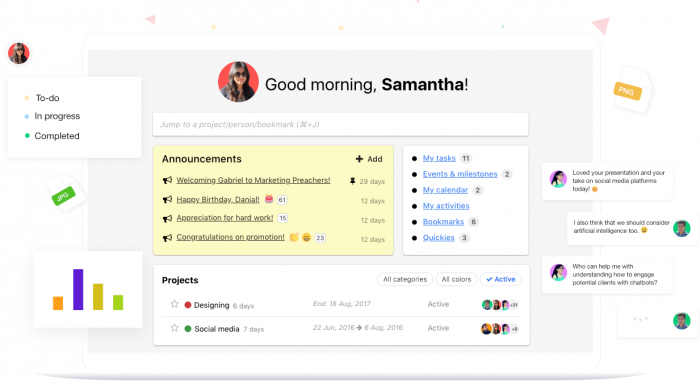 The last project management tool we recommend checking out is ProofHub. ProofHub is an online app that's meant to be simple and minimalistic. It's ideal for small businesses, as well as those that are currently in a growing phase.
Proofhub allows users to create projects that are assigned to groups as well as clients. It also lets users communicate back and forth with one another to share progress and provide editing requests with ease.
Team members and leaders can also create Gantt charts within the ProofHub platform for easy scheduling. They can use this tool for task management, file sharing, and time tracking as well.
Ganttic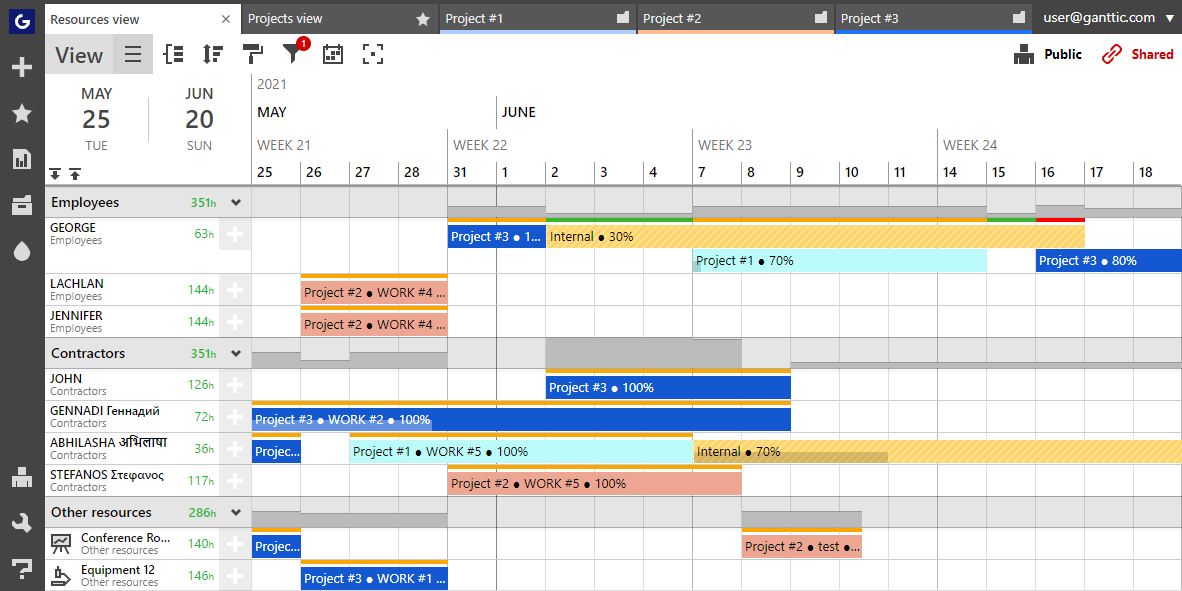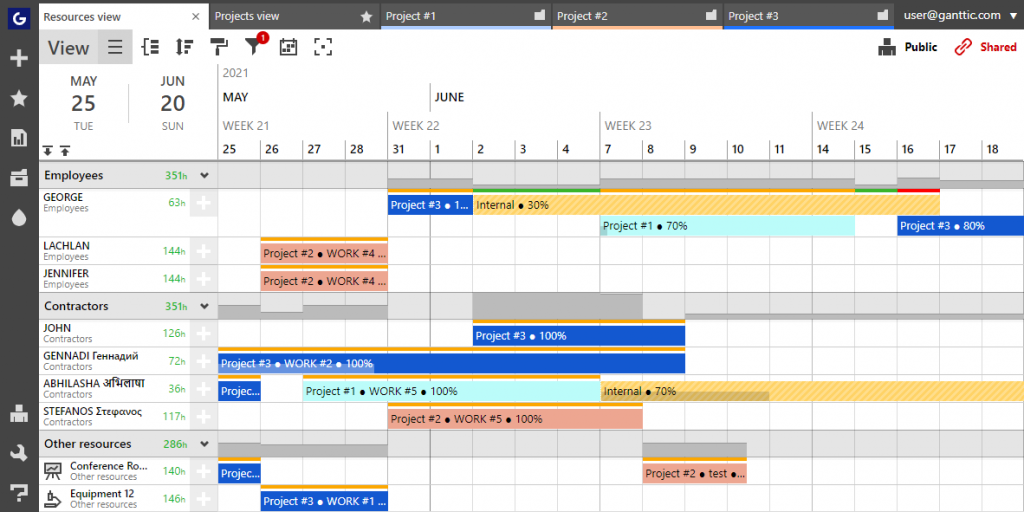 For project managers who prefer a little more flexibility to their planning process, Ganttic is a good option to check out. An online Gantt chart tool which puts resources front and center. The app gives managers an overview of their schedules, project portfolio, as well as your organization's human and non-human resources.
Ganttic conforms to the way you plan, not the other way around. If you prefer to keep it simple, quickly schedule and reschedule tasks via drag and drop. Or dive into strategic portfolio management. The planner comes equipped with all the standard project management features, but users can mix and match as they see fit. So you can easily make it your own, with nothing extra weighing down your plans.
Ganttic integrates natively with Google and Outlook Calendars, making it easy to alert your teams from anywhere. There's also an integration with Zapier and an open API, allowing users to build custom workflows with all your favorite work apps.
nTask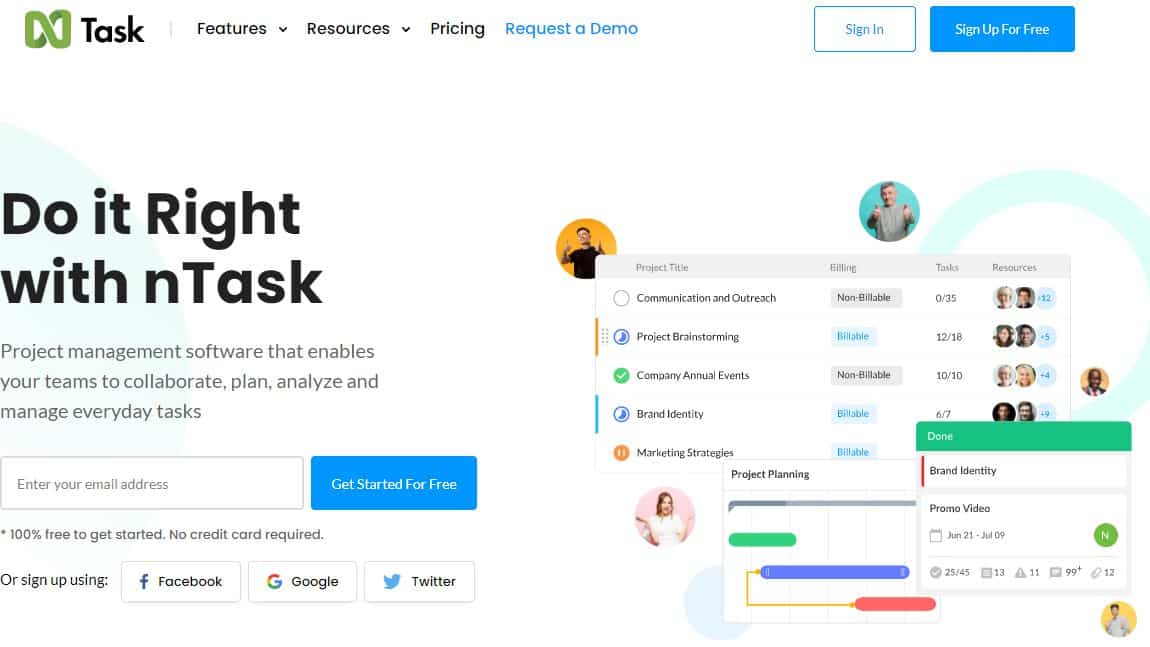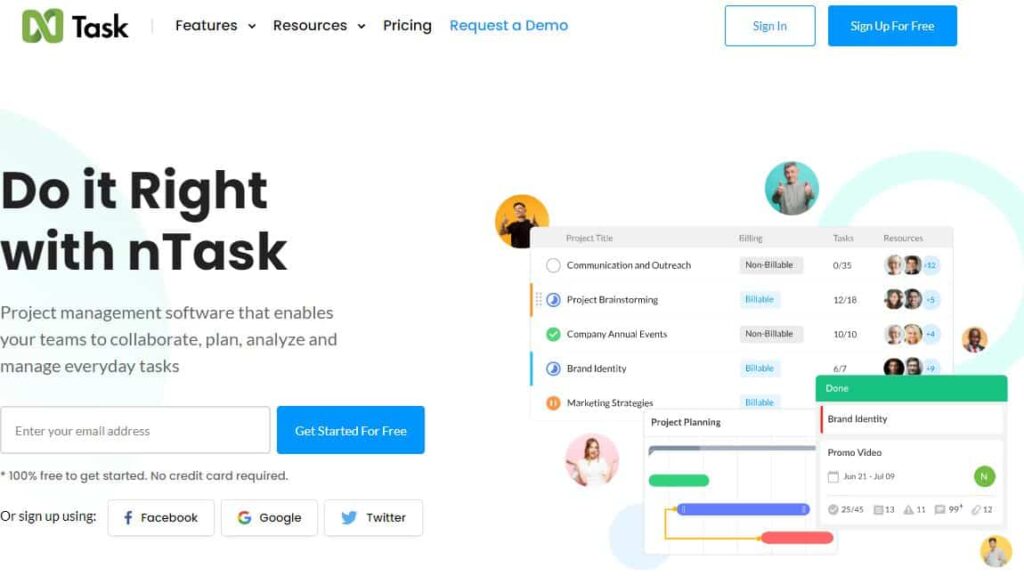 nTask is an incredible task management and project management tool that allows you to make sure that all of the tasks and processes that the project development team performs as part of the overall
development process are tracked and managed properly. The application is also a risk management and issue tracking tool that allows the users to make sure that their projects and all of the included elements are free of all of the scope creeps and risks that can potentially affect or possibly derail the project at hand.
This amazing software is also capable of integration with many third-party applications like Google Calendar, Zapier, Microsoft Teams and Slack among many others. These integrations are perfect when it comes to making it a cohesive environment to work in so that the users don't have to go elsewhere to work when they can easily complete all of their tasks and processes
from a single interface.
Project Management Tools vs Team Compass
Team Compass, which integrates with many of the industry's top project management tools, is useful for virtually any type of team that wants to achieve their goals. Team Compass can import your tasks from your favorite project management system to create your weekly plan. These are the 3-5 tasks you are going to focus on the week that will help achieve your quarterly goals, using the OKR goal setting system.
If those tools really don't fit with what you're looking for, check out our post on workflow management tools specifically.
Start Using 2022's Best Project Management Tools Today
As you can see, there are lots of tools you can use to help your team stay organized, prioritize their to-do lists, and maximize their productivity. Keep this list of the best project management tools in mind so you can streamline your workflows and get more done.
Don't forget to check out Team Compass, too. Team Compass pairs with many project management tools, including Asana, Basecamp, and Jira, so you and your team can stay focused on reaching your goals.
You can sign up here for a free two-week trial to see for yourself what Team Compass has to offer.