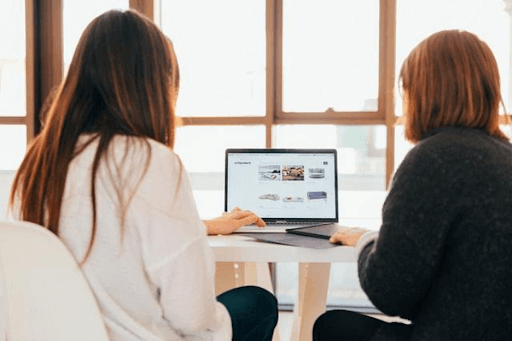 By the year 2026, the enterprise collaboration market is expected to reach a valuation of $36,140,000,000. Collaboration and proper team alignment are top priorities for businesses of all kinds, and the right enterprise collaboration software (or ECS) can help them reach their goals.
ECS platforms allow enterprise-level teams to collaborate with ease, increase productivity, and boost employee engagement. They make it easier for everyone to store, share, and access important information, and they allow for simple task-tracking for teams and individuals.
Some enterprise collaboration software programs focus on single aspects of collaboration, whereas others package multiple collaboration elements into one platform.
If you're not sure which type of software is right for you and your team, keep reading. Outlined below are 9 essentials to consider when choosing the best enterprise collaboration software.
What to consider when choosing enterprise collaboration software
1. Features for specific problems
When choosing enterprise collaboration software for your team, one of the first factors to consider is the platform's feature list. Some of the features the best platforms offer include:
Project management
Meeting management
Document sharing
Automatic reporting
Goal setting
Weekly and quarterly planning
Progress tracking
Multilevel reporting
Shared workspaces
Template library
Social networking
It's easy to get caught up in a long list of features and find yourself convinced that your team needs software that offers the greatest number. Take a step back, though, and consider which features your team truly needs to solve specific problems and achieve goals.
2. Total cost of ownership
When investing in enterprise collaboration software, do your best to learn the total cost of ownership (or TCO) of that platform. This means looking beyond the sticker price of the software and factoring in other expenses, such as new infrastructure costs, network upgrades, deployment costs, and troubleshooting costs.
The more you know about the total cost of ownership, the easier it is for you to determine whether or not a particular software is a good fit for your team and the company as a whole.
3. Security
Security ought to be a top priority for any team looking to invest in a new enterprise collaboration software. This is particularly important if many members of your team (or perhaps all of them) work remotely and will be accessing company-related documents from their personal devices.
Some characteristics of secure software to watch for include permission access, logged activities, and encrypted chat tools.
Good information rights management (or IRM) is important, too. This helps you and other users to decide who can see, edit, and access various documents. You should always reconsider how you are sharing remote files between teams.
4. Usability
The best enterprise collaboration software will be relatively easy for all members of your team to use.
There's always a bit of a learning curve when adapting to a new platform, of course, but the platform's interface should also be fairly intuitive.
What does poor usability look like? Be wary of platforms that have a confusing UI design and are difficult to navigate, for example. If it doesn't integrate with other tools (or doesn't integrate easily), that's also a red flag.
Remember, if your new software is difficult for people to use, they'll be less likely to use it consistently. This, in turn, throws off your collaboration efforts and hinders your team's productivity.
5. Scalability
When shopping for new software, don't just think about what your team needs now. Think about what kinds of needs you might run into in the future, and look for a platform that can help you prepare for those needs.
For most teams, the right enterprise collaboration software will be one that can grow with the team over time. This includes:
expanded storage options,
support for new feature additions,
accommodation of various (and more complex) processes and policies
6. Interoperability and Compatibility
The best enterprise collaboration software will work well with the other software systems and programs deployed by your team.
For example, Weekdone integrates with a variety of communication software programs, such as Slack and most recently, Microsoft Teams. It also integrates with task management tools like Asana, Google Tasks, and Jira.
Prioritizing interoperability and compatibility will make life easier for everyone on your team. It allows them to be more efficient and productive at work and prevents slow-downs or crashes that could derail entire projects.
7. Implementation and Deployment Speed
Another factor to take into account is how quickly you can implement your new enterprise collaboration software. Is it an out-of-box solution that can easily be deployed, or is it one that will require a great deal of setup and training?
If efficiency is your top priority, look for a platform that's known for fast implementation and deployment. This will make the transition process easier for everyone on your team, no matter how tech-savvy they are (or aren't).
8. Storage Capacity
Storage capacity is an essential characteristic for every team to consider when shopping for ECS. The best programs will offer plenty of storage and will easily accommodate a wide range of users and the various documents and files they need to access to do their jobs properly.
Pay attention to each program's storage capacity and consult your team to find out about the amount of storage they need and want.
9. User Reviews
Finally, don't forget to factor user reviews into the equation. Read reviews from third-party sites if possible to see what current users have to say about this particular platform.
Do they find it easy to use? Do they feel it has enhanced their collaboration efforts and improved their organizational culture? Would they recommend it to other teams?
User reviews can provide more objective insight into how effective (or ineffective) a particular software is. Making it easier for you to make an informed decision for your team.
Choose the Right Enterprise Collaboration Software Today
Now that you know more about what a good enterprise collaboration software should possess, it's time to choose one that will get everyone of your team members on the same page.
Weekdone checks all the boxes listed above and is an incredible option for team alignment across multiple areas, from goal alignment and improved communication to transparent idea and document sharing.
Sign up today for a free 2-week trial to see what it's all about.