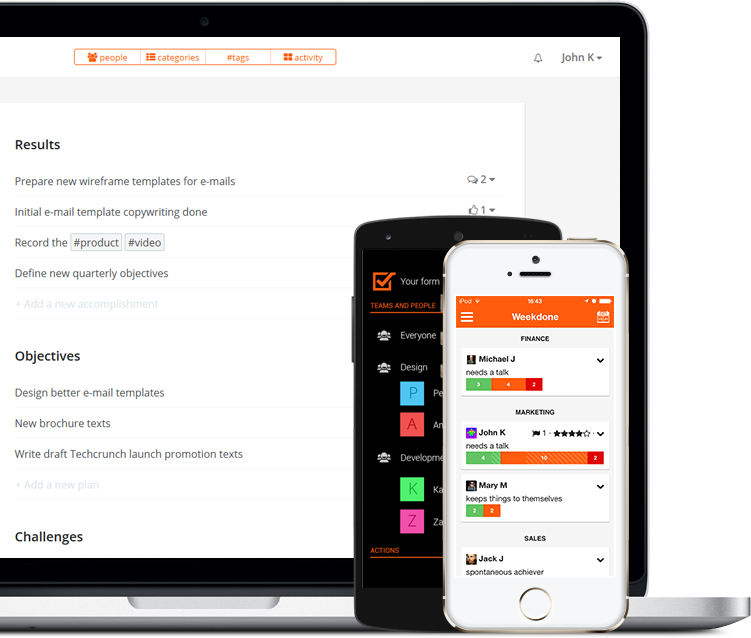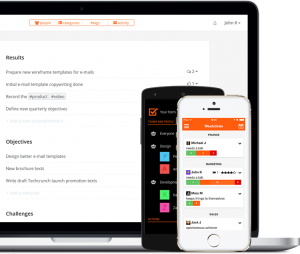 Ever wanted to customize your weekly status report? Until today Weekdone weekly status reports have used one fixed weekly status report format: PPP or progress, plans and problems. While great for most, some of you have asked for a way to customize the report headings and questions you ask your team each week. Voilà! As of today, you can do 2 new things:
Add an unlimited number of your own section headings or questions to the 3 already in place and change the 3 default ones.
Choose one of new ready-made templates, like Google Snippets, Results-Objectives-Challenges, Sales Report or Solo Productivity.
As for your own sections, the sky is the limit. Some companies ask for ideas and suggestions. Other teams ask to praise other team members who have done an exceptional job this week. You could also ask for numeric key metrics or to list new major customer contacts. Some headings can be short, like Plans or Last week. Others can be longer questions, like: "Tell one thing that we should change in our office or how we work together as a team." Use your imagination and ask your team, what information do they find valuable. Remember, reports are not just for managers, but people filling them in must find the information about their team mates valuable. These changes allow you to use Weekdone also in one specific team, be it just sales, marketing or development. As an example, we've added a Sales Report with 5 sections specific to a weekly sales report. Again, feel free to customize it yourself to match your company's needs.
Head to your Settings -> Templates page to see how it works and add sections or choose a new template.
We'll be adding additional templates like the Investor / Board Report soon. Keep your suggestions coming, what are the report sections and templates you would like to see pre-defined?
This is just one of the things in making Weekdone more flexible and open. Stay tuned for much more amazing stuff coming out this year. We're really on our way to make Weekdone part of every company's team communication and management practices in a way that's loved by employees.
If you haven't started using Weekdone yet, it's time to try out our weekly status report.