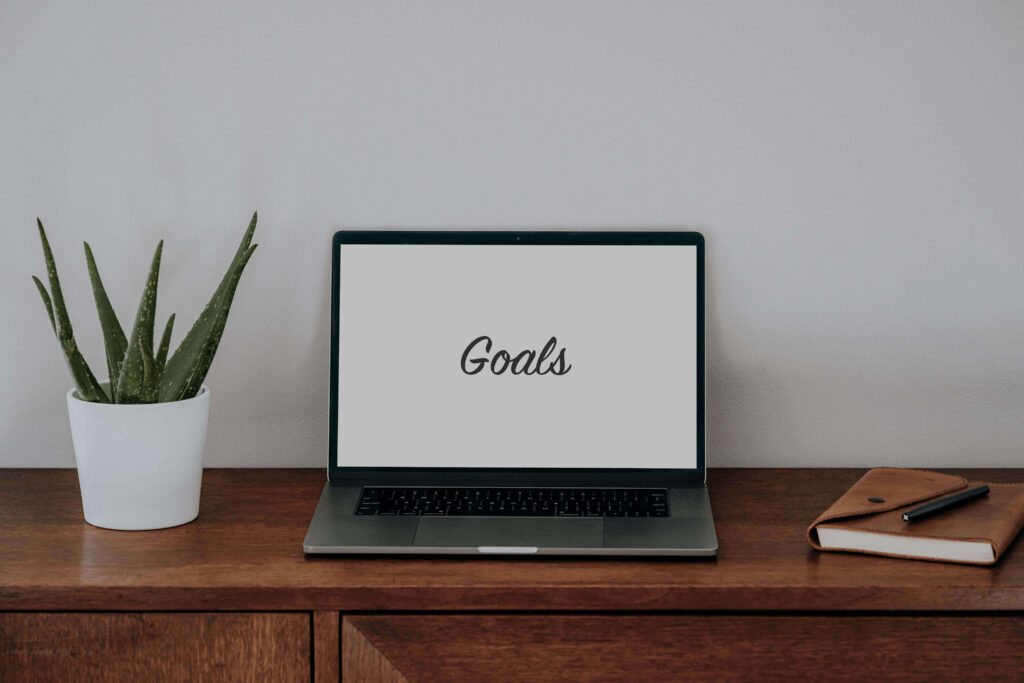 Software for setting and managing goals is a tool for leaders and CEOs who want to create accountability in teams while providing employees with clear goals. Tools like this help to advance the business and promote employee growth.
Goal management software creates this success by:
Employing a goal setting framework
Enabling better communication
Streamlining processes
Holding teams accountable
Employee goal setting and tracking software goes beyond simple spreadsheets, memos and analytics. It promotes business and employee growth, team cohesion and retention. And most importantly it prevents employee and leadership failure.
Will Setting Goals Really Help Your Employees?
What is a basketball game without a hoop and what is a soccer match without goalposts? We could argue that both would be less exciting to watch and play! Dedicated employees want to see how their work contributes to the company. When leaders and managers clearly define the objectives and share the results they hope to achieve, employees understand their role and what is expected of them.
But what do the experts say? In a ScienceDirect paper, a study found that "even without financial incentives, goal-setting improves worker performance by 12 to 15%". This serves to show goal setting is a successful starting point for companies to use in order to facilitate positive organizational change.
But that is not all. According to the book, 'New Developments in Goal Setting and Task Performance', goal setting theory was developed after conducting nearly 400 empirical studies. These studies found "There is a linear relationship between the degree of goal difficulty and performance". Not only this, they also found that "The performance of participants with the highest goals was over 250% higher than those with the easiest goals." Additionally, it was also noted that "The problem with a do-best goal is its ambiguity…A specific, high goal eliminates ambiguity… It defines for an individual what constitutes an acceptable level of performance." This goes to show setting goals isn't enough, goals need to stretch employees and they need to feel worthwhile.
There can be no doubt about the value of employee goal setting. With goals comes a marked improvement in employee performance. And the effort an employee will exert is directly proportional to the level of difficulty of a goal. If there are no goals - employees are left floundering.
So, what is the best goal setting methodology for your team or company? It's worth considering various types of goal setting frameworks to find the one more suitable for your people's needs. But our favorite is (most obviously) OKRs.
Benefits of Using Employee Goal Setting Software
There are various employee-friendly goal setting software available to you. Making the correct choice usually comes down to what your organization wants to focus on. But all good employee goal management software should guarantee and support the following areas:
Leadership
Many leaders say they don't know how well their team or teams are doing! Of course, leaders want this information, but at times they go about getting it in the wrong way. Although team meetings are often held every week, they can suffer from two extremes: data overload or insufficient data.
A structured reporting system with various dashboard views is crucial for a good goal-setting software. These features help managers get a quick, yet detailed, overview of what's happening within each team. This overview being visible to team leaders, managers, and employees facilitates company-wide transparency and accountability. Good leaders know that feedback is more effective when it's timely and public! Having information at your fingertips lets you give this to your employees - keeping them motivated and satisfied.
Improved employee engagement
High employee engagement can reduce staff turnover and improve revenue. A sense of belonging drives organizational performance and the quality of work improves.
But if employee engagement and morale are low - what's contributing to that? Of course there are various factors, but 3 key areas are:
A feeling of being undervalued
A lack of understanding of the company's mission
No positive motivation
Employee goal setting software can alleviate some of these challenges by helping leaders recognize the team's accomplishments. This can be communicated in congratulations and positive remarks. Software should enable managers to break down overwhelming goals into something actionable. Plus they help employees see their role and within the organization.
Productivity and efficiency
There have been several books and papers written about productivity, efficiency and time management. Many of these are not only useful, but groundbreaking. Applying a few of these principles within an organization has the potential to save a company a substantial amount of money in otherwise lost revenue.
But more can be done. Goal setting can increase productivity from 11-25%! The right employee goal setting and management software will aid employees in getting more done. This is especially true if a specific framework for goal-setting and tracking is employed within the software. It could also mean employees work faster with a clear direction.
Internal Communication and Collaboration
According to Dynamic Signal, 80% of workers are stressed due to inefficient company communication. But bad communication doesn't just cause stress - a lack of communication played a part in killing General Motors! Good teamwork, communication, and collaboration are at the very core of successful organizations.
Employee goal setting software should improve and enhance communication and collaboration. But how does it do it? By promoting clarity and transparency! Good software supports cross-team communication by offering opportunities for: comments, likes, sharing documents and ideas, linking goals to plans, as well as and checking-in on progress! Not to mention awesome integration possibilities with communication tools you already use!
Check out our list of 5 best OKR software with Slack App integrations
Progress Reporting
CEOs, leaders and managers must deal with an overwhelming amount of information. As teams and companies grow, so does the scope and complexity of projects. Progress reports and status updates show how far off, or on track, individuals or teams are on the completion of a quarterly objective, or goal. But more than that, they provide valuable insights. Analyzed on a weekly basis, these reports provide insights that help managers and leaders support their team - helping them make improvements in the future.
With quality goal-setting software - your data is compiled and stored, bringing all those insights into one place! Look for software that offers you custom templates, and automates the reporting process for you!
Top 10 Best Employee Goal Setting Software
So now you know setting employee goals is paramount. And you can also see the value in having goal setting software for your employees. But you aren't sure which one is for you? To help you make the right choice take a look at the top 10 best goal setting softwares available.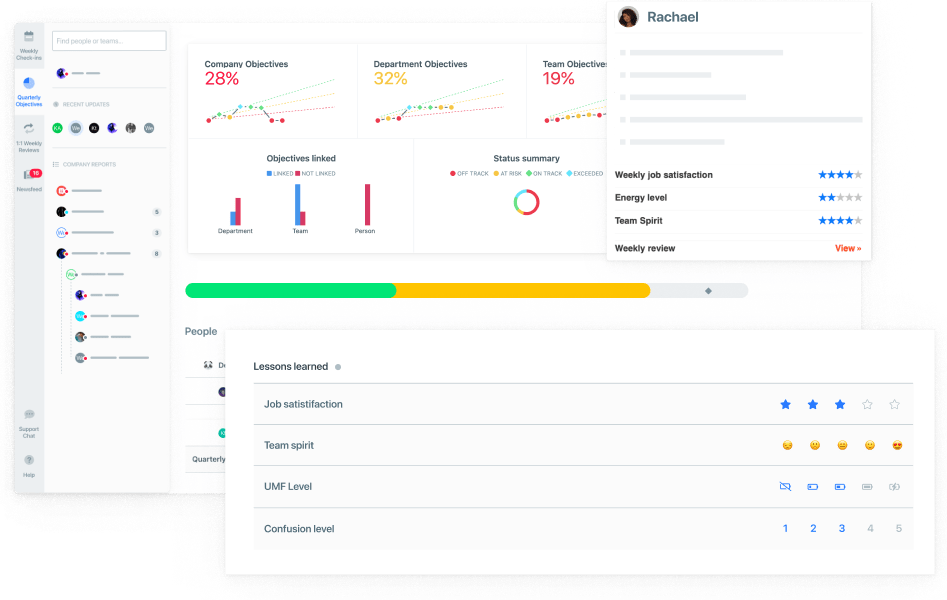 Weekdone has been around since 2013. It is a market leader and trusted by users all over the world! The best practices for using OKR methodology are ingrained into the product features - the OKR software enables users to set clear Objectives and Key Results, set weekly plans, track progress, and provide feedback.
Key features
Utilizes OKR alignment and linking
Various dashboard views to easily monitor results and progress
Expert OKR training, coaching and live chat
Integrates with Slack (among other integrations)
Weekly planning and status reporting
Supports cross-team collaboration with sharing, linking, comments
Who uses it?
CEOs, managers, team leaders, and employees in SMBs. Best for companies from 10 - 100 employees.
How much does it cost?
10 user package is $1080 per year
20 user package is $1920 per year
30 user package is $2880 per year
If your company is larger, no problem, check out the pricing page to find a suitable plan for you! There is also a 14-day free trial period for all new users - invite your team and try it together (no credit card required.)
2. Goalscape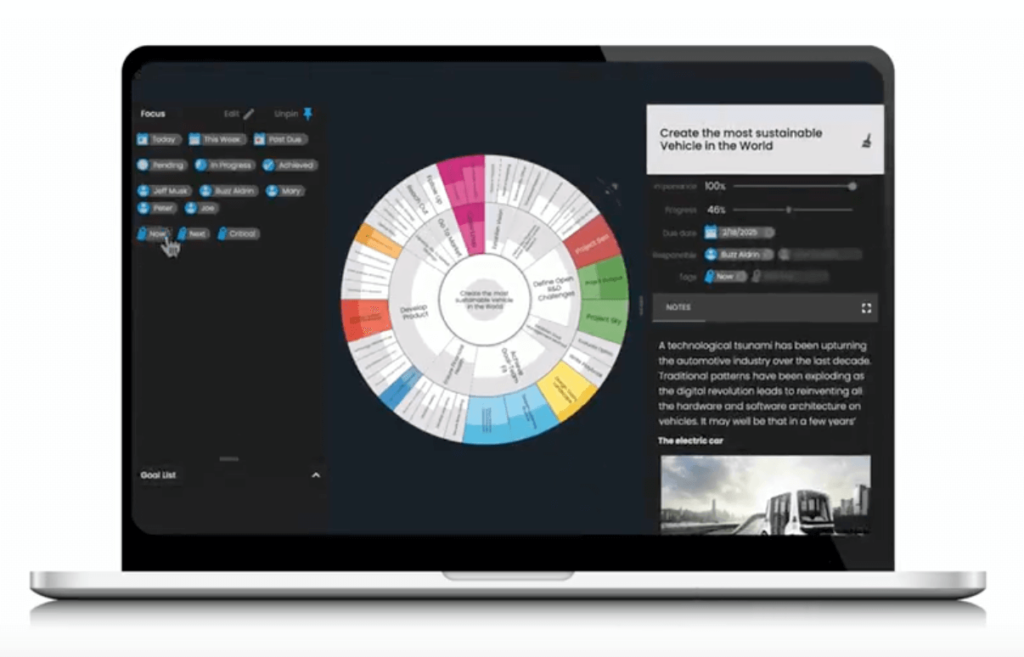 Goalscape is a goal setting software with a focus on visualization. The software inputs your goals and relative progress into an appealing visual so you can see things at a glance. The size of the goal represents its importance and the shaded area displays the progress.
Key features
Color coding
Clear visuals
Idea management
Resource management
Who uses it?
Managers and consultants gravitate to this software.
How much does it cost?
Goalscape has two pricing options.
Pro: $99 per year or $9.90 per month. This plan allows you to:

Track progress
See priorities
Assign persons and tags
Build unlimited goalscapes

Enterprise: Prices start at $2160 per year. The enterprise plan provides:

A dedicated server
Custom domain
Priority support
High-level security
They also offer an unlimited two-week free trial.
3. Databox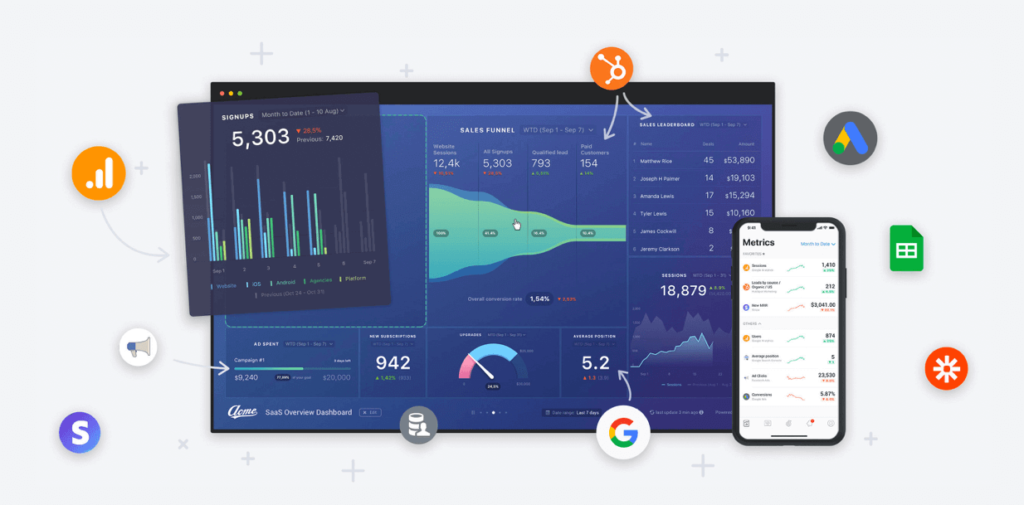 Databox brings data together in one place, most specifically a place to view employee performance and track KPIs. It focuses on dashboards, integrations, metrics and location.
Key features
Unique dashboard creation
Monitors progress with various graphs and visuals
Provides notifications when goals are going to be met or missed
Monthly goals are given appropriate weekly and daily goals
Who uses it?
Small companies. The software compliments the advertising platform madgicx, so marketing and advertising employees love it.
How much does it cost?
The databox pricing structure is very complex! So prepare yourself.
Free Forever Plan:

3 data source connections
60+ data integrations
Various standard features

Starter starts at $72 per month but increases to up to $146 per month based on the number of connections. It allows for 5 users and 11 months of historical data
Professional starts at $72 and goes up to $285 per month based on the number of connections. It allows for 25 users and 24 months of historical data
Performer starts at $231 and goes to $456 per month again based on the number of connections. It allows for unlimited users and historical data.
4. Kazoo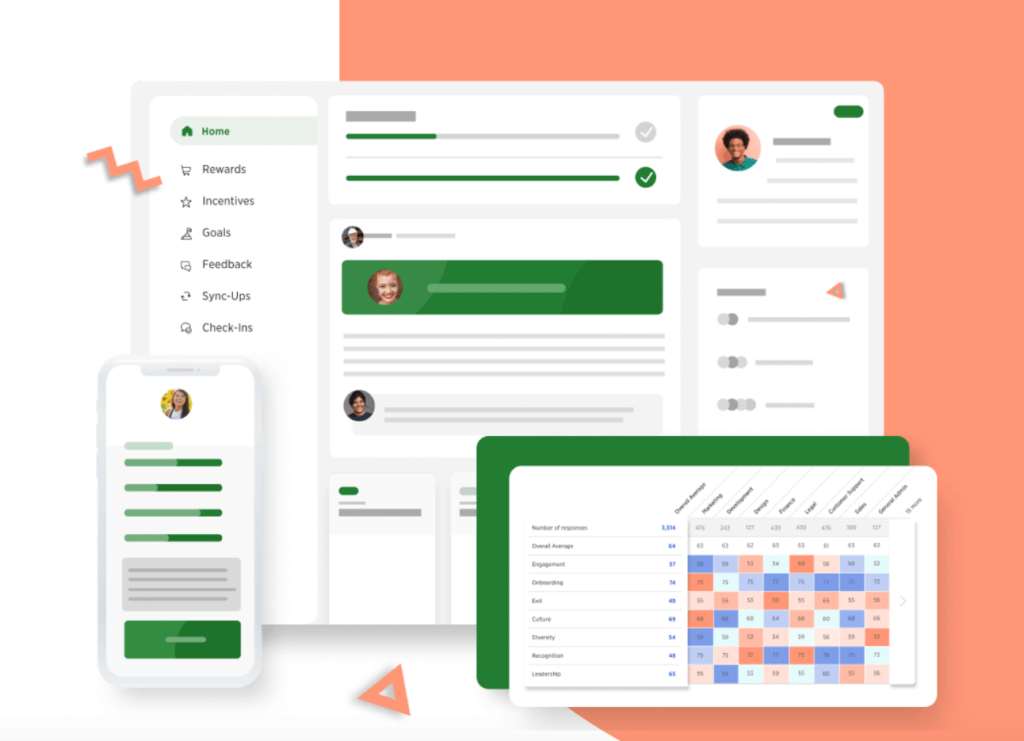 Kazoo works to create a connected and motivated workforce through recognition, feedback, conversations, and OKRs. It even has a rewards system.
Key features
Available in multiple languages
Employee engagement surveys
Continuous performance management
Who uses it?
Companies of all sizes.
How much does it cost?
Again the pricing structure can become a bit complicated. They have options for recognition, performance and surveys. These are then billed on an annual schedule, based on the number of employees in the plan.
For the full platform, it is $12.50 per month per employee for between 100-250 employees. For 250-1000 employees it is $10.50 per month per employee. These are also billed annually.
They also have enterprise options for more than 1000 employees. However, this requires a custom quote.
5. Profit.co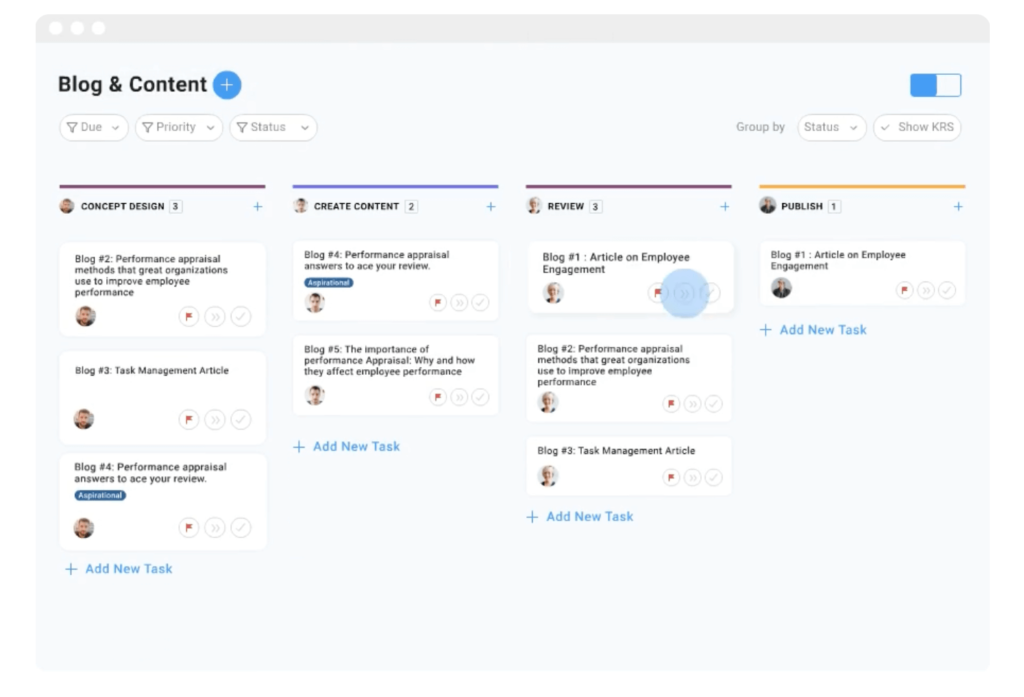 Profit.co, like Weekdone - is OKR centric. It focuses on outcomes and results instead of output and effort. With a suite of options, it promotes time saving, employee engagement and collaboration.
Key features
Pre-built KPIs
Multiple dashboards
Templates for goals available
Aligned OKRs
Who uses it?
Mid-sized and accounting companies.
How much does it cost?
They have three options
Launch is free for up to 5 users
Growth is $7 per month billed annually or $9 per month billed monthly with a 30-day free trial
Enterprise has custom pricing
6. Lattice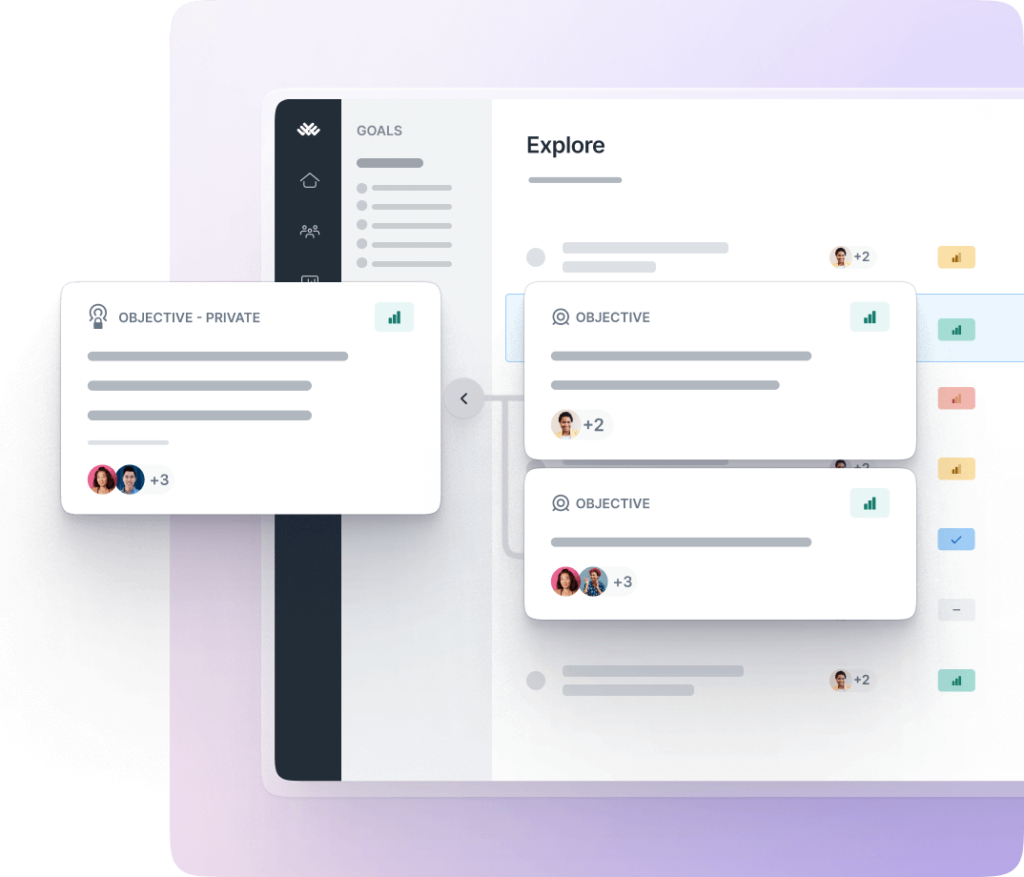 Lattice works to help managers grow their team's professional skills via performance management, engagement, goal setting and compensation management. The Lattice goal for organizations is provide an excellent employee culture.
Key features
Various products make it feel tailormade
Integrates with other administrative tools
Activity dashboards
KPI monitoring
Peer appraisals
Who uses it?
Mid-sized organizations and computing/tech companies.
How much does it cost?
Lattice divides its pricing into three options
The Performance Management plan is $8 per month per person. It includes performance reporting and analytics, a dynamic org chart and more
The OKRs and Goal plan is also $8 per month per person. It includes Goal and OKR analytics, customizable goal weighting and more
The bundle includes all the features of the two above and is $11 per month
To any of these, you can add further add-ons called grow and engagement for $4 per
month extra each.
7. Engagedly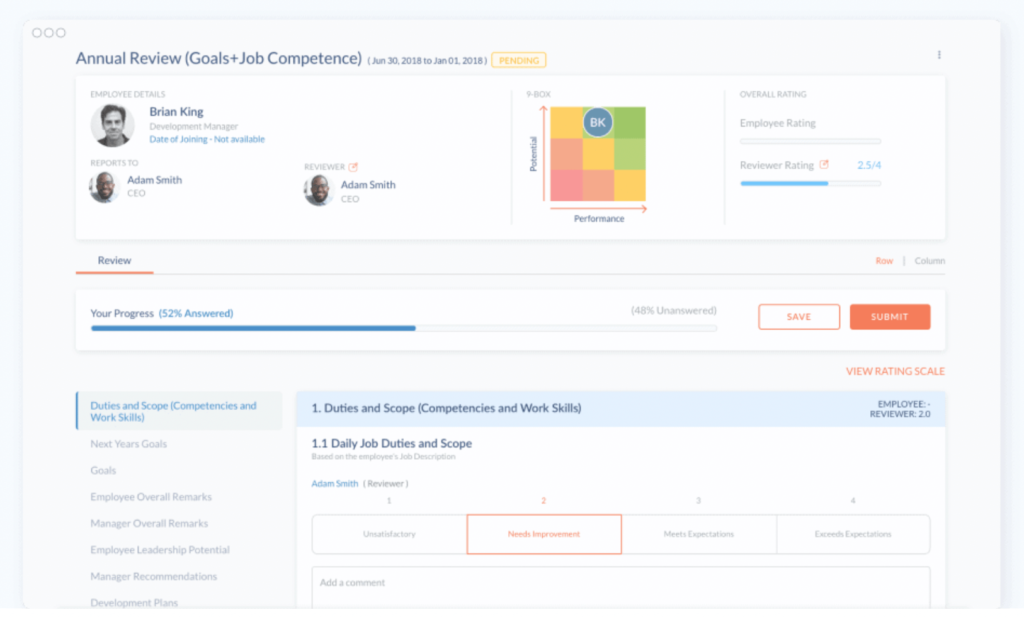 Engagedly focuses on the performance of team members to help them stay productive. To ensure the best employee performance its focus is on frequent feedback to meet goal targets.
Key features
Real-time feedback
Social praise
KPI monitoring
Progress tracking
Blended learning
Who uses it?
Companies with 100 to 5,000 employees especially services organizations.
How much does it cost?
The only way to get pricing is to contact Engagedly and get a quote but the starting
annual agreement is $5000. There are a lot of integrations and options and it is
customizable to your company's needs.
8. Trakstar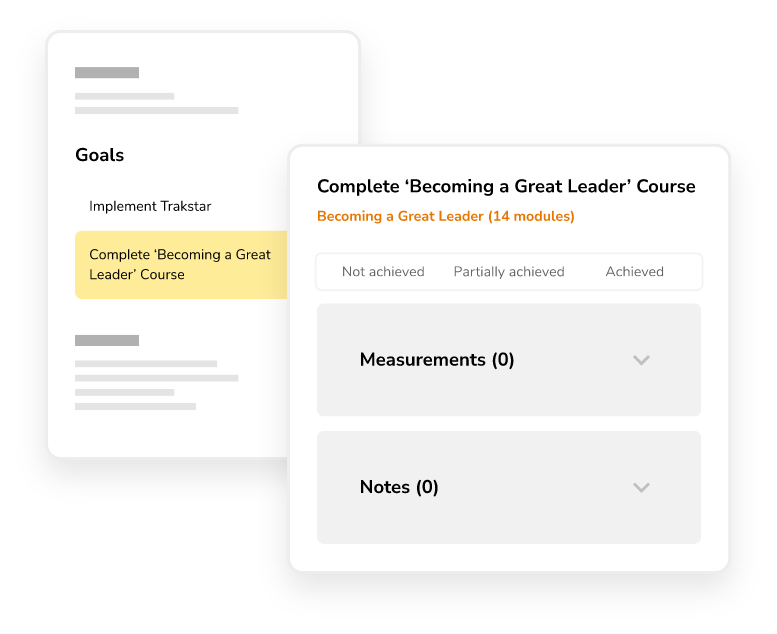 Trakstar is known to be simple to use and focuses on employee appraisal. It is also beneficial for employees that want to set individual goals.
Key features
Goal setting with a focus on SMART
Customizable forms
360-degree feedback
Real-time data dashboards
Who uses it?
Mid-sized companies in particular the health and fitness industry.
How much does it cost?
Trakstar offers no pricing plans but asks interested parties to request a quote.
9. PerformYard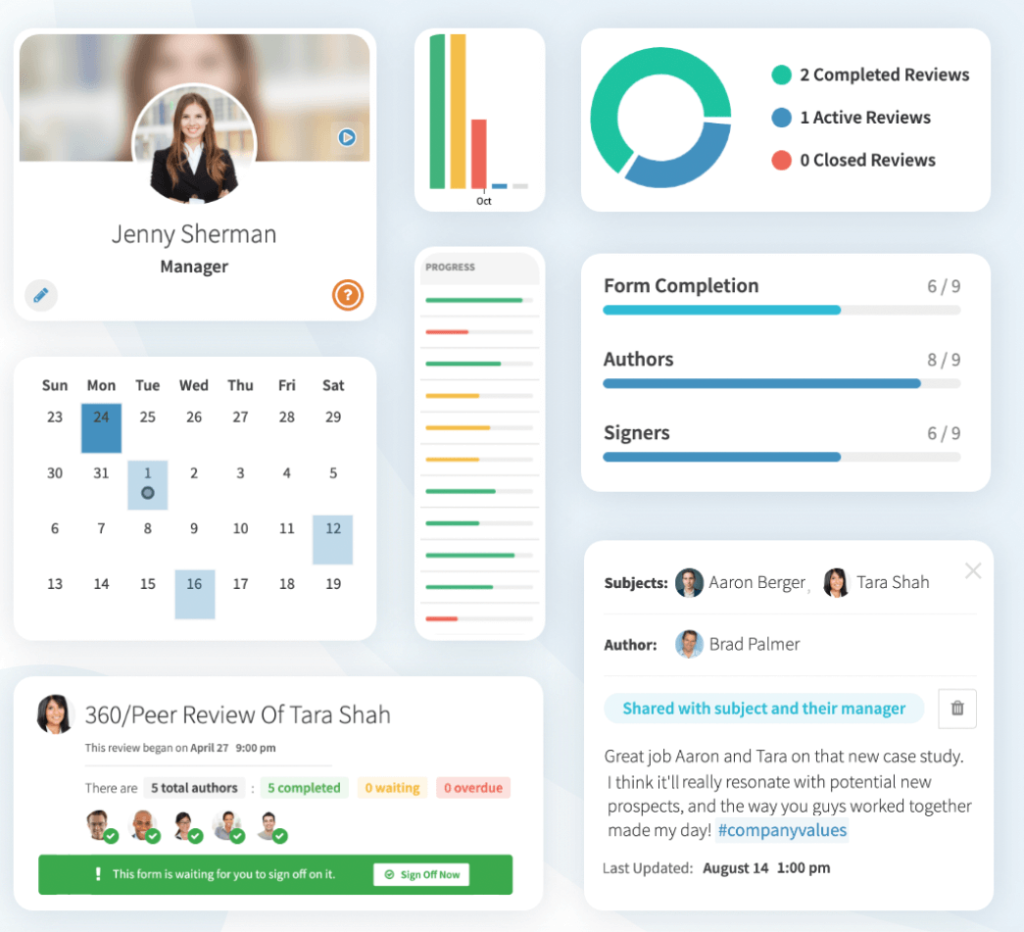 The PerformYard philosophy is getting the best out of people. It's designed to manage a company's employee engagement and performance. Managers can set goals within the platform and then review progress.
Key features
Review cycles
Feedback options
Goal management
Who uses it?
Companies with more than 10,000 employees and especially the transportation/ trucking industry
How much does it cost?
Here is a company that keeps things simple. They have two options.
Professional for $4-8 per month per employee. It includes a dedicated success manager and performance reviews
Enterprise requires a custom quote. It includes enhanced onboarding and training and custom implementation.
10. ClickUp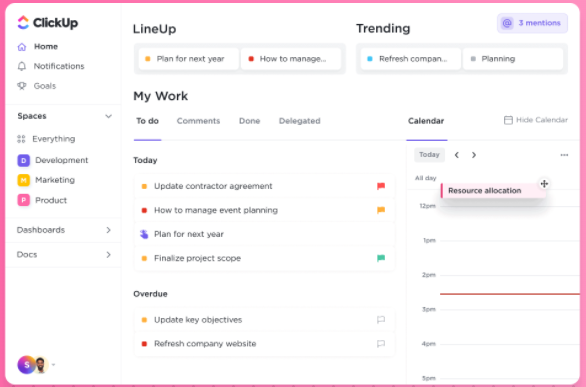 ClickUp is an all-in-one solution. It doesn't just manage the team's goals but also incorporates reminders and calendars, and is customizable. The idea behind this is to use fewer apps and prevent the problems that are created by using so many. ClickUp focuses more on productivity rather than goal setting and employee engagement.
Key features
Activity Dashboards
Recurring tasks
Mind maps
Checklists and templates
Who uses it?
Used by small and large companies and the marketing and advertising industry.
How much does it cost?
Free is best for personal use. It incorporates unlimited tasks and native time tracking
Unlimited is $5 per month per person it includes unlimited dashboards and more
Business is $12 per month per person with it you get access to mind mapping and workload management
Business Plan is $19 per month per member and has priority support and team sharing
Enterprise includes a dedicated success manager
Comparing 4 Goal-Setting & Tracking Techniques
Let's compare 4 popular techniques that companies use for goal-setting:
OKR - Objectives and Key Results
Best for a company-wide roll out - OKRs are intended to provide a narrow focus for those involved. The aim is to accomplish specific, ambitious goals in relatively shorter periods of time (3 months at a time). OKRs promote momentum and movement from one point to another. This framework follows the process of setting an Objective and relative Key Results, assessing the progress, and adjusting things where necessary. OKRs stretch and push a team forward and measure output. They work to produce sustainable and manageable change.
👉 Important read: OKRs are Not a Tool for Performance Management
SMART
Specific, Measurable, Achievable, Realistic and Time-Bound. Although OKRs and SMART goals have many similarities they differ in some key ways. SMART goals focus on the guidelines, not the process. Often they are not very difficult to meet - SMART goals are great for individual productivity and goal setting - they work well for short-term projects not necessarily connected to a company mission.
🤓 Further reading on SMART goals vs OKRs
KPIs
Key Performance Indicators. These high level business performance metrics help to assess if teams are using resources, staff, and funding efficiently. KPIs could measure whether initiatives (projects, activities) in the company have been successful. KPIs tend to be more outcome-focused rather than output-focused...meaning that these targets are less about finding improvements, but more about achieving a numerical target to assess performance.
📖 Read more about KPIs vs OKRs.
OGSM
Objectives, Goals, Strategies and Measures. This technique focuses on long-term business planning. OGSM also hopes to define the vision of the company for many years.
What are OKRs?
OKR stands for Objectives and Key Results, this popular goal-setting framework has been praised by companies like Google, LinkedIn, Amazon, etc.
Objectives are what you want your team, or company to achieve or accomplish, this is a qualitative sentence.
Key results are the route the company or team will take to the Objective, or "destination" - these are your quantitative metrics. Key Results should be measurable, attainable, yet challenging.
Marketing team OKR example
Objective: Increase the number of early active leads who see the value in our product during 30 day period

Key Result 1: Increase "quality" signups from organic traffic from 30 to 50 per week.

Key Result 2: Increase "quality" signups from blog articles from 15 to 30 per week.

Key Result 3: Increase trial to paid conversion rate from 35% to 60% during first 2 weeks
Focusing on Objectives and their relative 3-5 Key Results helps everyone in the company to concentrate on what needs to get done. By setting milestones for a designated time period (best in a quarter) individual employees and teams have more clarity on their purpose. This is what leads to success and growth.
Concluding Thoughts
It is clear, goal setting software for employees is essential. It builds up teams, promotes engagement and collaboration, and improves productivity. It helps managers and leaders to give praise and support where needed. The decision of which software is right for you and your employees depends on company expectations and needs. Understanding what you need to support your team is half the battle.
Bookmark this article and test some of our recommended employee goal setting and tracking tools in your team today! You'll be on your way to more effective leadership and more productive employees in no time.