A mere 5 percent of businesses meet all of their goals for the year. However, following the OGSM technique when creating a plan you have all the chances to get into this elite percentage.
Never heard of OGSM? Not sure how it works or how it differs from other methods like Objectives and Key Results (OKRs)?
Read on to learn everything you need to know, from the OGSM meaning to how to implement the OGSM model into your team's next planning or goal-setting session.
What Is OGSM and Who Is It For?
OGSM stands for Objective, Goals, Strategies, and Measures.
This is a business planning framework designed to help organizations set and achieve their long-term vision. It involves setting short- and medium-term goals, taking specific actions, and regularly measuring progress.
All kinds of companies successfully use OGSM to assist with planning — from Fortune 500 companies like Coca-Cola and Procter & Gamble to small and medium-sized businesses. It can be used to create strategies for the entire company, as well as individual departments, teams, and team members.
How to Build an OGSM Framework
It's fairly easy to follow an OGSM template and build an effective framework for your team to follow. To implement OGSM, you'll need to take these 4 steps:
1. Set Out Your Objective
In this approach, the Objective is a specific, long-term achievement your organization or team is working toward.
You should begin with a clear and concise statement that explains this objective. Remember, the purpose of setting an objective is to focus your thinking. It provides motivation and a sense of direction for the coming years.
Objective Examples
Grow the number of customers in the 35-54 year-old age group
Become the global leader in the healthy beverage production industry
Reduce carbon emissions to become a completely carbon neutral company
2. Define Your Goals
The term "Goals" in the OGSM methodology refers to quantifiable results that explain what it looks like to accomplish the objective.
Pick 3-4 goals for this step. When setting your team's goals, make sure they align with the SMART framework — each goal should be Specific, Measurable, Attainable, Relevant, Time-bound.
Goal Examples
Within the next month, produce and publish 1 new marketing video directed at customers in the 35-54 year age group
Within the next 6 months, develop a proposal for our first international marketing campaign
Within the next year, transition to exclusively using recycled packaging materials
3. Develop Your Strategies
Your Strategies will explain in more detail how you will accomplish each of the goals listed in the previous step. Between 3 and 5 strategies per goal should be sufficient to help your team make progress and achieve your goals.
Strategy Examples
Conduct market research to learn more about the 35-54 year-old demographic and create distinct buyer personas
Hire an international marketing consultant to assist with global expansion
Research and partner with a new shipping company that offers carbon-neutral shipping options
4. Decide on Your Measures
Your Measures will explain how well you're doing at meeting your goals and objectives. They are quantifiable and answer questions like "Are our strategies working?", "How close are we to meeting a particular goal?", and "Will we achieve our goal within a given timeframe?"
Measurement Examples
Monthly website views from visitors in the 35-54 age range
Metrics for social media engagement (number of likes, shares, comments, etc. per post)
Percent of reduction in carbon emissions over a 1-year period
What Is an OGSM Example?
If you need more OGSM examples to see how this framework applies, let's look at the following situation.
Say your team's objective is to increase sales through your channel partners. If this is the case, your approach to OGSM might look something like this:
Objective: Grow sales through our company's channel partners
Goals:

Goal 1: Within the next month, connect with each partner to assess their sales challenges and pain points.
Goal 2: Within the next 3 months, create and distribute a new sales kit for each partner that helps them communicate our message.
Goal 3: Within the next year, create and implement an incentive program that motivates channel partners to increase sales.

Strategies:

Goal 1:

Draft and email surveys to learn more about each channel partner.
Appoint a team to collect and organize survey data.
Develop a plan to address the biggest challenges identified via surveys.

Goal 2:

Identify and recruit top sales reps to evaluate effective sales strategies.
Appoint a team to design new sales kits.
Establish a training schedule to educate sales reps on new protocols/techniques.

Goal 3:

Meet with channel partners to learn about preferred incentives.
Recruit team members to develop an incentive program.
Formulate a list of attractive rewards to make the incentive program effective.

Measures:

Goal 1:

Number of connections made
Number of surveys returned

Goal 2:

Number of sales kits created and distributed

Goal 3:

Percent increase in sales
Number of incentives awarded to sales reps
What's the Main Difference between OGSM and OKRs?
OGSM is a long-term business planning tool. It helps organizations, teams, and individuals to define their vision for several years. It also links this vision to specific short- and medium-term goals and activities to keep everyone focused and on track.
On the other hand, OKRs — which stands for Objectives and Key Results — is a goal-setting methodology. When teams use OKRs, their Objectives are public statements that explain what the team wants to accomplish. These objectives are paired with Key Results, which explain how the Objective will be measured and reached.
OKRs and OGSM are similar because they both focus on defining the company objective and specifying how it will be measured. However, unlike the objectives within OGSM, though, Objectives within the OKR framework are not part of a complete, multi-year plan. They're meant to be accomplished within a relatively short time frame — typically by the end of a given quarter.
OKRs and OGSM differ in scope, too. OGSM often works well when creating strategic, long-term plans from the top down. The planning starts at the head of the company and is then aligned with individual divisions, production lines, and teams.
OKRs, in contrast, tend to work better for team-level. They start at the lower levels and are then aligned with the company's mission from the bottom up.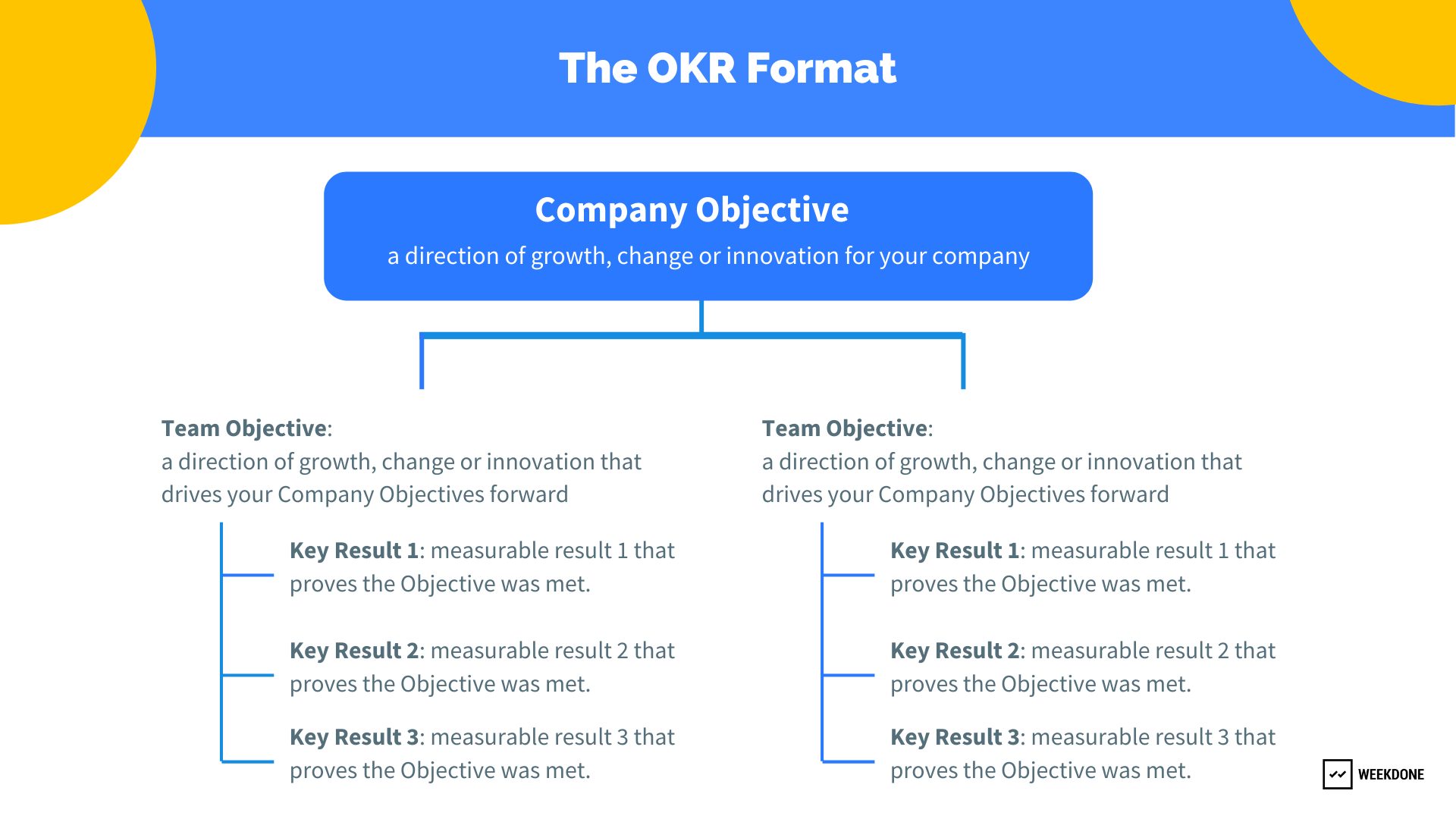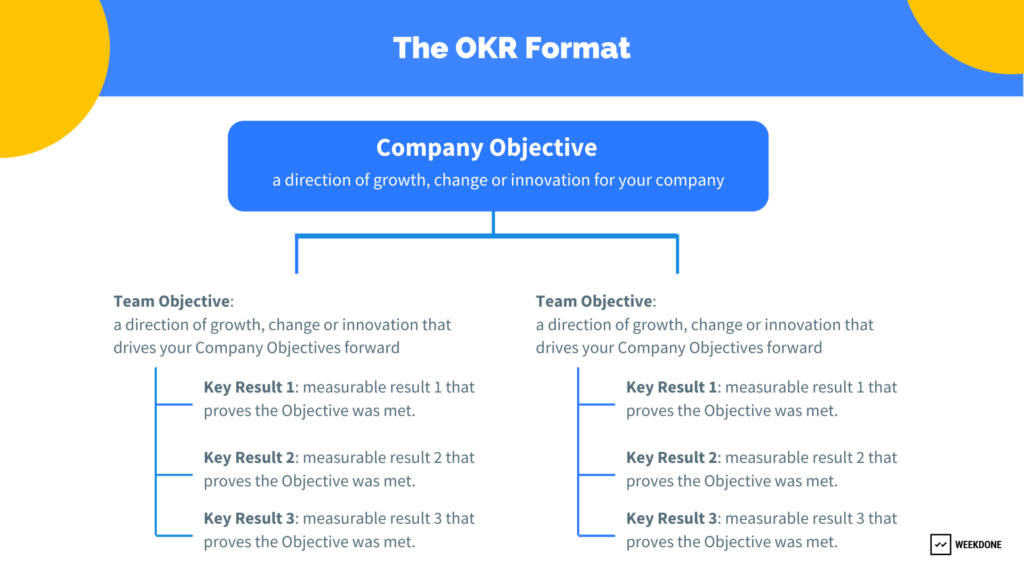 What Are the Benefits of OKRs?
OKRs offer unique benefits to teams that struggle with goal-setting and productivity management:
Clear focus to work on top priority tasks, not just what's next on the to-do list
More flexibility for teams' goals
More team autonomy to identify the right solution
Improved team goal alignment with company mission
Weekly check-ins and progress tracking
OKRs also help teams and individual members to stay motivated as they work toward accomplishing quarterly goals. They keep people from getting bogged down by the weight of an overarching objective and provide specific tasks for team members to prioritize on a day-to-day basis.
How to Use OKRs
The key to seeing these kinds of results from OKRs is following standard OKR best practices.
Best practices include setting qualitative, realistic Objectives that can be achieved within the quarter, as well as setting quantifiable, specific Key Results that are easy to measure.
When using OKRs, teams should also aim to align goals across the company. This ensures that everyone — from executives to individual teams — has the same vision in mind and is helping the company to move in the right direction.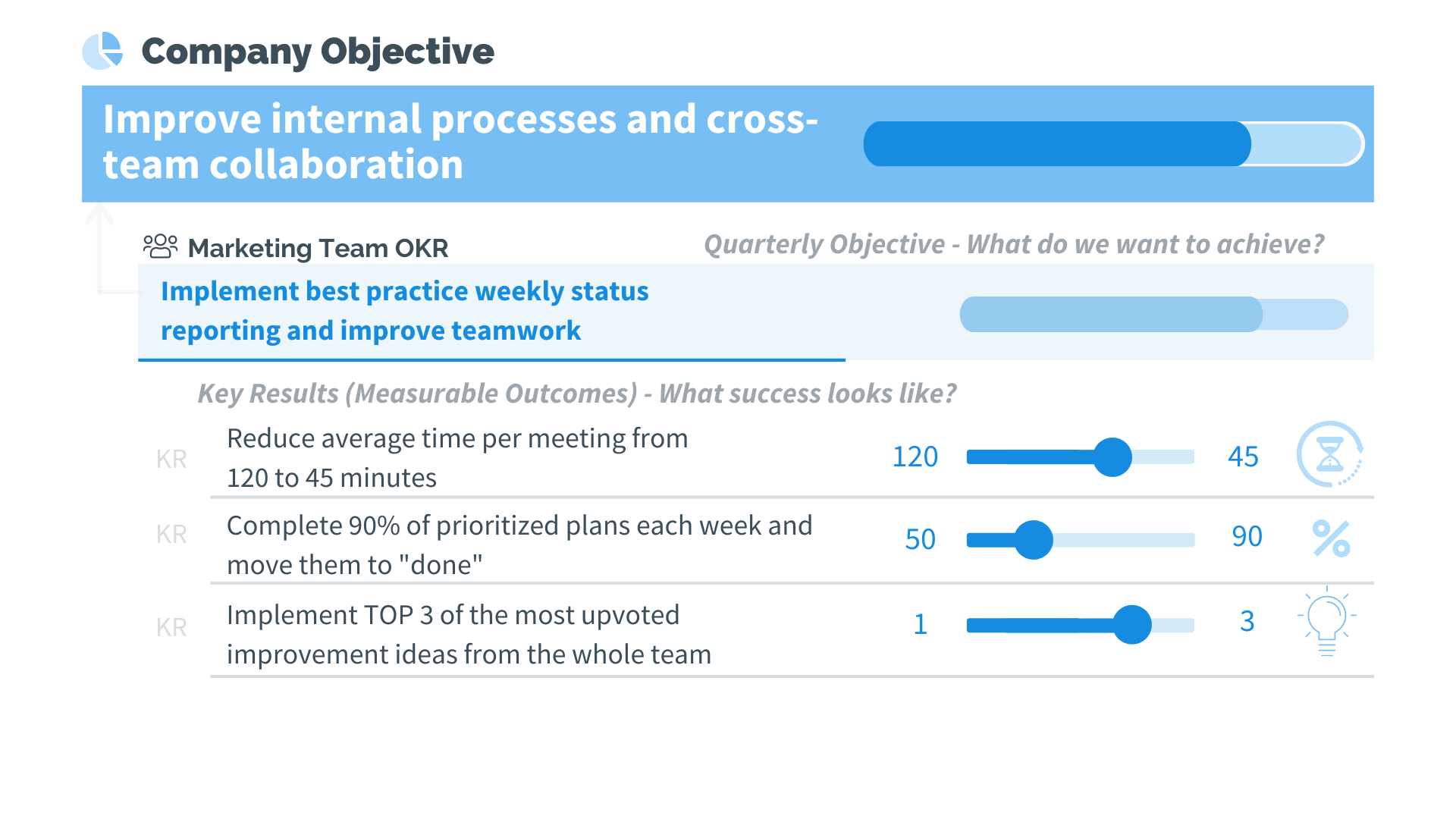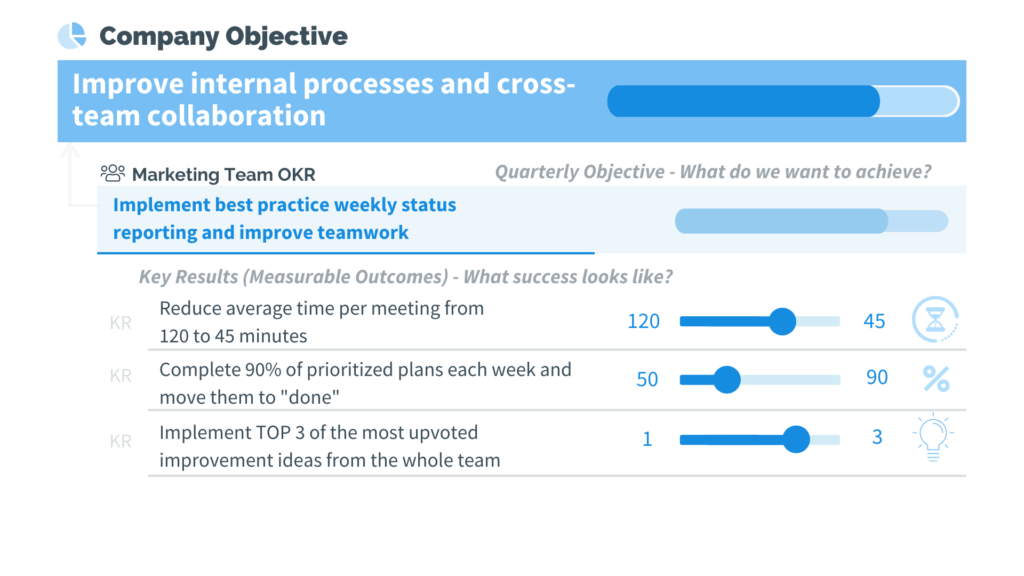 OGSM vs OKRs: Final Thoughts
Now that you know more about OGSM and how it compares to the OKR methodology, you can see that both frameworks have a place in your team's goal-setting and strategizing processes:
When creating a multi-year plan for achieving a specific objective, OGSM is an excellent approach.
When setting goals for the quarter, the OKR framework is more effective and makes more sense.
Use the information outlined above so you can implement the OGSM steps correctly and stay organized as you work toward your primary objectives in the new year.
If you're also looking for an easier way to set up your OKRs, be sure to give Weekdone's OKR software a try. Weekdone makes it easy for you to set goals, monitor progress, and check-in with your team, plus it provides you with unlimited OKR coaching free of charge.
Sign up today for a free trial!