The OKR framework is simple, but implementation can be time-intensive and complex. It requires deep understanding and knowledge of the OKR best practices to ensure it is implemented successfully and adopted widely.
As a tried and tested methodology, OKRs are used by companies of all sizes - from Google, LinkedIn, Twitter to small and medium sized companies with great success.
While implementing OKRs is now made easier through automation with software programs and guidance from OKR experts, using the following OKR best practices can accelerate the adoption curve.
👉 Keep in mind that the OKR framework is not a monolithic system. Using an iterative approach instead of implementing OKRs all at once can accomplish optimal results.
Why Adopt OKR Best Practices?
Using OKRs best practices is important because it gives a clear structure and direction to take during implementation. Some of the reasons to apply these best practices include:
Use Tried and Tested Methods to Successfully Implement OKRs - By applying OKR best practices you can ensure that the processes, methodology, and overall approach for implementation are accurate and relevant to your business needs. Using a framework that is tried and tested and has delivered successful results increases your chances of accomplishing your goals.
Improve OKR Adoption Rates - When everyone sees the success and results of implementing OKRs it motivates them to continue using the framework. Companies using OKRs using a precise methodology have seen great success in their results.
👉 Take a look at some of the success stories.
Refine Goal-Setting with Advice and Guidance from OKR Experts - Having your goal-setting process reviewed by OKR Experts is a great way to ensure you are on the right path to success. Utilizing their advice and guidance can help you refine your goals and tailor them to your business needs.
Combine the Power of Strategy and Technology - Using an OKR software program can automate tasks of setting, tracking, and measuring OKRs. This lets you focus on the most important aspect of the OKR framework - that's creating good OKRs.
Ready to apply the best practices and implement OKRs?
💡 Searching for practical resources to learn more about OKR implementation? Watch this series on OKR Best Practice 101 - designed for leaders and managers looking to improve their goal-setting skills and implement OKRs successfully.
Mistakes to Avoid When Implementing OKRs
Agility is the essence of survival in this modern business environment. Learning fast from mistakes is the only way to improve, move forward, and finally succeed.
When implementing OKRs, learning from your own mistakes can take time. That is why it is important to observe the mistakes of others and understand how not to make them when implementing OKRs.
Setting OKRs in Silos
The OKR methodology requires collaboration and two-way communication. It does not work when a top-down approach is adopted - where top-level objectives are finalized without consultation and translated into team OKRs.
Working in silos often leads to setting unrealistic goals which make it difficult for teams to connect with or achieve, making it a demotivating process.
👉Learn from this Case Study how planning in silos does not help when creating OKRs.
Not Aligning Team OKRs with Company Goals
Some teams create quarterly OKRs and overlook aligning them with the company goals. While the team may deliver results based on their OKRs, it may translate to improvement in overall business performance.
To ensure that teams and individuals move in the same direction, alignment with the overarching objectives of the company helps derive the best results from OKR implementation.
👉Take a look at these OKR Alignment Examples
Neglecting to Update Progress on OKRs
Without actionable insights about the progress of Objectives and Key Results, it typically leads to abandoning goals. When progress is not analyzed there is no clarity about whether the OKR process is working or needs improvement. Therefore, updates about the progress of OKRs must be reviewed through weekly team meetings and quarterly reviews.
👉 Learn about How to Track OKRs with Weekly Check-ins
Setting Too Many Objectives and Key Results
Too many objectives can dilute the focus and lead to poor performance. Overwhelming teams with achieving many objectives and delivering results can affect productivity and efficiency. Ideally, there could be between 1 to 4 OKRs and 3 to 7 Key Results at the company level, and teams could have 1 Objective and 3 to 5 Key Results.
👉 Read more to find out:
- How many OKRs are too many?
- 10 reasons why OKRs are not working
- Common OKR mistakes to avoid
10 OKR Best Practices to Accelerate the Adoption Curve
1. Start Early. Create OKRs Before the Quarter Begins
Create OKRs at least 2 to 4 weeks before the quarter begins, especially Company level Objectives. Also ensure that sufficient time is allotted for team members to plan, discuss, and finalize their Team OKRs. Remember that the Initiatives and Weekly Plans also need to be planned to drive the progress of the Key Results. In this way, you can stay on track when the OKR cycle starts.
2. Communicate, Clarify, and Define Objectives and Terms
Leadership teams must begin with finalizing the key focus areas for the quarter, which will help create the Company Objectives. They should communicate and discuss why the objectives are important to set the direction for the rest of the company. This will provide clarity and a sense of purpose for everyone.
Using Company Objectives as a guide, team managers should get ideas and feedback from team members about how they can work toward achieving them. Two-way communication lets teams clarify high-level goals and definitions of terms such as success and growth.
Having effective discussions empowers team members to define their roles in achieving the overarching Objectives and create contributing Team OKRs for a quarter.
💡 Including teams in the discussions about Company Objectives is not only motivating, but is a necessary exercise to validate Objectives, promote innovative thinking, and develop a goal-setting mindset.
Download this Quarterly and Weekly Planner Notebook and Printable DIY Kit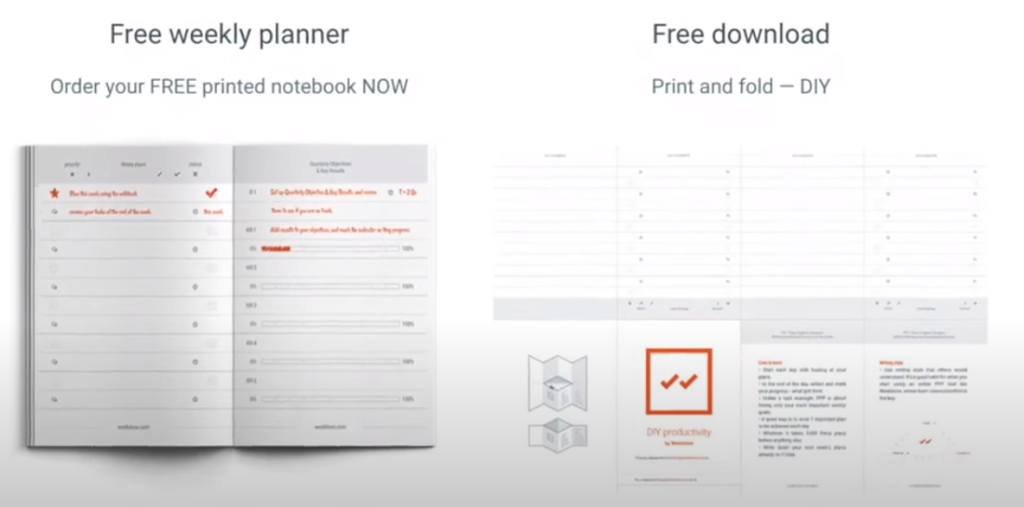 3. Align Team OKRs with Company Objectives
When it comes to OKR planning, brainstorming can produce many new ideas. While this is a good approach, it is important to ensure they are connected to the Company Objectives. OKR alignment unifies the company at all levels and helps everyone truly understand the overarching goals and how they can contribute.
👉 View all your goals and see how they are connected with an OKR Hierarchy View.

You can also take a look at the examples in this video to identify the alignment style that fits your business.
4. Get it Right by Referring to OKR Examples
There are several ways OKRs can be created incorrectly. For instance, many people confuse OKRs with other metrics and methodologies such as KPIs and MBOs. To experience the benefits of implementing OKRs, they need to be written perfectly.
👉 The best way to ensure you get it right is to refer to OKR examples created by experts. Check out this database of OKR examples to get you started:
💡 Tell the difference between OKRs and Other Metrics and Methodologies
5. Align Weekly Plans with Team OKRs
While strategizing is important, execution ensures that progress is made toward achieving the Key Results. Aligning weekly plans with Team OKRs helps improve employee engagement. It lets employees see OKRs in action and how their activities help move the company forward.
An efficient way to approach weekly planning is to use the PPP methodology. This status reporting framework includes details about the weekly Plans, Progress, and Problems (PPP). Generated weekly, these tasks are visible to managers, who ensure that the team initiatives and objectives are aligned with the company goals.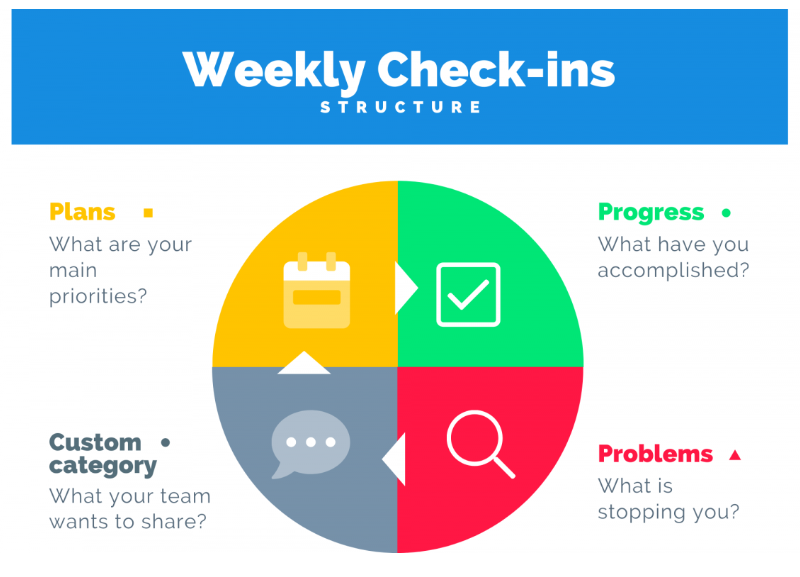 👉 Searching for an effective way to stay up to date and maintain focus on the most important plans?
6. Stay on Track with Team OKR Weekly Check-ins
To ensure the OKR implementation is successful it is important to have regular assessments. An OKR Weekly Check-in is recommended because it allows team members to reflect on the progress and identify priorities for the next week.
This meeting should ideally be short (15-20 minutes) and include a clear agenda of giving and getting a status update for various initiatives. Before the meeting, team members must take time to consider the Team Objectives and note the progress made on the Key Results.
It is also a great opportunity to gain insights about whether the results are satisfactory, problems that need to be addressed, and how progress can be achieved.
👉 Here are the best practices you can adopt to effectively organize OKR Weekly Check-ins.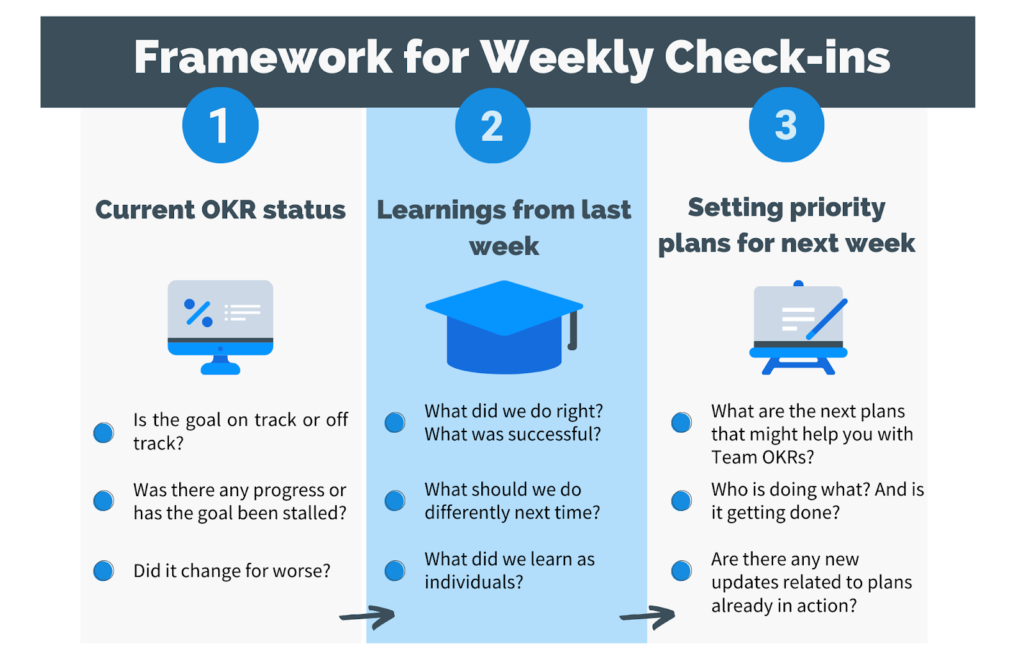 7. Reflect on the Progress in Monthly Team Reviews
To ensure everyone is on the same page, a good practice is to organize a monthly review to check if the Team OKRs are on track. This is essential because it allows team members to reorganize their initiatives and stay aligned with the bigger picture.
Before a monthly team review is held, team members need to take the time to reflect and analyze their plans, initiatives, progress, and results in advance. The insights and lessons learned from the team's monthly reviews can be recorded and shared at the quarterly company-wide review.
👉 Here are some of the guiding questions to come prepared for a Monthly Team Review.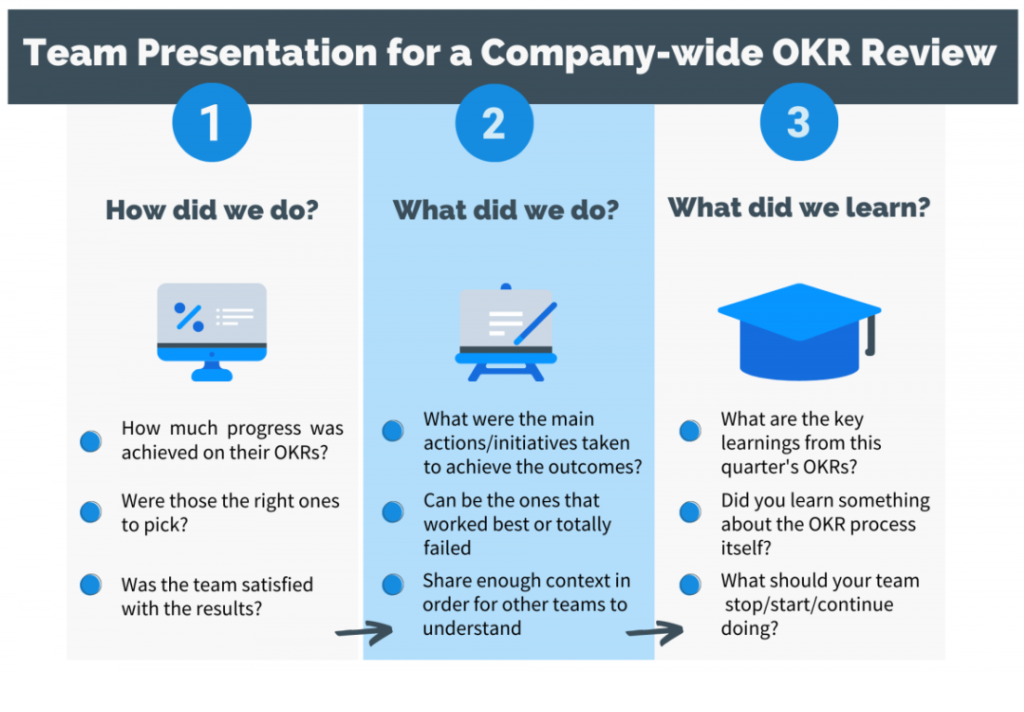 8. Get a Complete Perspective with a Quarterly Company-Wide Review
Quarterly company-wide reviews are important because it allows everyone to observe the progress, provide and get feedback, discuss challenges, and share lessons learned.
Asking the right questions and discussing the answers is a good way to look at matters from different angles and get a deeper understanding. These review meetings are a good opportunity to find out more about the team and company OKRs, success factors, challenges, and new opportunities for improvement.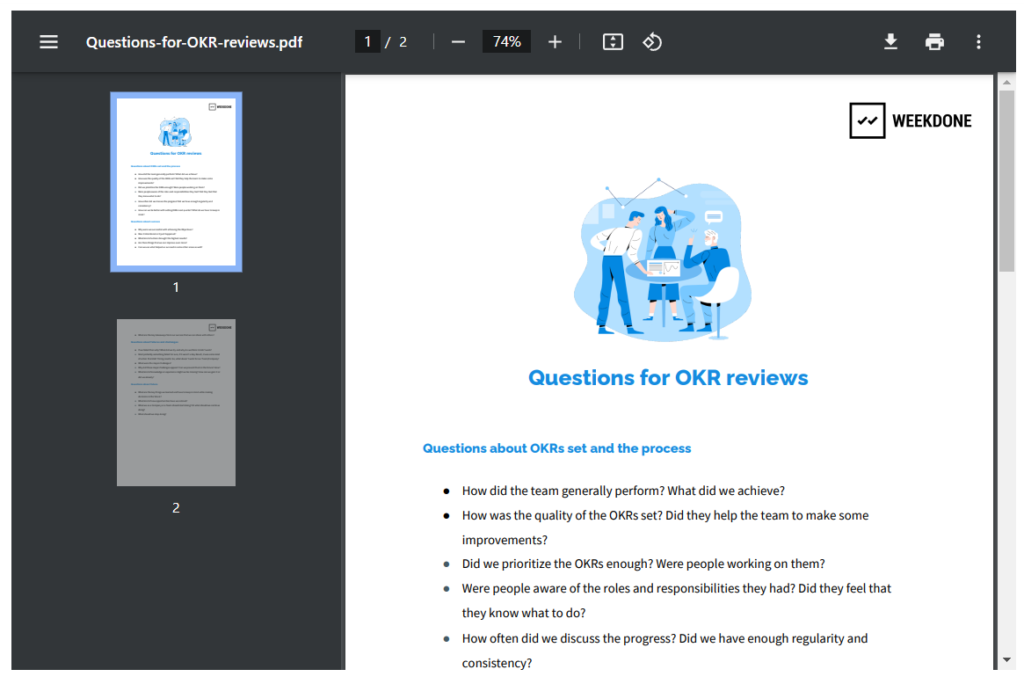 9. Accurately Set, Track, and Automate Goal-Setting with an OKR Software
When applying OKR best practices most companies today automate the process of setting goals using OKR software.
Creating good OKRs is time-intensive and requires effort to take a strategic approach to define goals. Instead of focusing your efforts on implementation, using a reliable OKR software program can help you save time and get better results from OKR adoption.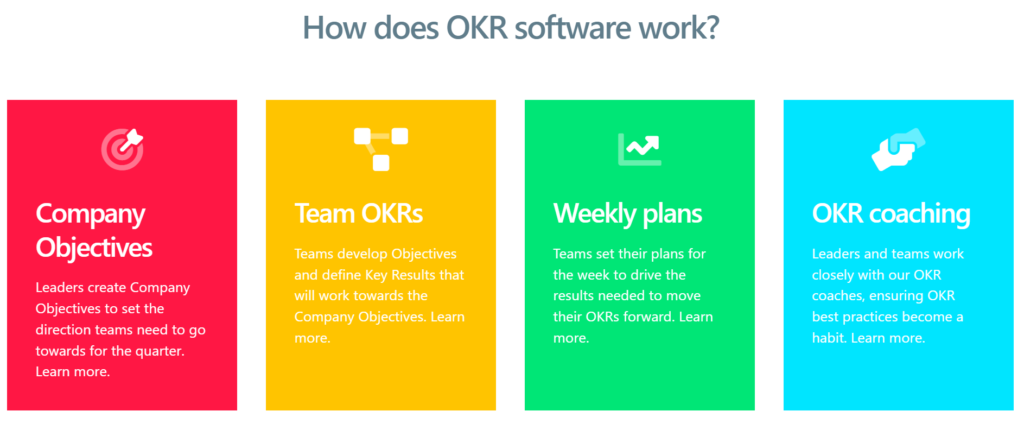 Using an OKR software program such as Weekdone, you can set structured goals, track activities, identify improvement areas, and keep everyone aligned with the company goals.
By automating tasks such as updating, tracking, alignment, and integration, an ideal software program can help maintain focus on creating relevant objectives and goals. This approach is a great way to develop a goal-setting mindset across the company.
👉 Learn more about how the OKR framework can improve goal-setting and the benefits of using Weekdone to implement OKRs.
10. Stay a Step Ahead by Planning Next Quarter's OKRs
Planning your next quarter's OKRs 2 to 4 weeks before it starts is a great way to stay ahead and ensure successful implementation. Insights from the monthly team reviews and quarterly company-wide reviews can provide a good starting point.
When planning next quarter's OKRs, consider the lessons learned from the past quarter, identify what has worked, what can be improved, and the challenges to address.
Creating strategic OKRs that deliver optimal results is the essence of the OKR framework. Without adopting the right process it could translate into any other goal-setting method and result in lower adoption rates.
👉 Use this 8-Step Guide to Planning Great OKRs and leverage the power of planning to realize the benefits of the OKR framework.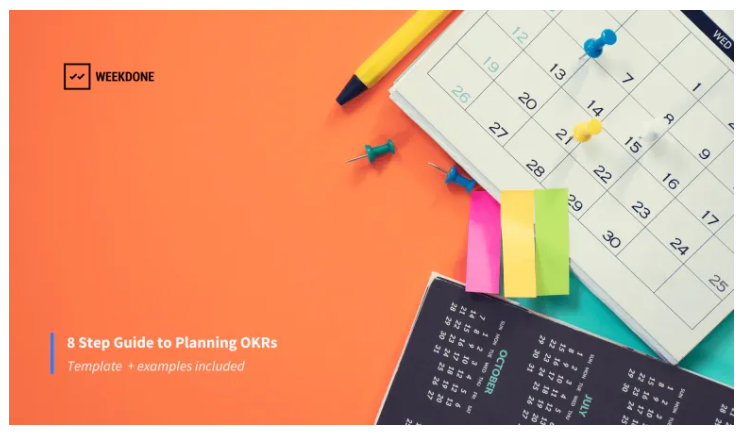 The Secret to Successfully Implementing OKRs
Implementing OKRs is not a plug-and-play solution. It requires expertise to write good OKRs, motivation to stay dedicated, developing a goal-setting culture, and an OKR tool to save time through automation.
Take a look at some of these questions, answers to which could help you decipher the success formula of OKR implementation:
Expertise and Knowledge
- Do you understand the purpose and how to write good OKRs?
- Do you know the process of setting weekly, monthly, and quarterly OKRs?
- Is everyone in the company clear about their roles and responsibilities in the OKR process?
Motivation and Dedication
- Does everyone know why they are using OKRs?
- Are all people in the company committed to applying OKR best practices?
- Are the benefits of using OKRs clearly explained to motivate employees to use OKRs?
Goal-Setting Mindset and Culture
- How do you plan to develop a goal-setting mindset across the company?
- Are OKRs visible to everyone to provide transparency and drive engagement?
- Is there a culture of trust to create an environment of innovation and growth?
Technology and Strategy
- Are you using OKR tools to level up your goal-setting process?
- Are you automating tasks of setting, tracking, measuring, and reporting, so that the focus remains on the OKR strategy?
- Do you know how an OKR Software Program can ensure successful OKR implementation?
👉 Find out the secret behind implementing OKRs successfully through Weekdone's 4 Pillar Approach to OKR Readiness
Perseverance Pays! Develop OKR Best Practices Over Time
The best way forward to approach the OKR goal-setting framework is to develop your own best practices over time. Based on your business needs, company structure, and objectives, you can eventually create an OKR methodology that can deliver the best results.
Remember that setting goals can be challenging to implement because not everyone is open to change. But if you truly want to grow your business, you should invest the time and effort in implementing OKRs.
👉 Are you ready to see how applying OKR Best Practices can elevate your goal-setting process?
Find out how OKRs can transform your company to become more agile, aligned, innovative, outcome-driven, and result-oriented.