From Amazon and Google, to Adobe and LinkedIn, leaders have been using OKRs to get their teams aligned and focused on the right goals and address the challenges that matter the most.
OKRs (Objectives and Key Results) is a goal-setting framework that helped Jeff Weiner lead LinkedIn through a blockbuster IPO to a market capitalization of over $20 billion. In the early 2000s, the OKR framework helped Google founders develop the next-generation client platform for web applications and let Chrome reach 20 million seven-day active users.
If you ever thought of rolling out OKRs for your team, you need a combination of two things: understand the OKR framework and have the right OKR software to apply it in practice.
To save you time, and help you make the best choice for your needs, we've compiled a list of the best OKR software tools along with simple tips on how to choose the right one.
Top 15 OKR Software
#1 Weekdone – Best OKR software with unlimited OKR coaching for SMBs
#2 Betterworks – Best OKR management tool for enterprises
#3 Lattice – Best people management platform combined with OKRs
#4 Workboard – Best OKR tool combined with MBRs
#5 Hirebook – Best team performance management tool with OKRs included
#6 Heartpace – Best performance review and feedback tool with OKRs included
#7 Tability – Best OKR tracking tool
#8 Leapsome – Best OKR software for performance-oriented companies
#9 Mooncamp – Best OKR system for Microsoft Teams
#10 Flowyteam – Best project management software with simple OKRs
#11 Profit.co – Best UX and user-friendly interface for OKR tools suite
#12 Ally – Best OKR app for OKRs and status tracking
#13 Gtmhub – Best OKR tool for hybrid work
#14 Perdoo – Best OKR platform for having OKRs and KPIs in one software
#15 Koan – Best OKR app for OKRs and status tracking
Without further ado, let's start!
Psst…🤫
You can also skip the reading and just use Weekdone to effortlessly allow full visibility of OKRs, Weekly Check-ins, comments, and updates related to them.
What is OKR Software?
Objectives and Key Results (OKR) software is a tool for setting, discussing, tracking, and measuring business results within your company.
While OKR software might be similar to other goal-setting software that are aiming to set and drive business goals, it's still made with the OKR methodology in mind.
It means that OKR software should often cover three main areas: quarterly goal-setting and alignment, weekly progress monitoring, feedback, and ongoing discussions.
OKR Solution: Key Features
With this in mind, in the OKR management platform you should be able to:
Set OKRs and visualize their progress;
Clearly separate Key Results (what you want to achieve) and Initiatives (what you will do to achieve your Key Results);
Display the most relevant and important Key Performance Indicators for each team and the whole company;
Prioritize weekly plans and link them to OKRs;
Monitor updates in the Company Newsfeed and through automated email reports;
Share your main OKR learnings via Team Weekly Summary;
Provide feedback and recognition to your colleagues.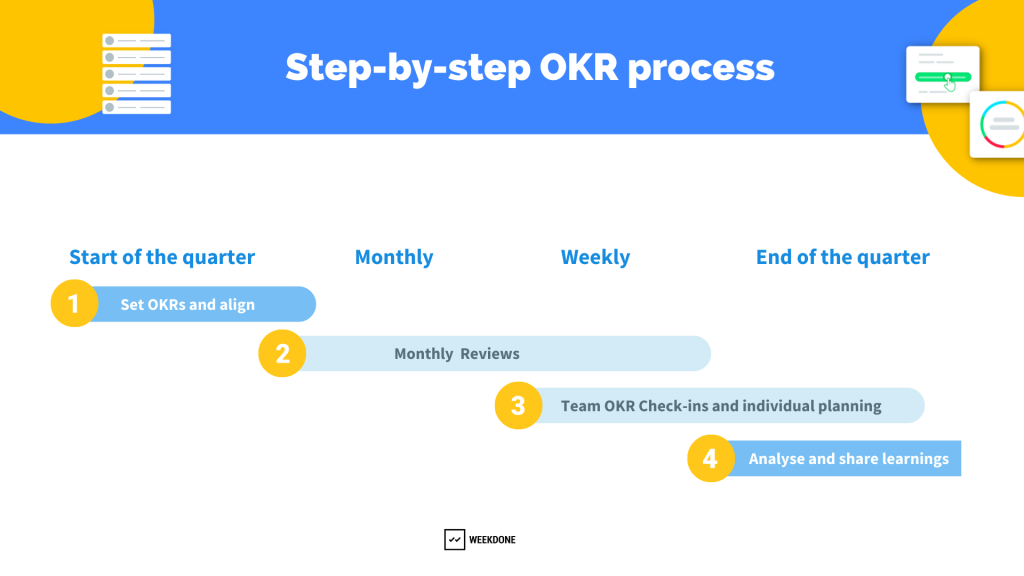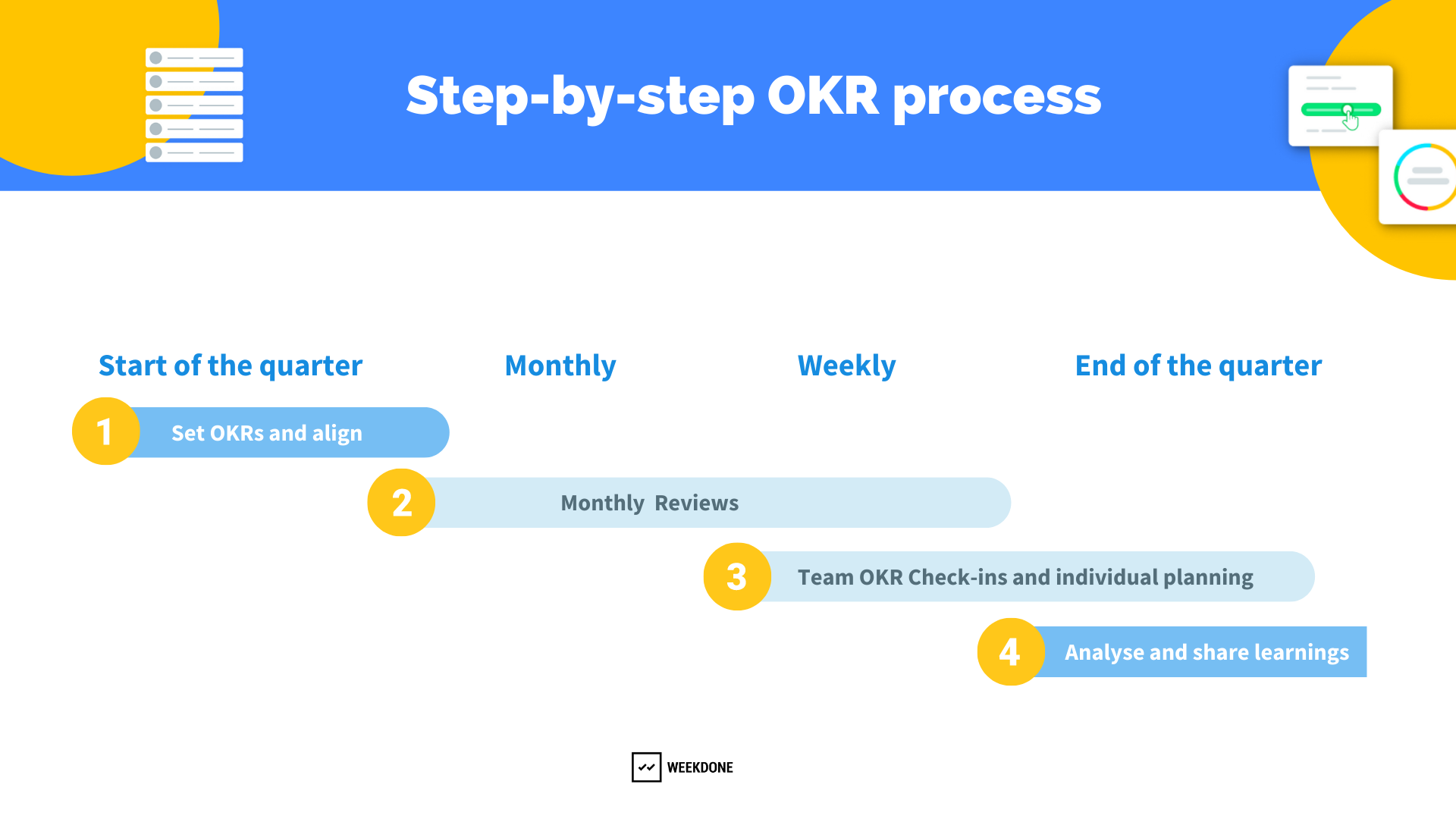 Using OKR software requires an organized process:
First, you'd need to make sure you've got your Company Objectives defined and set. Next, your teams would be working towards drafting their OKRs and doing it thoughtfully, not just trying to get it over with.
After the Team OKRs are set, you need to make sure people are working towards the Objectives. There has to be a weekly process to review and discuss the OKRs and how to achieve them.
You will also need to organize the end-of-the-quarter review (retrospective meeting) to summarize learnings and make better decisions for the next quarterly cycle.
Using OKR software can help you maximize the benefits of the methodology and provide better accessibility, visibility, transparency, and visual alignment. One thing to remember is that using OKRs and not following OKR best practices might not drive any changes in your business and, in that case, OKR software will not help either.
👉 Read more on how to manage the OKR roll-out in this OKR Implementation Guide.
How to choose the best OKR Software?
Whenever you decide to buy something new, you always have to make the distinction between the features the product provides, and the features you actually need.
OKR Software Comparison Criteria
Let us give you some criteria that might make your choice of the best OKR software easier:
The purpose of OKR software
To clarify the purpose of adopting an OKR management platform in your company, think of:
What kind of benefits are you expecting to see right away, in a month, in a quarter, in a year?
What kind of current issues do you expect to solve by introducing OKR software?
Are you familiar with the OKR best practices and why 70% of teams fail to leverage the benefits of the framework?
Depending on your answers, the choice of OKR tools will be narrowing down. While tools like Weekdone are specifically done for driving changes by using OKR methodology (setting Quarterly Objectives, linking Teams OKRs to Company Objectives, and using Weekly Check-ins), a bunch of other tools is tailored for other functionality: performance reviews, engagement surveys and managing remote teams.
Think of which goal-setting tool would fit your business needs and company culture.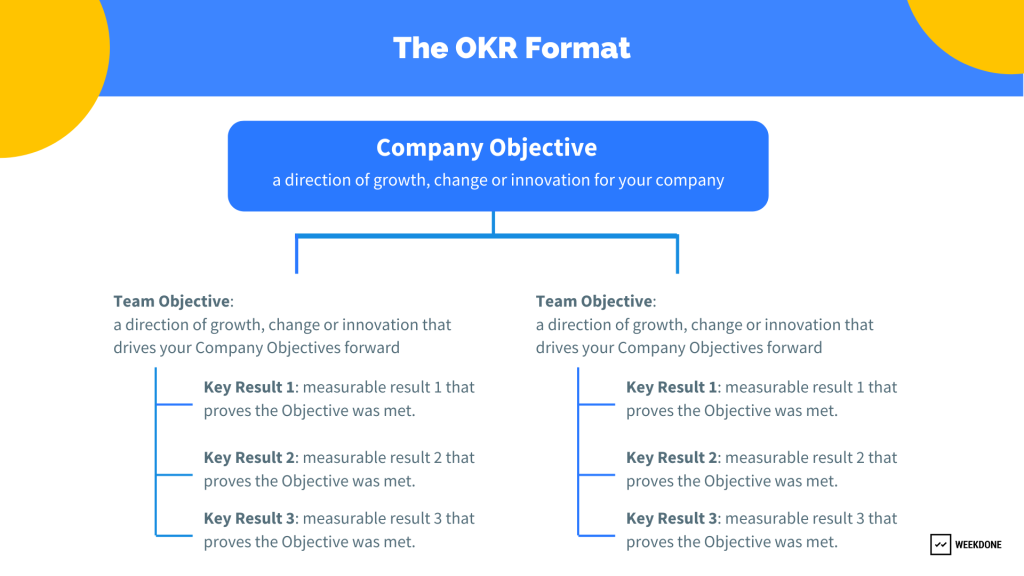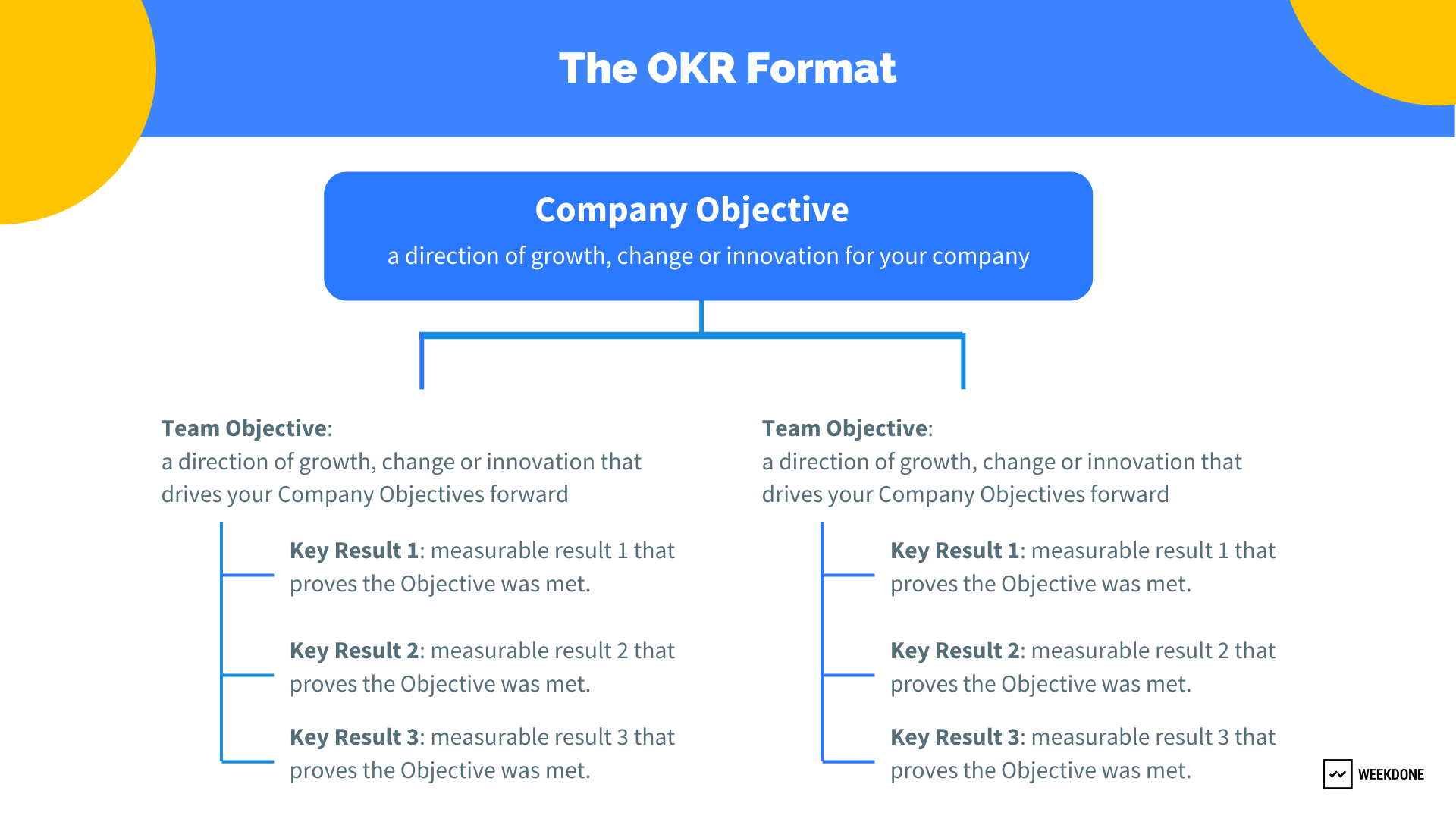 Size of your team
Team size is one of the most important parameters when choosing your OKR software. Think of it this way: is it the same to manage a team of five people vs a team of thirty?
Each software handles and addresses the needs and dynamics of different team sizes: tools like Weekdone are better suited for SMBs (small to medium size businesses) with up to 100 employees whereas tools like Betterworks are focused on the enterprise level OKRs.
Use case
Identifying the exact problem you are trying to solve will immediately give you a better idea of the OKR software your team needs.
Each of the proposed OKR management platforms you will see below addresses different problems and pain points. Some are better for improving individual accountability whereas others offer features to organize effective progress tracking for remote teams.
Integrations
Check your existing tech stack and think if there're any tools you want to keep using along with OKR software. Make sure the selected OKR tool has all the integrations your product, sales or marketing teams might need:
Slack
Microsoft Teams
Jira
Asana
Basecamp
Google Tasks
Zapier
A third party calendar app
Connecting different teams' tools with OKR software helps team members to link their day-to-day efforts to business strategy and results. Teams can continue using their project or task management tools within one team while showing their biggest priorities to the entire company cross-functionally in OKR software.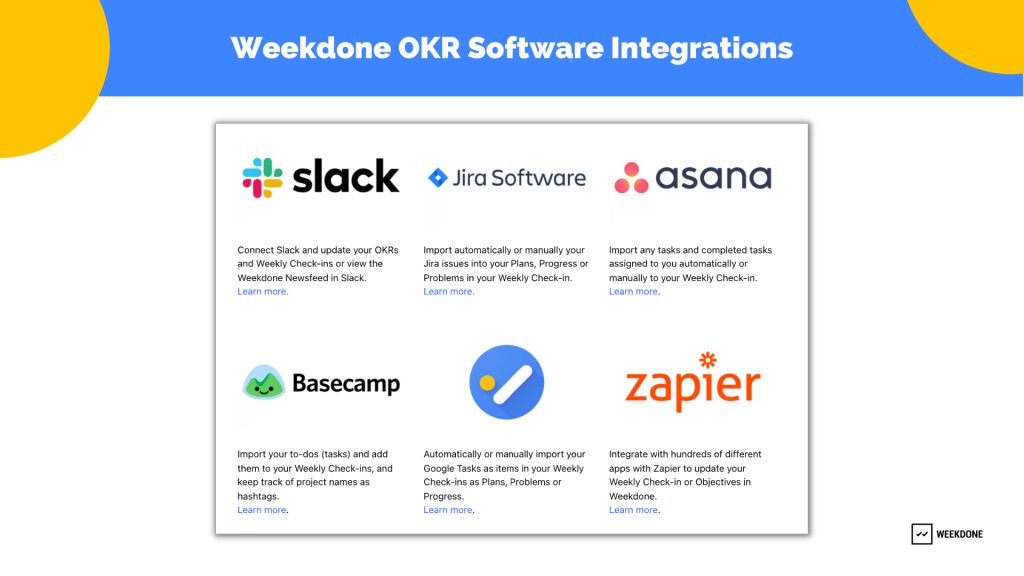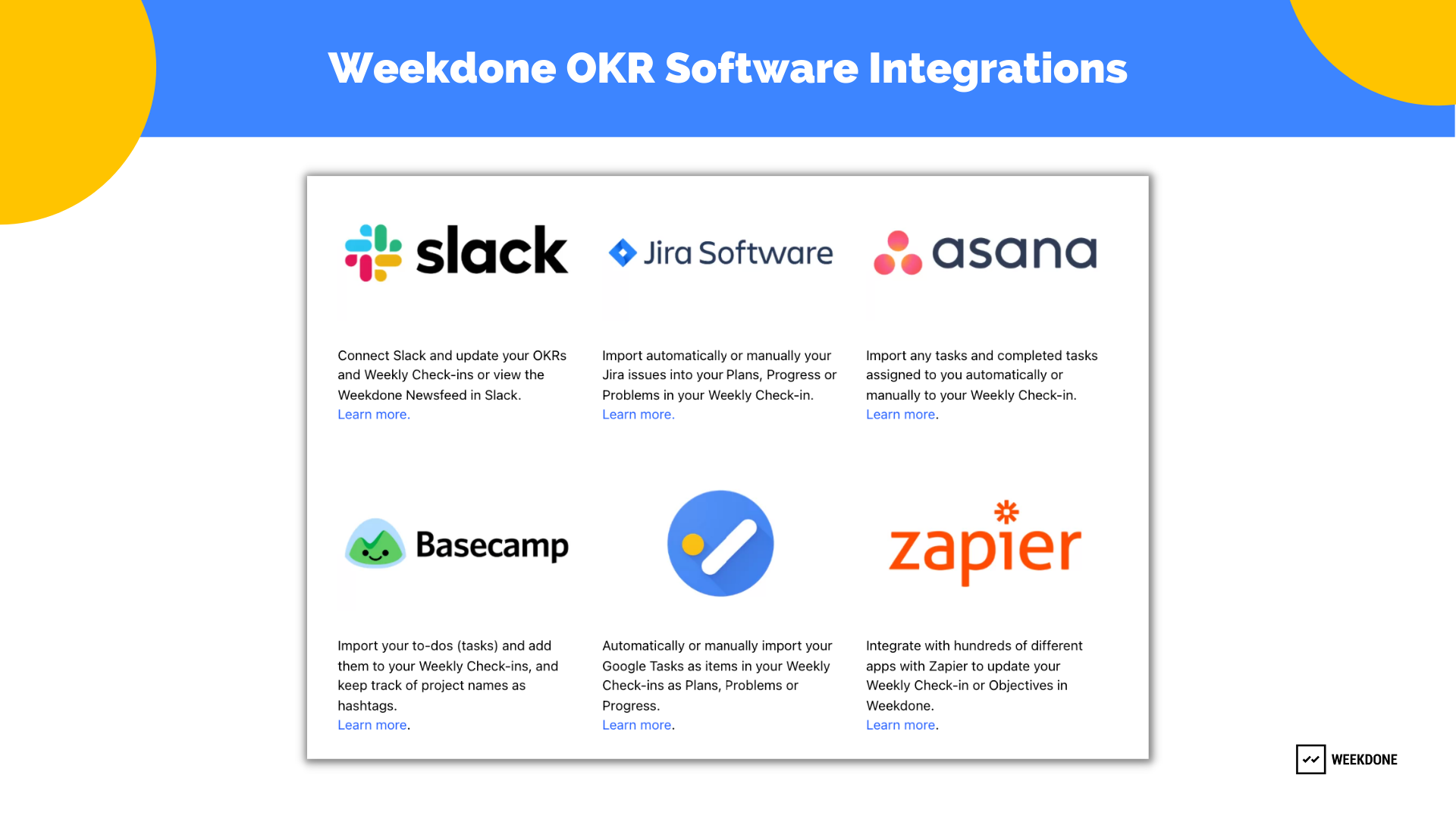 Get more out of Weekdone: Access and update your Weekly Check-ins and OKRs, get notified when your colleagues add plans or update their OKRs. All this without leaving Slack!
OKR Coaching
The key factor to succeeding with OKRs is learning how to apply the OKR methodology and stick with it.
There are a lot of misconceptions and confusion around OKRs. If people don't understand how to set OKRs, they will use an OKR tool to add their business-as-usual activities and just restructure what they are already doing in a new way. The thing is restructuring tasks doesn't bring a productivity boost.
When choosing an OKR app, try to find an OKR team of experts behind the product with the possibility to get OKR Coaching. With dedicated coaching, you get introduced not only to the OKR software but also to the best practices on how to set good OKRs and how to analyze their progress.
OKR Software Pricing
The pricing of OKR software depends on all the factors mentioned above: your team size, a suite of features, integrations, and OKR coaching. Usually, you'd pay additionally for premium integrations and quarterly 1:1 coaching sessions.
Before committing to any OKR tool, try to find a free trial or at least a guided demo to understand how a specific tool's logic fits your needs. In our list below you'll find different pricing packages as well as free trial options so you can be sure to choose the best OKR software for your business case.
Now, let's take a look at the OKR software options you can choose from.
What is the best OKR software?
Best OKR software with unlimited OKR coaching for SMBs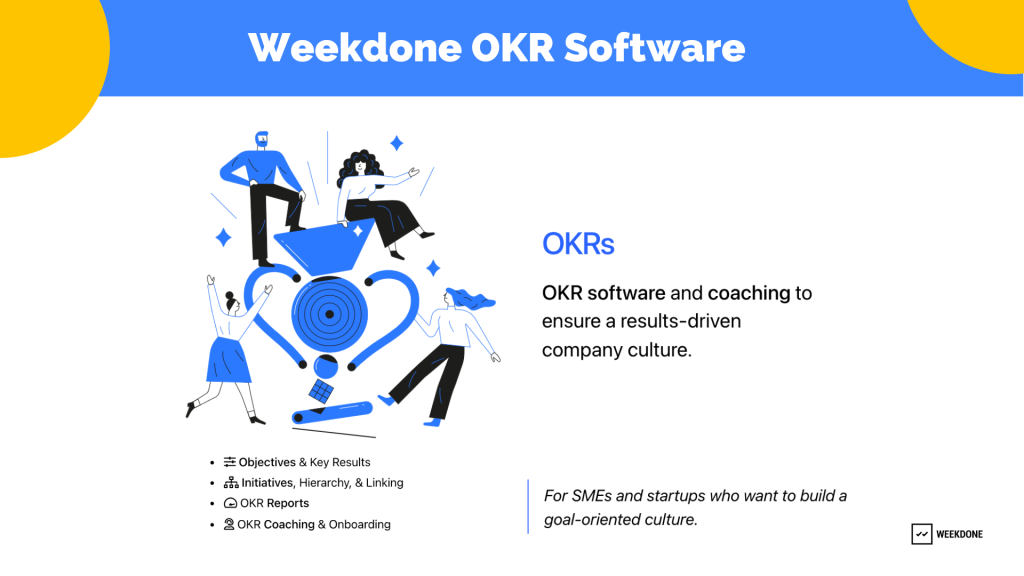 Weekdone at a glance
Weekdone is an OKR software for goal-setting, tracking progress, outlining plans, and implementing a weekly reporting process. Weekdone provides teams with the necessary structure in order to set and manage OKRs.
Key Benefits
Link your weekly plans with OKRs and make sure that what you do each week is relevant to your quarterly success;
Use hierarchy view to visualize your OKRs and their alignment across the entire company
Get different views for different purposes such as bird's-eye overview or detailed single OKR view
Pros
Integrations with Asana, Jira, Google Tasks and Slack to track different team's priorities and progress within one OKR tool
The ability to customize measurement units (type/value) for Key Results
Newsfeed tab to allow you to see what other teams, departments and colleagues are working on, their milestones and comments.
Customizable weekly report template to fit your company culture
OKR examples to help your teams get started with OKRs setting
Cons
Weekdone focuses on applying the OKR method and provides all necessary features to succeed in this process. For complicated projects that require detailed roadmaps and Gantt charts, it'd be challenging to use this OKR-focused tool.
OKR Coaching
Unlimited OKR coaching and your personal dedicated OKR Coach are included in paid packages.
Price range
Starts at $108/month for 4-10 users.
Free trial
Free version for up to 3 users. 14-day free trial for 4 or more users. No credit card is required.
Best OKR management tool for enterprises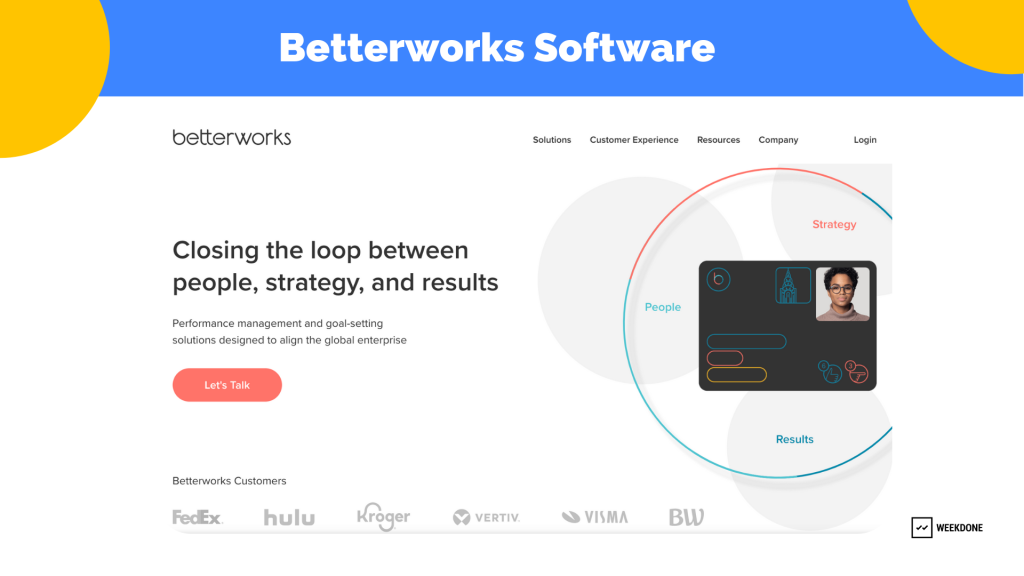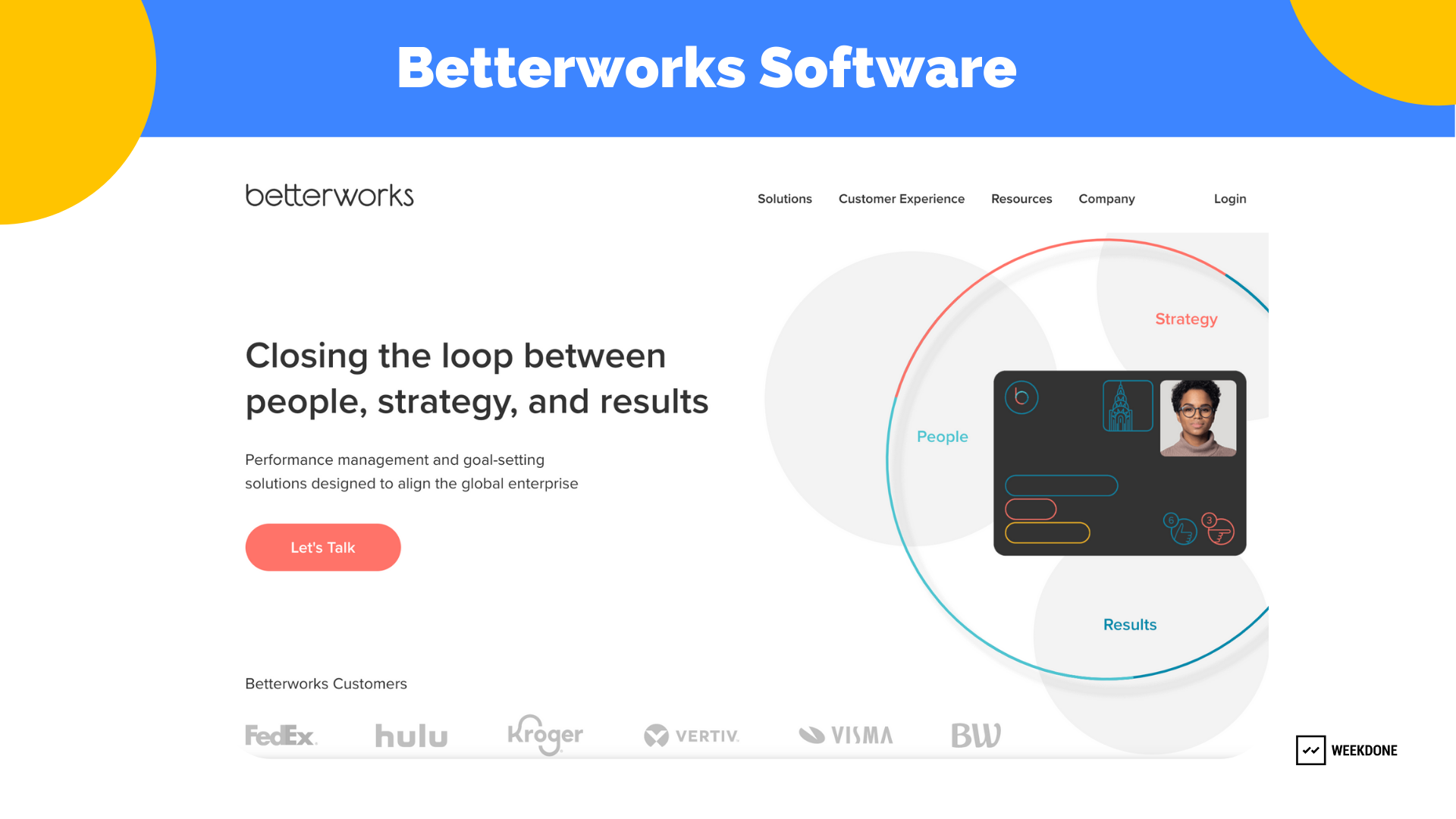 Betterworks at a glance
Betterworks is an ideal OKR management tool for a 250+ employees company that implements an organization-wide KPIs/OKRs system to measure employee performance and track corporate goals and progress. It's specifically useful for OKRs management and promoting transparency and accountability.
Key Benefits
Easily update progress on goals/OKRs
Easily manage your performance process
Make team meetings more effective with 'Meeting View'
Pros
A tree/chart to shows how goals roll up
The ability to request peer feedback from within the app
Different methods to track the progress in completing a goal: a percentage basis, units, or dollar basis
Cons
UI can be non-intuitive sometimes
No functionality to review previous check-ins, other than manually clicking into each one
Reporting is limited and has to be heavily customized to work for your organization
OKR Coaching
Available with a subscription.
Price range
Pricing is available on request.
Free trial
No free trial. Team Edition, a limited set of functionality, is only available for purchase. Billed quarterly.
Best people management platform combined with OKRs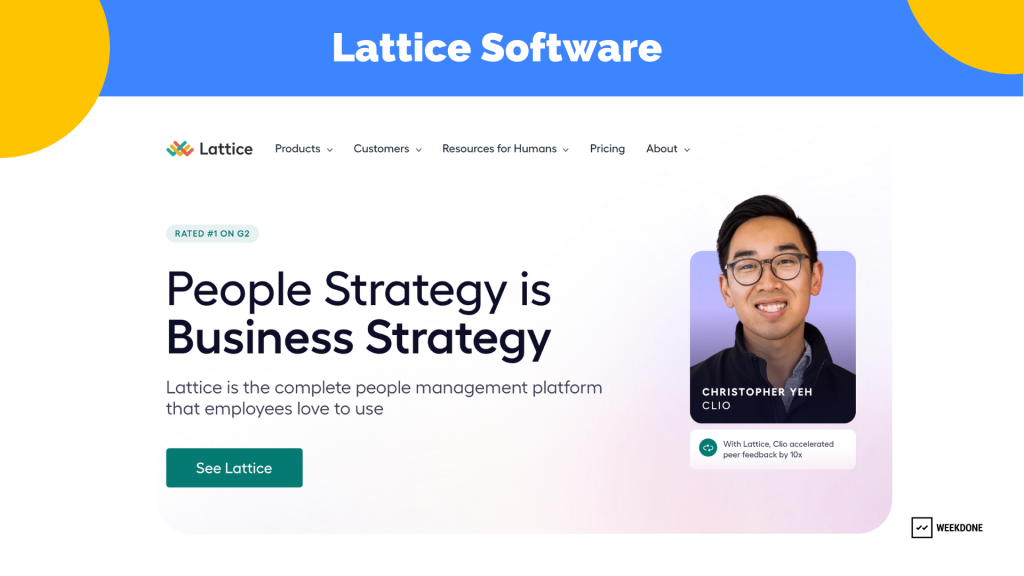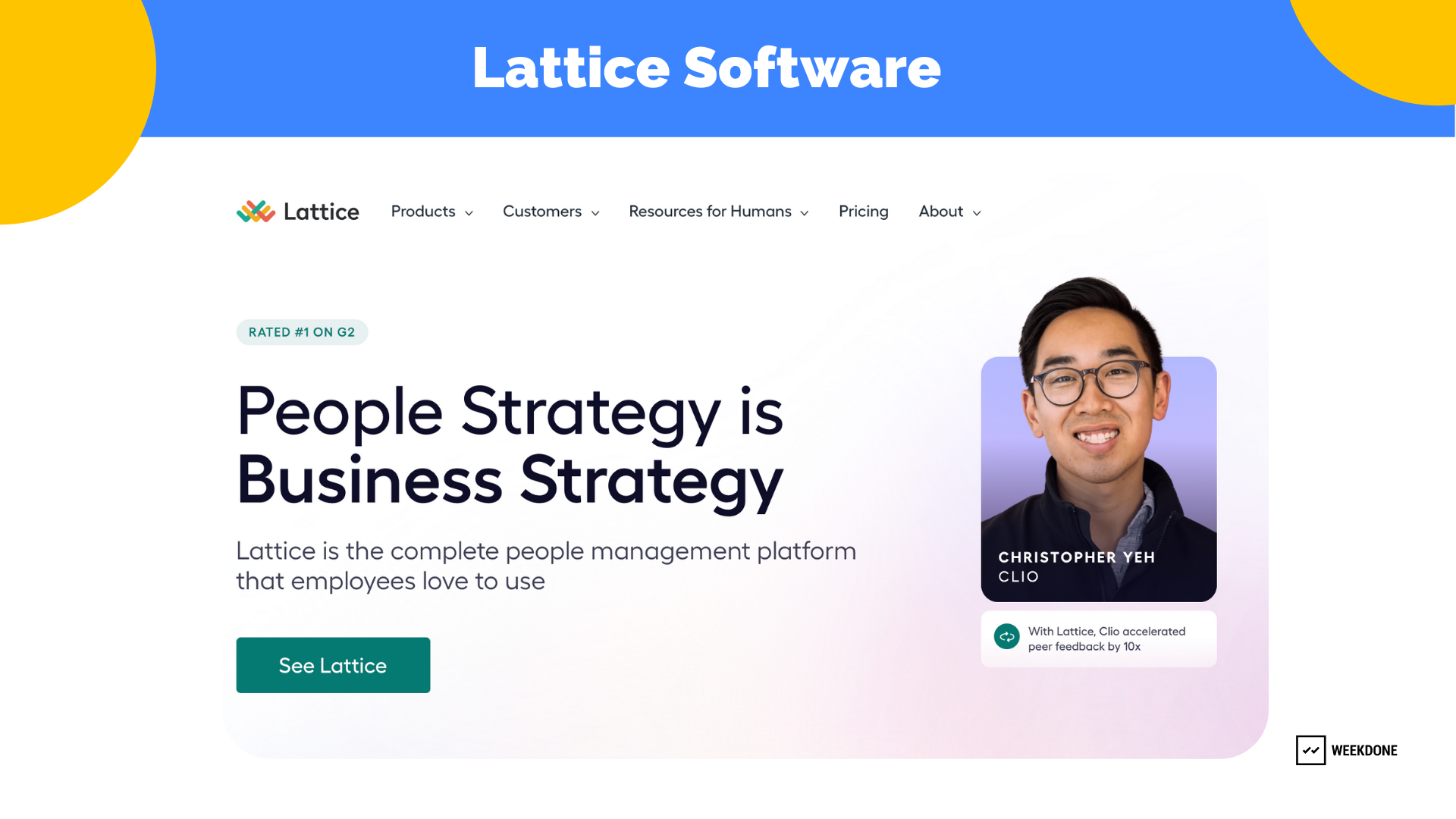 Lattice at a glance
Lattice is performance management software that includes OKRs and employee engagement features. It helps leaders create individual and company goals using a range of goal-setting methods, and track goals over time to monitor both personal and overall company performance.
Key Benefits
Company-wide OKR planning and tracking as well as individual employee goal setting
Engagement surveys, 360 feedback, one-on-ones, employee recognition, employee growth plans
Pros
Action items and agenda items roll over to the next 1:1
Past performance reviews are saved within the system and available to both the supervisor and the direct report
"People" tab to view individual people, teams, and the full company, as well as milestones, company updates, and OKRs
Cons
OKRs are difficult to roll out in Lattice if you are not willing to micromanage employees
Difficult to find all the information when filling in performance reviews
OKR Coaching
No OKR coaching, but there's performance management training available.
Price range
Starts at $9.00 per user, per month.
Free trial
Available.
Best OKR tool combined with MBRs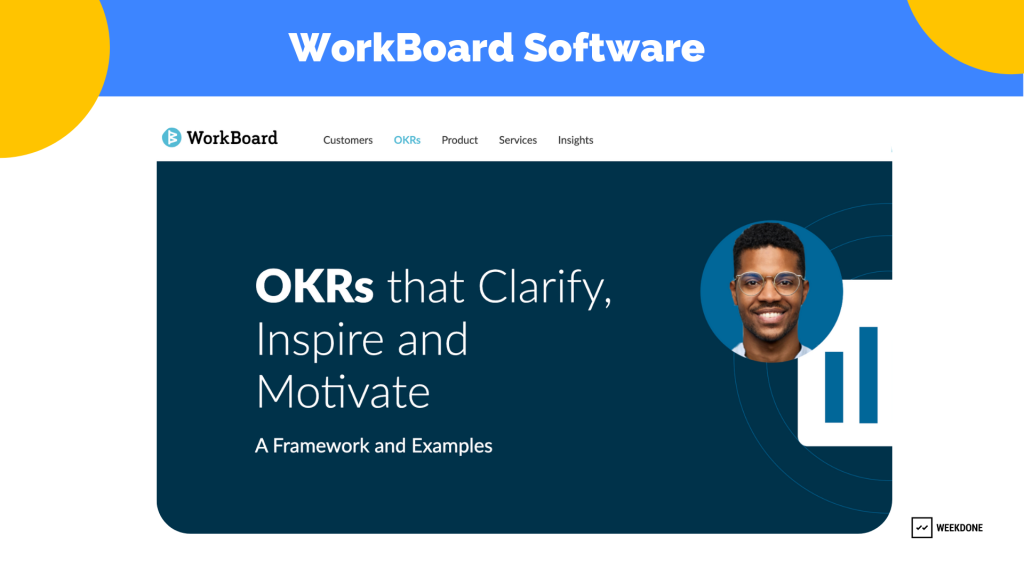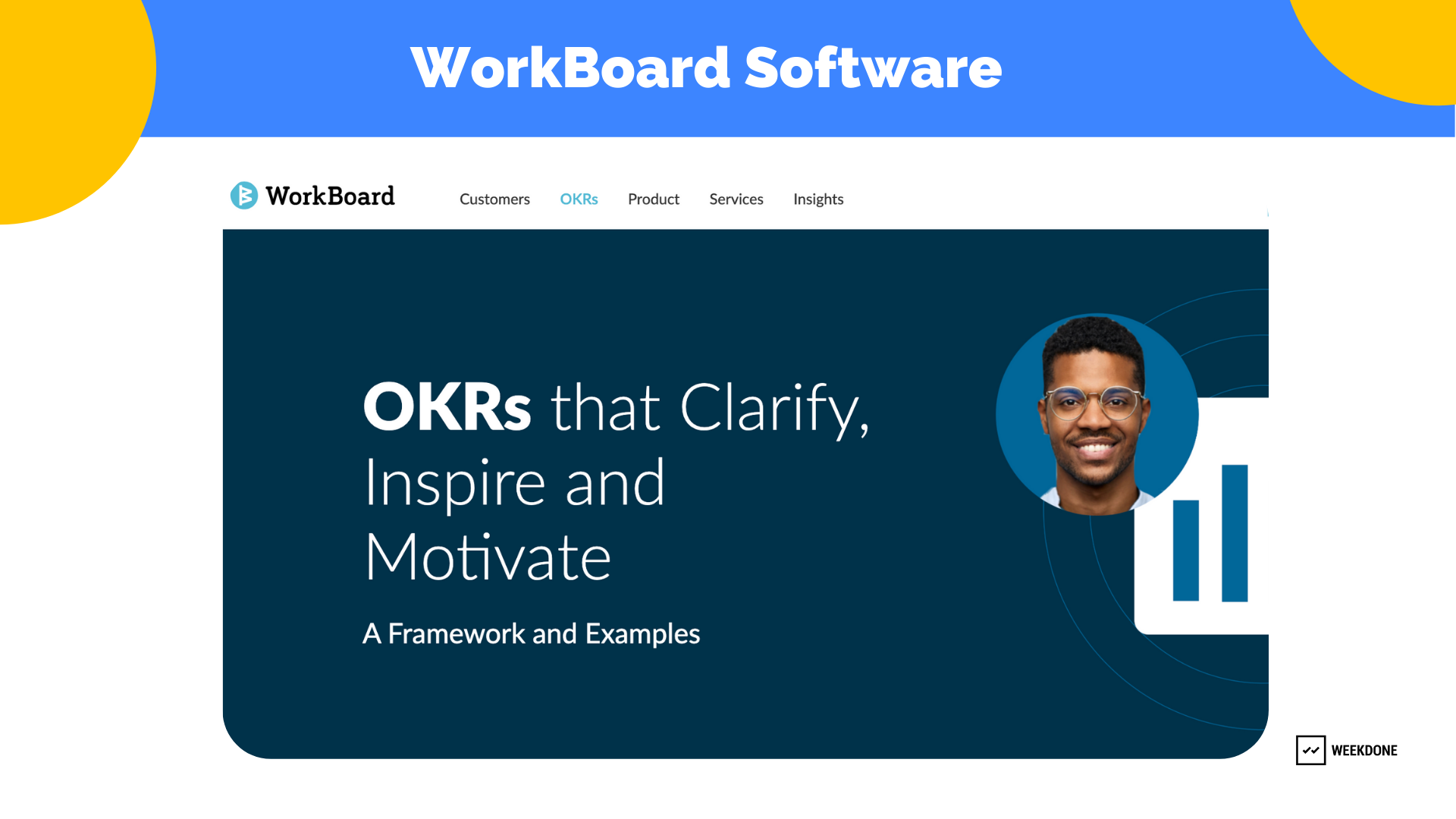 Workboard at a glance
WorkBoard is an OKR platform that allows high-scale companies to align on outcomes and transparently measure results across the company. It's a powerful tool for implementing the Objectives and Key Results (OKRs) framework, with strong integrations to other data sets for automating the import of Key Result data.
Key Benefits
Create tasks easily, adjust dates and priorities, take notes and comments
Use Objective Key Results (OKRs), Management by Objective (MBOs) and Get Things Done (GTD) methods within one app
Pros
Multiple individuals responsibilities in supporting one project
Cons
A broad selection of features that might take a fair amount of time to learn all of the capabilities
The meetings functionality can't be used with people outside the tool
OKR Coaching
Paid certified OKR coaches.
Price range
Not provided by the vendor.
Free trial
Yes, it has a free trial.
Best team performance management tool with OKRs included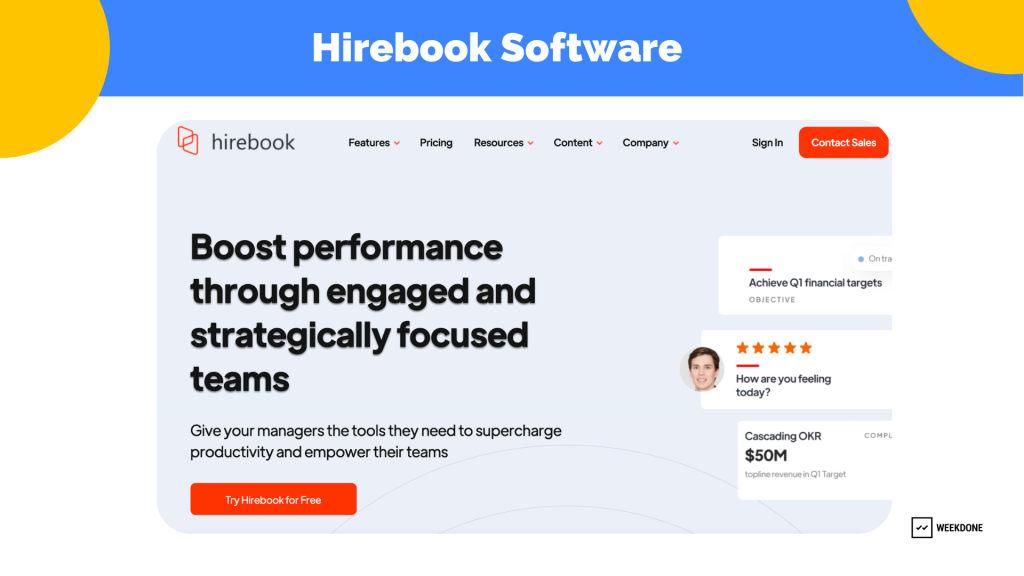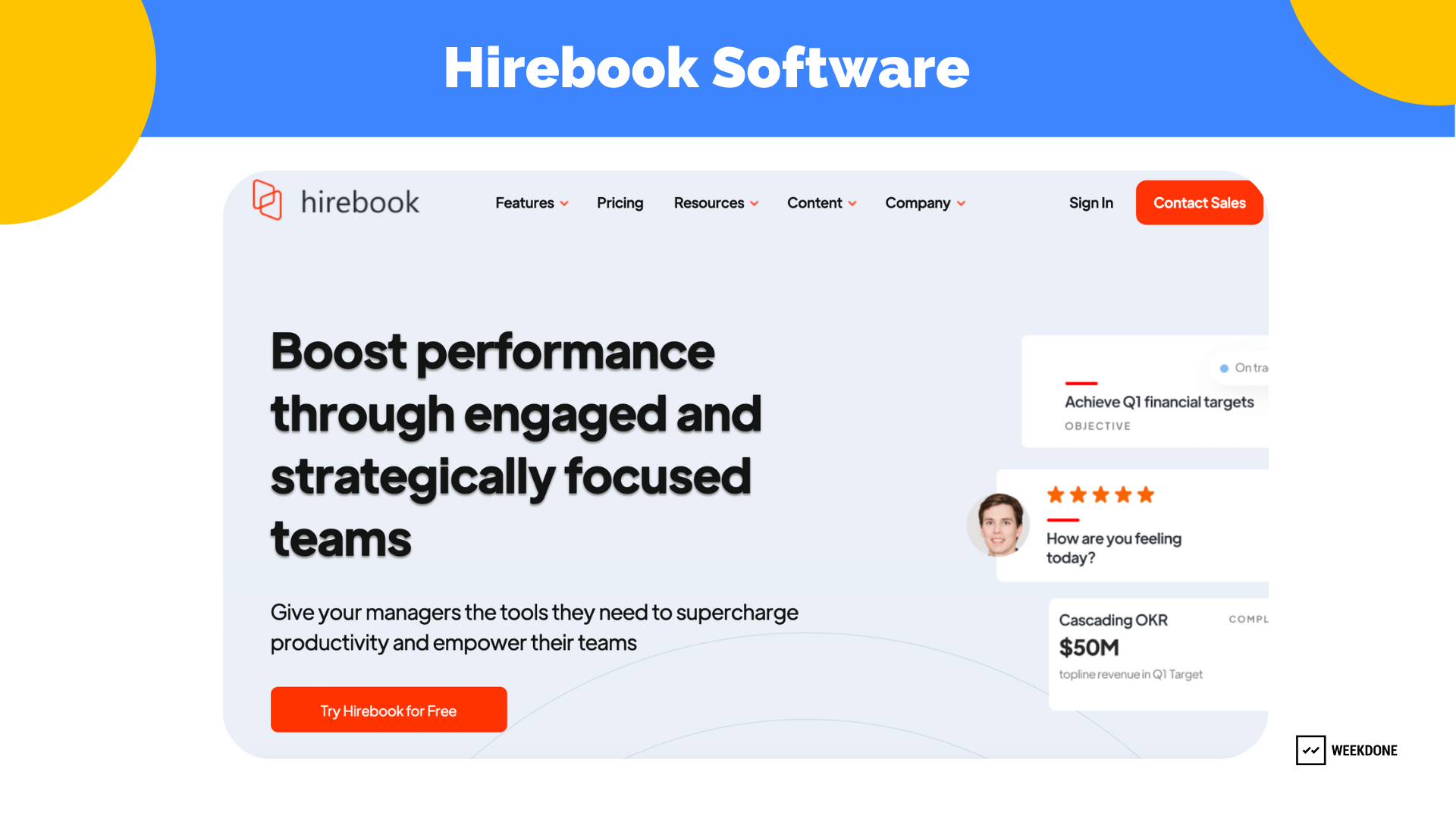 Hirebook at a glance
Hirebook is an employee engagement tool that lets companies empower their teams through OKRs, Check-ins, KPIs, and Tasks. It's a good fit for managers looking to check in with employees, provides dedicated space to share progress and discuss employee development by using OKRs.
Key Benefits
Weekly Check-ins to set up goals and improve performance
KPIs tracking, linking KPIs to the team meeting or one-on-ones
The ability to set up one-on-one meetings with team members via the Hirebook
Pros
The simplicity and user-friendliness of the tool
One-on-ones and team meetings features serve as a convenient toolkit to stay on track during the meeting and record important outcomes, deliverables, follow-ups, etc.
Cons
The app interface is available only in a few languages
OKR Coaching
No OKR coaching is provided.
Price range
Starts at $10.00 at a flat rate, per month.
Free trial
Free trial. No free version.
Best performance review and feedback tool with OKRs included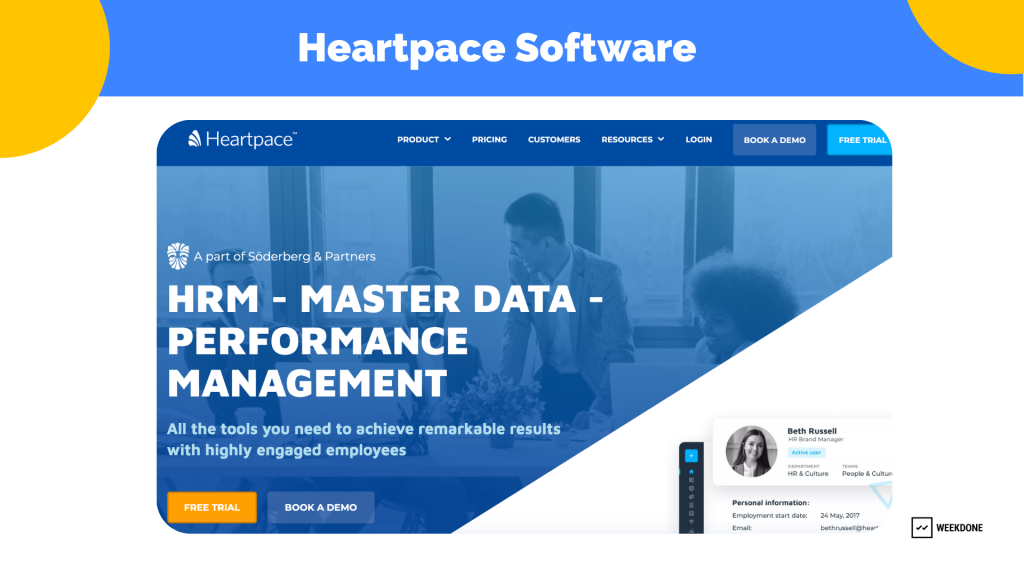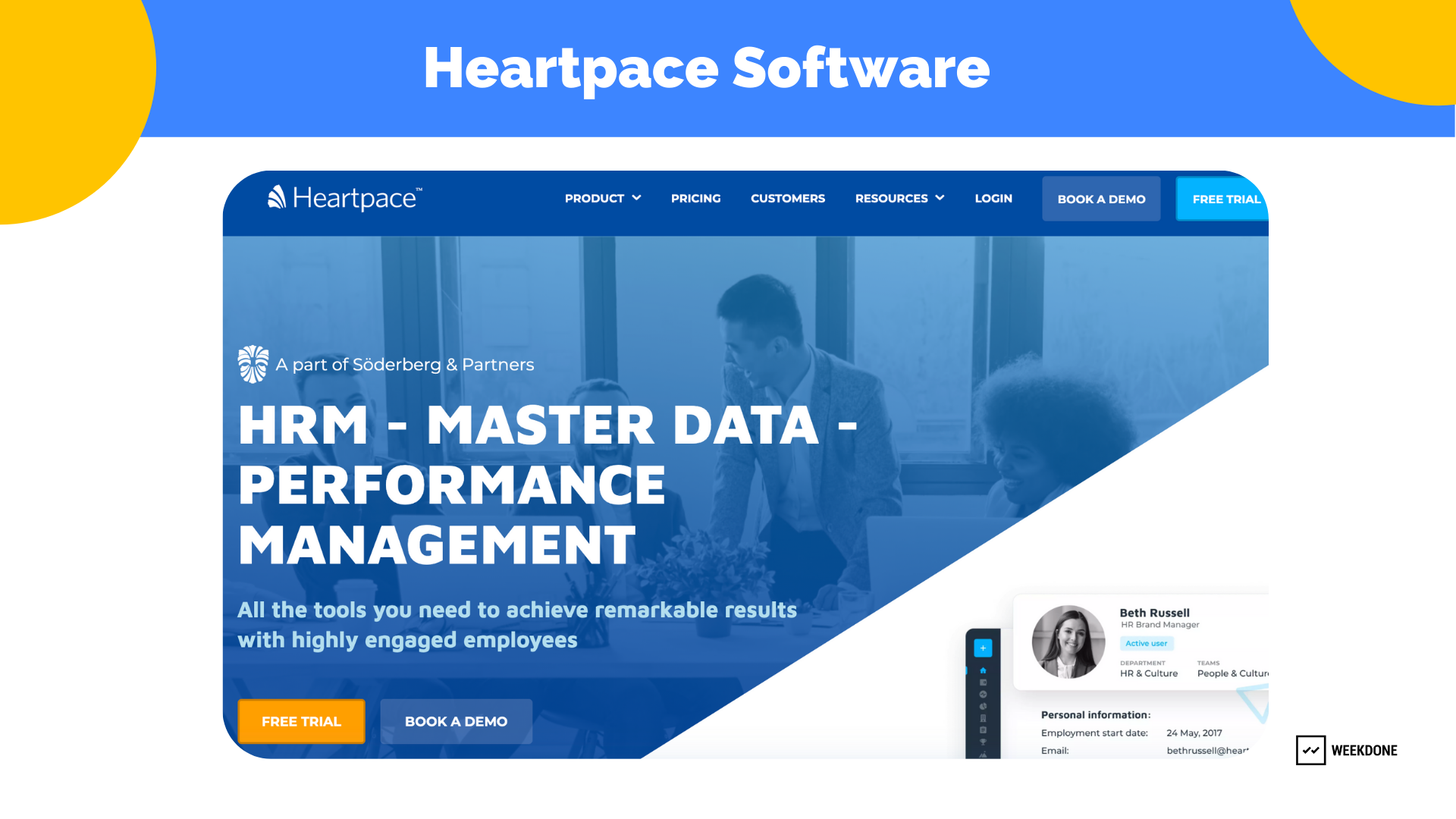 Heartpace at a glance
Heartpace is performance management software used for OKRs management and strategic alignment. It's especially good for performance reviews throughout your organization and collaboration between management and employee.
Key Benefits
360-degree feedback and negative feedback management
Evaluation, surveys, one-on-one conversation
1:1 Talks with an option to build your own templates
Pros
Easy appraisal reviews
The ability to add individual OKR levels for employees
👉 Read more about personal vs team OKRs.
Cons
A bit tricky to set up alerts for users
No mobile app is available
OKR module is fairly new so there are only a few features available
OKR Coaching
No OKR Coaching available.
Price range
Starts at $5.83 as a flat rate, per month.
Free trial
Free trial for 20-days and a credit card is not required.
Best OKR tracking tool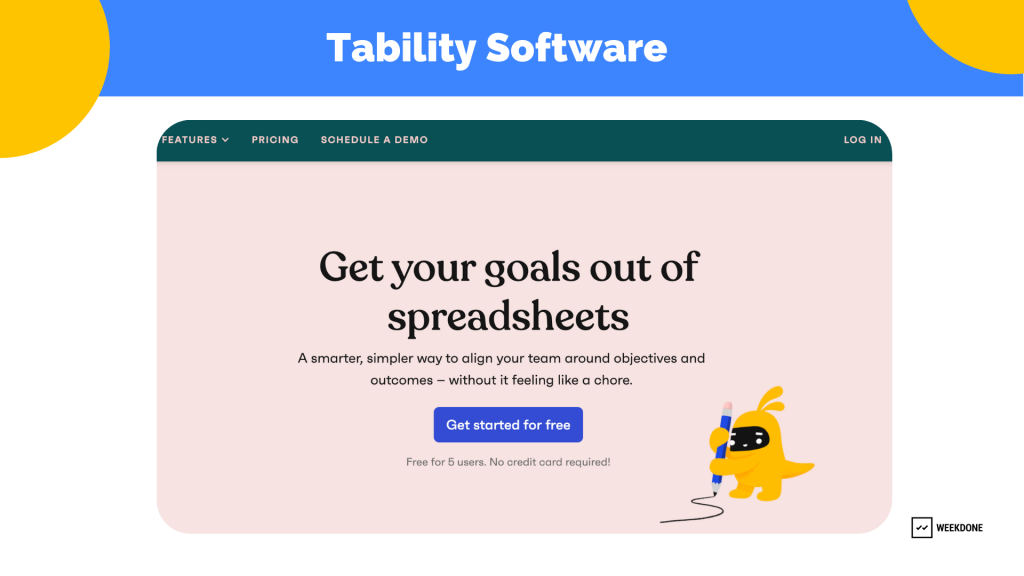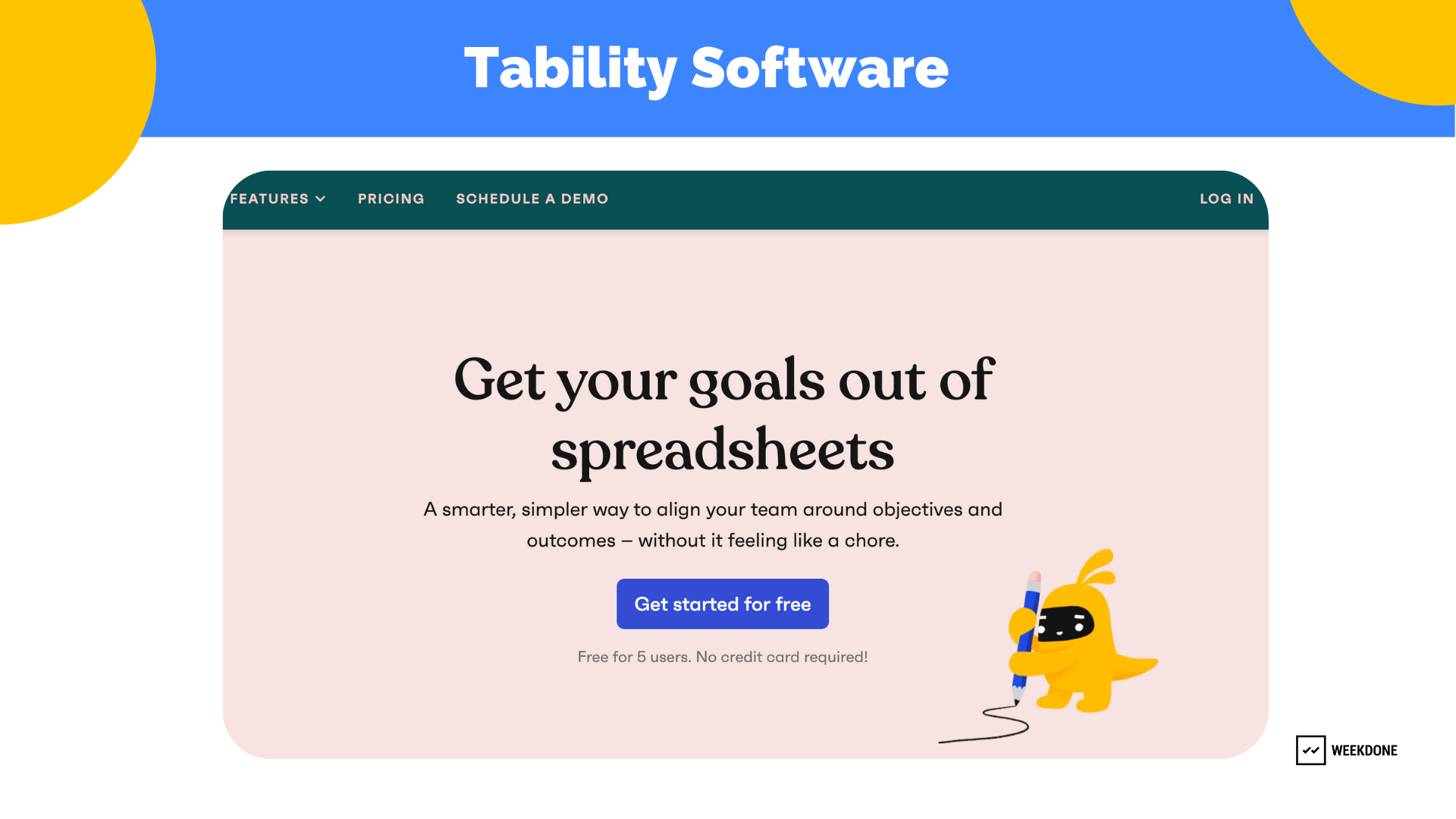 Tability at a glance
Tability is an OKR tool combined with making plans and tracking every detail of projects. It helps set realistic objectives and mapping business plans by organizing them by teams or functions.
Key Benefits
Goal and task management
KPI monitoring within the app
Pros
Automated feedback loops to keep teams on alert and accountable
Minimalistic and visually appealing interface
Syncing with Slack
Cons
No possibility to get metrics automatically updated as long as one "ticks" the tasks
No option to extract the OKRs progress as a PDF file
OKR Coaching
No OKR training or coaching is provided.
Price range
Starts at $39.00 /month/ user.
Free trial
Free trial and free version.
Best OKR software for performance-oriented companies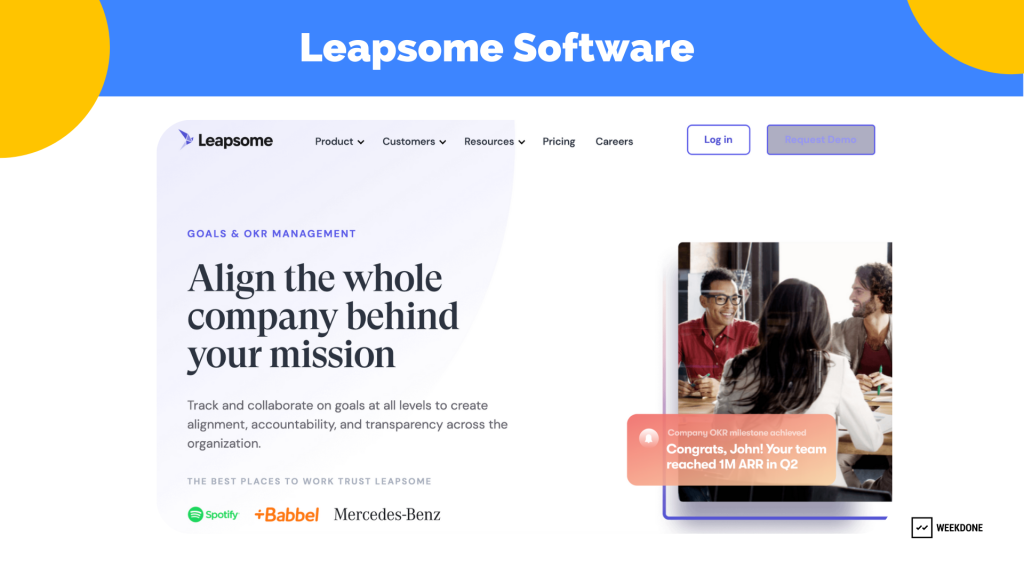 Leapsome at a glance
Leapsome is a people management platform combined with the tools for goals setting & OKRs management, 360 performance reviews, employee learning & onboarding, employee engagement, and meetings. It's especially handy for HR professionals or CEOs who are supervising the hiring process.
Key Benefits
The goals module to set up personal, team, or even company goals and easily keep track of them
Globally standardized and documented feedback process
Easy-to-analyze employee engagement surveys
Pros
1-on-1 meetings and engagement surveys
360 peer reviews
Cons
No full calendar integration for Outlook users
Meeting file attachments are not possible
OKR Coaching
Not included.
Price range
Starts at $6.00 per feature, per month.
Free trial
Yes, it has a free trial.
Best OKR system for Microsoft Teams
Mooncamp at a glance
Mooncamp is an OKR software created to help businesses in the tech, sales, marketing, finance, and other sectors track and manage company goals. A good thing about this OKR platform is the possibility for employees to update work progress through Microsoft Teams and get notifications regarding mentions and check-ins.
Key Benefits
Manage OKRs of your organization or team directly from a tab within MS Teams
Get reminders for OKR check-ins in MS Teams
Pros
Multi-alignment of OKRs to align a goal with two or more parent goals
The application is really easy to use, intuitive and has a powerful search capability
Fully customizable entities for Goals, Key Results and Tasks
Cons
Lack of information about OKR on the Mooncamp platform
No mobile app to check OKRs on the go
Setting notifications and templates can sometimes be a bit challenging
OKR Coaching
No OKR coaching, but there's a dedicated account manager.
Price range
Starts at 5 € per user and month.
Free trial
14-days free trial.
Best project management software with simple OKRs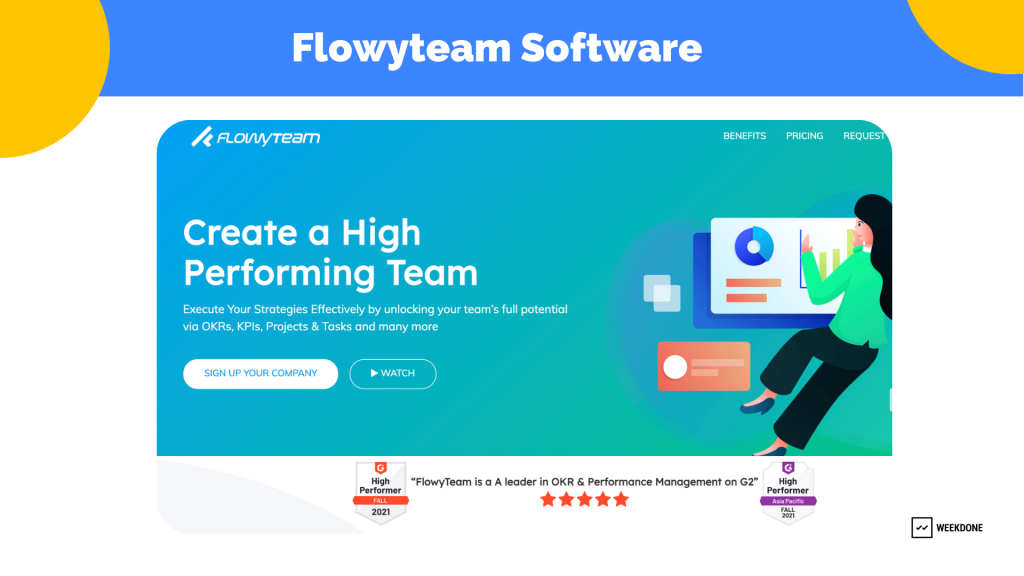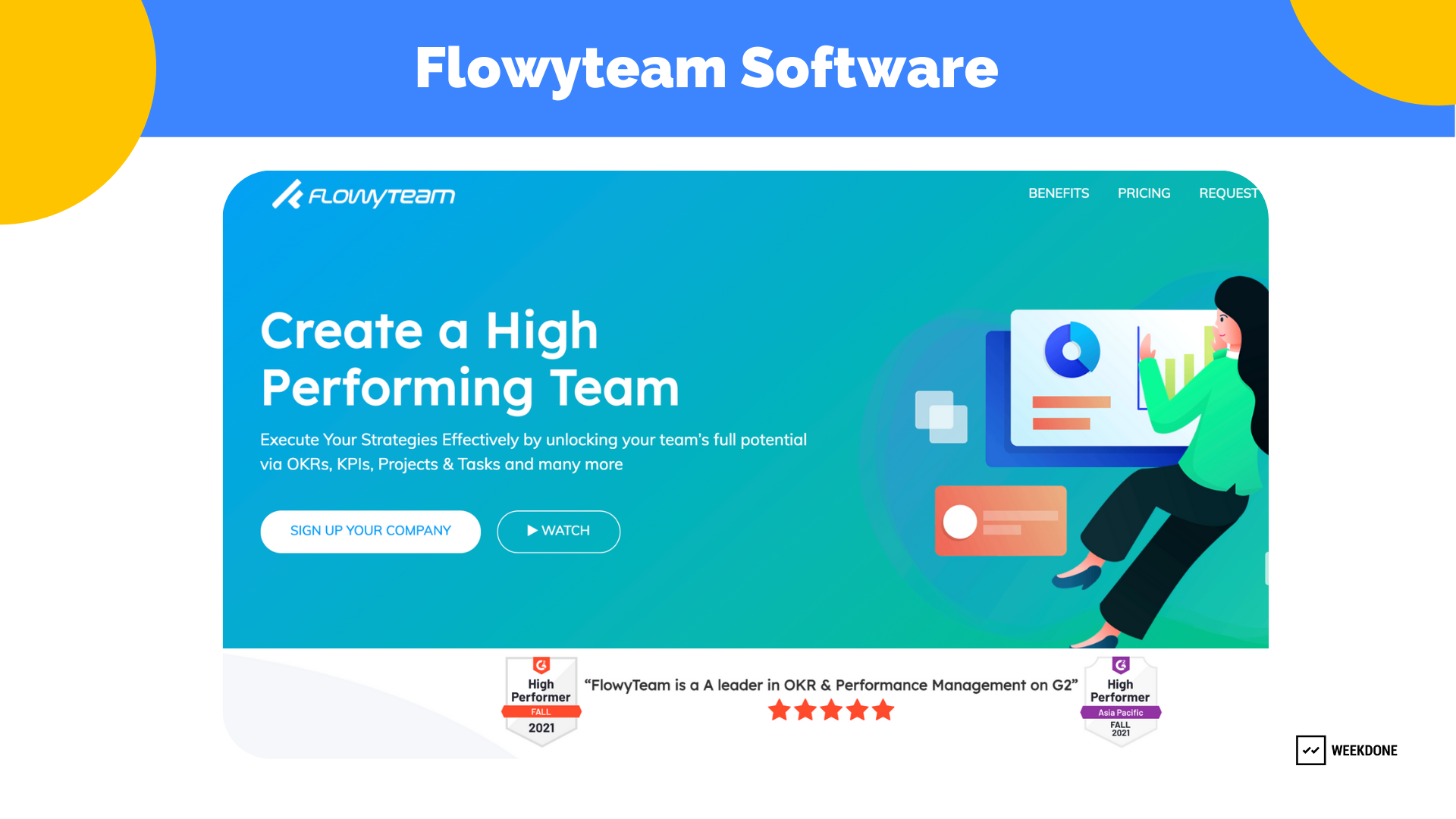 Flowyteam at a glance
FlowyTeam is a 360-degree feedback software designed for organizations of all sizes and industry sectors, which want to implement an engaged performance measurement culture via OKRs and KPIs.
Key Benefits
One-on-one review sessions to help leaders assign tasks among team members on a unified interface
KPI reports to assess individual and team performances and offer personalized rewards to motivate employees
Pros:
Kanban system can be linked to OKRs
Review system with 360° feedback and weekly check-ins
Key Performance Indicators in combination with OKRs
Cons:
KPIs need more integration points to other systems
No email notification to remind staff to update their current OKR progress
OKR Coaching
No OKR coaching is provided.
Price range
Starts at $3.33 per month per user.
Free trial
The first 10 users are free.
Best UX and user-friendly interface for OKR tools suite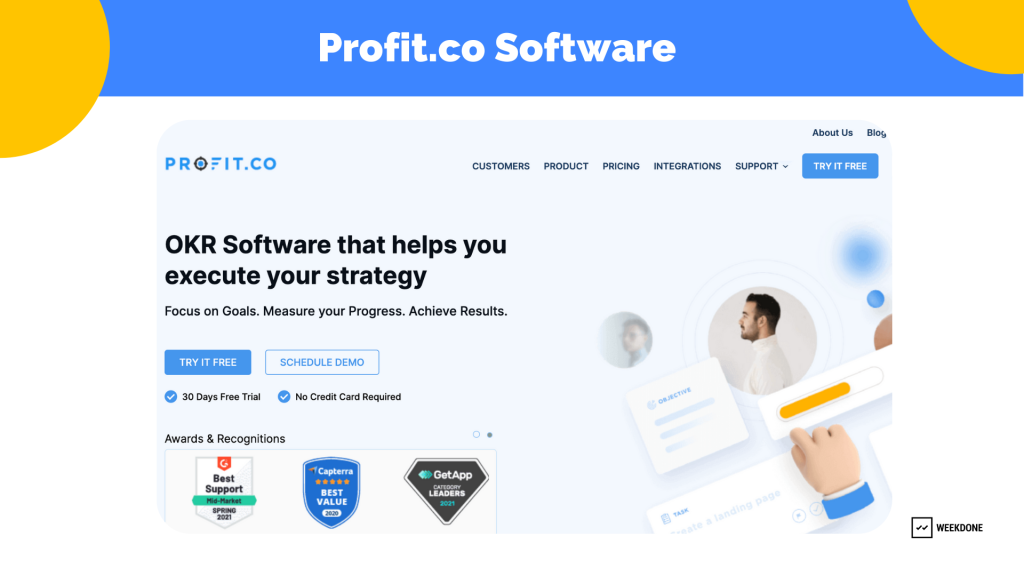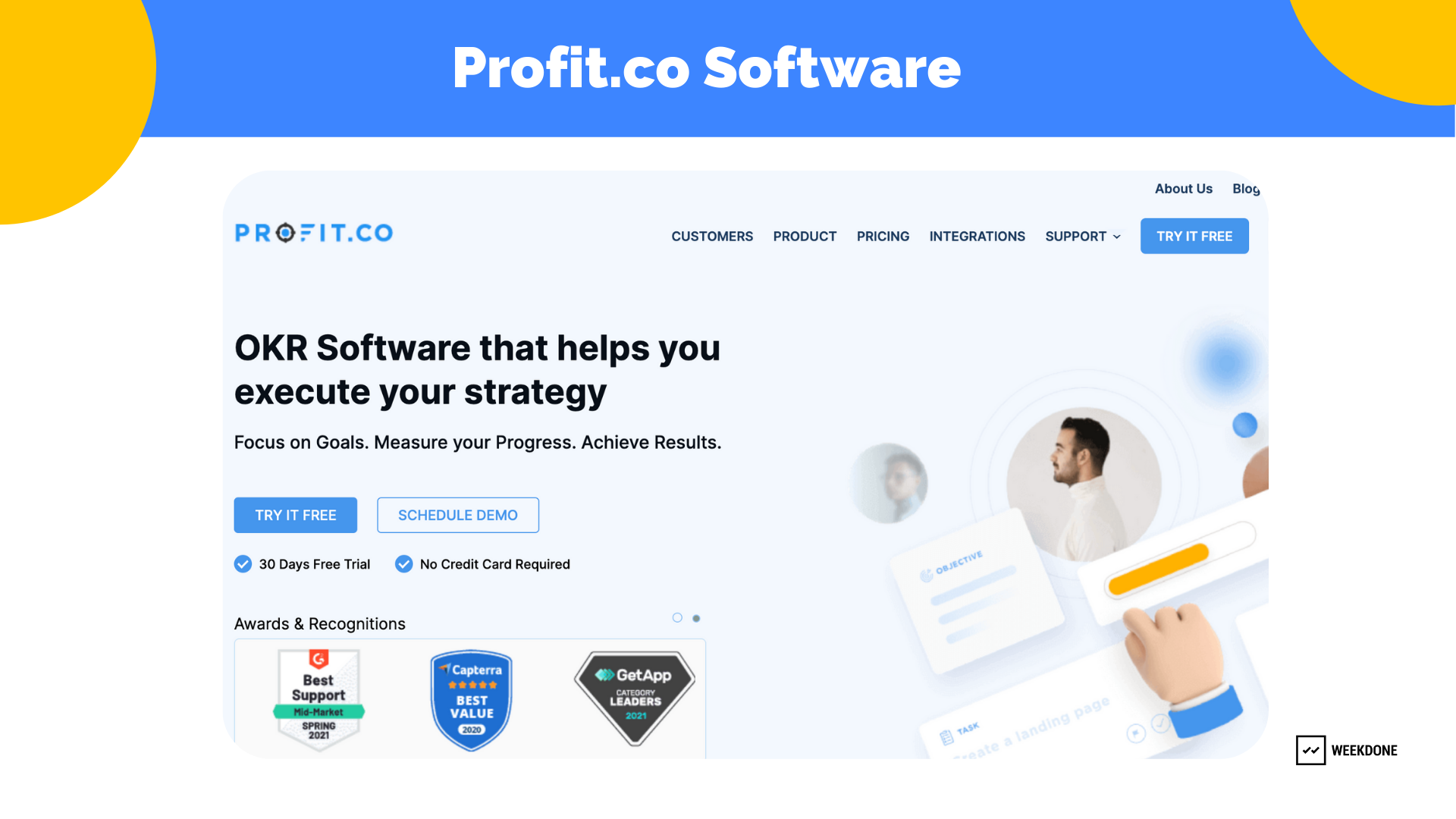 Profit.co at a glance
Profit is an enterprise OKR software, combined with task management, employee engagement and employee development. Larger enterprises can apply this tool for defining their business metrics and roll out OKRs, based on these metrics. It helps get all the teams aligned and track goals and results across the entire company.
Key Benefits
Interconnecting view of priorities, tasks, subtasks, relationships, outcomes, employee engagement and performance management
Real-time reports and dashboards to help managers track the progress of their teams and identify potential problems early
Pros
Pre-loaded KPI library and KPI boards in the software
Integration with Slack, Microsoft Teams, Jira, Salesforce, HubSpot and several other popular business applications
Automated PowerPoint progress reports
Cons
Different options for creating OKRs might be confusing, especially at the beginning
OKR Coaching
OKR Coaching is available.
Price range
The growth plan is $9/month per user, billed monthly or $7/month billed annually.
Free trial
​​Freemium for up to 5 users and a 30-days free trial for the growth plan.
Best OKR app for OKRs and status tracking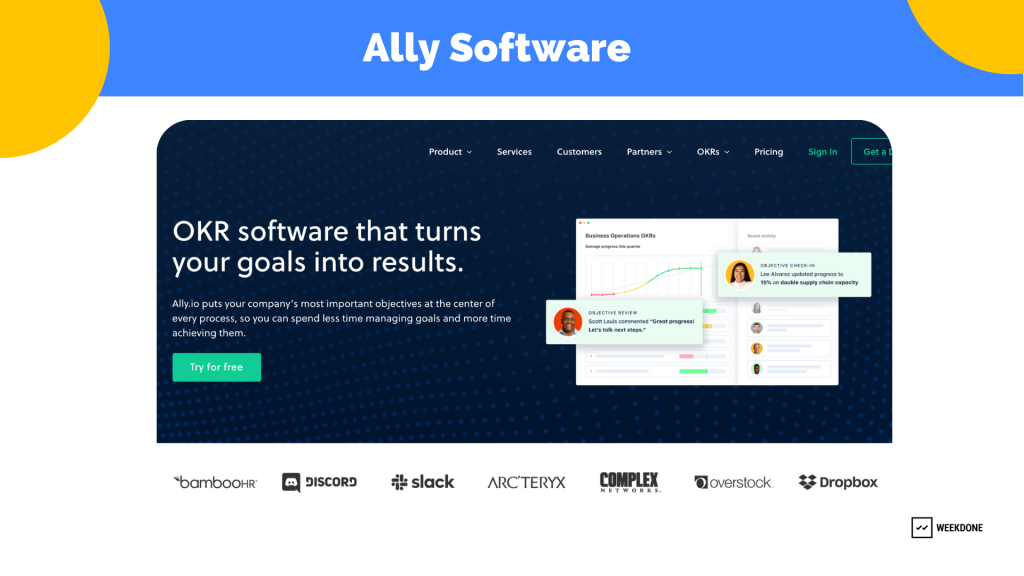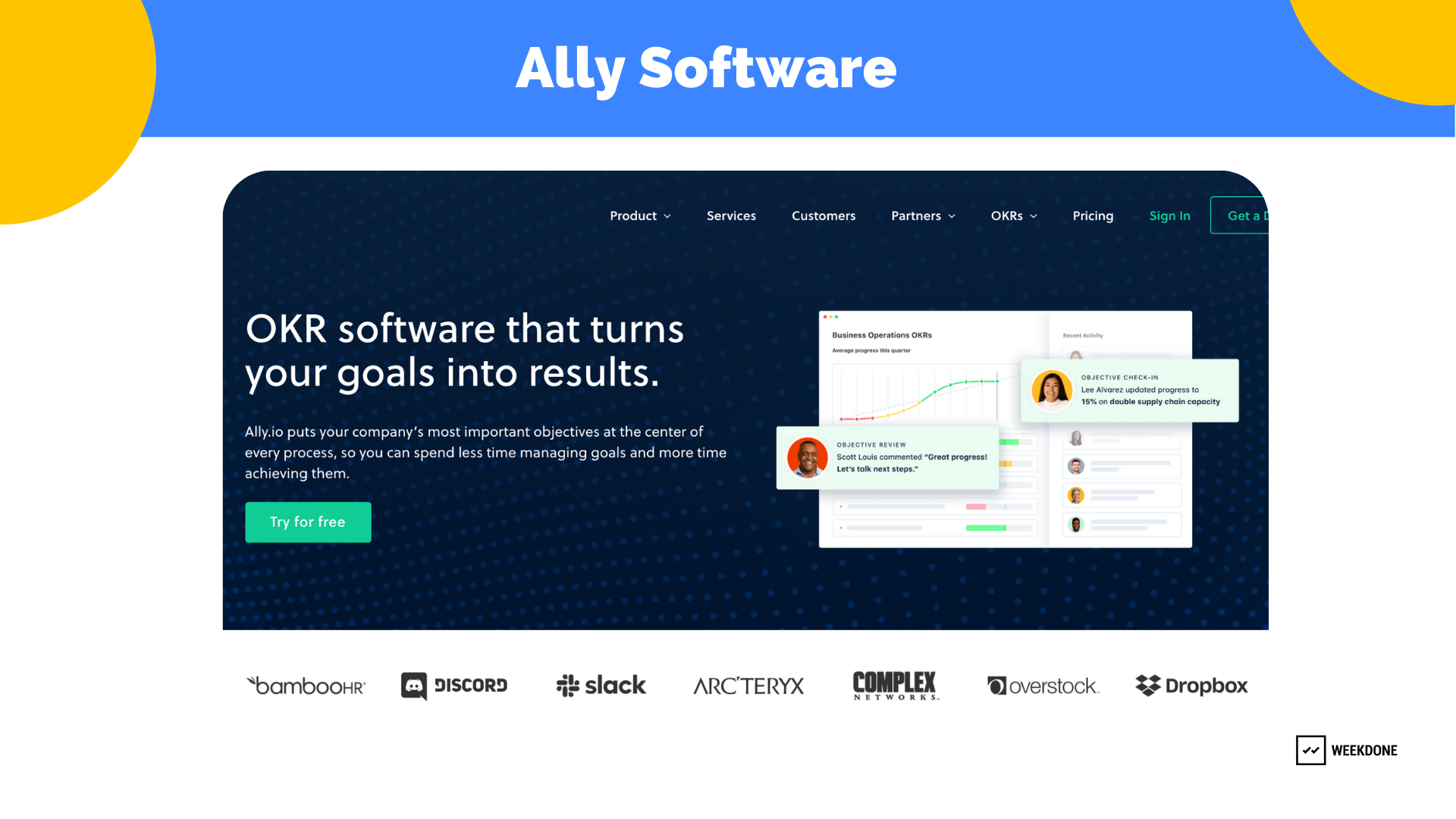 Ally at a glance
Ally is OKR software for mature enterprise businesses looking for a platform to manage and standardize their goal-setting workflow. With over 200 integrations, this OKR platform connects daily tasks across your organization to the objectives.
Key Benefits
Visualize alignment and dependencies with chart view, accessing visual dashboards and giving different weights to key results.
Seamlessly connect Ally.io with different business tools and data sources for integrated OKR management
Pros
Bi-directional Slack integration
Approval workflow process to support changes to OKRs
An intuitive and well-designed mobile app
Cons
The KRs don't drive the progress of the top-level objectives
OKR hierarchy can be a bit confusing
OKR Coaching
OKR coaching & consulting can be requested.
Price range
Starts at $7.00 /month
Free trial
Free 14-days trial.
Best OKR tool for hybrid work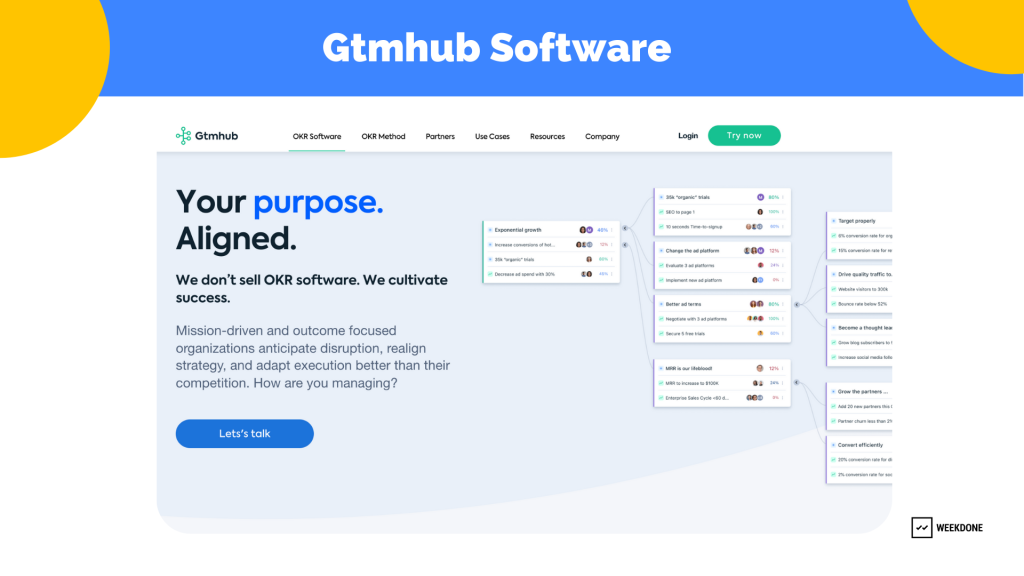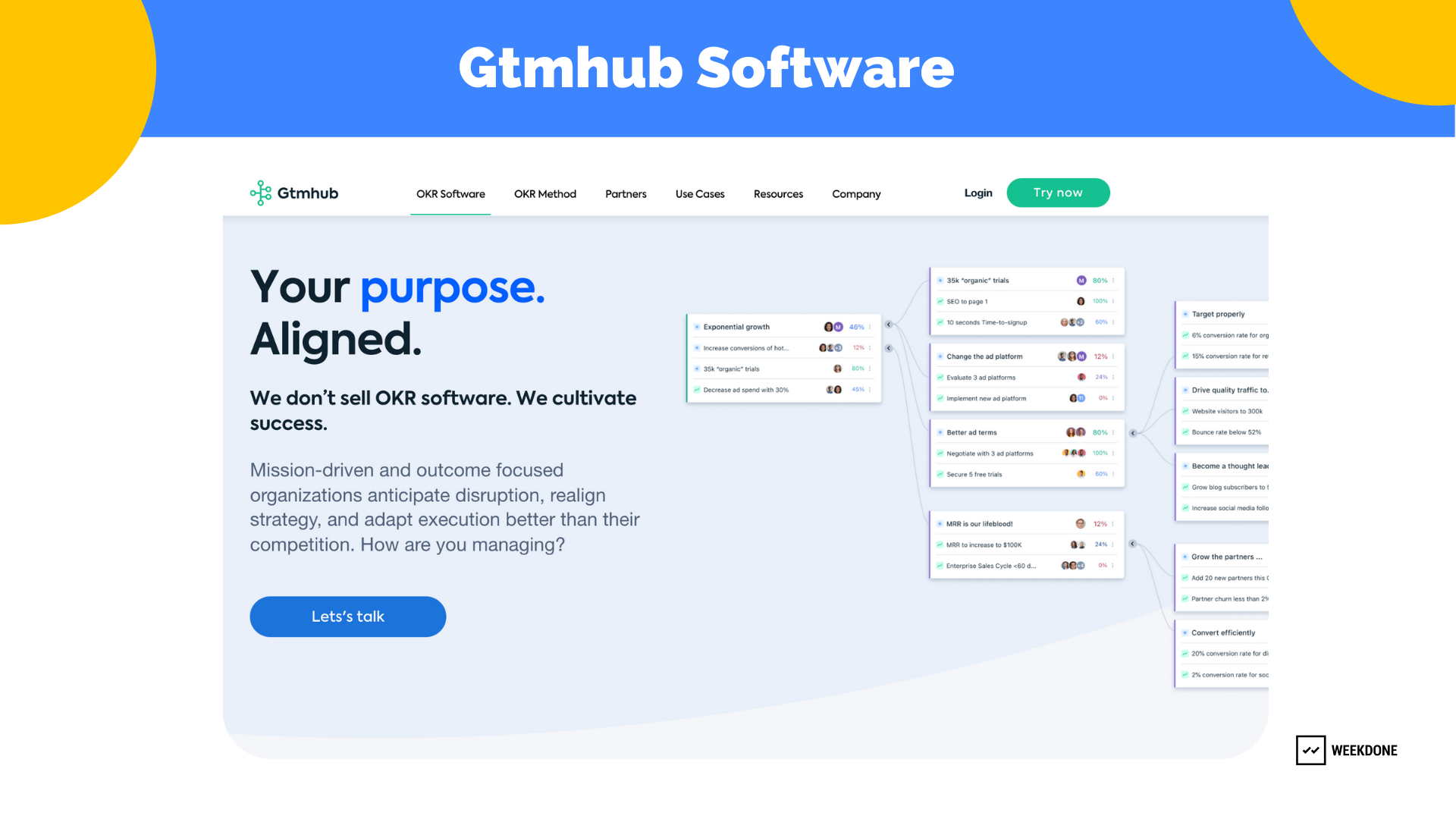 Gtmhub at a glance
Gtmhub positions itself as a results orchestration system that includes OKR and employee success management features that allow businesses to align company, team, and individual goals with corporate purposes. Apart from setting and managing OKRs, the tool enables task management, automated progress updates, continuous feedback management and employee recognition.
Key Benefits
​​Set configurable deadlines for Key Results to enable mid-session deadlines and give awards to employees
The Whiteboard to collaborate in a shared space and ideate around the upcoming Objectives
Pros
Mobile apps for iOS and Android to quickly track progress and update OKRs on the go
Tagging objectives using self-generated, free form text tags to easily categorize OKRs helps to build up your own proprietary tag library
Cons
Many functionalities might be overwhelming at the beginning
Difficult to navigate easily when adding OKRs
OKR Coaching
Gtmhub offers hourly packages to customers that may include OKR coaching and have to be paid separately.
Price range
Starts at $7.00 /month/ user.
Free trial
Free trial is available.
Best OKR platform for having OKRs and KPIs in one software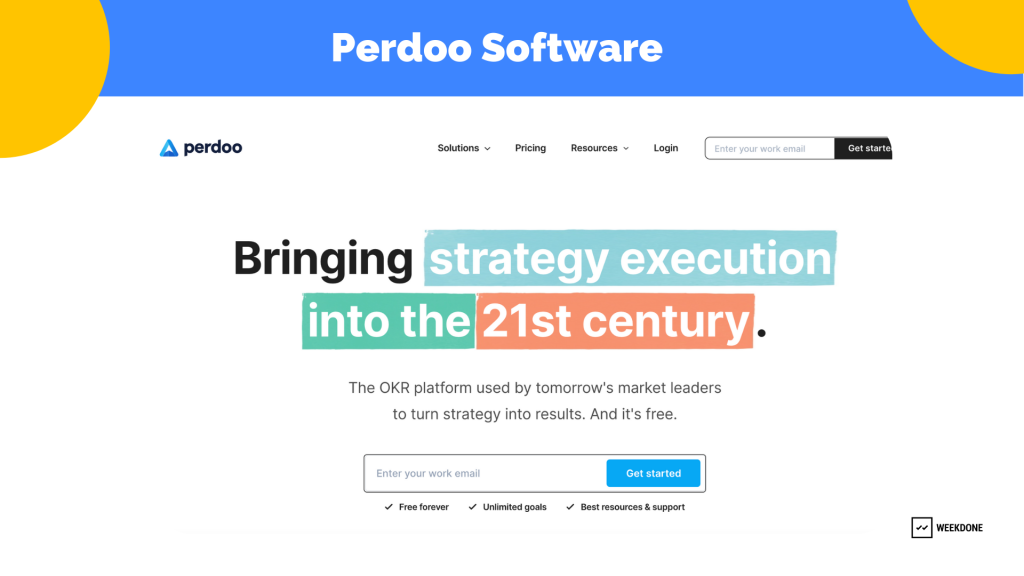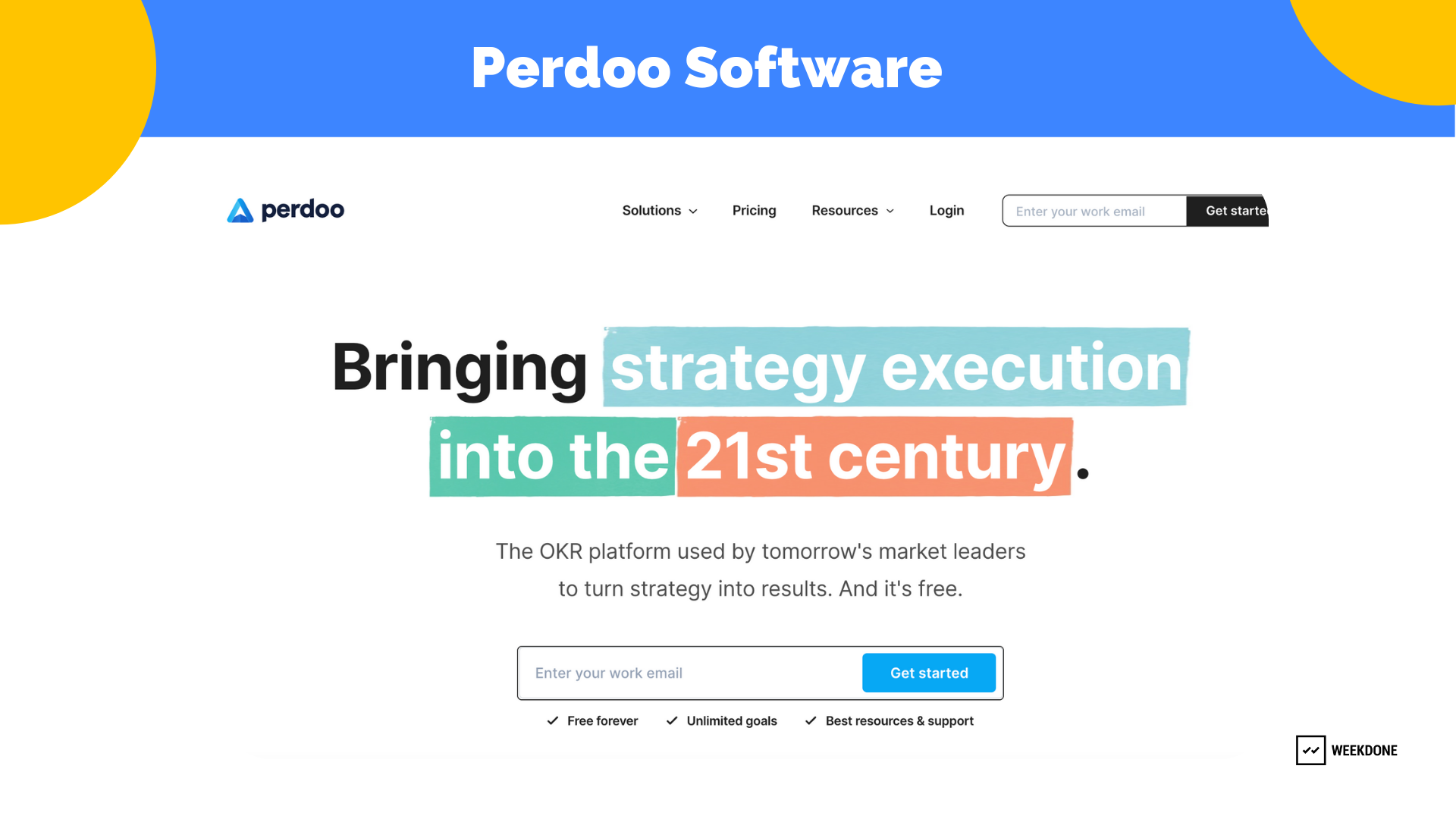 Perdoo at a glance
Perdoo is an OKR management system that helps to plan and visualize long-term objectives, keep your team focused on the activities that really matter, monitor and discuss progress during our weekly team standup.
Key Benefits
OKR roadmap to lay out the connections between the different levels of OKRs (team and company ones)
Projects or tasks that roll up under each KR to actually get to the result
Create groups, manage users, and receive weekly group updates
Pros
OKRs and KPIs in one software
Reporting of progress is quite easy
Slack integration with OKRs replaces the need of making manual weekly updates
Cons
The existing mobile apps are not very usable
KRs seem to appear below Objectives they aren't actually tied to
Missing graphical export of entire OKR Map
OKR Coaching
OKR Coaching is optional. The minimum hourly package starts at $250.
Price range
Starts at $9.50/ user/ month.
Free trial
Freemium up to 10 users. It also has a free trial.
Best OKR app for OKRs and status tracking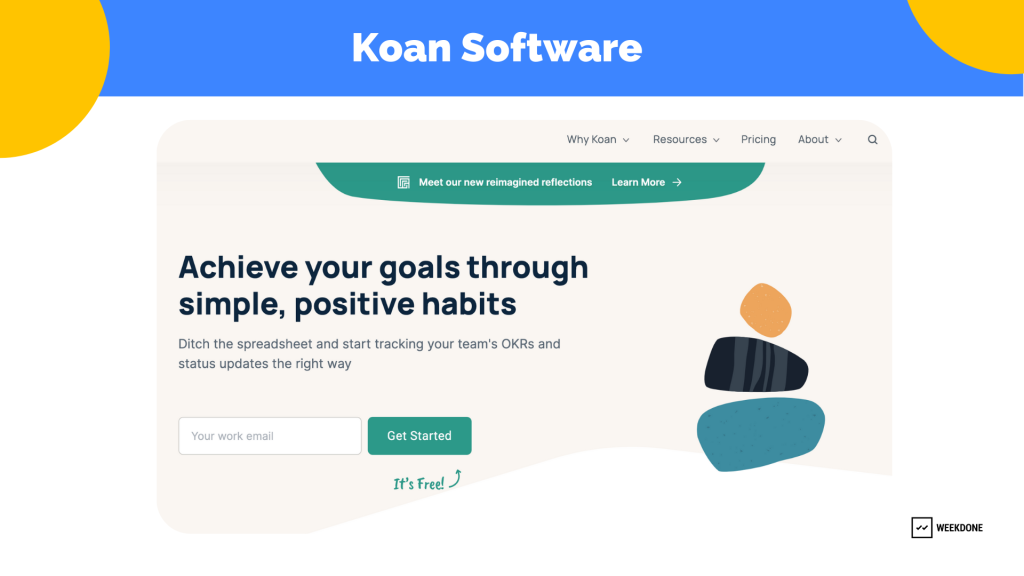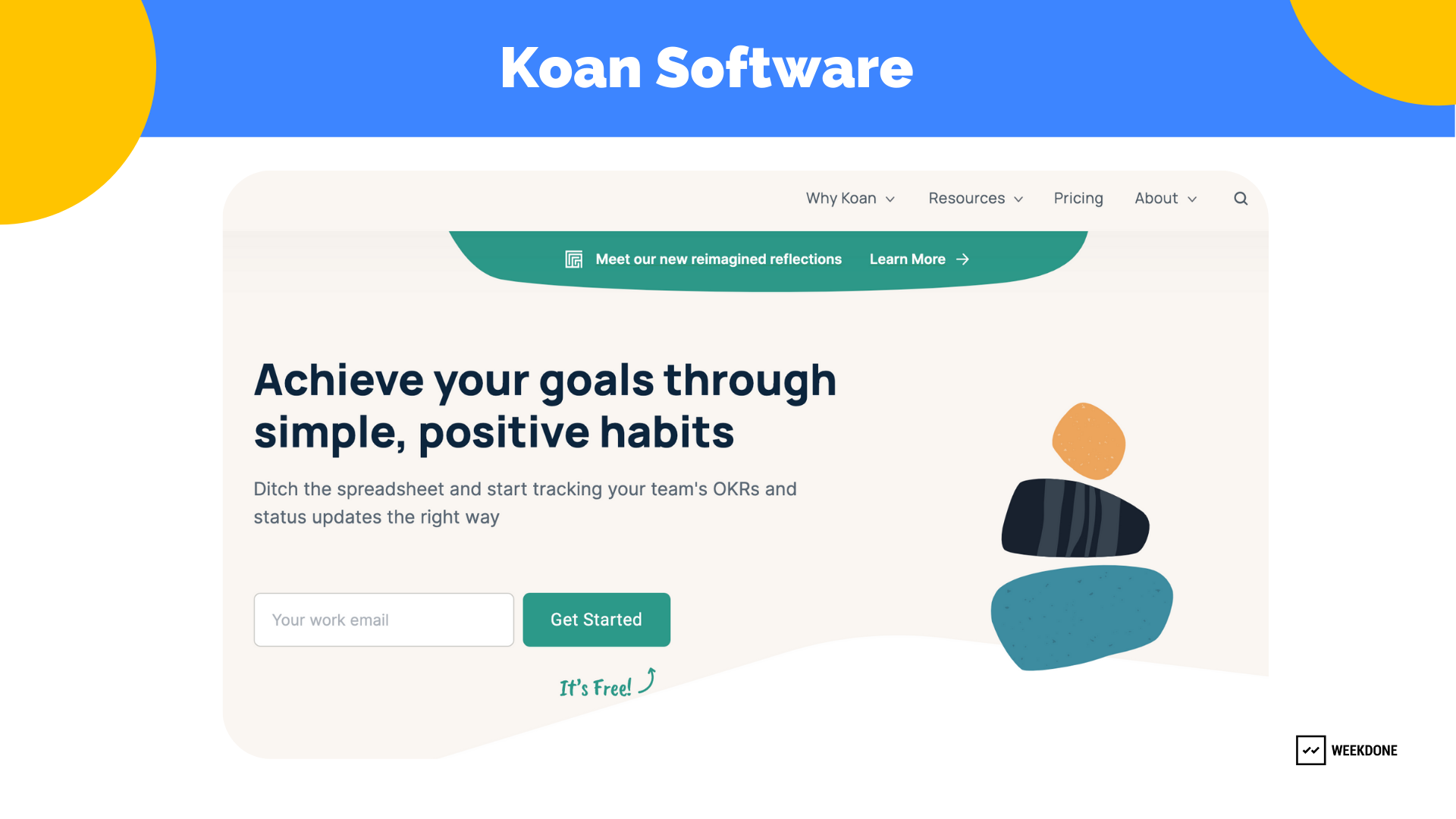 Koan at a glance
Koan is a free organizational alignment software platform that helps teams manage goals and track progress collaboratively. Based on the OKR principles, it provides OKRs and goal tracking, weekly reflections and check-ins.
Key Benefits
Share OKRs with your team, track the activities and select the status of the goal (at risk, has issues, on track)
Get a shared view across an organization on team goals and their relationship to company objectives
Pros
Flexibility in the usage and tracking of the OKR methodology
Unlimited users and teams
Slack and Microsoft Teams integrations
Cons
Lacking features around feedback and one-on-one check-ins
Missing some customization features to adjust custom OKR processes and cadence
OKR Coaching
Koan partners with OKR Training with the OKR Coach Academy.
Price range
Pro plan starts at $6.00 /month/ user.
Free trial
Free version and free trial.
OKR spreadsheet vs OKR software
In case it's really challenging to choose between these 15 OKR tools available, you can always stick with the OKR spreadsheets.
Utilizing OKR Templates (Excel, Google Sheets, Word or PDF) is a simple and easily accessible way to start with OKRs. With the OKR Google Sheet template, your team doesn't have to bother themselves with adopting a new OKR tool but can focus on learning the OKR methodology first.
However, once the team gets the hang of the OKR framework it's better to switch to a dedicated OKR app as soon as possible to avoid potential problems such as not updating the progress on OKRs, not keeping them transparent to all team members or simply not coming back to your OKR spreadsheet since the OKRs have been set.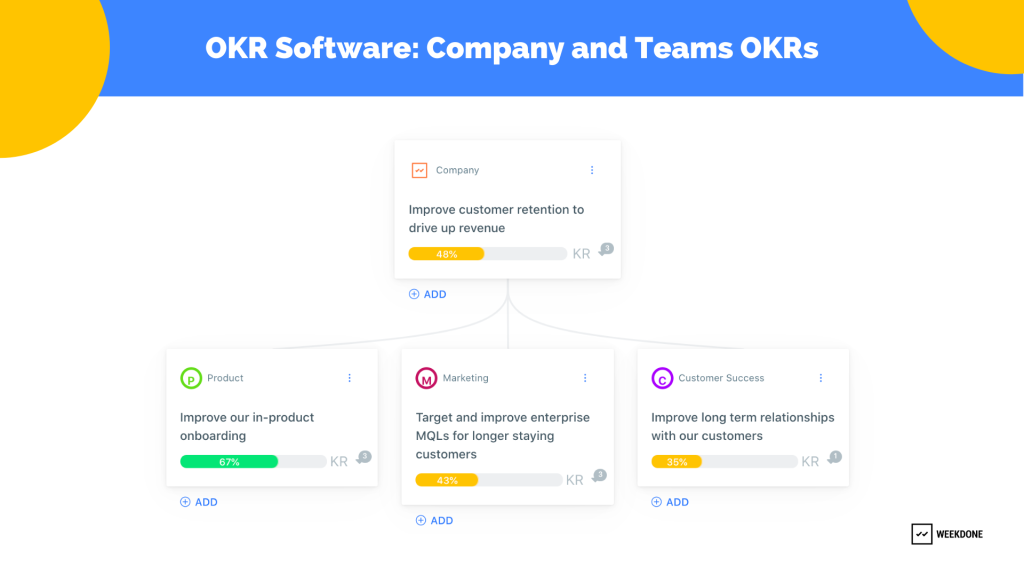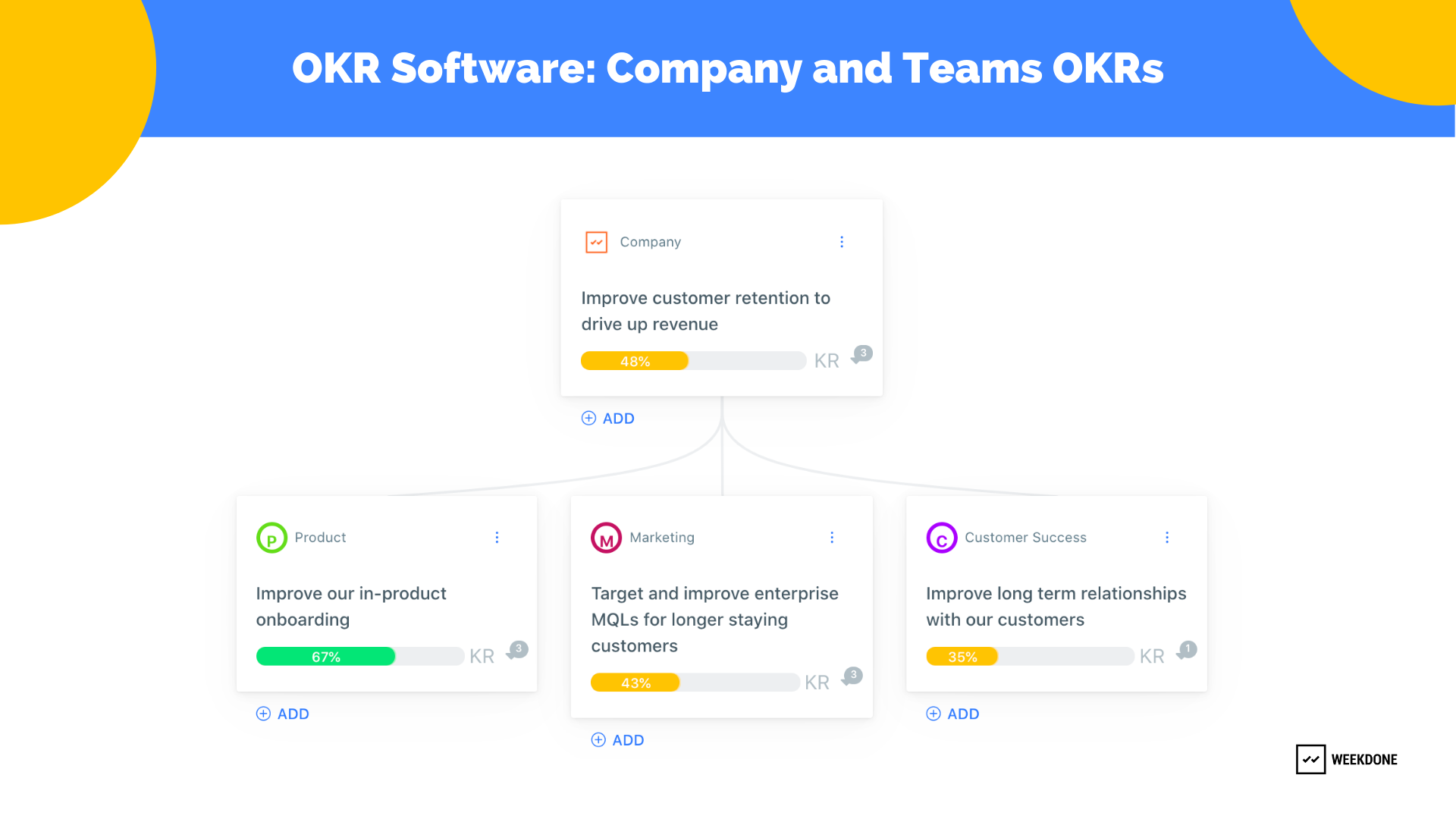 The benefits of using OKR software are pretty clear:
company and team OKRs are accessible to everyone in a team and linked with each other;
measurable Key Results show how much progress has been made;
Initiatives and Weekly Plans are located right under the OKRs in a single window to see the connection between daily tasks and the bigger Objective.
👉 Weekdone OKR software is free for up to 3 people, making it easy to get started without committing to anything.
What are the benefits of OKR software?
If you apply the OKR methodology and pick the right OKR software, you can expect the following benefits of OKRs:
A clear focus for your company and teams
To achieve your business goals and prioritize tasks you might be using project and task management tools. You might be also using KPI spreadsheets to understand the performance and health of your business and make the right business decisions.
However, these tools cannot set the right environment for keeping focus and neither do they set a good direction for the teams to be aligned.
OKRs' main purpose is to better your business performance by identifying improvement areas for the quarter and focusing on the outcomes of these improvements. The reason why this approach helps teams stay aligned is a clear purpose for each project they prioritize. It's not just about completing tasks for the sake of completing them, — it's about continuously asking "what are we trying to impact".
Ownership and accountability for your teams
Ownership mentality can't be assigned, it rather comes naturally to the teams who are trusted to do the right thing.
The OKR framework encourages teams to think about what kind of role they are playing and how they can contribute to the main company Objective. Once company leaders set up a unified direction through Objectives, teams take ownership of setting and delivering on their OKRs to move the company forward. OKRs help teams align their OKRs with the Company Objectives and contribute to them.
Time-efficient communication between team members
Too often ongoing projects or ideas are kept in silos and that's why teams aren't simply aware of what's going on, what's working, and what's not. It creates room for misunderstanding, procrastination, or doing unnecessary work.
OKRs save teams time in meetings so they can focus on execution. When a team's priorities and achievements are seen by others, there's no place for excuses or just pretending to be busy. And since people know what's going on in the company's life, it's much easier to maintain a sense of urgency for Company Objectives. When communication is effective, business processes run faster.
Best OKR Software Summary
If you want to develop and grow your business you can't afford your teams to function like on an isolated island: without alignment on business goals, the common purpose behind daily tasks, effective communication, and updates. This isolation can lead to a whole lot of issues including wasted time, lost revenue, and misunderstanding within the company.
The risk isn't worth it.
Start using OKR software to make your business goals structured and clear to all of the teams. No more disorientation in where your company is heading, how each team contributes to the company goals, and if and how you all are progressing towards defined goals.
Choosing the best OKR platform will depend entirely on your requirements and budget. If you're an SMB or a growing startup looking to set and manage your goals and priorities, then Weekdone is here to help.
Weekdone is an intuitive software that comes with coaching and an in-built Learning Center. It's a tool designed to save time and keep the focus on what matters most. As startups are known for moving fast and having no time to spare, Weekdone will help to reap the benefits of the OKR method while keeping the focus on the most important growth priorities.
And what's more, you can sign up for a 14-day free trial and start benefiting from Weekdone's platform immediately. Get started today!