Objectives and Key Results (OKR) are a goal-setting methodology that allows teams within a company to identify, define and track objectives and their outcomes. Choosing the best OKR software for your needs is a massive step towards effective implementation.
The OKR methodology is being used by some of the biggest, and most successful companies in the world. From Amazon and Microsoft, to Adobe and LinkedIn, OKRs have become an essential cog for business growth and development.
In order to implement the OKR methodology, you need a combination of two things: understand it and have the right OKR software to apply it in practice.
Today, we'll give you a rundown of the best OKR software available, helping you choose the one that is best for your team. Before laying out the choices, there are a few things to consider.
Size of your team
Team size is one of the most important parameters when choosing your automated test tools. Think of it this way: is it the same to manage a team of five people vs a team of thirty?
The same logic applies when choosing the right OKR software. Each software handles and addresses the needs and dynamics of different team sizes.
When reading up on OKRs, you will undoubtedly have a lot of questions to ask. Once you start getting the answers to those questions, you'll get a better understanding of how team size affects OKR implementation and how one-size-fits-all does not really work.
What is the problem you are trying to solve? What is the situation you are trying to address?
Identifying the exact problem you are trying to solve will immediately give you a better idea of the OKR software your team needs.
Each of the proposed OKR software you will see below address different problems and pain points. Some are better at improving individual accountability whereas others offer features to organize effective progress tracking for remote teams.
What features do you actually need?
Whenever we decide to buy something new, we always have to make the distinction between the features the product provides, and the features we actually need. Let us give you an example.
When buying a new car, you are offered the opportunity to add as many features as you want on the car. From leather seats to a convertible roof, the features you can add to the car are countless.
If you live in Arizona, a convertible roof makes a lot of sense as the state is blessed with 10 months of summer. The leather seats on the other hand, might not be the best idea.
Features are great but you really need to think about the ones that will make your team's life easier. Once you get a better handle on OKR best practices, you will be able to identify these features and make an informed decision on the OKR software you need.
Now, let's take a look at the OKR softwares you can choose from.
Weekdone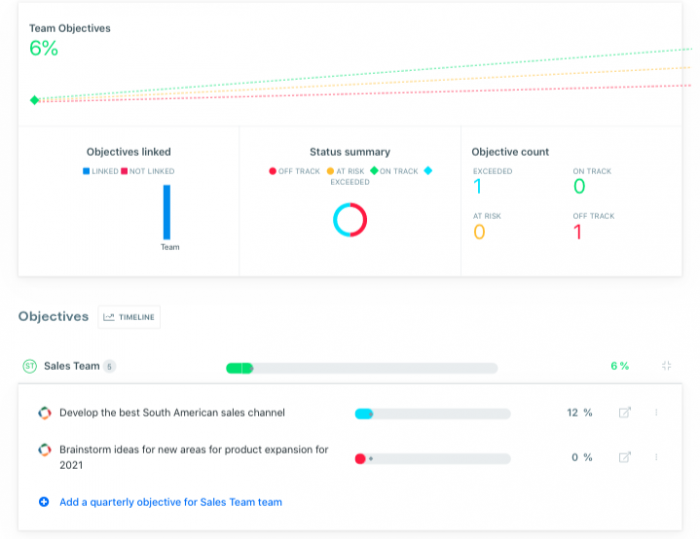 Product summary
Weekdone is an OKR software for goal-setting, tracking progress, outlining plans, and implementing weekly reporting methodologies. Weekdone provides teams with the necessary structure in order to set and manage goals.
Apart from aligning company and team goals, Weekdone allows leaders to support team members with handy 1:1 discussions in a chat format to give personalized feedback about weekly struggles and achievements.
The software's design and overall user experience creates an easy-to-navigate, fun-to-interact-with product that breeds team spirit. A quick scroll through the Newsfeed tab allows you to see what other teams, departments and colleagues are working on, their milestones and comments.
Best for
Weekdone is ideal for small to mid-sized companies of 4-100 users. One of its coolest features is that you can start testing it out for free.
It works perfectly for remote teams. Using Weekdone allows you to lead and manage your remote workforce without missing a beat when it comes to productivity.
It's also great for weekly status reporting, aligning team OKRs with company-level goals, and visualizing your weekly and quarterly progress.
The software is simple yet versatile enough to serve more experienced audiences such as OKR consultants or even people who are new to this methodology and need step-by-step guidance to OKRs.
Packages start for 10 users and you can pay monthly or annually.
15Five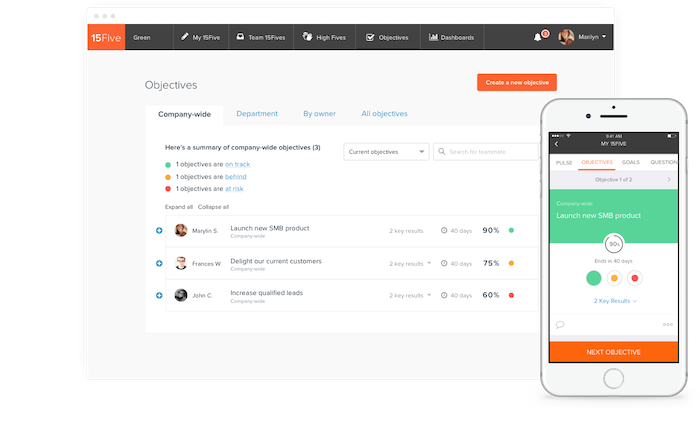 Product summary
15Five is an OKR tracking and employee engagement software. While it is geared towards establishing an OKR framework for companies, its main purpose is slightly different.
Best for
It's best suited for larger teams that want to ensure they don't lose track of employee engagement and are interested in 1:1 reviews. The software may be a good fit for enterprises with complex hierarchies that are interested in performance management.
For a detailed pricing breakdown refer to 15Five's pricing page. 
ClickUp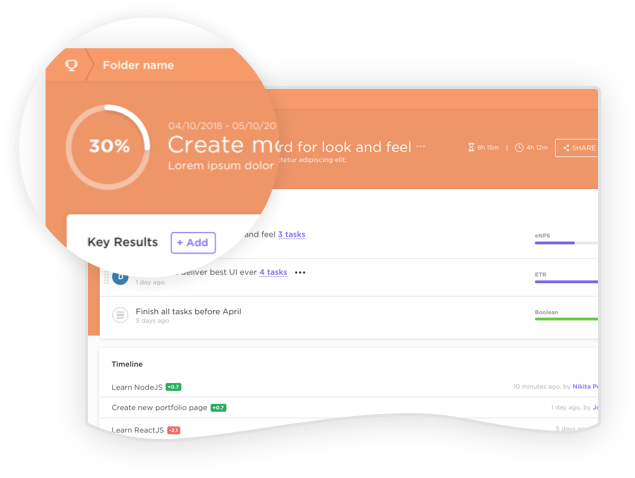 Product summary
ClickUp is a leading project management tool used by 300,000+ teams in companies worldwide, and it makes implementing OKRs a cakewalk. It's the perfect OKR tool for cross-functional teams like Agile and Scrum teams. Use ClickUp for goal-setting, tracking progress, outlining plans, and implementing weekly reporting methodologies.
ClickUp's version of OKRs are its Goals functionality. In it, you can create and edit goals, set and edit targets within the goals, and track progress as you complete tasks within the platform. As a manager, you can monitor your team's progress with ClickUp's Reports and Dashboards.
Best for
ClickUp is an all-in-one solution and geared toward businesses of all sizes. The platform centralizes an organization's information so that all teams complete work in an efficient, transparent, and visually engaging way. This project management software can also be used to collaborate with guests and clients outside of your organization.
ClickUp has a Free Forever plan so you can go in and try its robust goal setting and milestone features before upgrading. For detailed pricing, head to their pricing page.
Asana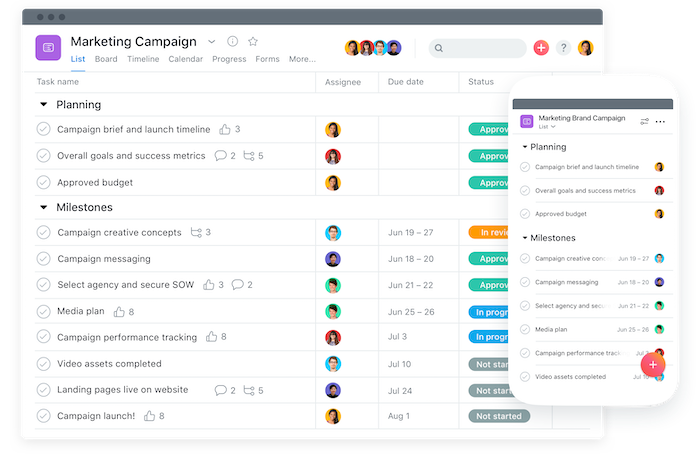 Product summary
Asana is a software built to help teams organize, track, and manage their tasks. While it is now possible to add OKRs in Asana, the primary focus of the tool is on individual accountability and timely task completion. It's a sophisticated project management platform to keep track of ongoing activities.
Asana offers a wide range of integrations with tools like Zoom, Salesforce, Slack, Drive, and Outlook, centralizing all task-related components of the team.
Best for
Asana is best suited for autonomous teams that are specifically interested in managing activities of individual contributors. Even though you can do organizational goal-setting in there, the software is more helpful for companies looking for a project management tool.
For a detailed pricing breakdown refer to Asana's pricing page.
7Geese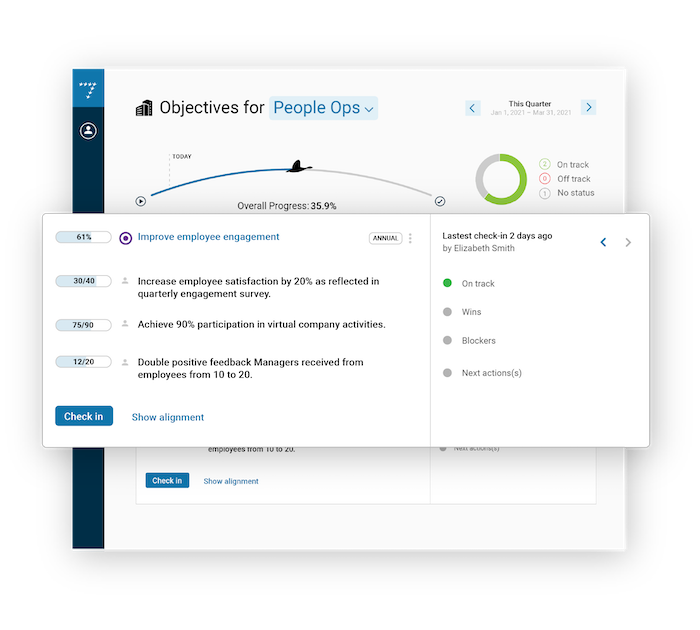 Product summary
7Geese is a cloud-based performance management software that facilitates company goal-setting and management as well as employee engagement. Apart from its main OKR offering, the software includes features such as employee engagement surveys and employee-driven feedback, placing particular emphasis on the employee.
Best for
The software's employee-rich features make it ideal for HR teams and companies interested in individual performance management.
For a detailed pricing breakdown refer to 7Geese's pricing page.