You think business launch is the most challenging phase in a company's lifecycle?
An analysis of data from the U.S. Bureau of Labor Statistics seems to suggest otherwise. It shows that while 18.4% of businesses fail within their first year, the rate grows incrementally with time – to well beyond 65% by year 10.
Think about it. Whereas the beginning has its fair share of difficulties, the most trying phase comes after everything is up and running. This is when it truly hits you that aligning the company's ever-expanding tasks and resources can be a heck of a nightmare.
Enterprises, in particular, tend to have the roughest time of all because of the huge scale of variables involved.
Consider the remarkable story of Apple Inc, for instance. On establishing itself as one of the industry leaders in the 80s, the company struggled over the next decade to the point of almost going under. It was barely 90 days away from filing for bankruptcy when Steve Jobs came in and, with the help of specialized OKRs for enterprises, managed to turn things around.
Those are the principles that sparked Apple's growth to ultimately becoming the world's first $3 trillion company. And it's not alone – other globally-renowned beneficiaries of OKRs for enterprises include the likes of Google, Amazon, Asana, LinkedIn, Twitter, Adobe, and Microsoft.
Here's how you too could join this exclusive league of legends. We invite you to follow along as we explain what OKRs for enterprises entail, how to leverage them, plus the best OKR tools to use while at it.
What Are OKRs?
"OKR", for starters, is an acronym for Objectives and Key Results. You can think of it as a specialized framework for rallying individuals, teams, plus company tasks around a clear set of critical and measurable goals.
While traditional planning methodologies often generate ambiguous, fragmented, and immeasurable objectives – OKRs tend to set, streamline, and track distinct priorities for teams, individuals, and companies.
The point here is to remove the guesswork and inefficiencies that come with misaligned processes. Teams, instead, get to collaborate under a well-structured approach, with everyone focusing on what matters.
That means all the stakeholders in your organization will be proceeding in the same direction – with their personal, team-level, and departmental rhythms following a synchronized structure.
The OKR framework traces its origins to Silicon Valley, where it was first developed by a renowned venture capitalist named John Doerr. The year was 2000, and one of the first companies to get on board was Google, which had only been in business for two years.
By adopting OKRs, the search engine was able to reorganize its internal system, allowing individuals and teams to attain challenging goals through measurable actions. The rest, as they say, is history – Google has since grown from a garage startup that employed 40 people to a 2 trillion dollar tech giant with more than 140,000 employees.
All these staff members are still utilizing enterprise OKRs to streamline tasks at their individual, team, departmental, and company levels. This is how Google manages to track and keep even the smallest operations in line with common goals.
Other Silicon Valley giants that ultimately joined the bandwagon include LinkedIn, Oracle, Twitter, Airbnb, and Spotify, among many others. They have ingrained OKRs so deeply in their enterprises that the whole framework is now thought to be the official Silicon Valley way of setting goals.
How Do OKRs For Enterprises Work?
OKRs on all levels fundamentally define goals using two critical parts:
The Objective: this is the qualitative bit that spells out what your company, department, or team seeks to achieve.
The Key Results: this is a detailed breakdown of the quantitative parameters that you'll be using to track the objective, and subsequently, determine if you've achieved it.
When it comes to company-wide OKRs, for instance, you could start with clear and distinct objectives that are aligned with the entire enterprise.
Each objective should then be accompanied by outcome-specific key results, meant to contextually highlight the precise measurable targets for the teams. This whole composition provides a well-structured framework for managing enterprise processes, while the alignment ensures continuous collaboration between individuals, teams, and departments.
Take, for example, a company seeking to boost its sales.
While "improving sales" would be the core aim, the phrase itself is highly subjective. It can be misleading to teams – since they won't be able to definitively establish what, when, and how to achieve the goal.
With OKRs for enterprises, however, you get to dive much deeper and exhaustively define a strategic framework for your teams. For instance – instead of just "improving sales" you need to have a clear qualitative Objective, something like "Increase the 'active' number of early stage users so they see the value in our product".
This should then be accompanied by a set of measurable "Key Results", from which teams would get active qualifiers on the parameters to prioritize.
The OKR Formula
According to John Doerr's playbook, one simple formula that you could use to tie it all together is:
"I will _________ as measured by _________".
This statement alone sums up how OKRs are structured. It turns basic desires into trackable goals by describing what you intend to achieve, plus the criteria that you'll be judging the outcome on.
Hence, if you added these basic principles to the formula, you'd have something like:
"I will [Objective] as measured by [a set of outcome-specific Key Results]
But, don't overstretch the descriptions with mountains of text. The best OKRs for enterprises come in the form of concise summaries of what to achieve and how to achieve it.
The "Objective" bit ought to be laid out in a brief but memorable, inspirational, and engaging statement. This is where you challenge your teams with a qualitative description of what you intend to attain.
The "Key Results", on the other hand, should then offer even more clarity by complementing the qualitative statement with quantitative targets. This is where you disclose the KPIs in terms of numbers.
Google's former Vice President Marissa Mayer once stated that, in fact, "if it does not have a number, it's not a key result."
You can have about 3-5 Key Results per Objective – with each breaking down the goal into a specific measurable achievement. At least then, your teams will have an easy time memorizing their priorities, as well as quantifying the resultant outcome.
Good OKR Examples For Enterprises
When you put the basic principles of OKRs into practice, you should be able to set well-structured goals across various levels of the organization. OKRs for enterprises can be team-specific, department-specific, or company-wide.
Here are three practical examples that we've pulled from highly successful companies. Otherwise, feel free to sample many more from our compilation of the best OKR examples for enterprises. We've even broken them down by department, operation, employee level, etc.
Example #1: "Establish a great customer experience"
In the case of a company seeking to "establish a great customer experience", the campaign results could be drawn from some of the principal indicators of customer satisfaction.
It's expected, for example, that customers who are happy about their experience will likely make repeat purchases, plus maybe recommend the brand to their peers.
Research by Forbes in conjunction with customer data platform Arm Treasure Data established that 65% of consumers would turn into long-term customers if they received a positive experience throughout their customer journey.
As for recommendations, a separate study places the average referral rate at 77% for consumers who receive a satisfying experience.
Hence, it could be a good idea to set up "Repurchase Rate" and "Net Promoter Score" metrics as core indicators of the Key Results.
But, that shouldn't be all.
You see, prioritizing just those two would mean that your company is open to improving customer experience at any cost. As such, you might want to seal the loophole by introducing a cost management parameter as a countermeasure.
Consider, for example, adding "Customer Acquisition Cost" to the set of metrics. This would bring the number of measurable Key Results to three.
That means you'd set the complete goal as:
Objective
Establish a Great Customer Experience
Key Results
– Increase the Repurchase Rate from X% to Y%.
– Raise the Net Promoter Score from X to Y.
– Keep the Customer Acquisition Cost below X.
Example #2: "Expand our customer base"
Imagine running a digital service that is seeking to organically expand its user base.
Your OKR would need to facilitate sustainable growth by prioritizing user engagement, traffic generation, customer acquisition, customer retention, and user referrals.
In that case, you could have "Expand our customer base" as the principal objective.
Then to specify how you intend to achieve that sustainably, you could highlight the Key Results as strategic indicators for tracking traffic, new customers, referrals, user engagement, and customer retention.
Hence, the most appropriate OKR examples for enterprises here would be something along the lines of…
Objective
Expand our customer base
Key Results
– Grow non-paid traffic volume from X to Y.
– Increase the number of customer signups from X to Y.
– Increase average weekly visits per active user from X to Y.
– Improve Net Promoter Score from X to Y.
– Reduce revenue churn (cancellations) rate from X% to Y%.
Example #3: "Drive brand awareness and reach"
When it comes to growing the company's brand and market prominence, you could set "Drive brand awareness and reach" as the core objective.
Then for the key results, you could lay down quantitative qualifiers for all the measures that you'll be taking to promote the brand.
Here's a sample of such OKRs for enterprises:
Objective
Drive brand awareness and reach
Key Results
– Increase the volume of newsletter subscribers by 10,000.
– Publish one new blog post per week.
– Publish one new guest post per month on external platforms with a DA of 50+.
– Get featured in at least two media publications each quarter.
– Increase social media following by 1000%.
Best Practices: Setting Effective OKRs For Enterprises
As it turns out, there's no standard system for implementing or running OKRs for enterprises. Companies are free to execute and optimize them in whatever way they deem fit.
However, there's this set of basic principles that you should certainly keep in mind while at it. They generally apply across the board, and you could calculatedly capitalize on them for increased efficacy.
Here's a breakdown of the principles, along with the accompanying best practices that you ought to follow when dealing with OKRs for enterprises:
1. Simplicity
Remember to always keep your OKRs simple, straightforward, and easy to understand.
This is one of the tricks that Google has been using to maintain operational consistency throughout the years. The company sets up no more than five objectives per quarter, each with just four key results.
2. Transparency
To holistically align processes, departments, teams, and resources, good OKRs for enterprises should be built to offer complete transparency across all company levels.
Both Google and Amazon have achieved this by opening up their OKRs to all internal and external departments. Weekdone OKR software is built with this in mind – team members can easily communicate with each other, identify their roles, as well as keep an eye on what's going on across the entire organization.
3. Agility
Simplicity doesn't mean static planning. OKRs for enterprises should, instead, take an agile approach – by tweaking the variables as circumstances shift.
This privilege applies not just to company-wide OKRs – even team-oriented and department-specific OKRs should be able to operate with agility horizontally and vertically.
Goal Setting With The Best OKR Software For Enterprises In 2023
Of course, it's possible to create and manage your enterprise OKRs manually. Or maybe, you could integrate multiple software to run your OKRs on a hybrid network of tools.
But, none of these can match up to the power that comes with specialized OKR software.
The caliber of digital tools today boasts advanced automations and AI-driven analytics – which collectively help you maximize the potential of agile goal setting while, at the same time, enhancing transparency, visibility, accessibility, and visual alignment.
In particular, you might want to define and manage your goals on either of these three solutions. They have proven to be the best OKR software for enterprises – based on tests by industry experts and regular users.
1. Weekdone – best agile enterprise OKR software for SMEs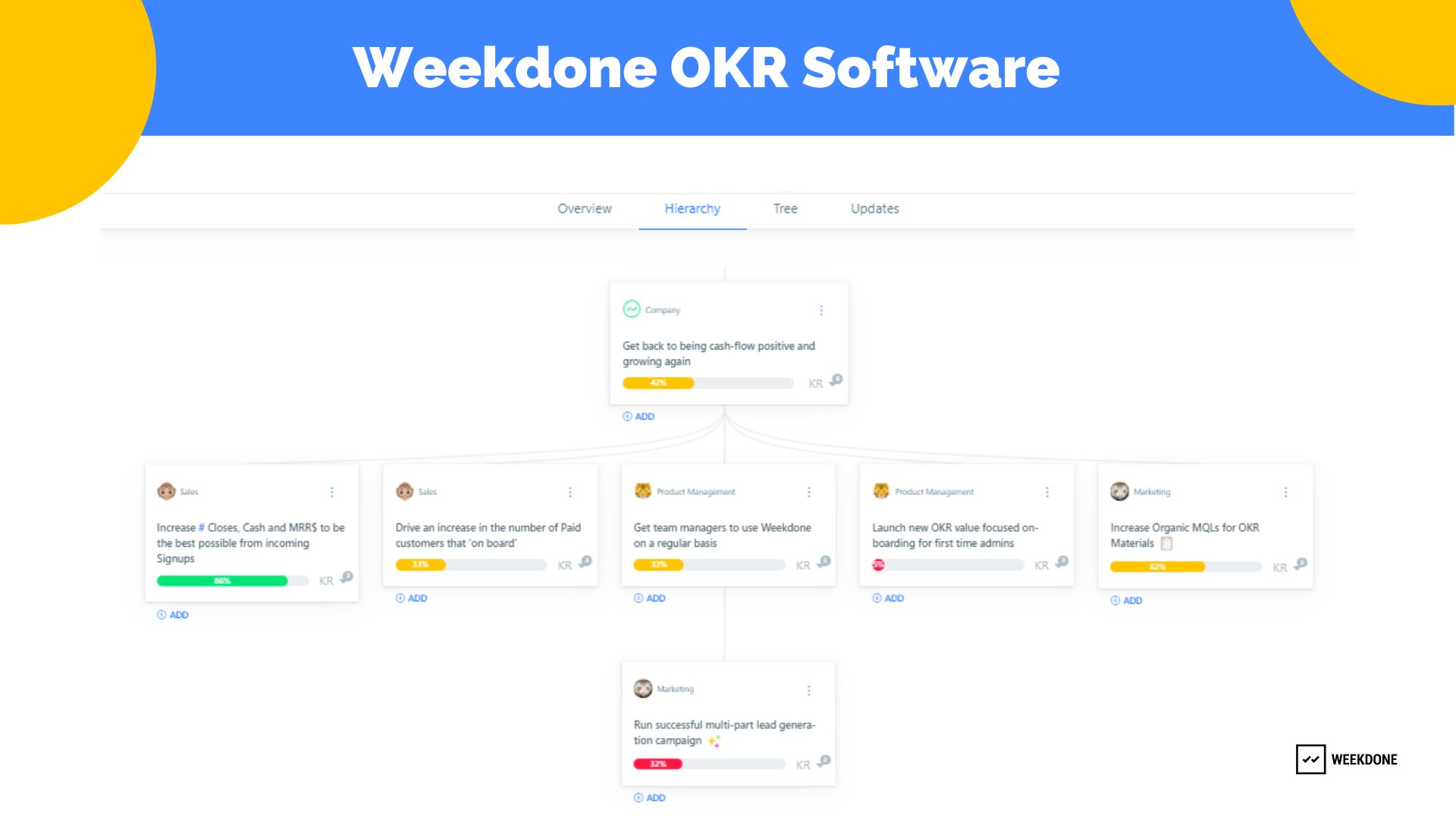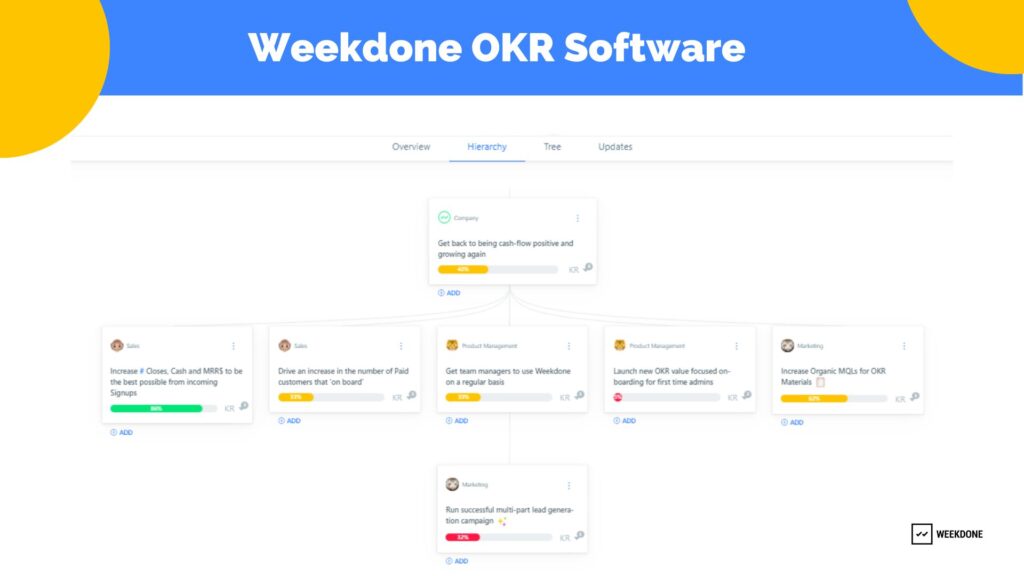 Established in 2012, Weekdone has grown to be recognized as a powerhouse in the agile management of enterprise OKRs.
The software is flexible enough to be seamlessly adopted by all types of small to medium sized enterprises across every industry. You can customize it to your specific organizational structure, after which you are ready to set multi-layered goals across all company levels.
The resultant framework is visually coordinated on highly intuitive real-time dashboards from where you can dynamically track personal-level objectives, as well as follow up on team-specific, departmental, and company-wide OKRs.
In particular, managing weekly activities is an absolute breeze, as Weekdone is specially optimized for weeklong cycles. And while you continue to align the resultant activities accordingly, employees get to keep tabs on the task schedules, as well as communicate with their coworkers.
2. WorkBoard – Best enterprise OKR software for team-oriented goals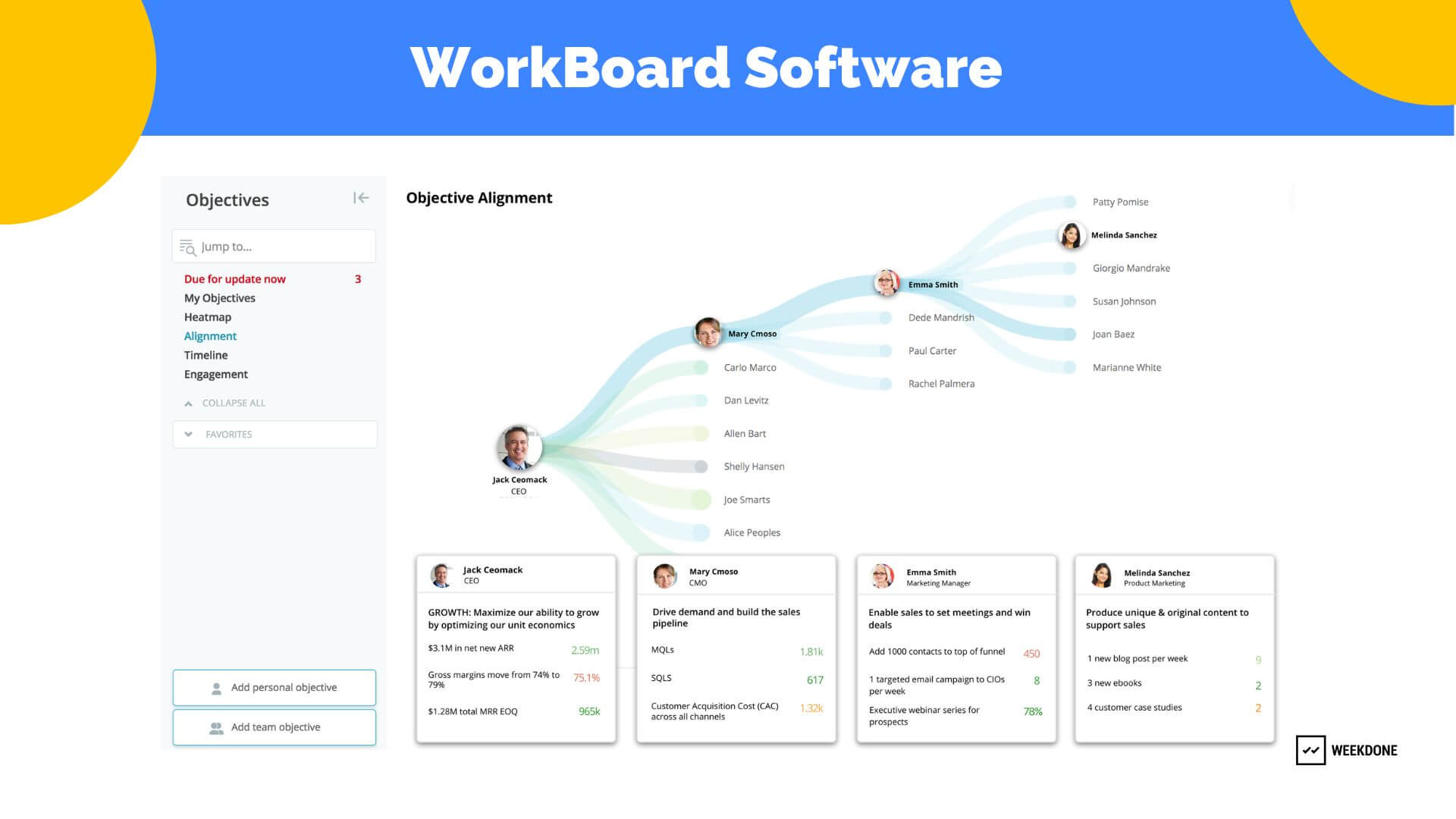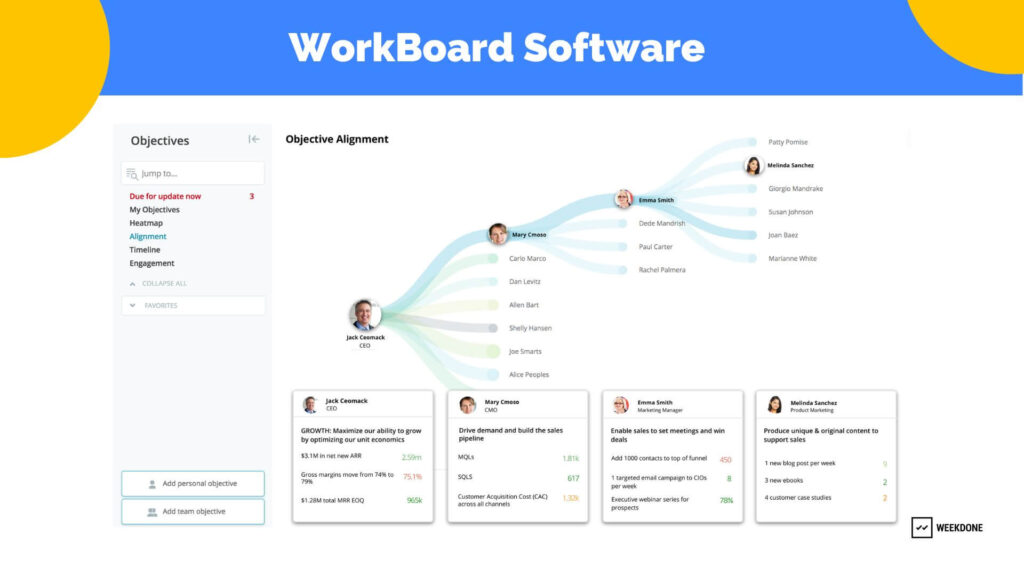 For team-oriented OKRs, enterprises would fare exceptionally well on WorkBoard.
Users love WorkBoard primarily for its holistic coordination of team-focused goals, plus the ability to synchronously align company-wide objectives.
Users are also intuitively kept in the loop, thanks to its visual workflows that stretch across all company levels. You can set up tasks for teams in every department, schedule activities, take notes, and make comments.
WorkBoard stretches beyond the standard Objective Key Results (OKRs) methodologies to facilitate even Get Things Done (GTD), and Management By Objective (MBO) approaches.
3. Lattice – Best enterprise OKR software for managing performance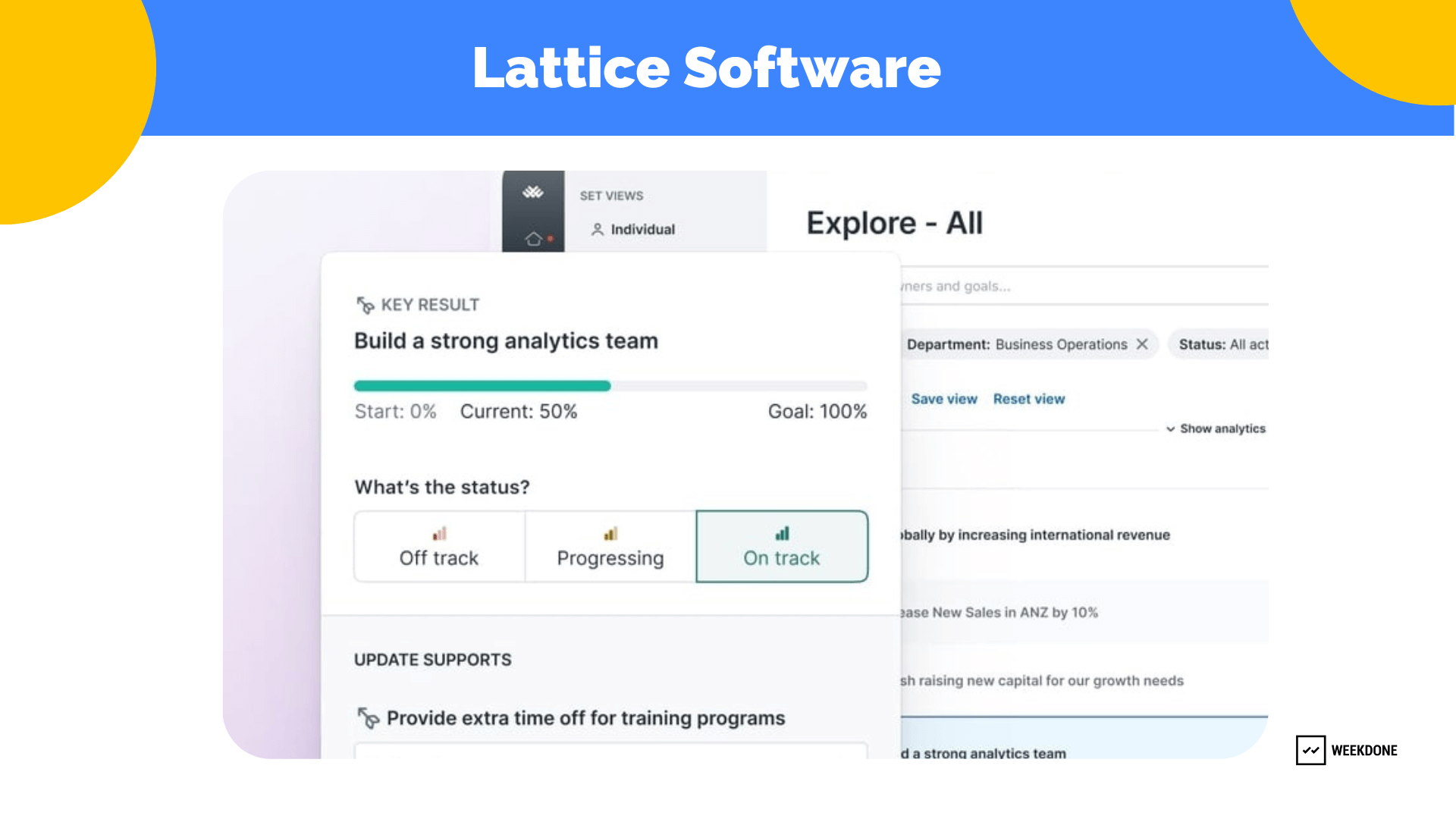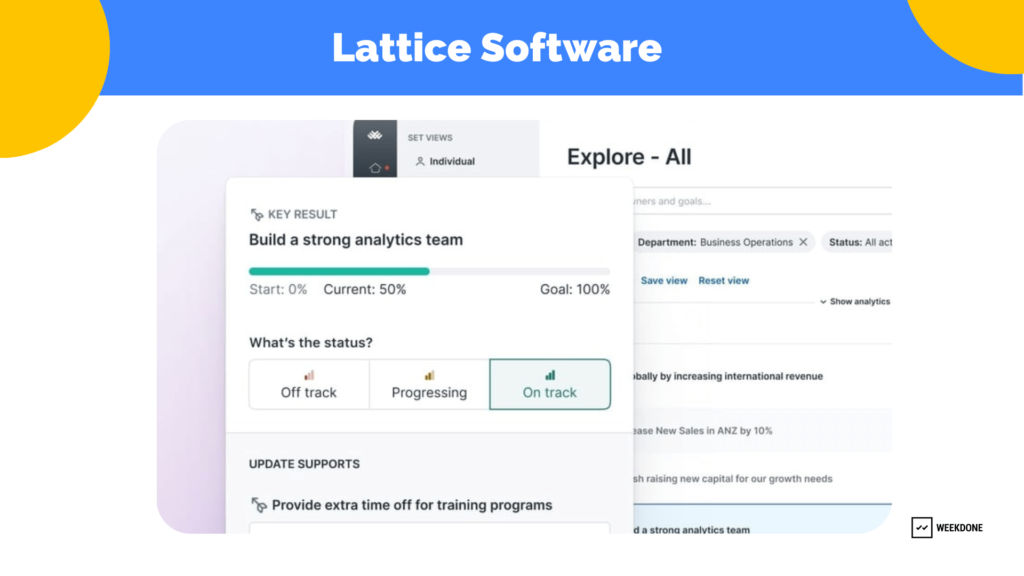 Lattice happens to be a performance management software that facilitates employee engagement and OKRs. These three functionalities are inextricably intertwined with each other to facilitate multi-faceted tracking and alignment of employee goals.
And speaking of which, the workflows here are largely employee-focused – with quick tools for setting up, tracking, and reviewing their OKRs.
Otherwise, for detailed performance insights, you might want to refer to Lattice's analytics dashboards – where you'll find even past industry statistics for benchmarking purposes.
Other than that, Lattice allows you to run surveys on your employees, as well as keep them motivated by displaying the best performers on a dedicated "praise wall".
The Choice is Yours
While OKRs are leveraged in organizations of all shapes and sizes, we can agree that enterprises are among the biggest beneficiaries.
The Objectives and Key Results framework has extensively streamlined operations in large companies by simplifying their otherwise complex and fragmented goal setting methods. With OKRs – it's possible to collectively align personal-level, team-centric, and departmental objectives with your entire company.
This strategy has exceedingly helped the likes of Google, Amazon, Intel, Spotify, Asana, Adobe, and Netflix run effective growth campaigns.
Many others are following suit – with specialized enterprise OKR software such as Weekdone providing the much-needed power boost.
We are now offering you the exclusive chance to experience all this power for yourself. Sign up for Weekdone and start transforming your enterprise with high-level OKRs.