A great deal is being discussed about OKRs, but creating Objectives and Key Results (OKRs) can be easier said than done. The OKR framework maintains the focus on top-level, high-value goals and revolutionizes the way leaders and team members strategize. To truly learn how to write OKRs that are outcome-centric and result-driven, remember that it requires commitment, expertise, and guidance.
There is an increasing interest in the OKR goal-setting framework in the SaaS industry. Many best-in-class companies are using OKR software programs to set, track, measure, and better manage their objectives and key results.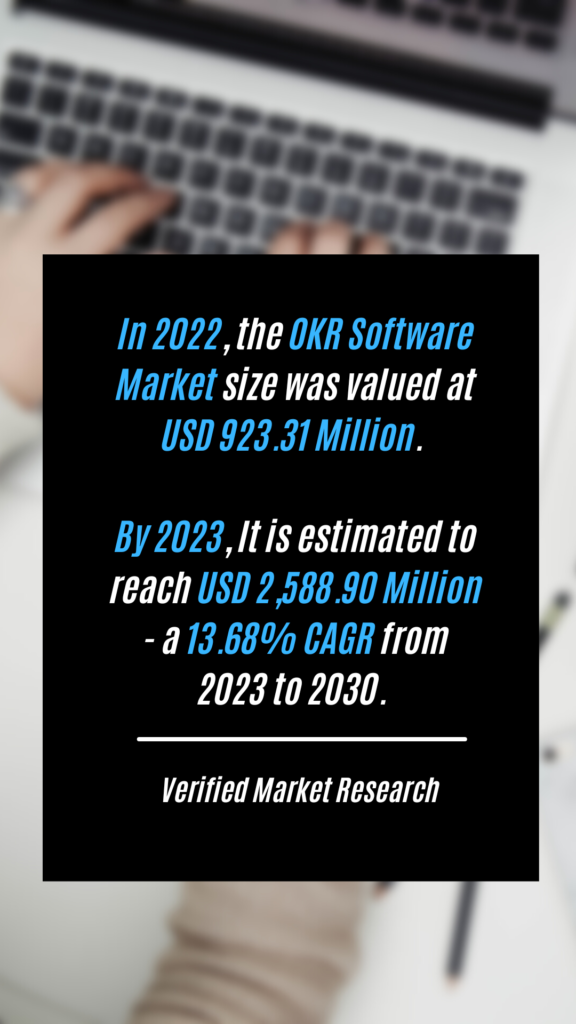 While setting OKRs is a thought-provoking process, the framework is simple. The process of aligning your team objectives with your company goals begins with understanding the objectives you want to set, the key results you want to achieve, and the weekly plans and initiatives required to achieve them.
Defining OKRs by Outcomes
OKRs refers to Objectives and Key Results, a goal-setting and tracking methodology that helps teams build a transparent, accountable, and collaborative way of driving business results.
The main reason why the OKR framework has been successfully used by companies like LinkedIn, Adobe, and Amazon is its focus on outcomes, not outputs. When thinking about how to write OKRs, adopt an outcome-driven approach. Focus on the results that bring real business value instead of listing different activities.
The activities, initiatives, plans, projects, deliverables, milestones, or tactics are the outputs to achieve your goal. You cannot measure success by your output but you can measure the value they deliver to improve your business performance.
That is why your focus should be on the outcomes - which are the measurable results you expect from your output.
Knowing what you want to achieve helps to prioritize better and work smarter. For this reason, the OKR framework works especially well to align teams and maintain focus on what's important.
Interrelationship Between OKRs and Other Measurement Frameworks
It is easier to understand the meaning and context of OKRs when it's compared with other measurement frameworks and business tools:
OKRs vs. KPIs
OKRs do not replace KPIs - they co-exist and serve different purposes. KPIs are needed to track business performance metrics while OKRs define focus areas to improve performance.
That's why many best-in-class companies use different tools to manage business goals. An ideal combination would be to use spreadsheets and/or data analytics platforms to track KPIs and dedicated software such as Weekdone to set and track OKRs.
You can also record your KPIs to the KPI block in Weekdone to communicate the updates of your most important numeric targets. Your OKRs can be set in another view to make it easier for the team to maintain focus and create Initiatives to drive the Key Results forward.
💡 Read more about the difference between OKRs and KPIs and why you should use both to advance your business goals.
Wondering how to align your company KPIs with measurable OKRs?
OKRs vs. Task Management
In an attempt to align everyone toward the same goal, it might be tempting to organize tasks of all teams in a hierarchical view of job responsibilities.
Keep in mind that this hierarchical view is a waterfall structure of cascaded outputs (i.e. tasks and activities) and KPI targets, not OKRs. This approach is only a record of activities and fails to include how they improve business value.
If you are wondering where to begin and "How to come up with OKRs", follow this simple process:
Create a Company Objective
Based on the Company Objective, allow teams to create their Objectives and Key Results. Remember that OKRs must be set on a team level and not individual level goals.
💡 Find out why it's important to focus on Team OKRs vs individual OKRs
Ensure teams also record their initiatives to drive Key Results.
With the OKR hierarchy, you do not have to cascade tasks and assign responsibilities. As a leader, you can set your business direction and let teams create their OKRs to drive your company goals.
💡 Take a look at how the OKR hierarchy tree works in Weekdone
Full-featured trial, 14 days free with unlimited users. No credit card required
The Basics of OKRs, Initiatives, and Weekly Plans
The OKR goal-setting framework consists of four main aspects: Objectives, Key Results, Initiatives, and Weekly Plans.
Are you ready to set OKRs? Take this quiz find out if you are prepared.
Guiding questions to help you get a better understanding of Objectives, Key Results, Initiatives, and Weekly Plans and their purpose.
How to Write OKRs that are Result-Oriented
Writing OKRs at the Company and Team level helps you identify your main issues. This goal-setting process defines your improvement opportunities, without confusing them with day-to-day operations.
Keep in mind that not everything you do for your business is an OKR. OKRs include improvement areas - from how you work (internal processes) to how you think about opportunities to grow.
How to Create Outcome-Centric Objectives
Good Objectives align teams, create goal-setting habits, and ensure long-term improvements leading you through the path to success. The first step in the process of writing OKRs is to define the Company Objective. This would serve as a compass for teams to create OKRs that work toward achieving the company goals.
Company Objective
A Company Objective should ideally be a quarterly improvement area involving the effort of several teams. The Objective must be broad enough for teams to identify the most impactful Team Objectives, but should also be specific so that it gives clear direction.
Before finalizing high-level Objectives, leadership executives need to get feedback from the teams and clarify expectations. For instance, leaders must define words like "value" or "success" and communicate this with team members. In that way, everyone is clear about the ambitious goals that are expected.
Take into account that creating measurable Key Results at the company level is not required. The reason is, company-level KRs typically become high-level metrics (KPIs) that no specific team can directly impact. Without ownership or responsibility to have a direct impact, the goal is considered a high-level reference and not a real OKR.
💡 Keep in mind that OKRs work best when a team that writes them takes full ownership of achieving them.
Team OKRs
Team OKRs serve as Company level Key Results and drive the progress of the Company Objectives. Therefore every functional team needs to understand the high-level Company Objective before they begin their goal-setting process.
Teams must work toward the same outcomes and create collaborative OKRs through contributions from individual members.
Where do you begin? Before writing team OKRs, structure the thoughts and ideas of team members. Begin by asking the team these questions:
What can be changed to obtain better results?
What are the obstacles that could impede progress?
What has been working so that it can be amplified further?
What are the challenges or problems that need to be addressed and what are the possible solutions?
Answers to these questions can give you great ideas to create your Team Objectives. Once the final objective is created, another discussion can be held to get feedback. This exercise allows you to get buy-in from the team and makes achieving objectives more purposeful.
The Good, Bad, and Average Objectives
Example 1
- Good Objective - Improve and refine messaging in all channels to target decision-makers in Fortune 1000 companies.
- Bad Objective - Increase leads or launch a marketing campaign
- Average Objective - Create a content strategy to generate more leads
Why is it Good? Focus Area + Why it Matters
This objective clearly defines what needs to improve (messaging in all channels) and why it must be done (to target bigger accounts).
Why is it Bad?
Increasing leads is a performance target and tells you about the outcome you want to achieve. It does not describe how and where you are going to have an impact or what type of problems need to be solved.
Why is it Average?
The focus area of creating a "content strategy" is not well defined. The part of the objective about "increasing leads" does not describe why it matters or the significant impact it could have on company goals.
Example 2
- Good Objective - Double sales in Key Converting Countries (KCC) in the next year to improve market positioning
- Bad Objective - Increase revenue growth
- Average Objectives - Expand our services to offer more value to enterprise clients
Why is it Good? Focus Area + Why it Matters
The objective is clear, ambitious, and meaningful (double sales in KCC in the next year). It also shows how it will have a significant impact on bigger company goals (to improve market positioning).
Why is it Bad?
It is a bad objective because it does not tell you what needs to change and why it matters. An objective should be a problem statement that focuses on what needs to improve.
Why is it Average?
The definition of "value" for enterprise clients is not defined. With the focus being only on enterprise clients, it is not connected to the bigger picture. It does not focus on what could have the biggest impact right now.
How to Improve Writing Objectives
When writing objectives, begin by asking yourself, how you plan to get there, what needs to be improved, and should something new be implemented to achieve better results.
💡 A simple formula that can help when writing objectives:
Focus on <driving change or making improvements> to <solve a particular problem or challenge>
Also, keep in mind what objectives should not be:
Objectives are not projects with sub-tasks
Objectives are not business-as-usual targets
Objectives should not be difficult to remember
Objectives should not be quantitative
Objectives should not be impossible to achieve in a quarter
How to Create Goal-Oriented Key Results
Setting quantifiable and measurable Key Results is important for OKR implementation to succeed. However, many teams have challenges understanding the real difference between measurable outcomes (the result) and actionable outputs (actions taken to get results).
Here are some guiding questions to ask while creating Key Results:
Why does this area need improvement? Is there anything that indicates a problem that needs to be addressed?
What does the Objective mean, in detail?
What does impact, improvement, or success mean?
Are you measuring the result or the effort it takes to achieve results? It is best to measure the results and not the effort to ensure you are using accurate metrics.
What can the team influence and take action upon? Set Key Results that are not too big for the team - those that they can achieve without extensive involvement of other external factors.
Good Key Results are measurable outcomes, and achieving them would have a definite positive impact on the business.
Key Results Should Be
Key Results Should Not Be
Specific
Quantifiable
Achievable
Lead to objective grading
Be difficult, but not impossible
Binary, they should be numeric and measurable
Tasks to be achieved. Key results are metrics
Tell the Difference Between Good Vs. Bad Key Results
If you find yourself struggling when writing Key Results, ask yourself "why" to know what needs to improve or change. In the example below, if you want to improve the time taken to close deals, ask yourself "why" - "Because the sales revenue is below monthly targets" or "Because it takes too long for the sales team to close deals and they cannot meet their targets in the month."
Good Vs. Bad Key Result Example
- Good Key Result - Reduce lead to closed sale average time from 14 to 10 days
- Bad Key Result - Implement new sales process
Why is it Good?
This is a good Key Result because:
It measures the progress and the success of the Objective (improve the time from 14 to 10 days).
It is relevant to a specific problem (reducing the 'lead to closed sale' average time)
It indicates improvement
Why is it Bad?
This Key Restut is bad because:
It describes the output (the new sale process).
It does not define the real outcome (to close sales faster).
How to Write Actionable Initiatives
Once you have your Objectives and Key Results set, it is time to discuss the Initiatives you need to put in action to drive progress on the Key Results.
An Initiative is a project, task, or any output that may take more than a week or even a quarter to complete. An Initiative drives your OKR forward.
Some OKR Initiatives examples include:
Create example videos to add to the Help Center
Map all onboarding/push emails for customers and identify how we can differentiate
Publish guest post articles with a link to the landing page
💡 Some OKR tools help you visualize how Initiatives are connected to OKRs.
Consider this example:
In Weekdone, Initiatives can be linked to Objectives and Key Results. This ensures any project or tasks are associated with specific outcomes you want to drive. Similar to KRs, you can see the visual progress of every Initiative. Whenever changing the progress of an Initiative remember to add a Comment about what got done, what were the insights, and the lessons learned
How to Create Weekly Plans
While OKRs focus on measurable outcomes with a bigger picture in mind, the team needs to create, plan and execute different ideas weekly. Weekly planning is the force that drives the OKRs forward by maintaining the focus on what needs to be done.
While OKRs are set on the team level, executing weekly plans takes place on the individual level. This is how individuals contribute to achieving team goals which ultimately impacts the company objectives.
Individual planning in Weekdone, otherwise known as Weekly Planning includes (by default) three main categories: Plans, Progress, and Problems (or PPPs).
The PPP (Plans, Progress, and Problems) approach is a great way to prioritize weekly activities and provide your team with status updates to track progress.
Examples of Weekly Plans include:
Create the first draft of an article to be ready for review
Present new product ideas to the team
Lead generation campaign planning and review
The process of setting Objectives, Key Results, Initiatives, and Weekly Plans is an art and a science. By setting goals with commitment the OKR framework has transformed the way leaders and teams strategize, implement, and measure success.
Use OKR Tool with Built-In OKR Framework
Write good OKRs with built-in best practice guides and examples. Track OKRs and KPis in visual dashboards. Stay focused, achieve goals.
How to Write OKRs Using Goal-Setting Tools
Now that you understand the process of creating Objectives, Key Results, Initiatives, and Weekly Plans, how can you start implementing them?
There are two ways how to set and track OKRs:
Using OKR spreadsheets
Using OKR software
OKR spreadsheets are a great way to start if you have a small team or just beginning with the OKR adoption process. In this case, you can develop the right mindset and a habit of OKRs within your team and learn how to write OKRs.
👉 If you need help to start your goal-setting process, download our OKR template and start writing OKRs by filling in the required fields.
👉 Or get inspired from the 100+ OKR examples database and contextualize them for your business needs.
If you are a growing team or a business with more than 10 people in a team, the best way to successfully implement OKRs is to use an OKR tool.
When using OKR spreadsheets for a large team it can get complicated and tedious to organize OKRs, track the progress, and update them in a spreadsheet. This also leads to team members losing interest and disengaging with the whole process of goal setting.
Using OKR software ensures effective implementation because you can:
Use ready-made templates to easily create Objectives and Key Results
Link Initiatives to Key Results for better visibility about how deliverables are connected to the outcomes you want to achieve
Add custom measurement units to any Key Result to measure what matters to your business
The best part about using an OKR software program is that you can set, track, and update your OKRs in one click. The software instantly updates the status of your OKRs. And if your Team OKRs are linked to Company Objectives, it will update the progress of the company goals. In this way, it's easier to visualize how everyone's objectives and plans are working together toward achieving a shared goal.
💡 Thinking about using an OKR software program? Check our OKR Software Buying Guide for 2022
Stay on the Path to Success
The OKR approach is not only about creating Objectives and Key Results, it is also about engaging everyone in the goal-setting process. It must be considered as a method to build a culture of openness and transparency. In this way, it ensures that everyone is on track, prioritizing, and working toward achieving a shared vision.
A goal-setting mindset can put you on the path to success!
Are you ready to set, execute, track, and align your company and team goals?
If you are searching for more information about how to write OKRs, check out these insightful resources: