The Objectives and Key Results methodology's popularity has increased drastically over the years. Its ability to improve small & large companies alike has made it a desirable option from the smallest non-profit to the largest Fortune 500 corporations. However, it's a little tricky to get started with OKRs and finding good OKR templates is not always the simplest process. Hundreds of our clients at Weekdone have already asked us questions like:
So, what are OKRs?
Are OKR templates available?
Can you share some OKR templates?
So, we responded.
Introducing OKR Templates
In order to give our clients the best chance to succeed, we created the OKR templates and examples website. Basically, we combined Excel, Word, and software templates with over 100 OKR examples for different teams and departments. These examples will hopefully help with making your transition to OKRs as smooth as possible so you can focus on setting only the best OKRs from the get go.
With that, here are the different formats of OKR Templates (click to open):
OKR examples
Click any of the Objectives to copy it to your clipboard. Then, click and drag the Key Result progress bar to see their ranges.
For your convenience, here are the OKR examples you can choose from to get started:
Basically, we're giving you all the materials you need to get started with OKRs. We have also provided you with videos and an infographic explaining what OKRs are and how to get started so then, you can start implementing them yourself.
10 Tips and Tricks to Set and Manage OKRs with Weekdone
Using Weekdone to set and measure your OKRs is a step in the right direction for a more focused team and better tracked and managed goals. By now, you may have set some goals and are working on achieving progress on Key Results. You understand the basics, but what are the next steps and how can you get even more control and customization with your goal setting?
Weekdone offers plenty of features, statistics, graphs, and tools for setting Objectives and measuring Key Results. Here are 10 Tips and Tricks to get the most out of Weekdone and all of its OKR features:


1. The OKR examples page
People often ask us: can you give us examples of OKRs – Objectives and Key Results? How should I word our OKRs? How to write good OKRs? What should I put in my OKRs? To get your OKR writing juices going we did just that: created an OKR examples site listing hundreds of Objectives and Key Results for you.
This is a great tool for creating OKRs and to back check your own against previous examples. You can see how to choose Key Result values and types for each OKR, so it's easy to define them later in Weekdone. Click any of the Objectives to copy it to your clipboard. Click and drag the key result progress bar to see the ranges of the Key Results.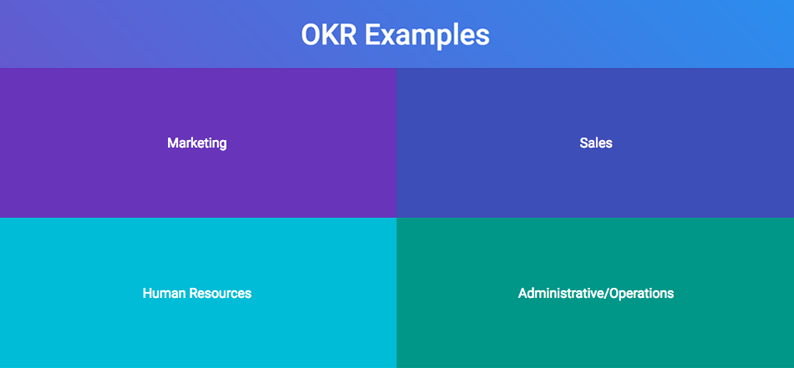 2. Get your OKRs reviewed
Weekdone offers free OKR consultation. If you are having trouble setting up your OKRs or if you just want to have a professional eye review them, you can have a consultation with one of our OKR experts. They have experience setting up and advising companies of all sizes and are excited to help you and your team set better goals and achieve them. This is especially great if you are new to OKR methodology. Contact us to set up an appointment.
3. The new weekly achievement indicator
Weekdone has a new and improved version of its automated smart OKR dashboards. The new visualizations and graphs show at a quick glance, where you are with your progress compared to expectations. The key to good OKRs is to always know how you, your team, and your company are doing. The new achievement indicator lets you manage your goals to make sure you stay on track and address problems before you fall too far behind. Read about our dashboards here!

4. Using comments

Key Result comments are great for not only providing feedback to team-mates, but also for providing updates on the progress of your own Objectives as well. We suggest every time you update the progress of a Key Result to leave a comment about what steps were taken in the process. This helps explain what is getting done to achieve said progress and keep your team updated.


5. Linking Weekly Plans to long term goals
See how your weekly Plans fit into your long term goals. You can link weekly Plans to your Objectives to create a list of tasks that have gone into accomplishing a given goal. This is a best practice we strongly suggest, it not only substantiates your progress on your Key Results, but also helps you stay organized and keep your team updated. To do this simply open the options bar of a weekly Plan and select 'link Objective'. From the pop- up menu select the Objective you would like to link to and click 'save.'


6. Objectives detail page view


Get a single-view graph or see what plans and comments you have attached to an objective with the details page view. To get to this open the OKR options drop down and click on the first icon. From this page you can view the information pertinent to a single objective. This view also lets you see all of the weekly tasks you have linked to an objective.


7. Assigning Key Results as lower level Objectives
There are a few different ways to input Objectives into Weekdone, you can individually write in objectives at each level and then link them, or you can assign Key Results as Objectives to lower levels from the company, department, or team views.
To do this enter in an Objective and its Key Results. Go to the drop-down options menu on the key results and select 'assign'. This will present you with a pop-up menu where you can select to who or what team you want to assign it to. Click save and the key result will appear as an objective for the individual or team.

Note: This will make the assigned key results unit of measurement a percentage since it will now be an objective at a lower level. You can still change the unit of measurement of an independent key result at any time from the Key Result options drop down by selecting 'Change weight/type/value'. This will pull up a pop-up menu where you can change the unit of measurement for an objective (ex: %, $, units sold, etc) , its weight, and starting and target values.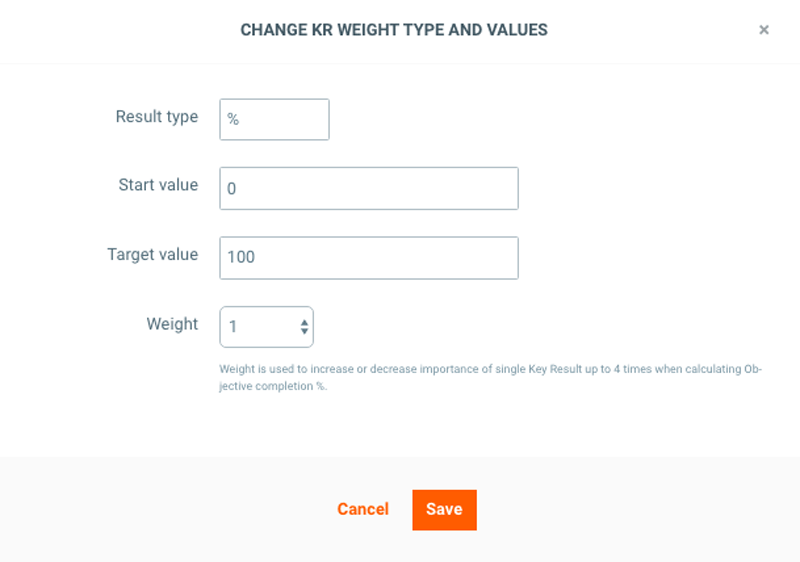 8. Hierarchy View
After you enter in your objectives it's important to see if you put everything in correctly and how your goals fit together. The OKR hierarchy view is perfect for that. This view lets you see all of your goals and how they connect in an easy to view format, so you can make sure your OKR flow is correct. To access this view click hierarchy in the top right of the OKR page.

From there you can view how your OKRs are connected together and who is responsible for what. You can also toggle through all options to get a specific view of one team or department individually.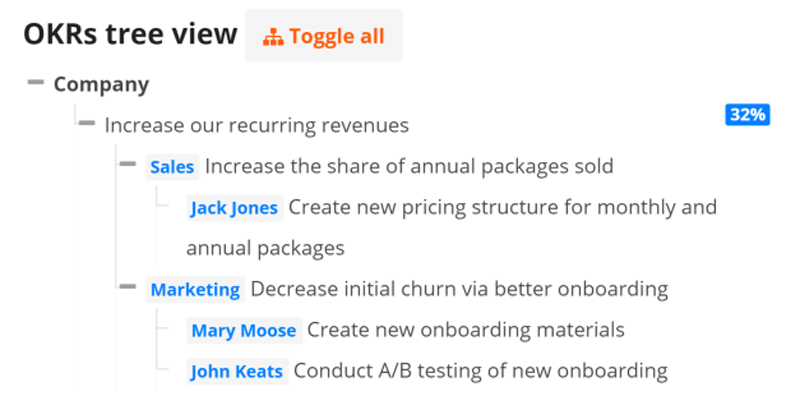 9. Moving OKRs from Quarter to Quarter
If you don't get an OKR to its desired completion in a quarter, or if you have a repeating OKR you don't have to worry about remaking and objective, but you can just simply copy an objective from one quarter to the next. You can do this from the OKR options and select 'Copy to QX 2017'.

If you want to move an OKR to a later or past quarter you can move them as well by selecting the 'Due QX' option. From there you will be able to select when an Objective is due and move it to any quarter you like. Note: unlike the copy and objective option, doing this moves it entirely out of the quarter into the new one.

These tips and tricks should allow you to easily and effectively set and manage your OKRs in Weekdone. If you need any information about OKRs or how to set them we have plenty of helpful materials to get you on the right track. You can also read about what common questions and answers most managers have about OKR methodology. If you have any questions that weren't answered you can always email or setup a call or demo with our customer success team.