Objectives and Key Results (OKRs) continue to gain popularity - because it has proven to be a successful method to approach evolving strategies. Using OKR templates helps to identify focus areas and drives measurable improvements - making it a preferred option for goal-setting, from high-growth startups to the largest Fortune 500 corporations.
However, getting started and finding an OKR template that best serves the framework and business needs can be challenging. So let's take a look at the basics, benefits, and best templates for each step of the process.
Want more than templates?
The OKR Basics
OKRs are a quarterly goal-setting framework for companies to drive growth, innovation, and improvement. It focuses on the most important areas that need improvement and help you deliver valuable outcomes and optimal business results.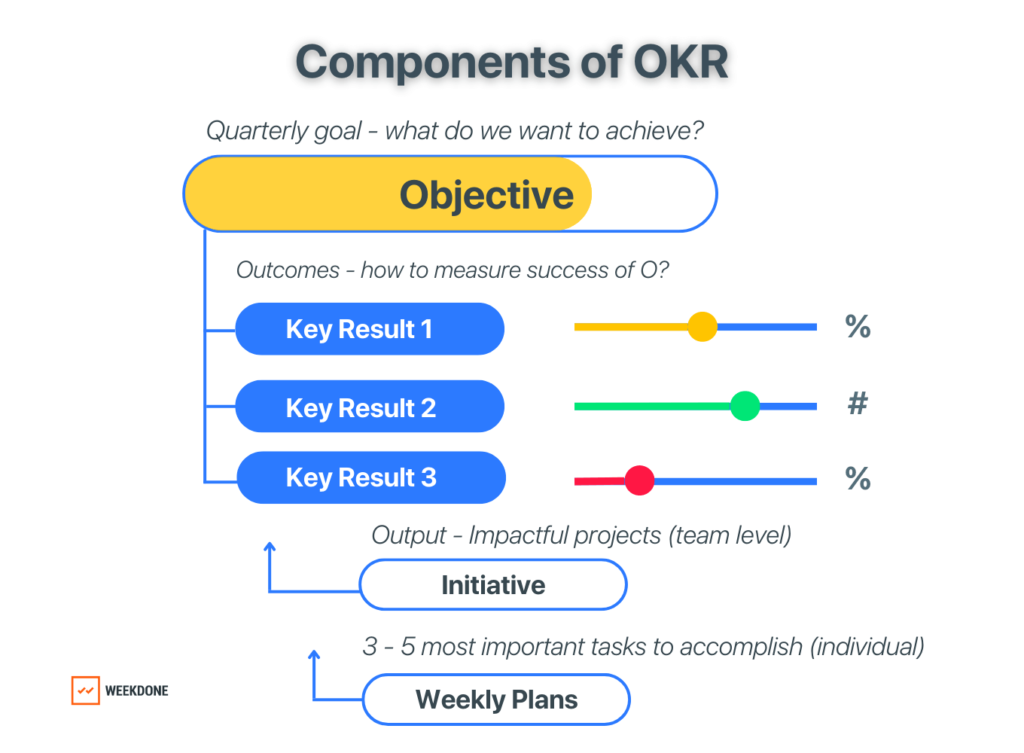 The two essential elements of OKRs includes:
The Objective - is a qualitative, inspirational goal that defines what you want to improve.
Key Results - are quantitative business outcomes that specify if you have progressed toward the Objective.
The other key components of the OKR framework include Initiatives and Weekly Check-ins - which cover how to drive OKRs and track their progress:
Initiatives - This includes all the projects and plans that will help you achieve your Team Objectives
Weekly Check-ins - On a team level, these OKR focused meetings helps drive your OKRs forward by focusing your attention on what you need to do during the week
Benefits of Using OKR Templates
OKRs focus on effective teamwork, alignment, and accountability which is achieved through focusing the entire team to work smarter. Some benefits you can expect when using the right OKR goal setting template include:
1. Set ambitious and measurable goals
Having a limited number of OKRs allows teams to focus on what matters. When considering how many OKRs to set - It's recommended to have 1 to 3 Objectives for each team, and not more than 3 to 5 Key Results for every Objective.
Team members should think about how they would measure the results that they plan to deliver during the quarter, and how the metrics will depict their success.
It's also recommended to set high effort and high-risk stretch goals. Set intentionally above normal expectations, stretch goals encourage growth and innovation. These goals are typically not tied to compensation and allow teams to experiment and address challenges.
2. Increase productivity through focus on goals
Having a limited number of OKRs not only helps to set specific goals but also maintains focus on outcomes rather than outputs. The biggest challenge most companies face is that instead of defining Key Results as measurable outcomes they set a list of action-based outputs.
Output is an action that is taken toward achieving a goal. Outputs in the OKR framework are called Initiatives. Outcomes are the measurable results that you wish to accomplish once you have delivered your output. Outcomes do not focus on what needs to be done, they focus on how real, valuable business results can be delivered.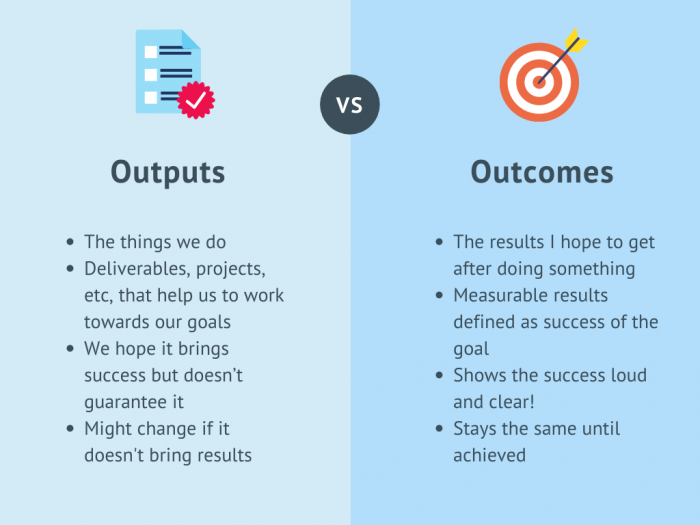 3. Make goals agile
With an evolving business environment, traditional long-term strategic planning is getting outdated. Agility in the approach to strategy is a key factor for companies to adjust and adapt to change.
Strategic objectives are usually set annually while tactical OKRs are typically set for a quarter. With a shorter goal-setting cycle, agile OKRs allow teams to analyze the results and adjust strategic goals with agility. Regular and shorter review cycles reduce the time for planning and provide clarity to team members about what needs to improve without delay.
4. Align and connect teams to company goals
To align a team successfully it is important to have a clear structure when brainstorming, planning and drafting quarterly Objectives and Team OKRs.
Worksheets and templates can help you visualize how the company and team goals will match and impact one another. Using OKR software brings all the pre-work together in various views - for example. the Tree view in Weekdone shows alignment from top to bottom and bottom up.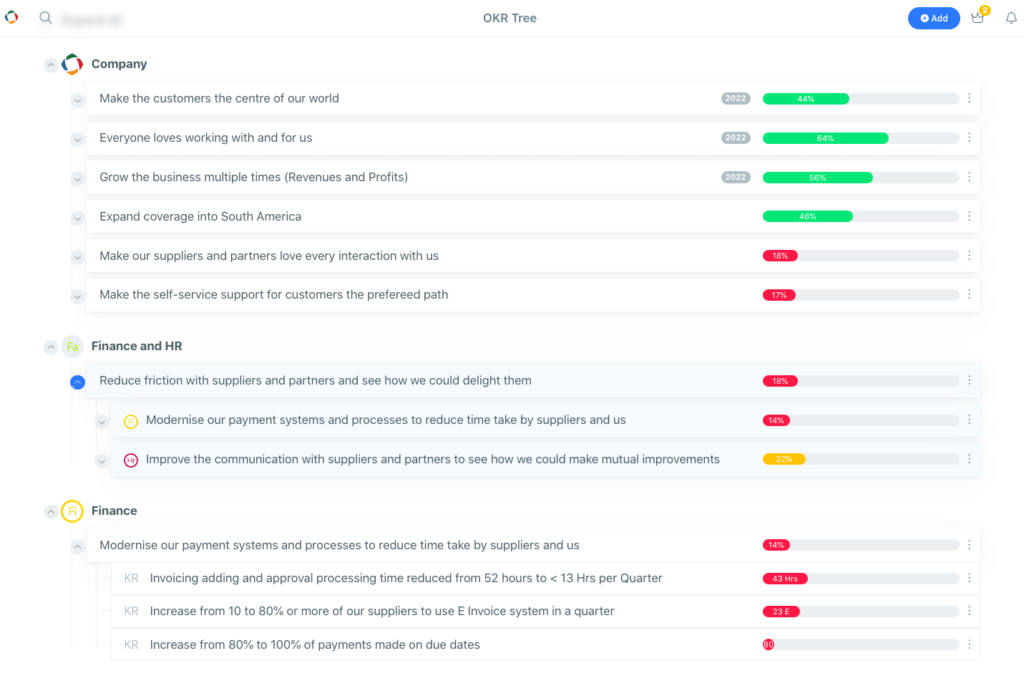 5. Achieve accountability and progress
OKRs are set by the whole team - together, not by team managers alone. Everyone must have result-based accountability for their team and the goals they plan to achieve.
The OKR framework serves as a good method to motivate teams and drive them to accomplish their objectives. In Weekly OKR check-ins, OKR software (or the templates provided) is one of the best ways to get the team to reflect on the progress of Team OKRs and set new priorities for the upcoming week.
Team members can track the Progress made by looking at the accomplished Plans, Progress, and Problems. The PPP status reporting framework transforms the approach toward achieving Objectives and Key Results into a weekly exercise.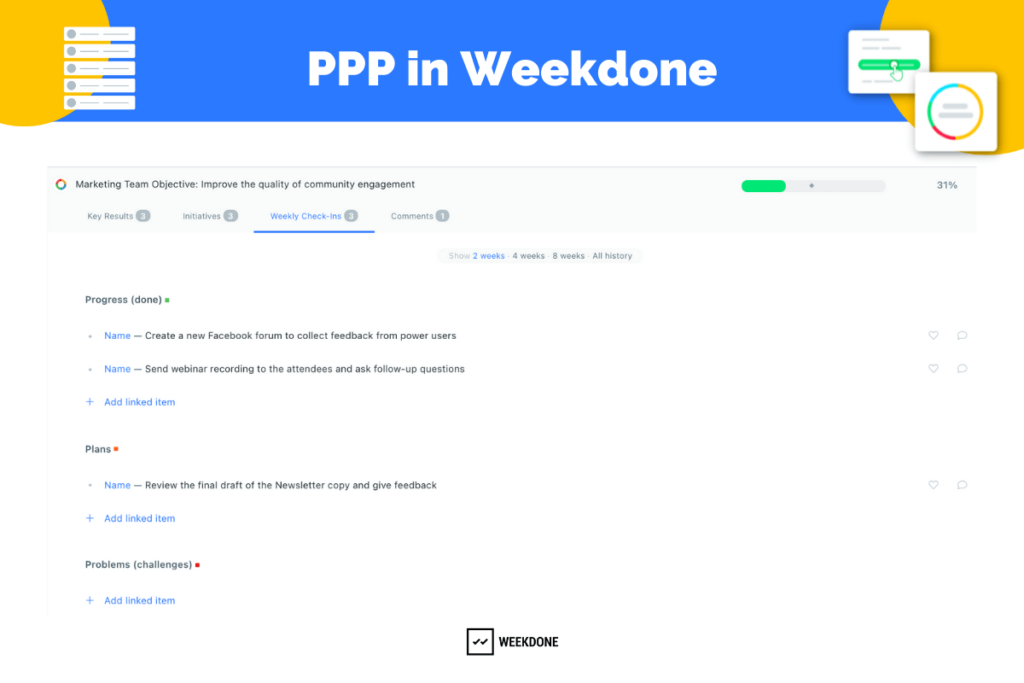 5 Free OKR Templates to Download Today
To give you the best chance to succeed, we have created OKR templates in different formats. Take your pick - from Excel, Google Sheets, Word, PDF, PowerPoint, to Google Slides - click to open and download any of the OKR goal setting templates:
Step 1. Drafting and Planning OKR Templates
Step 2. Reporting and Tracking OKR Templates
Step 3. Company and Team OKR Retrospective Template
---
Which is Better for Setting OKRs - Spreadsheet or Software?
Companies typically use two ways to set goals:
Google Sheets – ideal for small teams with a few team members, less than 10 users.
OKR software – ideal for companies with multiple teams with 10+ members
80% of companies switch to automated goal-setting tools after a challenging experience using spreadsheets.
👉 If you're considering whether to use templates or invest in an OKR software program, read more to see the difference.
10 Hacks to Master OKRs [Infographic]
The best way forward is to use OKR planning and drafting templates along with OKR software to align, set and measure OKRs. This will ensure that the OKR process is more efficient, consistent, and engaging for your teams.
How can you combine the power of both? Let's find out:
Follow OKR levels and alignment
In OKR reporting templates, you'll focus on Company and Team level OKRs. To go any further into Departments and cross-functional teams, you may want to move to OKR software to help assure proper alignment. See the image from Weekdone here.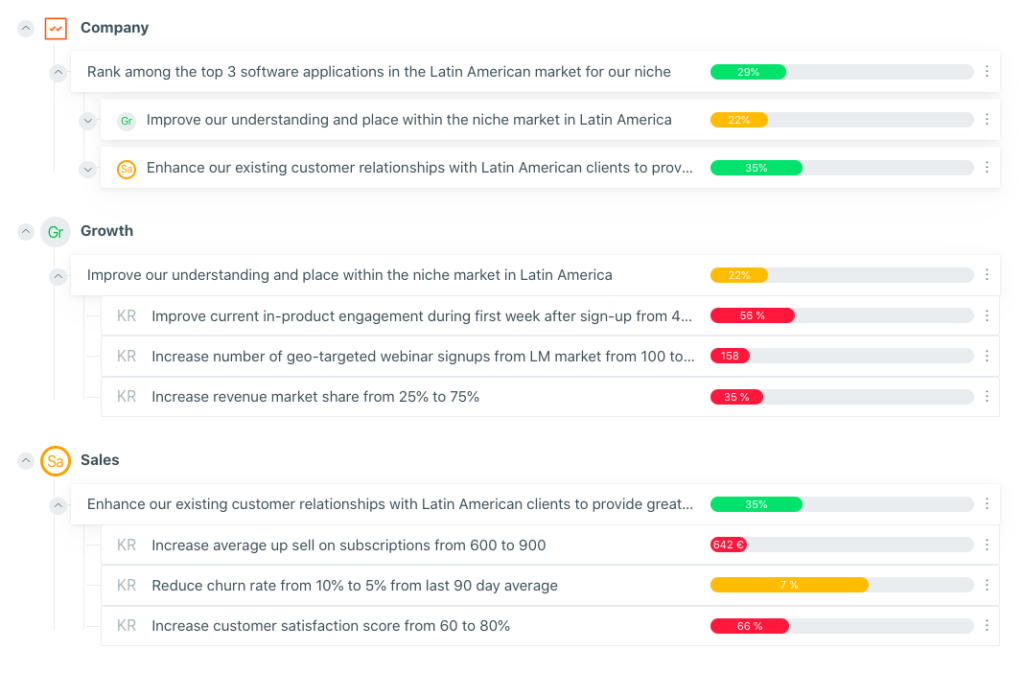 Writing objectives requires intellectual effort. You need to analyze different aspects of the company and prioritize most impactful improvement areas. OKR planning and drafting templates can work alongside your software. Writing good OKRs before inputting them into your tracking and reporting system.
If you follow the alignment best practices - various level OKRs should contribute to the Company Objective and drive it forward.
👉 Keep in mind that OKRs deliver highest impact when they are implemented quarterly.
Set Company Objectives and Team OKRs
The first step in the OKR process is to determine the overarching quarterly objective(s) for the company. The most important part of a leader's role is to identify improvement areas and focus everyone's attention on aspects that need to change.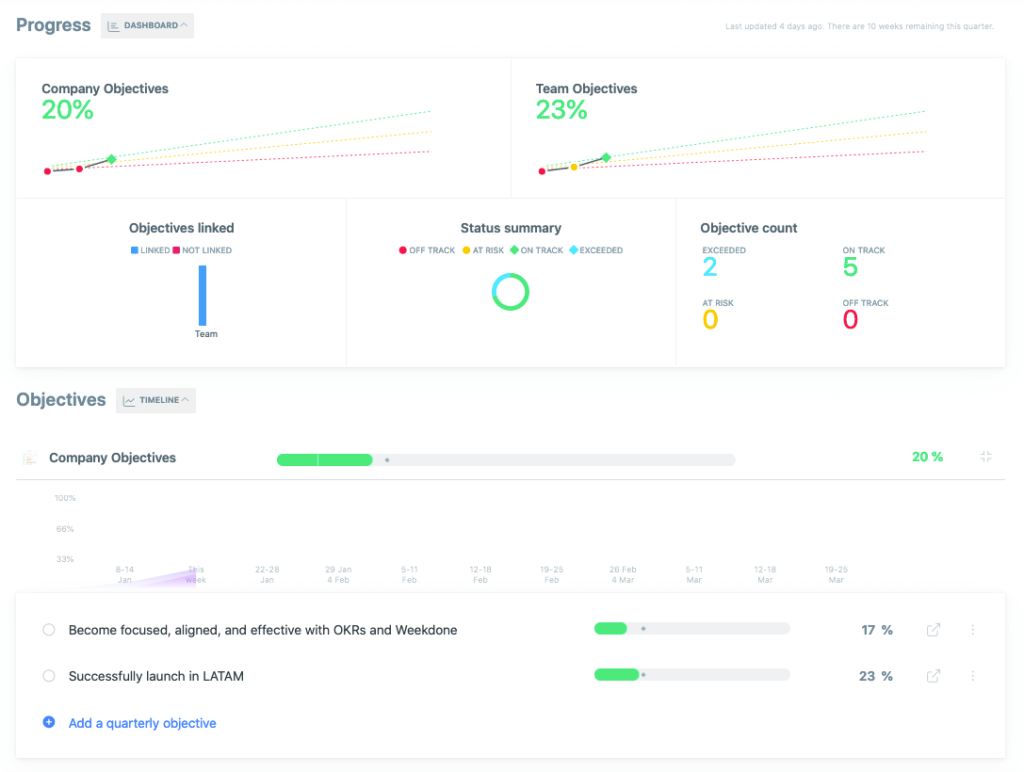 Ideally, you must set not more than three quarterly Objectives for the company. When the overall company goal is clear, teams can develop their function-specific OKRs that would contribute to achieving the overarching goal.
Create Initiatives to drive Key Results
Key Results determine those Initiatives the team is going to prioritize and those that need to be addressed later or deleted.
Initiatives are the key activities your team needs to do to drive the progress of OKRs. Initiatives when achieved do not change the progress of an Objective, only advancing Key Results impact change. Completing an Initiative is not the end goal, considering whether it delivered desired results is what will impact the progress.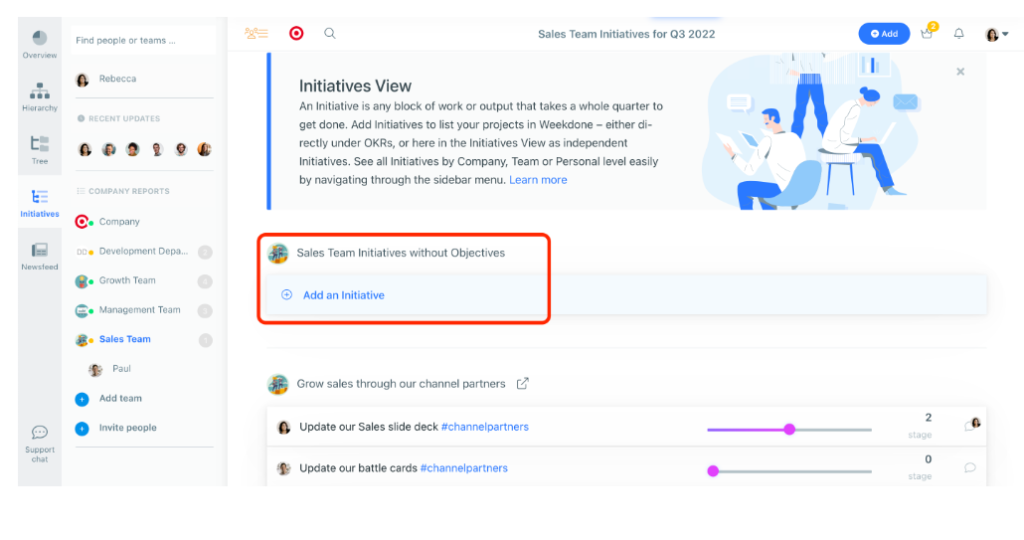 Set Weekly Check-ins
After setting Initiatives, teams need to start planning their week to work towards achieving the team OKRs. Weekly Check-ins provide a granular view of the activities planned toward achieving goals.
👉 To inculcate a goal-setting mindset, team members must discuss their OKRs weekly, learn about their progress, and decide on the next steps that are required.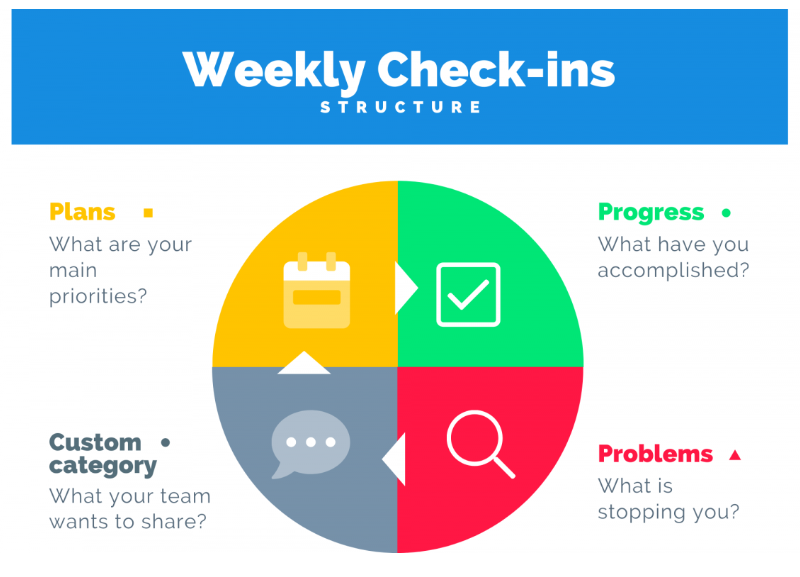 Link Weekly Plans to Team Objectives
Linking Weekly Plans to your Objectives helps identify those activities that are performed to accomplish a specific goal. This establishes how your Key Results are progressing and how you can stay organized and keep your team updated.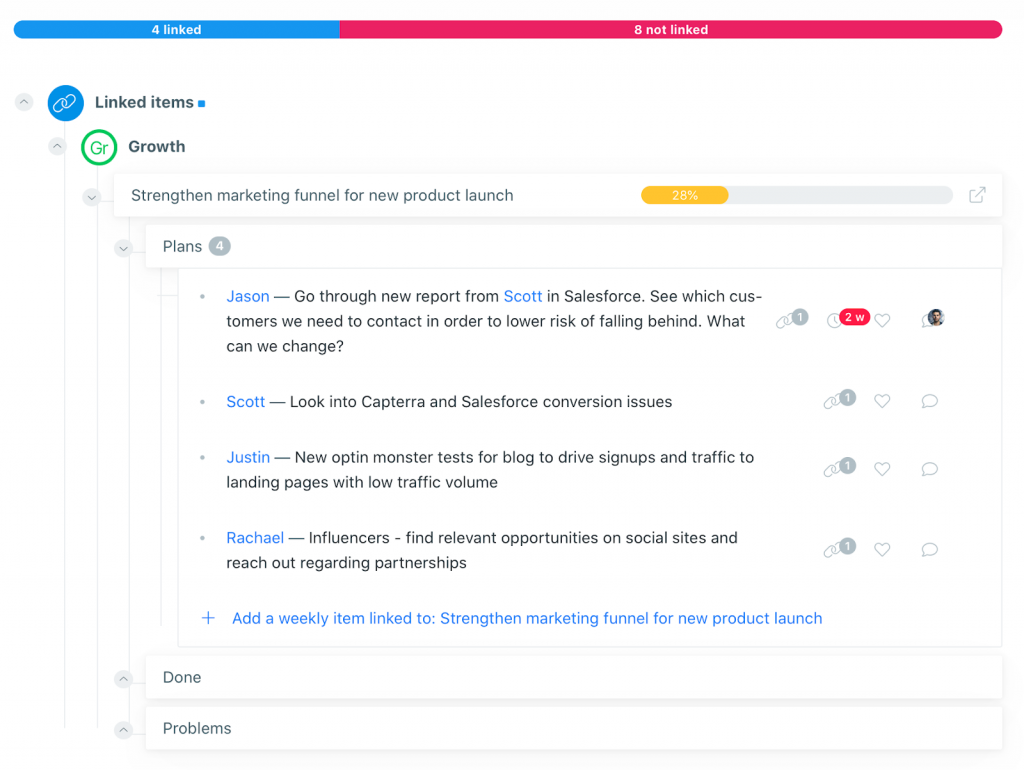 Track and auto-update KPI Dashboards
While KPIs differ from OKRs - many users confuse them and use KPIs instead of Key Results for Objectives. To distinguish KPIs from OKRs you can use a KPI dashboard to set company or team metrics.
Similar to OKRs, KPI expectations are calculated based on specific weeks in a quarter. Based on that, you can track the progress of KPIs and find out if they are off track (red), on track (green), at-risk (yellow), or have exceeded (blue).

To automatically update the values of your KPIs, Key Results, and Initiatives, you can import the numeric values directly to Weekdone via Google Sheets. This ensures the progress is always up-to-date and helps you save time on updating data manually.
Get a big picture view instantly with Company and Team Overview Dashboards
The key to implementing OKRs successfully is to know how your company and teams are performing. Automated OKR dashboards instantly give an overview of the progress of the company and teams and how they compare to the expectations. Company and Team Overview Dashboards let you manage goals to make sure you stay on track and address problems before they become issues.
Regularly Update Key Results by Adding Comments
Adding comments to Objectives, Key Results, Initiatives, and Weekly Plans is a good way to provide an update about their progress.
Adding comments to Objectives can explain why it is created, the problem it is trying to solve, and why it is important.
Comments in Key Results provide the context and give details about the progress. Leaving a comment every time a Key Result is updated is considered a good practice. This helps analyze the progress at the end of the quarter and identify areas that worked and those that can improve.
Comments can also be added for team members across the company, providing a platform to provide feedback, ask questions, recognize achievements, and share support.
Get a Hierarchy View to See How OKRs are Connected
After completing the setup of OKRs, it would be good to see how they are aligned with relevant Company Objectives. The OKR Hierarchy View gives a preview of how all OKRs are connected and the contribution of every team toward the overarching company objectives.
10. Conduct a Retrospective to Review Team and Company OKRs
At the end of a quarter, a complete review is necessary to know if the objectives and key results are performing and if there is anything that needs to be done differently. Retrospective meetings are important because they give insights to write better goals for the next quarter.
Ideally, a company-wide review should start with teams reviewing and analyzing their OKRs and initiatives completed. From the review meeting, teams must create a detailed report about the lessons learned and ideas for the future.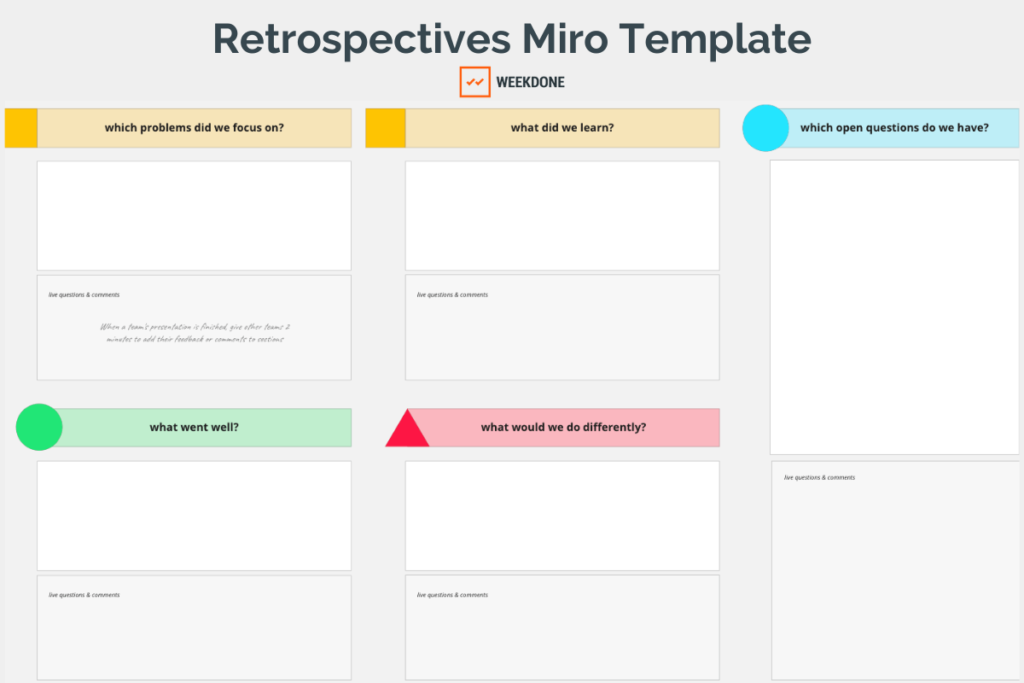 5 Steps to Getting Started with OKR Software
If you want to move forward from spreadsheet-based OKR templates to using a dedicated OKR software like Weekdone, here's how you can get started:
1. Add your quarterly Company Objective to Weekdone Quarterly Objectives.
Invite team members to create and add their Team OKRs, and make them visible to everyone.
Get inspired by OKR examples
A good starting point for teams to add OKRs in Weekdone is using the OKR examples feature. These examples provide an easy way to create meaningful OKRs.
In Weekdone, we have OKR examples ready to browse and input directly to your teams with 1 click.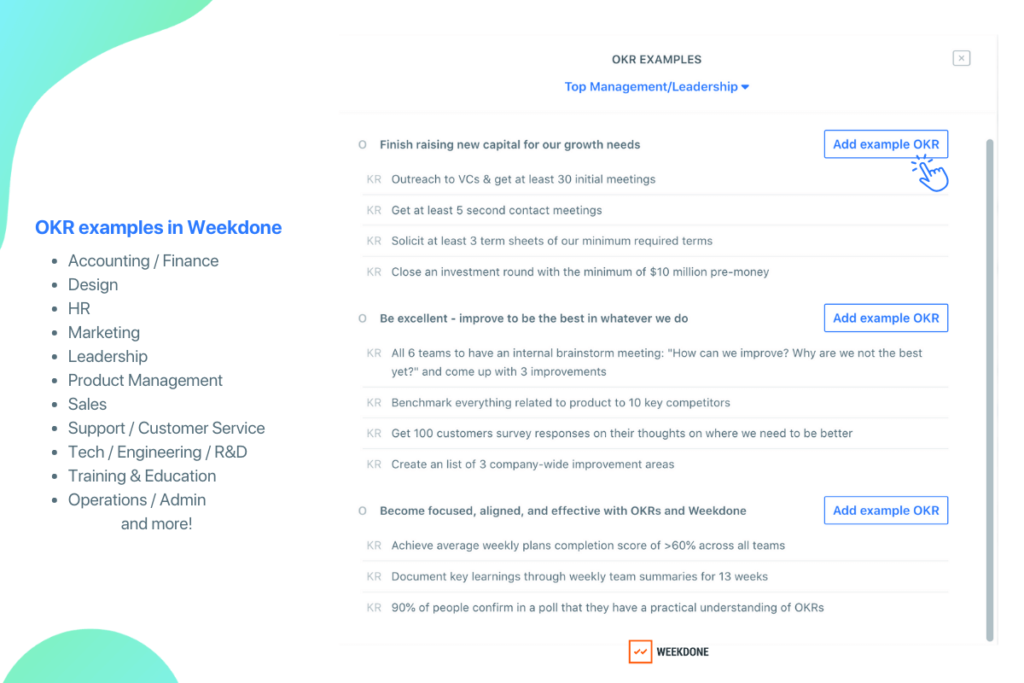 Not ready for software? You can review our job specific examples here: OKR examples to add to your tracking and reporting template.
Create Initiatives and add them to the Team's OKRs, or create standalone Initiatives to see them in a single initiatives view.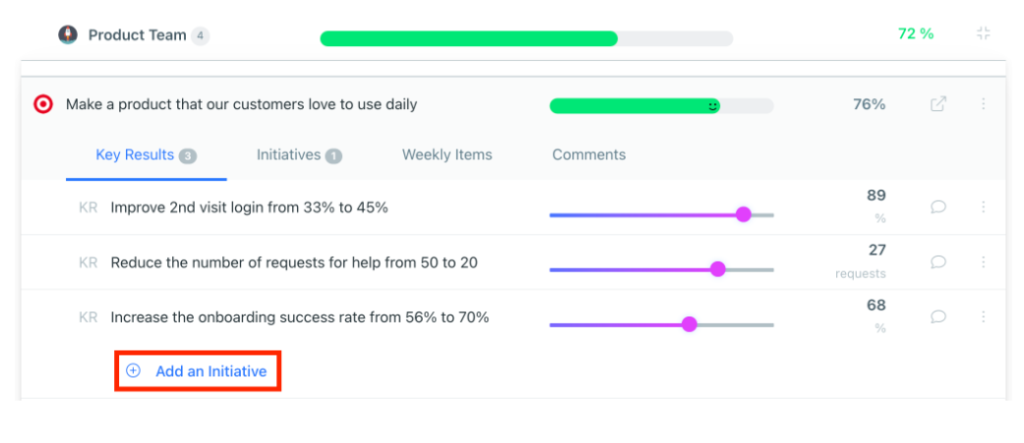 Use Weekly Check-ins to make progress toward OKRs.
Try OKR Software
Weekdone helps company's align, track, and communicate progress on OKR goals during a quarter and beyond. Start your full-featured trial for 14-days (no credit card required). Invite your teams today!
---
👉 If you need guidance on setting OKRs or if you want to have an expert review them, you can consult with one of our OKR experts. We work with companies and teams of all sizes and can help you and your team set better goals and achieve them.
Advance your goal-setting process with our OKR templates, examples, and guidance.