At Weekdone, we believe in the power of planning, and the popular goal-setting methodology: OKRs (Objectives and Key Results). A crucial element that plays a role in the success of the framework is planning your OKRs on both company and team levels.
In order for OKR planning to be effective and see any positive changes, your company vision and team's efforts should be aligned and focused on what matters the most, regardless of whether you are a sales team, a marketing team or a leadership team.
According to McKinsey's research, 70 percent of US-based employees said their sense of purpose is defined by their work.
How can employees deliver results without a firm grasp on how their daily efforts will affect business goals and the company vision?
In this article, we'll provide you with the basics and principles of OKRs, steps for proper planning, and the software platforms you can consider when implementing OKRs within your company and teams.
What is OKR Planning? Your 8 Step Guide to Planning OKRs
First things first, let's uncover how to start an OKR plan. Later in the article, you'll learn the benefits of a clear plan for setting Objectives and high quality Key Results, and 5 OKR planning tools to help execute your plan throughout a quarter.
But – first, we'll answer the question "how do I start an OKR plan?"
Step 1: Agree on the Company Objectives (Leaders)
First and foremost, don't look at Company Objectives as KPIs – Key Performance Indicators.
Because as we now know, Objectives are qualitative areas for improvement. These high-level objectives should take into account that various teams will be contributing to them simultaneously. They should be thought-provoking for everyone in the company as they work to choose their own, most impactful Team Objectives linked to the overarching objective.
It should be easy to remember and aspirational. Here are 2 good Objective's:
Review, research, and understand the value of competitors – agree on our main differentiating factors
Improve customer retention rates as a means to increase revenue
Step 2: Develop and Set OKRs (Teams)
Once leaders have decided the Company Objectives and written them somewhere for everyone to see and provide feedback if necessary, it's time for Teams to develop and set their OKRs.
When planning your Team OKRs, you should again think of aspirational, quantitative goals that link to the greater company objective. By confirming that your OKRs follow this principle, it gives teams a sense of urgency, focus, and motivation for the quarter.
Some questions to ask yourself when developing and setting Team Objectives:
What is our role in moving this specific Company Objective forward?
What can we create (in 3 months) to be successful in our efforts?
What can we fix (in 3 months) in order to be successful in our efforts?
Is there something to improve/change (in 3 months) in order to be successful in our efforts?
What challenges are stopping us?
Step 3: Develop Execution Plan of Team OKRs
The OKR process must include ways to help you reach what you've set out to achieve. Your execution plan should have: Initiatives and Weekly Check-Ins. Without these, the OKRs you've set may seem unattainable, or leave employees feeling stagnant against a goal too large to achieve.
Initiatives – Sometimes referred to as: projects, activities, or the ideas planned by a team in order to move the needle forward on quarterly OKRs.
Weekly Check-Ins – Typically a 15-20 minute weekly team review designated for a discussion on your OKR progress, or even OKR strategic planning.
👉 Check out our awesome OKR planning template that breaks down how to draft your OKRs while planning. In the template you'll have an outline for:
1. Drafting your OKR and your expectations for the quarter
2. Prioritization of individuals' tasks using the RAG rating system
3. Initiatives, projects, and initial ideas and timeline for which you want to execute this OKR.
Step 4: Set Up a System to Track OKRs
Of course, implementing company-wide OKRs is one thing, but tracking them over time is another. We recommend using an OKR software with intuitive features that will provide you all the benefits mentioned above, and more. Tracking progress toward goals shouldn't be another managerial task to add to your workload.
👉 Make sure the OKR system you put into place helps you simplify the reporting process. Take a look at our buying guide to help you find the best OKR software for your business.
Step 5: Share Plans and Update Progress
After implementing your OKR tracking system you should share your Weekly Plans and quarterly Initiatives with your team, and company – after all, a good OKR system promotes transparency. In Weekdone, you can link weekly plans directly to your OKRs so others can see how you're directly impacting the progress of team goals.
Step 6: Give Feedback
During your weekly OKR check-in is a great time to facilitate feedback on what's happened during the week and how you're progressing on OKRs.
In Weekdone, our progress reports are compiled at the end of the reporting period (one week). These automated reports help to facilitate your OKR check-ins and discuss how everyone's week went, and where they ran into any problems.
Team members should share their feedback openly with one another, anything from difficulties faced or even how they're feeling about the current OKR plan. Team leaders should also remember to schedule 1:1s for feedback on a more personal level.
Step 7: Organize Monthly OKR Reviews
As a part of your OKR planning, schedule a fixed time that you and your team hold monthly OKR reviews.
You guessed it, you should have 3 OKR reviews per quarter – preferably near the end of the month so you can look retrospectively together as well as discuss upcoming Initiatives, ideas for improvement on OKRs, and how on track or at risk you are in completing your OKRs.
These reviews are crucial in order to keep everyone on the same page, and confirm that plans are moving in the right direction.
Step 8: Conduct a Quarterly Company-Wide Review
As the final step in the OKR planning process, we bring it back to the company level. This review should be held after all teams have completed their 3rd monthly review for the quarter – meaning they've prepared for the meeting and have something to report about their progress.
This company wide review should have a clear agenda so it doesn't turn into a free-for-all tangent for everyone to share their grand ideas. Team leaders should be prepared to:
Back up their reasons for choosing each of their Objectives and Key Results
Explain the connection to the Company level Objective and their Key Results
Reflect on any Initiatives or Projects that were planned, completed, or fell short
Present the progress made on their OKRs at the end of the quarter
These talking points leave room for management to provide feedback, offer support, or where more resources are needed going into the new quarter.
The Benefits of Planning OKRs
There is nothing like a good old fashioned case study to prove why companies love OKRs and use them year after year.
However, if you're just looking for a short list to get your feet wet – here are 5 key benefits of OKRs that we hear regularly from customers and see for ourselves.
1. Aligns and connects employees with business goals
By setting OKRs together as a team, with reference to Company Objectives, employees will gain a deeper understanding of how their day to day activities help drive the business goals forward. Especially when they are included in the OKR planning process from the beginning.
Using an OKR tool like Weekdone provides the entire company and individual teams with various dashboard views to see the different levels of OKRs and how they are connected. Check out the "hierarchy view" under "Quarterly Objectives" in Weekdone: here anyone can see how each Team Objective funnels down from the Company Objective.
2. Creates company wide accountability and transparency
Working with OKRs encourages collaboration from the very beginning. Whether you're planning OKRs for the quarter, or creating a weekly plan based on the set OKRs – the conversation between co-workers must center around these Objectives.
The OKR framework is more than a goal-setting technique – it's a way of running internal processes as a company by setting direction with an Objective, and steering the ship towards the right direction with effective Key Results. When companies choose to implement OKRs, they must record everything transparently in order to gain optimal results and track progress over time. We learned that one of the principles of OKRs is that they are actionable; and without accountability and transparency those actions cannot be tracked properly. 
3. Increases productivity with a clear focus on goals
You can thank the time-bound nature of OKRs for this benefit. The OKR process moves fairly quickly since you're focused on one 3-month period at a time.
This means individuals set their plans on a weekly basis, adding 3 to 5 important tasks to get done over the course of a week. Because tasks are formulated with regard to OKRs, you'll see the value of each task increase over time, becoming more clear of their value added to the business.
4. Provides teams with structure
Creating a designated goal-setting framework at the company level holds a certain expectation for teams – not only what they expect from the company, but for themselves. 
They hold themselves at a higher level of capability due to the fact that they have something to compare their previous efforts to. This creates structure in the work environment and removes the feeling that everyone is working in a silo.
5. Set ambitious and measurable goals
Because of the notion that improvements, weekly analysis and adjustments are welcome – employees are encouraged to be ambitious with their goals and think outside the box.
When you fall short from your targeted Key Result, it doesn't automatically associate with failure, rather an opportunity to re-evaluate your targets for the next quarter. Shoot for the moon and land among the stars – read our post about business terms and learn how to get your business to the moon! 
Top 5 OKR Planning Tools in 2024
The planning process for OKRs (Objectives and Key Results) plays an important role in the success of implementing OKRs. If done right from the very beginning and with the right software that fits your requirements, the OKR framework can deliver optimal results to improve your business.
There are many OKR planning software platforms available in the market, to make it easier here're the top 5 for you to consider:
1. Weekdone – Best for Agile Teams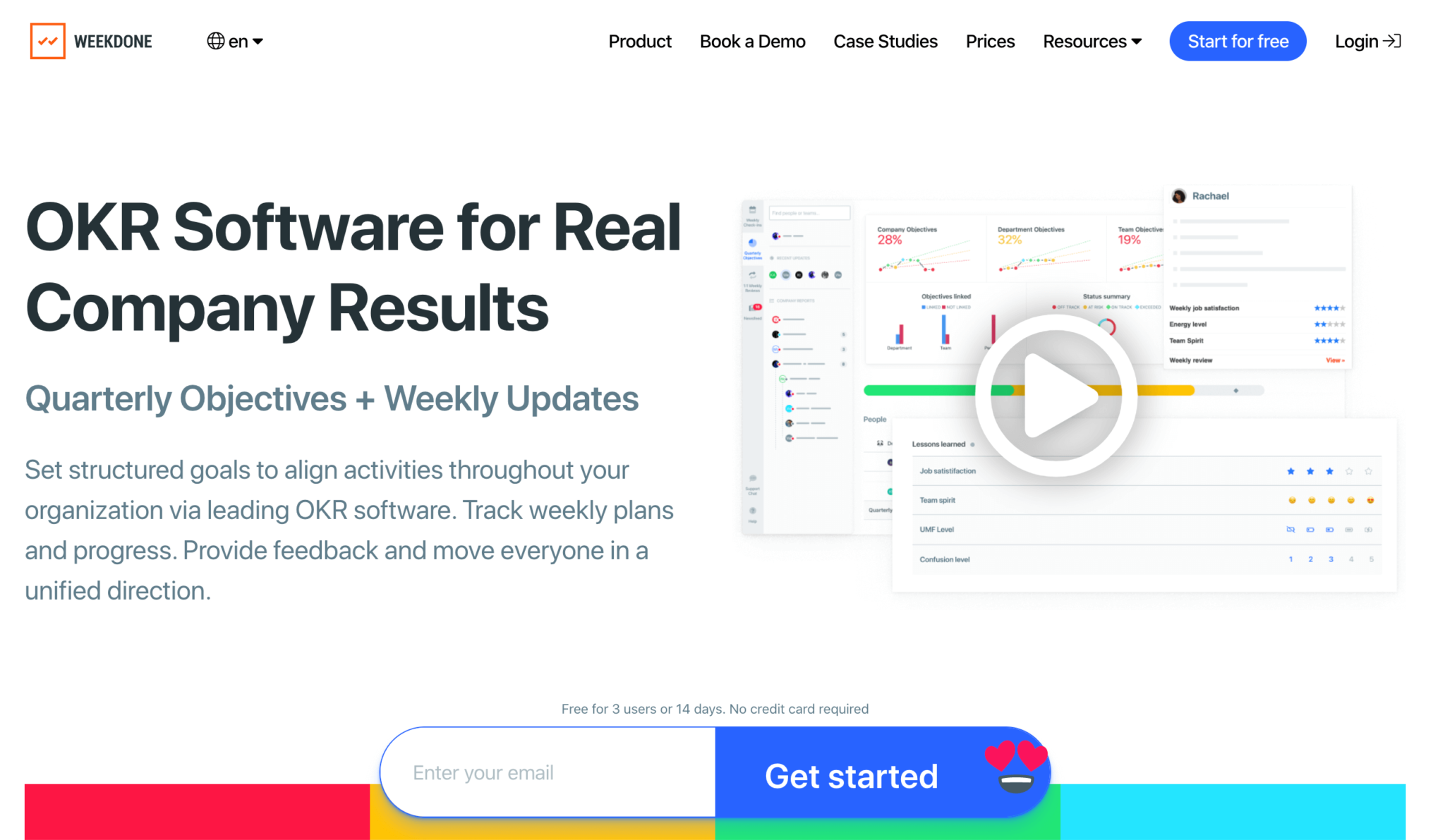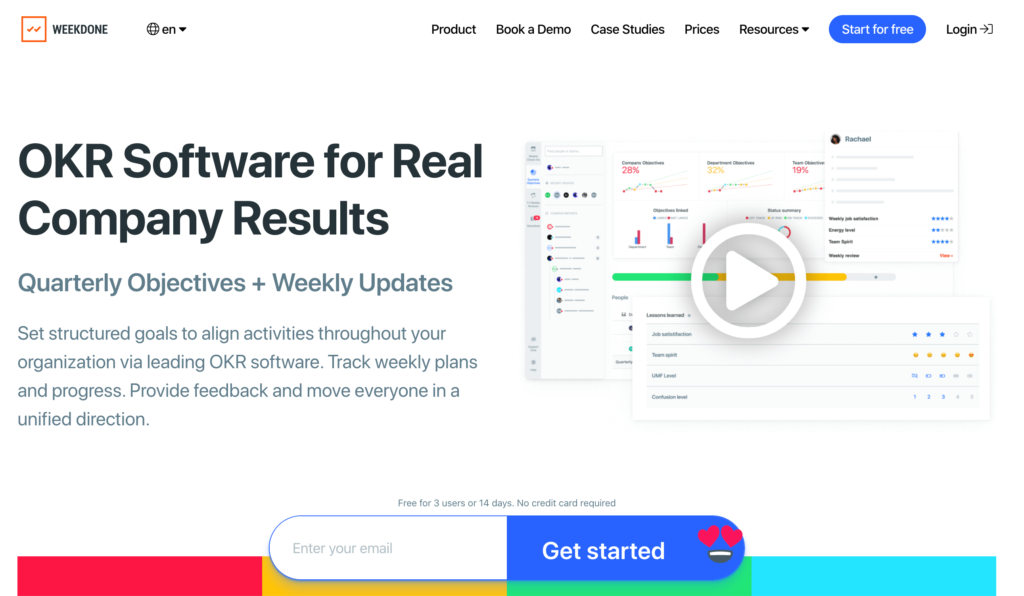 Weekdone Overview
Built on the OKR framework's best practices, Weekdone supports the OKR implementation at every step of the process – from planning, setting, and tracking high-level company and team objectives.
Using different platform features and reporting dashboards, leaders can get short-term progress updates (weekly and quarterly) and a clear overview to make informed decisions in the long-term.
Weekdone is ideal for result-driven startups and small and medium sized businesses (SMBs) that want to implement the OKR framework to drive optimal growth.
Pros 🟢
An easy-to-use platform for planning and tracking weekly objectives. With weekly Check-ins and the status reporting methodology of Plans, Progress, Problems (PPP) it is easier plan, set, track, and improve OKRs to achieve quarterly goals
Weekly reports generated automatically help analyze progress of the team's tasks and overall performance
Provides extensive coaching and training to help users understand the OKR framework and derive the most value from the product
Paid plans include personalized OKR coaching by experts
Progress tracking and OKR status reports are visually appealing
Visualizing objectives set at different levels is easy with the Hierarchy View, allowing everyone to view the connection between company and team objectives
Cons 🔴
Has specialized features ideal for smaller teams and projects, but may not be suited for complicated workflows and projects
In larger teams, where one team member may work on different projects in multiple teams, it can be difficult to assign one specific set of OKRs
Requires guidance to setup and implement across bigger teams
👇Find out how Weekdone can improve weekly planning and elevate your goal-setting process using the OKR framework.
Weekdone Reviews and Feature Ratings (Capterra)
Weekdone User Ratings (G2)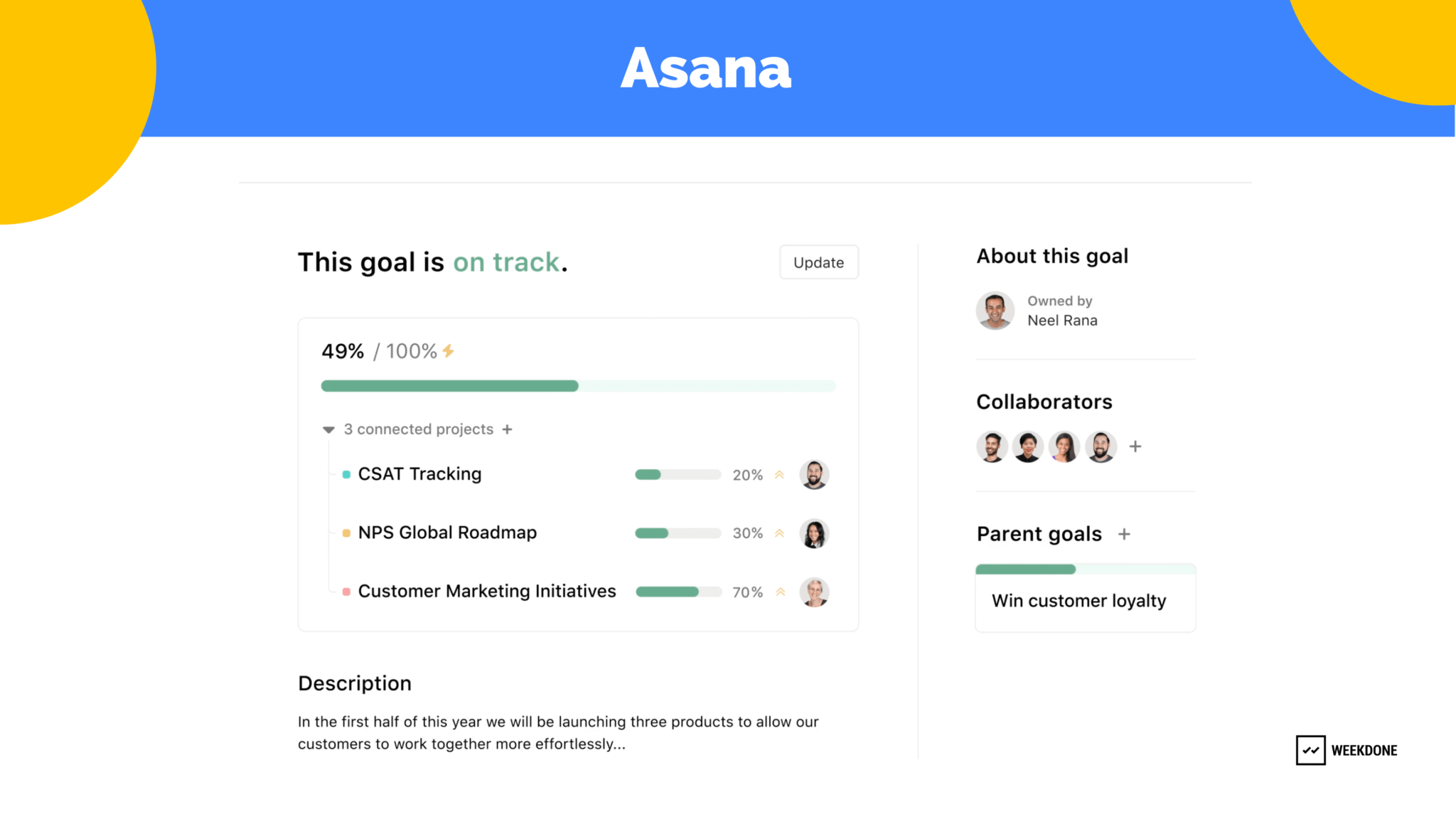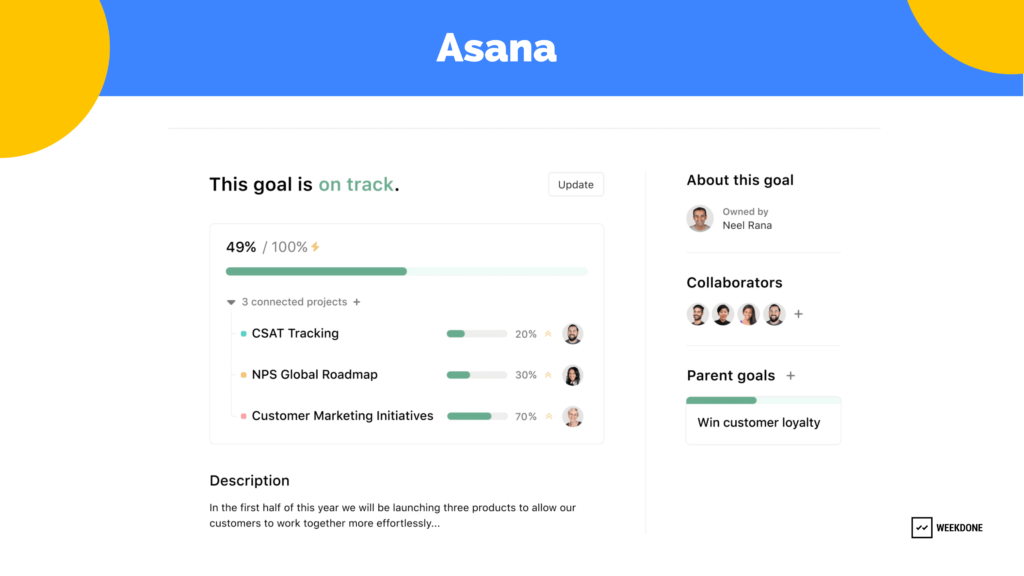 Asana Overview
As a work management platform, Asana helps orchestrate and connect milestones and projects. With a Kanban-style user interface and by adding goals to project management, the platform makes it easier to plan and execute OKRs. By connecting various projects and teams and through consolidated reporting, it helps improve team productivity and performance.
Best suited for small businesses and startups with smaller projects that do not require graphical representation.
Pros 🟢
It has the best task management features, allowing for easy collaboration between teams and task assignment
User-interface and planning features are simple to use
The Basic pricing plan is competitive, allowing up to 15 users, which more than what other platforms offer
Cons 🔴
Certain functions are available only in the Enterprise plan, making it expensive for small businesses
Limited filters in the timeline view make it difficult to use to manage bigger projects
Not ideal for projects that require graphical representation of progress
Asana Reviews and Feature Ratings (Capterra)
Asana User Ratings (G2)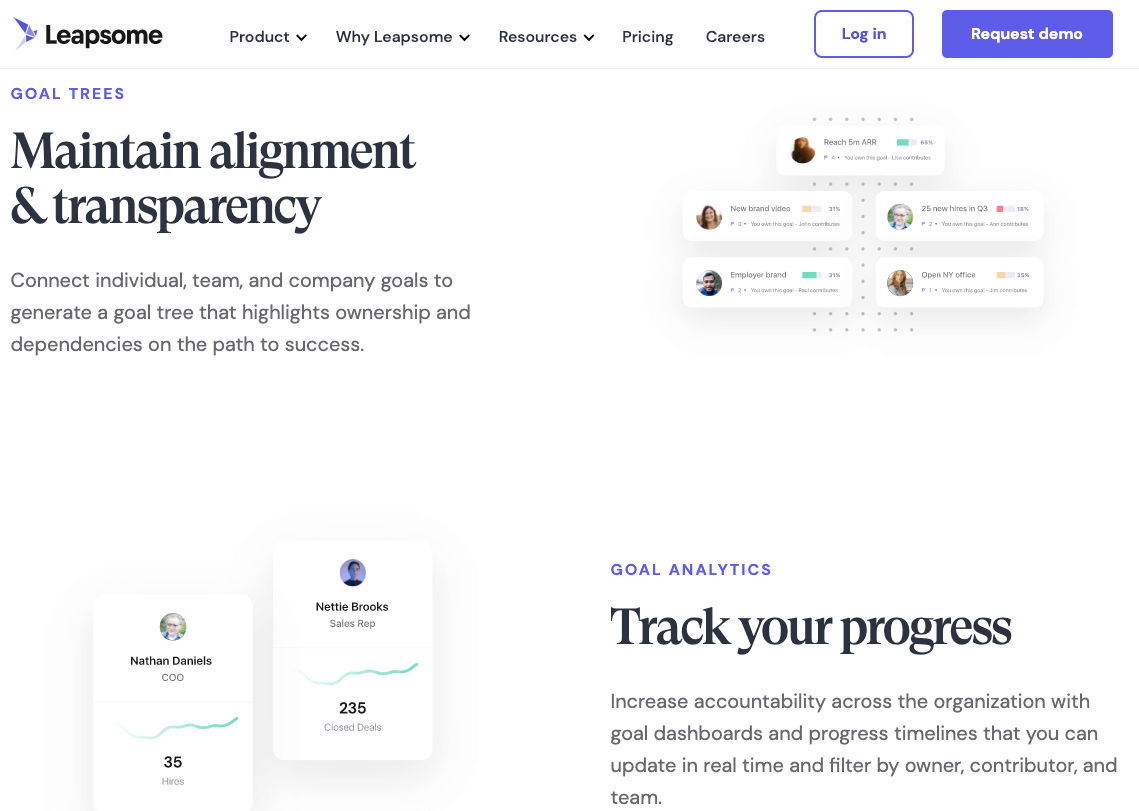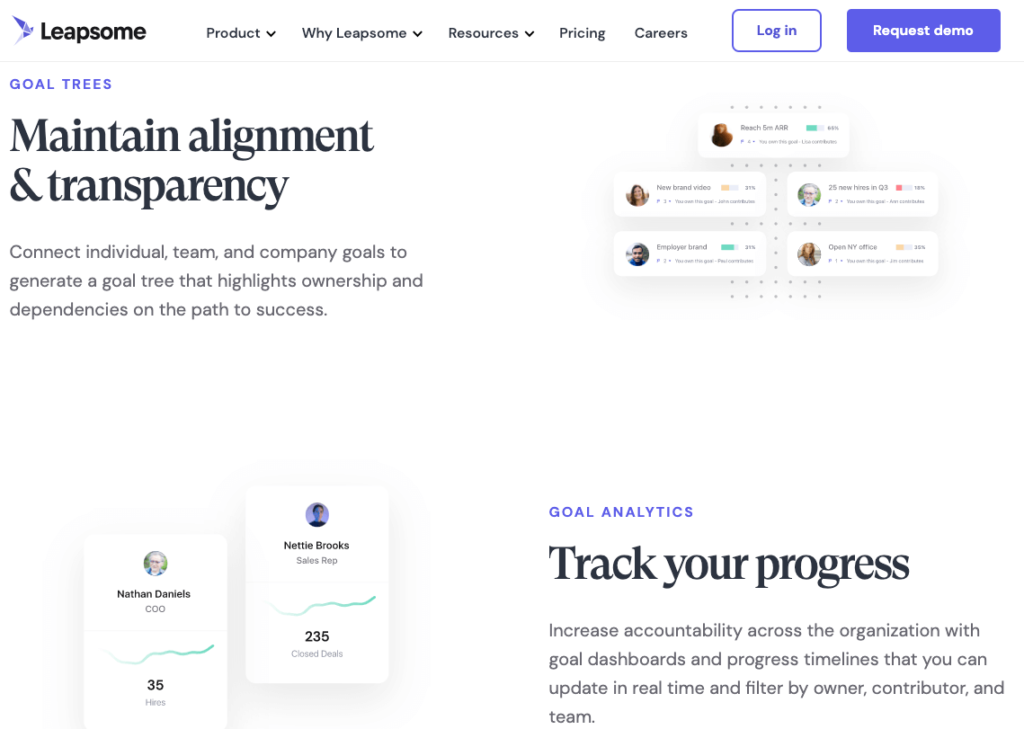 Leapsome Overview
Leapsome is an all-in-one, people enablement platform that combines employee engagement, performance management, goal management, and OKRs. The platform helps organize tasks, align goals, and structure feedback using templates, automation, and built-in best-practices.
For companies looking to improve their OKR planning and people management processes, Leapsome is the ideal platform.
Pros 🟢
The platform is easy to use and to quickly get started to organize tasks in one place
The user-friendly design allows obtaining feedback from team members efficiently without spending too much time
Structured feedback reporting system enables more effective meetings and 1:1 conversations
Cons 🔴
Difficult to standardize some processes due to lack of customization and options for automation
The interface may be easy-to-use but first-time users may find it difficult to understand the meaning of every section
The feature of goal setting is slightly complicated to navigate (objectives from different meeting cannot be integrated)
Leapsome Reviews and Feature Ratings (Capterra)
Leapsome User Ratings (G2)
Mooncamp Overview
Mooncamp is an engagement and OKR platform to help manage projects, people, and processes. The platform is highly customizable and provides an all-in-one suite to implement and manage initiatives and OKRs.
It is an ideal platform for companies of any size looking to customize the OKR framework based on their needs.
Pros 🟢
Has customizable fields and the new Planning feature allows defining many types of goals – making it highly flexible
Has visual appeal and a simple design making it easy to collaborate, use, and engage
Intuitive UI makes setting up and implementing faster and easier
Cons 🔴
Real-time updating of OKR status is not available
Live team Check-ins are not possible. The Check-in feature is simple and done through a preconfigured form
While OKR examples and templates are provided, in-product support is not available to get guidance when use the application
Mooncamp Reviews and Rating (Capterra)
Mooncamp User Rating (G2)
ClickUp Overview
ClickUp is a productivity platform that focuses on project and goal management. It helps teams plan, set, track, and manage tasks and goals of different teams in one place.
For small and medium sized teams looking to organize their projects, ClickUp is an ideal platform that's intuitive and flexible.
Pros 🟢
Dashboards and visual tracking of the progress of tasks makes collaboration more easier and effective
The flexibility of allowing every user to have their own customized view encourages better collaboration
Modern UI and time tracking features enables working on multiple tasks more efficient and improves productivity
Cons 🔴
Interface has too many features making it overwhelming for first-time or basic users to use
Dashboards on the mobile version do not always reflect the same information available on the desktop version
While training videos are provided, the lack of interactive onboarding guidance makes many team members miss out on several features
ClickUp Reviews and Rating (Capterra)
ClickUp User Rating – G2
The Way Forward to Launching OKRs
Keep in mind that implementing the OKR framework requires a result-driven mindset.
If you're thinking about introducing OKRs into your company the best place to start is to use an OKR management tool that helps connect all the steps in your OKR planning process and allows you to focus on the bigger picture.