CEOs are the driving force behind the overall success and realization of the company vision. The disruption due to the pandemic has led to accelerated transformation - of key imperatives, objectives and key results (OKRs). This has resulted in new leadership goals and CEO OKRs – that of innovation, agility, and self-disruption.
In this age of continuous transformation, companies need to constantly evolve and challenge their current goals. As a CEO you must leverage this opportunity to level up or you could be left behind.
Is your company a "survivor" or "thriver"?
- 12% of CEOs state the future enterprise will be self-disrupting and innovative
- 44% of CEOs assert that they have an innovation mindset company-wide
EY CEO Imperative Study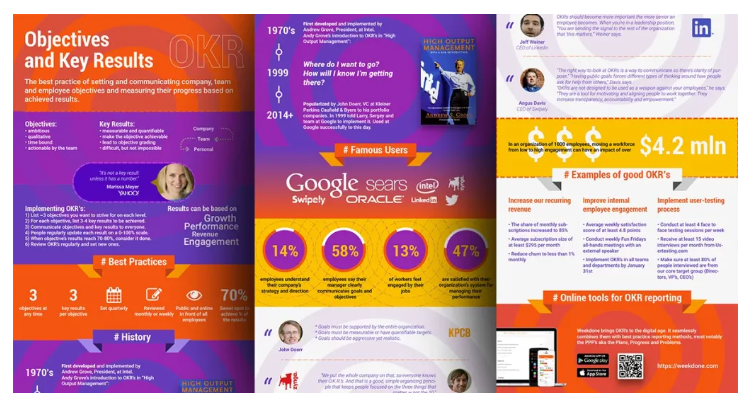 Read on to know to create OKRs, the benefits, and how to align company goals. The examples of CEO OKRs provided in this article will also make it easier for you to get started and achieve your leadership goals.
What are OKRs for CEOs?
There is more to a CEO than being an effective leader. Responsible for the success of your company, you will need to set futuristic objectives to lead with purpose. CEO OKRs are set to give direction to the whole company and align everyone toward a common goal.
What Ideal CEO OKRs Can Deliver
Clarity of a common objective and the company goal
Alignment of teams toward the objective
Commitment from top management and team members
Identification of high-performing metrics to measure success
Autonomy to innovate and make decisions to achieve the goal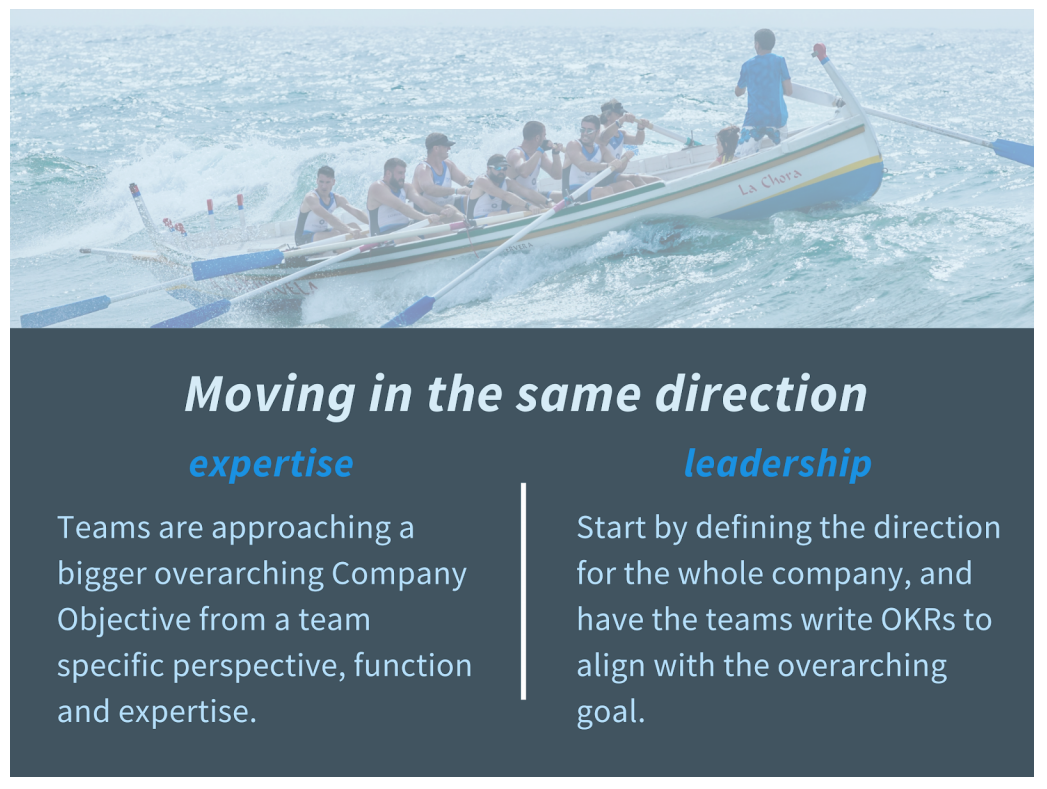 Creating CEO OKRs allows you to be transparent. You can clearly define and communicate the top priorities and make a distinction from everyday tasks. It empowers you to manage goals successfully and guide and align team members to derive optimal business outcomes.
How Creating CEO OKRs Can Drive Success
A clear and well-written OKR gives the entire company a view of the bigger picture. They also help you amplify team OKRs leading to significant success in achieving goals.
Drives Inspiration and Innovation
Creating aspiring goals can motivate employees to go beyond their comfort zone. Inspiring CEO OKRs can steer the focus toward big-picture objectives while ensuring they are measurable with specific key results.
Fosters Alignment and Accountability
With a better understanding of high-level objectives, teams and individuals can align their OKRs to company goals. It helps them know how to create initiatives that can contribute to achieving strategic priorities. Moreover, regular Check-ins help track the progress of goal achievement and ensure accountability toward accomplishing objectives.
Advances Individual Commitment and Performance
When CEO OKRs are well defined it instills a sense of commitment in individual team members. Communicating specific Objectives and Key Results that the company wants to achieve in a quarter improves productivity and increases performance. Through Weekly Check-ins and one-on-ones team members can focus on the progress and identify improvements to realize key results.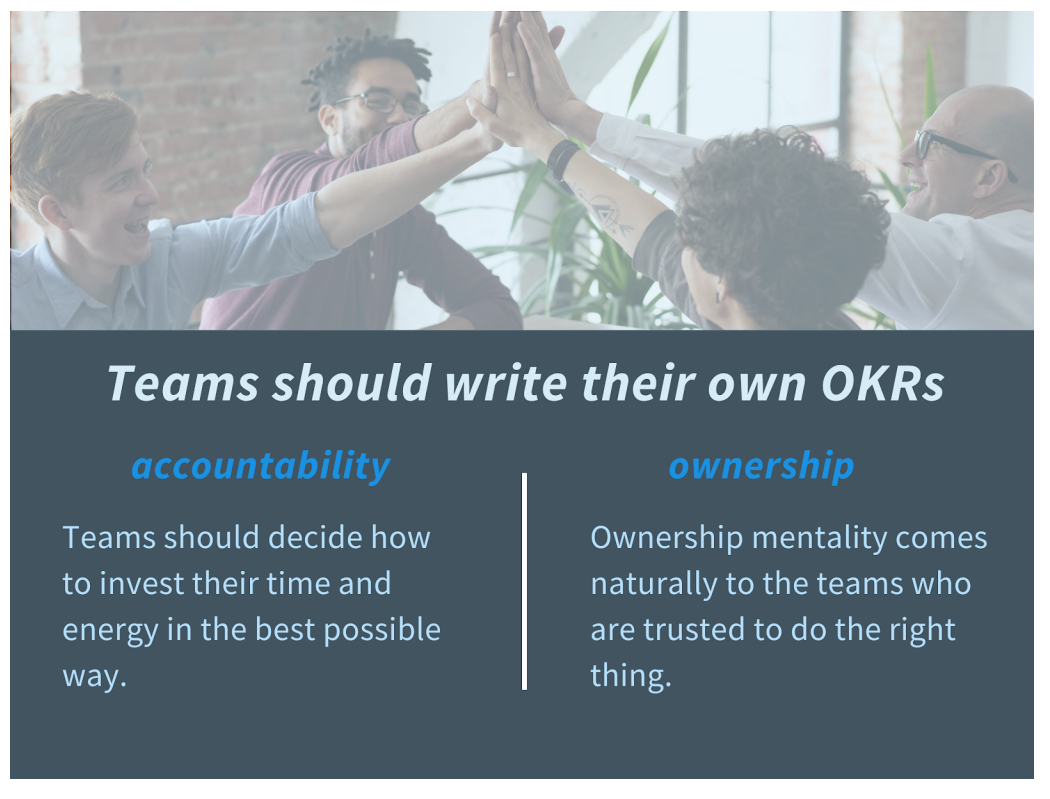 How to Set OKRs for CEOs
For a CEO to truly create the best-performing OKRs, a good practice is to conduct a company-wide brainstorming session. This gives everyone visibility into the goals and activities of all teams and helps you align OKRs with the overall company goals.
A collaborative session like this also gives you a great opportunity to connect with employees of all levels. It's a great way to improve employee engagement and create a culture of creativity and collaboration. Moreover, you can use insights from the session to create meaningful OKRs that include all aspects of the organization.
The next stage in creating CEO OKRs is to break it down into smaller measurable actions, or key results. This ensures there are no gaps between strategy and execution and prioritize activities to maintain focus on what is important.
Executive leaders need to set at least 1 Objective and 3 to 7 Key Results per quarter. While CEOs can set more than one company objective (up to 4 objectives ideally), setting one main objective can help you better align teams to that statement. This helps create a more purposeful Company OKR and translates team OKRs into Company Key Results.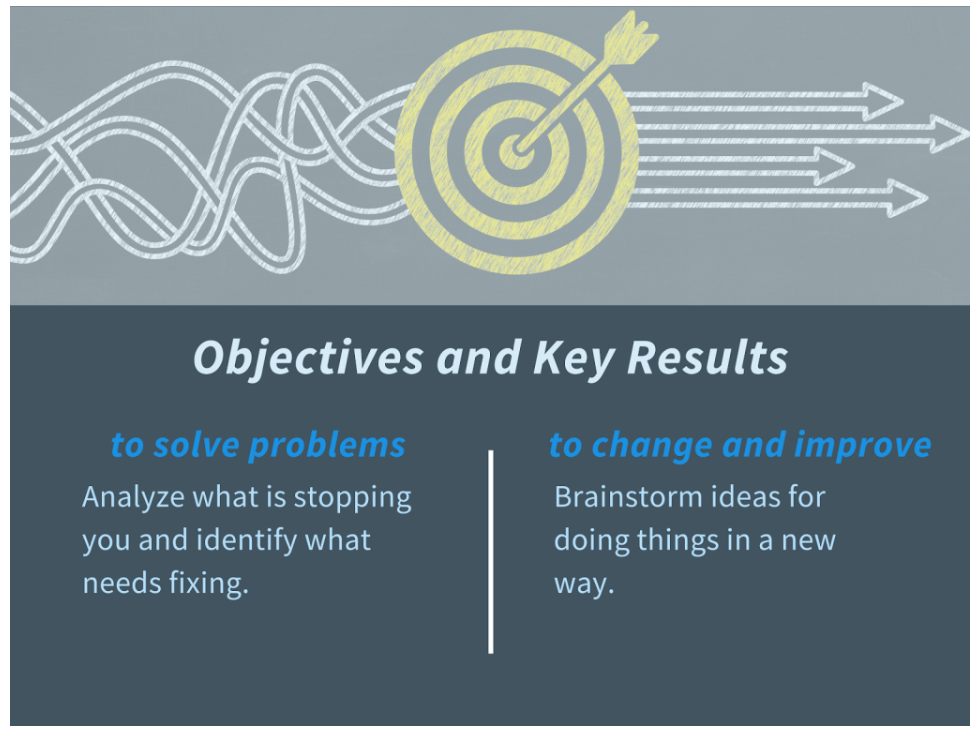 Wondering how many OKRs to create? Learn about the best practices when setting objectives and key results.
If you want to get into the specifics of setting good OKRs, check out these useful resources.
Take a look at our list of free downloadable OKR templates to get you started.
How to Align Teams and CEO OKRs with Company Goals
Aligning teams and CEO OKRs with the company goals requires setting clear goals, tracking weekly progress, and creating initiatives. Importantly, to connect quarterly goals with strategic plans, it is important to create a habit of setting goals.
Consider these steps to align CEO OKRs with Company Goals:
Define the long-term mission and vision of the company
Align annual strategies with the mission and vision
Breakdown the annual strategy into quarterly objectives and key results
Share and communicate objectives with everyone in the company to get feedback
Guide individual teams in creating their objectives and key results
Finalize the company's and team's OKRs and ensure they're aligned with the mission and vision
Here are useful resources to better understand how you can align OKRs with the strategic plans of the company:
When creating objectives, leaders need to follow the OKR best practices to ensure that all goals are aligned and inspiring so that teams can create their own aspiring OKRs.
Ready to get started?
16 Examples of CEO OKRs to Achieve Leadership Goals
#1: Revenue Growth
CEOs are primarily focused on growing revenue. A great objective would be to achieve specific revenue growth in a certain period.
Key Results
- Close $2 million in new revenue (millions) by Q4
- Support sales and marketing in increasing leads by 50,000
- Increase the customer base by 60% by Q4
- Identify and implement 3 processes to reduce costs by 20%
- Explore some of these OKR examples applicable to growth teams.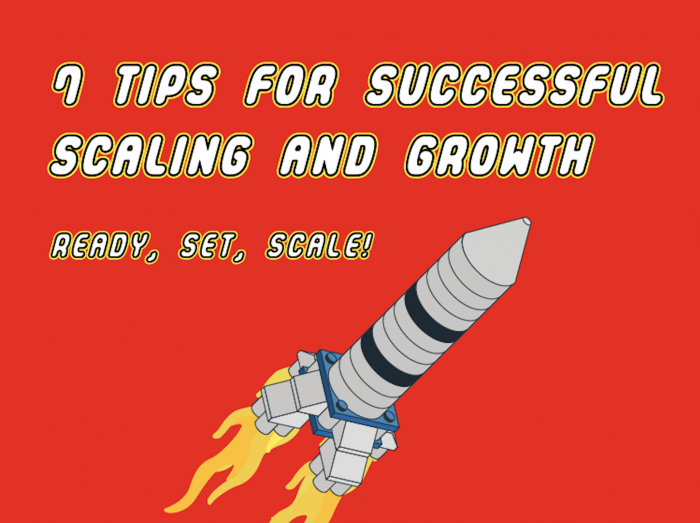 #2: Improve Profitability
OKRs related to revenue growth could be to improve profitability. Revenue growth means little if does not include a decent profit margin. The objective could be to improve profitability by a certain percentage by the end of the year.
Key Results
- Achieve 32% in EBITDA by the end of Q4
- Assess the budget planning process across the organization
- Update and implement a streamlined budget planning process in Q4
- Increase profit margins by at least 5 points
#3: Increase Customer Satisfaction
Customer satisfaction is an important factor in the success of any company. There are different ways to increase customer satisfaction, so your objectives will depend on the initiatives you want to and can implement.
Key Results
- Improve the NPS score by 10 points
- Achieve 90%+ customer satisfaction score on all support channels
- Assess the existing culture to identify ways to become more customer-focused in Q4
- Implement at least 2 tools or processes to improve customer experience
- Review customer feedback and improve at least 5 processes
- Train all team members and improve knowledge about relationship building with customers
#4: Build a Highly Productive, World-Class Leadership Team
A strong leadership team can result in improvements across the entire company. The objective could be to build a leadership team that's innovative and productive.
Key Results
- Conduct management training programs
- Ensure 100% of managers participate in at least 1 improvement program
- Increase the average employee satisfaction score by 25%
- Ensure all managers have one-on-ones monthly
- Ensure quarterly meetings are conducted with senior leaders
#5: Level Up Your Products
Creating new and improved product versions should always be at the forefront of your strategy. This objective ensures that your team is focused on improving the product to meet the ever-changing needs of customers.
Key Results
- Connect with 50,000 customers and assess feedback
- Identify the top 10 pain points and challenges
- Update the product roadmap to address 50% of those pain points
- Resolve at least 5 pain points by the end of the year
#6: Create a Culture That People Want to Be In
Employees want to be proud to come to work every day. The objective could be to build a company culture that empowers employees to stay productive and successful. This can create a work environment that is exciting and efficient, thereby attracting top talent.
Key Results
- Increase the employee NPS score by 10 points
- Improve the hiring process to diversify candidates
- Meet 75% of hiring targets each quarter
- Achieve 95% positive employee feedback
- Revise the compensation plan to ensure 100% of jobs are paid competitively
#7: Improve Cash Flow
This OKR related to cash flows supports the goal of better profitability. Revenue is considered a vanity metric of a company's performance, whereas, cash flow is the reality of the current financial situation, By creating an OKR to improve cash flow, you can focus on reducing spending, dealing with shortages, and becoming cash-positive.
Key Results
- Lower expenses by 20% by Q4
- Create cash flow best practices and policies to support results
- Generate 40% growth each quarter Increase cash collection by 20% in Q4
- Achieve all company expenses under $1M for Q4
#8: Establish Top Metrics Across the Organization
CEOs expect the best performance from all team members. To help achieve this, the objective could be to achieve or exceed the top percentile metrics in specific areas of the business.
Key Results
- Generate 15% month-over-month growth
- Increase the gross margin to more than 20%
- Decrease customer churn by 30%
- Enhance organizational effectiveness by 10%
#9: Control and Reduce Costs
When you need to focus on controlling costs, the objective could be to utilize resources effectively and implement cost-control measures.
Key Results
- Identify 5 areas of high costs in Q3
- Create 2 to 3 solutions to reduce costs in 3 high-cost areas in Q4
- Lower operational costs by 25% for Q4
- Create a comprehensive resource planning strategy for Q4
#10: Increase Market Presence
One way to achieve growth is to increase the company's market presence. This could be a new market or an existing one that needs support. The objective would be to increase the company's presence in high-growth and potential markets.
Key Results
- Analyze potential markets and identify at least 3 high growth markets
- Conduct in-depth research on the 3 high growth marketers by Q4
- Add distribution channels to cater to new markets
- Establish targeted marketing plans tailored to specific markets
- Generate $250,000 in new sales from the new market every month
#11: Define an Acquisition Strategy for Growth
Acquisitions are a common tactic used to achieve growth and improve market positioning. An example of a CEO OKR could be to create an acquisition strategy to improve growth.
Key Results
- Hire a new top management executive to drive and oversee acquisition strategies
- Collaborate with the new executive to create a short-term acquisition strategy for Q4
- Reach $500,000 in new acquisitions by next quarter
- Work with the top management team leaders to create a long-term acquisition plan by Q4
#12: Expand to New Locations
To support overall business growth, another CEO OKR example could be to widen the company's reach by expanding to new locations.
Key Results
- Conduct market research to identify the top 3 locations for expansion
- Create an expansion plan and ensure documentation is ready by Q4
- Develop a launch plan and open 3 offices in selected areas by next quarter
#13: Improve Customer Success and Retention
Customer success and retention are integral factors driving revenue growth. The OKR could be to improve customer retention strategies to increase the number of long-term customers
Key Results
- Create a best practice guide for managing customer relationships by Q4
- Achieve 85%+ customer success through relationship management practices
- Assess the onboarding process and update it to improve customer satisfaction by 50%
- Develop and implement lead-generation techniques to secure long-term customers
- Explore more examples to drive customer success teams and improve retention.
Explore more examples to drive customer success teams and improve retention.
#14: Increase Customer Referrals
Referrals are the best way to secure new customers and fast-track growth. One of the objectives of CEOs in high-growth companies could be to improve the customer referral strategy.
Key Results
- Analyze the existing referral strategy and identify areas for improvement by Q4
- Assess the process and ensure 2 main issues are resolved by the end of the quarter
- Implement a referral program for customers (with rewards) by the end of the month
- Introduce a reward program for 10 team members who promote the referral program the most
- Increase customer referrals by 40%
#15: Raise the Next Funding Round
Investors typically prefer to build long-term relationships with the founders of the company they decide to invest in. That's why CEOs must be involved and have fundraising as one of their objectives.
Key Results
- Perform due diligence and identify top investors
- Create and present the pitch to the top 10 VCs in Q4
- Obtain at least 8 VC term-sheets that state minimum required conditions
- Close an investment amount of $5mn by next quarter
#16: Build a Company-Wide Mindset of Setting Goals
Keeping the whole company aligned to a common goal is the CEO's responsibility. That's why CEOs need to create a work culture that has goal-setting as a part of their DNA.
Key Results
- Ensure 100% of employees have OKR goal-setting training by the end of the month
- Improve OKR adoption rates from 45% to 95%
- Ensure 100% of managers conduct weekly OKR Check-Ins
- Recognize and reward the high performance of 5 employees every week
Interested in more examples of CEO OKRs? Take a look at these examples of leadership OKRs or strategic objectives.
How Modern CEOs Can Get Goal-Setting Right with Weekdone
For CEOs, time is money. Revamping the company culture and introducing a new mindset such as the OKR goal-setting framework can take a lot of time and effort. To make it easy for leaders to create OKRs and align their team objectives with the company goals, they typically use OKR software programs.
Using the OKR methodology has proven to transform companies with significant results. For high-performing CEOs, Weekdone is a perfect solution to implement goal-setting processes successfully.
Be in the know, instantly
Weekdone is your pocket dashboard. Live reports give you an overview of everyone's weekly and quarterly plans and objectives
Organize and align objectives
With a simplified reporting process, you can gain visibility into everyone's goals, easily organize high-level objectives, and align employee activities.
Maintain focus on what's important
Know what needs to be accomplished and planned every week and quarter. Keep the company and team objectives aligned with the vision
Make fact-based decisions and be proactive
With a view into the weekly and quarterly performance, it is easier to identify underperforming metrics and proactively act to find solutions.
Engage and inspire
With clear priorities, teams are more engaged. The transparent goal-setting process improves productivity and allows everyone to understand how their work contributes to the company's strategic goals.
Stay focused on your company goals. Use Weekdone to become a "thriver" and lead with purpose.