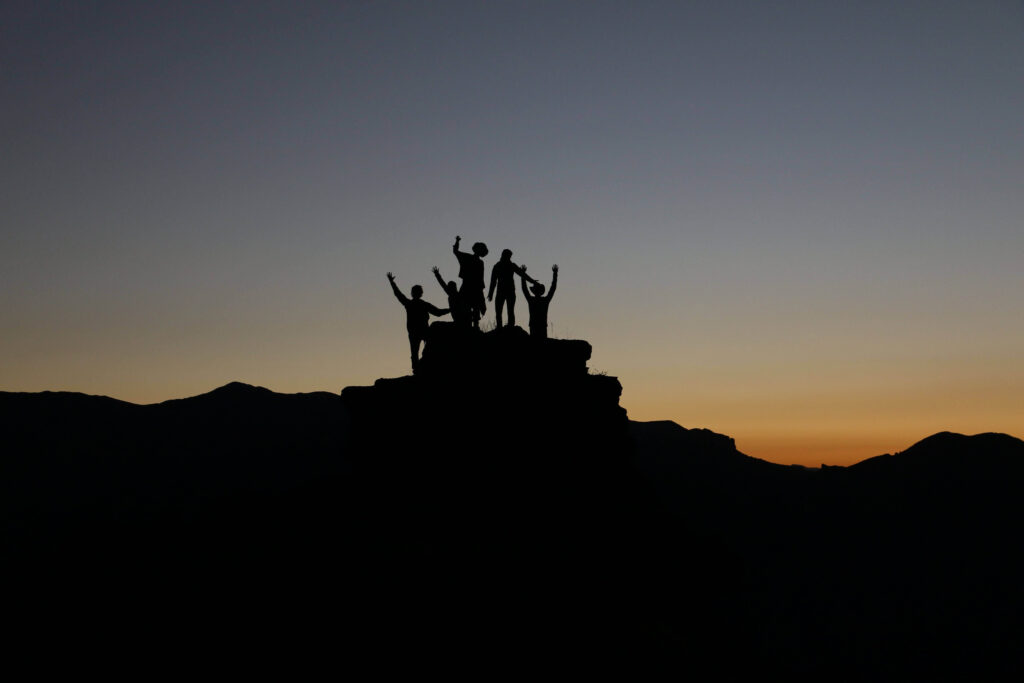 The cornerstone of exceptional leadership is aligning employees with the company's mission and shared vision. To inspire employees, improve engagement, and foster teamwork, leaders need to set clear goals and OKRs (Objectives and Key Results) using a transparent and open framework.
The OKR model is an outcome-driven leadership method that agile companies use to connect the goals of the company with every employee. The best leadership OKR examples are those that are competitive yet realistic, ambitious yet measurable and those that motivate employees to work towards a shared goal.
The OKR Tool for Successful Management
Weekdone provides leaders & employees with essential features to write, track, measure, and manage OKRs in one platform.
The Importance of Leadership OKRs
Leadership teams play an important role in implementing OKR programs. This goal-setting approach allows leaders to choose the best course of action to support and promote the company's mission and values, and fosters commitment from the entire organization. Here's how creating top management OKRs can result in effective leadership:
OKRs provide clarity of goals, enable alignment, and allow for real-world, real-time application.
Leaders using OKR get the opportunity to be transparent and authentic.
It allows leaders to manage goals better, assess metrics, and steer the focus towards deriving maximum advantage.
It highlights the top priorities and makes the distinction from everyday activities.
Helps the whole organization choose and agree upon the primary focus.
Maybe you're still not convinced on why you need OKRs, or you're just not quite ready to invest in a tool like OKR software. In this case - check out our free downloadable templates for a lightweight introduction for getting started with the methodology!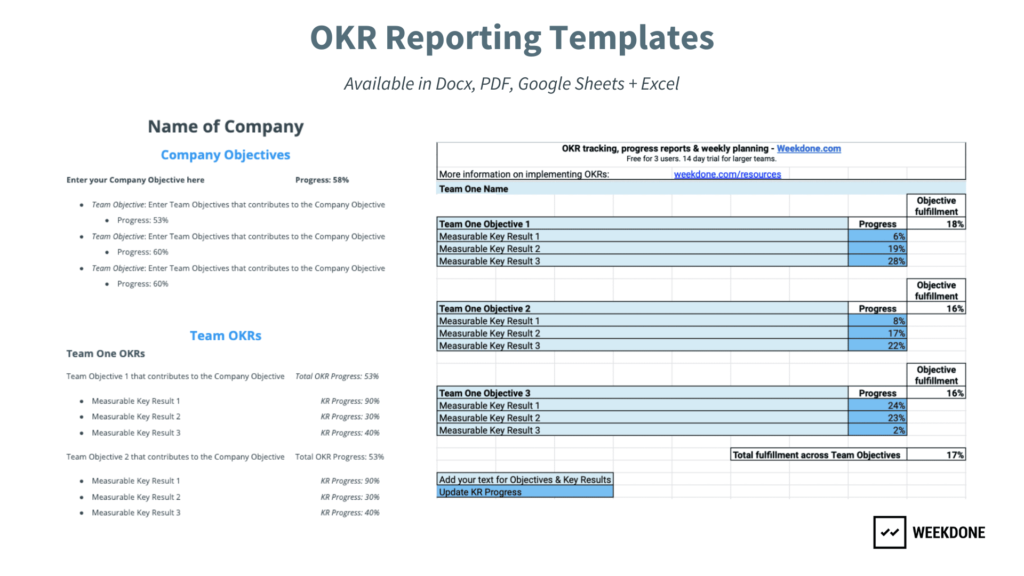 8 Tips for Leadership to Successfully Implement OKRs
When OKRs are implemented strategically, they help create an outcome-centric mindset and drive the whole organization to be focused, aligned, and accountable.
However, businesses can face several challenges even before the implementation of OKR programs begins. Consider these 7 ways to ensure the successful implementation of top management OKRs:
Create Objectives in line with your company's mission. OKR alignment is a critical success factor and one of the most difficult parts of the process.
Ensure Objectives foster continuous action, otherwise they could risk becoming "dead" Objectives. (E.g., identify and implement a product analytics solution by the end of the year)
Define clear metrics and maintain accountability to build commitment towards achieving Key Results. (E.g., Achieve a revenue target of $4,000,000‍ by the end of the quarter)
Create Key Results that help determine the expected outcome, rather than the output achieved. (E.g., Publish 10 blog posts – output to achieve; versus obtain 15k monthly page views – which is outcome-driven)
Adopt a formalized OKR check-in process to maintain focus on the important points that keep your focus on the big picture. (E.g., Ensure managers complete weekly, monthly, and quarterly reviews)
Keep the process of setting Objectives is a two-way system and not a "top-down" approach. (E.g., Conduct one-on-one meetings to discuss and define OKRs with all team members)
Ensure there is a review period of drafted OKRs of all the teams that collaborate. For OKRs to be aligned between cross-functional teams, priorities that are set need to reflect their inter-dependencies. (E.g., If the product team has set an OKR to launch a new version of the product in this quarter, the product marketing team also has to set an OKR that supports this launch)
The ideal time frame to set OKRs is every quarter. Annual OKRs are not updated frequently to reflect changes in the market and objectives and monthly OKRs do not give sufficient time to achieve key results. That's why quarterly OKRs are ideal because it gives you the time to update, assess, and achieve key results.
While OKRs are outcome-centric, there's little direction about how to achieve those outcomes. To avoid fixating entirely on outcomes, supplementing OKRs with tools that improve the quality of work and optimize the execution of each initiative can help achieve greater results.
Best-in-class teams constantly work towards improving their processes, whether it is to develop a roadmap, find new customers, or analyze metrics. Business leaders who use some of the best OKR software for goal setting, weekly reporting, and team management have increased productivity and obtained real results.
24 Leadership OKR Examples
Implementing a goal-setting framework such as OKRs can be a challenging task. It is an innovative approach to bridging silos of different teams and departments across the organization and allows individuals at any level to create Objectives and Key Results.
When creating OKRs, leaders across departments have specific roles, and with that comes focus on different business activities. Their objectives need to reflect the results relevant to their teams and areas of business.
To find out how to write leadership OKRs that are result-oriented, here are 24 leadership OKR examples that could be useful to guide the whole organization towards a common goal. For better readability, we've categorized these leadership OKR examples based on specific management roles and teams.
Specific Management Roles
Chief Executive Officer
Director of Operations
Director of IT, Digital Transformation
Head of Product
Team Specific
Human Resources
Marketing
Sales
Information Technology
Leadership OKR Examples for Specific Management Roles
OKR Examples for CEOs
Example 1
Objective: Build a powerful business strategy to increase growth
KR 1: Increase lead generation initiatives and outbound sales activities by 60% to boost revenue

KR 2: Generate more than 100 leads by attending at least five B2B industry events

KR 3: Close 4 new strategic partnership deals, each accounting for $100,000 in sales
Example 2
Objective: Expand operations to three new offices while improving our brand image among employees and customers
KR 1: Achieve an NPS response rate of 60% or above.

KR 2: Strengthen the customer success strategies to improve customer satisfaction rates by 30%

KR 3: Develop and successfully implement a growth expansion strategy to set up new offices by the end of the year
Example 3
Objective: Increase annual recurring revenue from a new line of business
KR 1: Generate between 35-45% of the total revenue

KR 2: Increase average monthly sales to surpass $3 million

KR 3: Acquire 6 new customers each month
Director of Operations OKR Examples
Example 4
Objective: Adapt operational budgets to increase profitability
KR 1: Track, assess, and report weekly budget forecasts using information from sales teams

KR 2: Identify and report the difference in the planned budget to the CEO every week

KR 3: Reduce regular licensing costs by $50,000 a year
Example 5
Objective: Regain operational and financial stability after disruption due to COVID-19
KR 1: Implement and onboard the company with a new remote working technology to encourage better work collaboration and communication by the end of the quarter

KR 2: Increase productivity and efficiency from 12% to 20%

KR 3: Reduce operational costs up to 10%
Example 6
Objective: Determine and define the systems integration process of different teams
KR 1: Obtain 10 reports from all teams regarding their system needs

KR 2: Identify, organize, and define the system integration process for all 10 teams

KR 3: Develop and distribute 1 cohesive detailed implementation guide for the company to use
Director of IT, Digital Transformation OKR Examples
Example 7
Objective: Develop a digital transformation roadmap that includes introducing new technology or modernizing existing systems
KR 1: Develop a roadmap to identify processes and systems that need modernization within three months

KR 2: Create and share a detailed report by the end of the quarter stating how modernization can improve efficiency, reduce overall costs, and strengthen security

KR 3: Facilitate an organization-wide meeting to share deployment strategy and implement it.
Example 8
Objective: Developing internal workforce capabilities through up-skilling, training, and development programs
KR 1: Identify 6 key areas of improvement and professional development within teams

KR 2: Select 30 relevant training programs and workshops by industry leaders to be conducted every quarter

KR 3: Implement 15 internal campaigns weekly to improve participation rates and assess results to inform strategies for future programs
Example 9
Objective: Manage project portfolio and develop a prioritization approach for digital transformation projects
KR 1: Identify 10 challenges and obstacles improving employee productivity

KR 2: Organize projects and develop a prioritization matrix to be implemented in the next six months

KR 3: Identify and report risks that can impede the process - prepare solutions for next 4 months
Head of Product OKR Examples
Example 10
Objective: Develop a robust product strategy for the next year
KR 1: Conduct competitive analysis of 7competitors in 3 markets

KR 2: Identify and define USP and competitive product features

KR 3: Develop a product strategy roadmap and present it to the executive team at the end of the quarter
Example 11
Objective: Identify and implement a product analytics solution by the end of the year
KR 1: Research 5 analytical tools and technologies and choose 1 to roll out

KR 2: Share proof of concept (POC) within 3 weeks to provide evidence that the analytics solution will Solve the challenges of tracking and measuring success

KR 3: Sign a contract with a vendor within the budget of $150 per year
Example 12
Objective: Improve transparency of product KPI between cross-functional teams by end of the year
KR 1: Ensure product features have associated success metrics by the Q3

KR 2: Collaborate with the Analytics team to develop a product KPI dashboard

KR 3: Conduct monthly meetings on product KPIs with key stakeholders of other teams such as Marketing, Sales, and Engineering
Examples of Top Management OKRs in Specific Teams
HR Leadership OKR Examples
Example 13
Objective: Make the remote onboarding process a positive experience
KR 1: Provide hiring managers with industry best practices and create a 3-month onboarding program

KR 2: Ensure managers achieve an average training completion rate of 100%

KR 3: Improve satisfaction rate of new remote employees to 90% or above
Example 14
Objective: Reduce employee turnover and increase NPS score
KR 1: Ensure managers complete weekly, monthly, and/or quarterly reviews for newly hired employees

KR 2: Interviews with all employees to be completed by managers in two months, to identify areas of improvement

KR 3: Decrease new hire turnover to 5% and increase employee Net Promoter Score (eNPS) to 90% or above
Example 15
Objective: Promote enterprise-wide adoption of the OKR approach
KR 1: All 12 teams have received and completed the recommended OKR training.

KR 2: Achieve 100% adoption rate of OKR approach across the organization

KR 3: Increase the completion rate of the first OKR cycle to 70%
Marketing Leadership OKR Examples
Example 16
Objective: Increase brand presence and Marketing Qualified Leads (MQLs) in new markets
KR 1: Identify in-market buyers in the new market in real-time and create marketing material relevant to them every month

KR 2: Generate 100 MQLs or more from the new market per month

KR 3: Increase the website traffic from 5,000 to 10,000 visitors
Example 17
Objective: Improve customer lifetime value (CLV) and customer retention rates
KR 1: Develop and share 5 customer case studies by end of the quarter

KR 2: Increase email campaign open rates to 50% and click rates to 9% or more

KR 3: Obtain positive 40 reviews from customers by end of the quarter
Example 18
Objective: Improve brand engagement rates in 2022
KR 1: Revisit marketing assets to ensure the brand voice and style is consistent across all marketing material within two months

KR 2: Increase engagement rates to more than 2% across all social media platforms

KR 3: Reduce customer churn rate from 15% to 5%
Sales Leadership OKR Examples
Example 19
Objective: Achieve a revenue target of $4,000,000‍ by the end of the quarter
KR 1: Increase sales in new markets and generate income of $500,000 in the first month

KR 2: Up sell and cross-sell products and solutions to 35% of existing customers

KR 3: Increase conversion rates to 25% or more

KR 4: Reduce the sales cycle from 40 to 20 days
Example 20
Objective: Increase referral sales by developing a partner network
KR 1: Develop a partner proposal and sign 5 contracts

KR 2: Identify and interview at least 10 partners

KR 3: Close at least 6 deals from partners
Example 21
Objective: Increase sales in a specific region
KR 1: Attend at least five industry events in the region

KR 2: Arrange for meetings with at least 50 prospects from the region

KR 3: Collect feedback from 30 customers and build relevant weekly reports for marketing to create targeted campaigns
IT Leadership OKR Examples
Example 22
Objective: Get our department budgets under control and optimize software costs
KR 1: Identify and manage the cost of the top 5 key business systems

KR 2: Partner with Business Unit Heads to evaluate and determine the improvement of business processes to reduce monthly IT spending

KR 3: Maintain cost savings between 10% and 20% through modernization and consolidation initiatives
Example 23
Objective: Consolidate or reduce the technology stack
KR 1: Conduct audits to assess software usage and individual workload every four weeks

KR 2: Reduce usage of multiple software and applications to 3 per person

KR 3: Improve IT operational efficiency to 90%
Example 24
Objective: Improve security and reduce cybersecurity breaches
KR 1: Create cybersecurity awareness and train 100% of employees on best practices

KR 2: Reduce Mean Time to Detect (MTTD) security threats from 5 minutes to 2 minutes

KR 3: Reduce Mean Time to Contain (MTTC) security incidents from 10 mins to 5 mins

KR 4: Reduce Mean Time to Resolve (MTTR) security attacks within 30 minutes
14-day full featured trial for unlimited users. Sign up, invite your teams & get started!
OKRs Need to be a Part of an Organization's DNA
Like any goal-setting framework, OKRs need to be verifiable and measurable. While most organizations set goals, the majority of employees do not have a clear understanding of how their work contributes to the company goals. Employees need clarity and context about what impact their work has, and how it helps achieve the shared company goal - this motivates them twice as much! Thats why revisiting OKRs on a regular basis is so important.
The most important aspect of successfully implementing OKRs is that the entire company must be convinced about the benefits of setting Objectives to achieve results - and committed leaders are your best step forward! OKRs help you define your goals with clarity, communicate with transparency, and give you a structured framework to assess "no-frills" progress week by week.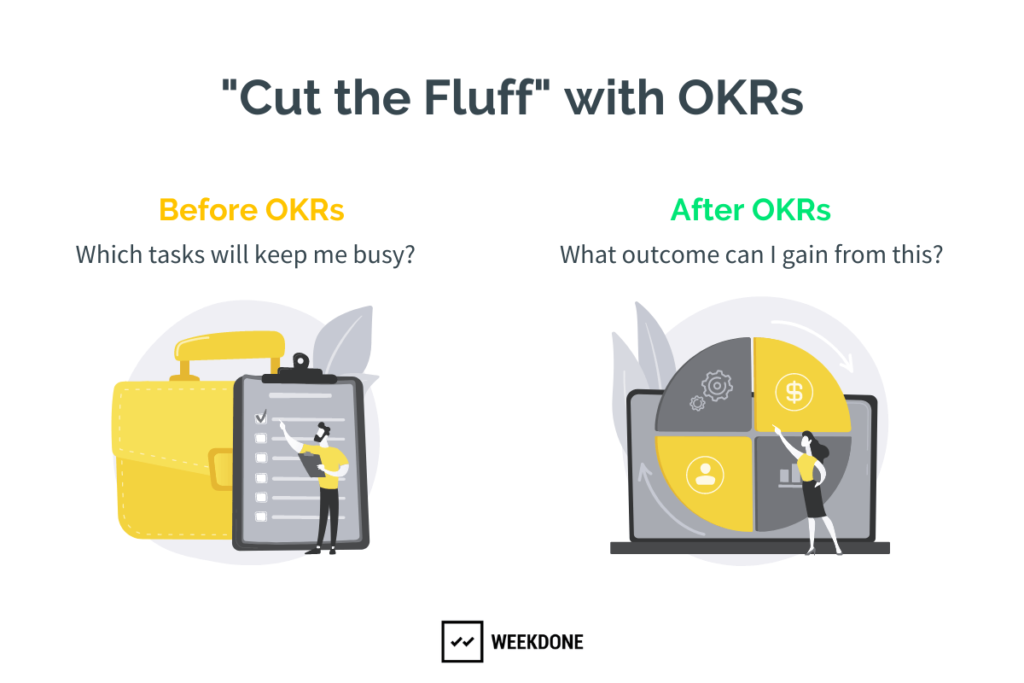 By creating top management OKRs you can drive operational excellence, increase the interconnectivity of the goal-setting system, improve team cohesiveness, and quantify progress to identify areas of improvement. OKRs must be visible across the organization, whether at the executive level or the individual level. Formal training about the OKR program must be provided to new employees. In this way, companies can make the OKR system sustainable and successful - including it as part of their DNA.
Don't take our word for it, hear from other leaders about how OKRs helped create clarity and inspire organizational change.
Get more guidance on how to write leadership OKRs or explore more examples from our extensive OKR examples database.
Free full-featured trial for unlimited users - no credit card required. Invite your teams today!