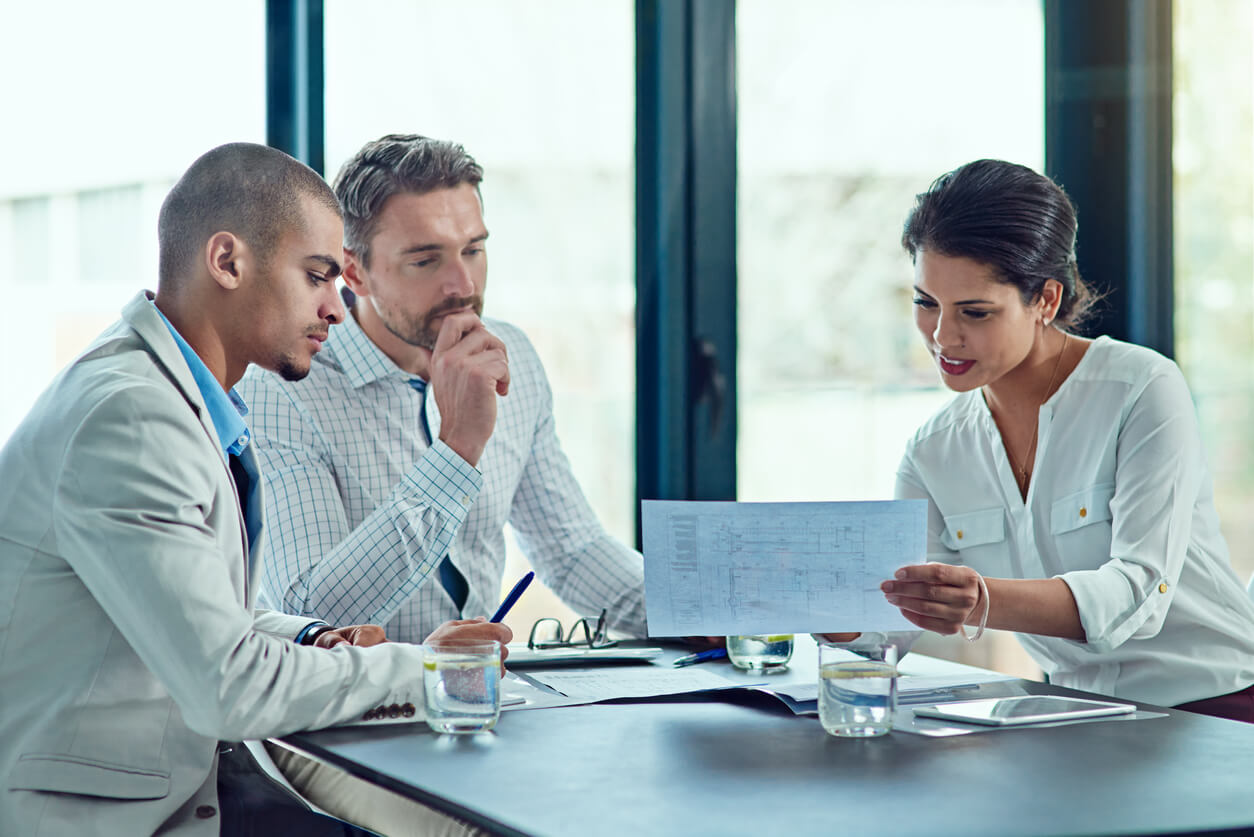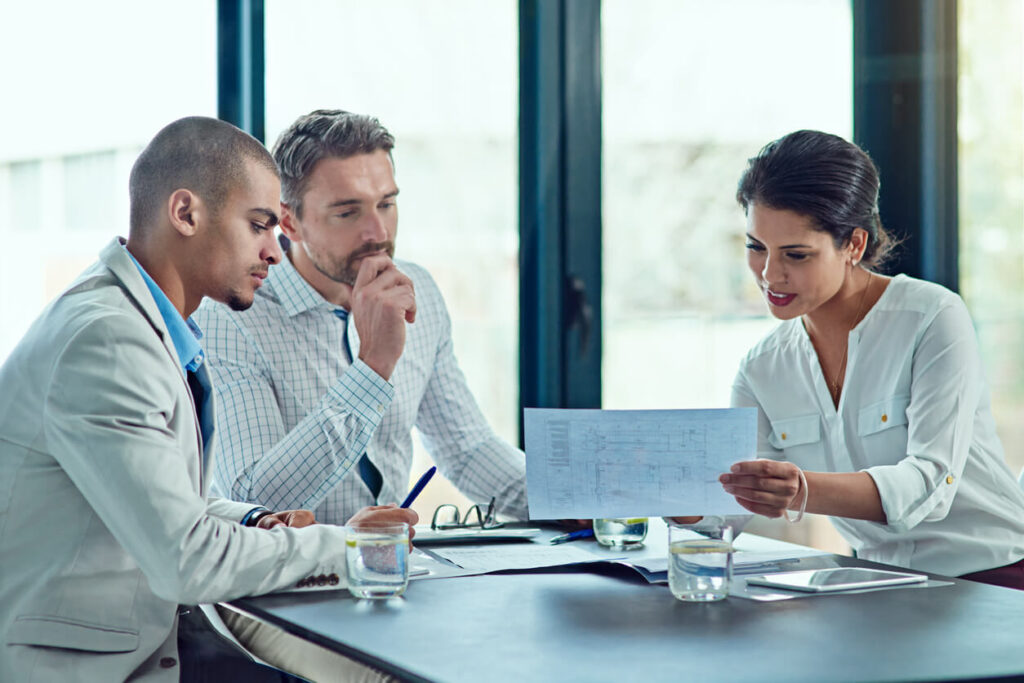 Turning visions — and goals— into action may be one of the most critical challenges for managers. Studies confirm that numerous corporate plans fail partly due to poor execution. Yet, goal setting can help you make significant improvements over time. You may have started using OKRs (Objectives and Key Results) as your goal setting method of choice. However, what happens when the strategy doesn't translate into your expected outcome?
Fortunately, a good OKR visualization tool can help everyone in the company to align strategies with execution plans. Let's look at some OKR visualization tips for best results!
5 OKR Visualization Tips
1. Write Qualitative "Os" and Quantitative "KRs"
Objectives should be stated as the overall "aims"—from an impactful perspective. Whether writing the Company Objective, or Team OKRs, the "O" should focus on the value that the organization, or team aims to create for specific stakeholders.
For example, the quarterly Company Objective may be to improve customer satisfaction – make our customers proud to share our product!
Based on this, it should inspire teams to decide how they can move the needle forward with their quarterly Team OKRs. Each team looks at recent company data, challenges, and discusses internally how to do this.
A Marketing Team Objective could then be: increase brand presence in online communities to improve customer engagement.
Key results should be measurable in order to understand when that the targeted impact is achieved. Further, objectives are broken down into these key pieces of quantifiable evidence (key results) that help your teams measure outcomes. A good rule of thumb is to choose anywhere from 3-5 "KRs" per each "O"
👉 Can you think of some Key Results for the above Marketing Objective? How could the marketing team measure engagement and the overall success or progress on that?
2. Align OKRs Company-Wide
Everyone must be involved in the setting and tracking of OKRs — from top management to team leaders and individuals.
Reportedly, objectives are easier to maintain when they involve proper collaboration. Specifically, management could set strategic OKRs while teams formulate tactical ones. This ensures that teams understand the extent of their responsibilities.
Connecting OKRs across the company promotes transparency, communication, collaboration, as well as accountability.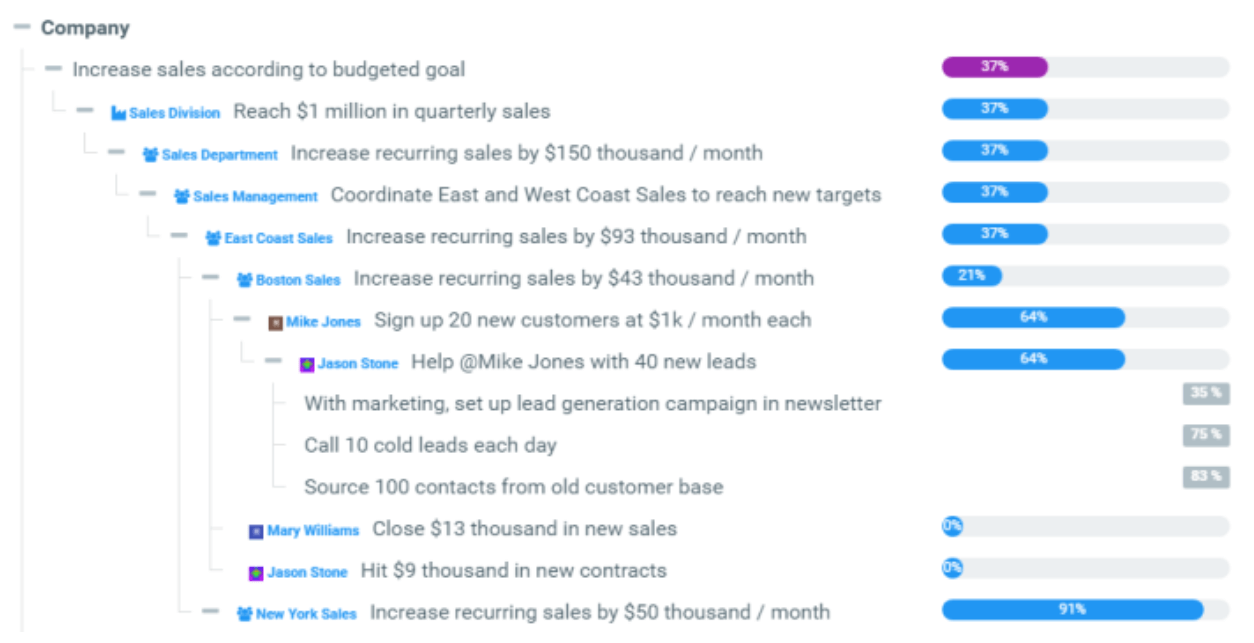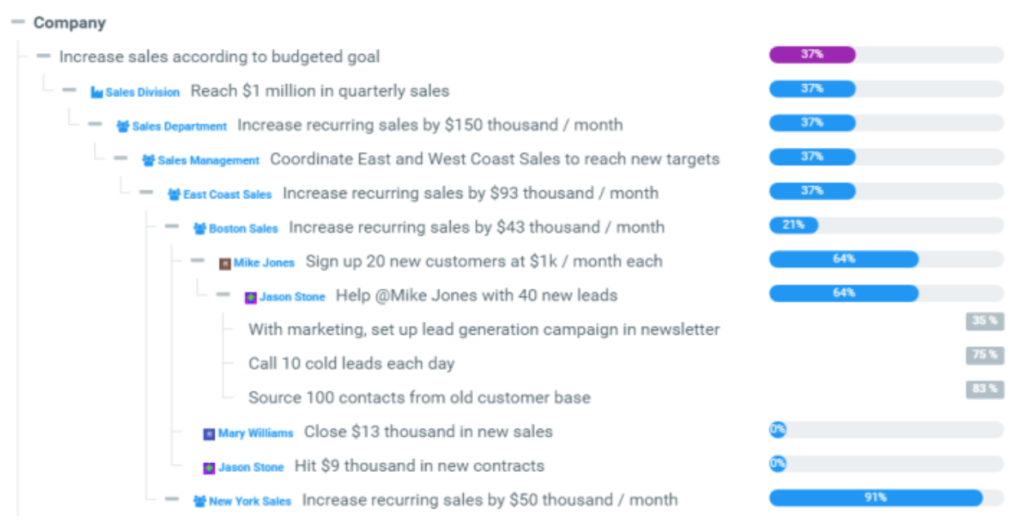 3. Make OKRs Flexible
Visualizing OKRs can also mean that you take time to review and process the information in your dashboard. Setting rigid goals can deplete your people's energy and motivation – making them feel stuck, when in fact OKRs should inspire growth and innovative ideas!
By setting "aspirational" Objectives and Key Results, you are giving everyone this flexibility. In Weekdone, we talk about confidence levels as: Moonshot and Roofshot goals.
Moonshot: are your seemingly overly ambitious Objectives – they remind you that 100% achievement is a stretch, but help you reach for the stars!
Roofshot: These are more of your expected goals, still ambitious and strategic but instead of the moon, you shoot to remove cobwebs from the ceiling. That 100% is a bit "closer to home".
Consistent progress is more effective than widely-spaced quotas. Measure and track your progress on a weekly basis with OKR weekly check-ins.
🎯 Read our article about OKR scoring to understand deeper the evaluation of your "success" with OKRs
4. Assign Timelines
Having diverse operations often comes with numerous goals. Usually, the priority of specific goals varies, and so should the OKR set for the company. It is best to allocate sufficient time to particular goals. Awarding top priority to critical issues promises that the organization's baseline is always upheld.
OKR best practices recommend to set all OKRs on a quarterly basis (3 months). This gives everyone adequate time to stick to a goal, and dedicate specific projects and tasks that help drive that goal forward.
Of course, there is the review process. Scheduling reviews on a weekly, monthly, and quarterly basis keeps everyone focused on the most important jobs at hand. That way, required changes are made in good time, even with unexpected events. After all, poor risk management is a major cause of failed goals in organizations.
5. Keep OKRs Simple & Transparent
In many companies, it's the case that cross-team communication rarely happens! So there needs to be internal processes in place that support teams and departments for when they do interact!
By using your OKR software to visualize, update, comment, and share insights on different key metrics – you'll encourage everyone to get involved in those company-wide retrospective meetings!
In short, OKRs should be written in a way that is understandable to anyone reading them. Therefore, the Sales team should be able to understand what the Design team is striving for and how they plan to achieve it. If there are various metrics or analytics tools that one team uses and not the other – share documents, image screenshots, and add comments as progress is made!
Benefits of OKR Software for Visualization
If you're still using free OKR templates to track goals across your organization, it may be time to ditch the sheets and invest in a software designed to help you properly visualize and manage OKRs. Read a couple benefits here:
Maintain Employee Motivation
Employees feel motivated once they understand how meaningful their contribution is to the organization's success.
Not only does OKR software provide you an opportunity to see goal alignment across the entire organization – but it makes introducing and implementing new initiatives simple and effective. An effective goal management software shows the connection between individual weekly tasks, and longer projects (initiatives) to the big picture Company Objective. This enables everyone to better manage their priorities and stay focused, ultimately motivating themselves to continue in the right direction.
Reduce Managerial Workload with Automations
The platform should generate updates on goal attainment to allow you to focus on essential tasks such as planning and problem-solving.
Getting started on OKR tracking software is easy when you have numerous templates. Fantastic tools allow you to customize specific components to match your organization's unique environment. Whether it allows employees to automate business-as-usual tasks, or generates progress reports; investigate automation features and integration opportunities to make your life easier!
One Tool for a Clear Overview
Tracking goal attainment and communicating strategic changes doesn't have to be tedious. A visualization software helps everyone manage organizational goals easily and in one central location.
With company data at your fingertips whenever you need it, you'll have a broader understanding of specific matters, allowing you to make more accurate decisions and communicate clearly.
Get Started
Weekdone OKR software has been designed with corporate success in mind. The platform is perfect for setting and tracking OKRs, while communicating the most important weekly updates across the platform. Track and measure goals from a central location. Overall:
The tool will enable you to align OKRs company-wide and share relevant updates that help you achieve those goals, together.
In just a couple clicks, see your teammates' Plans, Progress, and Problems. These status updates connect teams and departments that otherwise lose sight of each other's day to day activities. Not only that, but the collected data is generated into a Weekly Progress Report sent to team leaders
Easily plan, track, update, and manage weekly activities to drive OKRs forward.
Collaborate and communicate through CFR features like: sharing, reacting, commenting, and linking!
Free 14 day trial for 4+ users. No Credit Card Required
Want more OKR resources?
Resources – Read articles and tips from Weekdone OKR experts
Step by Step Guide to OKRs ebook – FREE ebook download to deepen your interest in the effective goal setting methodology.
Free Templates from Weekdone – Customizable, downloadable templates to use with your company for free!
Webinar Schedule – Don't miss our live webinars, full of useful information directly from our OKR champions themselves!
Why Weekdone? – Read our OKR software customers' experiences about how Weekdone has helped them over the years.