Startups need to be agile and ready for whatever comes their way. Typically, processes aren't yet concrete which could mean that roles and responsibilities overlap to accommodate this ever-changing environment. Thankfully, implementing the OKR framework helps to add structure by focusing on ambitious goals and encouraging the follow-through of innovative ideas.
In our previous article, we discussed how OKRs for startups work, the steps to set and track your OKRs, and shared real-life OKR examples for growth.
In this article, you'll get a better understanding of the challenges startups face and how OKRs can help address them, along with a list of the 20 best OKR software for startups.
---
Startup Challenges and How OKRs Help
Startups typically have to make the most of the limited resources when working collaboratively towards a common goal. There are many reasons why startups could fail - from lack of focus, alignment, transparency, communication, to over-complicated processes.
How using OKR software for startups can help alleviate challenges:
Maintain Focus on Common Goals - For startups to achieve their objectives, all resources must be used strategically, efficiently, and effectively – from people, and processes, to technology. Here's where the power of enforcing the OKR framework comes into play. By creating clear Objectives and Key Results with a set timeframe to achieve those objectives, everyone in the organization is clear about what they do and achieve in the week, month, and quarter, or even what must be done in a day.
Ensure Alignment of Teams and Projects – When multiple initiatives (aka projects) are managed by different team members, prioritizing and aligning everyone to keep focus on the key objective or north star metric for your startup can be a challenge. However, by setting Team OKRs and adding initiatives to support each key result, startups can track progress more effectively, especially when combined with weekly OKR check-ins. This ensures everyone is focused on what needs to get done to move the big picture objective forward, one project at a time.
Add Clarity and Transparency Across the Enterprise – When expectations are discussed and clearly communicated, it is easier to get buy-in and implement the OKR framework with everyone. To ensure that all team members are clear about their objectives, using an effective OKR software can help to simplify OKR implementation and identify how the day to day work is connected to the big picture plans for your growing business!
Identify Problems at an Early Stage – One of the biggest challenges of startups is the ability to identify problems early. A major part of the OKR process is for teams to report their progress and confidence levels of achieving set key results! This happens in a weekly meeting dedicated to reviewing OKRs - giving everyone the space to identify and discuss areas that need to be addressed, before it's too late!
Best Practices for Using an OKR Tool in a Startup
1. Each objective has a corresponding 3-5 key results

2. Communicate progress and make a habit of updating others

3. Shoot for the moon - set OKRs beyond expectations

4. All team OKRs connect to the agreed upon "north star metric", or Company Objective

5. Get everyone on board, share the methodology! Start a free trial, invite your core "test" group and see what works!
Top 20 OKR Software for Startups
Find below the 20 best OKR software for startups that are looking to create, track, and align OKRs across the organization.
1. Weekdone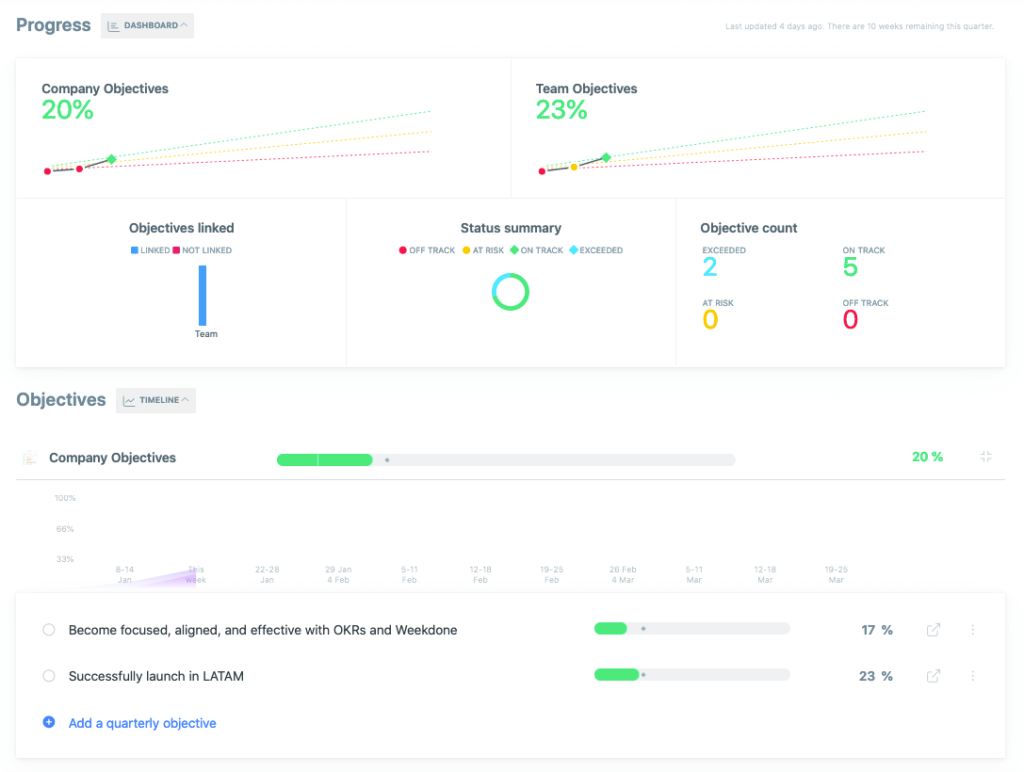 For startups, SMBs, and remote teams with a goal-driven mindset, Weekdone is a perfect option. With OKR coaching included for users, Weekdone helps companies set effective OKRs, boost team alignment through quarterly objectives and weekly updates to drive real company results!
Weekdone OKR software for startups features
OKR Coaching & Onboarding, Resources, and Learning Center

Continuous learning to promote a positive work environment!

Weekly Planning & Check-Ins

Support company-wide transparency, accountability, and communication

Reporting & Data Visualization

See the most important updates in your preferred format!

Conversation, Feedback & Recognition

Comment, react, share feedback, and stay connected.

Integrations

Slack, MS Teams, Jira, Asana, and more!
Learn more about Weekdone features here.
Weekdone pricing
Up to 3 users, Weekdone has a free version with all features.
More than 3 users, register for a 14-day free trial (no credit card required).
For agile, high-growth startups, Weekdone has "per user pricing" model which reduces cost as your business grows.
Moreover, at any time, you can shift from a monthly to an annual plan and get two months free with a savings of 20%.
Find out more about Weekdone's pricing here.
Weekdone Customer Case Studies
We found that Weekdone in addition to managing OKRs, actually makes the daily and weekly tracking transparent. Not only does Weekdone help you track your OKRs, it helps to set a weekly focus toward these OKRs.

The weekly reports we get from Weekdone bring clarity to our Monday morning meetings

Weekdone Case Study - Michael Barwell, CEO at Telligence
2. Ally.io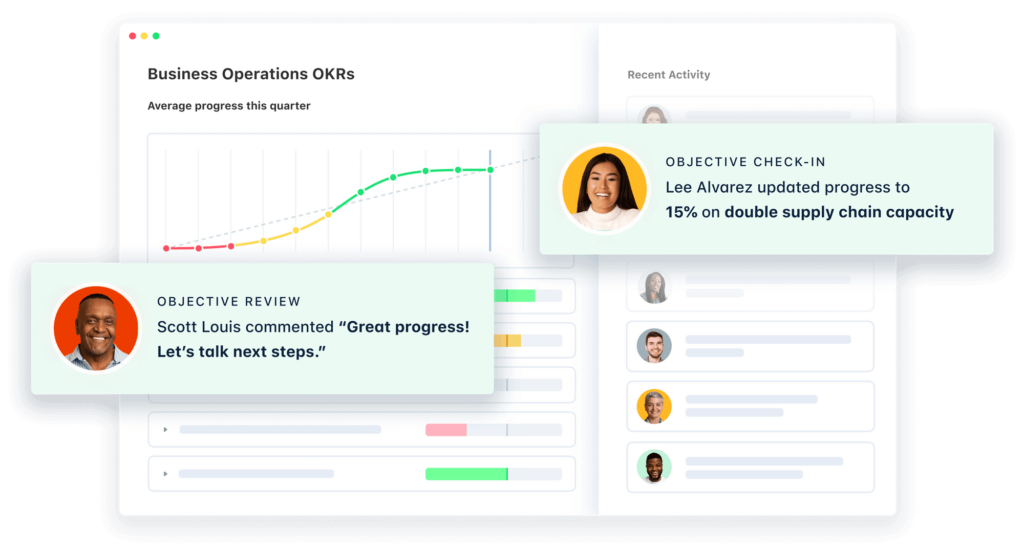 For high-growth startups, SMBs, and enterprises, Ally.io is designed for teams of different sizes and across industries. With a customizable dashboard, it is easier to align the goals of the company, teams, and individuals.
Ally.io features that support startups
OKR goal management
Tracking and feedback
Integrations
Learn about Ally.io essential features
Learn about Ally.io advanced features
Pricing plans for Ally.io
Per feature pricing. Essential features vs. Advanced Features
Ally.io has a free trial, but does not have a free version
$7/Month per user annually
$9.50/user per month billed monthly.
Find out more about Ally.io pricing plans
Ally.io customer case studies
"We've worked with vendors to manage our OKRs in the past, but it wasn't until we selected Ally.io as our partner that we were able to get into the really hard conversations about justifying budgets and allocating resources based on what we were seeing in our data."

ally.io case studies - Ross Rader, CCO at Tucows
3. Profit.co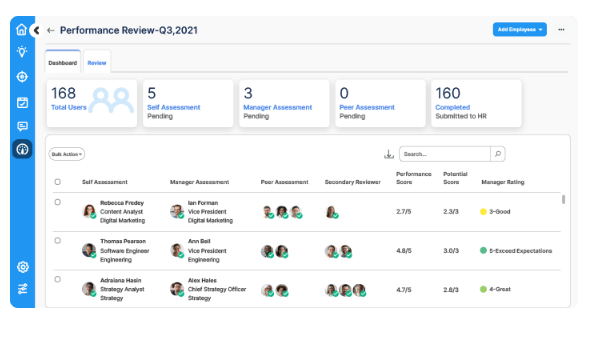 Profit.co OKR software features for startups
OKR management
Task management
Employee engagement
Performance management
Check out all the features of Profit.co
Profit.co pricing options
Launch – Free Plan - Up to 5 users
Growth Plans

$7/month per user billed annually
$9/month per user billed month
Find the right plan for your startup on Profit.co's pricing page
Profit.co customer case studies
"Profit.co is continually improving the system and making it better based on feedback."

Profit.co customer stories - Jonathan Freeman, Coo/CCO at Centura Wealth Advisory
4. Peoplebox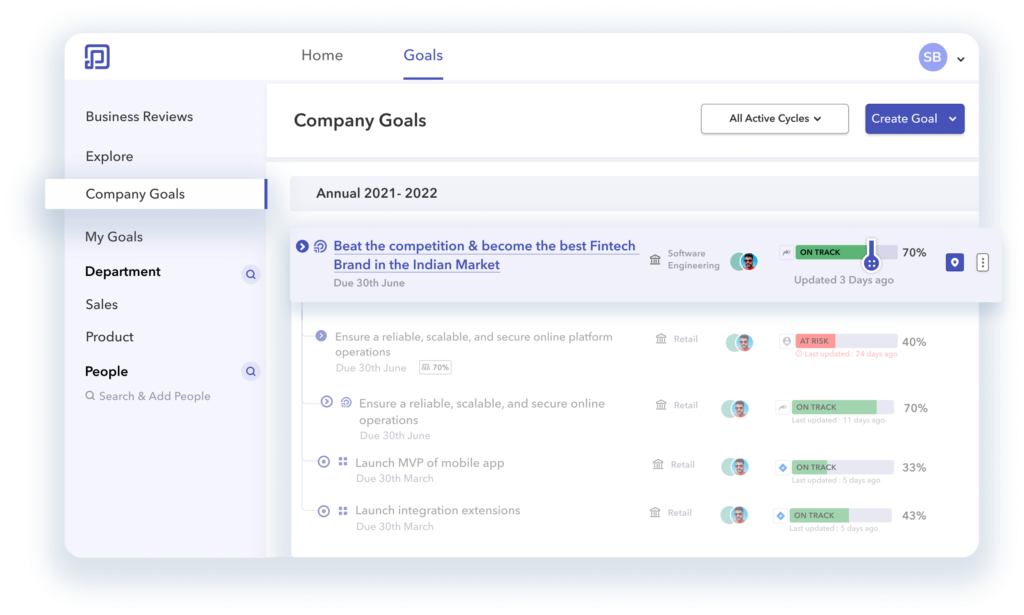 Designed for hyper-growth startups and companies with remote/hybrid teams, Peoplebox enables alignment and tracking of key goals of the company by integrating with work tools and applications used by the teams.
Features of Peoplebox OKR software for startups
Goal creation
Performance reviews
Feedback
Data
Get to know more about Peoplebox features.
Peoplebox pricing plans
Peoplebox offers a 14-day free trial during which you can use all features
OKR + Performance - $7 per month per employee
Engagement - $5 per month per employee
All-in-one - $10 per month per employee
Explore more pricing plans of Peoplebox
Peoplebox case studies
Read the Peoplebox customer case studies
5. Perdoo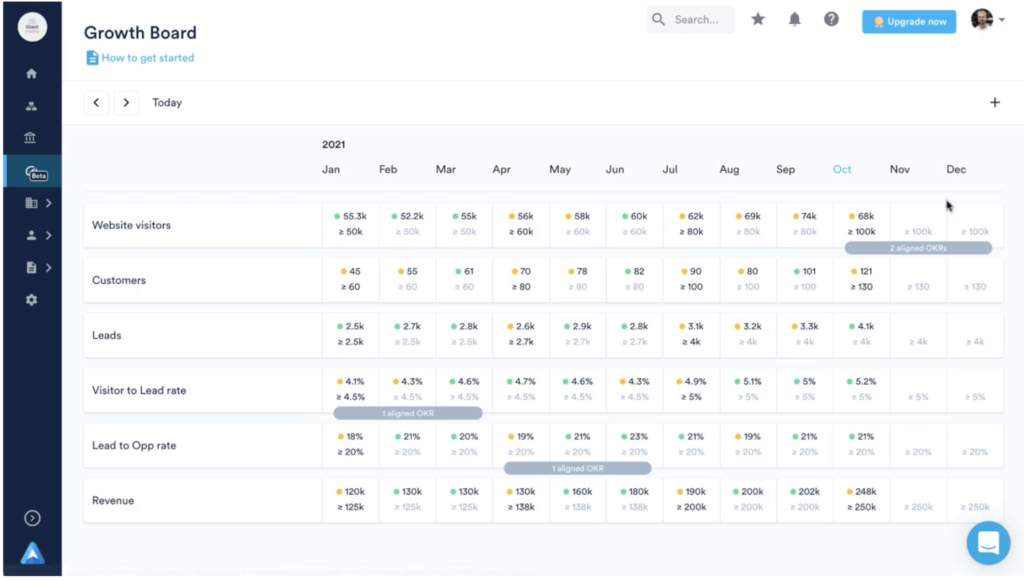 Perdoo is built for small and medium businesses - from innovative scale-ups to modern market leaders- across all industries. Easy to implement, it offers the right functionalities to help operationalize and communicate OKRs and strategies across the company.
Features of Perdoo OKR software for startups
Goal planning and creation
Communication
Reporting
OKR coaching and training
Perdoo pricing plans
Perdoo has a free version for up to 10 Users
Pro: Min. 10 Users

€5.40 per user/month billed annually
€6.20 per user/month billed quarterly

Premium - Min. 25 Users

€8.00 per user/month billed annually
€9.20 per user/month billed quarterly
Take a look at Perdoo's pricing plans
case studies
"It's the best way to monitor and implement OKRS! Perdoo has really helped us drive the OKR process throughout our entire organization"

Perdue customer stories - Chuck Cohen, Managing Director at Benco Dental
6. Teamflect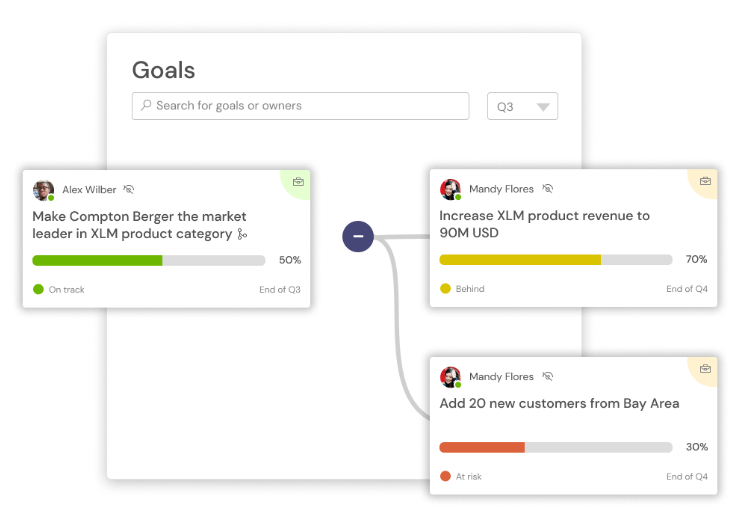 Teamflect's employee engagement and performance management tool built exclusively for Microsoft Teams and helps managers create high-performing teams.
Teamflect features good for startups
Employee engagement
Goals and OKRs
Feedback
Performance reviews
Read more about their features
Teamflect pricing options
Pricing Plans:
Teamflect has a free version
Basic – Max 10 users
Note - If there are more than 10 users using the platform, they should be licensed.
Explore Teamflect pricing plans
Teamflect case studies
"I like that Teamflect offers everything I need in one place to conduct effective 1-on-1 meetings - feedback, recognitions, goals, tasks and etc. It is very well integrated into Microsoft Tteams and saves me a lot of time."

Capterra Reviews on Teamflect - Scott Sherman, Senior Development Officer
7. Tability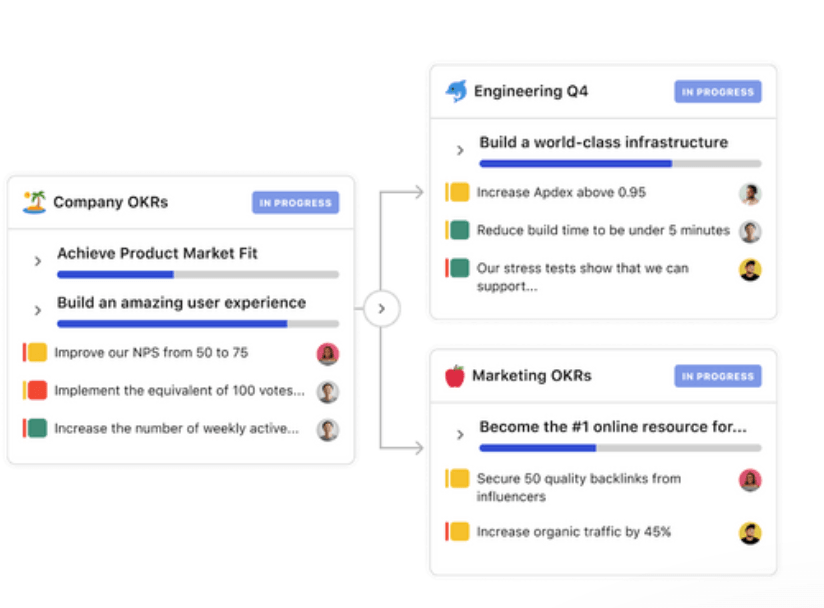 Tability is an intuitive goal-setting and tracking tool, designed for teams of all sizes. Easy to use, it helps startups plan, track, and implement their OKR framework.
Tability features
Goal Setting & Alignment

plan editor, templates, progress tracking

Goal Tracking

automated check-ins, strategy map, progress charts

Task Management

daily task reminders, kanban view

Reporting

weekly progress digest, downloadable charts
Explore all the features of Tability
Tability pricing
Tability has a free 14-day trial for every plan up to 5 users
Starter - $39 per month = $1.56/user/month - Up to 25 users
Essentials - $99 per month up to 100 users
Explore Tability's pricing plans
Tability case studies
"Intuitive app! Tability made OKR planning and tracking super easy and fast!"

Tability Customer Stories - Liter Dumduz, CEO at Blys
8. Jira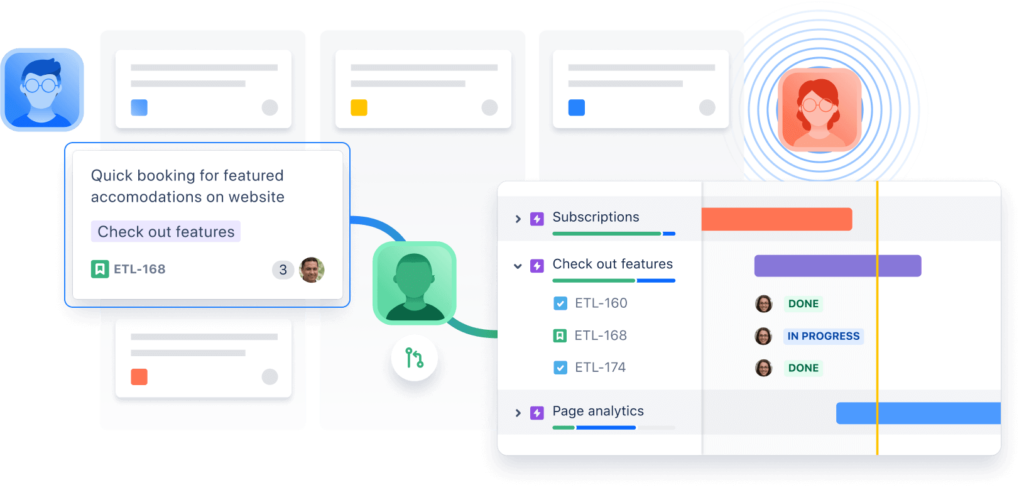 Built for agile teams, Jira uses native roadmaps to help teams manage their task and workflow. With a few clicks, Jira enables automation of tasks and/or processes no-code using a no-code automation engine, making it easier for startups to save time and perform efficiently.
Features of Jira OKR software for Startups
Planning
Task management
Automations and integrations
Reporting
Discover all the features of Jira
Jira pricing
Jira has a free edition for teams up to 10 users
Standard - $7.50 per user (average) - $75 a month – 35,000 user limit
Premium - $14.50 per user (average) - $145 a month – 35,000 user limit
Explore Jira's pricing plans
Case studies from Jira customers
"Full visibility in Jira across the whole organization enables you to make better management judgement"

Jira reviews on Capterra - Paul Leaon, Digital Portfolio Manager at Inchcape
9. Asana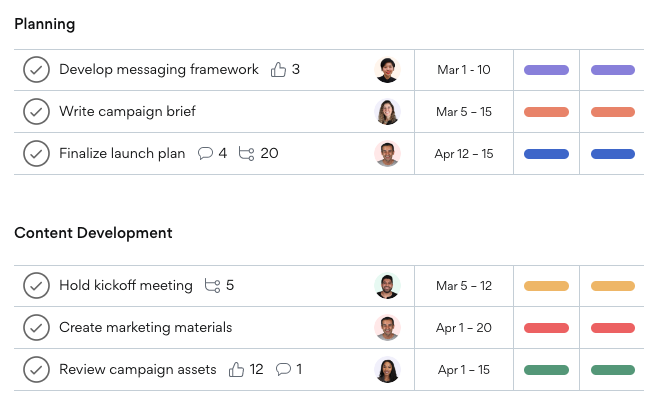 Asana makes it easy for startups and SMBs to manage projects, processes, and workflows. Using lists, boards, and calendars, Asana helps teams connect and organize their work to achieve their OKRs.
Asana features
Goal planning & alignment
Task management
Support
Reporting & tracking
Discover all the features of Asana
Asana pricing plans
Asana has a free edition for teams up to 10 users
Standard - $7.50 per user (average) - $75 a month – 35,000 user limit
Premium - $14.50 per user (average) - $145 a month – 35,000 user limit
Explore Asana's pricing plans
Customer case studies
"With Asana, we're able to keep track of each piece of work, in one place."

Asana Customers - Sarah Wormser, Marketing Operations Manager at ClassPass
10. ZOKRI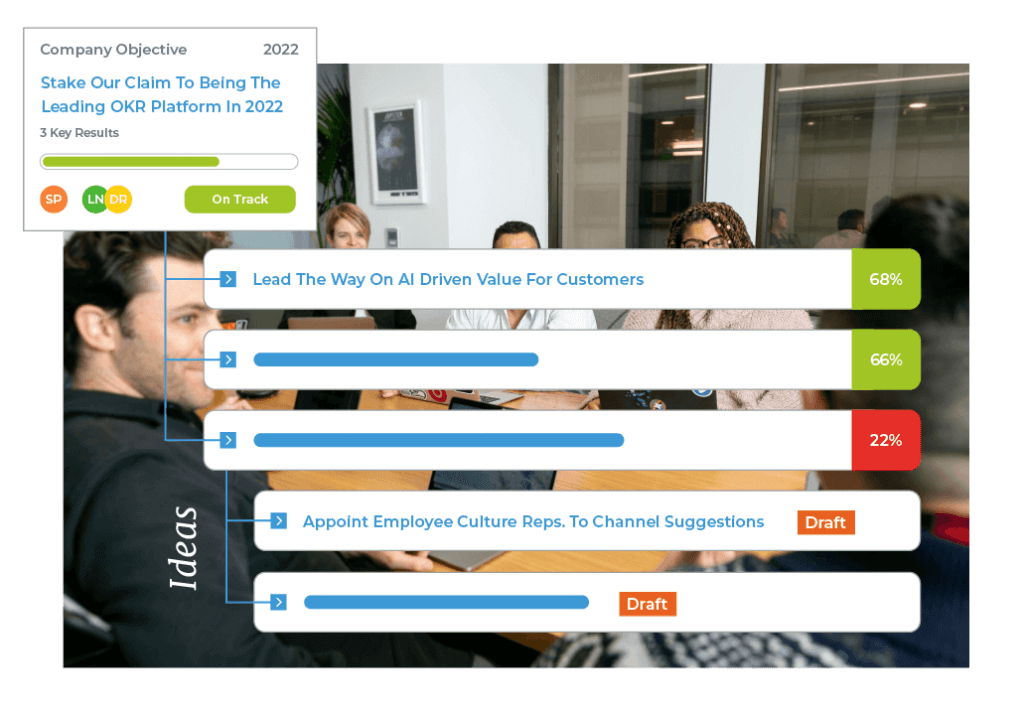 With customizable and flexible features, ZOKRI helps startups implement their OKR framework with simple configurations and extends features to match the progress of OKR strategies.
ZOKRI features for startups
OKRs
KPI Management
Customizations
Training & Support
Discover all the features of OKR software for startups with ZOKRI
ZOKRI Pricing
ZOKRI offers a 14-day free trial
Read-only Users Plan for free – With volume discounts available for 100 + Users
Software & Support Plan - $12.5 Per Month, Annually, Min 10 Users
Explore ZOKRI's pricing plans
Case studies of ZOKRI users
"A well designed user onboarding phase. With lots of educational videos, an OKR academy, and a detailed product tour, I knew this was the software I was lookin for in just a few minutes."

G2 reviews of ZORKI - Mert A., Co-Founder, Marketing Manager
11. Confluence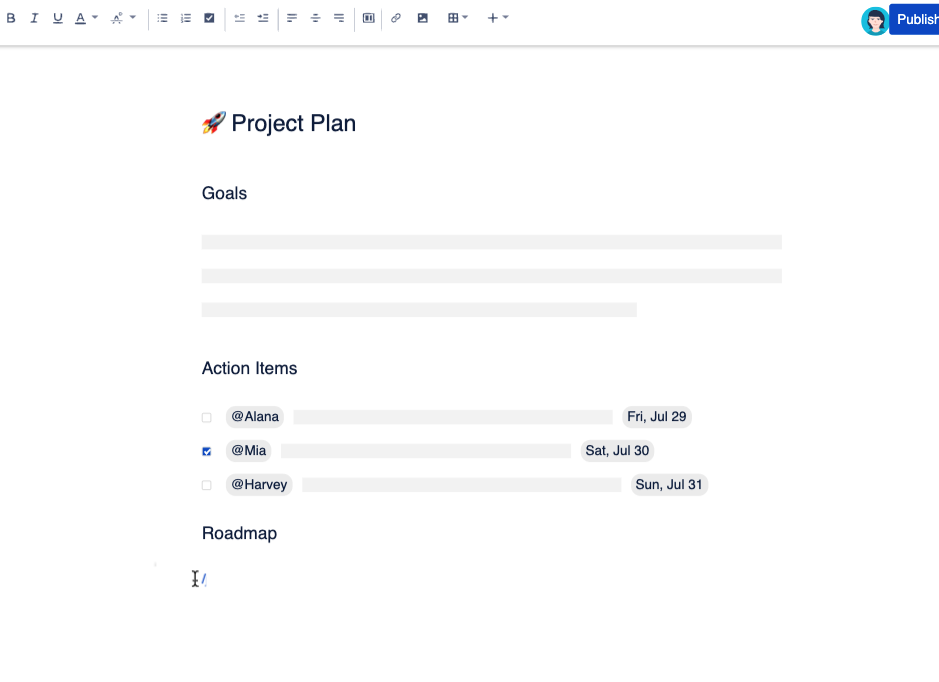 For all teams in a startup - from HR, finance, marketing, project management, to technical teams – the Confluence software helps manage OKRs and make project plans accessible and trackable across the company.For all teams in a startup - from HR, finance, marketing, project management, to technical teams – the Confluence software helps manage OKRs and make project plans accessible and trackable across the company.
Confluence features
Goal Setting
OKR Implementation
Customizations & Integrations
Discover all the features of Confluence
Confluence pricing
Confluence offers a free version up to 10 users
Standard - $5.50 per user (average) - $55 a month - 35,000 user limit
Premium - $10.50 per user (average) - $105 a month - 35,000 user limit
Explore Confluence's pricing plans
Case studies of Confluence users
"Confluence has enabled anyone in the company equal opportunity to participate, ask questions, and use their voice towards building a company our employees' grandkids can be proud of."

Confluence Case Studies - Katie Burke, CPO @ HubSpot
12. Paycor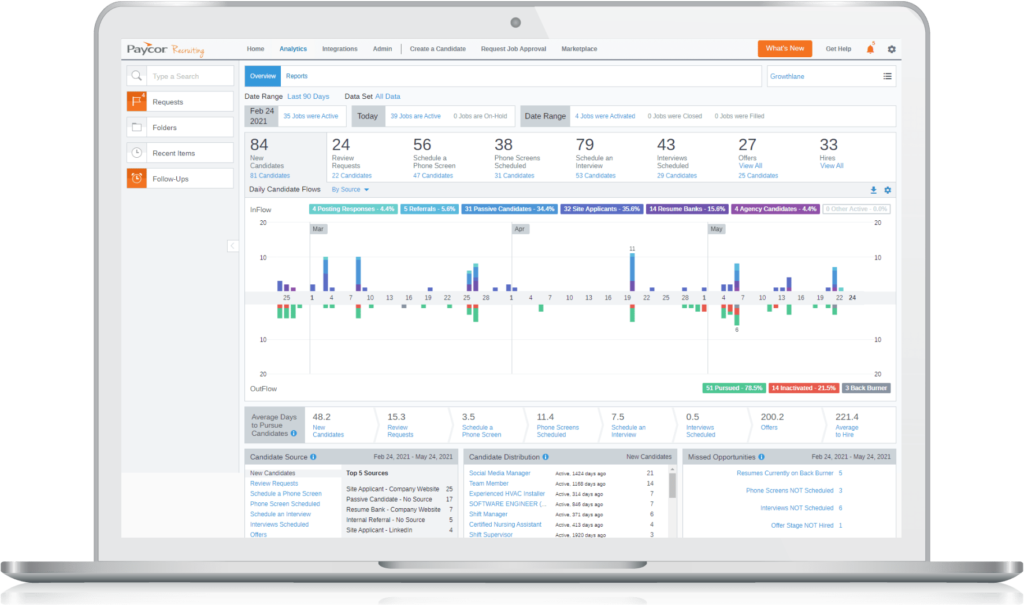 With flexible and customizable solutions, Paycor helps teams set and align their goals, and make improvements in real-time based on 1-on-1s, Feedback, and Reviews. With intuitive solutions and a modern interface, Paycor empowers leaders to manage every aspect of people management and build high-performing teams.
Paycor features
OKR planning and communication
OKR management and tracking
OKR reporting
Discover all features of Paycor
Paycor pricing
Paycor has an Exclusive Offer of free payroll for one month and free set up with all plans
Basic - $99 Month - +$5 Per Employee Per Month Essential - $149 Month - +$7 Per Employee Per Month
Find out all of Paycor's pricing plans
Paycor case studies
"Having a tool that can outline 1-on-1s that tie directly into an employee's goals, job description and career path in one cohesive system has been really helpful."

Customer Case Studies - Bri Mabey, HR Business Partner at SimpleNexus
13. Koan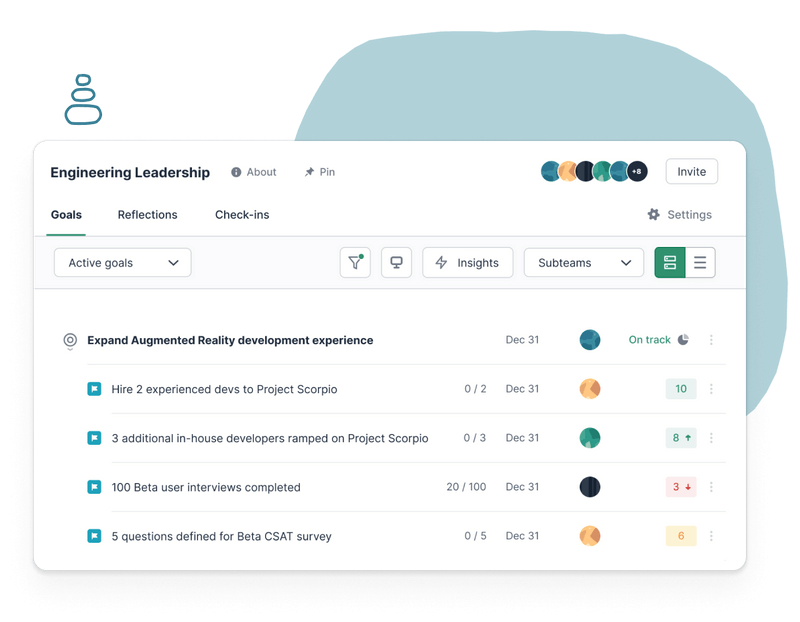 Koan is a simple and easy-to-use platform. It helps startups that work cross-functionally to manage initiatives that are owned by multiple teams, and helps teams stay focused and aligned with work priorities, team goals, and organization goals.
Koan features
OKR and goal management

Individual and company wide tracking

Alignment and collaboration

Reflections confidence index, presentation mode, goal linking

Integrations

Slack, MS Teams, Jira and Zapier

OKR analysis and reporting

Goal analysis, data export
Koan features and how it works
Koan pricing
Koan has a 30 days free trial
Free - OKRs for Individuals within a Single Team
Pro - $6 per user per month
Find out Koan's pricing plans
Koan customer case studies
"My team is fairly distributed, and Koan gives us great consistency for checking in against our goals and gaining insight into what we're all working on"

Koan Case Studies - Seth T, Operations Manager at ALU Education
14. PeopleGoal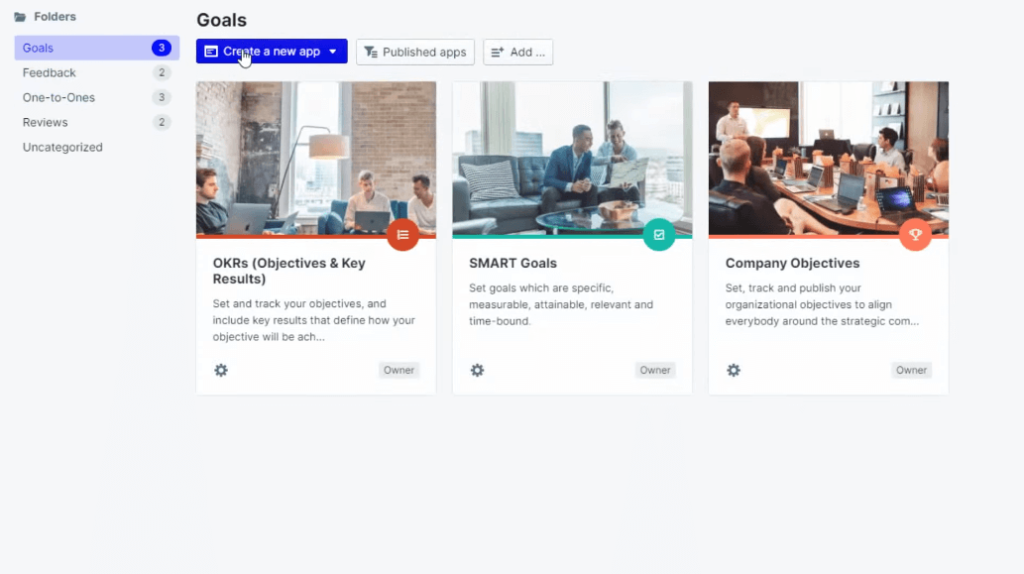 PeopleGoal offers customizable apps so that startups can manage, engage, and align the goals of the company, teams, and individuals. By automating the check-in and feedback process, and through OKR goal tracking, feedback, review, and recognition processes, PeopleGoal helps companies accelerate performance and engagement.
PeopleGoal features
OKR goal management
Feedback
Tracking and reporting
Integrations
Discover more PeopleGoal features
PeopleGoal pricing
PeopleGoal has a free trial
One single monthly plan - $4 per user per month with full access to all functions. Minimum 500 users.
Enterprise plans are available for complex implementations.
Learn more about PeopleGoal pricing
PeopleGoal case studies
Read what PeopleGoal customers have to say about the software
15. Gtmhub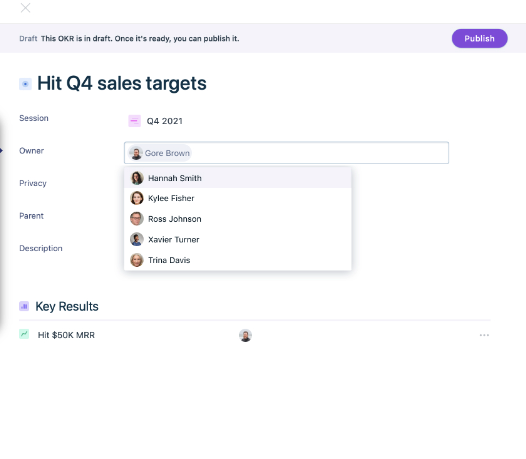 For startups that need to adapt and realign quickly, Gtmhub OKR software's architecture is designed keeping OKR execution in mind for an evolving marketplace. Gtmhub requires limited customizations and integrations, making it ideal for small and growing teams that need minimal user management and reporting.
Gtmhub features
OKR Brainstorming and Alignment
Performance Tracking and Feedback
Reporting
Gtmhub pricing
Gtmhub has a free trial
Start - $7 per user/month
Scale - $15 per user/month
Summit - $23 per user/month
Explore Gtmhub's pricing plans
Gtmhub case studies
"We have been using OKRs and Gtmhub for 2 years and it changed the game. The Gtmhub team helped Petzi with setting up and optimizing the right OKRs to maximize our marketing impact according to solid objectives. "

Gtmhub Customers - Mathieu Mazuel, Global Sport Communication Manager at Petzl
16. Fitbots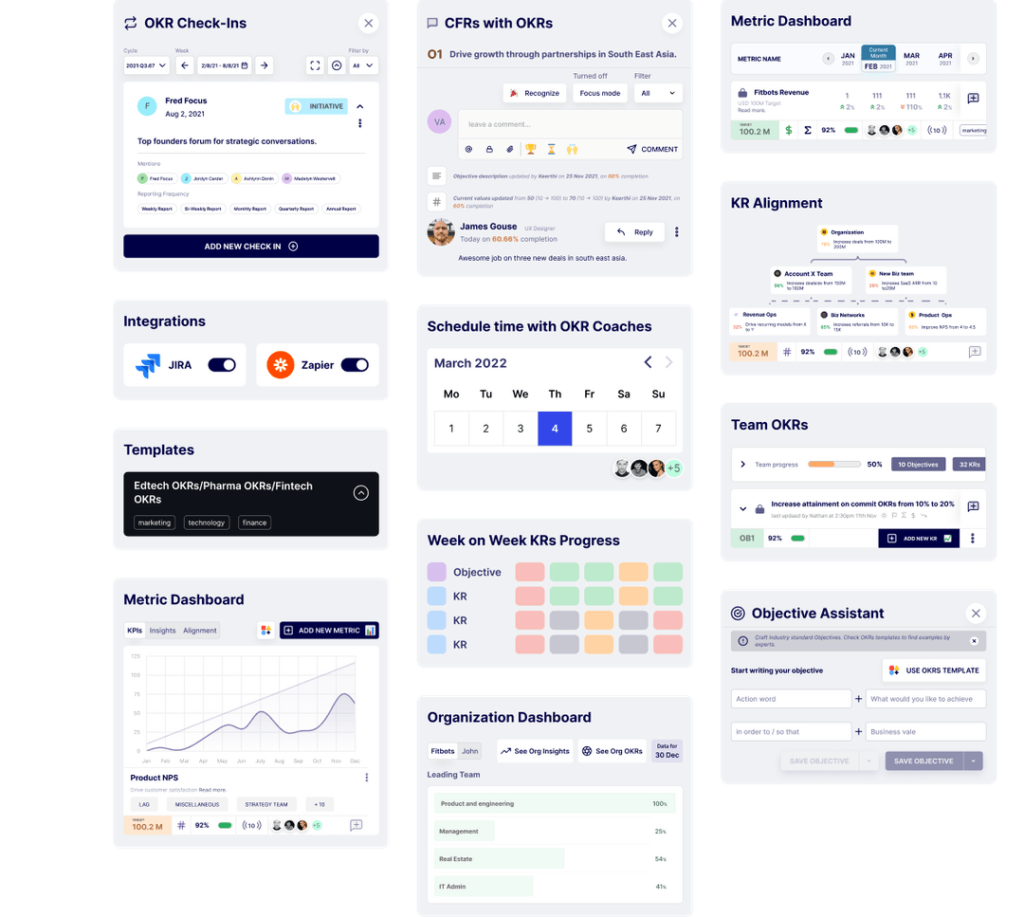 Fitbots is mostly adopted by SaaS startups or portfolio companies across sectors such as IT, EdTech, Fintech, and Security. From a single window, companies can organize and manage the individual, team, and company-level OKRs through visual alignment, customizable dashboards, progress tracking, and integrations.
Fitbots features
Goal Management and Alignment
Tracking and Reporting
Integrations
Find out the features of Fitbots
Fitbots pricing
Fitbots has a free trial
Surge - $5 Per User / Month - Billed Annually
Scale - $7 Per User / Month - Billed Annually
Rise - $10 Per User / Month - Billed Annually
Explore pricing plans of Fitbots
Fitbots case studies
"A truly game changing tool and process, to drive organizational objectives focus and alignment! The software itself is a practical intuitive tool to help."

Fitbots customer stories - Kyriakos Zannikos , Co-founder & CEO at DCI
17. Inspire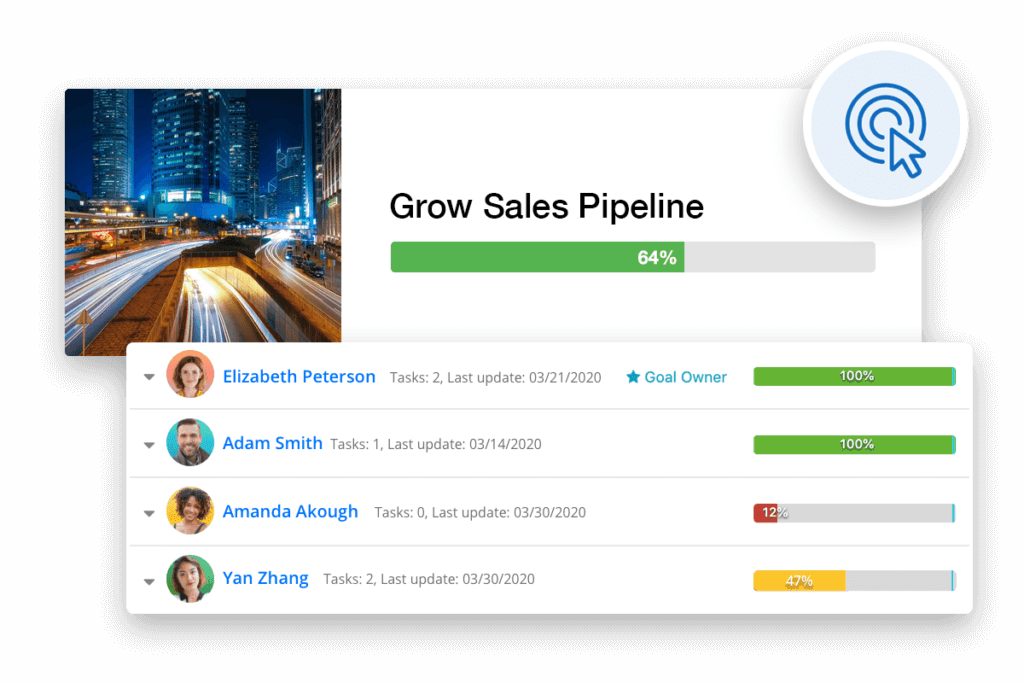 Inspire software is suitable for companies looking to drive engagement and employee productivity through one integrated platform. With innovative tools and leadership development, Inspire helps companies in every stage of the OKR approach – from goal setting and execution, goal alignment, performance management, feedback, reviews, and reporting.
Inspire features
OKR goal setting and Alignment
Performance Management
Reviews and Feedback
View all features of Inspire software
Inspire pricing
Inspire has a free trial
Offers two types plans – Essentials and Essentials Plus
Prices starts at $8.39 per user per month - billed annually
Explore the pricing plans of Inspire
Inspire case studies
"inspire has been a valuable partner in developing a results-oriented OKR integrated system with in Sonendo."

Customer case studies - Courtenay Jackson, Director Program Management at Sonendo, Inc.
18. Hirebook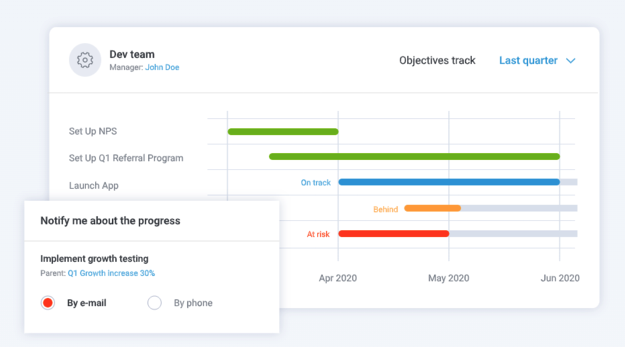 From startups to Fortune 500 companies, Hirebook offers a comprehensive platform that empowers companies to align strategy, check-in with employees, integrate OKRs in every task, improve engagement, and track progress.
Hirebook features
Modules
OKR
Integrations
Security
Find out more about features of Hirebook
Hirebook pricing
Hirebook offers a free trial
$10.00 /month per user - for businesses of all sizes – when billed annually
$15/month per user when billed monthly
Explore pricing of Hirebook
Hirebook case studies
Hirebook customer reviews on Capterra
19. AchieveIt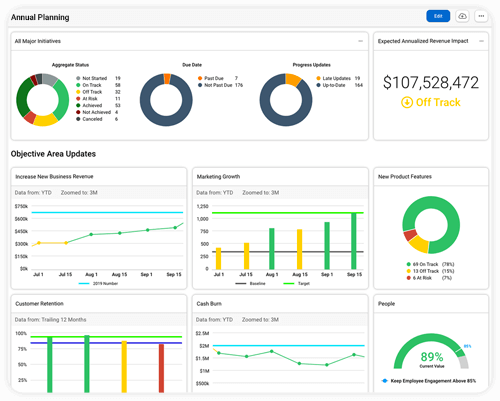 Suitable for medium-sized or large teams, AchieveIt provides executive management, C-suite, and director/manager level professionals with visibility into progress of plans and initiatives. By driving collaboration and increasing accountability, it allows strategy leaders to manage, execute, and align goals across the company.
AchieveIt features
OKR Planning
OKR Management
Reporting
Read more about the features of AchieveIt
AchieveIt pricing
AchieveIt does not offer a standard free trial. However, it offers a Results90 program which is a 90-day engagement arrangement to get customers started before committing to a long-term partnership.
Core - $70 per user, per month - billed annually
Plus - $80 per user, per month - billed annually
Explore more pricing plans with AchieveIt
AchieveIt case studies
"AchieveIt replaces a system of execs getting 15 spreadsheets every day. Now: 1 email, always at 9AM, 1 click to see 90 days of data; all 15 campuses on 1 display."

AchieveIt Capterra Reviews - Myra Ricceri, Performance Excellence Coach at CommonSpirit
20. OKR Spreadsheets - In Google Sheets and Excels
For small and growing teams that are starting the process of OKR execution, using OKR templates in Google Sheets and Excel can be a good place to begin. Using spreadsheets is a simple way to create goals, and make them accessible and measurable.
With features such as conditional formatting and built-in templates, you can use online spreadsheets to create, edit, and share OKRs in real-time.
To begin your OKR planning process, you can download templates and start adding your goals to the spreadsheet. Here are some OKR report spreadsheet templates you could use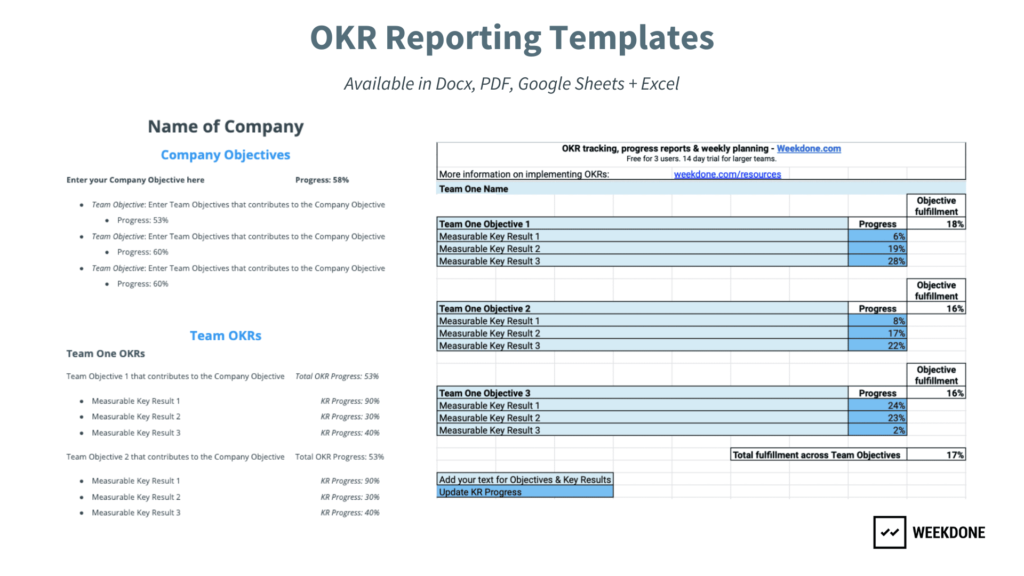 To understand how to link Company Objectives with different Team OKRs in separate tabs, check out this example to help!
If you need more than templates and examples, and would like to get started with creating, implementing, and tracking your OKRs, sign up to try our OKR software and receive free onboarding and coaching with our team of experts!
OKR Software for Startups FAQ
1. Do OKRs work for start-ups or are they meant for large companies?
OKRs are important, especially for start-ups because it provides a framework to set, align, and track, the progress of projects, initiatives, and tasks, which make it easier for startups to be agile, grow, and scale up quickly.
2. When is the best time for a startup to start setting up OKRs?
From day one, any startup can start setting OKR goals. This will help steer the company towards primary objectives with agility and clarity.
3. Ideally, how many OKRs should a startup create?
The best practice for startups, SMBs, and growing teams, is to have 3 to 5 OKRs and key results. To ensure that OKR implementation is successful, keeping it simple will help gain a better focus on achieving key results and forecasting outcomes.
4. What are some of the OKR examples for startups?
The OKRs you set depend on the goals of the company. For a startup, it could be achieving product-market fit, timely completion of the MVP, creating the go-to-market plan, or releasing a beta version to test with users. For more ideas, here are some OKR examples to help you get started.
5. What if OKRs don't work for us?
Do not give up! The OKR framework is a proven methodology. Identify why the OKR implementation process is not working, it could be anything from setting vague OKRs, too many or too complicated OKRs, not getting buy-in from the whole company, not reviewing results, or not assigning owners to OKRs. Read our OKR implementation guide if you need extra assistance in your journey starting out.