Goal setting is an absolutely essential part of the lives of managers and CEOS. Without setting concrete goals, you risk losing focus entirely and lose investment in what really matters. But for employees, goal setting may seem like a huge waste of time.
And I was told to use OKRs when I first started at Weekdone. This seemed utterly useless to me at first. Now, I'm a huge believer in the OKR methodology and quarterly goal setting. Having an employee guide to OKRs is equally useful.
So, what happens if your boss comes into the office and says "we're going to start using Objectives and Key Results for quarterly goal setting from now on?" We will help you figure it out.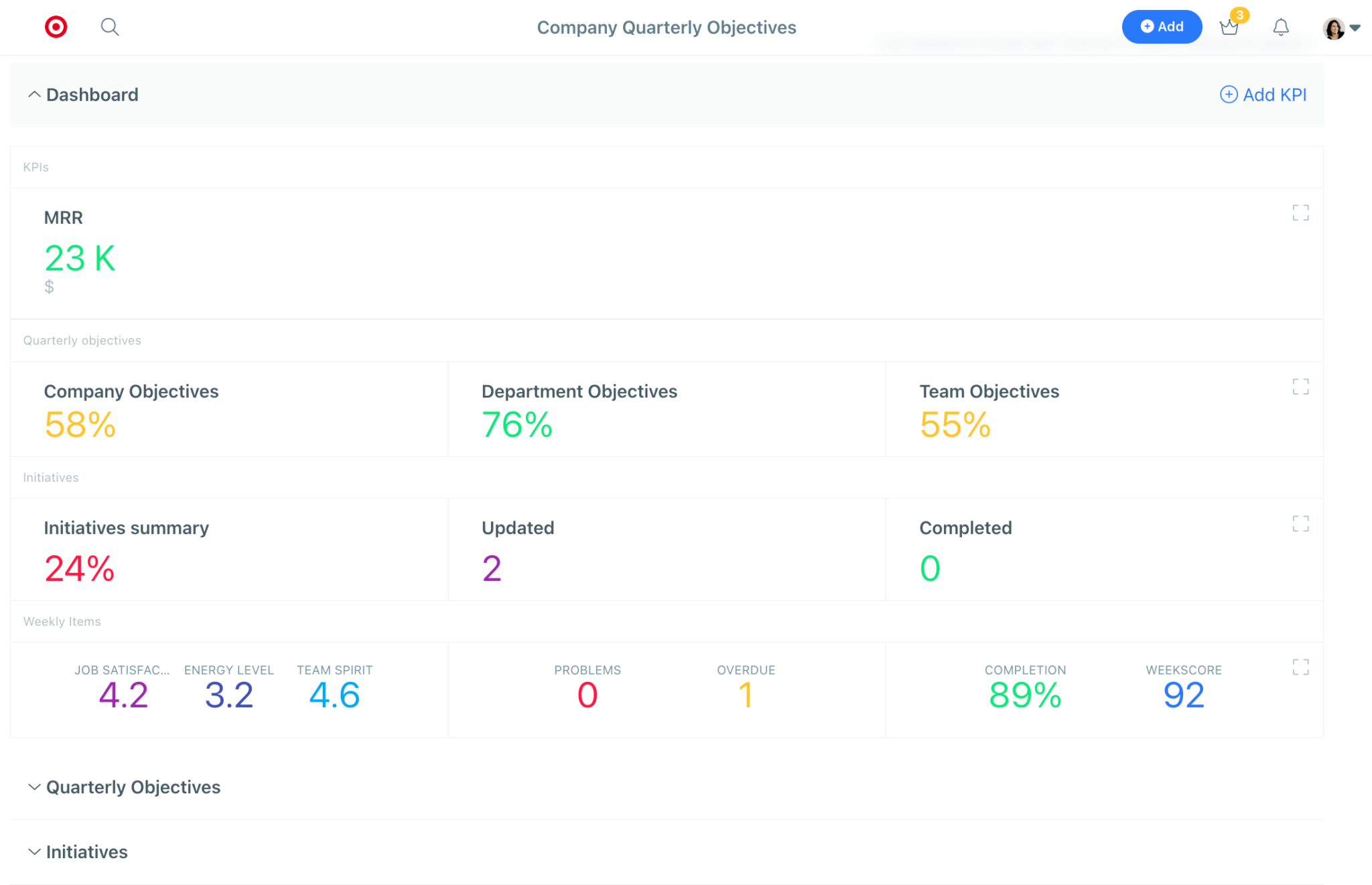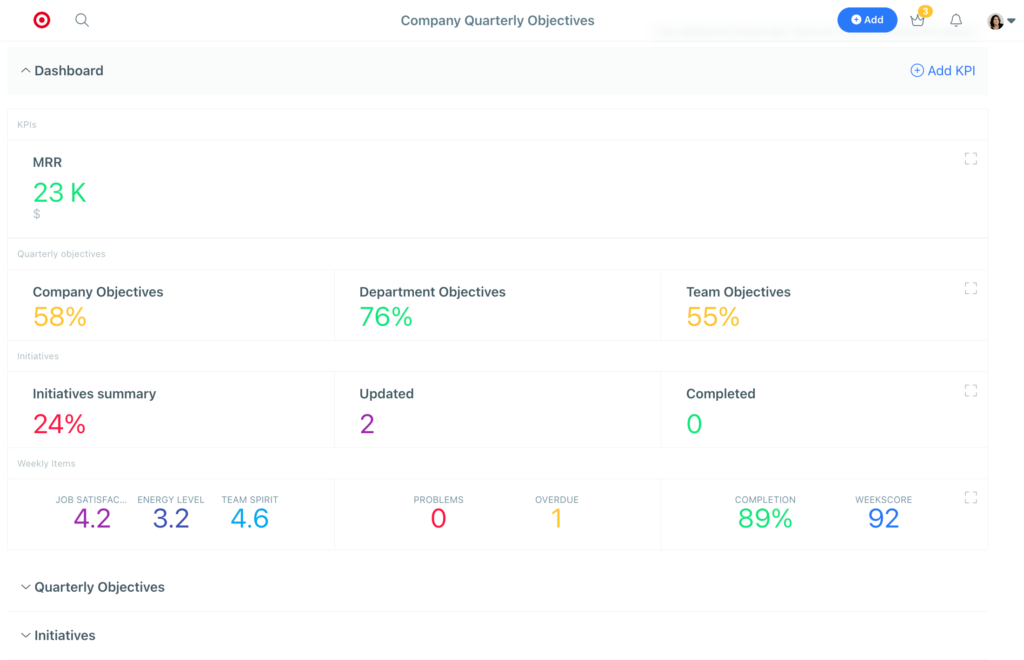 Employee Guide to OKRs
When employees aren't super enthusiastic about cultural change, goal setting systems tend to fail. Typically, everyone is either stuck in the old ways (especially if the system is "no system") or the employee feels that learning a new system is a waste of time. At its very core though, having a management system is essential. Getting started with OKRs is just one way to approach this.
Everybody in a team should have a clear understanding of big-picture goals when using OKRs. After all, more clarity is a lifesaver!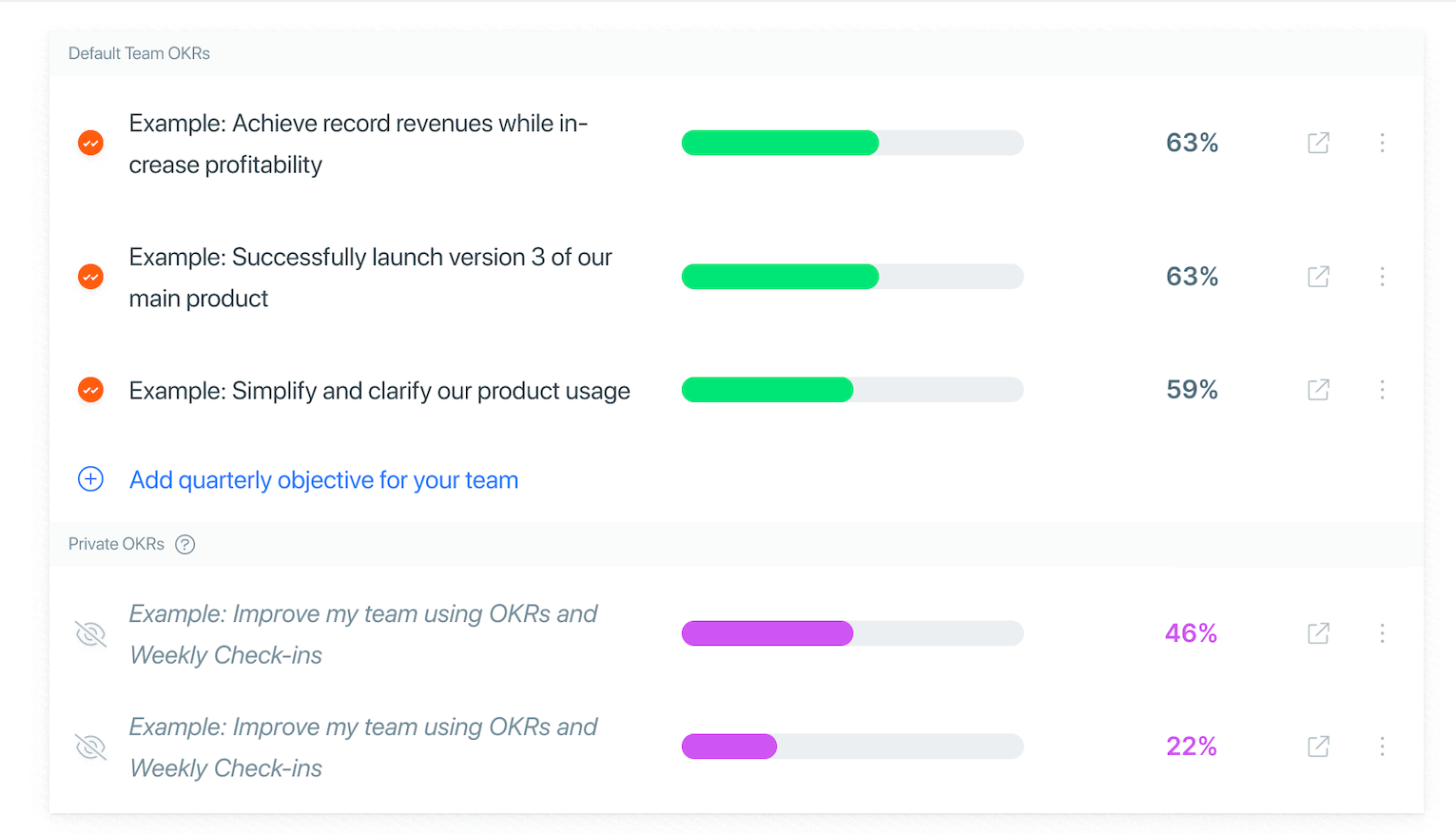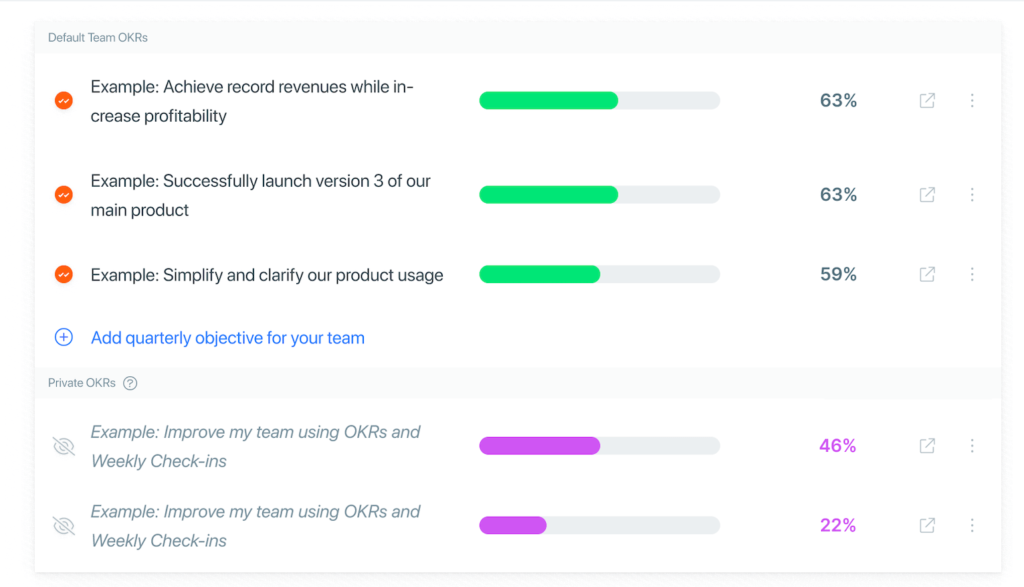 When everyone knows how their work matters, it increases overall engagement, motivation, and determination. Having an employee guide to OKRs helps you get established with one of the easiest and most user-friendly systems out there. You should give them a try.
This guide will show you exactly how to get started.
The Basics of Getting Started with OKRs
[Tweet "OKR is a simple process of setting company, team and personal goals."]
If your company is just getting started with OKRs, you can learn the OKR basics here.
OKR is a simple process of setting company, team, and personal goals while also connecting each of those goals with 3-4 measurable results. As you achieve those results, the whole Objective gets marked as 'done.' This means that as you achieve progress with the measurable outcomes the Objective itself will also progress. To achieve the results you also need to try different things. By focusing on the outcomes you can see, how your every day tasks impact your quarterly goals
After 3 years of using OKR methodology, I can safely say that I save about 5 hours a week by only focusing on what's really important using my own employee guide to OKRs. I am more relaxed about work and my managers are happy.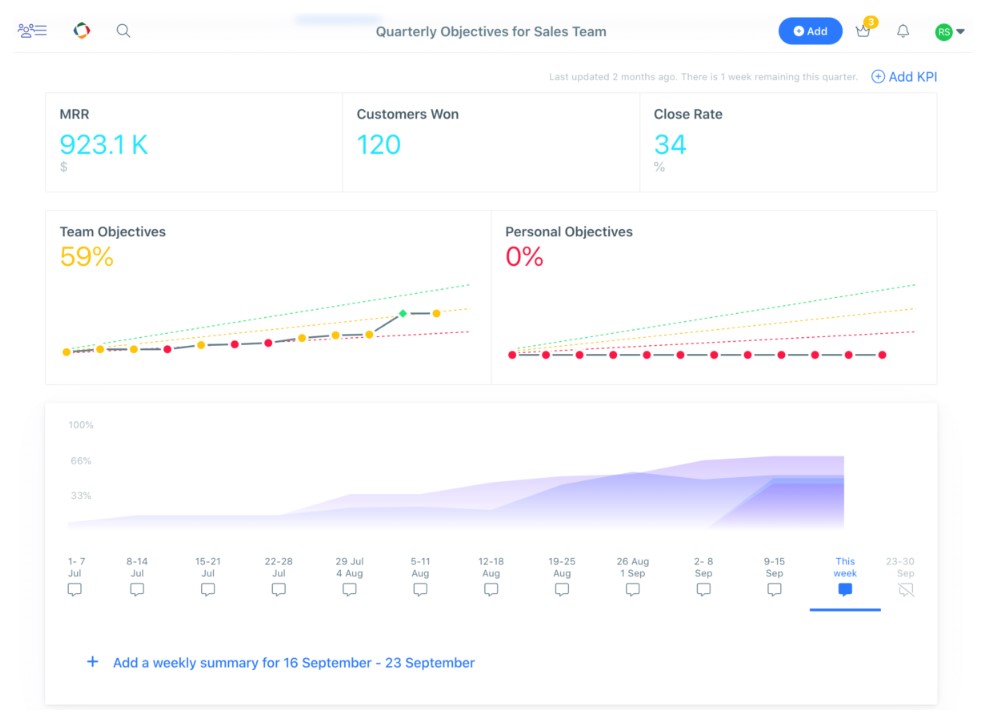 OKR Structure
You start by defining 3-5 key Objectives on a company, team, or personal level. Objectives should be ambitious, qualitative, time-bound, and actionable by the person or team. A good example would be to " increase customer satisfaction."
Under each Objective, define 3-5 measurable results. Key Results show how the success would look like. With the Key Results you know when you have achieved the Objective. Key Results are not tasks, they are the final outcome of series of tasks. It's important to remember that tasks don't belong to the Key Results.
Key results should be quantifiable, achievable, have objective grading, and be difficult, but not impossible. OKR results can be based on growth, performance, revenue, or engagement. They are often numerical, but they can also be presented as 'done' or 'undone' or graded with a binary system "0 or 1". Using the Objective given in the last paragraph, a good Key Result would be to "Get 100 positive ratings in our support chat."
Using OKRs helps you to be happier and more engaged with your work. According to a customer survey we did, an average Weekdone user is more than twice as engaged as the average employee in the US and 6 times more engaged than the average employee worldwide (US employee engagement rate is 30% and worldwide 13%).
People who participated in the survey also enjoy grossly positive workplace relations. This adds so much to the working environment and team spirit.
Quarterly Goal Setting
You need to evaluate OKRs at least every three months. Though, in reallity you should check the progress of your KRs weekly.
New goals are set at the beginning of every quarter. For an employee, this means that you don't have to waste time in 1-on-1 meetings every month, giving you more time to spend working towards your goals.
Forgetting your goals and focusing on unimportant tasks happens quite often when you are only graded once a year during a yearly review. When the year ends, it's terrible to discover that you have done the wrong things and that management isn't happy. With quarterly OKRs, you'll avoid such an unpleasant demise by constantly focusing on your goals. It's a lot less stressful and adheres to a stricter routine, putting goals into perspective so you can always keep track of them.
Lyle Stevens from Mavrck said it well: "It became easier to identify when an employee was straying from their long term objectives if they were continually inputting information that was unrelated to their OKRs."
Take a look at our OKR resources. From Webinars to Ebooks, you'll gain more insight and examples to get you started on your road to using OKRs.
Objectives
Objectives are qualitative and inspirational goals. They describe the desired outcome. So, Objectives give you clear tasks to help you stay on track. There is no need to have numeric metrics for Objectives (you'll have those with Key Results) as Objectives are more visionary and aspirational, not a performance indicator.
The main characteristics of Objectives are:
Actionable: Objectives should be goals that a person or a team can execute independently. If, for instance, you work in marketing, that could be "Successfully implement the weekly newsletter.";
Inspirational: They should excite you and give you a reason to be psyched on Monday morning when going to work. Objectives like "Deliver the new product line successfully" "Improve our product line X to make customers happier," is a good example here;
Time Bound: As mentioned previously, OKRs are set for the quarter which means the goal should be achieved by the end of the quarter. It could be something like "Organize team motivational events to imptove morale."
Key Results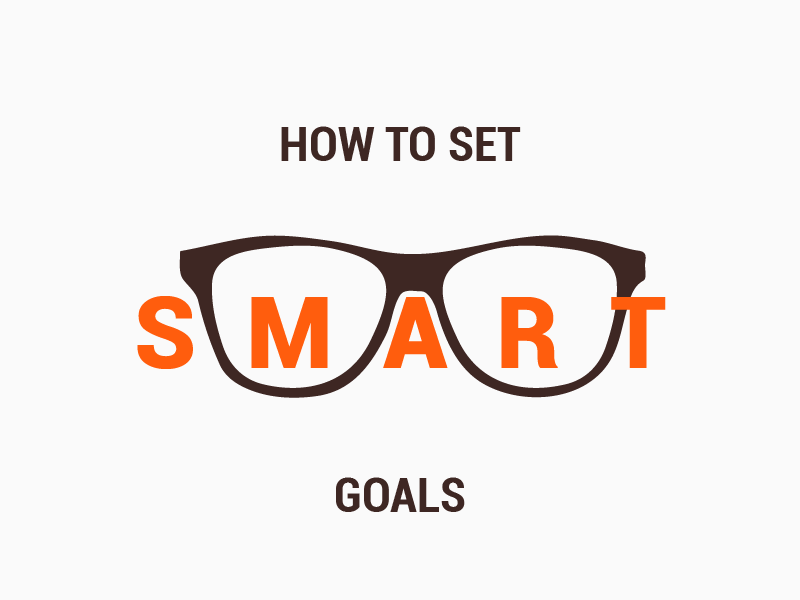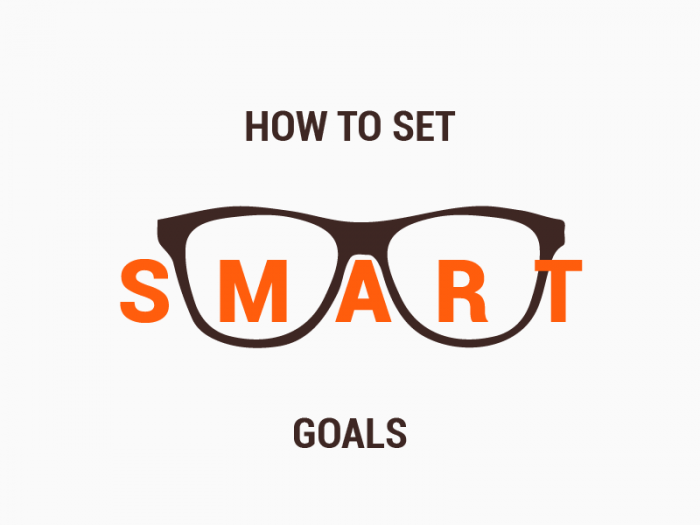 Key Results are the metrics that drive your Objective forward. They help emphasize the important element of "focusing" on your Objective by providing measurable ways to move towards goal completion.
An example Objective with KRs would look like this:
Objective: "Organize team events to increase employee happiness"
KR1: Organize 3 monthly team events
KR2: 100% employees attend to at least one of the events
KR3: Get 95% employees to response to the new satisfaction survey
KR4: Increase employee satisfaction from 7 to 8.5
As you can see, Key Results are not the same as the SMART model, but they both come from the MBO style of management. Metrics, timing, and alignment are all important factors of both methodologies. However, SMART goals are isolated. Objectives and Key Results work together but are also their own separate categories.
As a little refresher though, the SMART acronym stands for:
Specific: is the KR well-defined and understandable for everyone?
Measurable: can you measure success or failure?
Achievable: is it realistically possible to do?
Relevant: is this KR important for your objective?
Time-bound: have I clearly established when the goal must be met? For OKRs this time is usually one quarter.
If you are already using the SMART model in your organization, assessing your Key Results based on them serves as a good model to start out on. That being said, Key Results are not SMART goals and do not have to follow the same criteria as long as they remain metric driven.
It's important to decide beforehand, what you consider a success in KRs. You must be sure about what is expected of you. Do your managers want you to achieve 100% on or goals or should you set them so ambitious, that 60% is a good result? If you're tasked with setting your own KRs, make sure you and your boss understand what of what you're supposed to do. Often OKRs are set very ambitiously and a 70% completion is considered a job very well done.
Updating Weekly
You should go over your OKRs every week. You need to make sure that the work you do is important.
Update the progress made on your KRs every week for the best results. That way you can see if the tasks you have accomplished, actually move you towards you goals. And it is much easier to keep your focus from day to day. This is, after all, the main idea behind the OKR framework.
Adapting OKRs with Weekdone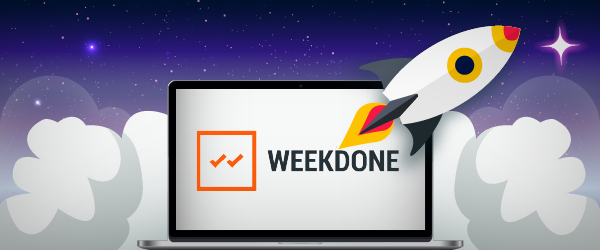 Shawn Rucks is the CEO of deverus. He's also a Weekdone OKR software user. So he knows the challenges with getting started with OKRs. One of these struggles comes in the form of moving goal planning from once a year to quarterly OKRs. This is an absolutely enormous cultural change that requires commitment on every level. "It is hard, because you are asking somebody to clearly define what they are going to do and how to get it done" said Rucks.
If a leader believes in a system, adapting is much easier. "And thanks to Weekdone everybody else can see what I do and that has made an impact," said Shawn.
You can see all the user cases about using Weekdone here.
Further Reading on OKRs
Many resources are available to make your experience with OKRs less daunting. You can take a look at our infographic on OKRs or our FAQ page. In addition, we have a comprehensive overview of the OKR methodology for a good employee guide to OKRS. With specialized, free onboarding and active customer support, you can also contact us at any time.
More OKR materials: