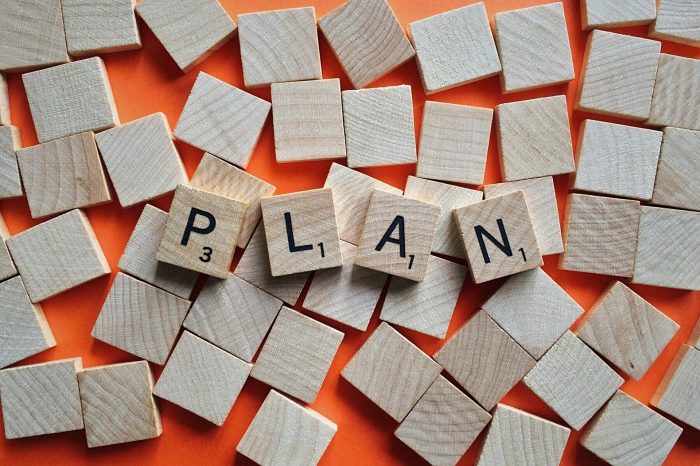 Business owners know that a lot of information-gathering and goal-setting goes into the process of starting a new business.
There are key visions, strategies, focuses, objectives, and outcomes that need to be taken out of your brain and put on paper. Just as well, having a clear, tangible list of relevant information as it pertains to your business goals makes it easier for you and your business team to stay in the right headspace.
Luckily, you can start the process of putting your thoughts on paper with a template. In this guide, we're going to explore how you can use our own printable business goal planning template to start off your new business. We're also going tot alk about OKR and PPP methodology and how it can be useful for your niche business.
Business Goals Template
Download your free business goals planning template here! This fillable template is fantastic because it's relatively minimal and perfect for grouping together condensed versions of your business goals. It can honestly work for just about any business in any industry!
How to Set Business Goals
Without further ado, let's break down our business goals template.
1. Define Vision
This is arguably the most important part of your goal planning sheet. Your business vision is the foundation for your overall business.
This vision should be a brief and concrete mission statement. You can define your vision a couple of times per year, but it should stay the same for around 5-10 years.
Think about what you visualize your business being at its most successful. For example, if you are a tax software company, you may list your vision as "Be the most dominant tax software online." If you're a skincare or makeup blog that operates exclusively online, your vision could be "Become the #1 most viewed skincare and makeup blog for advice and product reviews."
Don't add a deadline to this. If anything, your vision is merely a statement to focus on as you conduct business to maintain a level of consistency.
2. Define Strategy
A strategy is an important part of running a successful business. Write out how you're going to
"win" over your competitors within only two years.
Obviously, any one business will have a number of strategies for different aspects of the business, such as marketing, sales, etc. The purpose of the "define strategy" section is to hon in on one strategy as your main strategy for success.
For example, a web app startup may list their strategy as "Have the biggest organic traffic in the native app market." Similarly, an online florist that delivers locally in Milwaukee, Wisconsin may choose a strategy like "Get to the top four results in Google under 'Milwaukee florist delivery." Choose a strategy that is tried and true for you when starting out. In two years, you'll want to switch things up to align with new business goals that you aspire to reach. Think about your industry niche and how you can realistically get a leg up over your competitors in only two years.
3. Define One Year Focus
Write out the top most important focus for this year. This can be easy as "revenue" or "invest in public relations."
This focus will be the "theme" of your fiscal year. What do you want to focus on in twelve months? Why do you want to focus on it? Does this focus result in you achieving your vision and strategy?
For example, the tax software company we invented in the above section decided to run with "Have the biggest organic traffic in the native app market." as their vision for five to ten years. They also chose "Have the biggest organic traffic in the tax software market." as their two-year strategy. Their yearly focus could be something like "Invest heavily in content marketing and link building."
4. OKRs
Objectives and Key Results (often called OKRs) is a business methodology that is quite popular among business people in a wide range of niches, including the massive Google.
It's a fairly simple process to understand. This goal system is different from more traditional planning methods in that it is constantly set, tracked, and evaluated.
The three main objectives in our template are as follows:
Improve brand presence
Improve content and distribution
Achieve record metrics in blog organic traffic
For each objective, list the key results you want (up to five per objective) and list how you would like them to be measured. Also include a deadline that is reasonable for each key result.
For example, for "improve brand presence" you may decide you want to earn five placements in mainstream media. You could measure this simply as "1-5" and set a deadline for three months. Quarterly or when those three months are up, revisit this key result to see if it was achieved. If not, try again or consider a new key result to strive for.
These objectives should be evaluated and renewed on a quarterly basis.
5. Look into PPP Methodology Weekly
The weekly planning (PPP) structure should be visited once a week (we suggest Friday) to look at how different goals have been accomplished.
Look at how the week went. What did you accomplish this week? What do you plan on accomplishing next week? What problems do you expect to run into? Be brief here and don't be afraid to include achievements that are relatively small, such as publishing two blog posts.
6. Desired Outcome
Like the above section, you'll want to revisit your desired outcome each and every week on a Friday. Define the measurements for success for the next week. This can be as simple as having an agreed roadmap that your marketing team can use for writing content for the next few months. Keep these measurements brief and realistic.
What do you think about our printable business goal planning template? Has it helped you organize some more conceptual business goal you've had?