The Objectives and Key Results (OKRs) framework is a highly effective goal-setting methodology. When OKRs are implemented well they can deliver optimal results, but if launched improperly – without dedication and commitment – it could lead to incorrect goal setting. Especially in bigger companies, the main challenge is learning how to implement OKRs across teams.
There are many ways OKRs can be launched in an organization. What works for large teams with complex workflows may not work for smaller-sized businesses, therefore it is important to contextualize and tailor your approach to fit your needs.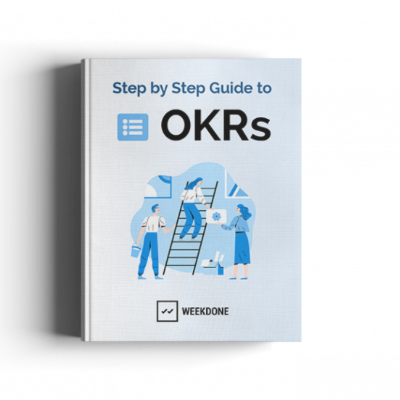 In this article, you can explore different approaches to launching OKRs in a way that suits you the best, and get answers to common questions about OKR implementation.
🎯 Many best-in-class companies are using dedicated OKR software to implement their goals. Check out how it works in a real-world application.
In this article, explore different approaches to launching OKRs and get answers to common questions about OKR implementation
How to Implement OKRs? Adopt the Right Approach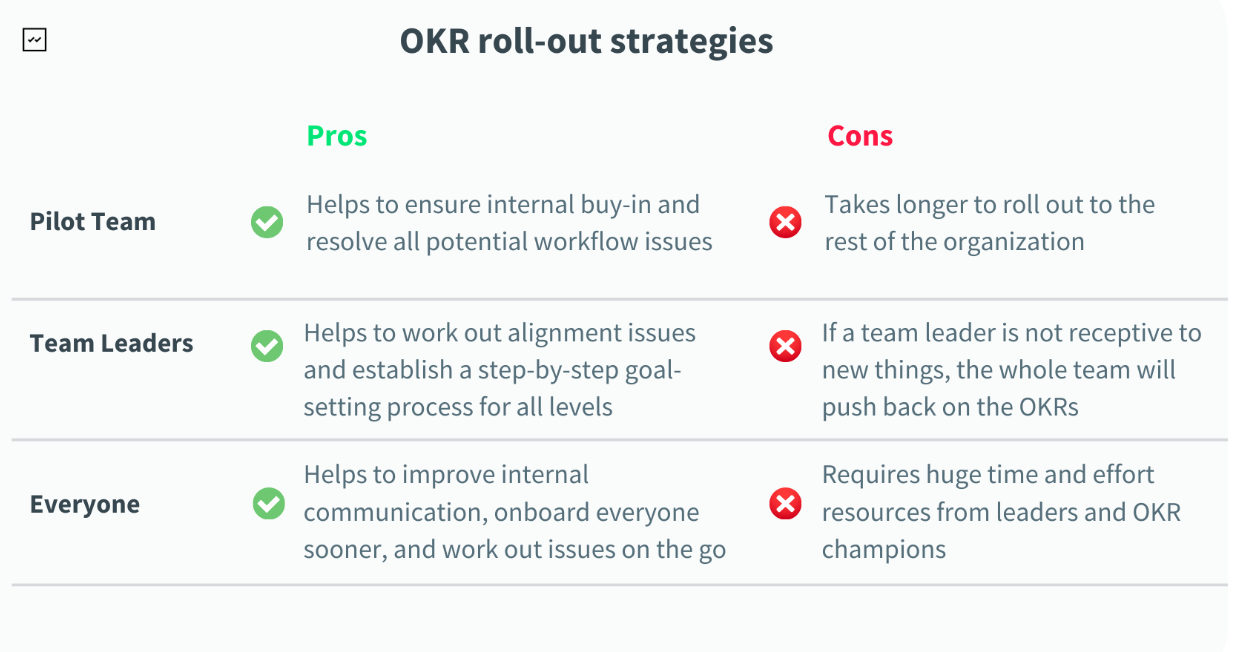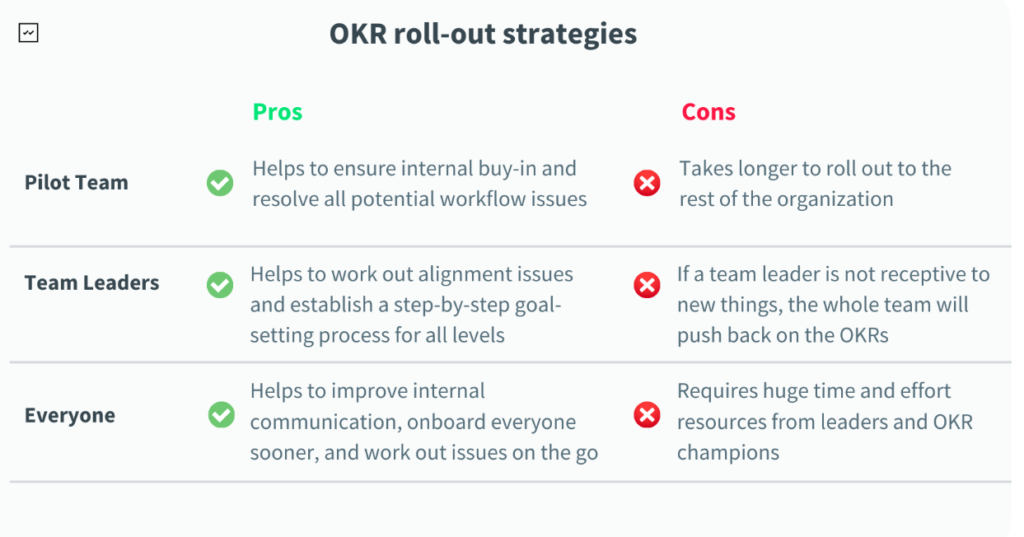 1. Implement OKRs Using an OKR champion
One of the biggest challenges when adopting a new goal-setting system like OKRs is increasing adoption among team members. Using an intuitive OKR software with an easy-to-use UI can be a step in the right direction. 
However, a great tool is only as effective as the team using it. If everyone does not completely understand the OKR methodology and is not fully engaged and dedicated, implementation can be a challenge. That's why we recommend the approach of using an OKR Champion.
An OKR Champion is an individual in your team responsible for mastering the OKR methodology. Assigning one team member of your team is one of the most effective ways to implement OKRs. It ensures that the right information is communicated and proper guidance is provided in the process of goal setting.
Teams can easily lose interest in driving goals and can eventually become demotivated to adopt the OKR framework. Find out why do you need an OKR Champion in your team.
When implementing OKRs, assign a go-to person who will be responsible for learning all there is about the OKR methodology. That person can help onboard other employees, answer their questions, and ensure the process is on track.
Even if you are using an OKR software with great customer support, it is good to have someone inside the team who can understand how to implement OKRs successfully and help your team.
2. Test OKR Implementation with Smaller Teams
Another approach to OKR implementation is starting with a smaller test team (10 people). In this approach, the team and team leaders would need extensive training on how to use OKRs. Having tried the methodology for one or two quarters, they can identify the best way the system works based on their company's needs.
🎯 Many OKR software providers offer consultation to educate, train, and support teams for OKR implementation.
The advantage of using test teams is that they can share their experiences and showcase the benefits of using OKRs. In this way, it can encourage other team members to understand and adopt the approach effectively. Moreover, using this approach can ensure that several team members become OKR experts and promote company-wide implementation
3. Implement OKRs Company-Wide
Deciding to launch OKRs across your company is one of the most difficult ways of implementation. However, when done right, it can help you implement faster and benefit from the methodology instantly.
To ensure company-wide implementation of the OKR framework is successful, you'll need all the help you can get. Using an OKR software provider with an exceptional customer success team can ensure successful implementation.
The typical implementation process starts with leadership coaching, followed by employee training and establishing one or more OKR champions in your company. When everyone is onboarded, Objectives and Key Results can be set and measured for all your teams instantly.
When selecting your OKR software for company-wide implementation, ensure it includes these support features:
Ensure your OKR software provider offers training and support for leaders, managers, team leaders, and employees.


In-product guidance (OKR Wizard)
Ensure that the OKR product has in-product guidance to ensure effective implementation.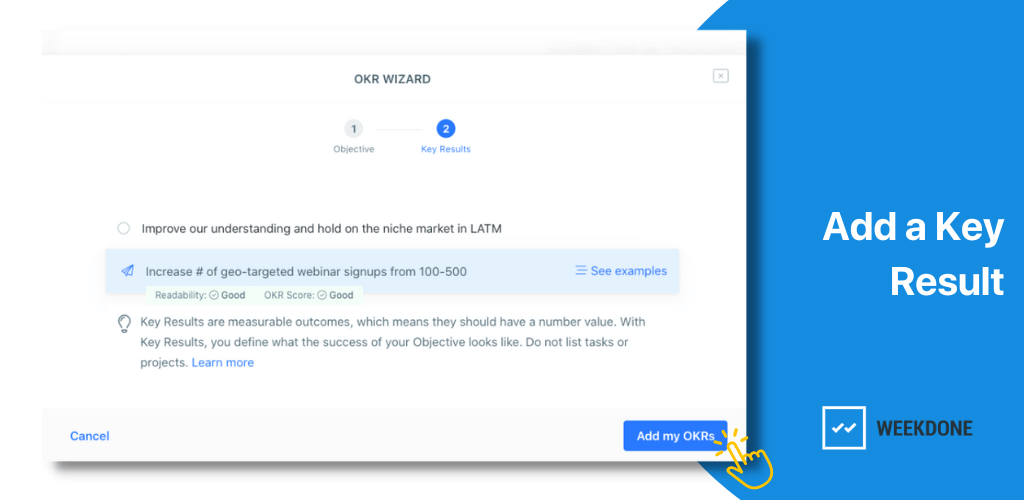 Ensure you have access to different template formats to help you get started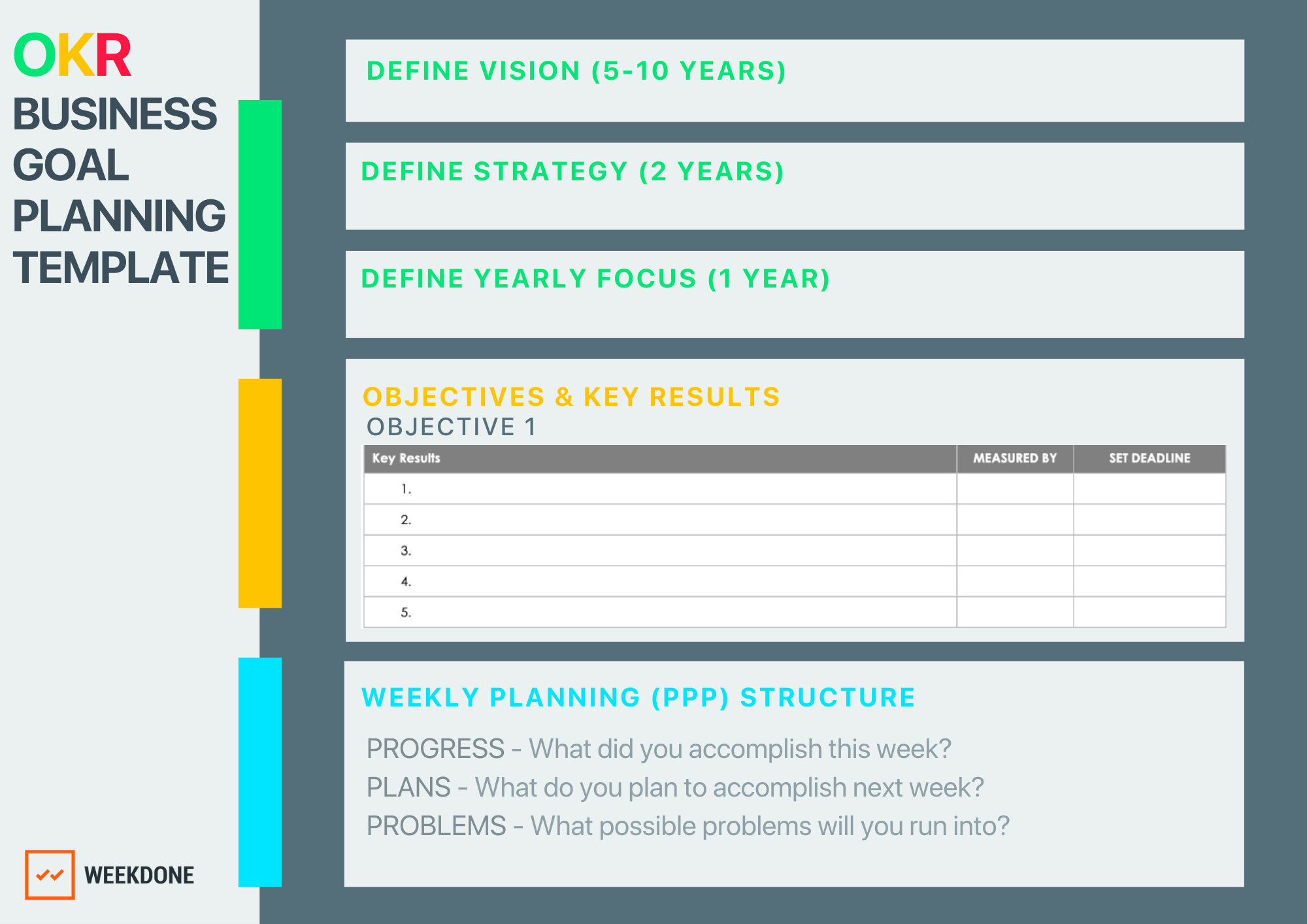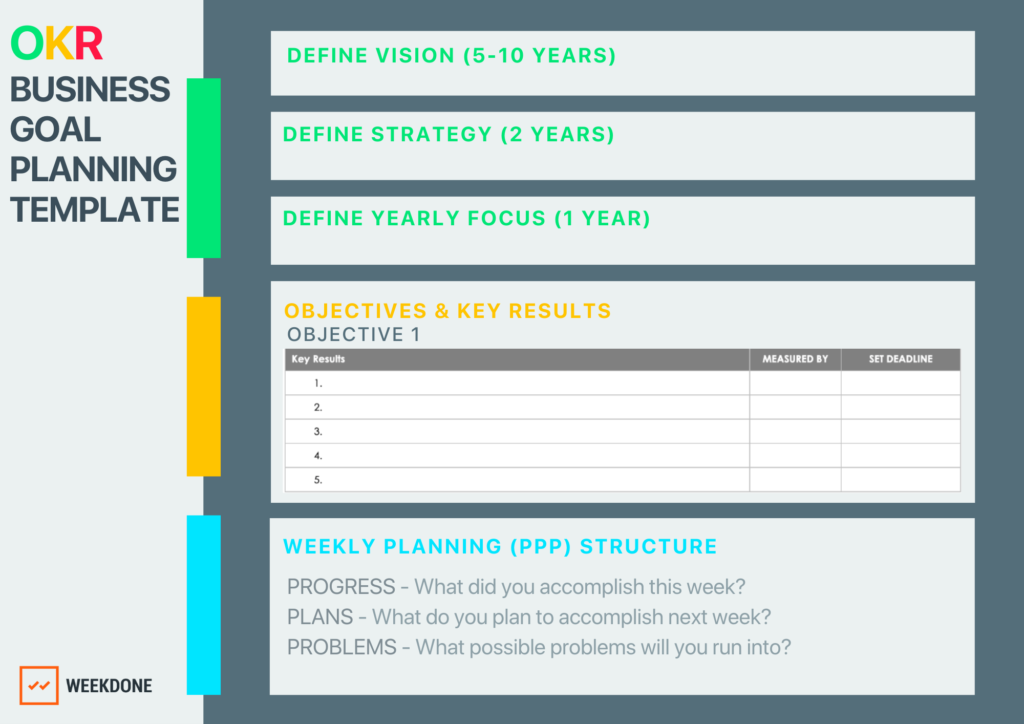 To get inspired and write good OKRs make sure you have a readily available database of OKR examples.


💡 To go further into other aspects of OKR implementation and to evaluate your approach, refer to this OKR Implementation Guide. Or if you'd like to accelerate your adoption curve, take a look at these OKR best practices and find out:
Why Adopt OKR Best Practices?
Mistakes to Avoid When Implementing OKRs
10 OKR Best Practices to Accelerate the Adoption Curve
The Secret to Successfully Implementing OKRs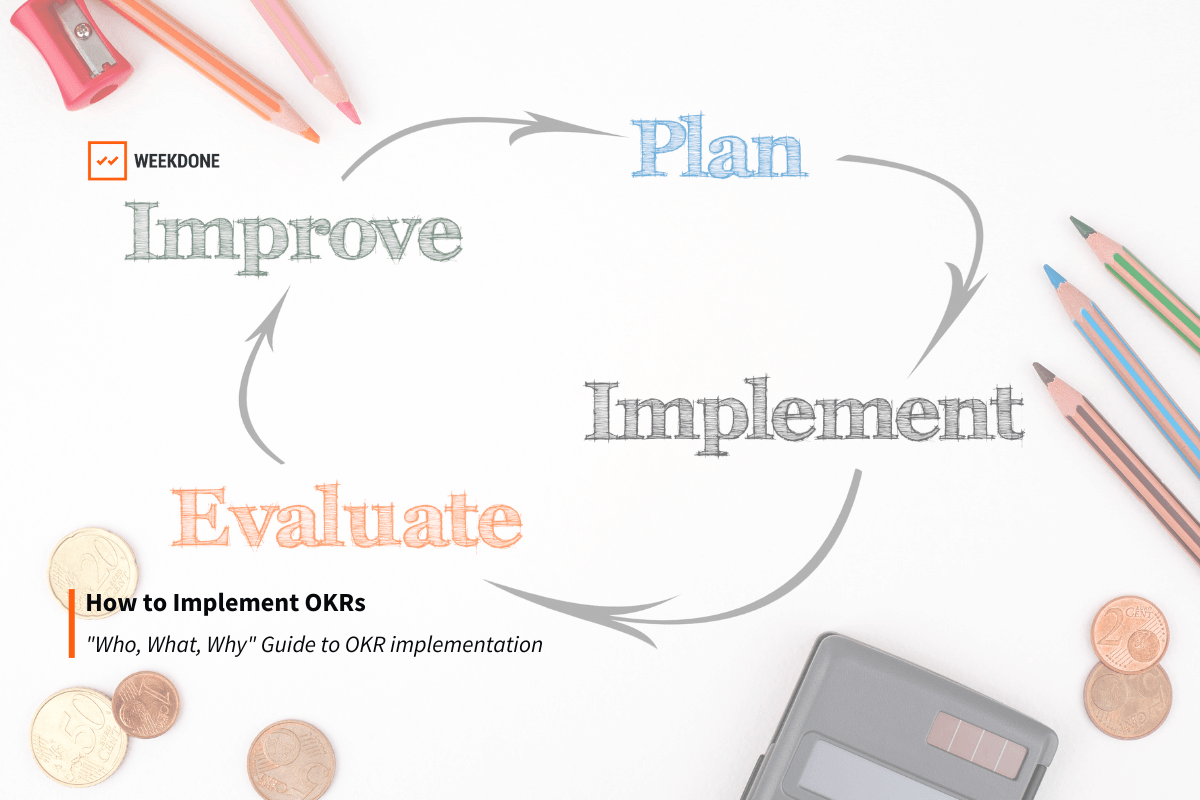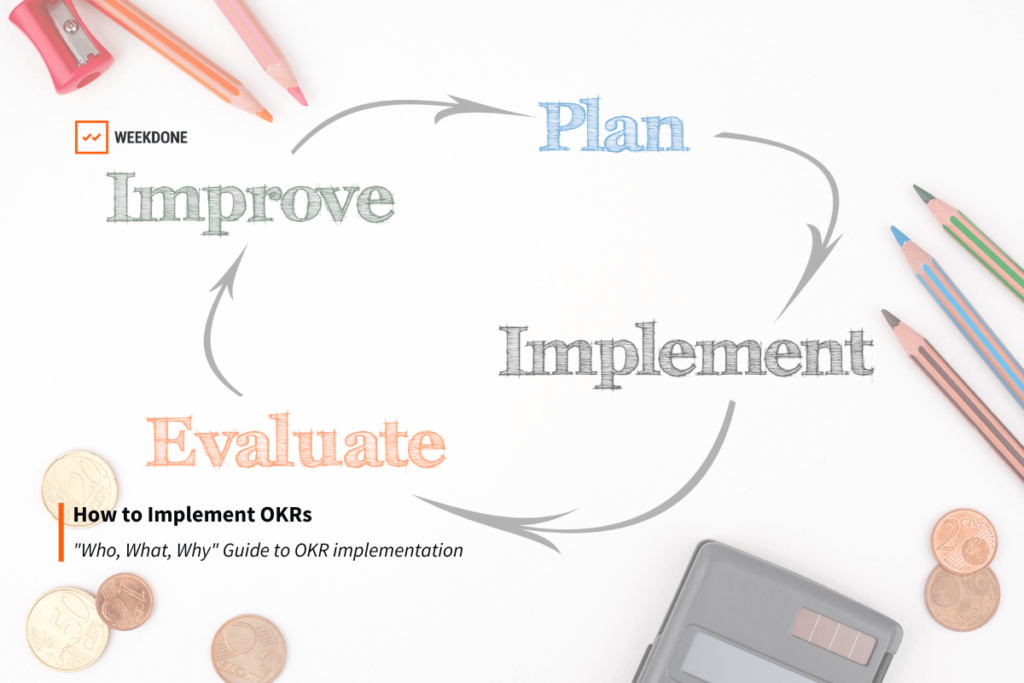 👇 Are you ready to implement your OKRs? There's no better place to start than launching OKRs on a dedicated software platform.
Answers to Common Questions About OKR Implementation
While understanding the OKR framework is easy, implementation of any framework can be difficult. Through conversations with our clients and users, we've encountered many questions about OKR implementation.
Here are answers to the most common questions to give you more insights into how you can successfully implement OKRs:
What is the purpose of implementing OKRs in the organization?
A common question is why OKRs need to be implemented when your company may already have an annual strategy and KPIs to measure performance.
The OKR framework goes beyond measuring performance, it identifies improvement areas that can be critical to growth. Here are some of the reasons to adopt OKRs to transform your company:
Realize the full potential of your company
Utilize an organized framework to accomplish Objectives through actionable Key Results.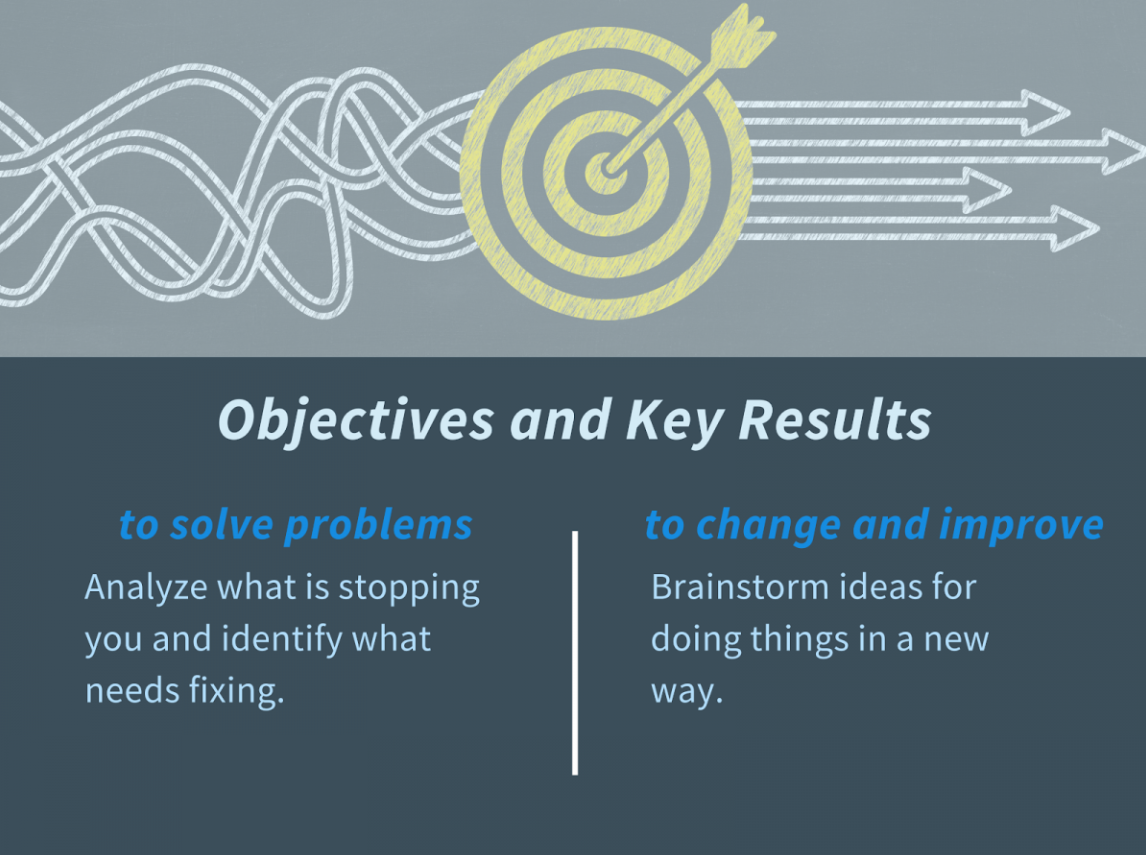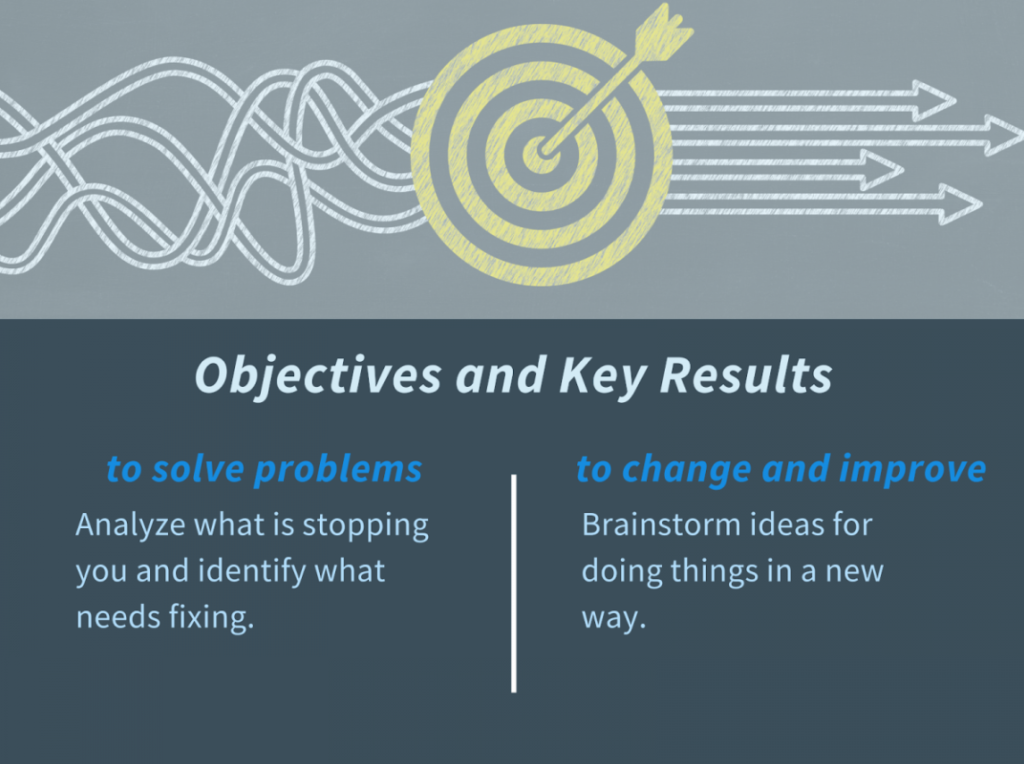 Align the daily activities of all teams with the company's long-term vision
Align everyone's efforts toward achieving the overarching goal.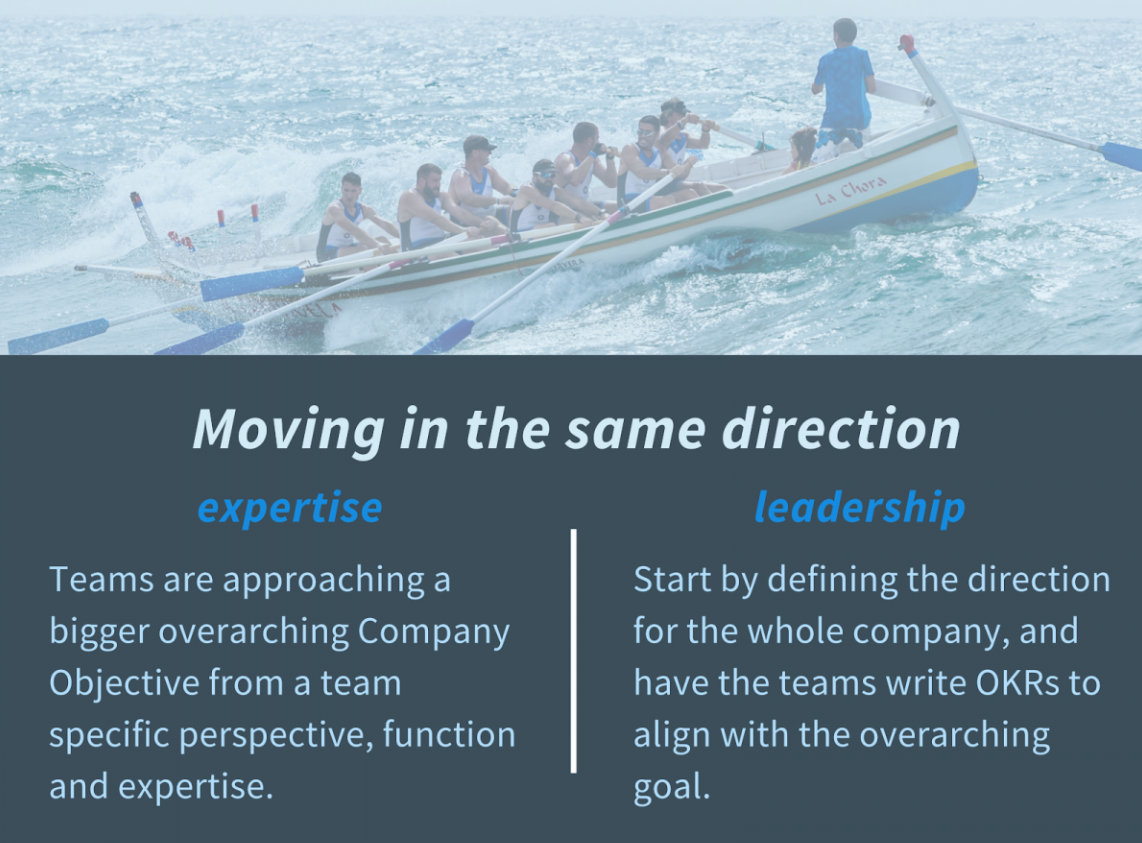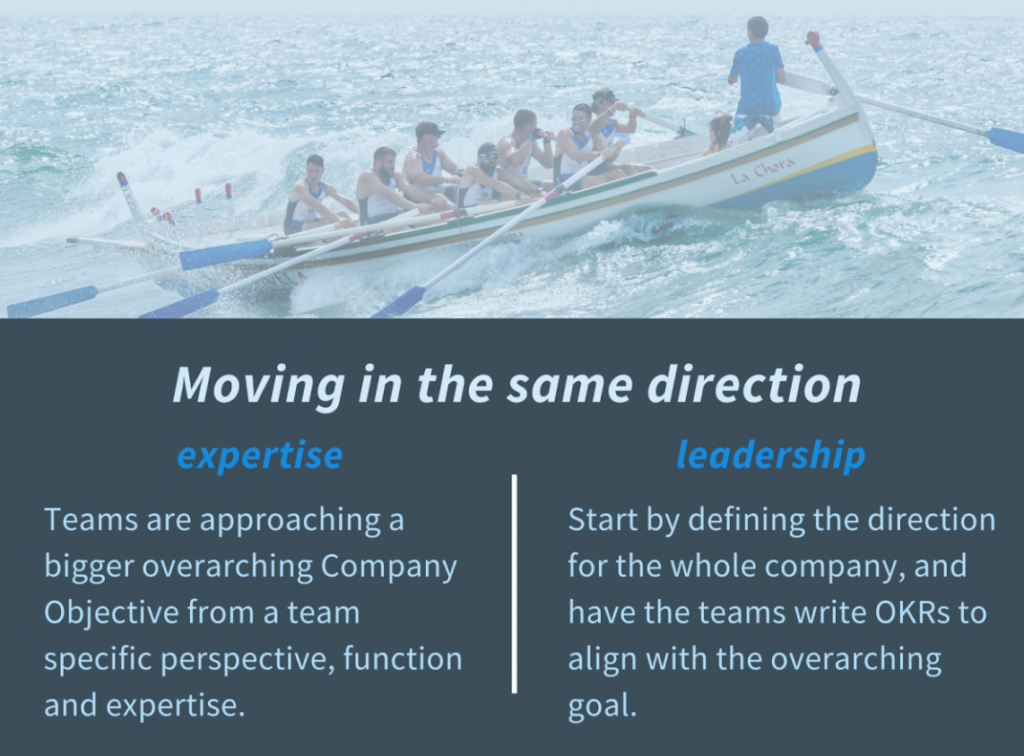 Make the team adaptable and agile
Set and regularly monitor short-term OKRs
Make teams and individuals more accountable
Use measurable Key Results to make individual stakeholders more responsible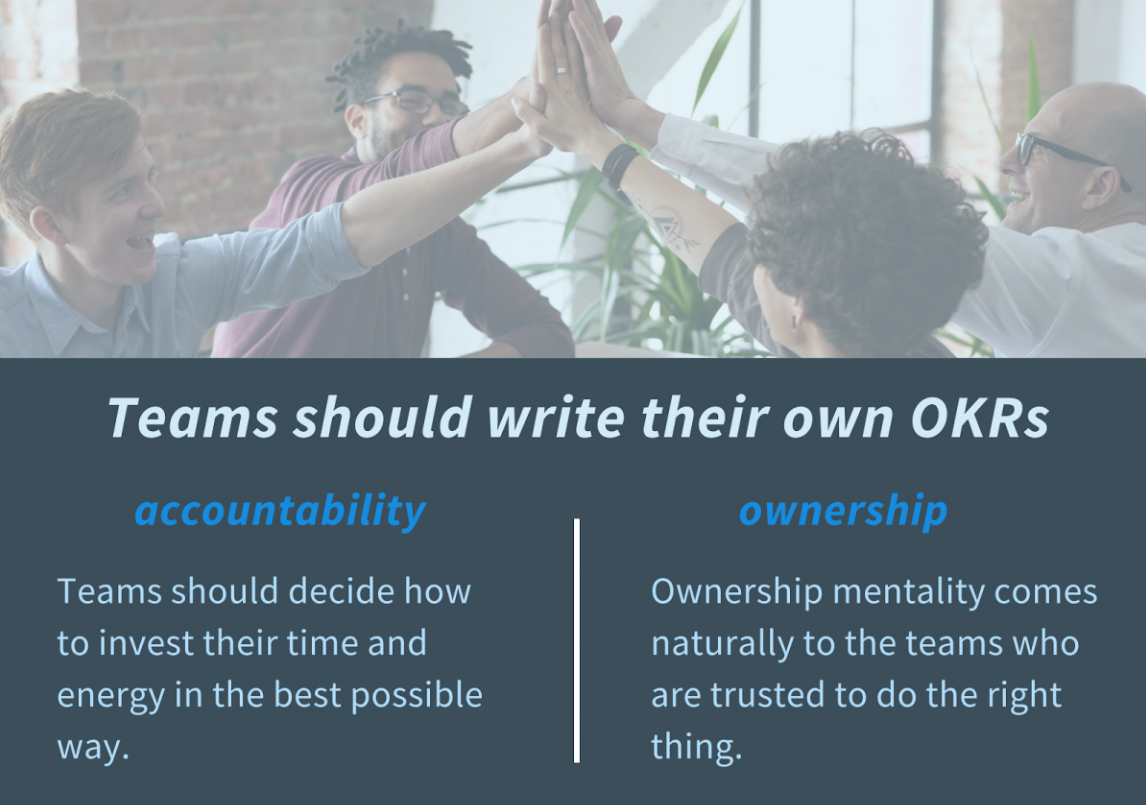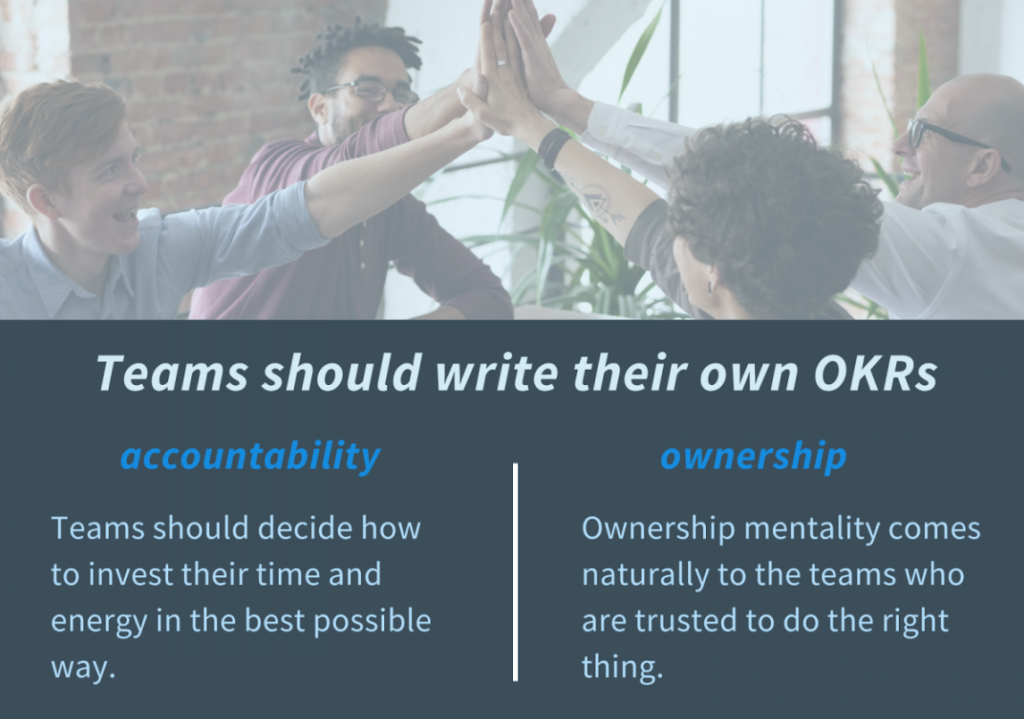 Easily integrate the new goal-setting framework
Without having to reorganize your current organizational structure, integrate a new goal-setting process seamlessly.
Track metrics to inform business decisions
Use reporting dashboards to track OKRs and drive aspirational objectives with tangible results.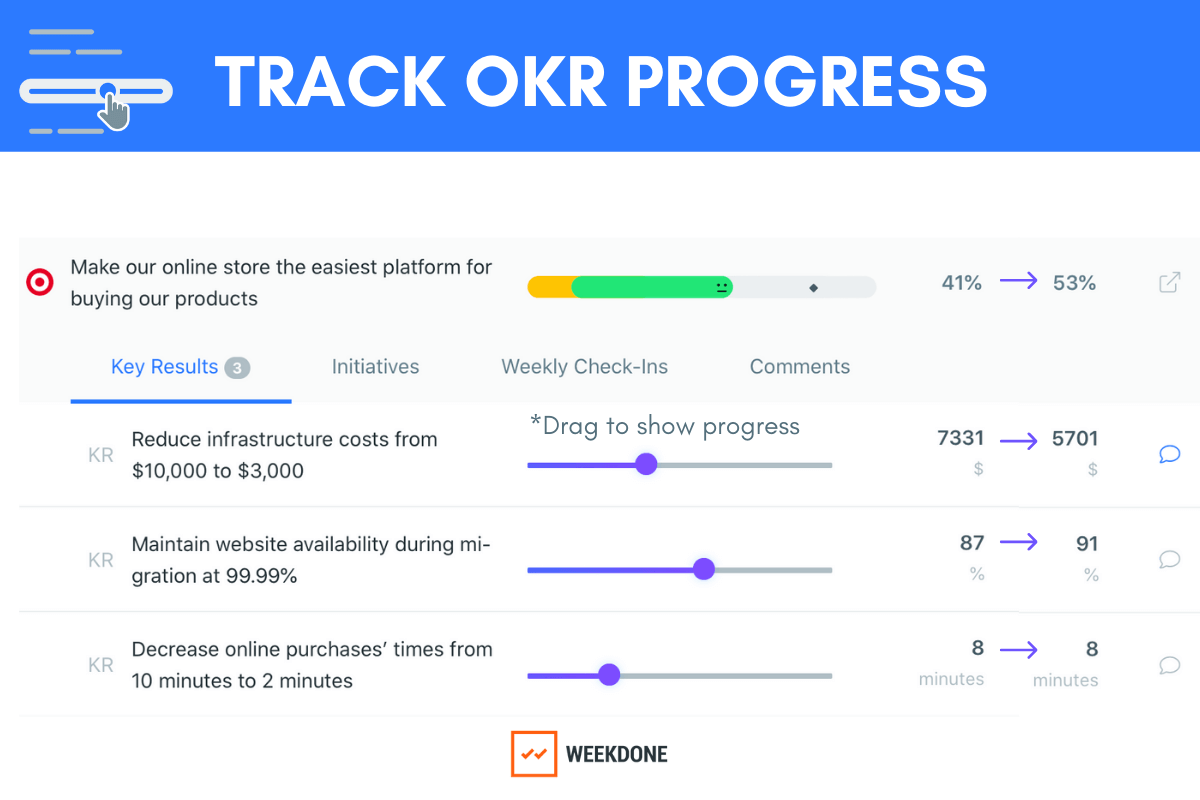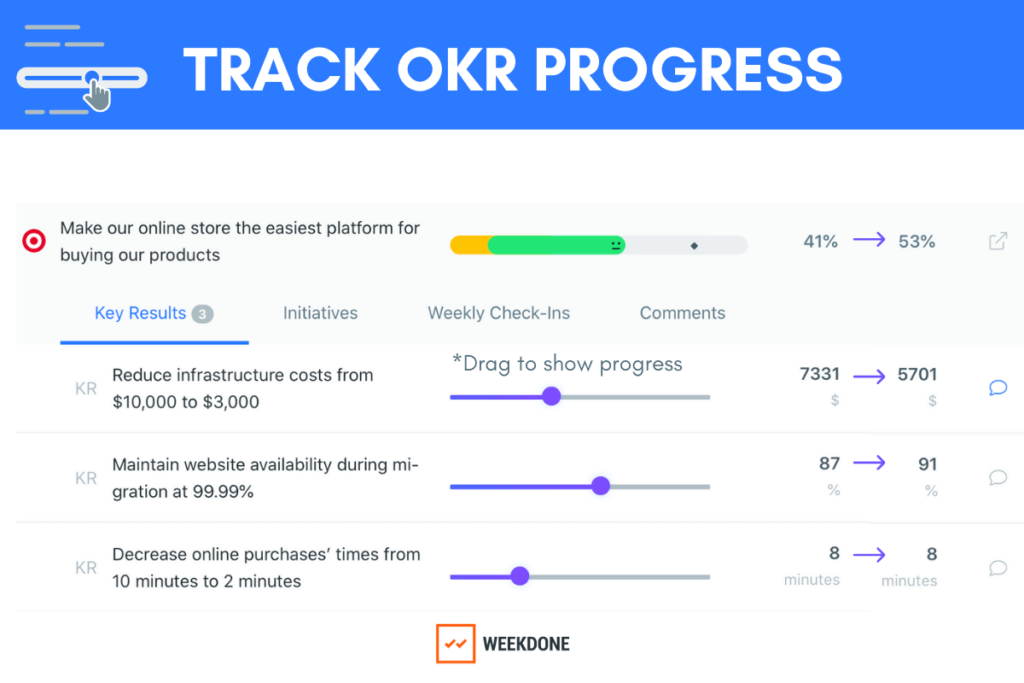 Drive maximum results and mitigate risks through early detection
Ensure regular monitoring to identify improvement opportunities and risk areas that require attention.
👉 Still indecisive about whether OKRs are needed for your business? Find out why OKRs matter and understand how it alleviates your business challenges.
Who should develop OKRs in an organization?
The approach to goal planning and setting has evolved. The OKR framework has played an important role in turning around the top-down structure of setting goals.
While the overarching mission and vision of the company can be defined at the top level, the approach of cascading OKRs from the top down has proven to be ineffectual. Not including team members in the strategy development process and the lack of providing a view of the bigger picture, not only impedes innovative thinking it is also demotivating.
The OKR goal-setting process should be a collaborative effort.
Team members need to take inspiration from the company objectives to identify their team's OKRs. Managers and team leaders need to also validate team OKRs to ensure alignment with the overarching goals.
This is a great way to streamline the goal-setting process, ensure alignment, and showcase how individuals contribute toward the end goal.
By combining a bottom-up and top-down alignment approach, the OKR hierarchy ensures objectives and key results are linked at the company, team, and individual levels.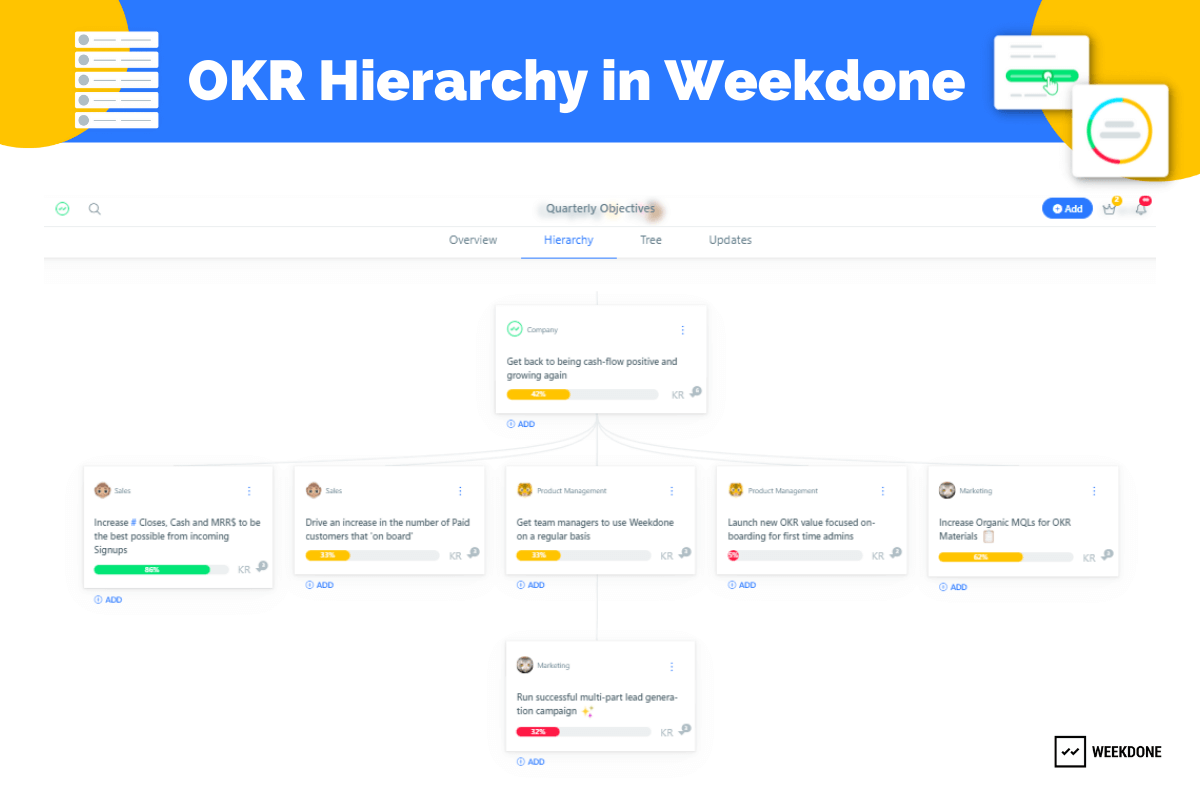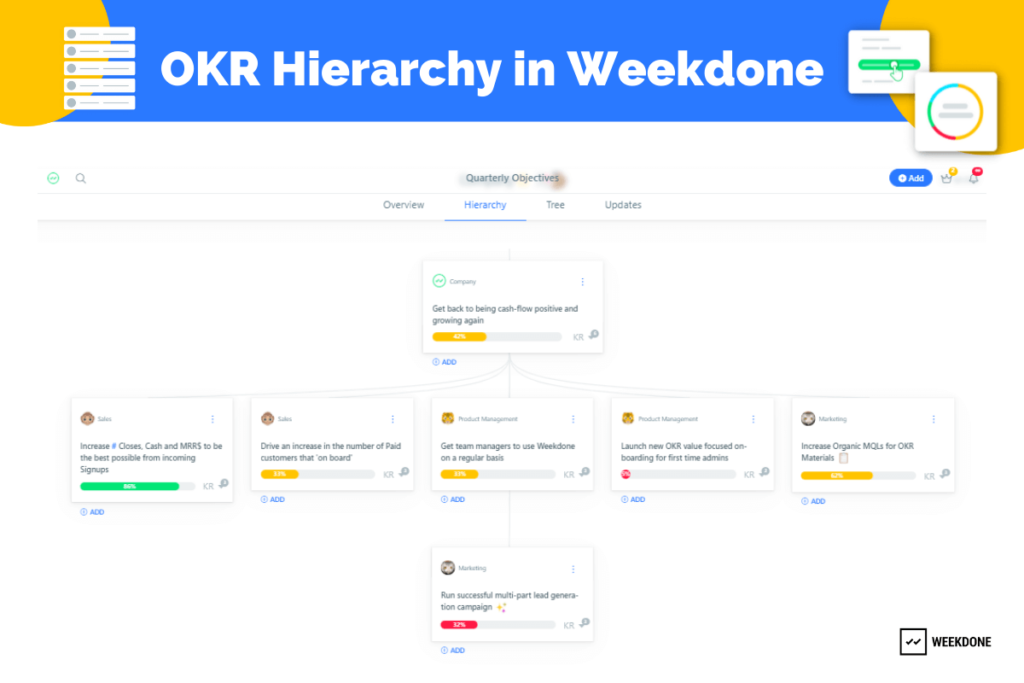 Who is best to communicate OKRs consistently?
The main company objective and mission have to be defined and communicated at the top level. Once the vision is shared it makes it easier for the rest of the company to translate that into specific Objectives and Key Results.
Communication and engagement are important aspects of the OKR process. If you decide to select an employee or employees to be OKR champions they would be the best source of communicating anything and everything about OKRs in your organization.
Whether it is guidance about drafting OKRs, support when implementing them, or questions about tracking Objectives and creating measurable Key Results, it works well to have an OKR Champion be the go-to person.
Alternatively, a test team that has already implemented OKRs can be the driving force when implementing OKRs company-wide. Additionally, communicating progress about OKRs through regular Weekly Check-Ins can provide the opportunity to assess and drive improvements.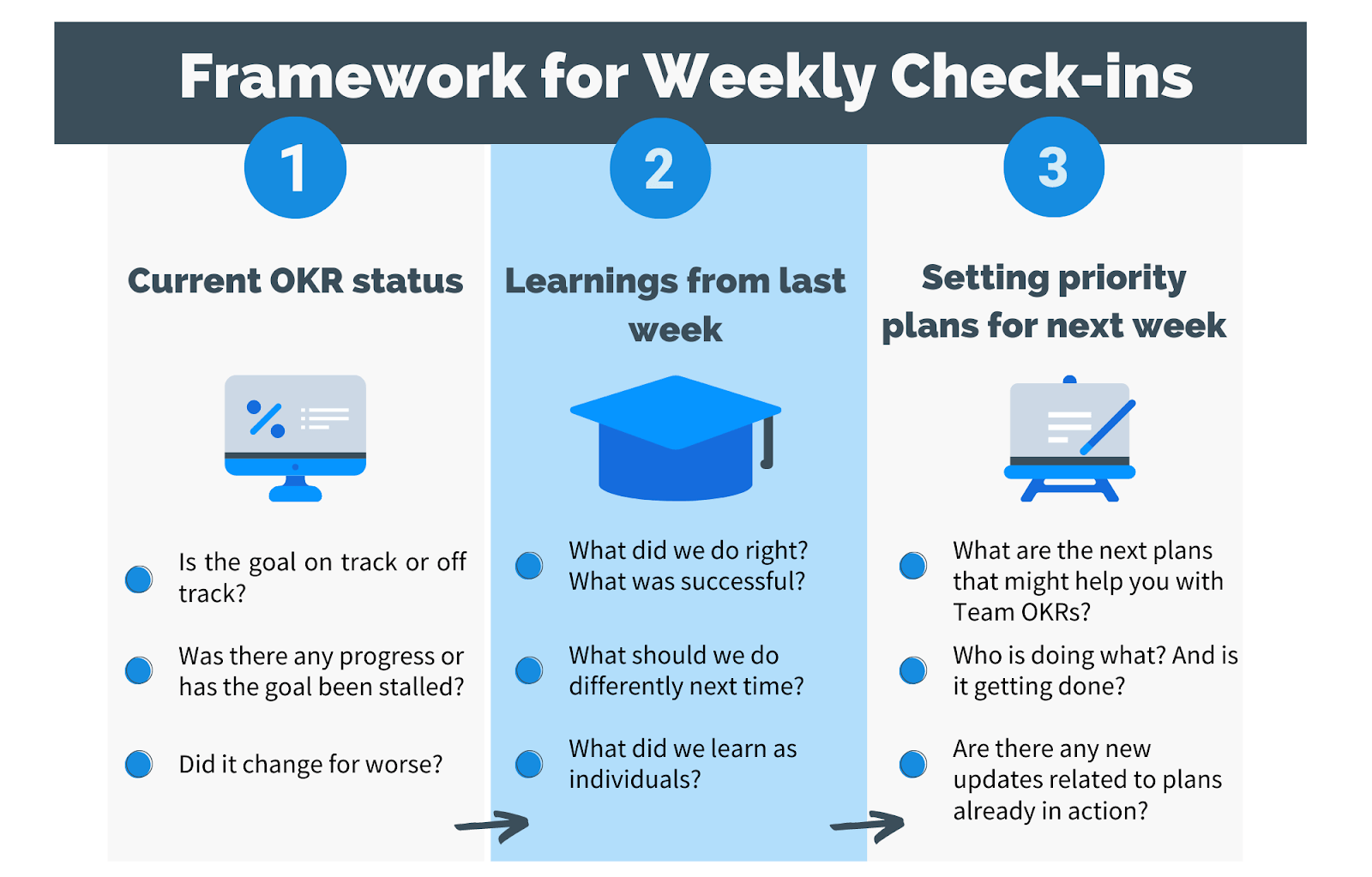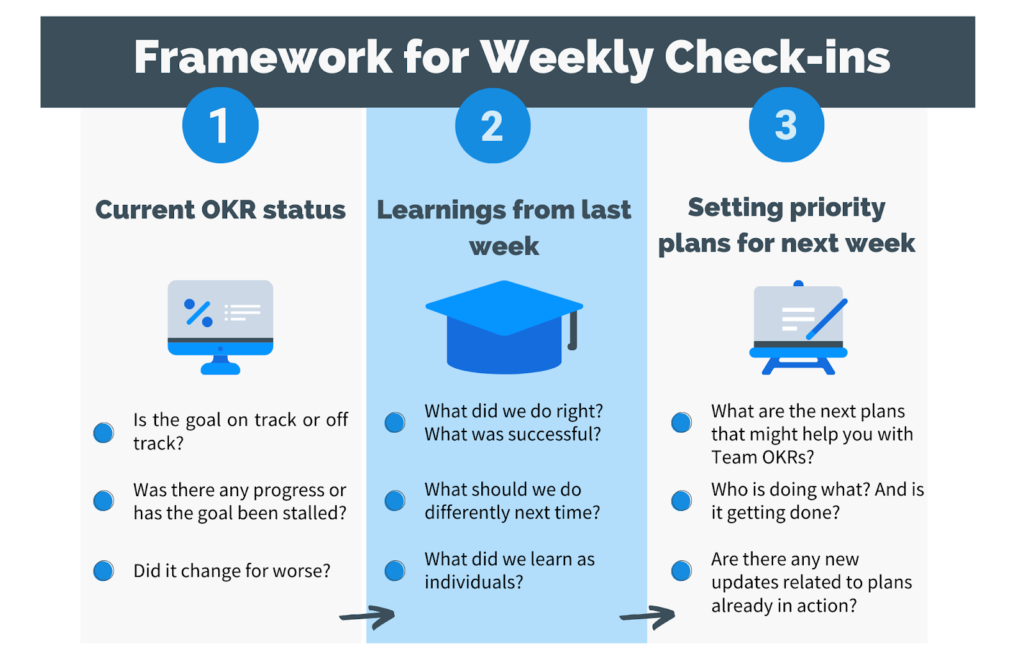 👉 Find out why communicating the company's vision is an important part of the OKR implementation process.
Should OKRs be set quarterly or annually?
Companies have conventionally been setting annual goals to drive a long-term vision. However, the environment has changed and it demands rapid action and a shift in the goal-setting mindset.
Driving ambitious OKRs in an evolving environment requires agility and a shift from annual to quarterly goal planning. While it is important to set annual goals, quarterly OKRs are also required to drive change, stay focused, improve engagement, and find improvement areas every week, month, and quarter.
Here's how setting quarterly goals helps:
Improves goal alignment
Increases focus
Boosts productivity
Adds more accountability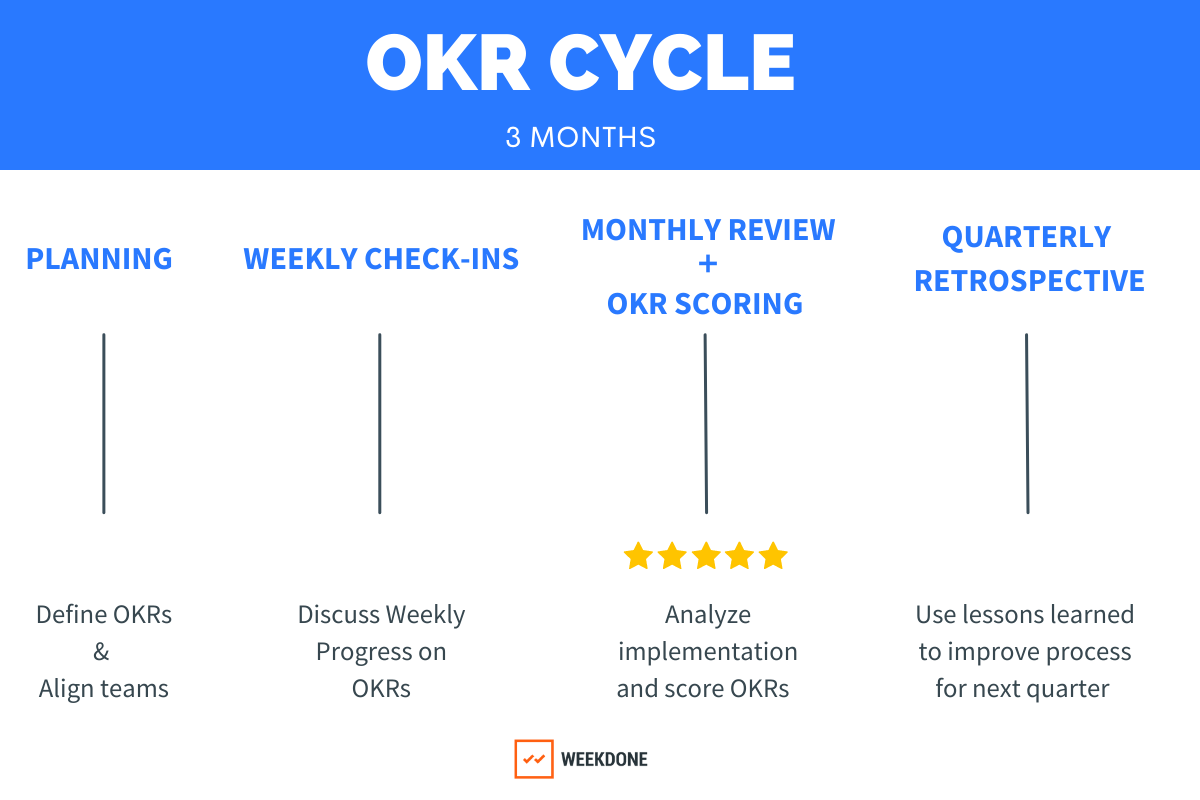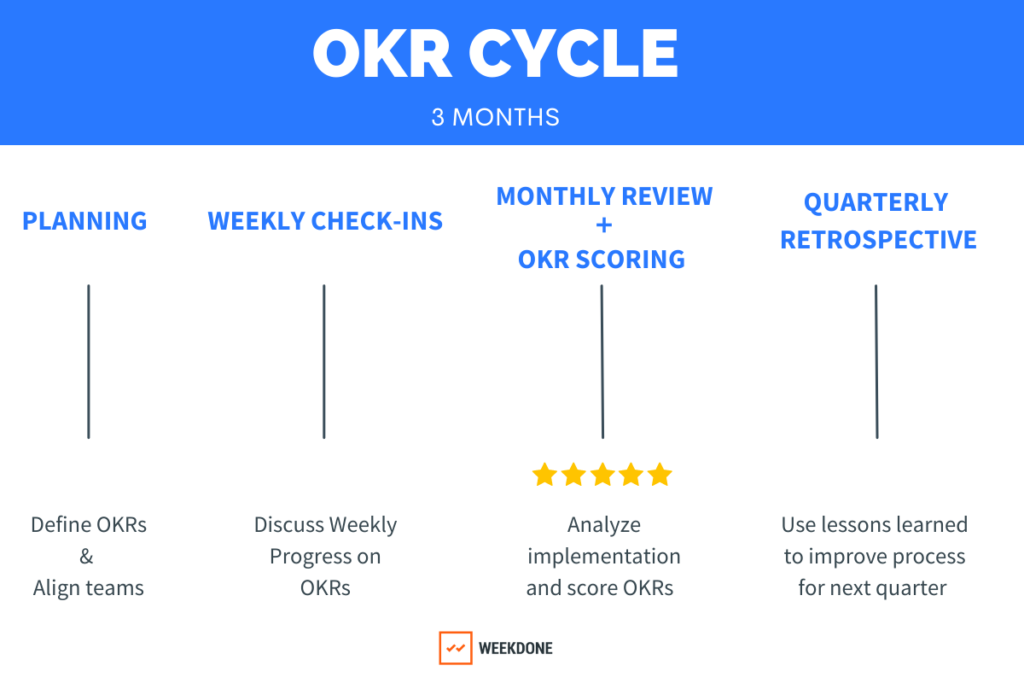 Read on to learn how quarterly OKRs can help identify measurable results and generate long-term success. Find out:
What is a Quarterly OKR Cycle?
Annual vs Quarterly OKRs? Why Quarterly Goals Work Better
Best Practices to Create Quarterly OKRs
Quarterly OKR Examples
Use Quarterly OKRs to Achieve More With Less
👇 Want to see the benefits of setting quarterly OKRs in real-time?
Do OKRs replace strategy?
Goals can only take your company as far as understanding its purpose. Having an overall strategic direction would be the essence that drives your goals.
OKRs must not replace overall strategic goals. Start with defining the company strategy and implement OKRs to execute action plans and achieve key results. The OKR framework is a powerful methodology that can transform your strategic goals into actionable plans to drive growth.
The strength of OKRs is in defining measurable goals, monitoring the progress, evaluating outcomes, and communicating them across the organization. In this way, team members can be empowered to define their OKRs that contribute to the overall vision.
💡 Got more questions about OKR implementation? Get all the answers and find out how to launch OKRs successfully to move your company forward.
How to start OKR implementation? Choose the right approach
Whether you choose to launch OKRs using an OKR Champion, test in a smaller team, or dive into company-wide implementation, give it time to deliver results.
Implementing any goal-setting methodology takes time. Not only that, but it also takes dedication and commitment to ensure that the process is accurately adopted. To inculcate a goal-setting mindset required to launch OKRs, relevant training and coaching can help. Moreover, identifying measurable metrics that truly depict improvement areas and growth also requires time.
Typically, the OKR framework requires at least two to three quarters to deliver results and within a year you can identify the best approach to OKR implementation that works for your business.
👇 If you have created your quarterly and annual goals, choose a smart approach to goal-setting. Make it a successful roll-out by using a dedicated OKR software platform.