The future of work is the employee-centric hybrid work model, where there is flexibility to work remotely and in the office. The essence of managing high-performance hybrid teams is about leading with trust, active listening, and open communication and collaboration.
As the industry continues to adapt to the new normal of the hybrid work model, teams are faced with new challenges of communication, collaboration, and goal setting. When teams are working from different locations, projects, and schedules, it can be challenging to ensure everyone is working towards common goals.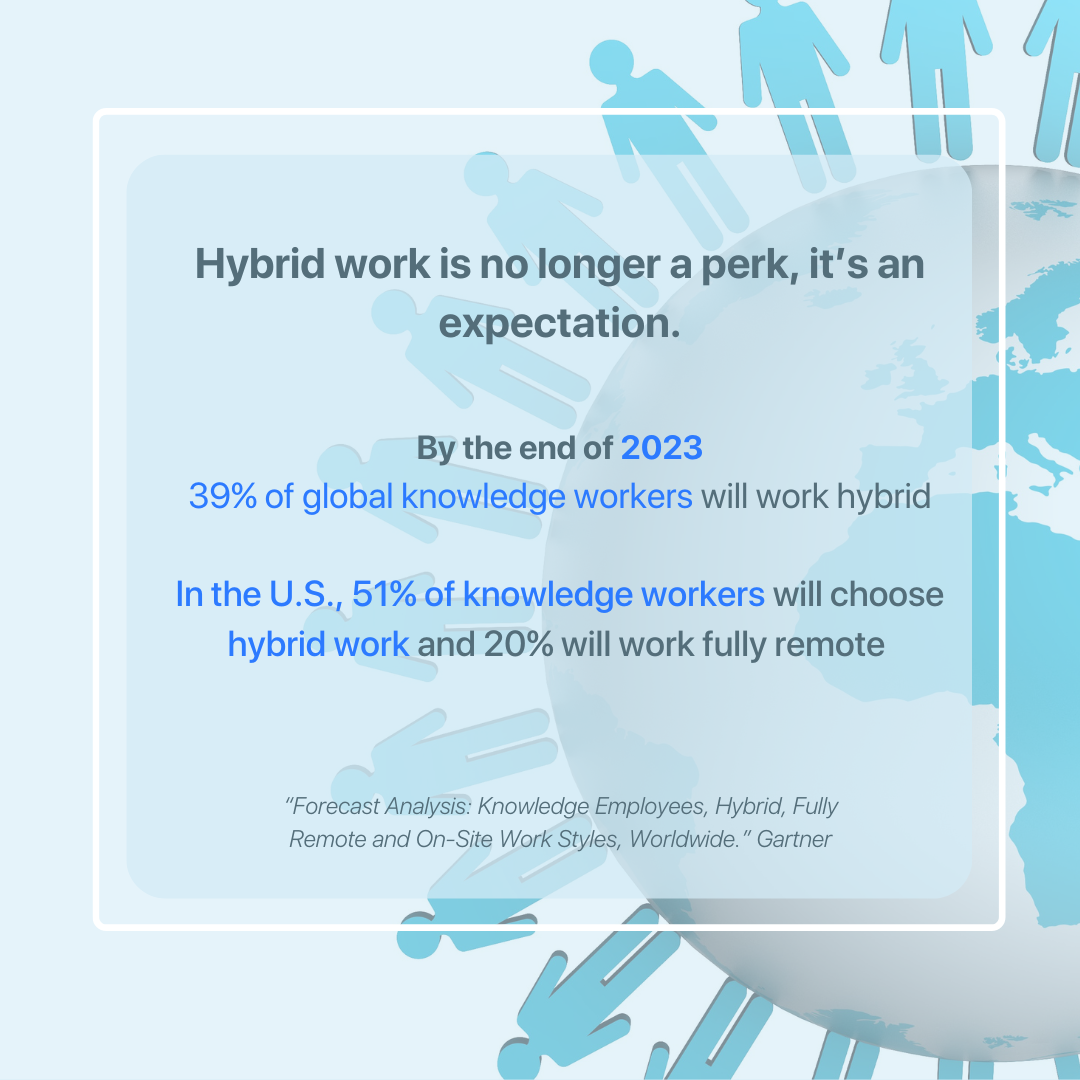 One framework that has proven to be effective in aligning teams in this new work environment is Objectives and Key Results (OKRs). OKRs can add value and drive high-performing teams in the hybrid work model to be more effective, outcome-driven, and goal-oriented.
👉 To get an overview of the OKR framework and understand how it works refer to this OKR Cheat.
How to Manage High-Performance Teams in a Hybrid Model
As a leader, new challenges can arise when managing remote employees in a hybrid work model. New processes need to be implemented or old ones need to be updated.
A new way of working must be determined- one that may require a change in mindset. To effectively manage remote employees in a working in a hybrid model, here are some of the aspects you could consider: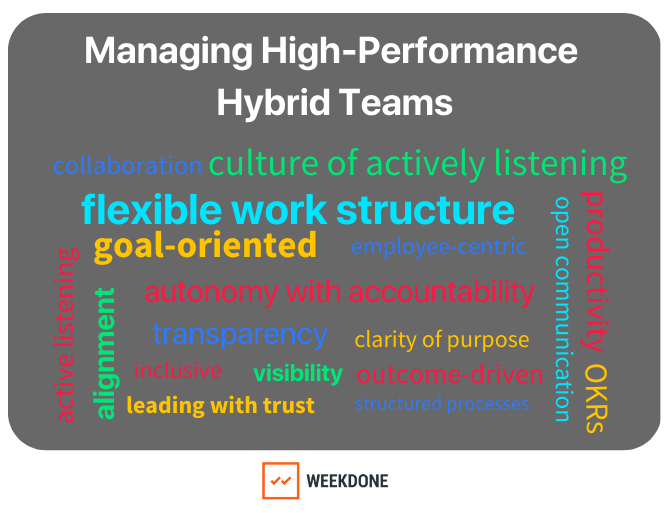 In the hybrid model remote employees need to have a flexible work structure. They need to have the autonomy to choose their work hours and location – which has proven to make them more productive.
Communication channels need to be set and a company culture of active listening must be instilled.
The goals and expectations of teams and individuals must be clearly defined and communicated.
Collaboration tools must be provided to ensure interaction between remote work employees and team members working in the office space.
If team-specific project management tools are advanced, relevant training must be provided to ensure the tools are optimally utilized.
When managing expectations in a hybrid work model, keep in mind that not everyone will be able to adapt to remote work easily. Take the time to plan a hybrid work model that is inclusive and flexible – one that empowers employees to work productively toward a common goal.
5 Ways OKRs Add Value to Hybrid Work Models
As the workforce becomes more mobile and distributed, it can get difficult to keep everyone in sync and on track. The OKR framework supports the hybrid model by ensuring remote employees move toward a shared purpose. With a structured process to set, measure, and track goals, OKRs empowers hybrid teams to stay on track, connect, collaborate, and communicate effectively. Here are some of the ways OKRs can add value to the hybrid work model:
Sets the context and creates a shared sense of purpose
Many leaders assume that their team members understand their contribution to the overarching company objectives. The reality is that the context of the vision and strategy is diluted as it goes down different levels of the company, especially in hybrid teams.
👉 Launching OKRs and connecting them with the strategy can help leaders articulate their vision and communicate it clearly to all team members.
Aligns hybrid teams and maintains structured processes
When distributed and cross-functional teams in the hybrid work model need to work together, alignment is a key success factor. When teams are aligned, focus can be driven to the most impactful initiatives.
Hybrid work models are effective when there are structured processes for communicating the goals and progress of different teams and to allow collaboration between remote employees. To ensure that the team goals are linked to the company vision and strategy, set and align hierarchical OKRs.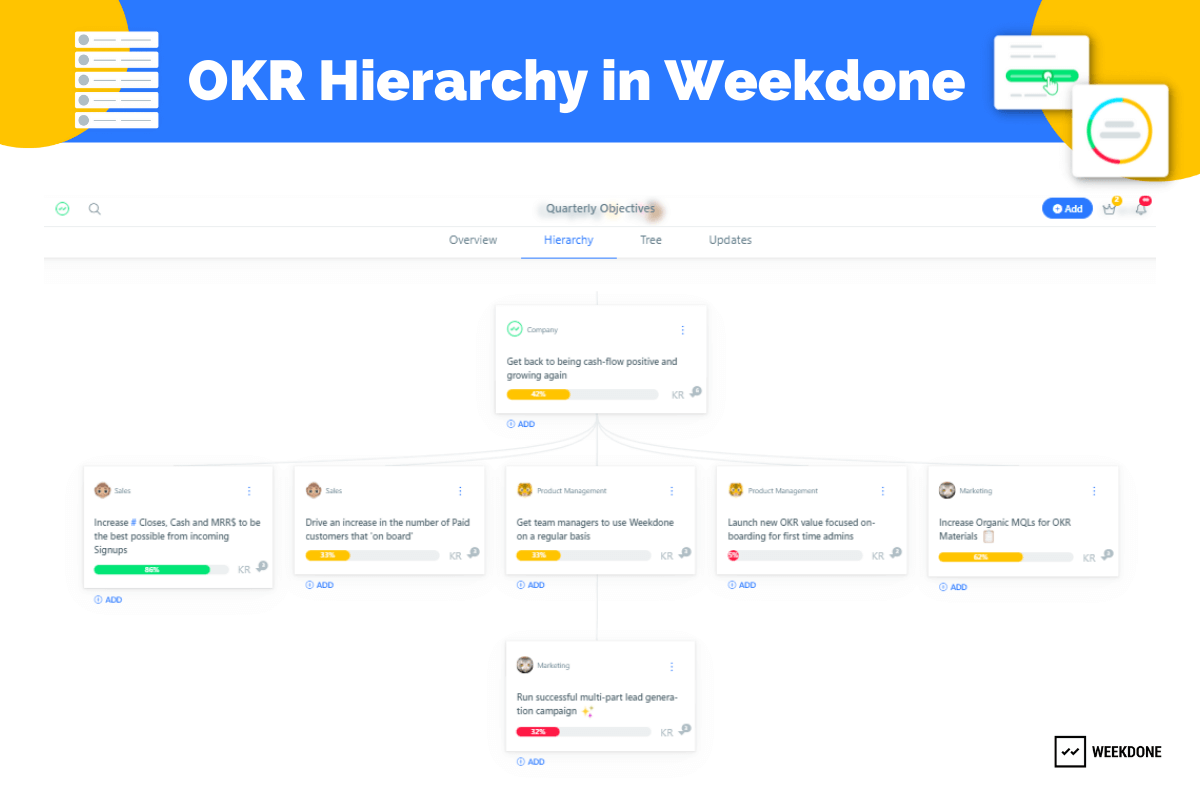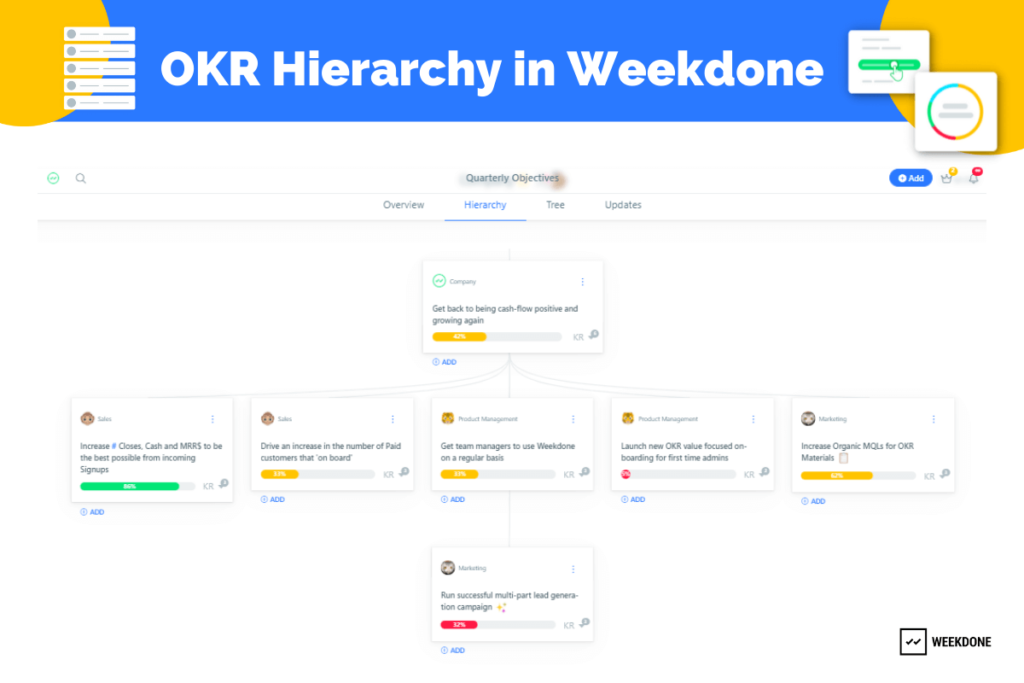 Ensures better accountability with autonomy
The best aspect of the hybrid work model is that it provides the flexibility to work from the office or remotely. This autonomy while celebrated can sometimes lead to a lack of accountability that many hybrid teams and remote workers have had to address. The main reason for this is that there is a lack of clarity about the purpose of initiatives and outcomes expected.
Bridging these commitment gaps, OKRs instill a sense of ownership for specific initiatives and ensure accountability of outcomes (instead of only output) to drive the objectives forward.
Streamlines communication and ensure transparency
It is no secret that effective communication is the key to a team's productivity. Remote workers in the hybrid work model collaborate virtually, making it all the more necessary to ensure open communication and transparency.
It is important to provide clarity about the company aspirations, team goals, and individual expectations. In a hybrid work model, when remote workers track their OKRs with weekly check-ins, share their progress, and celebrate accomplishments with the rest of the company, it can be a driving force to improve productivity.
Provides visibility of work done across the company
In a dynamic business environment, it is necessary to make decisions at the speed of business. Leaders need to have a quick overview of the company's progress to understand how improvements can be made. With an overview, it becomes easier for leaders to identify focus areas and provides the ability to make changes and leverage opportunities at the right time.
For leaders to effectively manage hybrid teams and remote workers it is important to have an overview of the progress made across the company. It is also essential that leaders openly share the company strategy and have discussions to identify focus areas and prioritize measurable goals.
👉 If you want to get a quick snapshot of the progress made by your company and different team, this OKR Dashboard Template could be a helpful tool.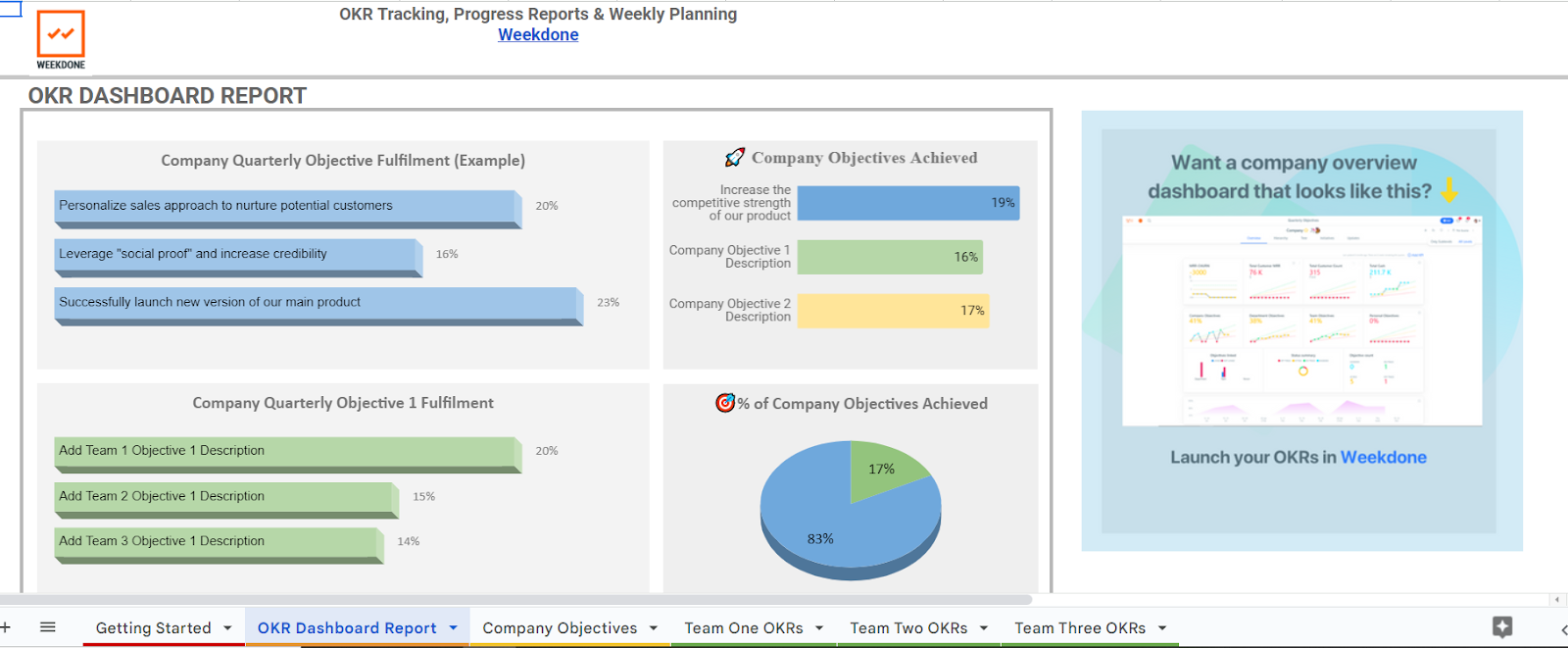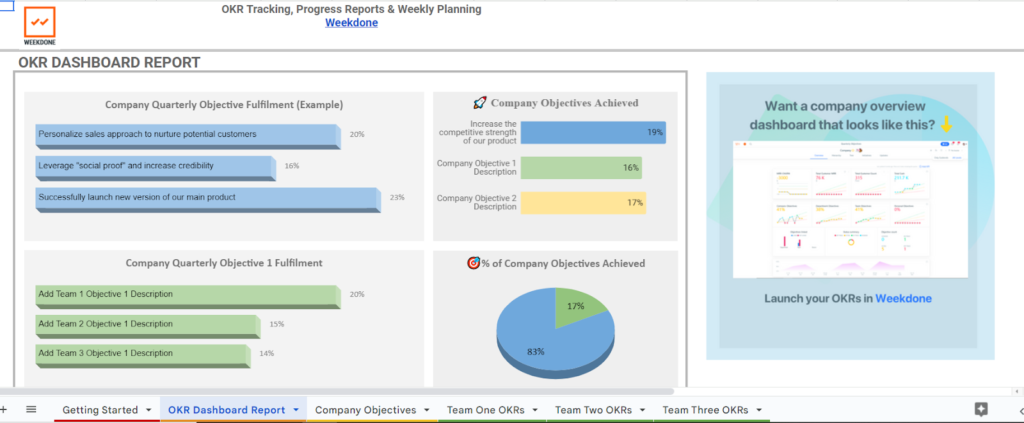 Make Hybrid Work a Success with These OKR Implementation Tips
Making a hybrid model successful requires team alignment, open two-way communication, and seamless collaboration. The OKR framework is a powerful methodology because it helps to set, track, and improve the goal-setting process for all stakeholders in the company.
💡 Keep in mind that OKR is a quarterly goal-setting process – giving you four learning cycles in the year to make improvements.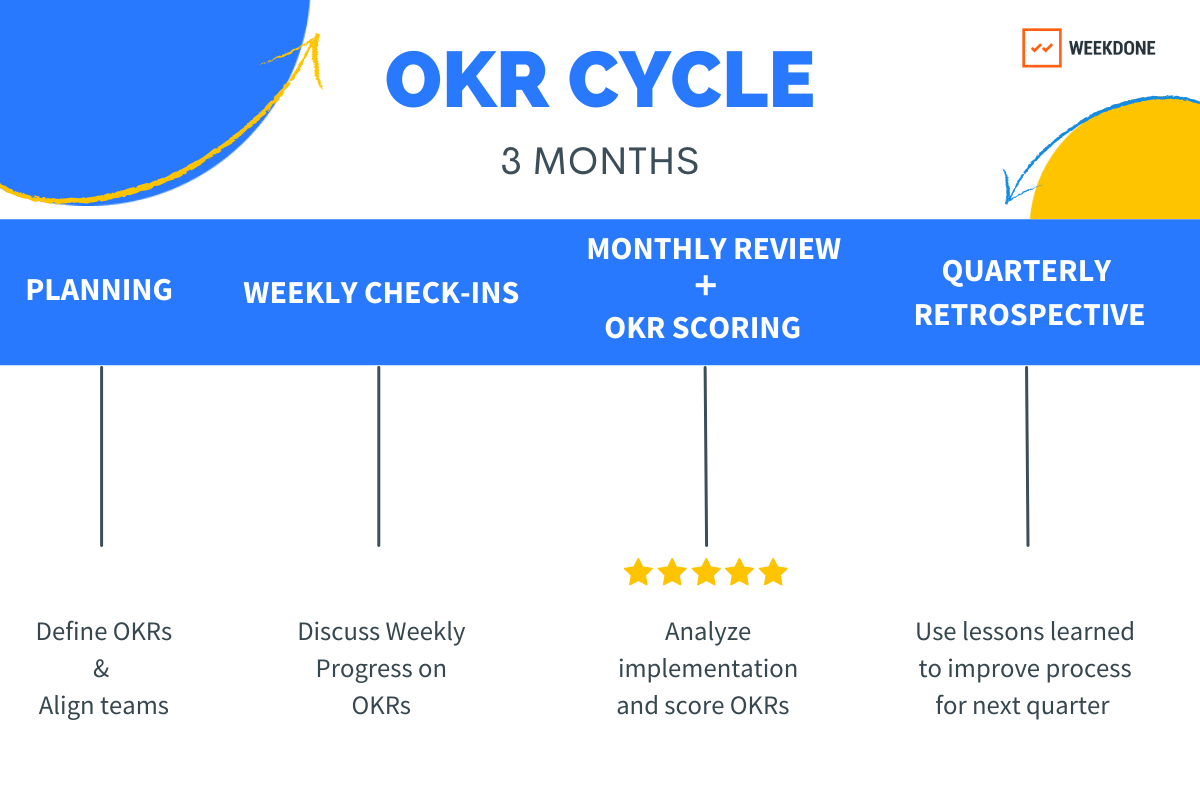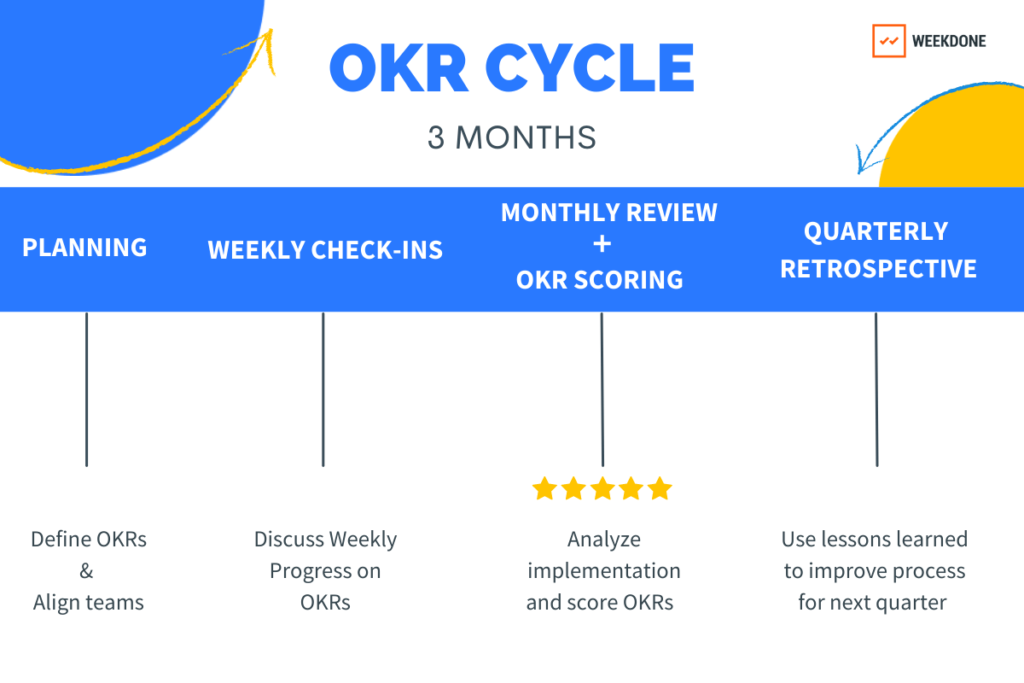 To ensure your hybrid work model is effective, this OKR implementation checklist can help:
1-2 weeks before launching OKRs
1. Define quarterly company level Objectives
➖ Take inspiration from your mission, vision, and strategy
➖ Ideally, set between 1 and 3 quarterly Company Objectives.
➖ Make sure to discuss Company Objectives with your managers and team leads

2. Draft Team OKRs
➖ Ensure team OKRs are aligned with the Company Objectives
➖ Ideally, every Team Objective should have 3 to 5 measurable Key Results
➖ Team managers must discuss the goals with their team members

3. Take Feedback and Finalize OKRs
➖ Obtain feedback to find out if OKRs need to be added, removed, or improved
➖ Ideally, team OKRs must be presented to the rest of the company before the quarter begins. This way there is sufficient time to decipher cross-functional dependencies and resource utilization
In the quarter
1. Conduct Weekly Check-Ins
➖ Teams must regularly evaluate and discuss the progress of their goals weekly
➖ It could be a quick 15 to 20 minute meeting to reflect on the progress of the OKRs and set new priorities for the next week

2. Organize monthly review meetings
➖ Summarize lessons learned in monthly meetings and make adjustments based on assessments
➖ This meeting must help identify solutions to challenges that need to be addressed
Last 1-2 weeks of the quarter
Plan a Quarterly Company Retrospective
➖ A company-wide cross-functional OKR review can help ensure better collaboration and help teams to stay aligned
➖ Important lessons from this meeting can help to set better OKRs for the next quarter
👉 Here are some tips from an OKR expert about Retrospectives Best Practices
Launch OKRs to Effectively Lead Hybrid Teams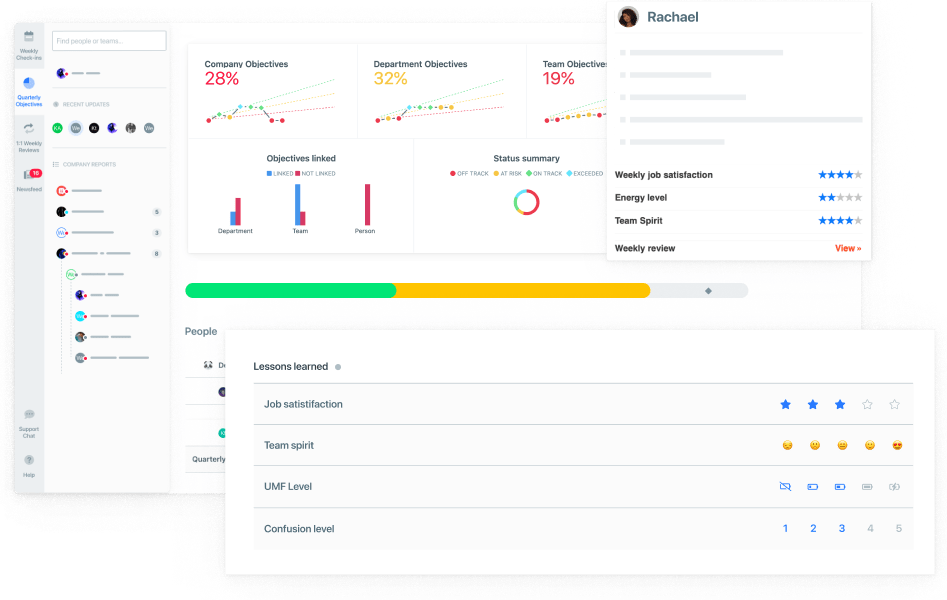 If you are just starting your OKR journey you could use spreadsheets. However, using spreadsheets to set and track goals of hybrid and remote workers can be time intensive as you may need to manually update spreadsheets regularly. It can also be challenging to track and report OKRs and collaborate in real time.
A better option would be to implement OKRs using dedicated software that supports the entire goal-setting process – from setting, tracking, and measuring, to reporting. Using a tool to connect, collaborate, and communicate effectively can help leaders get the most out of their teams and drive growth. By providing clear communication, flexibility, shared accountability, and progress tracking, an effective OKR software helps to keep everyone on the same page and working towards a common goal.
OKRs help to successfully navigate the new hybrid model and can lead to better team productivity, collaboration, and success.