In today's evolving marketplace, many C- suite leaders have had to rethink strategies to meet their quarterly goals. In a recent article, an expert panel from the Forbes Human Resources Council spoke about how it's important to acknowledge that in an ever-changing workplace, providing the flexibility to adjust goals can help prepare a future-proof plan.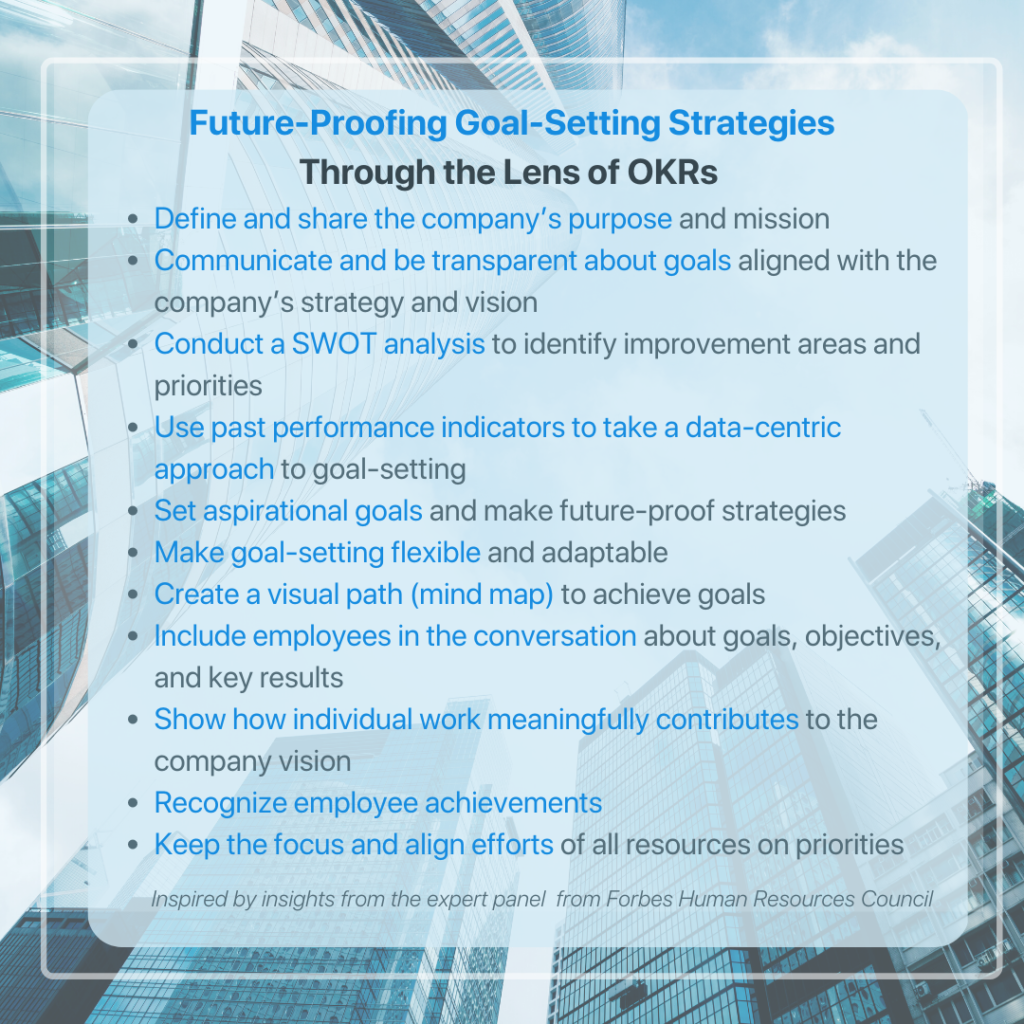 Addressing the constant change that's taking place in the business world, leaders are finding it inevitable to adjust strategies rapidly. The OKR framework provides the agility to make adjustments to goals, objectives, and key results faster.
Moreover, as an outcome-driven leadership model, OKRs have proven to be a successful approach to connecting the company's goals with every employee. That's why agile companies are increasingly adopting the OKR framework to effectively set structured goals, improve collaboration, and drive progress.
Done with Spreadsheets?
Are you ready to switch from spreadsheets to software? Explore how setting and tracking OKRs can be easy and effective with dedicated software.
What is the OKR Dashboard Template?
For leaders to effectively achieve their goals it is essential to have an overview of the progress made by different teams. It is also important to communicate and share the company strategy with everyone and conduct discussions about how improvements can be made and measurable goals prioritized.
To get an overview of the progress made across the company and teams, this OKR Dashboard Template is a useful tool.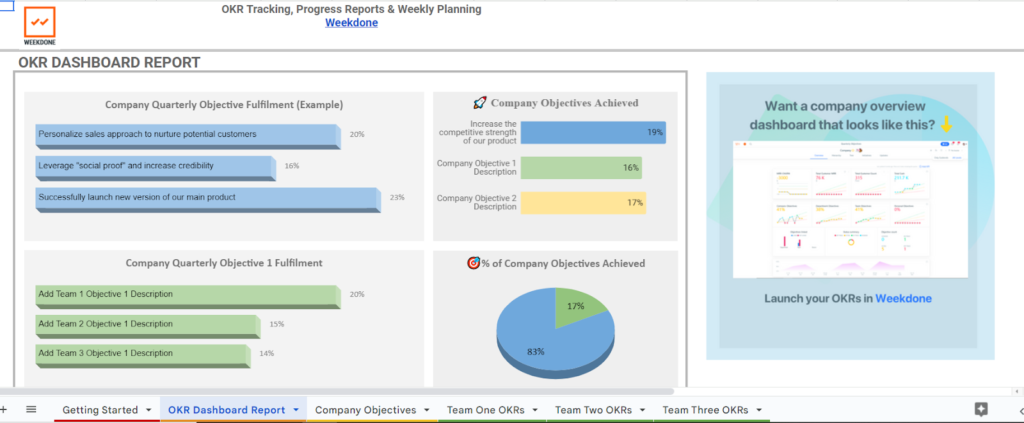 This OKR Excel template provides a simple way to view and track progress. It provides progress made by teams toward achieving the main company objectives. With an overview of company and team OKRs, it is easier to focus on outcomes, identify improvement areas, update quarterly objectives, and change the key result as required.
Before using this template make sure you have your company's vision, mission, and strategy defined. Without high-level business goals day-to-day, weekly, and monthly action plans could be misaligned and can lack focus.
👉 To articulate your business goals in one place use this business goal planning template.
What's Included? + Download
The three main sections in this OKR template include the dashboard report, company objectives, and team OKRs.
Tab 1 - OKR Dashboard Report
This is the report or dashboard of your Company OKRs and it automatically updates
Tab 2 - Company Objectives
You can document your Company Objectives and link Team OKRs to them
Tab 3 to 5 - Team OKRs
You can document your Team Objectives and Key Results
How to Use this OKR Dashboard Template for Reporting
⬇️ Make a Copy of the OKR Dashboard Template
Make a copy of this spreadsheet in your workspace and share it with your team members. Setting and tracking OKRs works effectively only when everyone works collaboratively. For this reason remember to make this template easily accessible so that several team members can work on the same spreadsheet simultaneously.
💡 Keep in mind that the first tab 'OKR Dashboard Report' updates automatically as you make changes to other relevant tabs.
✏️ Fill out the 'Company Objectives' tab
Set quarterly objectives and make sure to add context and share it with your team so they can contribute too.
➖ Add your Company Name
➖ Fill out the light green rows with your Company Objectives
➖ Choose who owns the Objective (Company or Team) from the drop-down menu
➖ Use the '=' formula and select the Team Objectives that contribute to the Company Objective
🔗 Cells in the 'Progress' column are linked to the 'Team Objectives Achieved' cell in the 'Team OKRs' tab
👉 Here's a guide with specific examples that can help you understand how to set Company Objectives.
✏️ Fill out the 'Team OKRs' tabs
Let your teams set their OKRs. Based on goal alignment best practices, it is recommended that at the company level, only Objectives need to be set, whereas at the team level both Objectives and Key Results must be created. This bottom-up alignment gives ownership to teams that account for the Company's Key Results. In other words, as progress is made on team OKRs it must contribute to at least one Company Objective in a business quarter.
➖ Add your Team Name
➖ Fill out descriptions of your Objectives & Key Results
➖ Ensure they are aligned with your Company Objectives ['Link to Company Objective']
➖ Remember to update your KR progress weekly
👉Follow this 5-step process to writing better team OKRs or refer to this playlist of OKR examples for different teams.
🎯 Share your OKR dashboard report
You can share results from the 'OKR Dashboard Report' in your next review meeting. It gives you an overview of the Quarterly Company Objectives achieved and how team objectives contribute to them. You can also go to individual 'Team OKRs' tabs to view the progress made on Team Objectives and Key Results.
Ready-To-Use OKR Templates and OKR Examples
To give you the best possibility of success, we have OKR templates for every step of the process, all in different formats - from Excel, Google Sheets, Google Slides, PowerPoint, PDF, to Word.
Download and share any of these OKR drafting and reporting templates.
OKR Ideas Draft Template - Download here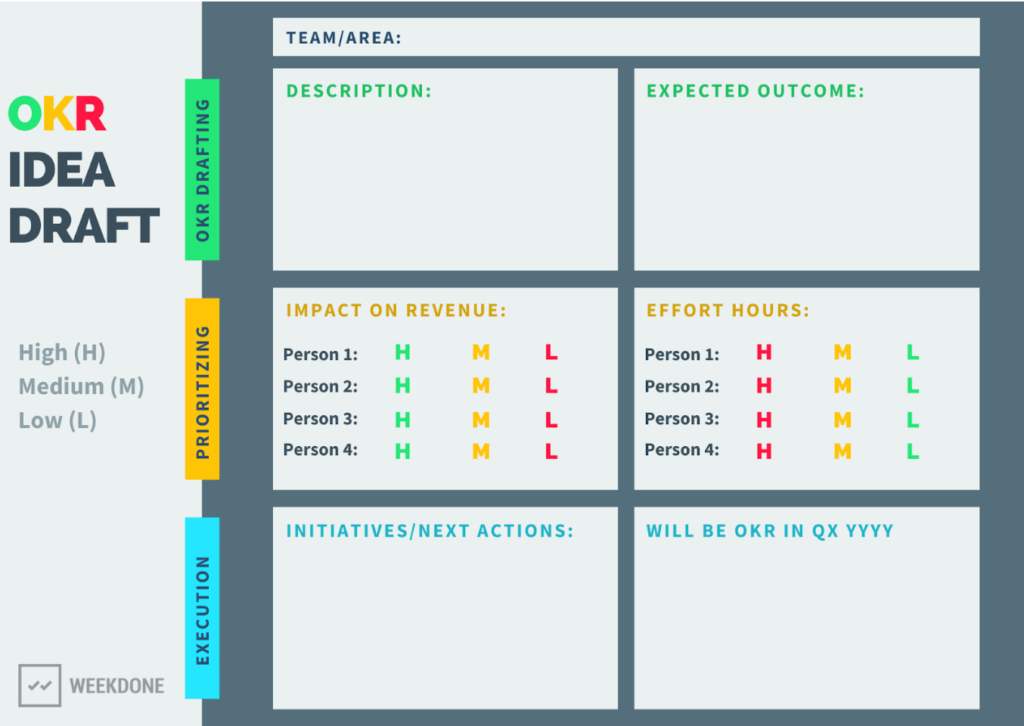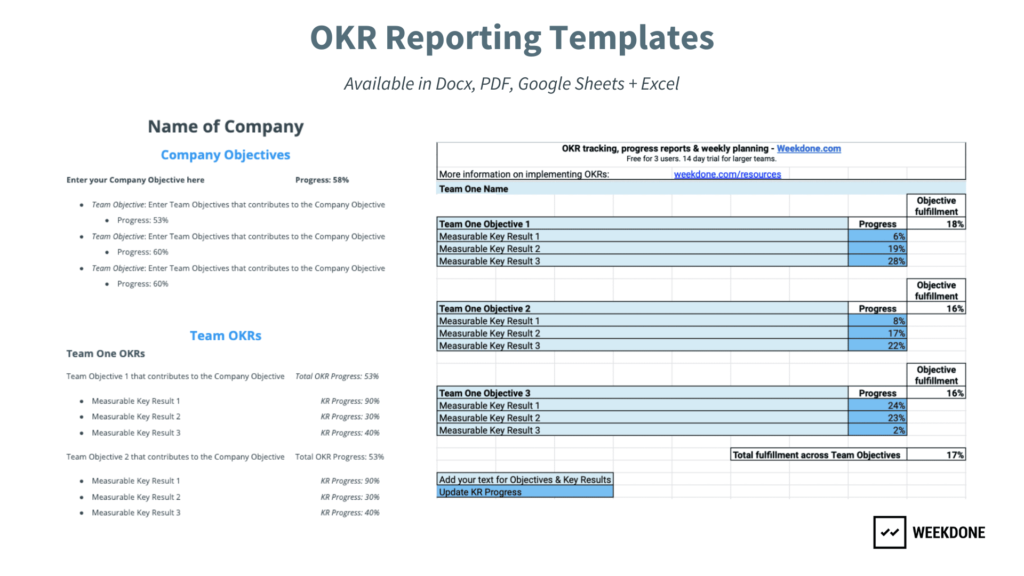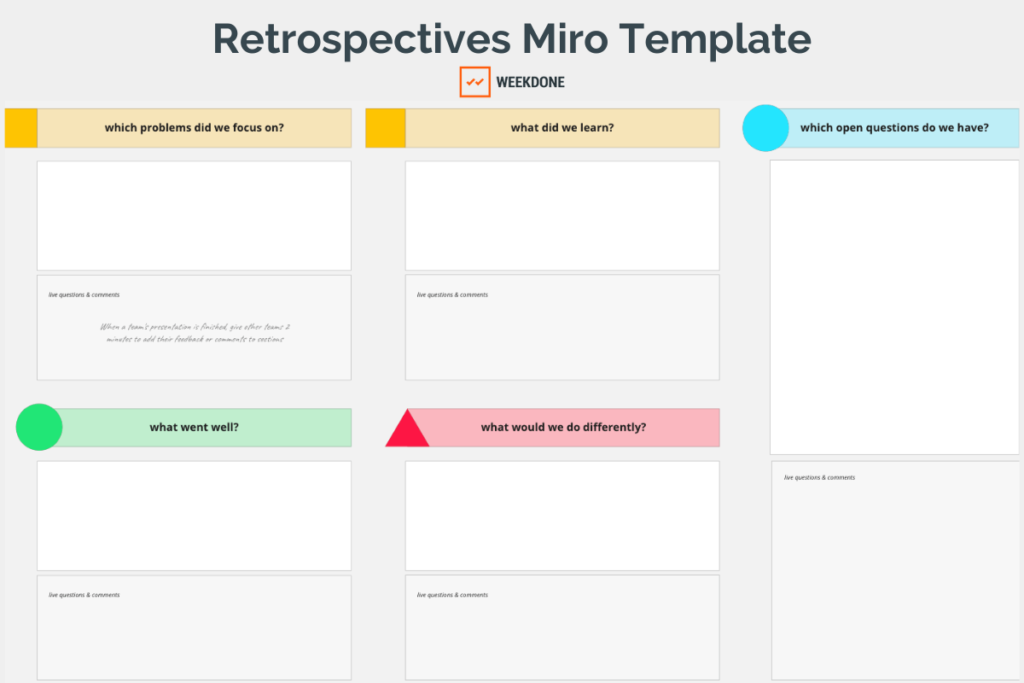 Get inspired: OKR Examples to add to your OKR template
The best way to start when using an OKR template is to refer to OKR examples. While you need to contextualize your OKRs based on your company's objectives, you can take inspiration from companies that have successfully launched the framework.
Refer to these 100+ OKR examples created for different teams to get started and add them to your template.
In Weekdone, we offer OKR examples in product to add quality examples directly to your team. From top management and leadership, to HR and IT teams, there are examples for everyone to make getting started with goal setting as simple as just a few clicks. Read more about the Weekdone OKR examples feature highlights here.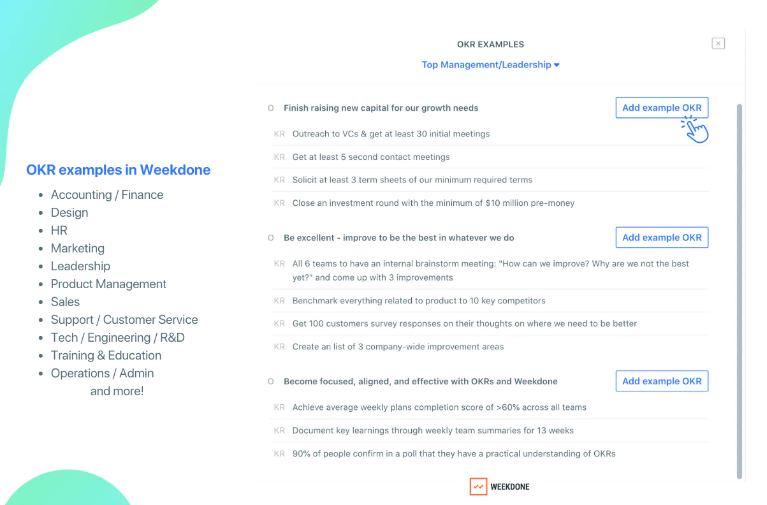 Free for 14 days with unlimited users - start your company trial today
Level Up and Migrate from Spreadsheets to OKR Software
While OKR excel templates are helpful to companies that are just starting their OKR journey, it can be time-consuming to update spreadsheets regularly and accurately. Moreover, it can be challenging to collaborate, track, and report OKRs in real-time.
Here are some of the advantages of using a dedicated OKR software rather than a spreadsheet:
Set structured goals and view OKR hierarchy to stay aligned, and link OKRs to view the total company's actual progress in one snapshot
Improve and reduce the number of meetings by creating quarterly Initiatives and adding weekly plans to the application
Recognize goals achieved and improve engagement
Use built-in OKR examples and a helpful OKR writing tool to make implementation easier
Set Automated dashboards that feature Color coded tracking to spot Objectives that are off-track in the early stages.
Customize reports and receive automated email reports to get a total overview on demand
OKR software can help you track and drive progress weekly, improve performance, and get an overview instantly in real time. Make it easier by generating automated reports and setting customizable dashboards.
It can be challenging to translate your strategy to OKRs. That's why it requires using all the tools available to develop forward-looking strategies, achieve your goals, and drive your roadmap to success.
Updating spreadsheets can be tedious. Not to mention the inaccuracies due to human error. Level up your goal-setting process and focus on what matters most by using a dedicated OKR software.