It was a proud day and a company milestone when our nation's President, Mr Toomas Hendrik Ilves, accompanied by First Lady Ieva Ilves, visited the Weekdone team at our office. During the one hour of open discussions, the topics ranged from developing the country's startup scene to the challenges of growing businesses internationally across the world.
As Weekdone already successfully serves customers from SMEs to Fortune 500 in hundreds of countries on all continents, the discussion went to a topic close to the President's heart: cross-border data movement between countries and regions. Mr. Ilves also iterated that the key to security in the future is about data integrity, not just data confidentiality. This has been also something we have always kept in mind at Weekdone, as the world's leading companies have trusted us with their most important data.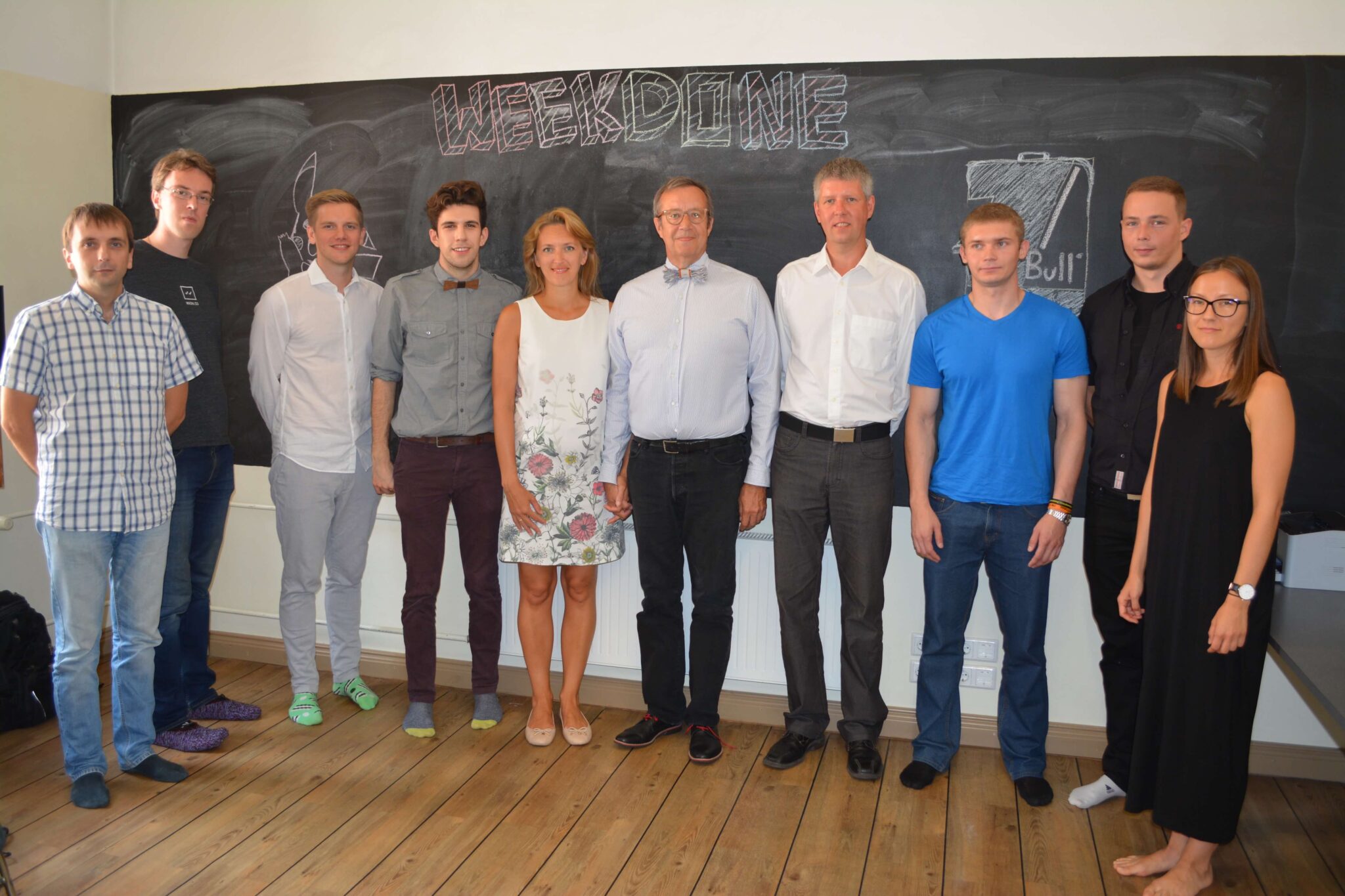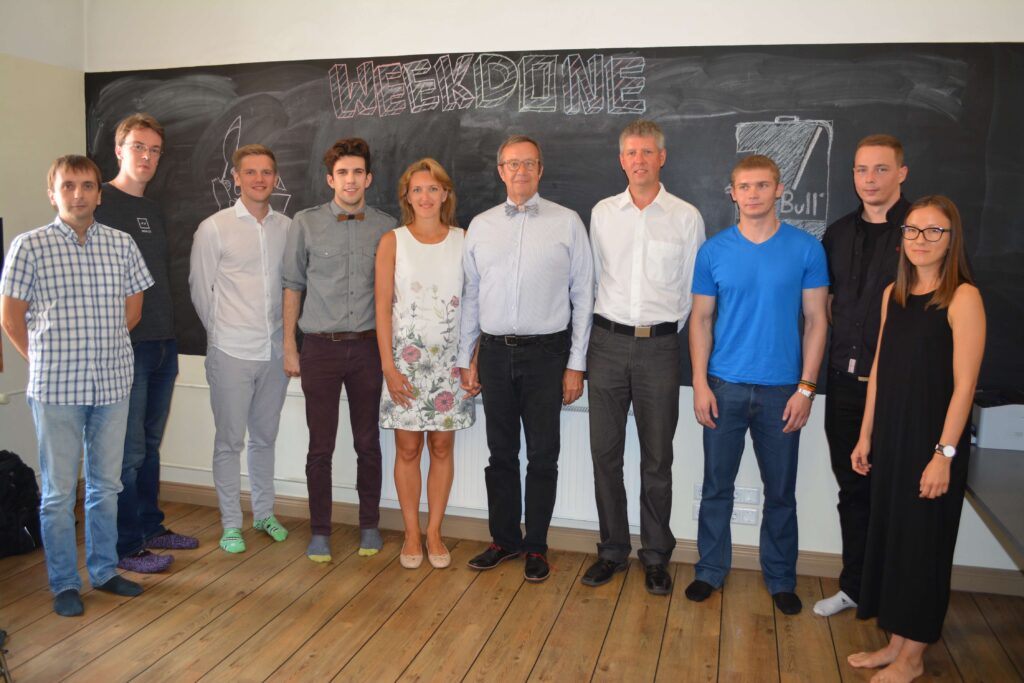 We also discussed how Weekdone helps teams be more productive and set better goals. "Why haven't we used something like that at our office?" President Ilves immediately asked. It's true, that either small or large, commercial or not, any team can use Weekdone to share and accomplish their goals. We already have a lot of state and local level users on all continents, but it's really time for presidents and governments to start using us as well. Luckily, President Ilves downloaded and checked out the Weekdone app later on. As we're getting ready to launch our new version in September, we've been hard at work and focusing even more on each person's individual short- and long-term goal-setting.
Mr. Toomas Hendrik Ilves has been an avid fan and supporter of Estonian startup scene for years. During the discussions, our co-founder and CEO Jüri Kaljundi remembered that they first exchanged e-mails discussing the Estonian IT and tech scene more than 20 years ago. At that time President Ilves was launching the now famous Estonian Tiger Leap IT and Internet education program , while being the Ambassador of Estonia to the United States.
Weekdone has been lucky to be based in Tartu, Estonia, one of the leading technology environments in Europe. For people not too familiar with Estonia , you should definitely recognize Skype, which was written originally by four Estonian co-founders. Ahti Heinla, the co-founder and chief architect of Skype and now the CEO of Starship Technologies, is actually one of the first investors of Weekdone. Estonia is also the home of international organizations like the NATO Cooperative Cyber Defence Centre of Excellence and the European IT Agency for the operational management of large-scale IT systems in the area of freedom, security, and justice. Today, Estonia is the world leader in public e-administration services, as well as forerunner in offering online residency with its Estonian e-Residency. Whenever you use us, keep in mind that you're getting the best that the world's tech scene has to offer.
We suggest that you also check out one of the initiatives of President Ilves, The World Bank's 'World Development Report 2016: Digital Dividends' report, that he co-authored with the World Bank Chief Economist Kaushik Basu.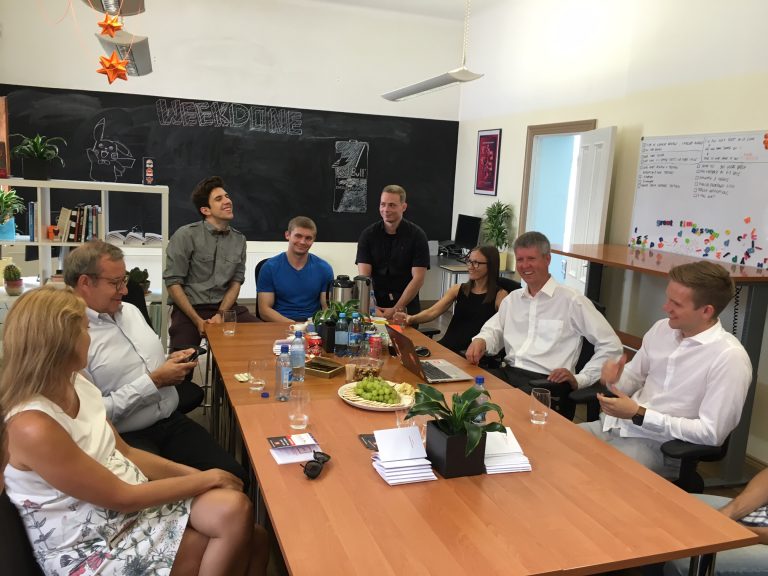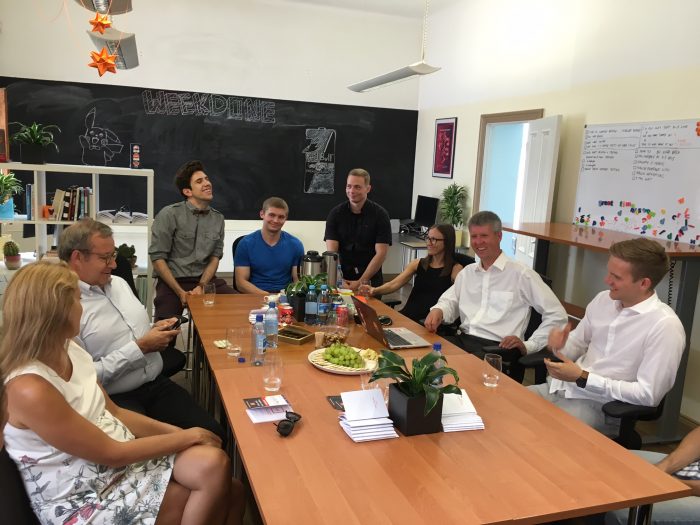 To wrap up the conversations we were glad to present President Ilves a special gift: a special poster of Tartu startups tree. Our resident origami master, Jason, also gave a unique Weekdone bow-tie, which Mr Ilves was happy to immediately wear.
Our team's big thank you goes to both President Ilves and the first lady for being such active participants on the Estonian tech and startup scene. Together we can make the world a better place.