Just like you, we enjoy using the PPP – Plans, Progress & Problems – process internally in Weekdone team. Many of you have asked us, what's in the product development roadmap for Weekdone? What features can you expect? What are the priorities, what's done and are some of the issues problematic?
We are big believers in open communications and keeping as few secrets as possible from our customers. A lot of what we do is based on active back and forth discussions with our current or future users (feel free to e-mail us with suggestions and questions at any time). So what's a better way to share our product development plans here in public, using the good old PPP format.
Since there's a lot on our plate, we've broken the Plans down by 3 priorities. High priority plans are under development. Medium ones are most probably going into development next. Low are ideas on which no specific decision has made yet. Items in medium and low are not ordered in any way.
Let us know in comments, what do you consider important next? Something missing?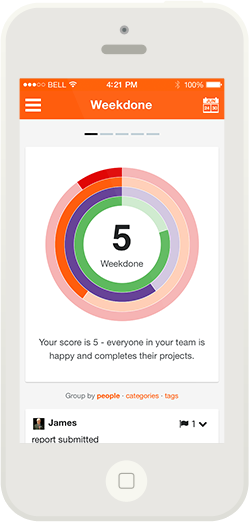 Progress
Weekscore company and team health dashboard
Simplified cleaner report design and visuals
Print reports: icon in header
Dynamic <TITLE> texts
Allow marking items as "Done" with one click, moving them to Progress
Improved popover menu for items
Plans – high priority
Different template and categories or questions for each team
Different reporting weekday for each team
PDF export and report saving
Resend invitations manually
Improvements to iOS app e.g. push notifications, fix smaller bugs
Credit card payments not via Paypal
Plans – medium priority
Android native client
Custom period views and data export e.g. quarterly for performance appraisal interviews
Assign items to another person
Order and prioritize other person's plans (for managers)
Multi-person collaborative editing: one form that is filled by everyone in company e.g. improvement ideas page
Input field types other than text input e.g. dropdown lists, numerical fields, checkboxes and radio buttons etc
Longer term dashboard view for managers
When report not submitted by deadline, a button to e-mail your report to manager/team later on
Copy someone's item to your report
Mention other person in an item, to trigger notification on their side
Improved Asana and JIRA imports: categories and statuses other than closed and resolved issues
Additional imports: Basecamp, Pivotaltracker, Trello, Salesforce etc
Show company, team and personal long-term big goals and objectives in front of report
Plans – low priority
Google Apps login support
Tasks marked as private
Better dashboards and reports for external services like Asana and JIRA
Personal dashboards and statistics related to connected services like GMail
Move items between weeks
Due times and dates for items
Multi-week views
Time periods other than week (e.g. bi-weekly, monthly etc)
Small newsfeed of everyone's last actions
Indicate new items from each person in sidebar in real time
Customize dashboard and Weekscore (e.g. allow custom variables or turning off something)
Conduct performance appraisal and company happiness surveys
Multi-company account switching
Multi-language support
Upload and attach files to items
Daily progress reports via e-mail
Better Firefox and Chrome extensions/add-ons
Delete item from on hold plans, but not from older weeks
Rate happiness every day – daily reminders
Trending #hashtags
Problems
Keep simplifying navigation and UI/UX
Provide better payment methods not via Paypal
Make iOS app fully native and working offline
Anything you would add as a customer?
We'll keep posting our progress continuously from now on, so keep following us on Facebook, Twitter, Linkedin and Google+ for recent developments.