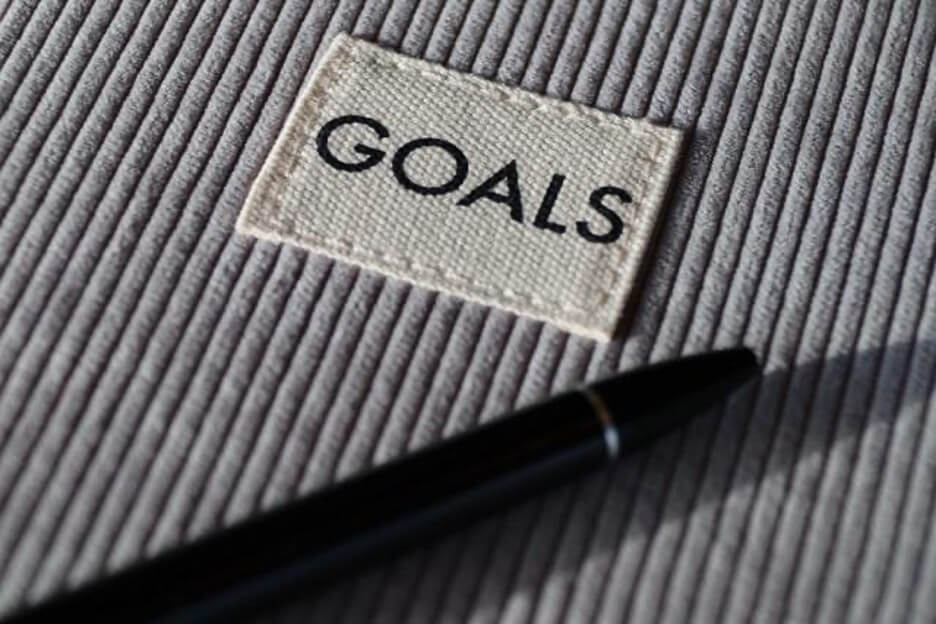 Here we are soon in 2023 (yes, we're struggling to believe it, too). Which means that it's time for you and your team members to start thinking about what you'd like to accomplish next year.
For close to 10 years, Team Compass has provided companies with software to set and track their goals. Here are our tips to be successful in 2023.
If you're not sure what you want to focus on or what steps you want to take to ensure your team's goals are met, keep reading.
Outlined below are 2 effective ways to approach smart goal-setting. First, a list of the 15 best team goals examples to consider in 2023. Then, 5 tools to help you accomplish those goals.
Start Setting SMART Team Goals Today
Some people might assume that it's too early to be worrying about goals for 2023. They might be wondering why they can't just wait until the new year to think about those things. After all, they've got enough on their plate trying to end the current year strong.
It's understandable why you might feel this way. Neglecting goal-setting now, though, can lead to you and your team feeling like you're playing catch-up before the new year even starts.
Ideally, you and your team will sit down to discuss 2023 annual goals sometime during the final weeks of the last quarter. Then, during the first week of the new quarter, you'll have another meeting to choose 2-3 goals to work toward during the quarter.
From here, you and your team should meet weekly to discuss projects, short-term plans, assess progress, and make changes as needed. This approach helps everyone to stay motivated and focused on the big picture.
Best Goal Setting Methods for Teams
When setting team goals, two of the most beneficial frameworks to use are SMART goals and OKRs. Both are implemented in Team Compass software. Below is a breakdown of both methodologies to help you decide which one will work best for you and your team:
SMART goals
The SMART acronym is short for:
Specific: The exact thing you and your team want to achieve
Measurable: The numerical constraints (how much effort will it take, how long will it take, how much will it cost, how will you monitor progress, etc.)
Achievable: Can this goal be accomplished?
Relevant: How will this goal benefit the team and the business?
Time-based: When should the goal be accomplished?
To set SMART goals you can use SMART goals software like Team Compass.
An example of a SMART goal for 2023 might be something like:
We want to increase our website traffic by 15 percent by the end of the first quarter.
OKRs
The OKR acronym is short for Objectives and Key Results. OKRs are actually a more refined version of SMART goals. When teams or companies use this goal-setting framework, the first step is to identify an "Objective" (goal) they want to work toward. Then, list several "Key Results" (sometimes referred to as metrics or KPIs) that will help everyone to measure their progress toward the specified objective.
To see what OKRs might look like in action, imagine a team that wants to improve customer satisfaction ratings. This is their objective. After deciding what they want to accomplish, they next need to identify the key results they'll look back on each week in order to drive progress toward that goal.
Some examples of key results for this particular objective might include:
Increase # of customer feedback surveys from 20 – 60
Increase customer retention from 93 percent to 96 percent
Attain and maintain a network promoter score (NPS) of 9 or higher
By setting these key results – it sets the weekly focus areas that teams and individuals can plan their tasks around, ensuring that the most important things are getting done. During a quarterly team retrospective, everyone comes together to brainstorm strategies for improvement in the next quarter.
OKRs are more than a goal-setting methodology, it's a way for companies and teams to improve organizational culture.
👉 Read more about the OKR process – from planning to quarterly reviews:
15 Team Goals Examples
Now that you know more about the logistics of goal-setting, let's get into some team goal ideas for 2023. Use these to try out Team Compass software. Here are some general suggestions you and your team can use as a jumping-off point and customize to your needs:
1. Increase Customer Satisfaction Ratings
Assess current customer satisfaction ratings, including network promoter scores, and work together to identify specific ways to improve.
2. Increase Customer Retention Ratings
Take note of how many customers are sticking around long-term, or the number of churned customers per quarter – then identify potential pain points and work to resolve them.
3. Onboard More Customers
If you're happy with your current customer satisfaction and retention ratings, consider setting a goal around onboarding more new customers.
4. Reduce Customer Contact Volume
Customer contact volume is: the number of customers who are reaching out to your business with complaints, problems, etc.
Reducing this will lead to higher customer satisfaction ratings.
5. Increase Social Media Engagement
Increased likes, shares, and comments on social media can improve search engine rankings, boost sales, and more, so this is a great goal for marketing teams.
6. Create and Stick to a Content Calendar
A consistent content calendar also helps marketing teams to generate more engagement and improve search engine rankings.
Pro Tip: Our marketing team uses a modified version of Trello's content calendar template for this. It helps us organize our plan and keep everyone in the loop.
7. Conduct Regular Team-Building Activities
Conducting regular team-building activities can foster deeper connections and make collaboration efforts more effective.
8. Decrease Client Response Time
The less time it takes to respond to clients who have questions or concerns, the happier they'll be. Customer Success and Sales can benefit from this goal.
9. Decrease Resolution Time
The same goes for problem resolution. The faster you can resolve issues for your customers, the better.
10. Earn New Certifications
Continuing education is a great way to keep your team motivated and ensure the business as a whole is moving in the right direction. Strive to earn a specific number amount as a team.
Bonus: Add these certifications to your LinkedIn profiles, this will not only increase individual employees value, but the company as a whole as well!
11. Reduce Accounts Receivable
If money management is an issue for your team, set a goal to reduce accounts receivable and avoid carrying balances for long periods.
12. Attend Networking Events
Regularly attending networking events is a great way to bring in new clients and foster beneficial partnerships with other businesses in your industry.
13. Increase Sales Revenue
Increased sales revenue is a popular goal among sales teams. Why not work toward it in 2023 if things have been stagnant for a while?
14. Reduce Project Turnaround Time
The more efficient you are at turning around projects, the more productive your team is as a whole.
Read our post about how to write an action plan in order to stay on top of your projects as a team.
15. Increase Stakeholder Satisfaction
Happy stakeholders mean more work (and more money) for your team in the future. Evaluate current stakeholder satisfaction ratings and consider what you can do to improve them in 2023.
5 Great Software Solutions for Team Goals
Best for productivity and goal setting with small companies and teams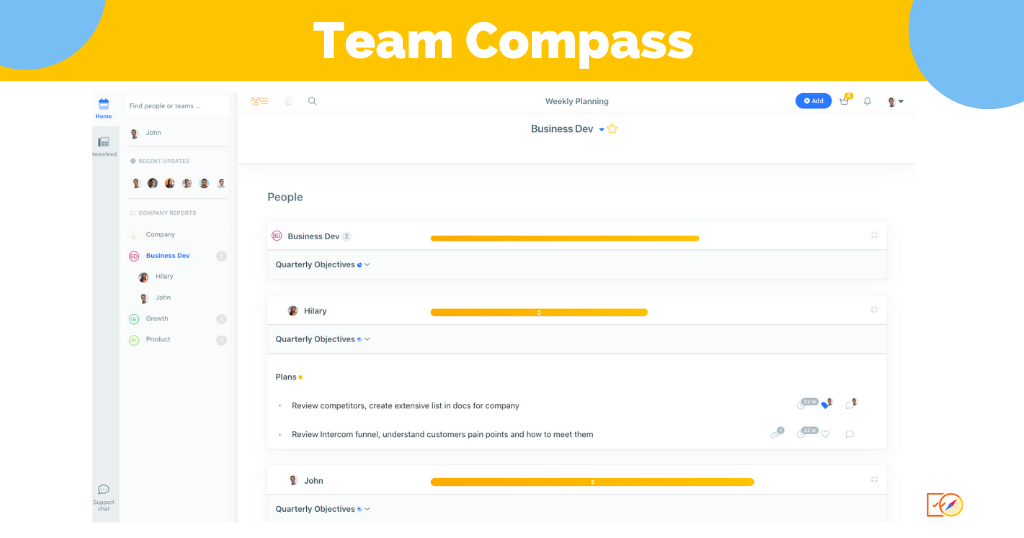 Team Compass is a team management software that helps to guide your team in the right direction. With the use of "light" OKRs and Weekly Planning features – team leaders and employees can plan tasks, monitor progress, and track team goals.
Not only are you connected through team goals and status updates, but other features include: 1:1 chats (between employee and team leader), newsfeed shares, and custom pulse surveys and engagement templates!
The software is free for team 3 or less, or just $29 per month for larger teams with unlimited users. Try it out here.
🧭 Improve productivity – Learn more about Team Compass
Best for setting goals using the OKR methodology in companies with plenty of teams and departments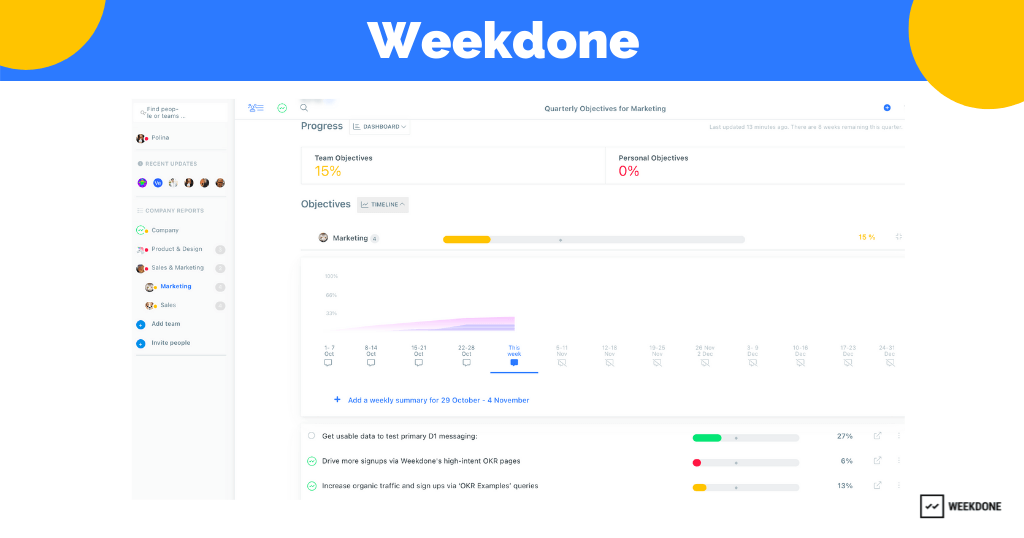 Weekdone is a goal-setting and tracking software with product features that help teams and companies achieve real results by using OKRs. OKR dashboards, Weekly Planning, Initiatives, and KPI reporting all work together to paint the "big picture overview" of Company Objectives and their aligned Team OKRs.
Weekdone has an intuitive UI for tracking quarterly OKRs, a TV dashboard to improve meetings, and an exclusive learning center for users – both managers and employees.
Weekdone offers a 2 week free company trial for unlimited users and is free for 1-3 people.
🎯 Start setting OKRs in your teams– learn about Weekdone
3. Goalscape
Best for goal structure visualization in teams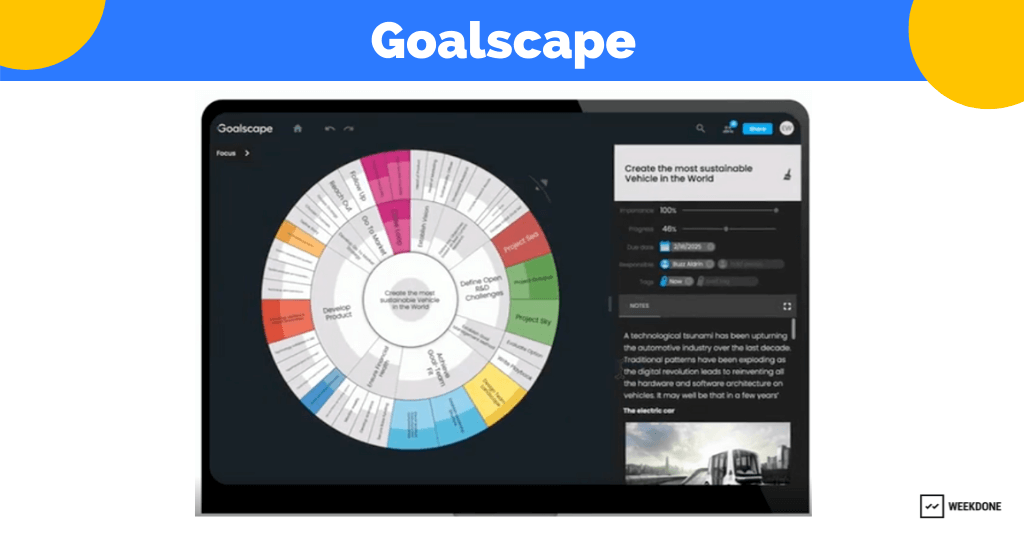 Goalscape is a visual goal-setting software great for individuals and smaller teams. The concept was created to simplify, align, and motivate users by breaking down the over-arching goal into smaller accomplishments, or sub-goals. You can set responsible persons, tags, due dates, priority levels, as well as share progress along the way.
🧐 Learn more about Goalscape here
4. Teamflect
Best for goal setting with MS teams integration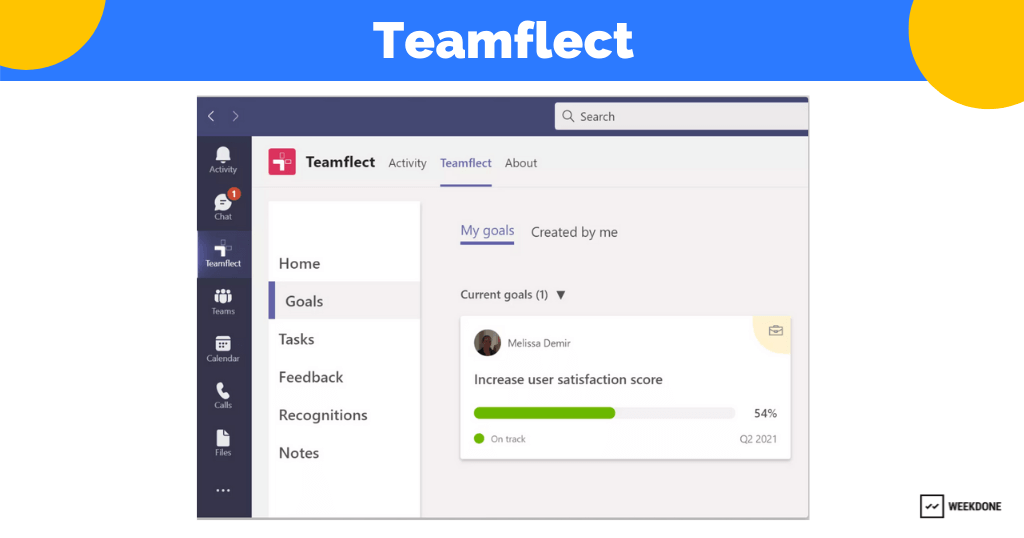 This software that helps teams set goals with OKRs was designed specifically for MS Teams. This makes it easy to keep an eye on company-wide goals while keeping cross-team communication at the forefront. This team solution is best for those already working with Microsoft Teams and want to introduce some goal-setting. Make updates and share progress directly on your Teams chat.
👍 Learn more about Teamflect
5. Confluence
Best for customization of team dashboards and goals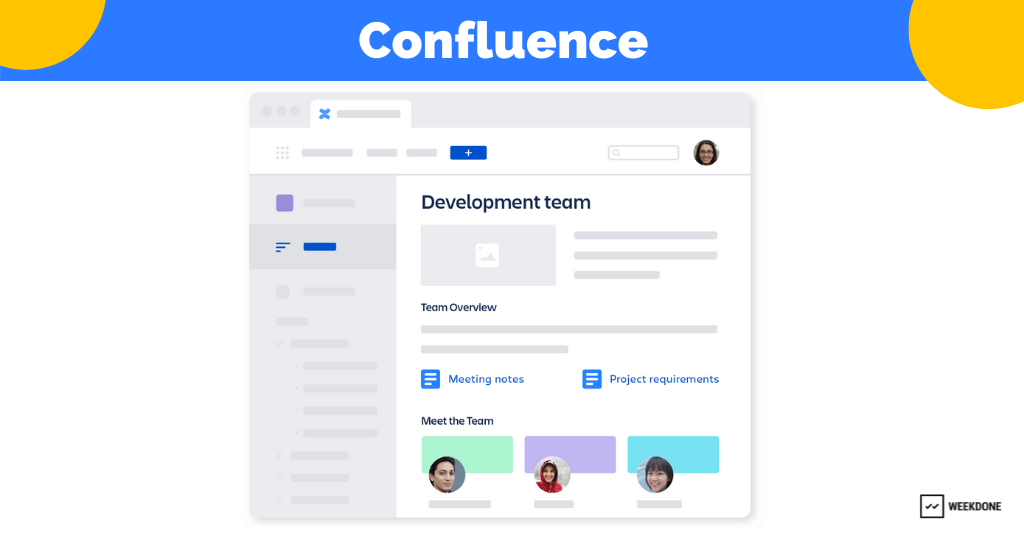 Confluence is brought to you by Atlassian, which makes it a great space to customize your team workspace and flow with a variety of integrations. But, be careful not to overwhelm your team. Starting with Confluence as it stands is a great introductory remote tool to use with your team for setting goals and managing team workflows.
👉 Learn more about Confluence
Final Thoughts on Team Goals for 2023
If you've been struggling to come with team goals for the new year, hopefully you've found one of the goal methodologies and software options listed above useful.
If your small team is just getting started in their first quarter of goal setting – we recommend Team Compass. You can begin by setting SMART goals, and use a "light OKR" template to manage the progress toward goals, and keep your team focused as they set weekly plans. Transparent team PPP updates help you understand what's planned, what's finished, and what challenges should be addressed – all without the need to micromanage! Keep everything in one place!