"Seven in 10 U.S. adults are poised to set goals for themselves", but 34% of goal-setters won't write their goals or make a specific plan to achieve them.

Americans' Goal-Setting Approach in 2023, Gallup poll
Goal-setting is a process of establishing performance levels to reach a desirable outcome. While high-performing companies spend a lot of time on strategic planning and goal-setting, the secret to success is execution. Creating a specific action plan to translate strategy into action, can focus your efforts and prioritize resources and initiatives.
When executing your strategy and creating a goal important aspects such as clarity, visibility, and alignment must be kept in mind. This ensures that everyone in the company can be driven collectively toward a common goal. While establishing a goal-setting mindset gets challenging, many best-in-class companies use new technologies, tools, and methodologies to set, track, and measure their goals.
A proven goal-setting methodology is the OKR (Objectives and Key Results) framework. It drives focus to what matters most and enables goal visibility and alignment across the company. To ensure goals are successfully implemented a dedicated goal-setting OKR software can help to drive optimal results and utilize resources effectively.
Consider this real-world example of Reflex Media. They successfully adopted OKRs to gain focus, align teams, and map cross-functional dependencies. Using the OKR Hierarchy View, they were able to visualize how lower-level objectives drove the progress of higher-level goals.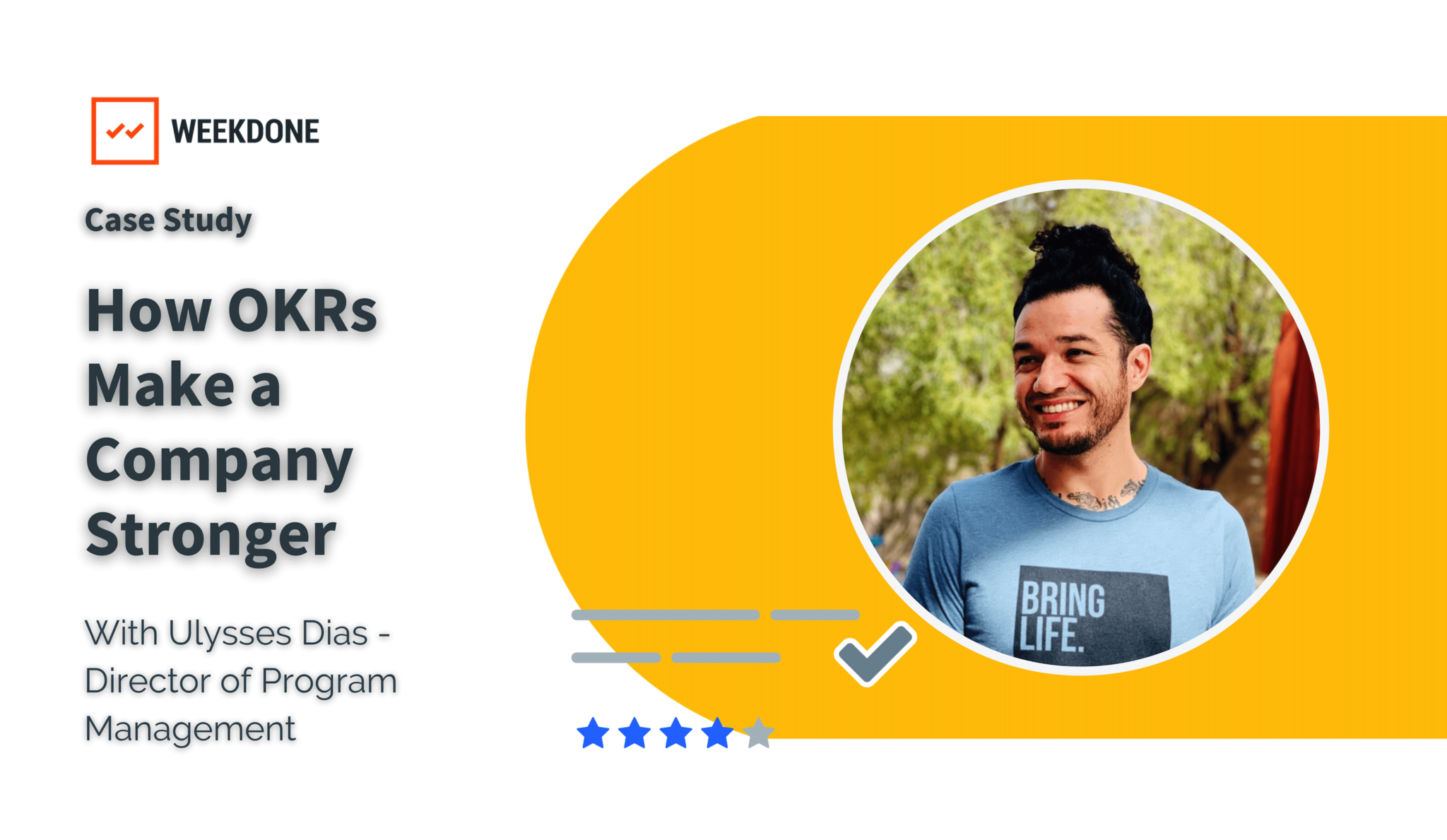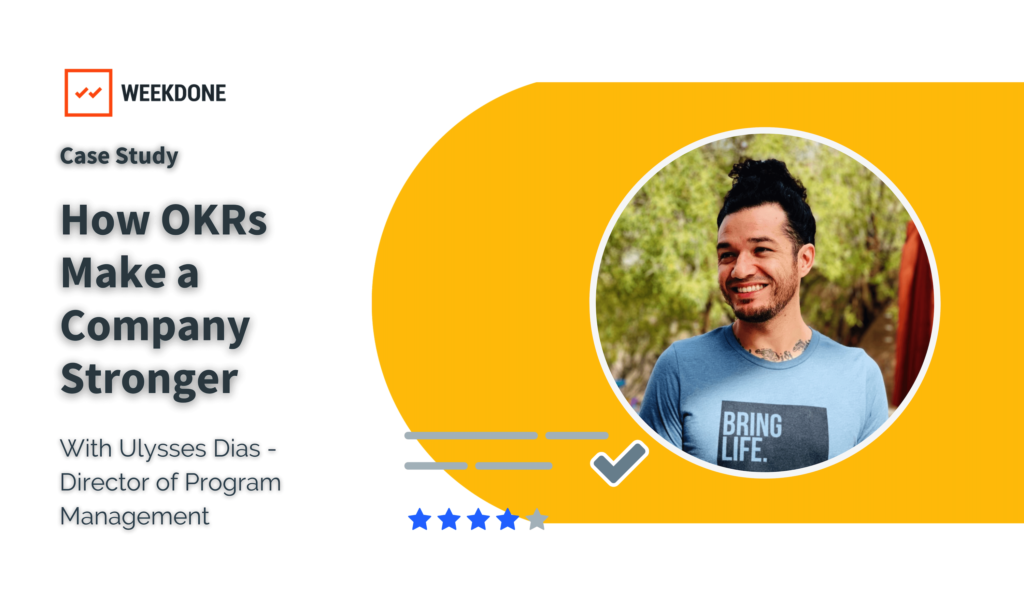 👉 If you are searching for an easy and effective way to implement your goals, stay on track by using goal-setting software.
Questions You Should be Asking When Setting Goals
Here are 7 goal-setting questions you need to ask to ensure your Objectives and goals are translated into action plans to drive results:
👉 Continue reading or skip to the infographic
1. Should goals be set annually, quarterly, or monthly?
The first step in the goal-setting process is knowing when they need to set and how many goals are relevant. When choosing between annual, quarterly, or monthly goal-setting, remember that yearly goals are important but a strategic approach would be to set quarterly OKRs that can be aligned to annual goals. This way you can gain the agility to make improvements in ever-evolving business environments.
💡 Find out which works better – an annual or quarterly OKR cycle.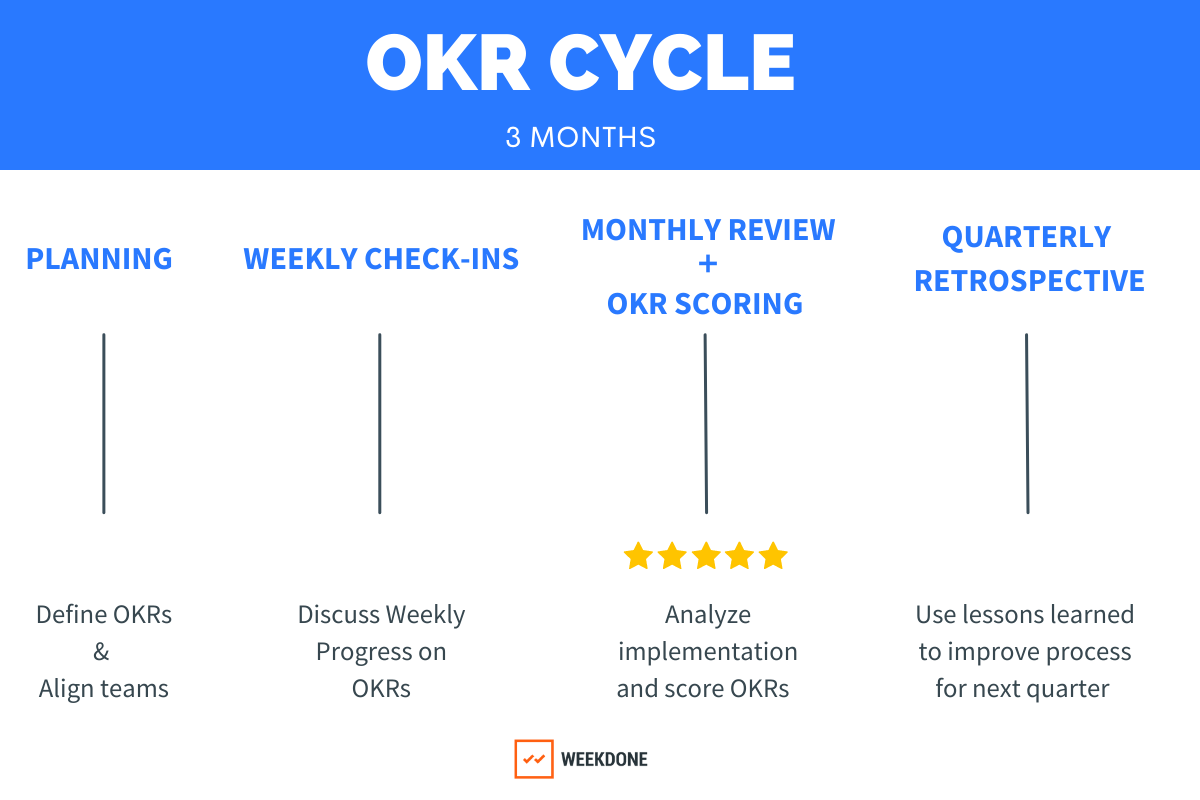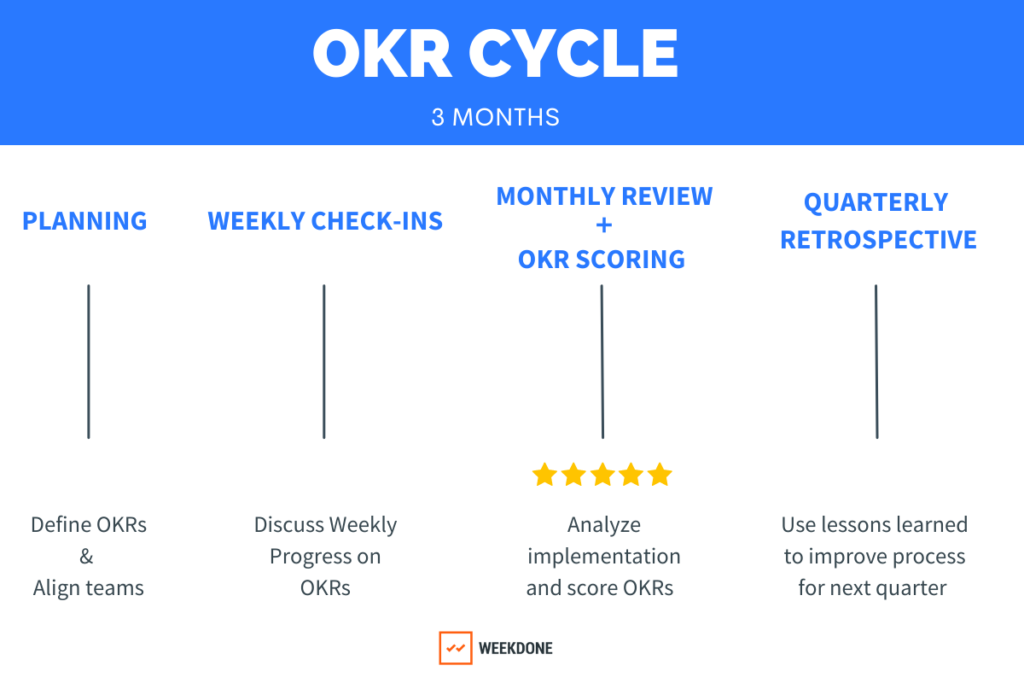 2. Are your company and team goals articulated and written down?
Writing and setting your goals using OKR software gives you a higher chance of achieving them. Articulating and writing your goals can:
Make you and everyone commit to them
Clarify expectations from the team
Engage and motivate your team to move toward a common goal
Provide visibility of the progress made to the whole company
📑 If you are searching for one place to record and manage your goals, this Business Goal Planning Template can be useful.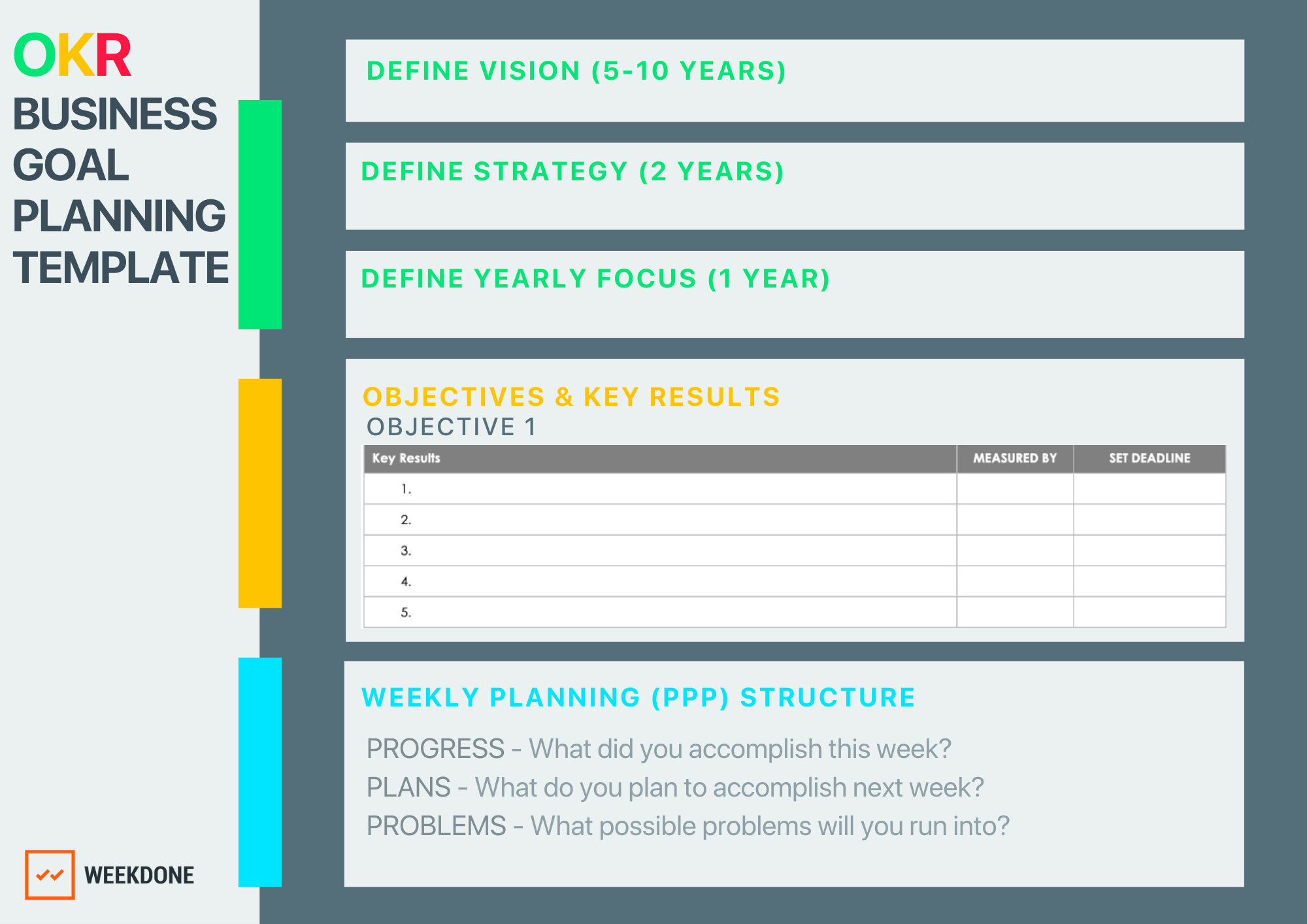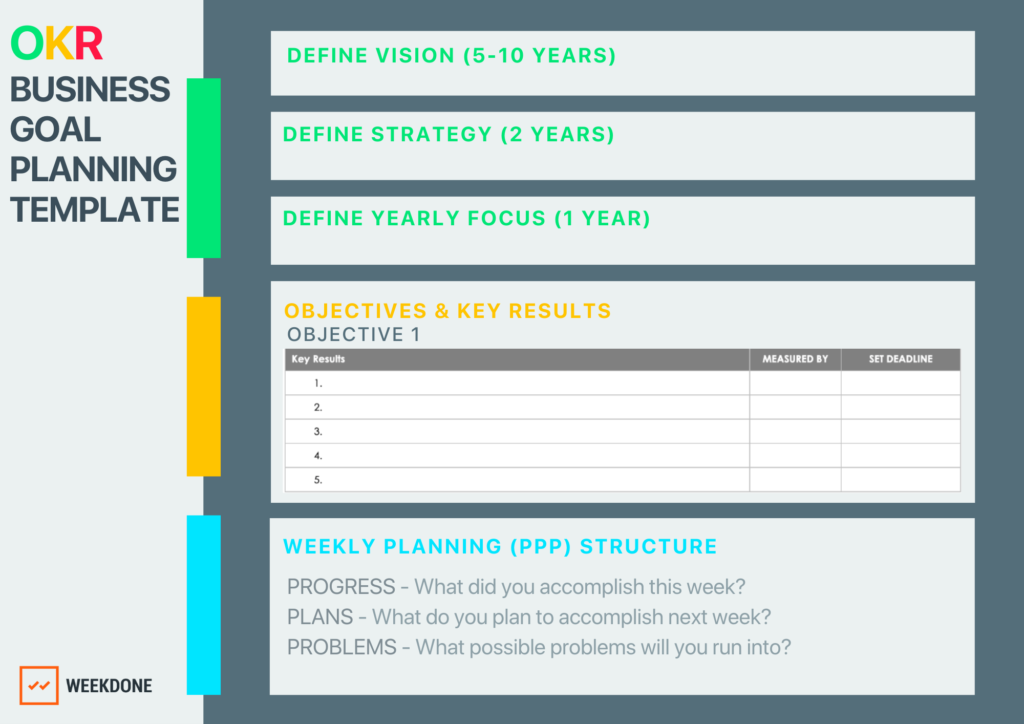 3. Have you created SMART goals?
Creating SMART goals are proven to achieve better results. To make a goal smart ensure that they are well-defined, quantifiable, ambitious yet attainable, realistic, and time-bound.
📑 Whether you are setting short-term or long-term goals, this SMART Goals Worksheet can help to set and manage your goals effectively.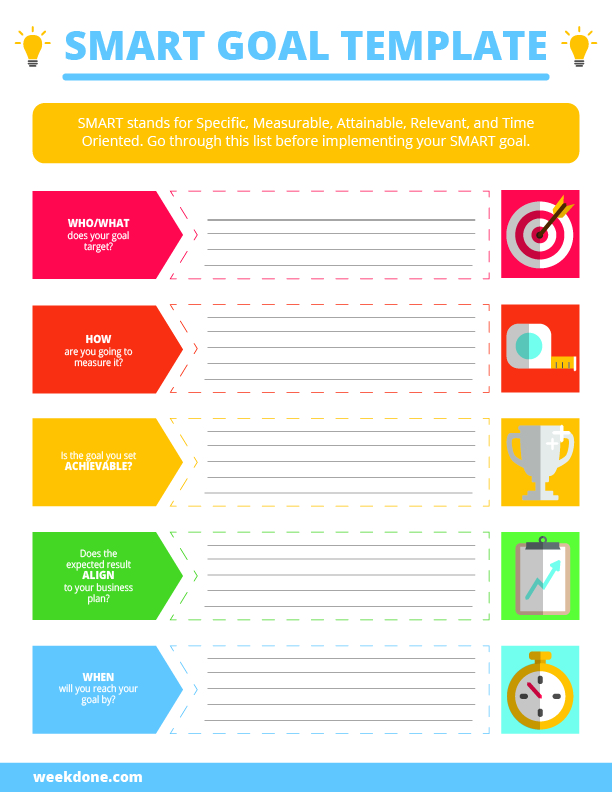 4. Are your goals ambitious?
There is a positive correlation between specific, difficult goals and improved performance.
Challenging goals lead to higher performance, as opposed to easy goals. When creating Big Hairy Audacious Goals (BHAG) remember to keep them attainable, yet challenging.
This way you can make your team members feel motivated and encourage them to strive for the best without discouraging them due to lack of results.
👉 One way to simplify the process of managing goals and increase the chance of success is to adopt a goal management methodology.

Take a look at the most widely used and popular goal-setting frameworks.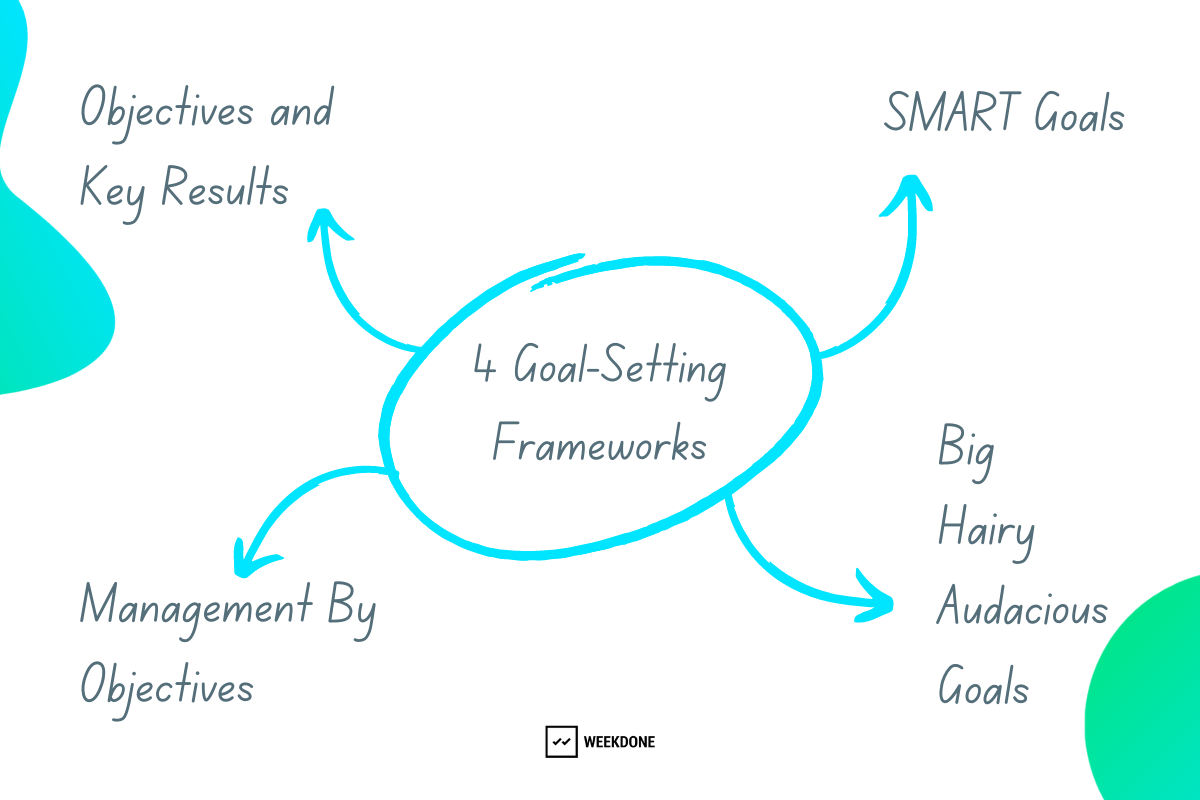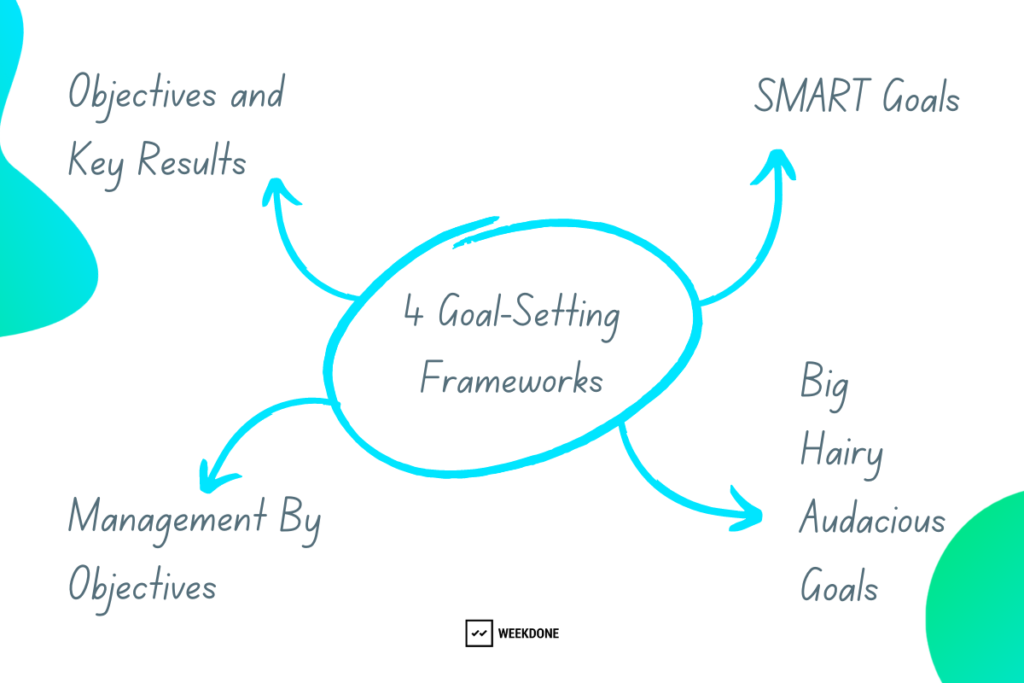 5. Have you communicated your Objectives and are they visible to everyone?
The lack of clarity on how success is defined is one of the main factors that lead to teams falling short of achieving goals. When the company's core values, strategy, and Objectives are clearly communicated and understandable it can have a great impact on employee engagement and productivity.
Written goals are great, but written goals when visible to everyone make it better. Making goals public and keeping them in front of everyone, promotes better planning. Using OKRs can help you set and communicate Team, Department, and Company Objectives in addition to making them visible. This allows teams to know what everyone is focusing on and can align their plans accordingly.
👉 Whether it is through dashboards or weekly progress reports, providing visibility of weekly expectations and progress can ensure everyone is focused on areas that can have the highest impact on business results.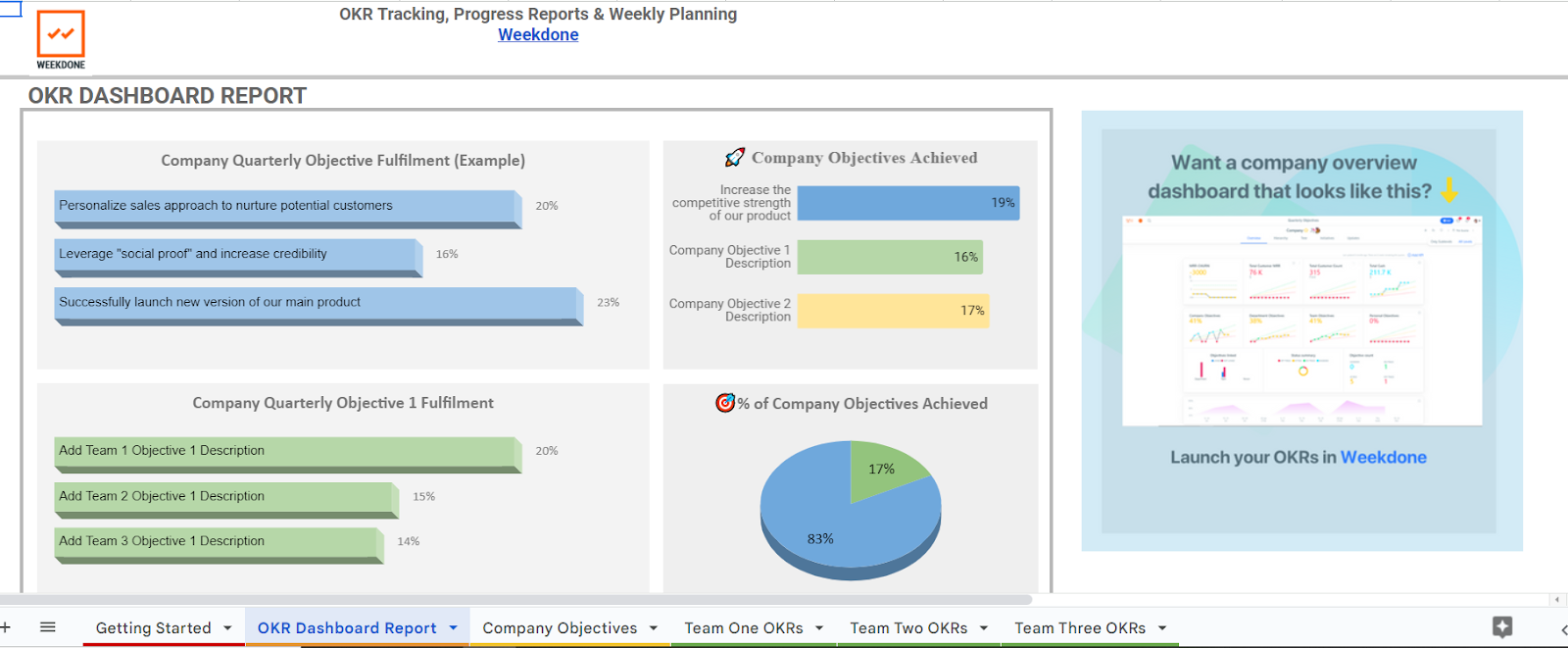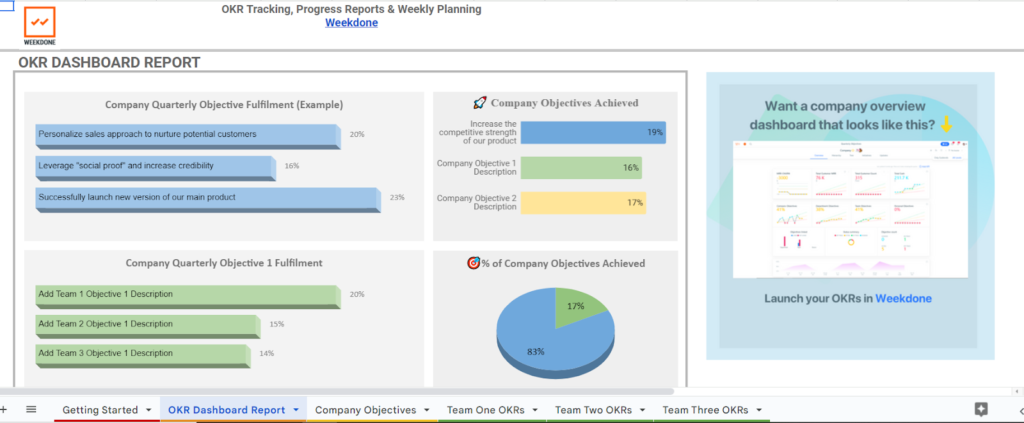 6. Are the goals of your company and teams aligned?
Irrespective of your organization's structure, alignment of goals and objectives is important to ensure that high-level goals are translated into team level objectives. Creating and communicating the overarching goal can provide direction and unified focus.
To execute strategies and ensure Objectives deliver results, alignment of your teams, departments, and organizational Objectives is necessary. The OKR framework is a great method to help you track Objectives and ensure strategic goal alignment company-wide – from the strategy to the overarching Company Objective, to Team OKRs, and individual learning goals.
💡 To visualize connections between Objectives at different levels, the OKR Hierarchy View can help. You can view your Company Objectives, Team OKRs, and find out they are interconnected and aligned.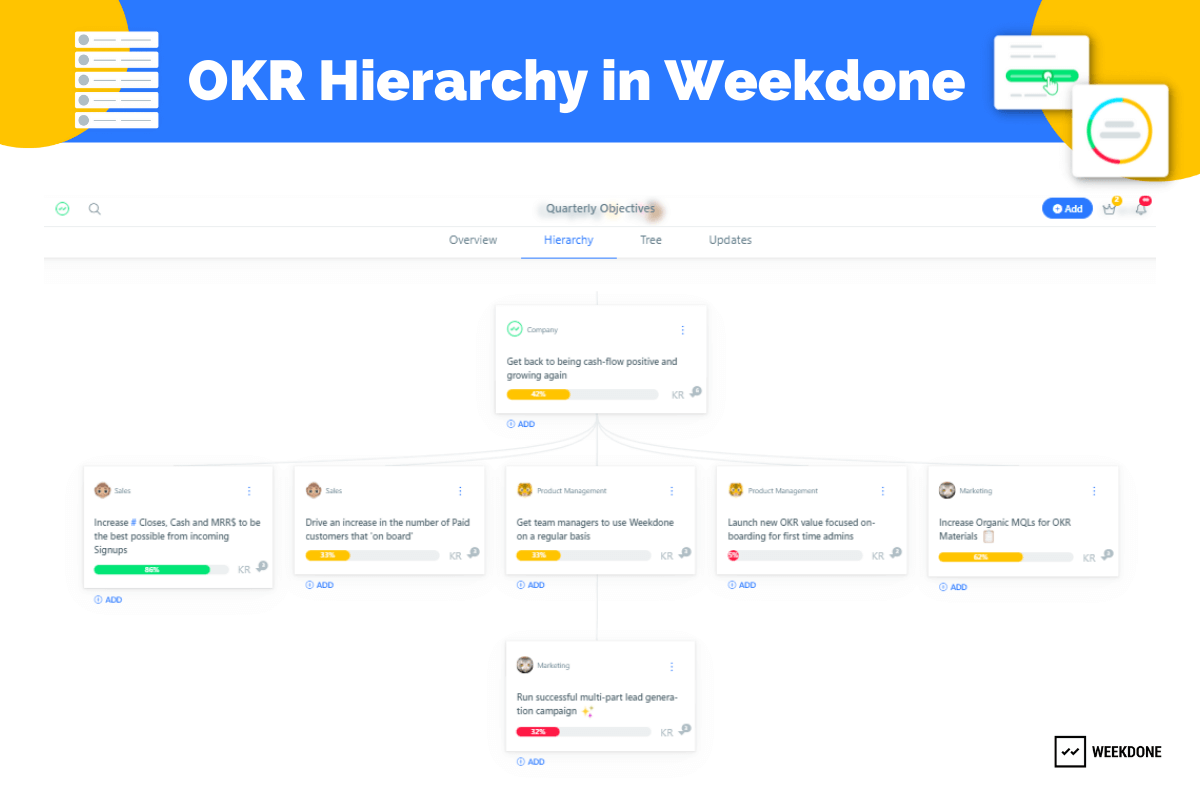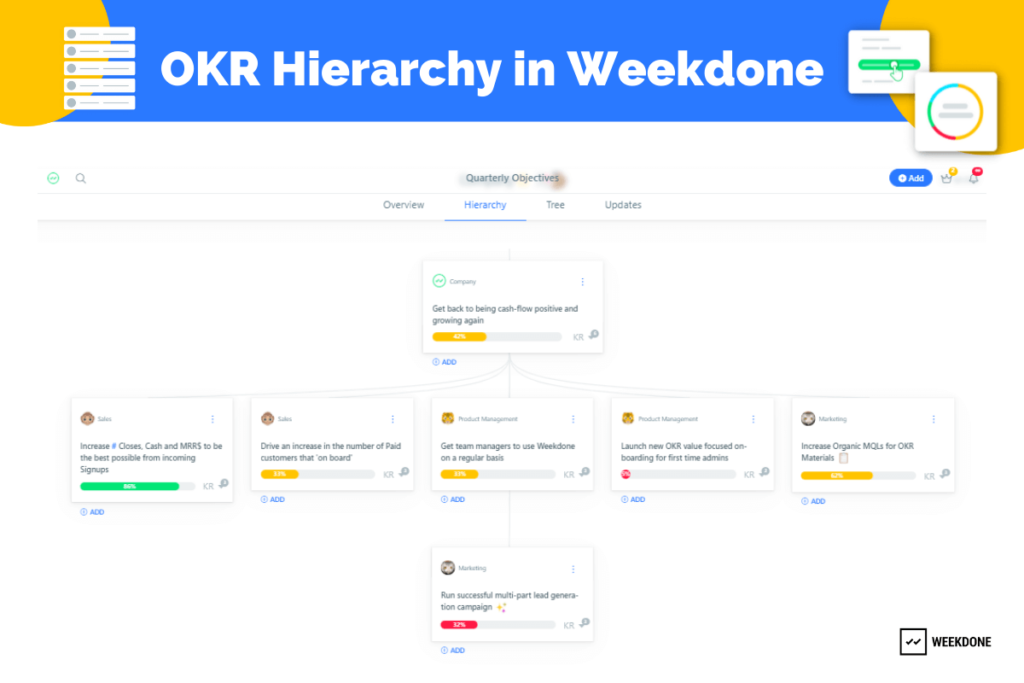 7. Are you tracking and reporting the progress made on your business goals?
A critical aspect of the goal-setting process and the most important question is, are you tracking and reporting the progress made toward the goals you want to accomplish?
The PPP method (Plans, Progress, and Problems) is an efficient status reporting system that can help you move toward the goals you want to achieve. This weekly report can include completed and closed tasks, accomplishments, major milestones, plans moving forward for the next reporting period, and challenges that need to be addressed.
🎯 If you want to prioritize your objectives and tasks, conduct a weekly OKR check-in with your teams and ensure the progress of your OKRs is on track.

Find out How to Track OKRs with Weekly Check-ins.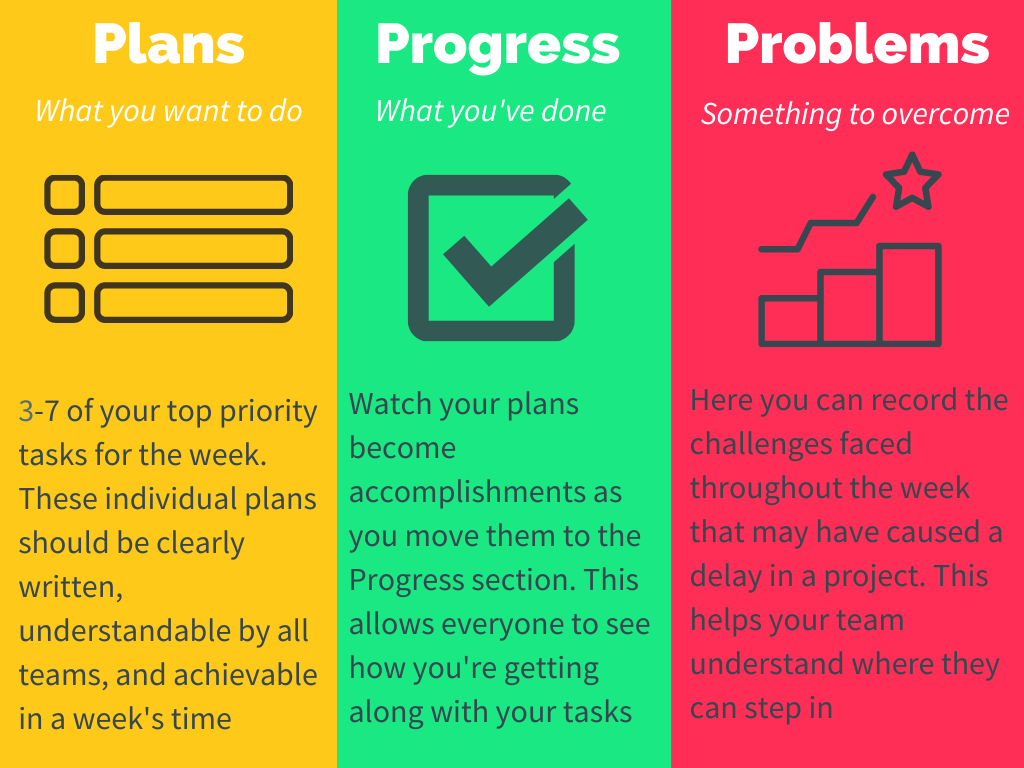 To effectively set, track, and measure the progress made toward achieving your goals using a dedicated goal-setting software can help.
What next? How do you get started with goal-setting in teams?
Redefine your approach to strategy execution and the purpose of planning. Make goal-setting a habit and nurture a growth-mindset. Here's a slideshow to help you with the process:
The easiest way to start goal-setting in your team or company is to use goal-setting software. Set, track, and measure your goals effectively to drive optimal business outcomes.