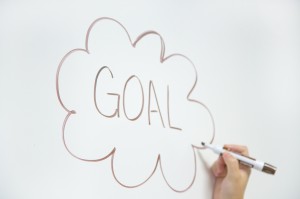 The closer we get to the end of the year, the more serious we get about goal setting. Turns out, people are more likely to pursue their goals after a birthday or the first of the month. So, there's no better way to start fresh than on the 1st of January!
Even with that, goal setting shouldn't be left to chance. Although there is nothing more basic in management than setting goals, it's also the part that is often overlooked and dealt with without a systematic approach. As said by Elbert Hubbard: "Many people fail, not for lack of ability or brains or even courage but simply because they have never organized their energies around a goal."
[Tweet "Many fail not for lack of ability but because they haven't organized their energies around a #goal."]
By working with thousands of customers in hundreds of countries with our Weekdone quarterly OKR goal-setting software (it's free to try by the way), we've seen that goal setting is nothing more or less than a conscious process of establishing levels of performance to reach a desirable outcome. Harvard Business Study gives an effective overview of the positive correlation between employee engagement and clearly communicated and understandable business goals.
The same research states that the most commonly cited success characteristic is a focus on achieving goals. Actually, it's proven by hundreds of studies that specific and challenging goals can powerfully drive behavior and boost performance.
It's no wonder that leaders across the world agree that if there is one leadership process everyone should establish, it's regular goal-setting using best practice methodology like OKRs – Objectives and Key Results. OKRs are also the cornerstone of Weekdone's goal-setting tool.
Goal-setting might become more difficult when your whole business is built upon unexpected situations. That's the unfortunate case with Belfor, the worldwide leader in disaster recovery and property restoration. As a property restoration company, they handle losses after a storm, flood, or fire, which makes their planning process a bit more hectic.
Despite this, by setting up team goals from monthly reviews and keeping them under everyone's nose, Belfor has noticed people rising up to meet these Objectives. Rather than being something that is talked about and forgotten, proper planning and public team goals have made people aim for more.
No matter which industry you are in or which goal-setting tactic you use, there are certain questions that help you reflect on the effectiveness of your goals.
Questions You Should be Asking When Setting Goals
Here are 7 questions you need to ask to make sure Objectives will be turned into results:

1. When is the right time for goal setting?
A survey of small business owners found that more than 80% don't track their business goals. Not surprisingly, 77% of leaders did not achieve their company vision.
[Tweet "Without tracking business #goals, you can't expect to achieve your vision."]
Goal setting is an uncomfortable process. It demands you to think about the ideal future, ditch your comfort zone, and practice a great deal of self-discipline. There's never truly a "right" time to set goals. Therefore, stop waiting and start taking action today.
The easiest way to start goal-setting in your team or company is to use a goal-setting software tool like Weekdone.
2. Have I written down team goals?
Writing down your goals using a piece of OKR software gives you an 80% higher chance of achieving them.
Before it's written down, it's just a wish, unfortunately. Ever heard about the Harvard Written Goals Study? It states that 3% of Harvard MBA graduates make ten times as much as the other 97% combined due to their clear, written goals and plans to accomplish them.
Well, this study, which is cited by thousands of articles, turns out to be a myth. Nevertheless, an actual study that was conducted by the Dominican University did find a positive effect of written goals on performance.
[Tweet "You have about 35 thoughts a minute, if #goals are only in your mind, they will be vague."]
And that makes a lot of sense. You see, on average, you have about 35 thoughts a minute. If your goals are only in your mind, they are jumbled up, vague, and uncertain in many ways. By writing goals down, you:
inherently commit to them;
are forced to clarify what you want from your team;
provoke you and your team to make the next big step towards a goal;
will enable your team to see the progress.
3. Can everyone view Objectives?
Clearly communicated and understandable Objectives have a great impact on employee engagement.
Written goals are great, but written public goals are even better. By making goals public and keeping them in front of everyone, you'll soon experience people actually planning accordingly. That's the beauty of OKRs. They help you set and communicate Team, Department, and Company Objectives in addition to keeping them public. So, teams can move in one direction and they know what others are focusing on.
4. Are my goals SMART?
Studies clearly indicate that setting specific, challenging, and obtainable goals enhance performance.
In your goal-setting process, make sure to use SMART goals. Check this study on how to write them. In short, the objectives are:
Specific – well-defined and focused;
Measurable – contain a number;
Attainable – ambitious but reachable;
Relevant – in compliance with the overall market trends;
Time-bound – with a concrete deadline.
5. Are all Objectives aligned?
Employees who set goals that are based on their personal strengths are 7 times more likely to be engaged in their work.
In order to turn Objectives into results, make sure that team, department, and organizational Objectives are all aligned. Once again, OKRs are a great method to help you track Objectives and make sure they are all aligned.
6. Am I out of my comfort zone?
There is a positive correlation between specific, difficult goals and improved performance.
Challenging goals lead to higher performance, as opposed to easy goals. Yet, when the goal is beyond reachable, it acts as a de-motivator. Make sure your goals fall in between these extremes. Keep your team goals challenging but attainable. This will separate average employees from your best and brightest.
7. What is the next step?
63% of study respondents at the Center for Creative Leadership said that not knowing which work was the priority was their biggest waste of time.
[Tweet "What's the biggest waste of time? Not knowing which work task is the priority"]
Goals are useless unless you chunk them into the daily, weekly, and monthly tasks required to accomplish them. To focus your plans on what's important, try the Eisenhower Matrix. To keep everyone on the team on the same page, use the PPP process. It will help each team member report their key achievements, plans, and challenges.
Try out our Weekdone Weekly Planning and quarterly OKR goal-setting software by registering here.
After you have set great team goals, encourage your team members to set corresponding personal Objectives. Here's a slideshow you're welcome to use in order to help you with the process:
What next? How do you get started with goal-setting in teams?
The easiest way to start goal-setting in your team or company is to use a goal-setting software tool like Weekdone. You can do so right now by starting your free trial.