Only 2.5 percent of companies complete their projects. If your company isn't part of that 2.5 percent but you're eager to get there, using the right team task management software could make all the difference.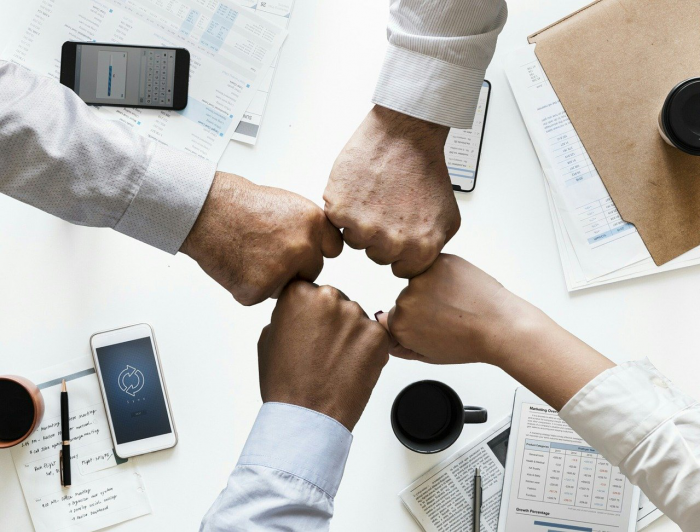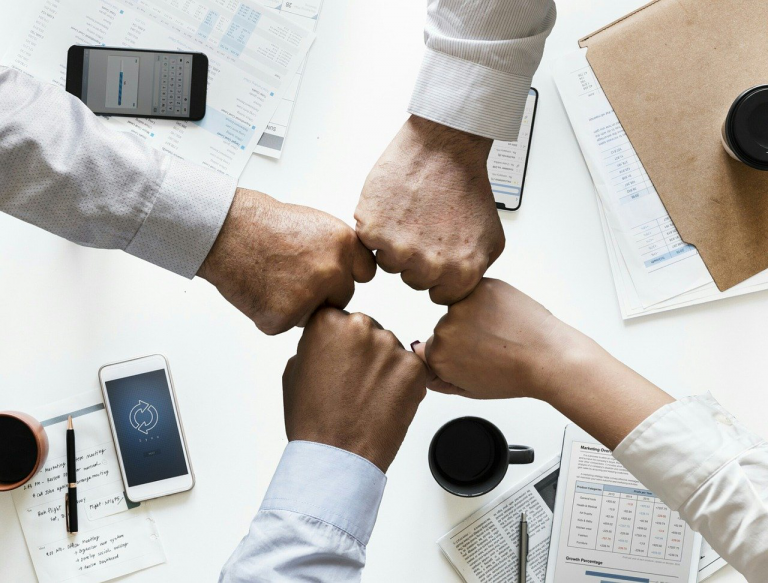 Read on to learn more about the benefits of this kind of software. In addition, we'll cover the best team task management software options on the market today. These are softwares you need to use in addition to work productivity apps like PDF editors and Google docs.
Why Should You Use Team Task Management Software?
There are plenty of project managers and supervisors who are making use of task management software. At the same time, though, many are hesitant to hop on board this train.
Managers who fall into this category might assume that they, as well as the folks they oversee, can get by just fine with granular approaches like writing down checklists on a piece of paper or using their own personal task management apps. When everyone is left to their own devices, though, it's easy for things to fall through the cracks. This method also makes it harder to get a high-level overview of what everyone is doing and how projects as a whole are coming along. When this is the case, it's easy to fall behind and end up with projects that are completed late or done incorrectly.
Using a team task management software is beneficial to both managers and the people they manage. The following are some of the greatest advantages that come with using this kind of technology:
Centralize activity and eliminate the need to toggle back and forth between different apps or remember lots of passwords
Encourage teamwork and collaboration by simplifying communication between workers (this is especially helpful when you're managing a remote team)
Simplify the act of prioritizing tasks and ensure everyone is on the same page about what to focus on first
Keep track of deadlines and time requirements for multiple workers at once
Another noteworthy benefit of this software is that it's accessible anytime and anywhere. You don't have to be in the office to use it. Basically, as long as you have a smartphone with internet access, you can check in on your team and they can check in with you while they're on the go or when you're out of the office.
9 Best Team Task Management Software Options
As you can see, the right team task management software can have a big impact on your team's productivity and ability to work in the most efficient way possible. The following are nine of the best software options you might want to consider using:
1. Weekdone
Weekdone makes it easier than ever for team managers to set structured goals for their employees and align a variety of activities throughout the company. Basically, it provides managers with an easy-to-use dashboard that lets them track weekly progress and provide feedback to team members as a whole and on an individual basis.
Some of Weekdone's most beneficial features include percent-complete tracking, weekly planning tools, and simple visuals that allow for easy and consistent status reporting. Managers can also use Weekdone alongside other team and project management apps, too. It pairs with apps like Slack, Asana, and GoogleTasks, and more.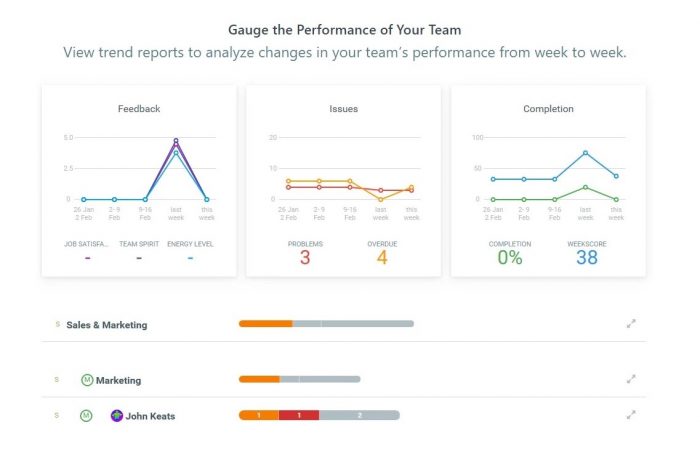 Weekdone makes team collaboration and communication a breeze, too. Using this software, managers can easily conduct weekly reviews to check in on their teams (as well as individual employees). This allows them to provide recognition for jobs well done, answer questions, and make sure everything is happening according to schedule.
The free version of Weekdone is available for team task management. For teams of four or more, pricing starts at $9 per user per month.
2. monday.com
monday.com is an intuitive task management software designed to encourage team collaboration and help them complete tasks faster. It allows for easy onboarding and is very flexible, so it helps managers to set priorities and allocate tasks in a way that makes the most sense for them.
Some of the productivity features that monday.com offers include dashboards, a calendar view, various automation options, and due date notifications. It also allows managers and other app users to create subtasks to divide projects into more manageable chunks. It offers percent-complete tracking, too, to keep users motivated and help them see how much work they have left to do until a project is finished.
monday.com comes with a free trial, and paid plans start at $8 per user per month.
3. Asana
Asana is a well-known task management app that is used in offices throughout the country (and the world). Asana is known for being easy to manage and simplifies the task management process for teams that want to keep everything in one place.
This software is especially useful when it comes to managing team communications. It provides a central location for sending messages back and forth and minimizes the need to keep track of several different email threads and chat windows.
One of Asana's most beloved features is its collaboration tools. It comes with the option to choose between several different views, including Gantt or Timeline view, Task-Board view, and To-Do List view.
Asana comes with a free option. There's also an upgraded model that starts at $10.99 per user per month.
4. Project.co
Project.co is a client-facing task management app. It allows your team to connect with your clients so they can share information in one location. Project.co lets users set up work as separate projects with individual discussion feeds, notes, tasks, and payments. It also makes it easy for them to track the amount of time they spend working on each individual project.
Some other noteworthy features Project.co has to offer to users include easy adding of internal and external users, as well as a variety of task views. It features many different reporting tools, too, and can integrate easily and securely with payment solutions.
Project.co is free for up to five internal users and five active projects. Paid options start at $7 per user per month.
5. Toggl Plan
Toggl Plan helps team managers delegate tasks. It also provides simple visuals to help you see which projects are finished and which ones are not. It's especially useful for teams that collaborate with other teams.
Some of Toggl Plan's best features include the Gantt-chart visualization option which makes deadline and project tracking easier. It promotes easy team collaboration as well, with shared calendars and task notes.
Toggl Plan is free for up to five team members. Those five are able to use it to manage unlimited projects. The premium plan starts at $8 per user per month.
6. nTask
nTask is good for managers and for individual projects. This flexible software allows users to keep track of several projects at once.
nTask also allows users to define team leaders' roles, clarify budgets, and keep track of milestones with ease. It comes with an interactive Gantt Chart feature that is useful for project managers with more advanced needs, too.
Some of the key features that nTask has to offer users include powerful in-app collaboration, integration with other apps like Slack, and resource management tools. Managers can also use nTask to invite stakeholders to check in on ongoing projects and monitor their progress.
The free, Basic version of nTask is available to teams of up to five members and provides access to basic task management features. For all features, including Gantt Charts, you'll need to upgrade to a paid plan, which starts at $2.99 per user per month.
7. Trello
Trello is a great option to consider for team communication. Trello features different boards that represent various workflow stages. It lets users drag and drop personal and professional projects to these boards to keep track of where everyone is and monitor when projects are completed.
Trello allows for easy customization, so managers and team members can label boards as they see fit and divide projects up into the categories that make the most sense for them. Another useful feature that Trello provides is templates for those who don't want to handle the customization process themselves. These templates are available for a wide range of projects, and there's something for almost everyone.
Trello is available as a free app that comes with unlimited personal boards and 10 team boards. Paid plans for access to additional boards start at $9.99 per user per month.
8. Teamwork
Teamwork is known for being a good app for team managers handling remote teams. It allows team members to set status updates that alert their colleagues and managers to their schedules. These status updates also help managers keep track of what their workers are doing and whether or not they're on-task.
Teamwork features Gantt charts, private messaging options, and the option to customize navigation. It offers customer service functions, too. This includes options to assign tickets and view customer emails to ensure everyone is satisfied and being taken care of in the most efficient way possible.
Teamwork is free for teams of up to five users. From there, paid plans start at $9 per user per month.
9. ActiveCollab
ActiveCollab makes it easy for team managers and workers to create tasks and organize all aspects of their work life. It's designed to help users establish priorities, collaborate with one another, and stay focused on what's most important. Users can keep track of updates in real-time using ActiveCollab, too, and it allows for easy time tracking and automatic rescheduling.
Some of ActiveCollab's other features include recurring task management, the option to create subtasks, and percent-complete tracking. It allows for various project views, too, including Gantt charts, to-do list views, and task board views.
One of ActiveCollab's biggest drawbacks is that it does not come with a free version, nor is there a free trial available. Prices start at $6.25 per user per month.
Choose Weekdone as Your Team Task Management Software
Now that you know more about the benefits team task management software has to offer, as well as the different options that are available to you and your team, it's time to decide which one you want to use.
Of all the software options outlined above, Weekdone is a great fit for almost any business. Weekdone helps you and your team members set long-term goals and break them down into manageable tasks. It simplifies the process of conducting weekly reviews, too, so you can check in with your workers and give them additional guidance to ensure they complete tasks on time and remain productive.
As an added bonus, you can try Weekdone for free! Sign up for a free 15-day trial for three people today.
Image source: Pixabay