Short-term business goals should be a road map that shows where you want to go. Setting short-term goals for a business can get a bit trickier. As they must be very clear, practical, and easily understandable for employees. That is why we've compiled 40 + examples of short-term business goals and objectives in this article.
What's more, when setting business objectives you must always keep the long game in mind. Otherwise you might stray from the really impactful daily tasks.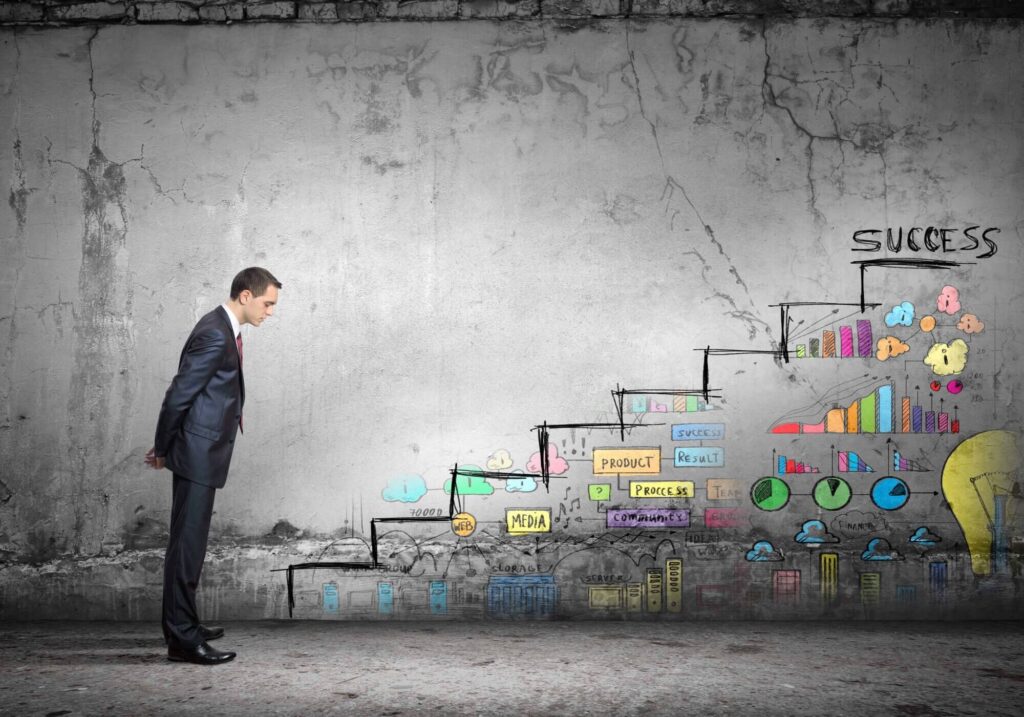 How to Set Business Goals with OKRs
For setting business goals, you can use the popular Objectives and Key Results (OKR) method. This is an increasingly flexible methodology for increasing your own and your team's productivity and focus. In simple terms, OKR is an easy process of setting company, team, and personal goals then connecting each goal with 3-5 measurable results.
Objectives should be qualitative and describe the desired outcome. Make it inspirational and understandable to those reading and working toward it! Key Results are the quantifiable measures that help explain how from reaching your Objective you are – adding metrics to Objectives.
Set OKR Goals in Weekdone
Use the popular OKR goal management framework in a dedicated software with OKR examples to get teams on the right track from day one!
Examples of Short Term (Quarterly) OKRs
Here are some of the example business Objectives you can find also from our resource: okrexamples.co
Objective: Research and improve customer satisfaction.

Key Result #1: Achieve Net Promoter Score (NPS) of over 8.0.

Key Result #2: Get 1000 survey responses to annual satisfaction survey.

Key Result #3: Conduct 50 phone interviews with top customers.

Key Result #4: Conduct 15 phone interviews with recently churned customers.

Key Result #5: Present an action plan of 10 improvements for next quarter.

Sign up to add this goal to Weekdone
Objective: Improve internal employee engagement.

Key Result #1: Conduct 3 monthly "Fun Friday" all-hands meetings with motivational speakers.

Key Result #2: Interview 48 employees on their needs for improving our work culture.

Key Result #3: Implement using OKRs and Weekdone software in all of our 23 teams.

Key Result #4: Reach weekly employee satisfaction score of at least 4.7 points.

Sign up to add this goal to Weekdone
Objective: Successfully launch version 3 of our main product.

Key Result #1: Get over 10000 new signups.

Key Result #2: Get published product reviews in over 15 publications.

Key Result #3: Achieve sign-up to trial ratio of over 25%.

Key Result #4: Achieve trial to paid ratio of over 50%.

Sign up to add this goal to Weekdone
40 Examples of Short Term Business Goals
In the next 40 examples, we'll consider the SMART goals criteria. Meaning a suitable goal will follow the SMART formula: Specific, Measurable, Achievable, Realistic, and Timed.
1. Gain X New Customers by the end of X month
Setting business goals in the short term is generally from 1-3 months time. Usually, setting a 3 month (quarterly) period is a good timeframe to satisfy the: achievable, realistic, and timed aspects of the SMART criteria. You'll gain enough meaningful data to start making better decisions for your company as well.
With all that in mind, ask yourself, when do you want these customers? How many new customers do you want? How can teams set goals to drive this forward as well?
2. Increase Revenue by X Amount This Month
Another great short-term goal to have as a business is to increase your revenue. More revenue = more profits 💵
Set a realistic goal for the amount of revenue you believe you could make in a month.
Note: Before you set your goal, first look at what you've done in the past to ensure it really is realistic. If you do reach this goal, you can always make the next month's goal more ambitious.
Related: Weekdone helps you define your ambitions when setting OKRs since you can set your Objective (goal) with a related confidence level and type! How confident are you that you'll achieve this goal?
Moonshot: Otherwise known as "stretch goals", are seemingly impossible to achieve. Forcing you to shoot for the moon (get it?!) and everyone contributing to the success of this goal out of their comfort zone. Aim for 70% achievement here!
Roofshot: These are your more "committed" goals. Maybe you've achieved this target before, but it's been some time. You're in your comfort zone, but still want to achieve 100%. That's your drive!
Read more about the difference between aspirational and committed goals.
3. Successfully Host an Event
As a small business owner, a great way to market yourself is by setting business goals that center around hosting events.
While the above goal is a bit broad, you would have to take the event itself and center a more specific and actionable goal around the event.
To use an OKR example for this short term goal, we could frame it like this:
Objective: Host a successful golf tournament with at least 70% attendance

Key Result #1: Distribute invitations to 100% of customers

Key Result #2: Sign contracts with 12 industry partnerships/sponsors

Key Result #3: Raise $50,000 for X charity associated with tournament

Sign up to add this goal to Weekdone
Key Results help you to break down the Objective into more "bite-sized pieces". Within each measurable Key Result, you will have various activities that help you make progress toward achieving those targeted outcomes! Using OKRs helps you keep weekly focus on your short term and long term goals.
4. Increase Employee Retention Through the End of the Fiscal Year
If you are a business that sees many employees come and go throughout the year, it's a good idea to make one of your goals centered around employee retention to reduce turnover.
Whether you choose to put in an incentive program or go through the ropes to find something that makes employees happier like scheduling team-building activities or something else of the sort, setting a goal to keep your employees around is a great way to help the business grow!
5. Reduce Monthly Expenses this Quarter
If you notice that you are spending a lot of money each month, a great short-term goal is to reduce monthly expenses. Review your current expenses to see what you are spending money on, but once you do that, you should be able to eliminate some of the heftier expenses that you realize aren't needed.
Thinking outside of the box to manage monthly expenses can benefit your business.
6. Create a Budget Tracker
If your business doesn't have a budget tracker or dedicated accountant, this is a great short term goal! This is the only way to visualize how you're spending is going and how you can allocate resources better for the next goal term, or quarter.
There are many programs you can use for budget tracking as well as simply using Excel. Just remember to document every single expense so you have access to historic data in order to make better accounting decision in the future
7. Research Various Market Opportunities
As a business, it's always smart to consider growth and expansion. You'll notice that this short-term goal only covers "research" – since looking into your possibilities is a big task. Focusing here can set you up for the trial/experimental phase in the next quarter.
If you're a service provider, are there other parts of the market that you could expand into to offer more services? If you sell products, what other products are in your niche that you could offer to customers? See what opportunities come about as you do some competitor research!
8. Implement a Hybrid Work Model
This short term goal has potential to be carried out in a quarter (3 months) if done so efficiently with the leadership team completely on board!
With so many people working from home these days, hybrid work has proved its value. Happier employees with more flexibility, and offering companies the option to downsize and save on overhead costs.
Of course, in order to do this successfully, you'll need to find a software solution to support your business goal management and satisfies employees as to keep momentum going rather than deplete it!
Lead online with Confidence
9. Create a Social Media Content Plan
Over 4 billion people use social media, so it shouldn't go unnoticed as an opportunity to gain new customers or higher engagement levels!
One way to implement social media into your marketing technique is to put all of your energy and focus into one platform until you grow that one. Another way to go about this is to choose several to focus on.
To make sure you are giving social media the time of day, you could consider hiring an agency to do the work for you so you can focus on other parts of the business. Otherwise, it could be an employee's part-time job to run the social media accounts and calendar.
Whatever you do in terms of who runs your social media, you should ensure that you are posting on your social media platforms a few times per week. The most important thing is to stay consistent. If you post once a week and it's every Wednesday, keep doing that so customers know when to expect to hear or see something from you!
10. Improve Customer Service
When setting business goals, you have to also take into account who you are serving. This goal is specific to Customer Service Teams, if you find that your rate of engagement with customers is on a downward trend, can set the short term goal of making improvements!
When setting this goal, you have to take actionable steps within this goal to guarantee you are reaching it. How do you plan to improve customer service? What are the challenges you need to surpass in order to achieve the expected outcome?
Here are a few ideas: (if using OKR goals, these would be your Key Results)
Increase our ratings on 10 review websites
Create an "after purchase" email automation flow that receives a 2.5% open rate
Complete 50 customer account checks weekly to reduce churn from 3.2% to 1.5%.
Each of these items will have various activities (or initiatives) that individual teammates work on during the timeline to drive the changes and see progress on a weekly basis!
11. Stay Up-to-Date With Marketing Trends
Since trends are constantly changing, you need to be looking out for the newer trends. Simply being behind the times can make you less successful than if you stayed on top of current trends.
So what types of trends should you be looking for?
As of 2022, marketing is trending toward short-form videos and social media. Most is digital rather than in paper form as well.
12. Develop a New Product
Is it time to create or make changes to your product to meet the demand of what people want?
For example, let's say you make and sell soy candles. While reviewing sales from last quarter, and discussing customer requests with your Sales team, you learn that customers have been asking for a diffuser option! This is a great time to ramp up production on something new.
Having conversations with your teams is crucial to help find new areas of opportunity. The OKR goal setting methodology helps companies and teams adopt a collaborative process with goal-setting at the forefront!
Read why OKRs are so beneficial to teams
13. Create an Employee Incentive Program
Employees love recognition. About 45% of workers in America leave their jobs – because they don't feel recognized by their employers. It's so important to create some type of employee incentive and recognition program.
As a business owner, it's important to ensure that your employees feel recognized, motivated, and fulfilled, otherwise a new opportunity awaits them and they could end up leaving your company.
Something as simple as sending a weekly email to acknowledge a job well done, or something worth supporting will go a long way.
14. Create a Blog
Content creation is a huge marketing win and opportunity for people to find you online through organic search.
On the blog, you have to guarantee that you are posting simply about your niche. If you are a lawn care service company, you most likely don't want to post about the best going-out clothes to wear around town.
Creating a blog is a great example of a short term goal for your marketing team. Here's an OKR example to show how it would look:
Objective: Create a WordPress blog that stands out among competitors

Key Result #1: Research 30 competitors in our niche and create 1 master competitor's analysis spreadsheet

Key Result #2: Create a content calendar and write 10 articles to promote

Key Result #3: Research and test SEO tools, choose 1 to move forward with

Sign up to add this goal to Weekdone
15. Go Paperless
Going paperless is a step closer to being more environmentally friendly as a business. With more and more customers (78% of customers to be exact) preferring to purchase from a green company, you will have a leg-up in the industry if you choose to go paperless.
This could mean a few different things, and doing even just one of these things to start will be working toward your goal.
Eliminate paper checks for employees
Eliminate flyers and mail marketing
Change menus or services/products to online menus
This could be a goal that you set over a three-month period. From there, you could do one of these each month. Making the objective more attainable for a shorter term.
16. Make Company Meetings More Efficient
Teamwork makes the dreamwork, right? So, in order to come up with innovative solutions, create products, or solve problems meetings should give everyone a voice, in an efficient way!
Setting a short term business goal like this, proves to everyone that you:
understand there is a problem with the current process,
value individuals' needs and time,
are committed to making an improvement
17. Improve Company Data Analysis
It's always great to implement goals and techniques, but without analyzing how it works, you may be left with more questions than answers.
Make a short-term business goal to improve your collection and analysis of data. This is a very general goal, but for example you could create reports for individual teams based on what they need to measure their success on short-term team goals.
18. Prepare an Investment Portfolio
Investing in your business is crucial for growth and opportunity. If you don't already have a portfolio for investments, this is a great short-term business goal to implement!
Set yourself a timeline of 3 months (1 quarter) to review investment opportunities, meet with investors or a financial advisor, or whatever you need to make this goal achievable and lasting.
Of course, once you achieve this goal, you could consider an annual goal surrounded by the growth you hope to see within 1 year.
Read about annual vs. quarterly goals
19. Test OKR software for Better Goal Setting
There are so many goals you can have as a business owner, as well as individual team goals. But if you're not using software to track everyone's progress it can be frustrating trying to keep up with others, losing momentum all around!
So, it may be time to consider using software to help you track quarterly goals company-wide! At Weekdone, we fully believe in the benefits of the OKR methodology – OKRs not only help you break down your goals into measurable outcomes, but the framework brings focus back to what's really important.
Read our extensive list of the best OKR software. It shares details about 24 goal management tools + their supporting features that help you make positive changes with lasting results!
20. Raise Brand Awareness on Social Media
As a brand, you should always consider how to grow your audience, whether through social media, blogs, or various email campaigns. For a short-term business goal about raising brand awareness, consider choosing one outlet – social media, or even further, Instagram! This removes the ambiguity and gets you that specificity!
What is your Objective? What is motivating you to raise awareness on social media this quarter? Maybe you saw a drop in traffic from this channel and would like to see more referrals coming in. Consider the "why" and surround your focus on this!
Marketing Short Term Business Goal Example (specific to raising brand awareness using OKRs)
Objective: Increase organic traffic from Instagram and raise brand awareness

Key Result #1: Solidify 10 influencer partnerships within our niche

Key Result #2: Create, run, and optimize 2 paid advertisement posts to drive organic traffic

Key Result #3: Improve engagement from 50% to 90%

Sign up to add this goal to Weekdone
Now, in order to reach your desired outcome for each Key Result, to drive your Objective forward, you'll have to create some initiatives or larger projects to work on daily that keep you on track!
Initiative Examples connected to Key Result #3

Example #1: Prepare, Run, and Analyze results from an Instagram Giveaway

Example #2: Share 50 relative accounts from ours in stories/reels

Sign up to add this goal to Weekdone
Now, you have larger projects that help you stay focused on your goal! Now, set yourself some weekly plans, and daily tasks to improve focus and motivation for yourself!
21. Test various hashtag methods
On social media, you also want to focus on getting your content seen! There is a method to all of the madness that is social media, and one of them is focusing on the hashtags you use when you post.
For instance, if you are a travel agency, you may use hashtags like:
#travelagency
#webooktravel
#travelmore
#travelandexplore
Expanding your reach on social media with hashtags is a great option and you could dedicate some time (possibly even shorter than 3 months) to analyzing and testing different options!
22. Start producing video content
Videos are an upward trend for marketing campaigns. Whether you post a short-form customer testimonial video on your website or create a reel on Instagram or TikTok, these are fast moving attractors!
With short playing times, they hold people's attention a bit longer. Sometimes they are also played quickly, so people will watch them more than once (which, on social media helps you get more reach, and more reach means more customers!).
Short-form videos are trending on websites, blogs, YouTube, TikTok, Instagram, and even other platforms, too!
23. Improve Customer Feedback Channels
Having a short-term business goal related to customer feedback, allows you to think further into how you receive it, measure it, and what you do with it!
You can get more feedback from your customers through: anonymous customer satisfaction surveys, rewards for reviews, check-in calls or emails! However makes sense for your business.
24. Improve Employee Morale at Work
As a company, you want to ensure your team is connected, happy, and motivated. Some initiatives that could help drive this goal forward are:
Plan and hold X company events this quarter
Test and implement an employee engagement tool for the company
Hold 1:1 weekly check-ins with employees
25. Go Green
Our society is making the push to go green, so your company should also make this a goal. While this is a large goal in itself, there are ways to chunk this "go green" goal into smaller goals.
For instance, as mentioned before, you could take three months to go paperless.
One month you could make the goal to hire a green cleaning company to use healthier cleaning products and fewer paper towels. The next month you could install energy-efficient hand dryers in the workplace.
Another month you could incentivize workers to walk or carpool to work.
Every month could be a different goal toward going green, but each month you grow closer to being as green as possible! The short-term goals help to lead you to your long-term goals.
26. Formulate your Company Mission Statement
Having a mission statement as a company is not only helpful for customers and others to see, but it also helps make the workplace more cohesive. Everyone knows the values and goals you have as a company.
To achieve this goal, it's important to gather the leadership team for a brainstorming session. Only after this should you include individuals, maybe you could create an anonymous worksheet to help float ideas around and understand what the company means to your workers.
27. Promote a New Version of Your Product
After creating products, you also need to promote them to make sure they sell.
Just before the launch of your new product, start planning the next quarter to be your active promotion time. During this time, Marketing team prepares promotional materials, the Product team is fixing any reported bugs to ensure proper functioning, the Design team could be working on a new landing page on the website to share feature developments!
28. Organize Business Expenses
If you don't have a way of tracking items that you can write-off for tax purposes, you may find yourself stressed when tax season rolls around since you have to get everything in order. Instead of waiting until the last minute – have a system in place to meet the goal of not being stressed once per year.
Your goal could be to track your business expenses every Monday. This is a short-term goal is more of an individual weekly goal that will help you with your business tracking and tax filing every single year.
29. Improve Internal Organizational Structure
As your company grows, responsibilities are dispersed among teams and you can easily lose sight of whats going on in the day to day, feeling overwhelmed and confused! That's why it is important to have a system that works and can grow with you as you scale up.
We recommend finding a way to improve this internal struggle for yourself and your employees! There are plenty of tools out there to help you save the day, however we wholeheartedly recommend the OKR framework to help you turn that chaos into confidence! Building internal processes, structure and ultimately a more positive organizational culture through goal-setting and tracking!
30. Improve Company Communication
As a business, it can be difficult to keep track of what everyone is doing! And with so many tools available, where did you make that important note? Improving company communication is a great short term goal or initiative that you should start seeing positive changes immediately!
Some ideas to help you get started here are:
Create a digital company calendar where everyone has access
Use a digital communication tool like Slack or MS Teams so everyone stays connected
If you choose to improve organizational structure and communication in one quarter – test out these OKR software with Slack integrations!
31. Hire consultant for X project
Say you have a new project coming up, but your current resources and employees cant handle the workload, or it's outside of their wheelhouse – you'll need to hire outside of your team.
This short term goal would begin with creating a job description, finding the right platforms to list it, interviewing consultants, negotiating contracts, and whatever else you may need.
32. Increase customer retention
If you've noticed that your customers are less active over time, or are churning quicker than before – retention is a great place to start. Begin with your Sales team and discuss numbers and try to place where the issue started based on collected customer feedback, product issues, and more. Then start setting yourself some targets related to retention. This helpful article shares 10 customer retention metrics you may want to consider using to help you achieve your outcome!
33. Improve New Market Knowledge
By setting the short term business goal of improving your knowledge and understanding of a new market, you'll be more active in getting to know potential customers, competitors, and value you could bring to this new market.
This is a short term goal that you could set for yourself in 1 quarter; make sure you consider putting together your research in a report and comparing it against other markets down the line. Having this data will allow you to see how quickly things change and what you'll need to do to adapt if you want to grow.
34. Participate in X Community Events
This short term marketing goal could be a part of a broader Company Objective to expand community outreach. However, with your Marketing Team aligned with that Objective you'll be able to move things forward with actionable outcomes.
How many events can you realistically participate in during a 3 month period? Consider choosing, planning, and preparing – given your current available budget and resources.
35. Test New Messaging on X
If your business is going through a transition phase, this is a great short term goal to try out some new messaging. Before you change elements across all of your platforms, it's important to see what sort of engagement and people this new message drives to your product.
The Marketing team could test and optimize the message, while your Sales Team analyzes the quality of those new leads. A collaborative short team goal that can provide valuable insights into the next quarter.
36. Improve the SEO on Your Website
Assuming you have a website and are creating content for your users, you need to go through and improve the SEO throughout.
There are plenty of ways to do this, but to get started:
Ensure your website is mobile friendly (check Google Search Console)
Learn some SEO best practices and implement them, examples: strategic internal linking, best page structure, and optimizing images for search.
It's important to note that SEO is a long term game, most results will show in 3-6 months time, but tracking and keeping up with it will improve your organic reach to bring in new customers!
37. Facilitate More Employee 1:1s
As a business owner or manager, it is crucial to have one-on-one time with employees to make sure they feel valued. This is also a time for them to voice their concerns as well.
Having a monthly meeting to check in with individuals' progress, challenges, and general thoughts on their role and responsibilities helps employees improve in addition to you as a manager. Ask and give feedback regularly – make it your goal to be a better leader.
38. Complete a Course on X
Learning opportunities are always a great short term business goal to set. You should allow and encourage your employees to do the same. Whether you give them a quarterly stipend to enroll in a certification program, or take a course together as a team/company, you won't regret it.
39. Encourage Monthly Self Care
To avoid burnout, you need to take care of yourself, and you also need to take care of your staff. But it's not enough to tell everyone to take care of themselves!
You have to encourage it in the short and long-term.
Here are a few ways to encourage self-care in the workplace:
Allow employees the flexibility to work from home
Give employees one half-day on a Friday each month
Give a gym stipend to employees every month
Create a contest that centers around self-care
40. Change Up the Office Space to Be More Trendy
Another goal of yours as a business owner could be to change up the office space. This could be to make it a space that people like to be in or to simply stay up with the times of more collaborative office spaces.
Instead of having individual offices, you could have an open space with tables, couches, and chairs for employees to hang out in and work.
Start with a budget and go from there.
Ready to Set Awesome Business Goals?
Without short term goals for your business, you'll be overwhelmed by the long-term agenda.
There are so many examples of short-term goals to choose from that it can be easy to get distracted. Ultimately, you'll want to use these examples as inspiration. In the end, remember the SMART formula for effective goal setting – Specific, Measurable, Achievable, Realistic, and Timed.
If you found our OKR examples interesting, read more about how to write and set good OKRs.
Try Weekdone to help you set more strategic goals with Objectives and Key Results and lead your company with confidence