As a leader, setting business goals and tracking them are essential parts of your job. You may be used to setting goals for the year or the quarter, but you also need to think bigger than that if you want to produce real change at your company.
This is where strategic goals come into play.
When they're accompanied by good execution and implementation, strategic goals have the potential to drive success in a major way. This is especially true when they're written down and reviewed during weekly check-in meetings. One study even showed that these two steps can increase your chances of achieving your goals by 76%.
Read on for an in-depth explanation of what strategic goals are and how goals differ from objectives. You'll also find some practical strategic goals examples to inspire your team, as well as some goal-setting tools to start using today.
What Are Key Strategic Goals and Objectives?
A strategic goal is a long-term goal — complete with a set of specific Objectives and Key Results — that a business strives to achieve over a period of time.
These goals are typically projected several years into the future — in most cases, between 3 and 5 years.
Goals vs Objectives
A lot of people use the terms "goals" and "objectives" interchangeably. However, there are some important differences between the two:
Goals: Goals are long-term, broad, and achievable.
Objectives: Objectives are specific and measurable — each team or employee uses them to achieve their overall goals.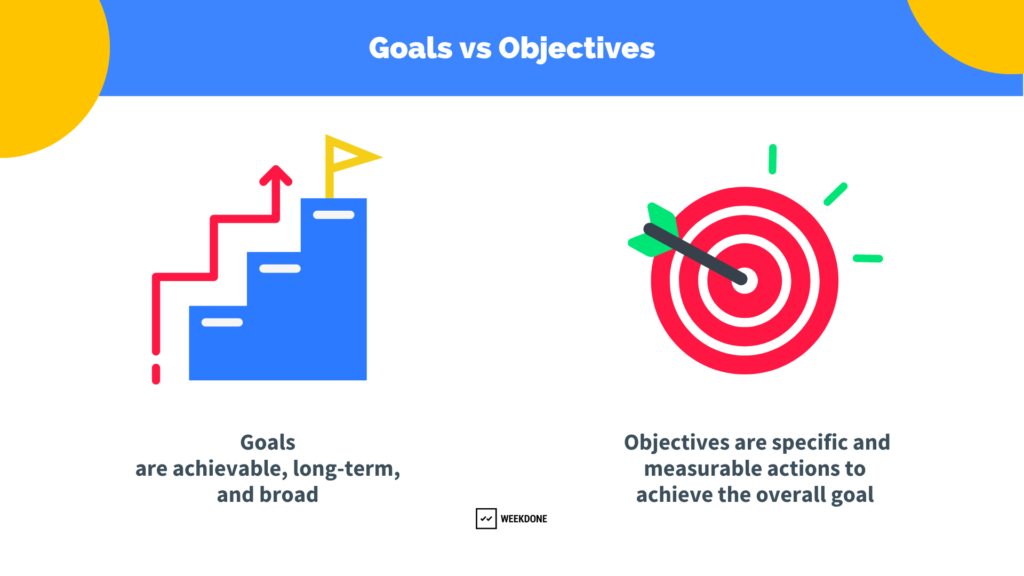 Imagine a business that wants to become an industry leader in its field. The desire to become an industry leader would be the long-term goal. However, the company and its various teams would also set more specific, short-term objectives (such as quarterly or yearly objectives) to achieve that larger goal.
21 Examples of Strategic Goals
Strategic goals will ideally be simple, easy-to-measure, easy-to-track, specific, and have a clear deadline. Below are some strategic goals and objectives examples to inspire you and your team:
Examples of Strategic Goals in Management
Add 30 new employees within the next 5 years
Write and distribute new company values by the end of 2025
Create and implement a new employee referral program by the end of 2025.
Financial Strategic Goals Examples
Increase revenue by 50% by the end of 2026
Diversify company revenue streams by the end of 2025
Triple the number of products in the company portfolio in the next 5 years.
Strategic Operational Goals Examples
Cut the number of product returns in half in the next 3 years
Decrease customer delivery time by 3 days by the end of 2025
Decrease the number of customer complaints by 30% by the end of 2026.
HR Strategic Goals Examples
Create and implement a communication skills training program by the end of 2027
Decrease employee turnover by 5% by the end of 2025
Increase employee satisfaction rating by 10% by the end of 2026.
Strategic Marketing Goals Examples
Increase website traffic by 100% by the end of 2026
Complete a total website redesign by the end of 2027
Create and implement a social media influencer marketing program in the next 3 years.
Strategic Sales Goals Examples
Increase customer conversion rate by 3% in the next 3 years
Increase sales revenue by 15% in the next 5 years
Increase customer retention by 5% each year for the next 3 years.
IT Strategic Goals Examples
Reduce cost per ticket by 15% by the end of 2026
Reduce IT costs to 2% of company revenue by the end of 2025
Reduce IT spending by 20% by the end of 2026.
Set Strategic Goals as OKRs
Using software to set, track and measure strategic goals is a great choice. Try the OKR methodology in Weekdone for real company results.
5 Steps for Writing Strategic Goals for a Company
Approximately 77% of small business owners are confident in their ability to execute their strategies, but 95% of them fall short each year.
To avoid being part of this group, remember the examples of strategic goals discussed above, and follow these 4 steps to write strategic goals:
1. Evaluate Your Current State
If you look at most examples of smart goals for strategic planning, you'll see that they start with an evaluation of the business's current state — how the company's doing, the milestones you've met recently, challenges you're facing, etc.
2. Consider Your Desired Future State
This step involves answering questions like "What kind of value do you want to provide to your customers/clients in the future?", "Where I want my company to be in terms of customers, sales, revenue, and profit after five years from today?", "What type of changes would I like to see outside my company in the next five years? Is it possible, and how much?".
3. Write Specific Strategic Goals
Next, you'll write more specific, long-term goals that help you identify where you want your company to be in the future. Whether you're working on a Shopify email marketing campaign or are launching a new app feature, consider using the strategic, tactical, and operational goals examples listed above to provide more information and guide you through this step.
4. Draft an Action Plan
Next, you'll create an action plan with specific OKRs to measure progress and make goals more manageable.
If you need help creating an action plan for your team, use this strategic business goals template to get started. Simply download the template, fill it in, and distribute it to your team to keep everyone in the loop.
---
You can also use a strategic goal setting software instead of spreadsheets - making it easier for you and your teams to set and track goals.
Advantages of strategic goal-setting software

Everyone gets updated automatically whenever changes are made;
Easier alignment between team goals and company-wide goals;
Visual dashboards make it easier to follow along and measure progress.
Start Setting Strategic Business Goals Today
Strategic business goals help to drive your company forward and achieve desired results over a longer time period (3-5 years). Benefits of strategic goals include easier prioritization, easier resource allocation, better budgeting, and more alignment among team members.
It's important to understand strategic planning goals and objectives examples because they provide valuable insights for your team:
An understanding of examples of strategic objectives and goals is beneficial to all kinds of teams, including managers, finance teams, HR teams, marketing teams, and IT teams;
The process of writing strategic goals includes evaluating your company's current state, considering where you want to be in the future, writing specific goals related to where you want to be in the future, and identifying specific key results to help measure progress;
Goal-setting software can help you write effective strategic goals for your team and monitor progress more easily.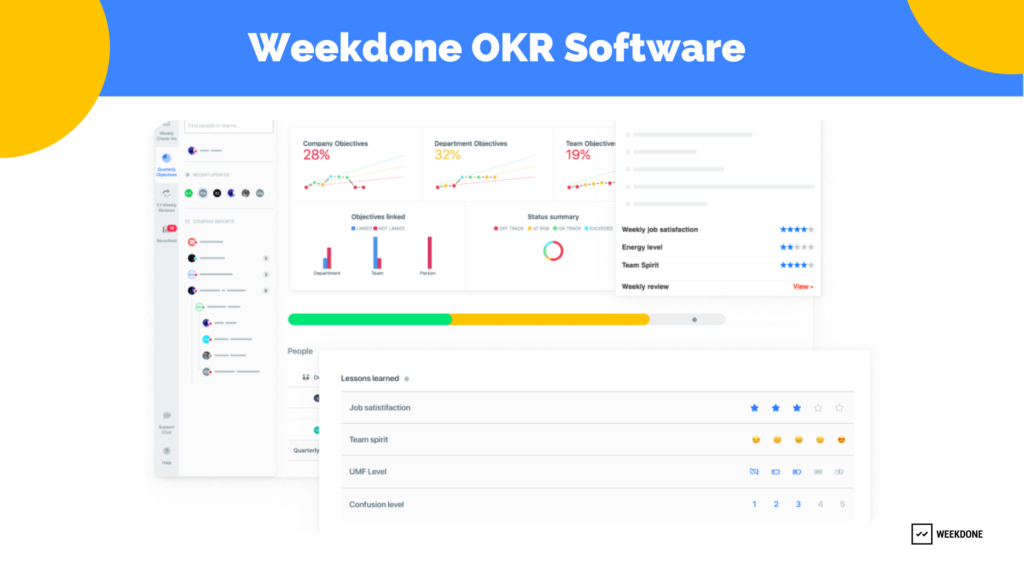 If you need more examples of strategic planning, these goal-setting and OKR resources can provide more insights:
If you're ready to change your approach to writing strategic goals, Weekdone can help.