Exploring modern OKR software tools like Weekdone (it's free to try) gives a good quick overview of getting started with OKRs – Objectives and Key Results. Still, nothing beats a good OKR book to dig deeper into the methodology. Here are some OKR book suggestions for you.
by John Doerr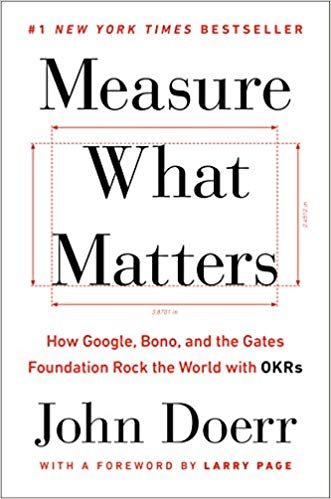 John Doerr is rightfully considered one of the most influential preachers of Objectives and Key Results (OKRs) methodology. He is the one who initially introduced the idea to the young founders of Google. And their success story has turned OKRs into a well-known goal setting methodology for both start ups and traditional businesses.
The book provides rare insight as to how the methodology was first developed and came into use. It even details all the ideas and thoughts that went into the initial inception of the methodology.
"Measure What Matters" also goes over one of the most forgotten aspects about goal setting. It is not enough to set great goals. You must always keep them in sight. And you must work towards them every day of the week.
Radical Focus: Achieving Your Most Important Goals with Objectives and Key Results
by Christina R Wodtke and Marty Cagan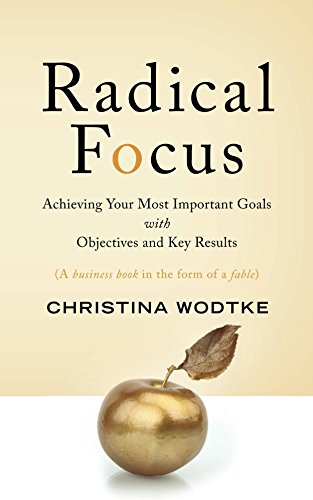 The first ever OKRs book is a nice quick read to get started with them.
It's an actionable business book in the form of a fable.
Radical Focus tackles the OKR movement and better goal setting through the powerful story of Hanna and Jack's struggling tea startup. When the two receive an ultimatum from their only investor, they must learn how to employ Objectives and Key Results (OKRs) with radical focus to get the right things done.
The author pulls from her experience with Silicon Valley's hottest companies to teach practical insights on goal setting in a story form. As you see through Hanna and Jack's story, it's about creating a framework for regular check-ins, key results, and most of all, the beauty of a good fail. Wodtke adds a bonus section in the second half of the book to lay out her most practical insights into applying Objectives and Key Results (OKRs) to your specific workplace and challenges.
Step by Step Guide to OKRs (Free e-book)
by Weekdone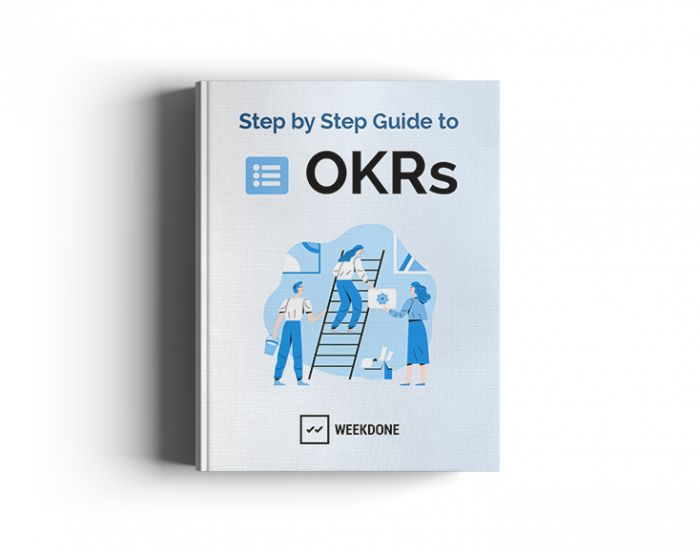 This one's a nice free e-book you can download. It's a practical guide to goal setting that offers concrete examples to help you start setting impactful and meaningful goals. This book teaches you how to manage a team better and create a feeling of success.
This one is a "How-to" guide to get started with OKRs and to help your team or a company implement the best goal setting system currently out there. Filled with a lot of practical example Objectives and Key Results it's a good quick handbook to launch and implement OKRs in your team. Download it here.
Objectives and Key Results: Driving Focus, Alignment, and Engagement with OKRs
by Paul R. Niven and Ben Lamorte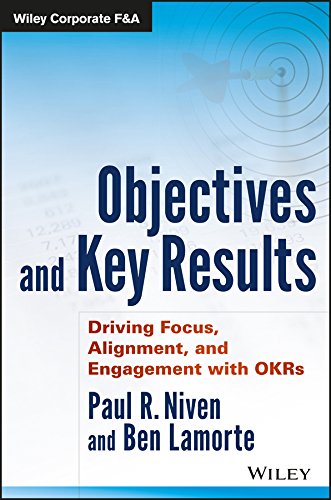 Objectives and Key Results is the first full-fledged reference guide on Objectives and Key Results, a critical thinking framework designed to help organizations create value through focus, alignment, and better communication. Written by two leading OKRs consultants and researchers, this book provides a one-stop resource for organizations looking to quantify qualitative goals and ensure each team focuses their efforts to make measurable progress on their most important goals.
You'll learn how OKRs came to be. And how leading companies use them every day to help teams and employees stretch their thinking about what's possible, build their goal-setting muscles and achieve results that reflect their full potential. From the basic framework to a detailed dissection of best practices, this informative guide walks you through real-world implementations to help you get the most out of OKRs.
These are our suggestions. Grab them. Read them. Enjoy your OKRs.