Don't Lose Sight of Your Team's Goals
Weekdone product roadmap and updates
Here you can read what team Weekdone is working on in product design and development areas. Over time we have switched from quarterly roadmaps to more short-term (mostly monthly) design and development sprints. We're agile and review our priorities weekly. Because of that we do not currently publish long term roadmaps, as they would be deceiving. You can still find our current broad focus areas as themes below. To access this page at any time, click the version number in Weekdone's bottom right corner of the footer.
Sending product feedback
We listen to your feedback and release often, including daily bugfixes, minor versions every week and major updates monthly. Feel free to send your feature requests and improvement ideas to us at hello@weekdone.com. We're all ears for your thoughts. We also appreciate any questions.
How we work
For background information: our product design and development is built on themes. Think of themes as our customer-focused product development goals. They are the improvement areas that need focus according to your input and our research. Under each theme we define specific smaller features that make life easier for you. If you're familiar with OKRs – Objectives and Key Results – think of themes as objectives and key results under them as features.
P.S. Just like you, we also enjoy using the PPP – Plans, Progress & Problems – process internally in Weekdone team. Some of our older roadmaps in 2013-2014 were posted as PPPs.
Product Design & Development in 2017
Here's what we've kicked off 2017 with:
Improving dashboards, visualizing your progress
Done

Show on graphs dynamic marker where should progress be by this date/today

Done

Progress % based RAG colors which are dependant on date

Done

OKR prediction compared to date in quarter (in graphs, on name header lines)

Done

Better OKR timeline chart for objectives, 12 week graph improvements

Done

New OKR dashboards for dept/team/person views

Done

Improved OKR company dashboard graphs review and selection

In progress

Show OKR prediction colors also in open OKRs section for each O
Improve the hierarchical OKR tree
In progress

Improved OKR Hierarchy Tree
Linking of OKRs and weekly items
Done

In OKR linking modal show your own personal OKRs first at the top

In progress

OKR linking modal improvements to make it more convenient

In progress

Easier access to OKR linking in weekly report / your form

In progress

When PPP item is already linked to objective, and moving item to Done, ask how much KR progress to update
Other linking improvements
Improve input UI/UX of adding new items
Done

Better +Add … input placeholders and hints

In progress

Add KR type selection dropdown (currencies, units etc) to KR editing modal
Styling improvements for any input and edit actions
Better notifications
More & better notifications and reminders
Revamped single OKR page
Single objective page improvements
Add OKR changes & actions history feed to single objective subpage
Humanize all texts
So much we can improve in texts and microcopy!
Even better reports, their grouping and sorting
Better report showing PPPs and OKRs together on same page
Offer more filtering and grouping in report views and filters
Support for annual or multi-quarter OKRs
As it's not part of OKR best practices, we've not made a final decision yet, but are considering it
There are also many smaller improvements we've working on and have already launched. Enjoy!
Product Design & Development in 2016
Our major themes and features for 2016 were:
Delight & satisfaction for leaders and managers
Done

OKR Tree view PDF export

Done

OKR reports custom report filters & header icon

Done

Team reports by people and categories custom report filters & header icon

Done

XLS export in custom report filter modal for OKRs and team reports

Done

Show custom 5-point ratings in weekly e-mail report

Done

Copy items to Clipboard under Shift+E

Done

Personal OKR items dashboard and reminder in regular e-mails

Done

OKRs basic graphic dashboard in weekly e-mail report

Done

OKR separate weekly, monthly or quarterly reports by e-mail

Done

OKR quarter ending/starting reminders

Done

Show KRs in OKR tree
Compiling and redacting roll-up & executive reports by team managers to be sent higher up
Tag reports based better project reports
Department reports by e-mail
Daily Buzz e-mail OKR items
Mobile Buzz OKR items
Decrease product disappointments, eliminate limitations & blockers
Done

Department level OKRs

Done

Custom dates for OKR quarter starting

Done

Clone weekly items to specific persons

Done

OKRs to weekly items linking improvements in dropdown menu

Done

OKR tab: keep the selection open when switching Q's

Done

Aligned OKRs sub-pages from OKR dashboard graph

Done

More robust and re-styled search. Show item date. Search results sub-page/tabs.

Done

Assign / Clone / Move OKR to another person, team or level from dropdown
Privacy permissions for categories
Privacy permissions for 5-point ratings
Privacy permissions for OKRs
Privacy for departments
Small delights & design candy 🍭
Done

Show which objectives are linked

Done

OKR quarter selection back and forth paging arrows

Done

In report by categories sort people inside category alphabetically

Done

Add link and icon back to dashboard to OKR Tree page header

Done

OKR Tree better separation of company/team/department/person OKRs by icons

Done

Better Chrome middle mouse button click handlink in OKRs and tags report

Done

Disabled (linked) KR progress bar style changes

Done

Emoji & like interaction review

Done

Animated comment and like icons

Done

Using domain favicon for company logo in onboarding flows and Design Settings

Done

Footer review – simplify for logged-in and new users
Show active online green bubble icon for people
Scale: Better usability for large accounts (1000+ users)
Done

Department levels support

Done

By collapsing and auto-loading on expand shorten /all report for large teams
Integrations: Get data easily in from other products and send notifications to them – less duplication & manual data entry
Done

Improve Zapier zaps
Export to Slack channels: deadline notification, compiled report link, Buzz messages, new items
Slack bot to ask to regularly fill in your Weekdone
Increase mobile usage & improve it
Done

Departments support on mobile

Done

Google+ login on iOS

In progress

Review OKR styling on mobile
More mobile-like & convenient mobile UI
Increase activation for new trial users
Done

New onboarding tips flow

Done

Onboarding questions to better understand signup goals and benefits

Done

Start the help videos project

Done

Start designing new FAQ and knowledge base
Internal back-office & workflow improvements
Done

Improved invoices filtering in internal admin

Done

Improved /prices page

Done

Better product analytics via session recording

Done

Tuning: Ver 2 of our team's internal KPI dashboard & Office TV
Like you see, a lot got done. Hope you enjoy those parts.
Feel free to send your suggestions for improvement areas to hello@weekdone.com. Together we can make it better for you.
Product Design & Development in 2015
The themes and features for late 2015 were:
Getting reports in format I need and like a.k.a. "delight for managers"
Done

Allow expanding items in-line in report by tags page

Done

Refreshed design for dashboard graphs, showing better week by week history

In progress

PDF dropdown additions to better select what to include in OKR and report views
Custom report generation and additional view options
CSV export – either in PDF dropdown or Shift+E action
Increased employee engagement, delight & single-user value
Done

Support for emojis 😎❤🎇

Done

Updated Done Android app

In progress

Weekly review improvements and next iteration
Personal dashboard for self-improvement

Done

Weekdone app for Windows 10
Increase everyday value and engagement
Done

5-point rating scale questions and result graphs

Done

Personal notifications under bell corner icon with new style
Better usability for large teams
Done

Hierarchical OKR page split into levels instead of one longer page
Shortened everyone report for large teams

In progress

Department levels
Decrease product disappointments
Done

Allow copying existing OKRs to next quarter

Done

OKR hierarchy tree time period selection

Assign / copy / clone OKRs to another person or team

OKR that continues from one quarter to another
Increase mobile usage
Continuous improvements to mobile UI and UX
Less duplication & manual work with other products (integrations)
Done

First version of Slack integration is live, to send items from Slack to Weekdone

Done

Zapier integration available from personal imports page – connect to over 300 external services
Next iteration of Slack exports from Weekdone
Easily getting reports for managers to send up to their bosses
Our internal workflow tools improvements to serve you better
Done

New shiny activity dashboard on our office TV screen – yay!
Increase activation for new trial users
Done

Better onboarding from administrators: new tips, modals, progress bar

Done

Allow registration directly from landing page

Done

Various landing page improvements
Review default template categories
Simplified view of report pages

Done

Show team indicators in dashboard's people table
Product Development PPP – April 2014
Time marches on and Weekdone get's better every day. That's at least what you, our customers tell us more and more often. That always makes us happy, to see you enjoying the product. Hand in hand with you we tune and build to give you more value and less friction in your status reporting, team management and collaboration.
Since we have not done our public PPP updates for a while, here's a list of all the major things that have been launched during last months.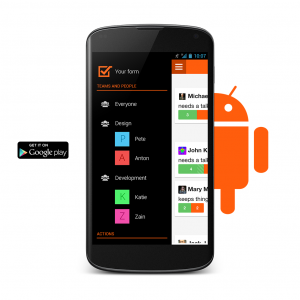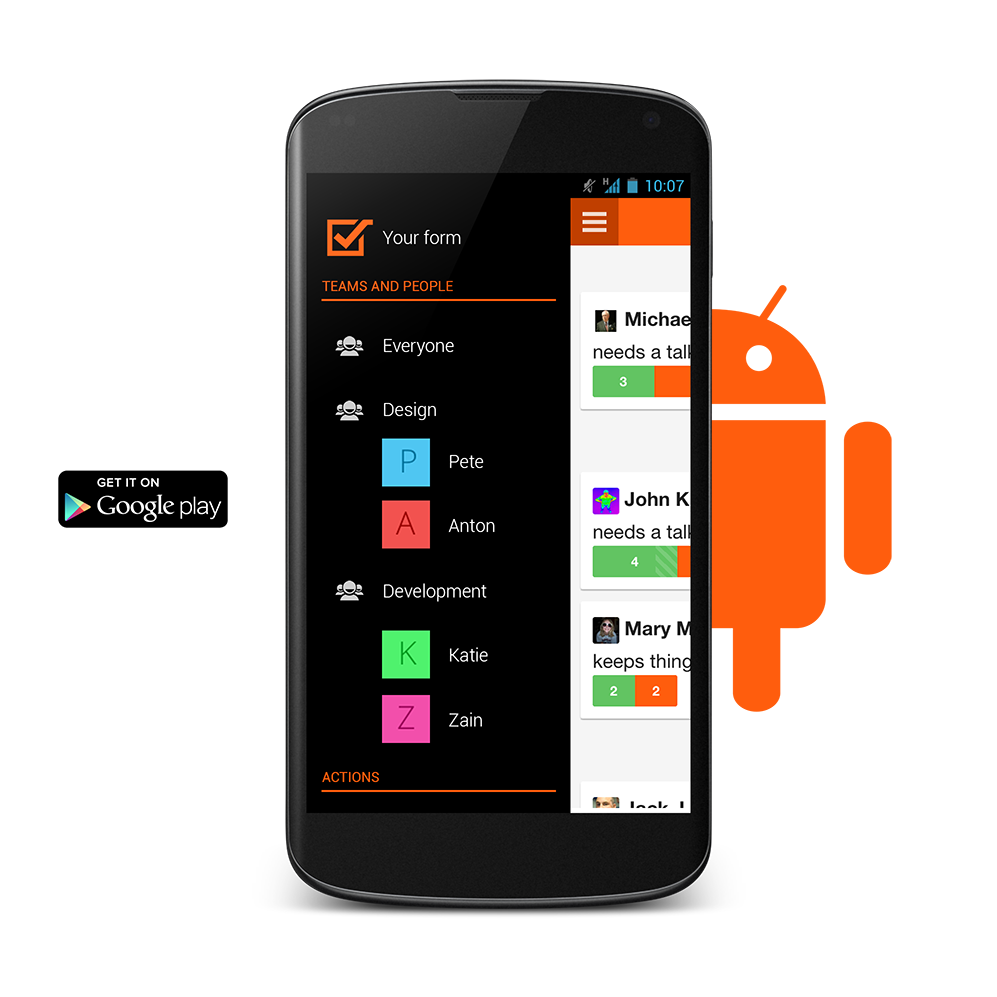 Progress – new features and improvements
Android mobile app released – at last! (read blog post)
Basecamp reporting and todo imports (read blog post)
Allow ordering of template categories via drag and drop in template settings
Clickable RAG (red-amber-green) stars in front of items to flag, prioritize and group them
Special one-click Asana weekly dashboard service (read blog post)
Asana import improvements. Allow import of only items tagged "weekdone". Better Asana Connect flow.
Customized PDF reports: choose to show comments, weekly reviews and/or objectives
Team PDF reports by tags and categories available in respective report views
Personal PDF report download available in person's view
Multi-language support with Spanish, French, Russian and Estonian beta texts live – will be improving them over time
Ability to customize happiness and satisfaction question text
Google+ login – connect it under your profile
Google contacts import for inviting members
Replies to e-mail notifications now go to originator e-mail
People bargraphs dashboard and report e-mails now shows team name sub-headings
Ability to archive old objectives and see them later
Show a red triangle badge when user has not submitted their report
Example User gets auto-deleted after 7 days
Notify users of managers and team leaders Buzz broadcast items
Allow owners to delete and edit their Buzz items
"Load more" button at the end of Buzz to see older items
Remind manager when removing a person from team, their old items stay in old team reports
Year, quarter, month report views items now have time sub-headings for better grouping
Improved dashboard problems and overdue graph click links
Credit card payments now processed on Weekdone page, with new invoicing system
Lot of usability and design improvements
Lot of under the hood back-end improvements to increase reliability
Like you can see, we have been busy. These have been just the major things, there have been tens of smaller improvements that you might have already noticed.
Plans – what are we working on next
Google Apps SSO (Single Sign-On) and other enterprise SSO systems like Ping. Allow user account management from a central SSO database.
Improve Objectives, both styling as well as item-objective linking
Improve Weekly Review possibilities
Allow team conversations
Rethink Buzz and whole messaging and conversations between team members and managers
Subscribe to daily Buzz news via e-mail
Dashboard customization
Show a better Asana dashboard inside Weekdone
More customizable templates with multi-field form items or other input types
New imports: Salesforce, Zapier and others
Continuous improvement of mobile apps
Design, usability and reliability improvements to keep Weekdone simple, quick and easy to understand
What would you like to see improved or added next? Let us know in comments or at
hello@weekdone.com
. We love your feedback!
Product Development PPP – January 2014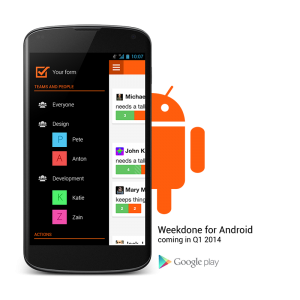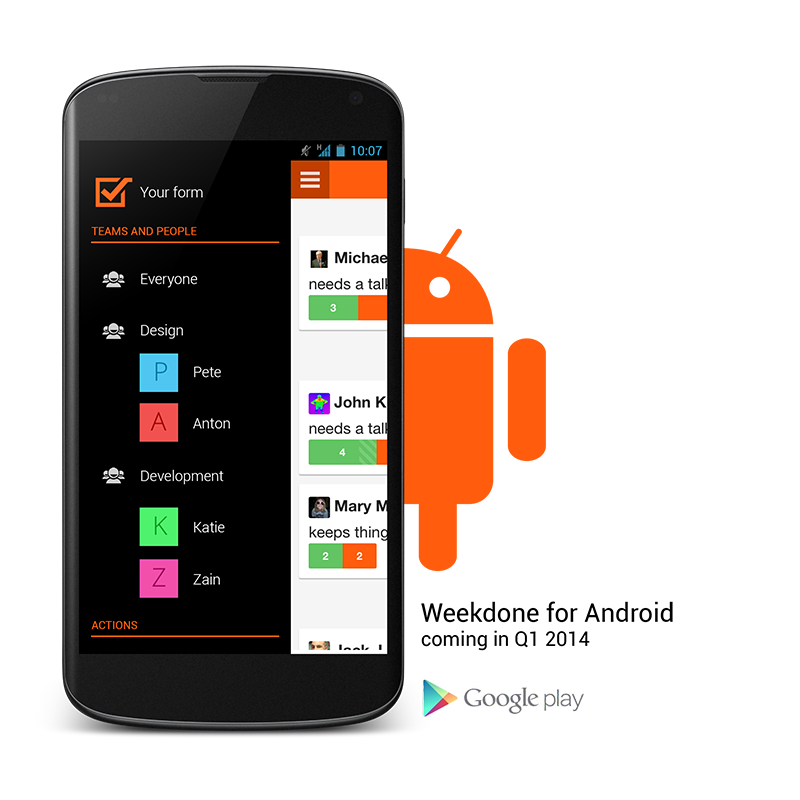 New year is off to a great start and many new things await you, Weekdone users. So it's a good time to give you a sneak peek of our internal PPP and this month's product roadmap, as well as what has been the recent progress. We sincerely hope most of the plans below will be released in January or February the latest.
Plans
Release Android version for both phones and tablets
First multi-language version allowing to switch the UI to languages like Spanish, German or even Estonian
Different report weekday schedule for different teams
Allow setting personal objectives
Support for showing local timezones
Employee dashboard with rewards based on accomplishing internal communication goals (eg each week must enter 5 items, comment on co-workers items, use Weekdone daily etc) set by manager
Improved manager's dashboard and summaries
Additional data imports like Salesforce or Basecamp
Continuously improve onboarding, help materials and tutorials
Continuous improvements in usability and user interface
Let us know in the comments or via e-mail what would you like to see improved or added in coming months? Our development ideas pool currently stands at around 150 ideas and requests and we always prioritize them based on feedback from you, the users. So please be vocal about your needs and wishes.
Progress
During the last month many improvements and additions have gone live:
Many improvements and fixes in general navigation and UI
Carry over: Allow items to stay in Plans or other category when week rotates, not to move to on hold or delete (configurable under Template Settings)
Improved Buzz real-time activity timeline feed
Improved Weekscore and Dashboard explanation page
New structure and content for our FAQ and Help pages
Live chat with our support and quick FAQ in lower right corner
Full text search across items content from header, better hashtag search
Permalinks to items for sharings – can be found under Buzz item time field
Single item pages are now editable and with action menu
Hashtag autocompletion when entering items
New company settings page
Show people who have liked an item
Improved invites and outstanding invite management
Better legibility of report form, especially for new first-time users
Default template now has category names Done and Challenges instead of Progress and Problems, On Hold became Postponed
Stackable (fixed / floating) user header in All and Team views when scrolling
Our loved Mr Wallace D became Example user – but Wallace won't be leaving us any time soon 🙂
All in all our issue tracker lists over 45 items released during December and early January, so we've definitely been busy.
Last but least, our team grew to 6 people and moved to new office. All to serve you better.
To monitor our progress, keep following us on Facebook, Twitter, Linkedin and Google+ for recent developments.