Product Development PPP – January 2014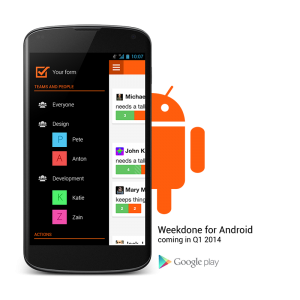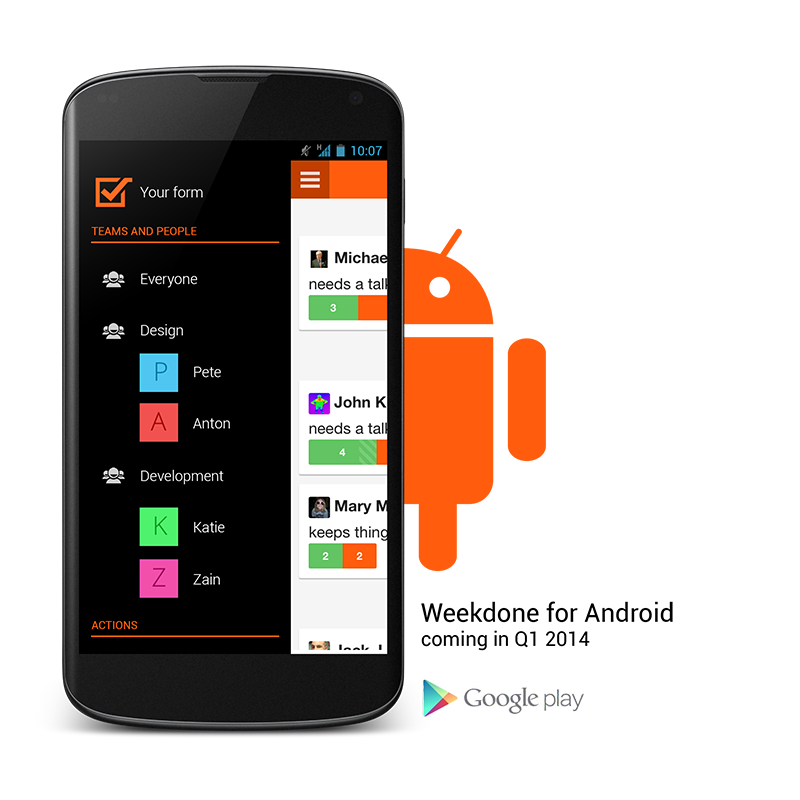 New year is off to a great start and many new things await you, Weekdone users. So it's a good time to give you a sneak peek of our internal PPP and this month's product roadmap, as well as what has been the recent progress. We sincerely hope most of the plans below will be released in January or February the latest.
Plans
Release Android version for both phones and tablets
First multi-language version allowing to switch the UI to languages like Spanish, German or even Estonian
Different report weekday schedule for different teams
Allow setting personal objectives
Support for showing local timezones
Employee dashboard with rewards based on accomplishing internal communication goals (eg each week must enter 5 items, comment on co-workers items, use Weekdone daily etc) set by manager
Improved manager's dashboard and summaries
Additional data imports like Salesforce or Basecamp
Continuously improve onboarding, help materials and tutorials
Continuous improvements in usability and user interface
Let us know in the comments or via e-mail what would you like to see improved or added in coming months? Our development ideas pool currently stands at around 150 ideas and requests and we always prioritize them based on feedback from you, the users. So please be vocal about your needs and wishes.
Progress
During the last month many improvements and additions have gone live:
Many improvements and fixes in general navigation and UI
Carry over: Allow items to stay in Plans or other category when week rotates, not to move to on hold or delete (configurable under Template Settings)
Improved Buzz real-time activity timeline feed
Improved Weekscore and Dashboard explanation page
New structure and content for our FAQ and Help pages
Live chat with our support and quick FAQ in lower right corner
Full text search across items content from header, better hashtag search
Permalinks to items for sharings – can be found under Buzz item time field
Single item pages are now editable and with action menu
Hashtag autocompletion when entering items
New company settings page
Show people who have liked an item
Improved invites and outstanding invite management
Better legibility of report form, especially for new first-time users
Default template now has category names Done and Challenges instead of Progress and Problems, On Hold became Postponed
Stackable (fixed / floating) user header in All and Team views when scrolling
Our loved Mr Wallace D became Example user – but Wallace won't be leaving us any time soon 🙂
All in all our issue tracker lists over 45 items released during December and early January, so we've definitely been busy.
Last but least, our team grew to 6 people and moved to new office. All to serve you better.
To monitor our progress, keep following us on Facebook, Twitter, and Linkedin for recent developments.