As a leading OKR software, we've learned a lot over the past 10 years. As we continue to grow and understand the needs and wants of our customers, we strive to adapt and offer more. That's why we've been working hard at Weekdone to create the ultimate team management software – Team Compass.
Team Compass focuses on streamlining management processes for smaller companies, single teams, as well as individual employees.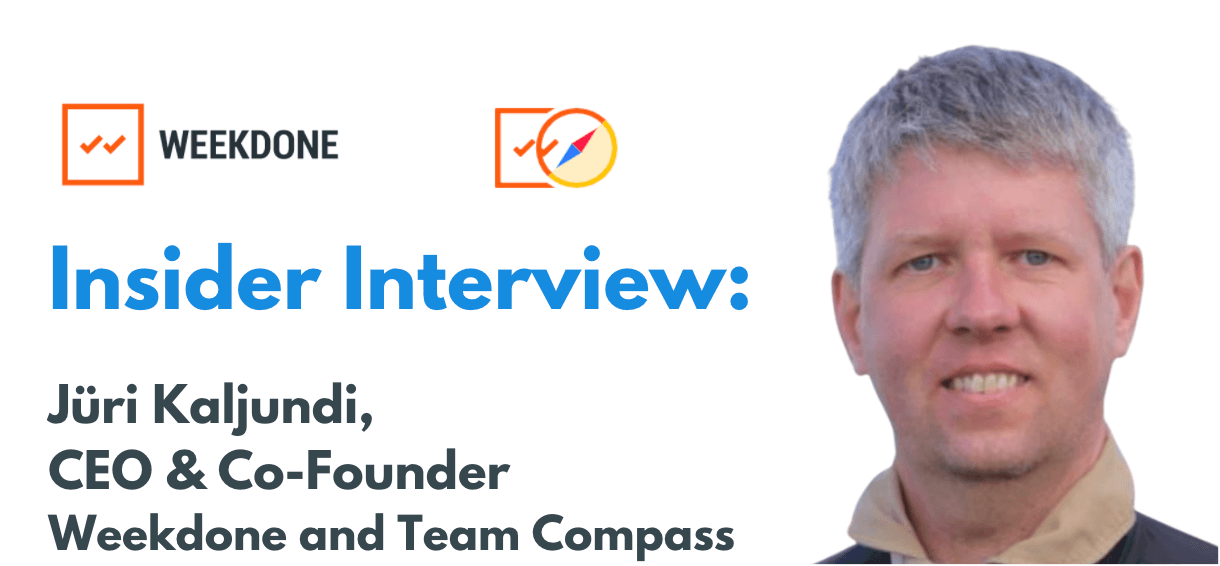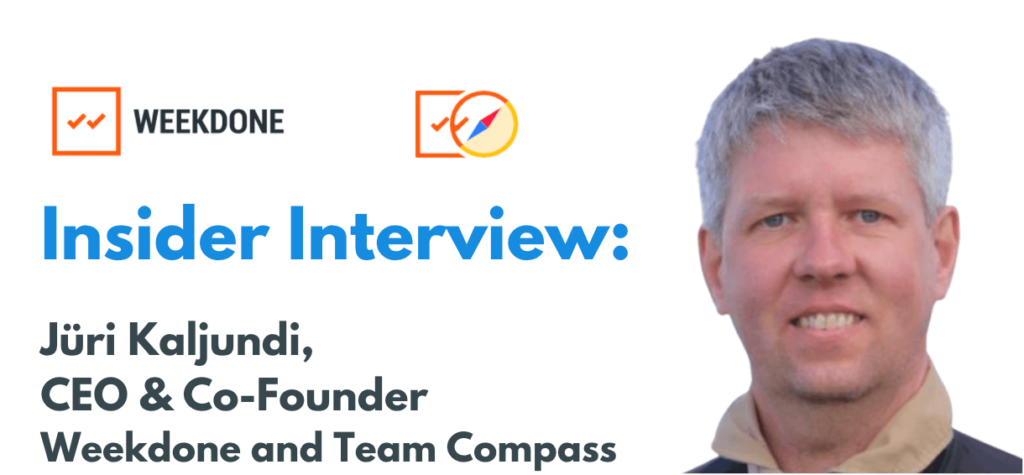 In this interview, we chat with Jüri Kaljundi, CEO and co-founder of Weekdone and Team Compass. He shares with us a bit about the new software, lessons learned from building top internal communication solutions, current trends in team management, and future predictions for the remote workforce.
With Weekdone you've been at the forefront of building internal communication software for 10 years. What was the original premise for building Weekdone and now Team Compass?
Having worked in top management, running HR and internal communication initiatives, we felt there is one common need. Most managers said they don't know well how their teams are doing. They cared and wanted to know, but getting that information was hard or time-consuming. Leaders spent too much time in unstructured meetings trying to get information.
We felt there was a better way – regular weekly and quarterly updates from their teams and employees. Many team management processes can be automated. That's what we've done with the original Weekdone and now our new Team Compass product.
What are the main lessons learned from working with thousands of customers across the world?
First, many leaders are still blind to what's going on in their teams and company. From one side there is too much data and information, which means that finding the important, "key" points has become even harder.
People are overloaded with small real-time nuggets of information. So they resort to meetings and ask: please summarize, what's going on, how we're doing.
The format and content of these weekly meetings are often the same:
How are we doing (number-wise)?
Are we reaching our goals?
How are our projects doing?
What are each person's key plans, progress and problems?
This information should be communicated in structured reports and dashboards online, always available in your pocket or at your fingertips. People hate meetings and wasting time on them.
Second, effective teams have aligned goals and objectives. Without alignment, moving in one direction is impossible.
Setting, sharing, and updating goals is part of successful teams' weekly processes.
We've seen productivity increase if both short-term and longer-term goals and objectives are well communicated and then executed on. Usually that means having one process and toolset for weekly, another for quarterly goals.
And third, good leadership and team management is not easy. Many try to "wing it" without preparation or processes. However, there is a best practice tool-kit for good, consistent management techniques and processes.
Any leader (even a first-time team manager) using this tool-kit can improve their management processes to become a good, if not great, leader or manager. We try to give that tool-kit to everyone via Weekdone and Team Compass.
The world has changed a lot over the past 2 years. What things do you imagine are here to stay?
There is much more asynchronous communication. People are tired of real-time chats and constant communication. There is a time and place for being together and discussing things, but it doesn't work when teams are focused on getting things done.
A lot of tasks need to be done in a flow, with time blocked off for them. Instead of communicating every minute or hour, why not do that once or twice per day, instead of single chat sentences? Collect your thoughts and share them as well thought-out ideas. Teams consist of different personality types, and some need to take time to think and answer, they can't do it real-time. Asynchronous communication helps level the playing field for all employees – making them more productive. It's part of deep work.
Remote and hybrid work is here to stay, even if only for a couple days of the week. Most companies are also hiring internationally or allowing their people to work remotely wherever they wish to travel. There is often a lack of compatible candidates in your own location. Broadening the horizons to hire internationally can make your company much more successful by having top talent in your team.
To be effective going forward this way, you'll need a quality tool (or tools) to implement both internal communication and team management. Which is what Weekdone Team Compass offers.
What sort of problems are teams and team leaders facing in the current world of remote and hybrid work?
It's mostly employees feeling left out and on their own. They lose the watercooler chat being home alone. Often electronic reporting is not properly set up.
Employees have described it as wanting more of the following
Company and team goals
Knowing whether objectives are being met
Upcoming plans for their team and company
Even more-so, employees want a pat on the back when they're doing well – both from co-workers and their leaders. So it goes without saying that they want to have some fun and connection too! So don't skimp on scheduling virtual team building activities.
Is the role of HR changing?
It already has. Decades ago HR was often distant and separated from leaders and team managers. It was a silo of its own.
Today modern HR is ingrained in everyday work and getting things done. That means it's executed not by HR, but actual team leaders with strong participation of employees.
It's about having leaders close to their people on a regular basis via weekly 1:1s, praise, and feedback. A lot of that happens today online or in mobile apps like Team Compass. 
Are there any top best practice activities you've seen that any leader or manager should do in their teams that will make them successful?
Set and track team goals and objectives to lead your team in the right direction. Quarterly is the best regularity. Then, agree and monitor weekly personal goals for each employee, be it projects, tasks or initiatives. Make sure the personal goals tie to team objectives.
Run some kind of weekly team meetings, hold calls, or collect reports electronically. Make sure employees prepare beforehand by updating their weekly key plans, progress and problems items and updating their goals progress. It makes the meetings so much smoother. It might even allow replacing the meeting with a purely online format.
Find a way to measure employee happiness and team satisfaction. Good teams do it weekly as part of their pulse surveys. Gone are the days when you do it via annual or quarterly surveys. The world of work is just moving so fast.
😊 Don't miss this list of 15 employee happiness survey questions to ask your team today!
Definitely run weekly 1:1 reviews with each employee. It is a designated space to check in with individual team members. Some do it in calls, some at the office, some in chat. Find what works for you.
Be data-driven and make informed, fact-based decisions about your employees and teams. Set up visual dashboards with various views and summarized feedback on goal completion and progress, employee satisfaction, issues to overcome and more.
The communication between employee and leader is a two-way street. Give and receive more effective, timely feedback on a regular basis. If you use online reporting, make sure to give feedback, praise and raise your concerns. Do that each week. Otherwise people stop informing you and you lose one of the most valuable feedback loops.
Facilitate team communication and cross-team collaboration. Even creating a company newsfeed or chat channel for updates is a good starting point. If you can make it structured for goals, plans, progress, and problems – even better. Transparent status updates shared with everyone in the company increases accountability in hybrid, remote, and distributed teams.
And be human. Structured tools and practices are great, but on top of that make sure to treat each person as an individual and accommodate their needs and wishes.
How does Weekdone Team Compass solve the problems of team management and communication between teams?
Team Compass implements and automates the tool-kit described above and much more. It makes sure both employees and managers know what's going on, the direction taken, and how everyone is moving towards that.
The best thing is that it's completely free for small teams (3 users or less) and there is a free trial for others and only $29/month after that!
Many leaders just sign up, invite their teammates and by the end of the same week get a nice weekly summary of what's happening.
Weekdone has had a long history, how does the new Team Compass compare to the OKR product? What is the key difference?
Our OKR software has been focused on whole company installations where you have a hierarchy of company, department, team, and personal goals using the best practice OKR methodology. We have been one of the world leaders in OKR software for over 7 years. If you want OKRs, choose the main Weekdone product.
If you're a team or small company and you're mostly interested in weekly team reporting, internal communication, and running the whole team management process between team leader and employees, choose Team Compass.
How can I sign up and try out for Team Compass?
You can find the new Team Compass at https://teamcompass.co/ and the OKR software at https://weekdone.com/ – both are free to try out!
Now to give us something to be excited about, what product features do you have on the timeline?
We're mostly trying to reimagine how the employee side of Team Compass can become their everyday dashboard. Something they open the first thing for work on Monday morning and finish their week with on Friday afternoon.
By the end of the week a person should feel happy about their weekly accomplishments so they can enjoy their weekend. They should also know what's expected from them the next week. It should bring out the superhero in everyone. Integration with other tools you already use will be crucial for that.
Are there parts of leadership that won't be online or in tools?
Partially yes. Especially everything related to inspiring people, motivation, engagement and feelings.
We still need to talk to people face-to-face in groups or one on one now and then. But a lot of this can now be done using online tools, especially for remote workers.
Things that need proper discussion, brainstorming, and planning should be left for calls and meetings. A good rule of thumb is that the topics which can't be structured or well-communicated in written format should be in person, or using video call software.
Online tools help to streamline the management processes. Use them to enhance your everyday business so that your true leadership skills can shine behind the scenes!
Try Team Management Software Today
Big thanks to Jüri for such an insightful interview!
If you're now thinking about taking your team management process to the next level, consider trying Team Compass with your team for free! Weekdone Team Compass keeps all team updates in one place – made for managers and loved by employees. ♥️